Quiches go down well at any party! Throw 6 ingredients together for the easiest, tastiest and best looking mini quiche lorraine you'll ever make. No pre baking of the crust necessary!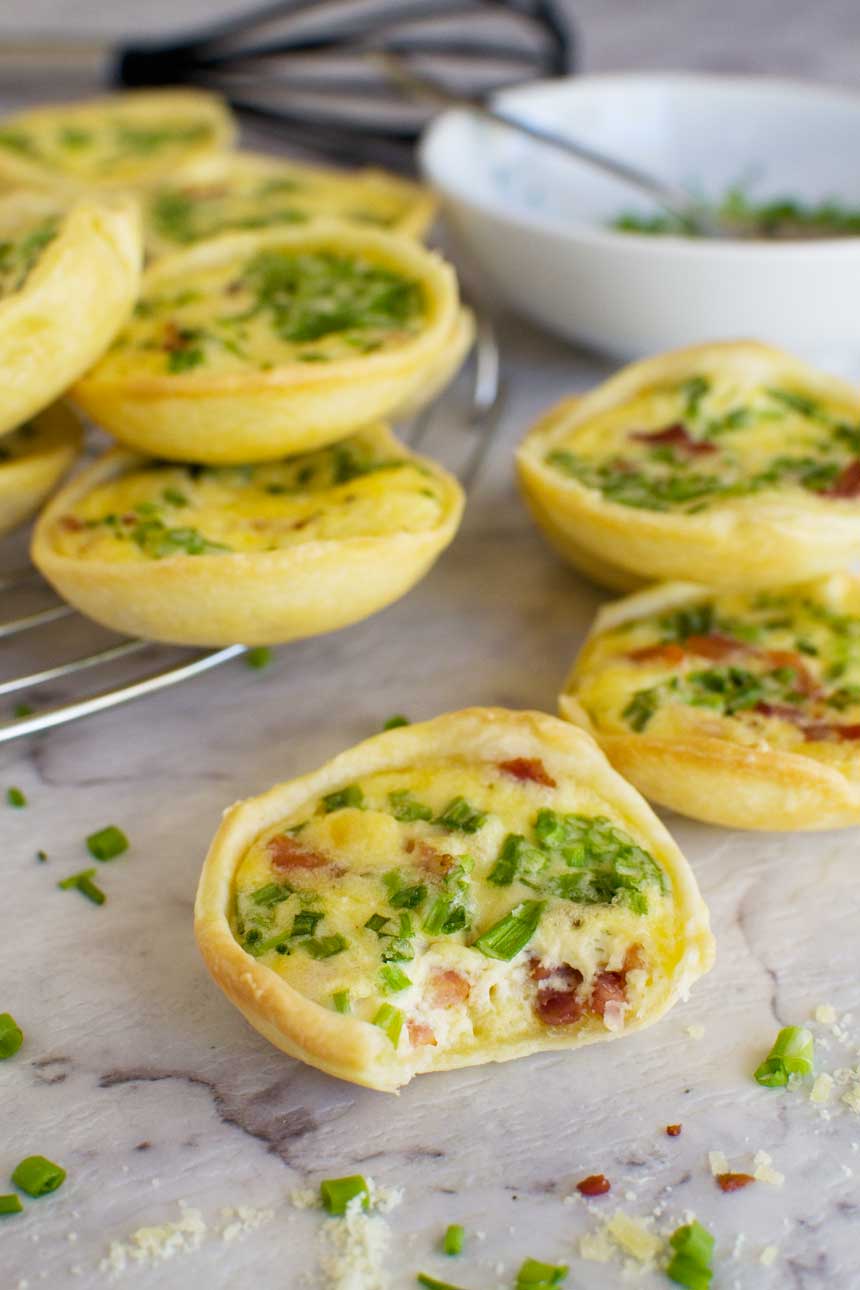 Is this the perfect make ahead party food?
After my son's first birthday celebration there was hummus and raw vegetables left over (OK, so this combo can be on the boring side even though I love it). And a few other bits and bobs.
But there wasn't a single one of these mini quiche lorraine left.
They go down really well at any sort of celebration: birthday parties, baby showers, engagement parties, Super Bowl parties… you name it. But they are also very very easy to make.
And if you'd like to make them ahead of time, which I recommend for ease on the day, they're perfect.
What ingredients you need to make these mini quiches
So you only need 6 ingredients plus a few grinds of pepper to make these mini quiche lorraine:
ready-made shortcrust pastry sheets (or make your own pastry in a few minutes in a food processor)
parmesan cheese (or any kind of tasty cheese really, but I like to use parmesan for maximum flavour)
bacon (or ham if you don't want to have to pre cook anything at all)
chives (so that you don't have to cook onions!)
cream (well actually I prefer to use a mix of cream and milk to lighten the quiches a bit, but I'm sneakily still calling this one ingredient)
eggs
How to make your own pastry for quiches
Pastry used to be something I avoided making as much as possible. I find buying ready-made works well most of the time, and it's really cheap to buy a big package of it too, at least here in Australia.
On the other hand, recently I've discovered that it's really easy to make your own pastry quickly and easily if you have a food processor. Sometimes I find it easier to throw flour, butter and water into my food processor than to go to the supermarket to buy ready made pastry.
So if you'd like to make your own pastry, here's the simple recipe I always use:
350g (2 cups or 12 ounces) plain flour
170g (12 tablespoons or 6 ounces) cold butter, cut into cubes
6 tablespoons cold water
Just pulse the flour and butter and water together in a food processor until a ball forms (or big clumps!). Bring the pastry together with your hands and chill for at least half an hour. Roll out and cut out rounds with a pastry cutter.
Couldn't be simpler!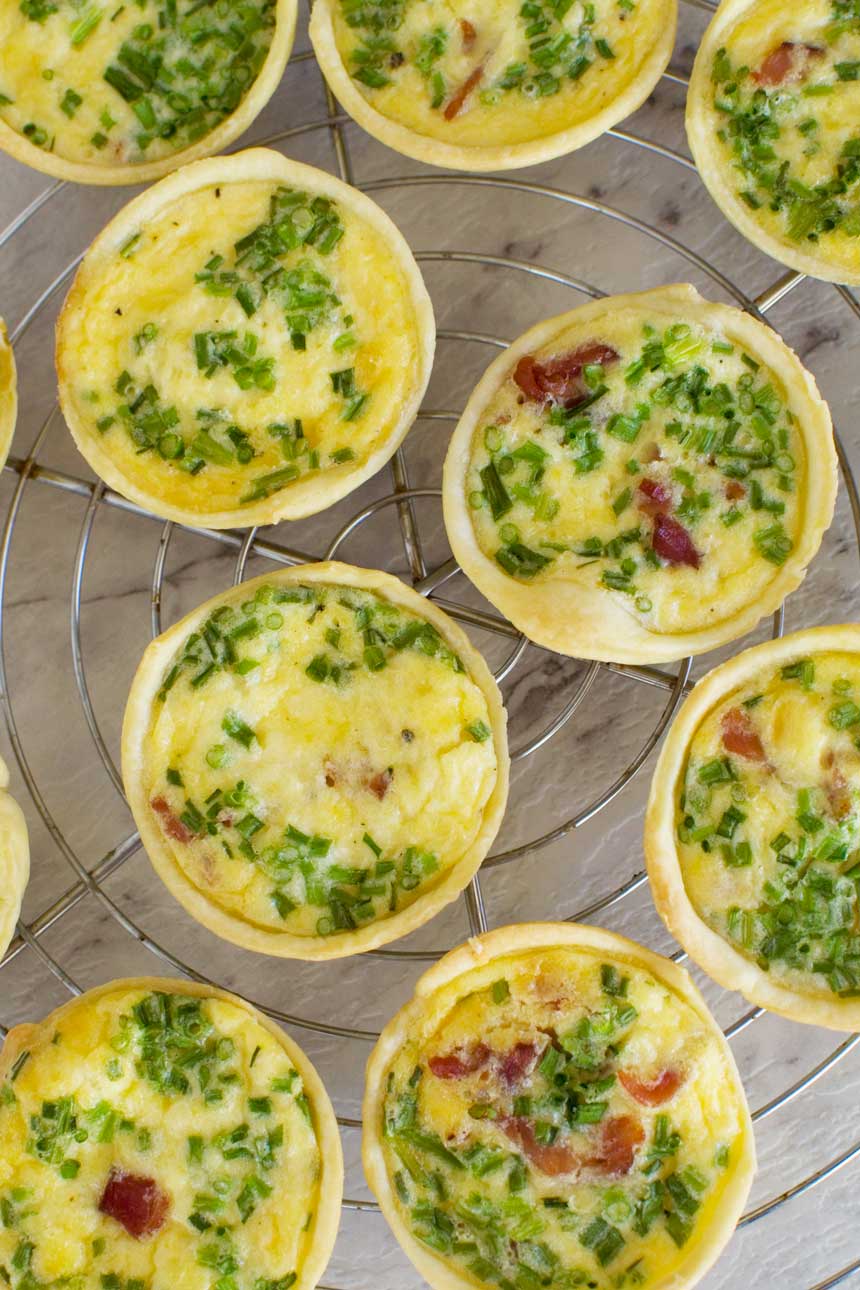 Do you have to blind bake/pre-bake the pastry to make these mini quiche lorraine? I hate doing that!
Me too! It always puts me off if a recipe tells me to blind bake the pastry before adding the fillings. It feels like a hassle, the recipe invariably takes longer, and I often end up with overcooked pastry in the end.
In fact the only thing I pre-cooked was the bacon – for 10 minutes. I used chives instead of onions for colour and flavour.
If you're really short on time, you could even skip the bacon and use ready cooked ham instead. This would cut down the cooking time by another 10 minutes.
So how do you make these mini quiche lorraine?
It's SO easy. There are just 4 simple steps (5 if you decide to make your own pastry):
Cut out big circles of pastry and press into pie trays.
Put teaspoonsful of cheese, bacon and chives in each pastry case.
Pour milk/cream and egg mixture on top.
Bake for around 20 minutes!
It's really as simple as that.
So can I freeze these mini quiches and reheat them?
Yes, yes, yes. Absolutely! These mini quiche lorraine are perfect for making ahead, freezing, and reheating later. They taste just as good reheated.
Simply make as per the recipe instructions and let cool. Then either freeze in plastic containers in single layers with baking paper between the layers OR flash freeze on baking trays for about half an hour, and then store in ziplock bags.
When you're ready to eat your easy mini quiche lorraine, just reheat on a baking tray at 355F/180C for about 10 to 15 minutes. They taste great either hot, cold, or at room temperature.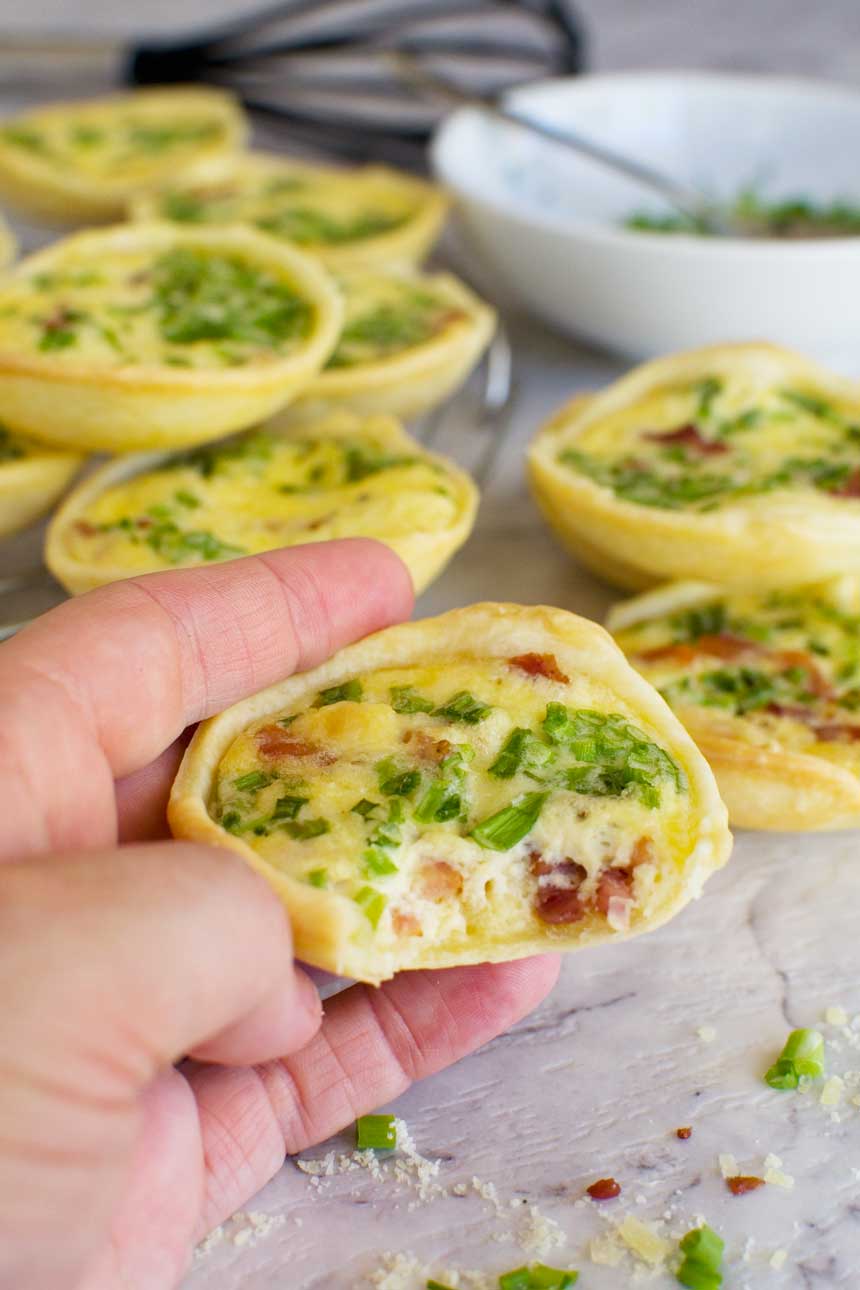 Can I put different fillings in these mini quiche lorraine?
Well yes, of course. They won't be quiche lorraines then of course, but mini quiches are just as delicious made with different fillings.
Here are some ideas:
leftover cooked roasted vegetables
finely chopped, cooked mushrooms
uncooked bits of chopped asparagus
cooked meats
almost any cheese you can think of
fresh herbs
tiny bits of sundried tomatoes or salad onions…
You're only limited by your imagination!
Products I'd find useful for making this recipe (affiliate links):
round-bottomed pie trays like these ones
This kind of shallow pie / muffin pan also works!
Freezer and storage bags like these for freezing your mini quiche lorraine in batches.
More quick and easy party food
Or see all my easy party food here
IF YOU MAKE THIS RECIPE, LET ME KNOW HOW YOU GET ON BY LEAVING A COMMENT AND RATING BELOW… AND DON'T FORGET TO SIGN UP TO RECEIVE ALL MY NEW RECIPES BY EMAIL!
FOLLOW ME ON FACEBOOK, INSTAGRAM, PINTEREST AND YOUTUBE.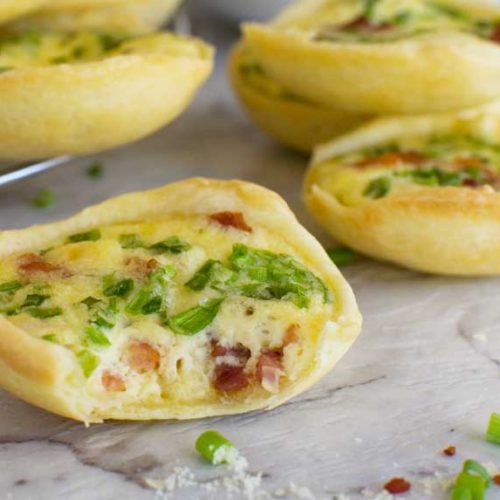 Mini quiche lorraine
With only 6 ingredients, you won't have any trouble making these mini quiche lorraine for your next party. Eat some now, freeze the rest for later. And no pre-baking of the pastry required!
Equipment (affiliate links)
Ingredients (UK/Australia? Click below for grams/ml)
1

pound

shortcrust pastry

(weight is average – I used 3 sheets ready-made pastry)

0.75

cups

parmesan cheese

grated (or other tasty cheese)

9

ounces

bacon

chopped into small pieces (4 to 6 rashers)

0.5

ounces

chives

finely sliced

4

large eggs

1

cup

heavy cream

=double cream in the UK/Australia

0.5

cups

milk

black pepper

a few good grinds
Instructions
Pre-heat the oven to 355F / 180C.

Pan fry the bacon in a little oil for ten minutes or until starting to crisp.

Meanwhile, cut 24 circles out of the shortcrust pastry sheets using a large round cookie cutter or the rim of an upturned glass.

Lightly spray 2 round-bottomed pie trays with oil, then press the pastry circles into the holes.

Put a teaspoon of cheese into each hole, then top with a teaspoon each of cooked bacon and chives.

Whisk together the eggs, cream, milk and pepper and pour on top of the cheese/bacon/chives so that the pastry cases are filled almost to the top.

Bake for about 20 minutes or until the egg mixture is lightly set and the pastry and tops of the quiches are starting to brown lightly.
Notes
I don't want to pre cook anything. Can I use ham instead of bacon?
Yes, why not? I do find bacon makes the quiches a bit tastier but I do sometimes use ham instead if I want to cut down on the cook time.
How much pastry do I need to use?
The amount of shortcrust pastry stated in the recipe is average. I used 3 ready-made (frozen, but fresh is fine too of course) pastry sheets.
I'd prefer to make my own pastry….
No problem. I often do this. Here's the recipe I use:
350g (2 cups or 12 ounces) plain flour
170g (12 tablespoons or 6 ounces) cold butter, cut into cubes
Just throw the flour and butter into a food processor with 6 tablespoons cold water and pulse until you have a ball of pastry (or really big chunks). Bring together, chill for at least half an hour, then roll out with extra flour.
If you don't have a food processor simply rub the butter into the flour with your finger tips, then add the water and bring the pastry together with your hands.
Can you freeze these mini quiches?
You can freeze these quiches after cooking. Simply freeze for about half an hour on baking trays and then transfer to ziplock freezer bags, OR place between sheets of baking paper in a plastic container.
How do you reheat them?
Reheat straight from frozen for 10 minutes at 355F/180C.
Can I add other fillings?
These mini quiches work really well with other fillings such as cooked roasted vegetables, finely chopped sundried tomatoes, cooked meats, different cheeses and finely chopped raw produce such as bell peppers, asparagus and scallions/spring onions.
I don't have a round-bottomed pie tray!
If you don't have round-bottomed pie trays, you can use mini muffin trays instead. Just as long as the holes are quite shallow, your quiches will still turn out fine.
Nutrition
Calories:
161
kcal
Carbohydrates:
10
g
Protein:
5
g
Fat:
10
g
Saturated Fat:
4
g
Cholesterol:
50
mg
Sodium:
228
mg
Potassium:
63
mg
Vitamin A:
250
IU
Vitamin C:
0.4
mg
Calcium:
56
mg
Iron:
0.8
mg