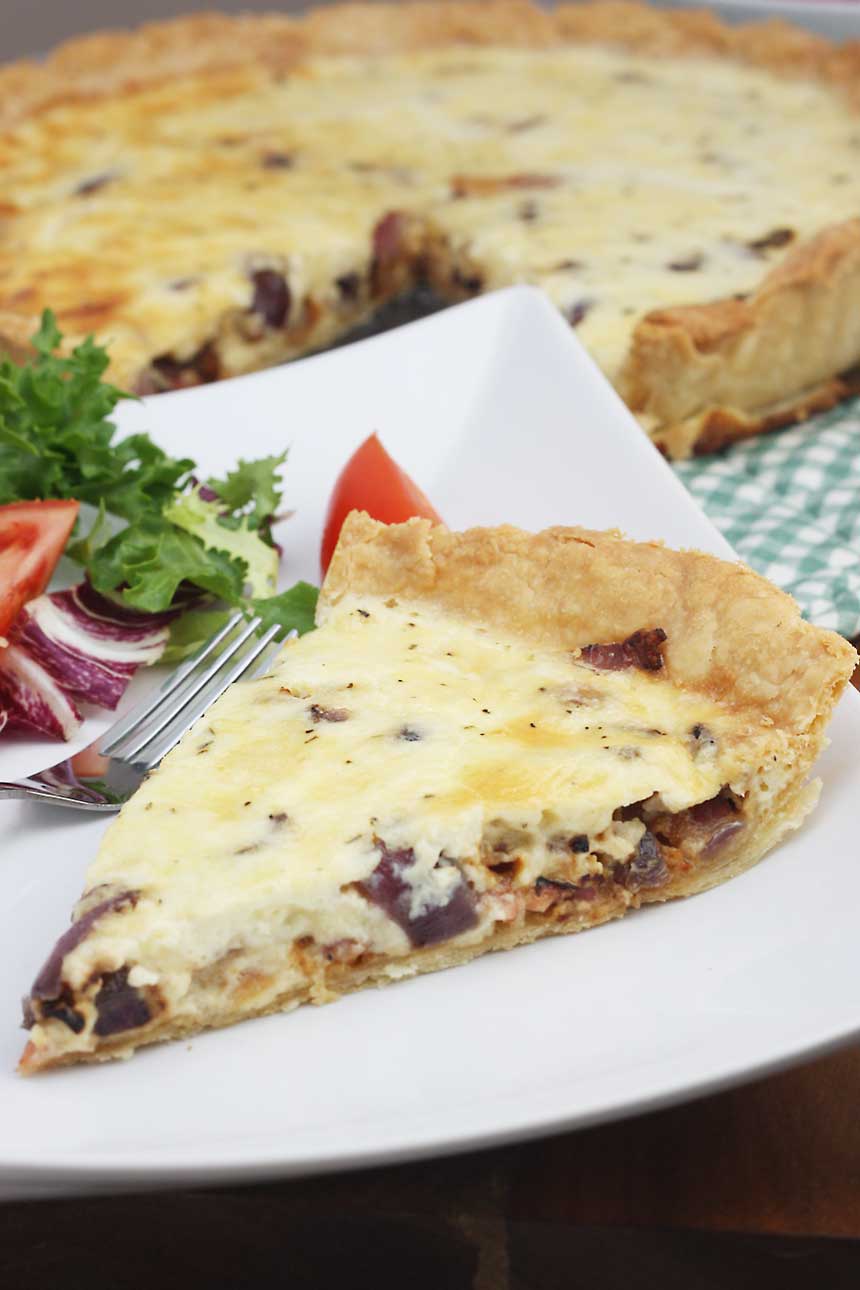 I've discovered that working from home has a serious downside that I didn't anticipate. No, not finding yourself having conversations with yourself in the absence of workmates or breaking off to do your laundry, although those things are indeed a real temptation. I'm talking about the daytime TV I subject myself to during my lunchbreak or after work. At this very moment, just by way of example, I've got 'My ex is a criminal – I'll never let him see our children' on in the background while writing this – I'm sure you know the type of show. Ahem. I can't believe I just admitted that to you.
But recently Mr. Scrummy and I have been sitting down to a rather higher quality viewing experience while munching on our lunch – a re-run of a series of a cookery competition called The Great British Bake Off. If you're British and have even a vague interest in food (which I assume you have as you're here reading this!) you've no doubt already caught the bug for this programme. If not then let me tell you, you're missing out!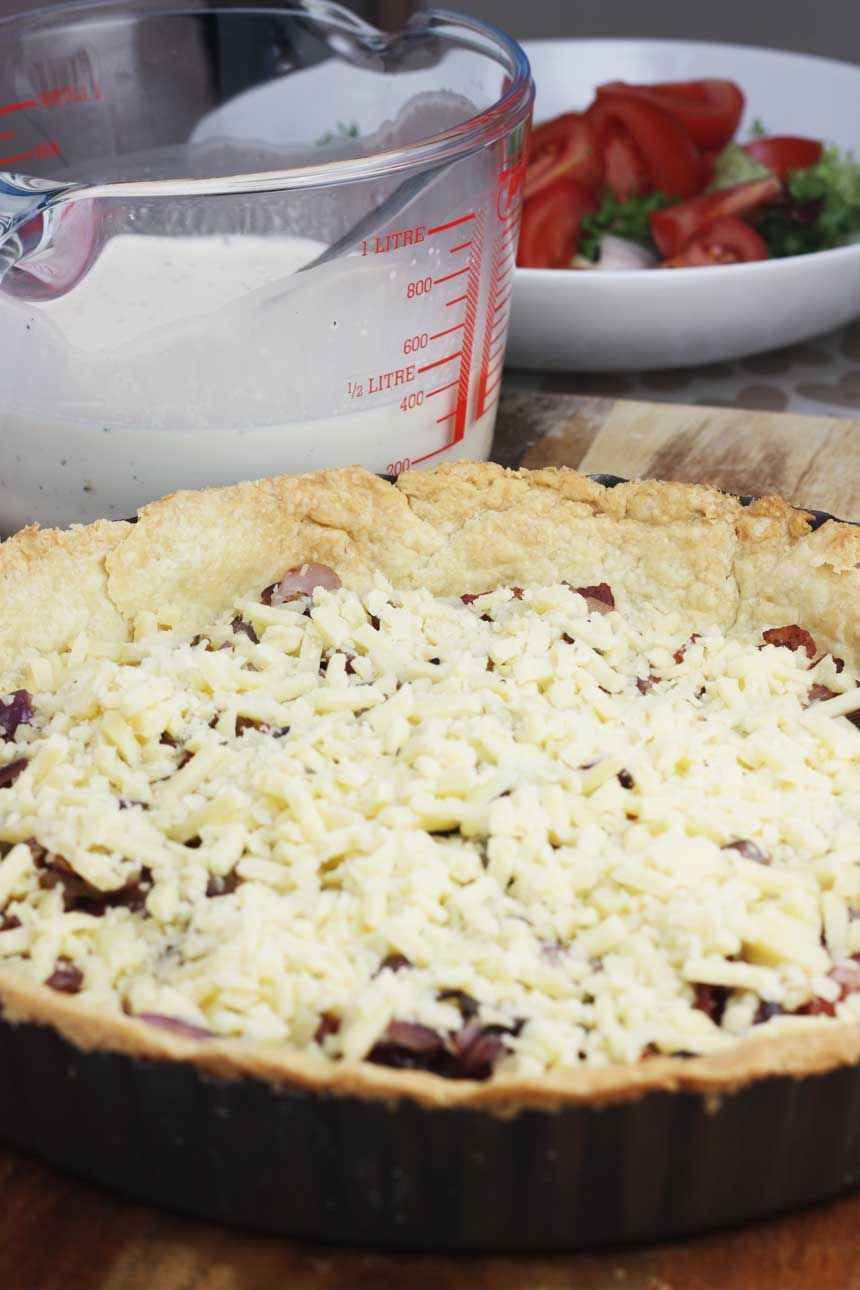 So for those of you from other countries, the Bake Off follows a group of contestants who each week bake traditional British cakes, scones, pies, desserts and the like. Their finished baking masterpieces are judged and one contestant is eliminated each week until only the best amateur baker remains. Since the programme began five series ago there's been a massive reinvigoration of interest in baking in this country and sales of baking equipment have gone through the roof. The show's format is pretty simple and sedate but there's just something so 'nice' about it all that it draws in millions of viewers each time a new series is aired. Yup, including Mr. Scrummy and I (seeing as we're glued to those 2011 re-runs!)
Anyway, what I'm really leading up to here is telling you all about the lovely lady 'good cop' judge. Her name's Mary Berry, she's published SEVENTY cookery books and is nearly EIGHTY years old. And yet somehow she has managed to become one of the nation's favourite people (and even a bit of a fashion guru, I hear). Best of all, though, her recipes ROCK! They're simple and reliable, most likely perfected over her many many years of experience.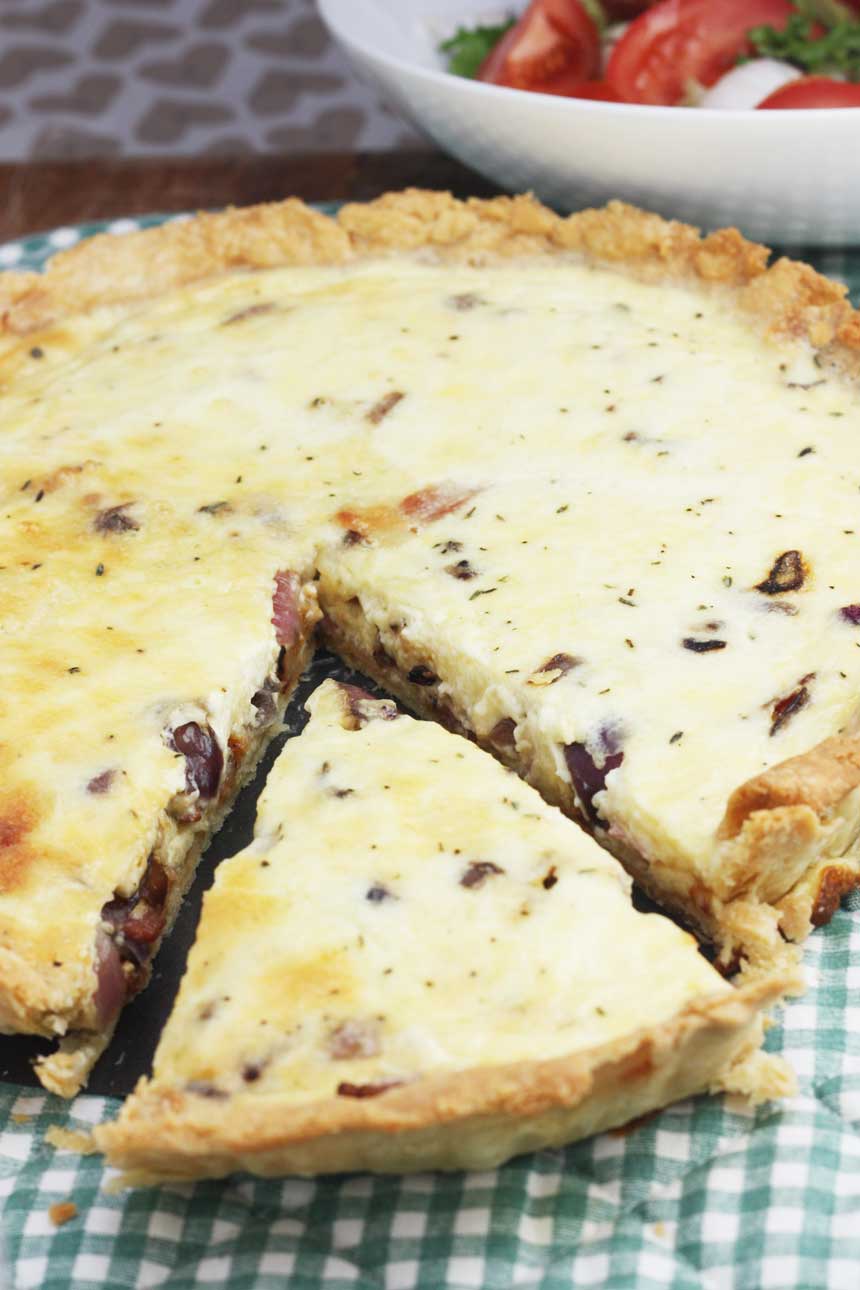 It's with this knowledge then that after deciding to make a classic quiche lorraine a few weeks ago I turned immediately to Mary Berry's recipe. Since then I've made it twice more and both times it was a knock-out success (well, according to Mr. Scrummy, anyway, and he can be a pretty tough customer!) I think there are several keys to the success of this recipe, namely:
1 Pre-baking the homemade pie crust for twenty minutes; ten minutes with rice, beans or pie weights weighing it down so that it doesn't puff up, and ten minutes with the weights removed. In the past I've always had trouble getting a nice crispy tart case, but with Mary's recipe it's soggy bottoms no more!
2 Pan-frying the bacon on a medium heat for about 10 minutes until it's all crisped and almost caramelized. Ditto with your onions, which you cook slowly in the bacon pan … mmmm!
3 Using mostly cream to mix in with the eggs for the filling (although I have been subbing in a little milk, which I find works just as well).
4 Being careful not to overcook the quiche. 25 to 30 minutes is long enough. The lovely Mary says that if you do overcook it your quiche filling will become spongey and full of air.
One more consideration (which may seem obvious to you) is to put your quiche pan on a baking tray before pouring in your egg and cream mixture. Yup, I'm speaking from experience! I didn't do this last night and ended up tearing a hole in my cooked tart case as I tried in vain to pick up the pan. The result was quiche filling dripping through the case and all over the top and inside of the oven. I dithered for a few seconds in a bit of a panic wondering what to do before quickly shoving the pan in the oven and hoping for the best. Luckily the drip stopped and the quiche still came out perfectly!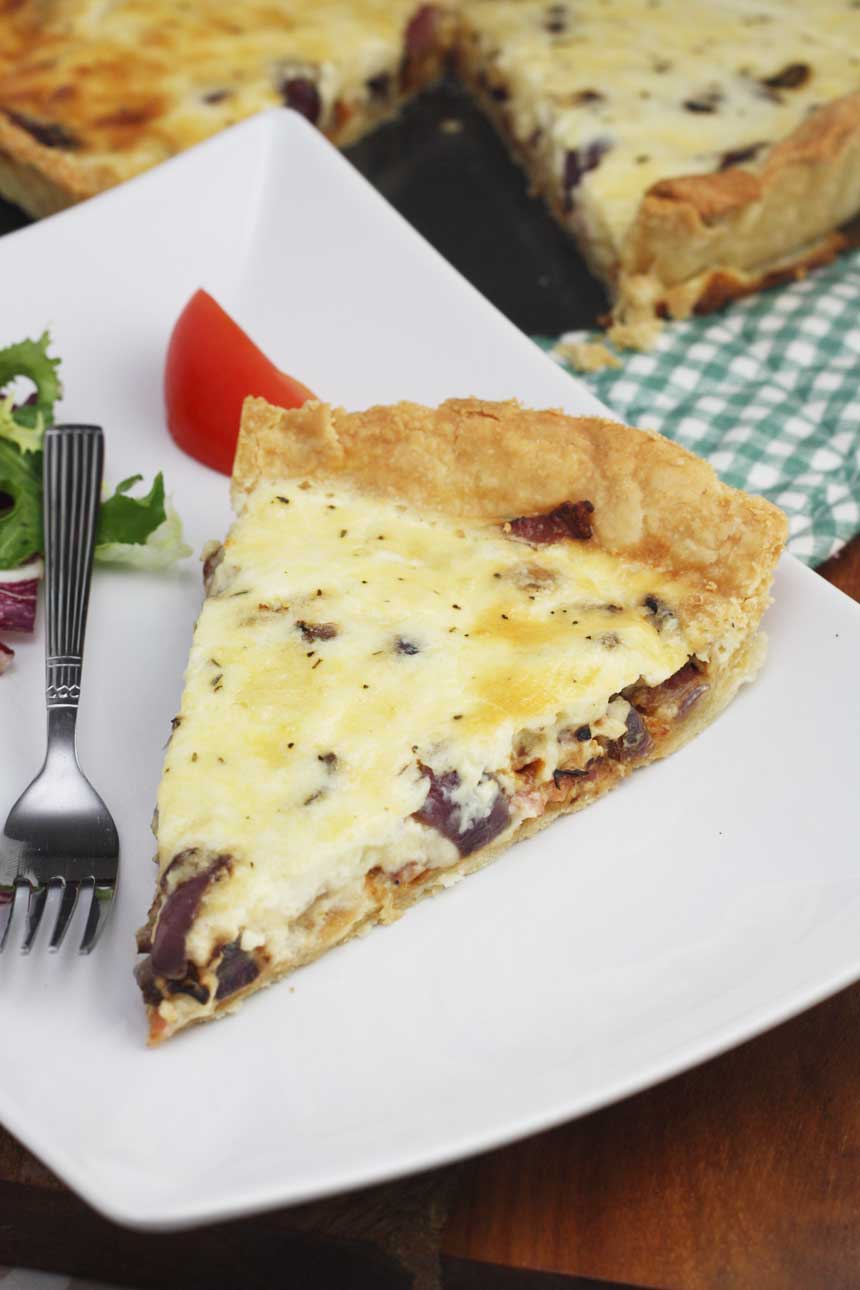 This ends up being a fairly big quiche yielding about 6 portions. Mr. Scrummy and I ate it for dinner with baked potatoes and salad twice in a row (it reheats in the oven beautifully) and there are currently two more pieces hanging out in the freezer for next week. Alternatively you could feed a family of four with enough for seconds!
One final remark. Mary's recipe calls for gruyère cheese, which I used in my first attempt at this, but subsequently I just used plain old cheddar cheese, which worked fine. I'd say use your favourite tasty cheese and you can't really go wrong.
So come on, admit it, who among you indulge in day-time TV, and just how trashy does it get? 😉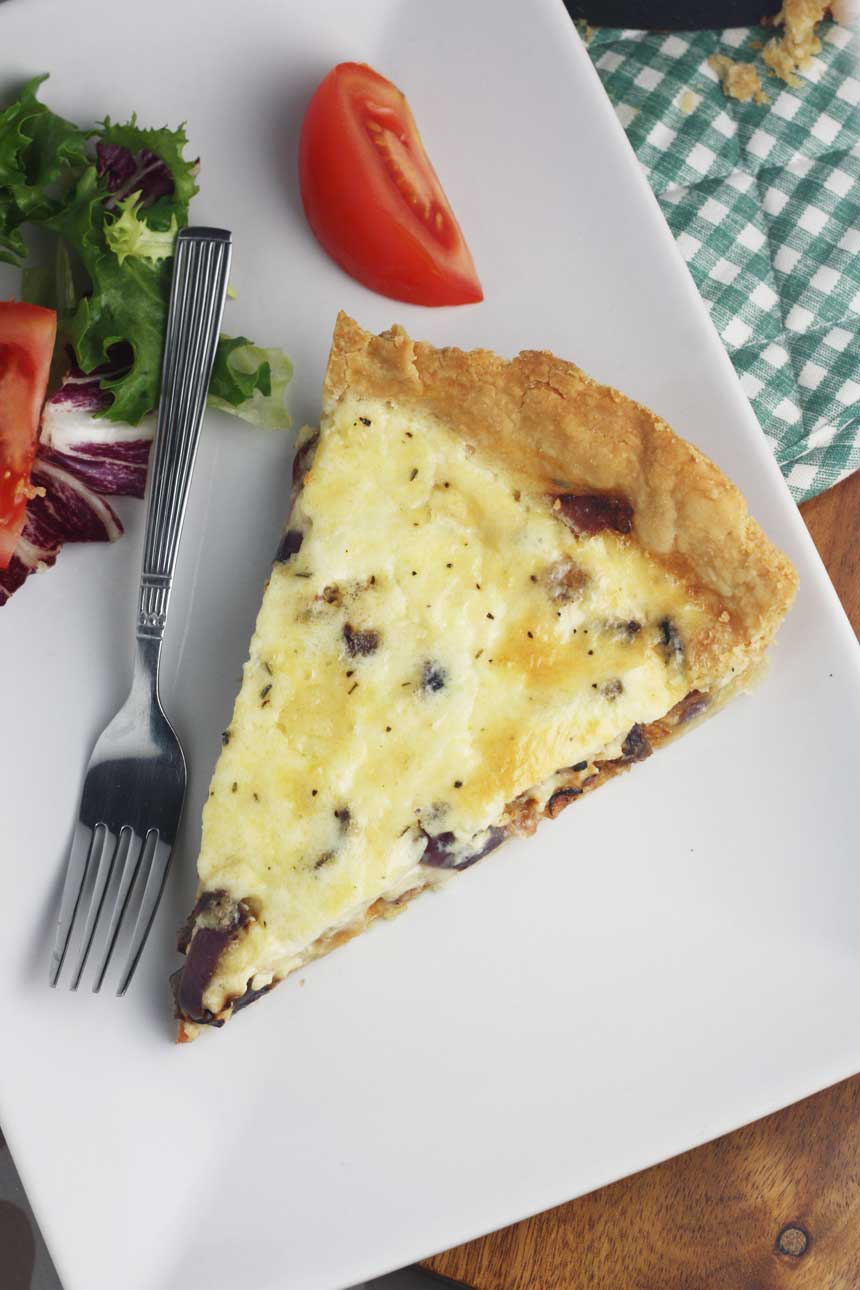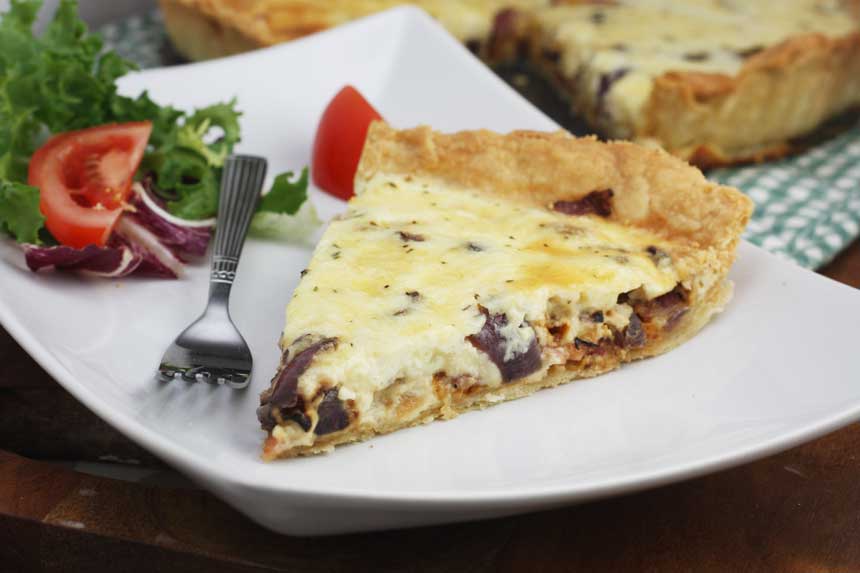 A really good classic quiche lorraine
A classic quiche lorraine made with smoked bacon, onions, eggs, cream and cheese. Delicious!
Ingredients (UK/Australia? Click below for grams/ml)
For the pastry
3/4

cup

plain flour plus a little extra for rolling

6

tablespoons

butter

chopped into small cubes straight from the fridge

3

tablespoons

cold water
For the filling
6

ounces

smoked bacon

chopped into bits

1

onion

a little oil for cooking

2/3

cup

grated cheese

gruyère is lovely, but mature cheddar or another kind of cheese is fine

2

large eggs

1

cup

single cream

or substitute around a third of this with full fat milk

salt & pepper
Instructions
First, make the pastry. In a large bowl, rub the butter into the flour with your fingertips until the mixture resembles fine breadcrumbs. Add the water and 'stir' in with a knife, then bring the pastry together with your hands.

Roll out the pastry, then use it to line a roughly 9inch-diameter quiche pan (a metal one with a loose bottom is best). Leave a little pastry hanging over the sides of the pan. Chill for at least half an hour.

Pre-heat the oven to 220C. Prick the pastry case all over the base, then blind bake it by lining it with baking paper and baking weights, rice or beans (this is to stop it puffing up) for 10 minutes. Then remove the paper and weights and bake for another 10 minutes until lightly golden. Remove from the oven and trim the overhanging pastry carefully with a knife. Turn the oven down to 180C.

While the pastry is cooling a little, heat up a little oil in a pan and fry the bacon for 10 minutes until crisp. Remove from the pan with a slotted spoon and spread out over the bottom of the pastry case.

Fry the onions for 10 minutes in the same pan as you cooked the bacon in, then add them to the tart case. Finally, sprinkle over the cheese.

Whisk the eggs and the cream (or cream/milk) together, then grind in a few twists of salt and pepper. Pour into the pastry case (make sure you put the tin onto a baking tray first!) then bake for 25 to 30 minutes or until the quiche is golden and just set. Remove from the oven and serve while warm.
Notes
Recipe barely adapted from Mary Berry. Thank you, Mary – what a beautiful quiche!
Nutrition
Calories:
339
kcal
Carbohydrates:
14
g
Protein:
13
g
Fat:
25
g
Saturated Fat:
14
g
Cholesterol:
134
mg
Sodium:
463
mg
Potassium:
192
mg
Vitamin A:
755
IU
Vitamin C:
1.3
mg
Calcium:
125
mg
Iron:
1.3
mg
I hope you enjoyed this post! You can subscribe to receive posts directly to your inbox by entering your email address into the box at the top of the sidebar on the right.
You can also find more from Scrummy Lane on Facebook, Pinterest, Twitter and Instagram and follow me on Bloglovin! Thanks so much for reading!
*This post may contain affiliate links which means that if you click on a link and make a purchase I get a small percentage of the amount you spend. At no extra cost to you, of course! Thank you!*