A homemade quiche lorraine is the queen of all quiche recipes. So what better recipe to use than from 'the queen of baking', British chef and TV presenter Mary Berry! This timeless classic French dish might sound and look a bit fancy, but you'll be surprised how easy it is to make. And how toe-curlingly delicious it tastes!
So why not give Mary's richly-flavoured, elegant but no-fuss traditional quiche recipe a try for a special occasion – or just to impress your family? You'll be amazed how easy the crisp and buttery shortcrust pastry is to make.
Fill with the perfect proportions of smoky bacon, sweet caramelised onions, tasty cheese, eggs, and cream. Mmm, is your mouth watering yet?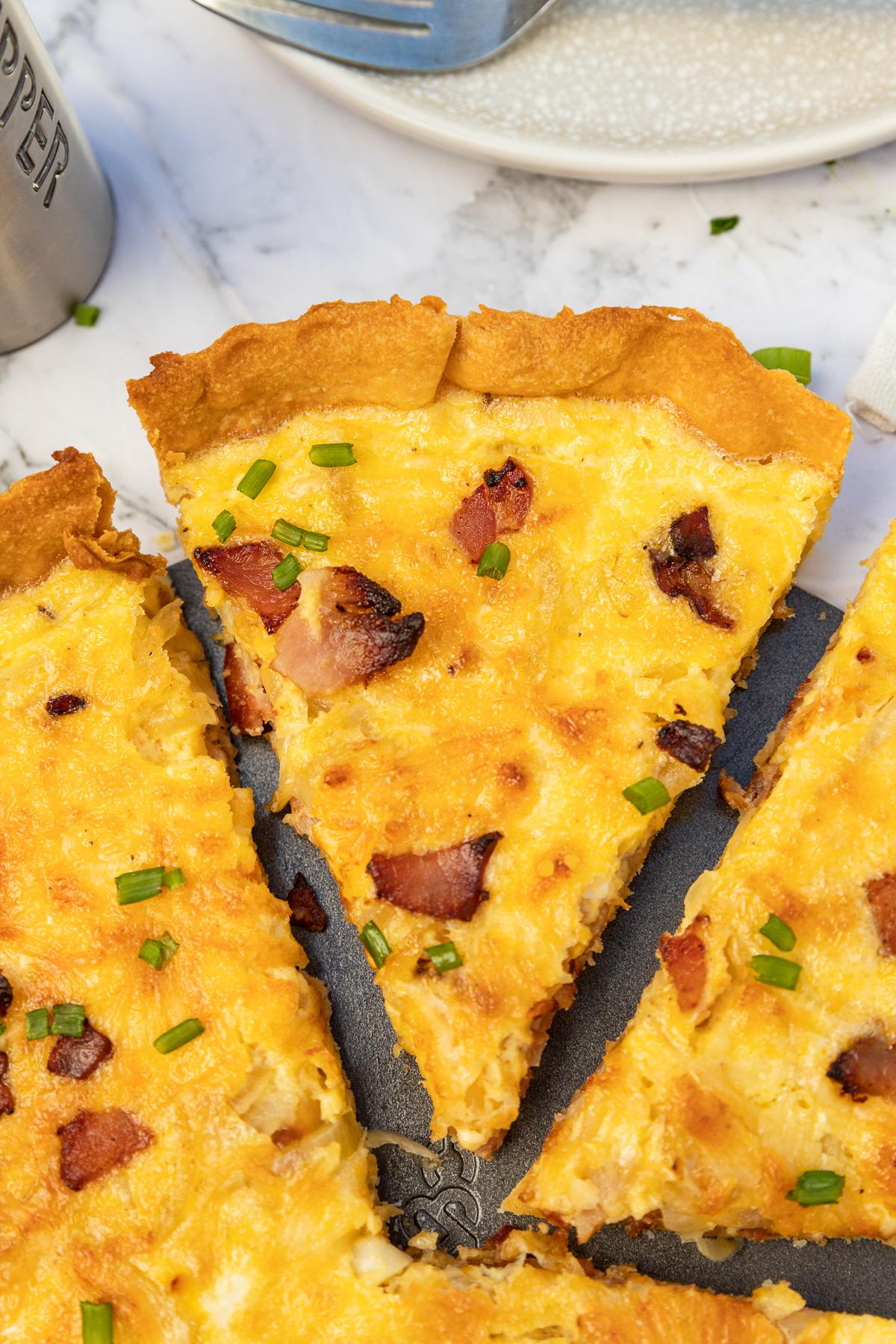 Why you'll love it
It's no secret that a well-made quiche is perfect for a brunch, lunch, dinner, potluck, picnic or anything in between 'emergency'! This red pepper and feta vegetarian quiche is simple and tasty and my popular impossible quiche (crustless) cuts corners without compromising on flavour.
BUT let's just admit it now. The mother of all quiche recipes is a classic quiche lorraine. This humble egg and bacon tart may be originally french, but it's become as much of a British classic as a cup of tea.
With so many quiche lorraine recipes out there, how do you know which is the best? Without question my vote goes to Mary Berry, British food writer, chef and TV presenter, affectionately known as the Queen of Baking!
Here's why:
I find the proportions just right. This is not a deep-dish quiche with a thick crust. Mary's quiche has perfect quantities of thin and crisp, buttery, flaky crust and rich, creamy egg filling. There's plenty of bacon, caramelised onions and tasty gruyère cheese without any of the flavours being overpowering.
The 3-ingredient homemade pastry is so simple to make in a food processor. You'll be shocked just how quick and easy! (Or make it by hand if you prefer, of course). You blind bake the pastry to get a nice crisp pastry case. With this recipe you'll never get the dreaded 'soggy bottom' that Mary is famous for referring to!
Mary Berry's recipes just work. They're classic and simple, and above all reliable. Perfected over her many many years of experience. This quiche lorraine recipe is no exception!
Fun fact: A traditional quiche lorraine (from the Lorraine region of France) was just bacon, eggs and cream in an open pastry case. No cheese! Sometimes (horror of horrors) there was even no bacon!
About the ingredients
All you need is just a few humble pantry ingredients. And you don't even need that much of each.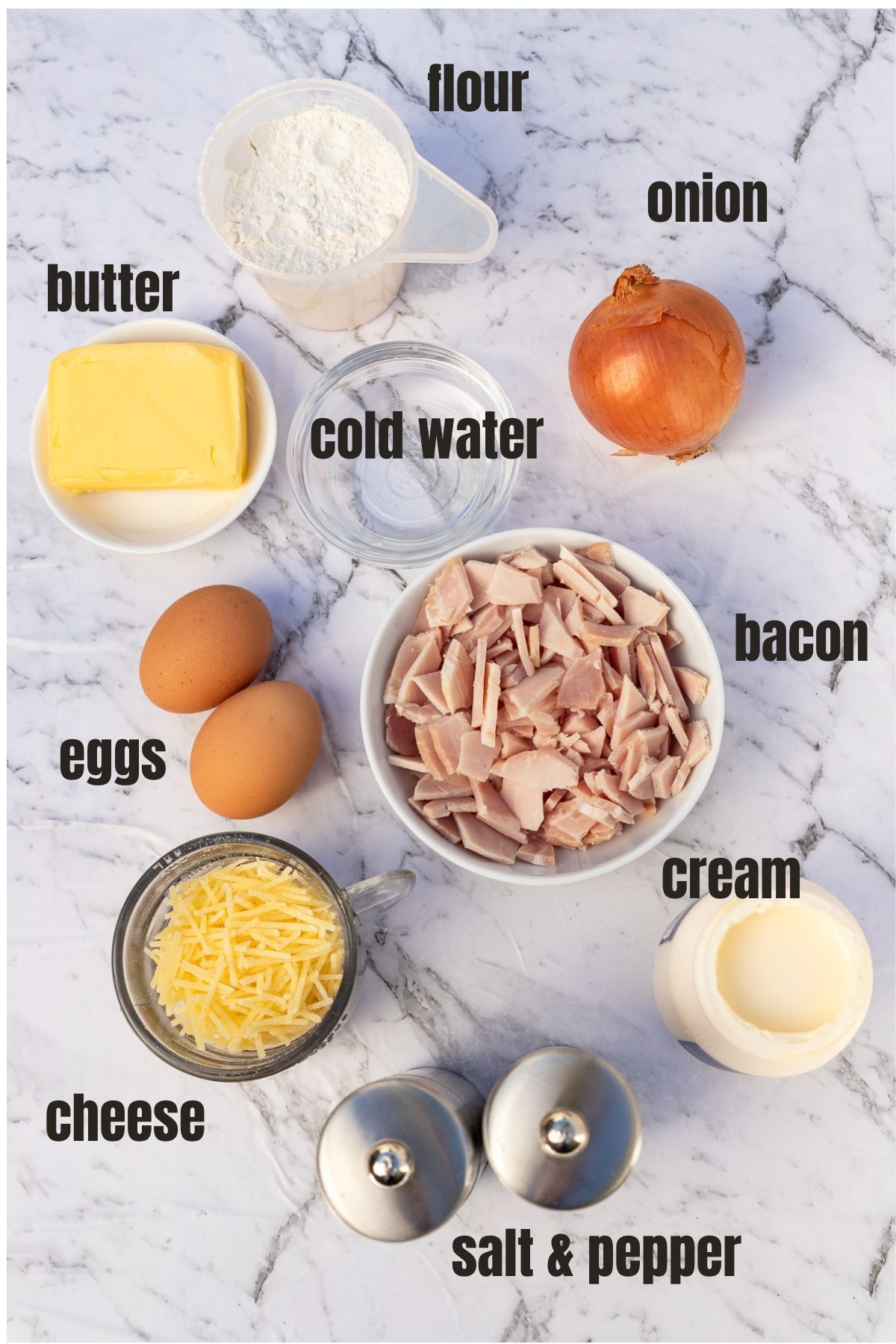 For the shortcrust pastry case
Flour: Just use ordinary all-purpose/plain flour.
Butter: Use a good quality unsalted butter (since the quiche filling is already naturally quite salty, I don't recommend using salted butter). Use the butter cold, straight from the fridge, and don't substitute with margarine. You really need butter for your quiche pastry to be buttery and flaky like it should be!
Cold water: You'll add a few tablespoons of cold water to your flour and butter mixture to bring the pastry together.
For the filling
Eggs: You'll need just 2 large.
Cream: The cream in this quiche recipe is important for the just-right creamy consistency. Use 'single cream' if you're in the UK or 'pouring cream' if you're in the US or Australia. Double or thickened/heavy cream works, too (it's called different things depending on where you live). If you're using thick cream you can substitute a little (maybe a third) of the cream for milk if you like.
Salt and pepper: To season the egg mixture. You won't need much salt, since both the bacon and cheese are already quite salty.
Bacon: Mary suggests using 'unsmoked streaky bacon', or a fattier type of bacon. I tend to go for smoked and on the leaner side, but it's fine to just use your favourite type of bacon. You can also use French style 'lardons' or even Italian style pancetta.
Onion: Strictly speaking, the onion is optional, but I think it adds a lovely extra depth of sweet, aromatic flavour. It only takes around 10 minutes to slightly caramelize them and you can do that while you're pre-baking the pastry.
Grated cheese: Traditionally, a quiche lorraine contains Swiss gruyère cheese which has a slightly nutty flavour. It's delicious, but by all means use another tasty cheese like strong cheddar or even parmesan.
How do you make a Mary Berry quiche lorraine?
The step-by-step guide below should help you make the recipe perfectly first time. Scroll down to the end for the full recipe including ingredient amounts.
First, make and blind bake the pastry.
I'm a big fan of easy options when it comes to any recipe. But in the case of this Mary Berry quiche I highly recommend making your own pastry. It helps to keep the proportions and contrast of textures just right.
If you're usually the first one to reach for the store-bought pastry, don't be nervous. This homemade pastry recipe is unbelievably easy, with just 2 ingredients – flour and butter – plus cold water to bring it together. If you have a food processor, you won't believe how quick and easy it is.
Here's how to do it:
Step 1: Throw the flour and cold (cubed) butter into a food processor and process for around 10 seconds until you have what looks like fine breadcrumbs. Mary says to rub the butter into the flour with your fingertips, which by all means you can do, but it just takes a little longer.
Step 2: Add 3 tablespoons cold water and process again until you have a pastry ball. If the pastry doesn't quite form a ball, just add a little more flour and bring it together with your hands. If not using a food processor, simply do this whole part by hand (don't worry, it's easy too).
Step 3: Roll it out until it's about 30% bigger than an 8 to 9 inch quiche pan.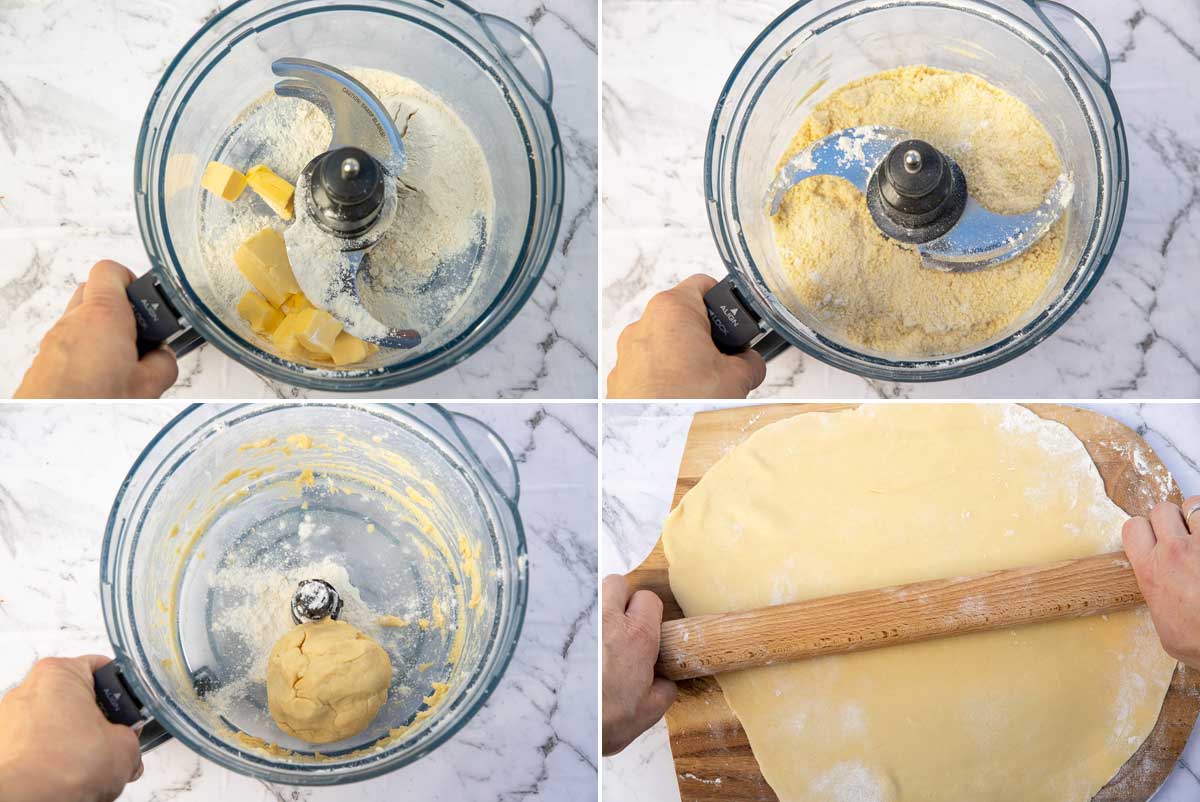 Step 4: Use the pastry to line the quiche pan (you can use the rolling pin to lift it). Then trim it around the edge with a sharp knife.

Step 5: Now it's time to blind bake the pastry. To do this, first prick the pastry all over with a fork (this is to stop it puffing up). Then line with baking paper and fill with baking weights, dry beans, rice or even sugar.
Like this (this is a time I made my quiche with a pre-made crust, but it works exactly the same with a homemade crust):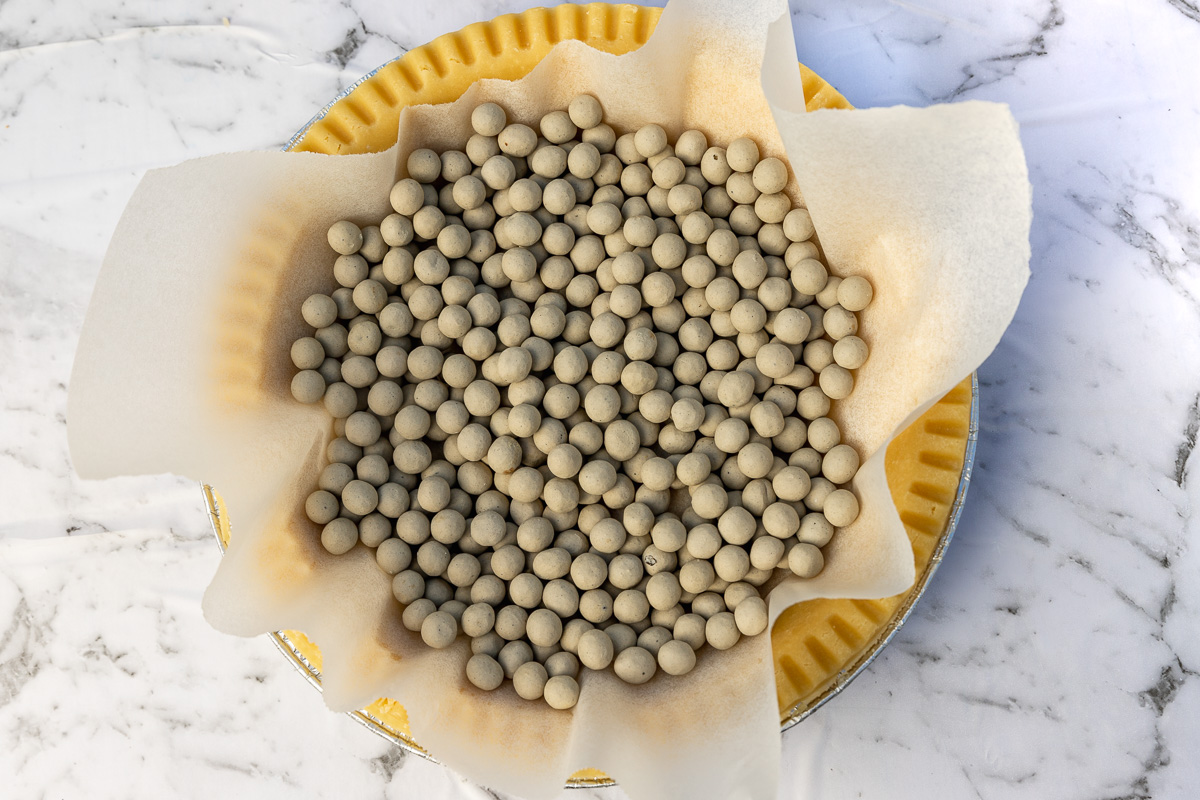 Step 6: Bake for 10 minutes at 220C or 430F. Then remove the weights and paper and bake for another 10 minutes. No risk of a soggy bottom with Mary's quiche!
At this point, turn the oven down to 180C/355F.
Help! My crust cracked while baking! I've been there many times but don't worry, there's a fix. Simply mix some flour with a little water and use the thick paste to 'fix' any cracks in your pastry. Bake for a couple of minutes until just dry. Your crust will be as good as new and won't leak in the oven.
Step 7: While you're blind baking the pastry, cook your chopped bacon in a little olive oil on a medium heat for about 10 minutes until it's all crisped and almost caramelized. Ditto with your onions, which you cook slowly in the same pan you cooked the bacon in … mmmm!
Step 8: Meanwhile, you can also whisk the eggs with the cream and season.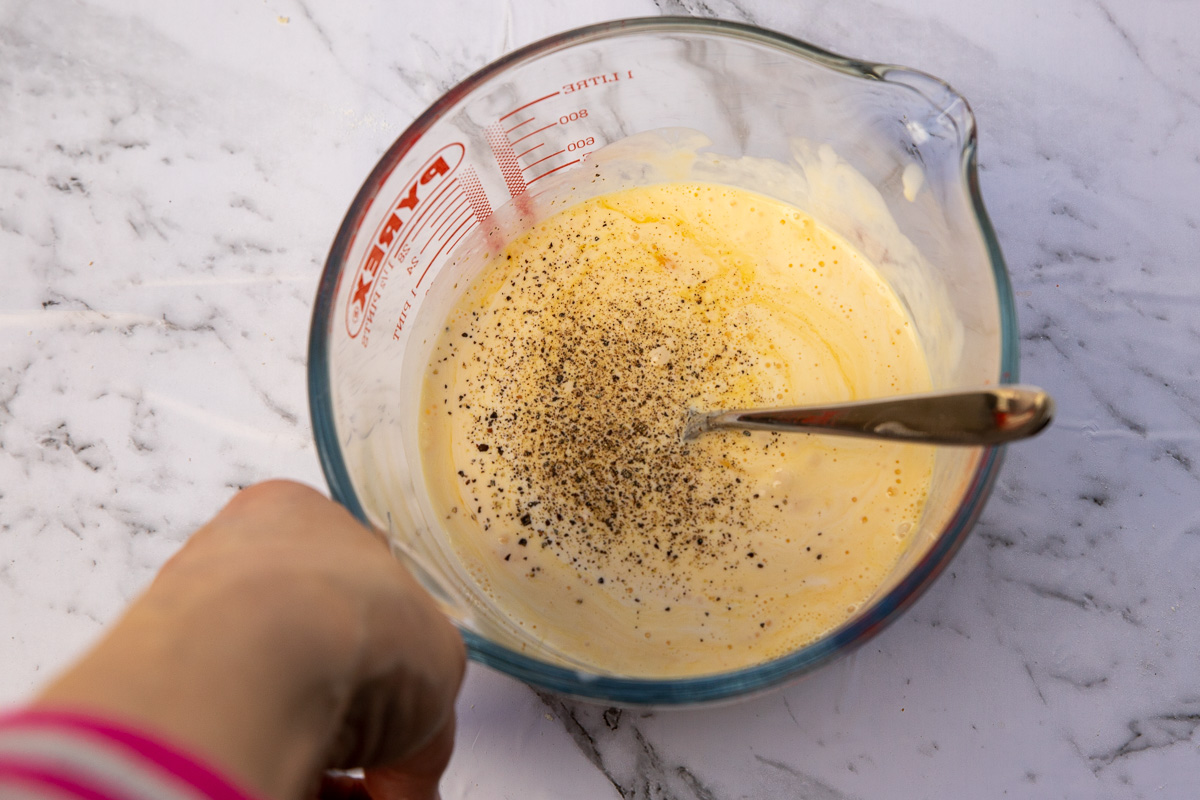 Step 8: Layer up the filling ingredients in the cooled pastry case – first the cooked bacon, then the onions, then the cheese. Carefully pour over the egg and cream mixture. I like to save a few bits of bacon to place right on top!
Step 9: Mary says to bake at 180C/355F for 25 to 30 minutes. I find sometimes 20 minutes is long enough in my oven which runs a little hot. The quiche should be set but still a bit jiggly in the middle.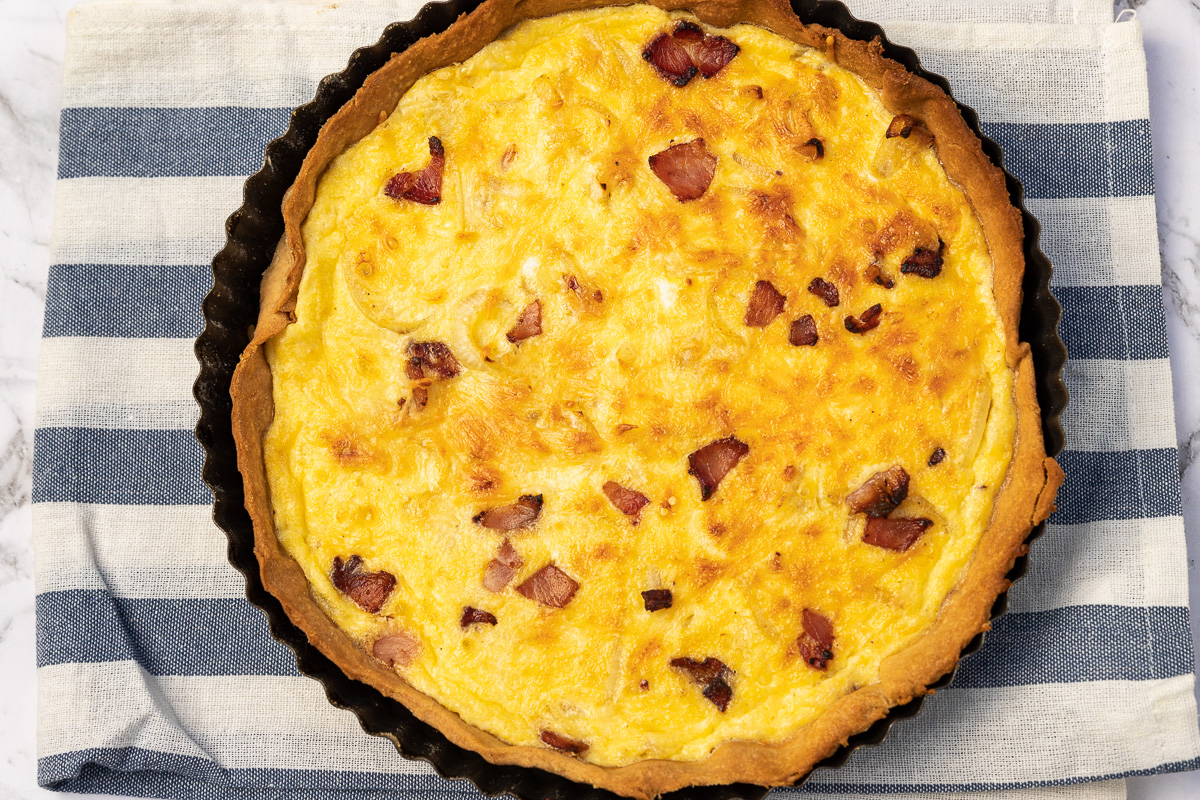 Helen's top tips
I highly recommend giving Mary's recipe a go as it is, including the homemade pastry (it really is easy). But it's no crime to use frozen shortcrust pastry or a frozen or refrigerated pastry case if you prefer.
Be careful not to overcook the quiche. One of the secrets to a good quiche is a perfectly fluffy egg filling. So 20 to 30 minutes in the oven is long enough. The lovely Mary says that if you do overcook it your quiche filling can become spongey and full of air.
Put your quiche pan on a baking tray before pouring in your egg and cream mixture. This way it'll be easier to transfer it into the oven without the risk of spilling any of the filling.
What to serve with quiche lorraine
In the Scrummy household we've always loved to pair quiche with baked potatoes and a simple salad for dinner. But also it makes a great lunch for guests – with a chilled glass of white wine, of course.
Or you can pack up the leftovers for school or work and enjoy this quiche cold.
A quiche lorraine is so flavourful that you don't want any sides to outshine it. Simple is best. Perhaps a very simple green salad with cherry tomatoes and cucumber. It also goes well with coleslaw. Try this Greek yogurt brussel sprouts coleslaw if you want to feel all smug and healthy!
Also, here's a wild card option. I think quiche lorraine goes very well with this simple Instant Pot tomato soup (don't worry, there's a stovetop version too!). It must be all the cheese and bacon. Mmm.
Looking for more ideas? Check out this list of 40+ easy side dishes for quiche.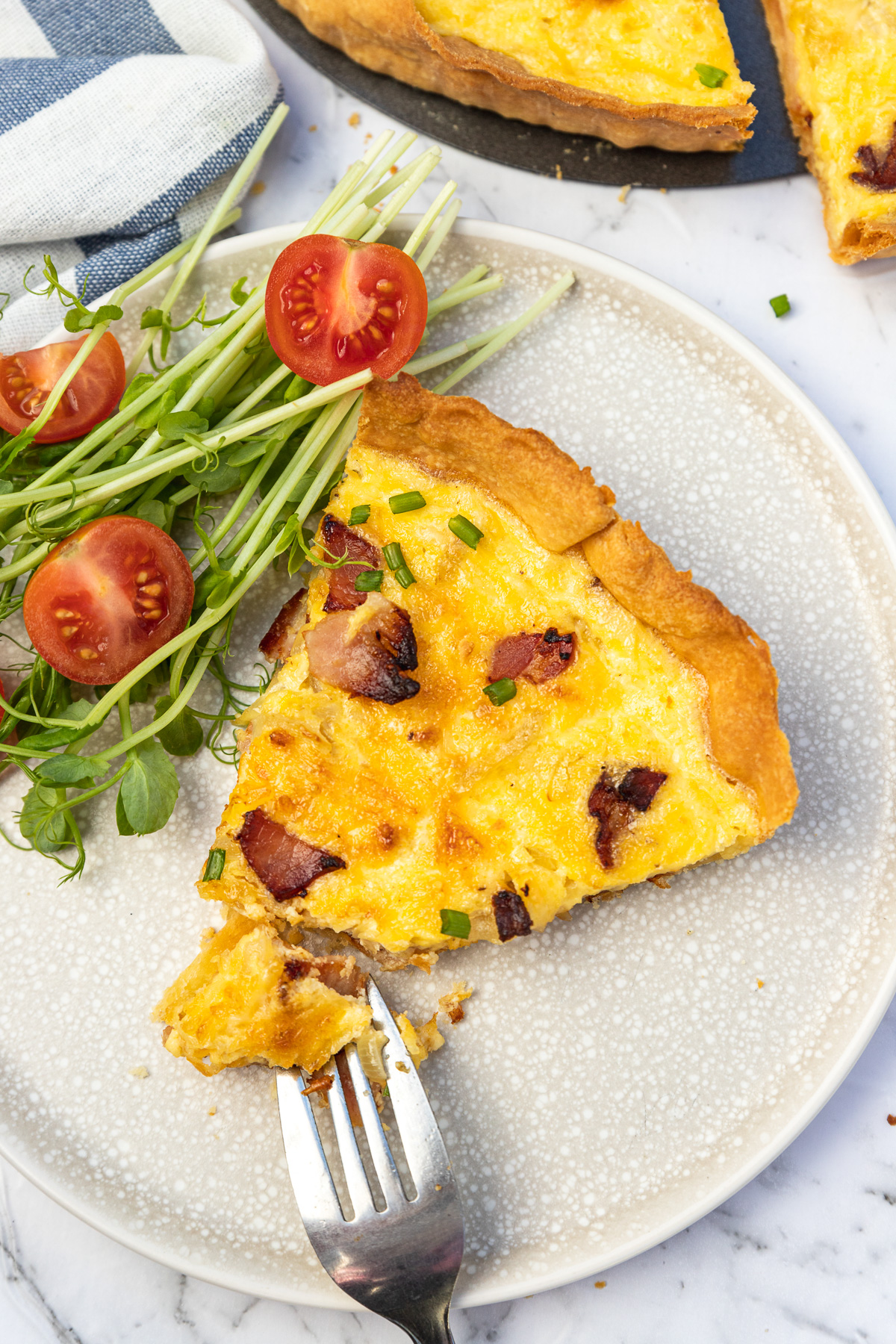 More things to know (recipe FAQ)
Can you make quiche lorraine without crust?
You can, but don't use a classic quiche lorraine recipe, which needs the crust to hold together. Instead, try this best crustless quiche recipe. It's still impressive without a crust – packed with tasty cheese, ham (or bacon), onions and a few other simple ingredients. You won't even miss the crust!
Can I use whole milk instead of cream in a quiche lorraine?
A classic quiche lorraine is creamy. It works, since the egg custard layer isn't too thick. If you like, however, you can lighten up your quiche just a little by substituting around a third of the cream for whole milk.
Can I make a quiche lorraine ahead?
A quiche is a great make-ahead option for a party! It's most delicious served immediately after baking, but you can make it and store it in the fridge up to 3 days ahead. To reheat, just bake it again at 325F/160C for around 15 minutes.
Can I freeze homemade quiche lorraine?
Yes. After blind baking the pastry, assemble the quiche. Let the filling freeze solid in the freezer, then cover it well with plastic wrap and aluminium foil. Freeze for up to 3 months. Bake from frozen for 35 to 40 minutes. To freeze after baking, wrap well and freeze for up to 3 months. Then cover with foil and reheat for 30 to 40 minutes until hot.
Useful equipment
Use a typical 8 to 9-inch quiche pan. A springform quiche pan is great, or just use a fluted tart tin or a pie plate. I love this Emile Henry pie dish!
I also usually use my food processor to make the pastry for this easy quiche lorraine. It makes it ridiculously quick and easy to make. I like this Cuisinart 8-cup food processor, but of course any food processor is fine.
If you don't already have a rolling pin, a big empty glass bottle can work in a pinch. For next time, I really like the idea of an adjustable rolling pin. It even comes with a silicone baking mat with measurements on it! (affiliate links)
More easy recipes using eggs
More egg-based dishes, including quiches, slices, frittatas and omelettes! Yum.
These 6-ingredient mini quiche lorraine are the much easier baby version of a classic quiche lorraine. Perfect for parties, picnics and lunch boxes!
This easy zucchini slice is like a veggie-packed crustless quiche in slice form! Also perfect for picnics and lunch boxes.
This Spanish omelette is pretty legendary, once you've learned how to make it properly. Try it and see!
IF YOU MAKE THIS RECIPE, LET ME KNOW HOW YOU GET ON BY LEAVING A COMMENT AND RATING BELOW… AND DON'T FORGET TO SIGN UP TO RECEIVE ALL MY NEW RECIPES BY EMAIL!
FOLLOW ME ON FACEBOOK, INSTAGRAM, PINTEREST AND YOUTUBE.
Perfect Mary Berry Quiche Lorraine
Mary Berry is a British food writer, chef and TV presenter, and she makes an excellent quiche lorraine! Made with tasty bacon, onions, eggs, cream and cheese, the proportions are perfect. There's a crisp, flaky, buttery crust and a thin but rich layer of delicious filling. Follow my step-by-step guide to making your own Mary Berry quiche complete with homemade pastry and you'll never buy store-bought again.
Equipment (affiliate links)
Ingredients (UK/Australia? Click below for grams/ml)
For the pastry
175

grams

plain flour

(all-purpose) plus a little extra for rolling

85

grams

butter

chopped into small cubes straight from the fridge

3

tablespoons

cold water
For the filling
170

grams

bacon

chopped into small pieces (Mary suggests 'unsmoked streaky bacon' which is on the fattier side – for flavour – but I usually go for smoked bacon but leaner. In the USA, 'thick cut bacon' or even pancetta will work.)

1

onion

a little oil for cooking

125

grams

gruyère cheese

slightly 'nutty' Swiss gruyère is lovely, but mature cheddar, parmesan, or another kind of cheese also works well

2

large

eggs

250

ml

single cream

US = 'light' cream or pouring cream (if you like you can substitute around a third of this with full fat milk)

salt & pepper

to taste
Instructions
First, make the pastry. If you have a food processor, pulse the flour and cold butter together for a few seconds until you have what looks like fine breadcrumbs. Then add the water and pulse again until a ball of pastry forms. Add a bit more flour if a ball doesn't form easily and bring it into a ball with your hands. (Alternatively, make the dough the traditional way by rubbing the cold cubes of butter into the flour with your fingertips in a large mixing bowl. Add the water and 'stir' in with a knife, then bring the pastry together with your hands.)

175 grams plain flour,

3 tablespoons cold water,

85 grams butter

Roll out the pastry (with a little extra flour to stop sticking). Then use it to line a roughly 8 to 9 inch-diameter quiche pan (a metal one with a loose bottom is best).

Trim the pastry around the edge of the pan with a sharp knife, then chill for at least half an hour.

Pre-heat the oven to 220C/430F. Prick the pastry case all over the base, then blind bake it. To do this, line it with baking paper and baking weights, rice or beans (this is to stop it puffing up) for 10 minutes. Then remove the paper and weights and bake for another 10 minutes until golden.

Turn the oven down to 180C/355F. While the pastry is cooling a little, heat up a little oil in a pan and fry the bacon for 10 minutes until crisp. Remove from the pan with a slotted spoon and spread out over the bottom of the pastry case.

170 grams bacon,

a little oil for cooking

Fry the onions for 10 minutes in the same pan as you cooked the bacon in. Then add them to the tart case. Finally, sprinkle over the cheese.

1 onion,

125 grams gruyère cheese,

170 grams bacon

Whisk the eggs and the cream together, then grind in a little salt and pepper. Pour into the pastry case (make sure you put the tin onto a baking tray first) then bake for 20 to 30 minutes or until the quiche is golden and just set. Be careful not to overcook. Serve while warm.

2 large eggs,

250 ml single cream,

salt & pepper
Notes
Thanks to: Recipe from Mary Berry's Cookery Course: A Step-By-Step Masterclass In Home Cooking. Thank you, Mary – what a beautiful quiche!
Pastry: If you have a food processor, this is by far the quickest and easiest way to make it. Chill the pastry case before blind baking. If your pastry cracks while blind baking, just 'patch up' with a little flour mixed with water and bake for 2 minutes until set.
Filling: Mary suggests to use 'unsmoked streaky bacon' but I prefer a leaner smoked bacon. Also, the recipe uses 'single cream' (light or pouring cream), but double/heavy/thickened cream works, too. If using thicker cream I'd consider replacing around a third with full cream/whole milk.
Cooking time: Mary's recipe states 25 to 30 minutes but I find my quiche is sometimes done after just 20 minutes. Keep an eye on it from 20 minutes. The centre should be just set, so still a little jiggly. You don't want to overcook it.
How to serve: Simply, with a simple side salad, a baked potato and coleslaw, or just on its own for a party, picnic or lunch box treat.
How to store: This quiche will keep well covered in the fridge for 2 to 3 days. To reheat, just bake again at around 160C/320F for 15 to 20 minutes until hot again. Or air fry for around 5 minutes.
Freezing instructions: You can either freeze the quiche unbaked (blind bake the pastry, add the filling and freeze until solid. Then wrap well in cling film and aluminium foil for up to 3 months). Bake from frozen at 200C/390F for around 40 to 45 minutes.
OR freeze cooked (either whole or leftover slices). Reheat from frozen for around 30 to 40 minutes (less time if it's slices so check from around 20 minutes).
Nutrition
Calories:
252
kcal
Carbohydrates:
3
g
Protein:
6
g
Fat:
24
g
Saturated Fat:
15
g
Polyunsaturated Fat:
1
g
Monounsaturated Fat:
6
g
Trans Fat:
1
g
Cholesterol:
73
mg
Sodium:
138
mg
Potassium:
65
mg
Fiber:
1
g
Sugar:
1
g
Vitamin A:
741
IU
Vitamin C:
1
mg
Calcium:
208
mg
Iron:
1
mg