Whether it's a lamb roast, lamb chops, or another type of lamb you're serving, it's going to be a special meal that deserves only the very best sides. But keep the lamb the star of the show! From simple roasted vegetables to crispy Greek lemon potatoes, here are 50 favorite easy side dishes to pair perfectly with your lamb!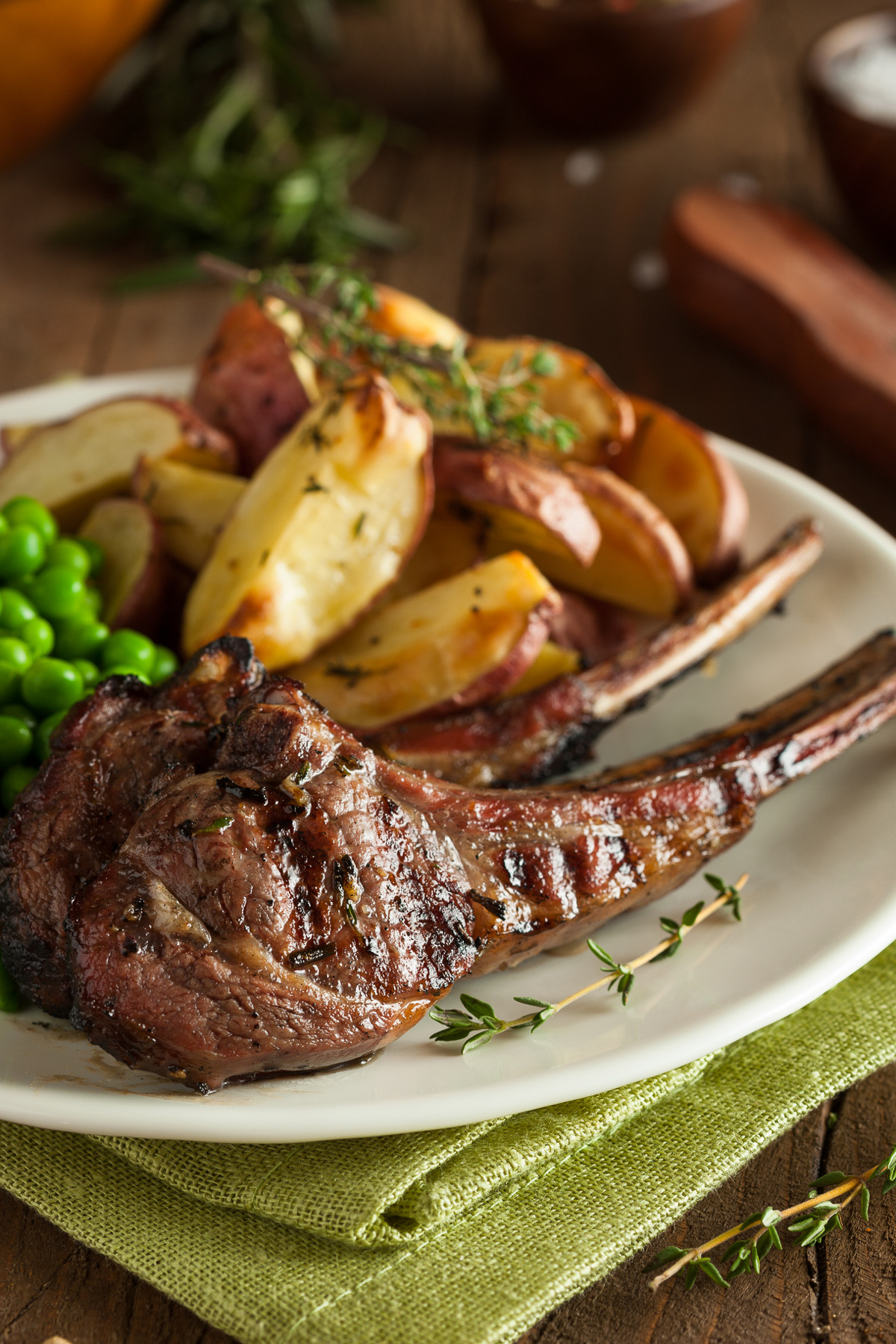 What to serve with lamb
Lamb is always a great choice for a special occasion, whether it's slow roasted Greek lamb (kleftiko!) for Easter or a roasted rack of lamb for a Valentine's dinner.
You'll want to keep the hearty, juicy, succulent meat as the main attraction, so simple sides make the perfect partners for lamb.
The great news is that robust lamb goes with a wide variety of flavours, from mild and sweet to zesty, punchy and spicy. It's particularly delicious with Mediterranean and Middle Eastern flavours, which is why you'll see so many of those in the list.
Whatever you have in mind – vegetables, potatoes, salads, rice, pasta, or bread – take your time to browse the variety of delicious sides below and pick the very best for your main course!
Wondering what wine to serve with your delicious lamb feast? Scroll down to the end for some FAQs!
Vegetable side dishes for lamb
You can't go wrong with some simple spring vegetables such as pan-fried asparagus or green beans. Simply pan-fry in a little olive oil and plenty of garlic for 5-10 minutes until lightly golden and delicious.
Or how about broccolini sautéed for 5 minutes with a little olive oil and garlic? Toss a few squeezes of lemon juice through at the end!
Alternatively, toss your favorite dressing through a fresh green salad, sprinkle simple garnishes over your lamb such as lemon zest, crumbled feta or fresh herbs. Grab some fresh crusty bread and dinner is served.
Here are more delicious veggie side ideas:
Potatoes to go with lamb
Mashed potatoes, sweet potato fries, skinny fries, wedges, scalloped potatoes and more. You can serve literally any kind of potatoes with your lamb for an easy yet luxurious meal.
Need a super quick, easy and delicious side dish that will go with your quick lamb chops or burgers – or frankly any kind of lamb? Just toss sweet potato wedges in a little olive oil, salt, pepper, garlic powder, onion powder, paprika and dried herbs. Roast for around 30 minutes (turning half way) at 230C/450F for crispy, caramelized sweet potatoes that everyone will love.
Or pick one of these delicious potato sides for lamb:
Salad ideas
Grilling some marinated lamb on the BBQ and want ideas for salads to go with it? If you have something on the lighter side in mind, you've come to the right place.
I often serve a simple mixed leaf or spinach salad with my famous Greek lamb kleftiko. I simply toss through a simple dressing with olive oil, apple cider vinegar and honey. Add some chopped spring/salad onions and a little chopped dill as well if you like.
Another very easy but delicious choice is a tomato salad. Use a variety of different shapes and sizes and chop them roughly. Then drizzle in your favorite dressing, or just olive oil and balsamic vinegar or glaze. Scatter over some fresh basil for the most delicious simple salad ever.
These would both be good options for lamb shanks, lamb moussaka, lamb tagine or any other dish where you really want to keep the lamb the star of the show.
Serving simple grilled lamb, meatballs, souvlaki or koftas? You might be up for something a little different!
Here are some ideas:
Rice and pasta sides
From a hearty and comforting macaroni and cheese to a cold pasta salad with asparagus, a rice or pasta dish can make a great easy and tasty side dish for your lamb.
I'd choose one of these to go with simple grilled, barbecued or pan-fried lamb. I hope you find something you like!
Bread
If you've already chosen a veggie side to go with your lamb, add fresh bread and there's your perfectly balanced meal.
If you're short on time, by all means grab a freshly baked olive, herb or sundried tomato artisan bread from your favourite bakery.
If you're feeling adventurous, however, here are a few (really easy) homemade bread ideas:
Even more sides for lamb!
Appetizer and dessert ideas
Lamb is such a great option for easy entertaining. It makes a substantial meal, and it's usually a real show piece. So you'll want to keep your appetizers and desserts on the lighter side.
Here are a few ideas:
Appetizers
These crispy halloumi fries have literally never let me down. They take mere minutes to make, and everyone loves them, from the kids to the grandparents.
Another crowd pleasing option is these crispy zucchini fries. They're delicious served with a little tzatziki on the side, but light enough so that they won't spoil your appetite.
Desserts
Here are my top picks for a quick and easy dessert to go with your lamb main. You can make either of them ahead so you can put all your attention on your delicious lamb centrepiece!
This dramatic looking (but very easy) San Sebastian cheesecake is incredible! Otherwise known as a burnt Basque cheesecake, it's a crustless cheesecake with a delicious dark golden top.
Lamb side dish FAQs
I'd love to hear what delicious lamb dish you made, and which of these easy recipes you chose to go with it in the end!
Enjoy!
Also wondering what to do with your roast lamb leftovers? Check out this list of delicious and creative lamb leftovers ideas including soups, curries, stews, sandwiches and more!
IF YOU MAKE THIS RECIPE, LET ME KNOW HOW YOU GET ON BY LEAVING A COMMENT AND RATING BELOW… AND DON'T FORGET TO SIGN UP TO RECEIVE ALL MY NEW RECIPES BY EMAIL!