Brussels sprouts lover or hater? You're about to become a lover after you try making these crispy brussels sprouts with tahini sauce and almonds!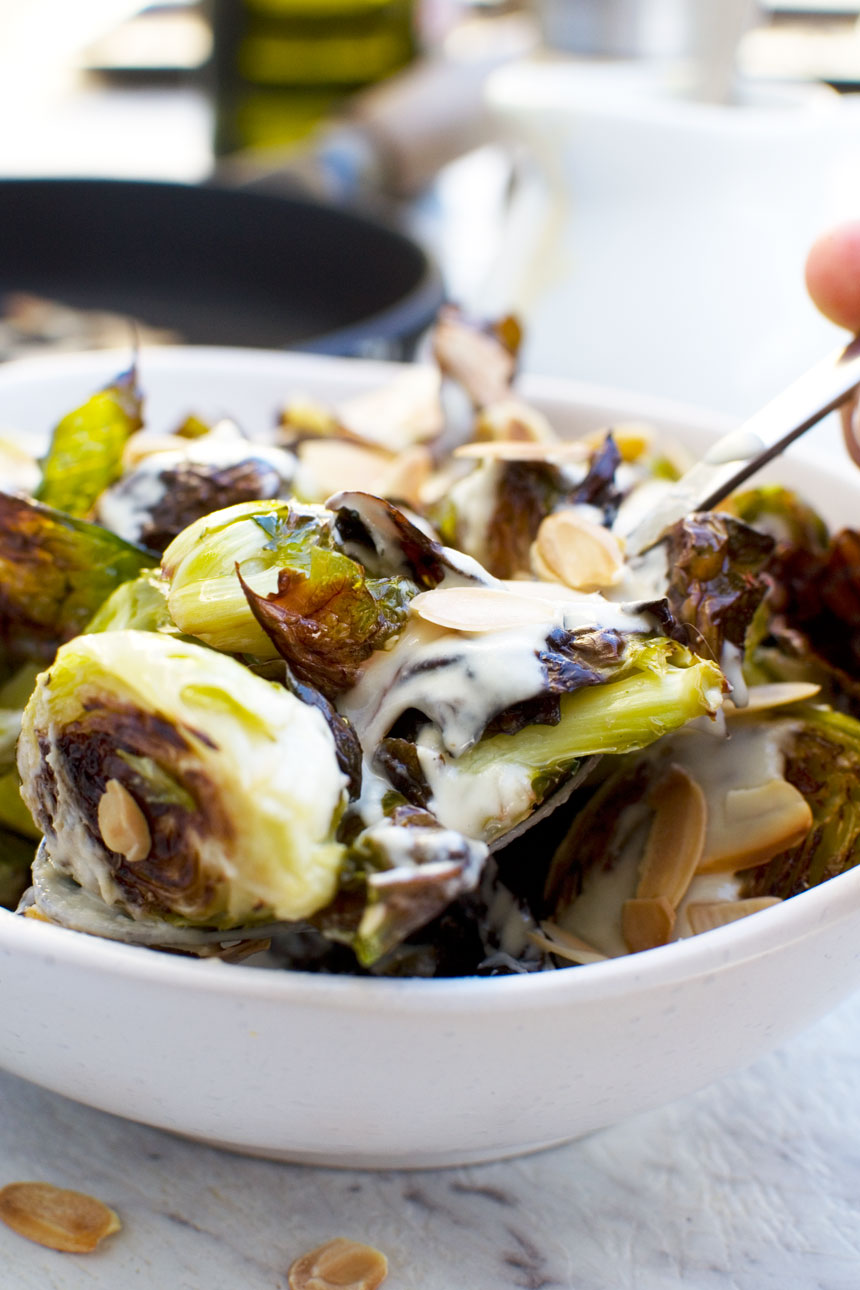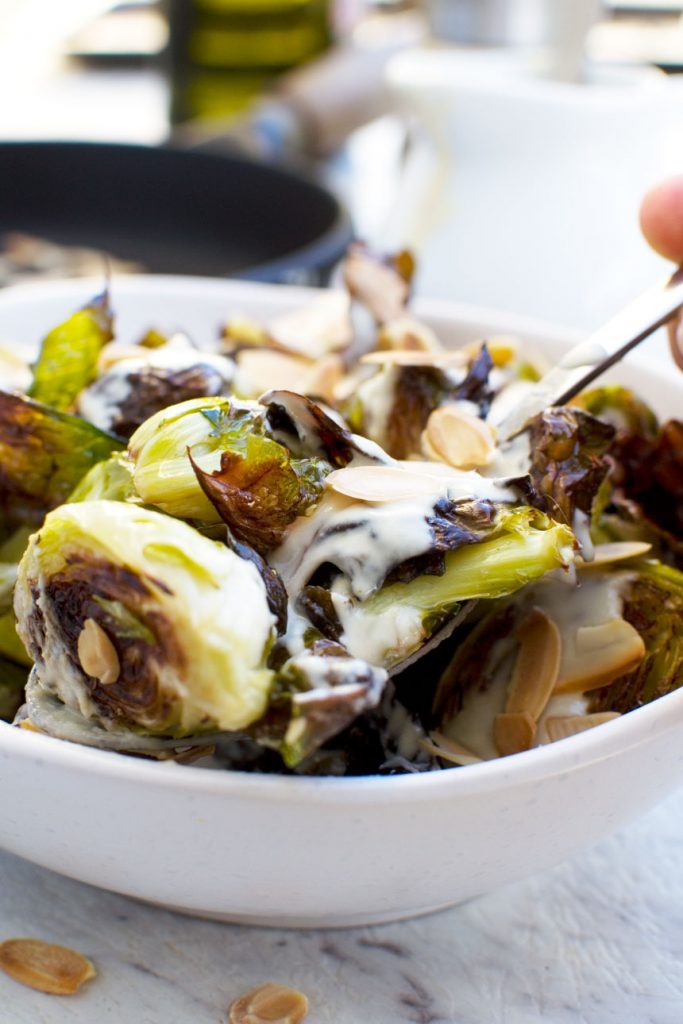 How to become a brussels sprouts lover
If you're a brussels sprouts hater, I have to ask… have you ever tried roasted brussels sprouts (yes, they're crispy!)? And if you're still a hater of roasted brussels sprouts, have you tried roasted brussels sprouts with tahini sauce and almonds?
I've already written a post about how fantastic tahini sauce is, and one of the amazing uses I mentioned was to drizzle it all over roasted vegetables.
The icing on the cake is a generous sprinkle of toasted slivered almonds over the top. The combination is magical. It's a lot harder to hate brussels sprouts when you have them this way!
How do you roast brussels sprouts?
Roasting is my favourite way to cook brussels sprouts. It's super easy, especially if you're turning on the oven anyway.
Roasting brussels sprouts gives them a sweeter, almost caramelised flavour. It also gives you an amazing crispy (did I mention these are crispy brussels sprouts?) blank canvas to paint even more deliciousness on.
So this is how:
Wash the brussels sprouts thoroughly and remove any shabbier outer leaves.
Slice off the narrow stalk end off the brussels.
Slice the brussels in half vertically.
Scatter them over a large baking tray in one layer. Don't worry about any leaves that fall off. Keep them on the tray – they will become beautifully crispy!
Drizzle fairly generously with olive oil and salt and pepper to taste. Toss with your hands.
Roast at a high temperature for around 30 minutes. Make sure you jiggle the tray 2 or 3 times during cooking.
Pro tip: Brussels sprouts are really easy to roast, but you'll want to keep an eye on them towards the end of the cooking time. You want them to be golden brown with plenty of crispy bits, but not burnt!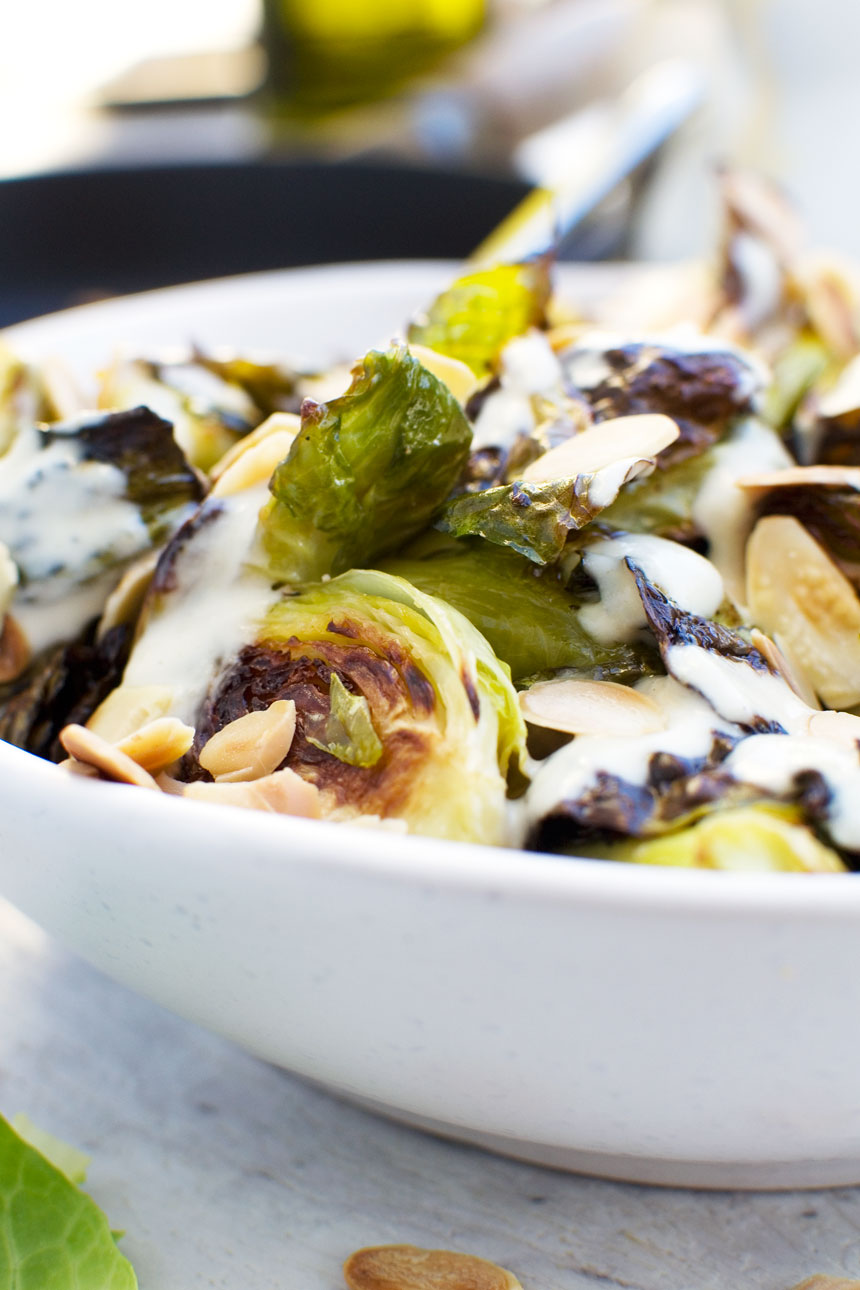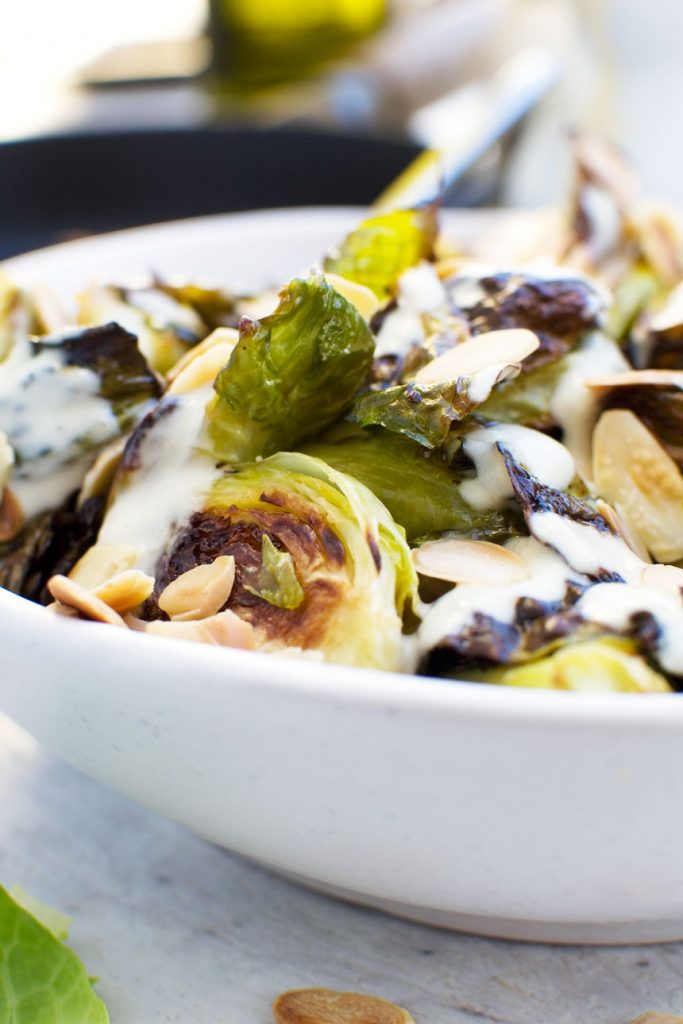 How to make them
Once you have roasted your brussels sprouts to crispy perfection, this is what you need to turn them from good to amazing:
1 batch of 5-minute tahini dressing or sauce (just 6 simple ingredients: tahini, lemon juice, garlic, cumin, salt and water)
slivered almonds, toasted lightly in a dry frying pan
So all you do is roast your brussels sprouts (see method above!). While your brussels are doing their magic in the oven, you can prepare the 5-minute tahini dressing and lightly toast your almonds in a dry frying pan or cast iron pan.
When the brussels sprouts come out of the oven, it's best to serve them immediately if you can to keep as much yummy crisp as possible. Quickly drizzle over a generous amount of tahini dressing, then scatter over the almonds.
You won't believe how delicious this recipe is!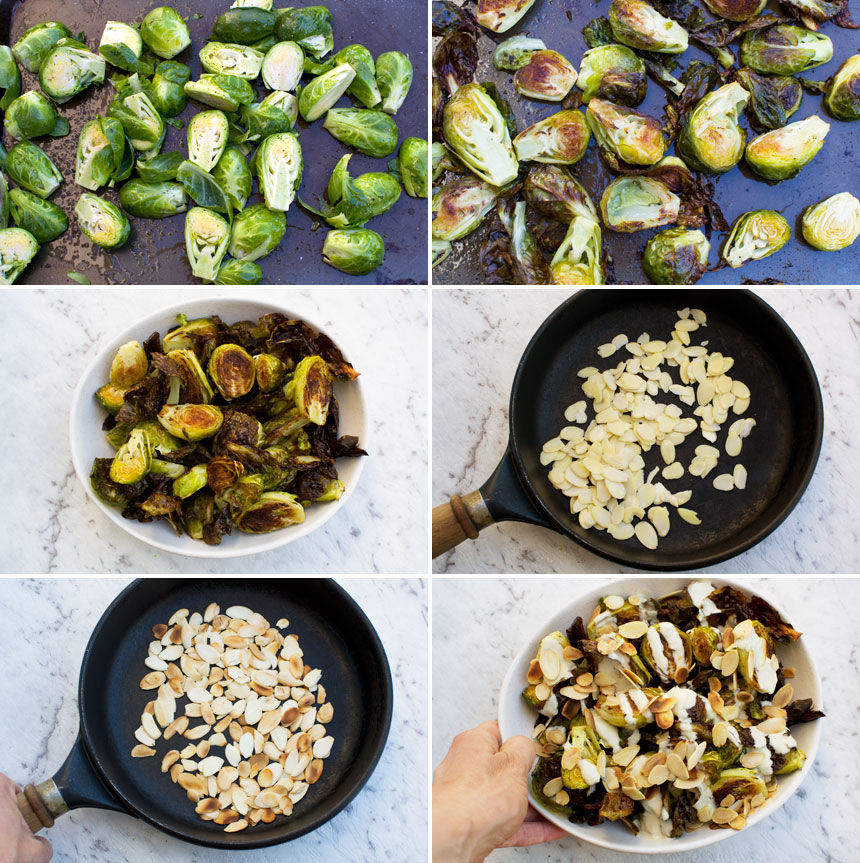 How crispy will they be?
Well… not crispy like triple cooked chips/fries, but subtly crispy like crispy seaweed (if you've ever tried that!).
If some of the brussels sprouts leaves have separated from the brussels sprouts on the tray, all the better. These escaped leaves will probably be extra crispy!
How to make the dressing
There's loads more information about this incredible sauce or dressing and its multiple delicious uses in this post. But for now here's a photo reminder of how to make it: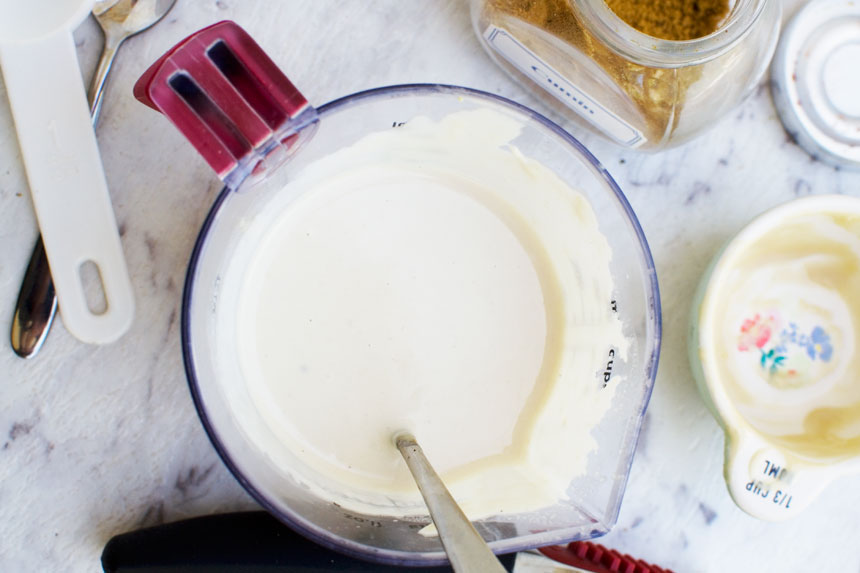 How to serve your sprouts
These crispy vegetables would work really well as a side dish to any kind of roasted meat or fish.
You can drizzle more tahini sauce over your plate if you like (highly recommended!).
Or… they're also great served as part of a 'mezze' or sharing style meal if you want to stick to the Mediterranean theme. How about adding Greek baked chicken wings ? Or halloumi fries, zucchini fries, and baked Greek eggplant for a delicious vegetarian meal?
Pro tip: True brussels sprouts hater in the house? May I suggest serving roasted cauliflower, kale or butternut squash instead?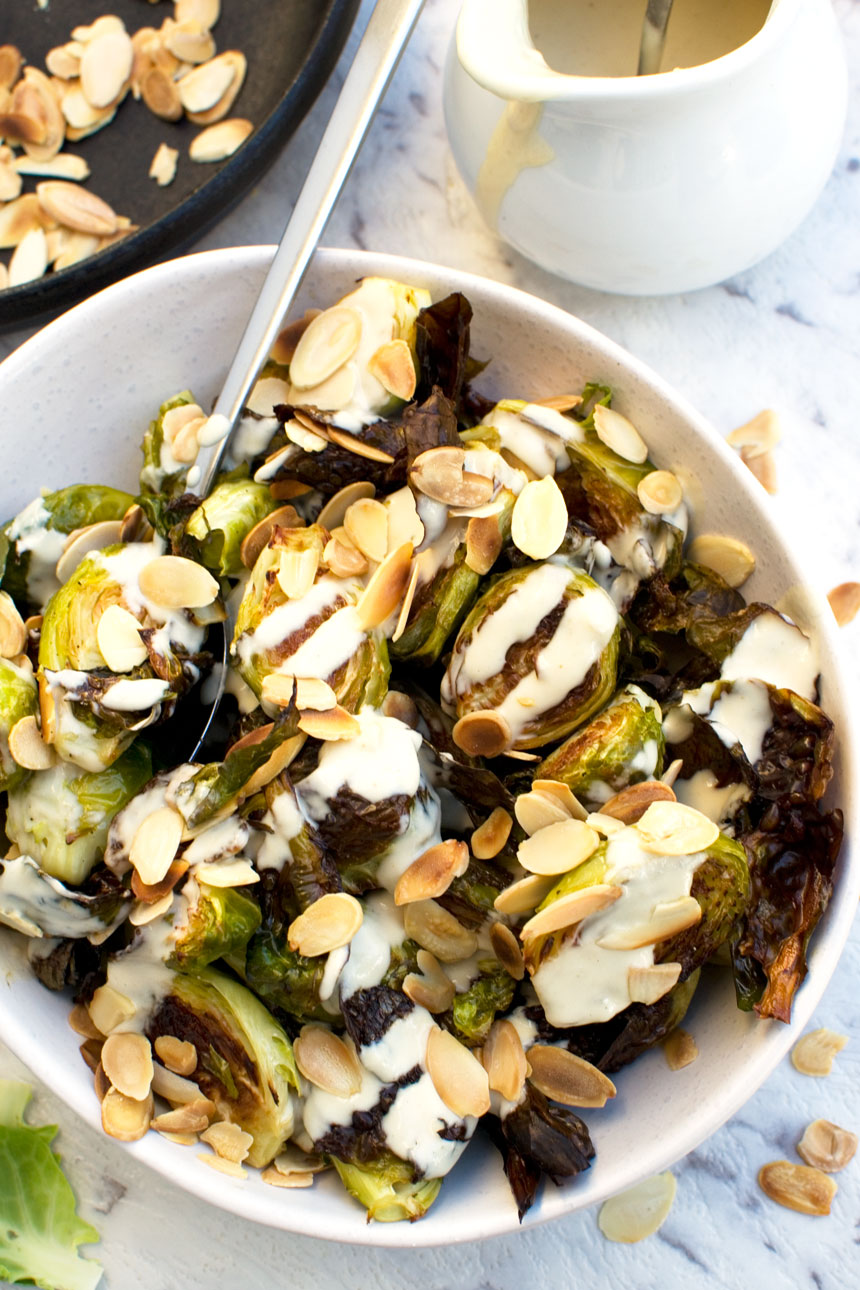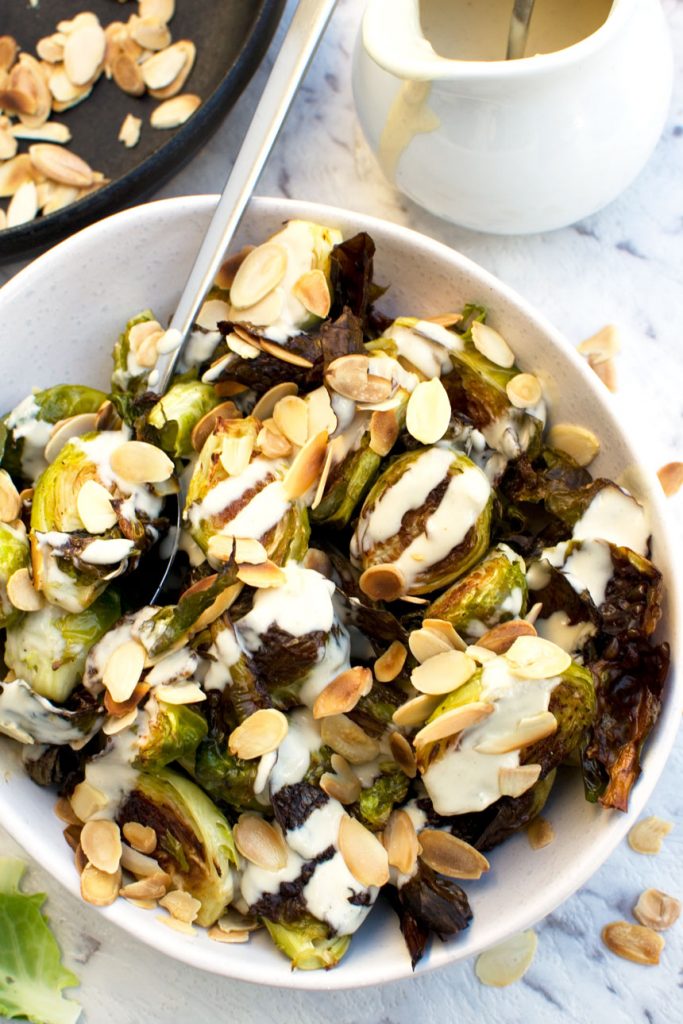 Loving the crispy brussels sprouts vibe in this post? Why not try these honey balsamic brussels sprouts with caramelized onions, pine nuts and feta too? They're a perfect Thanksgiving or Christmas side with a difference, or for a simple midweek side.
More scrummy side dishes
IF YOU MAKE THIS RECIPE, LET ME KNOW HOW YOU GET ON BY LEAVING A COMMENT AND RATING BELOW… AND DON'T FORGET TO SIGN UP TO RECEIVE ALL MY NEW RECIPES BY EMAIL!
FOLLOW ME ON FACEBOOK, INSTAGRAM, PINTEREST AND YOUTUBE.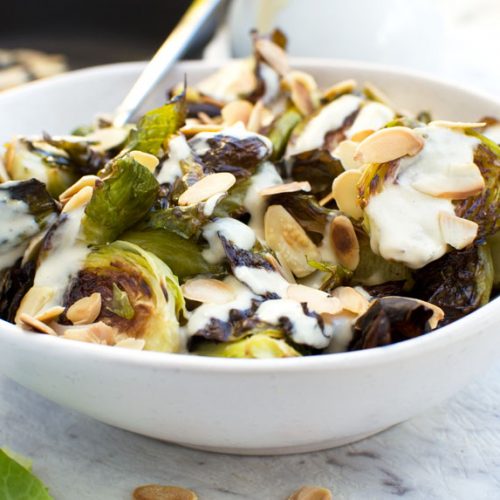 Crispy brussels sprouts with tahini sauce and almonds
These fancy roasted brussels sprouts can turn anyone into a brussels sprouts lover! But don't worry – they aren't difficult to make. Simply roast brussels sprouts in a little olive oil, then drizzle with the most delicious and simple tahini sauce and lightly toasted almonds. Absolutely delicious served with your choice of protein on the side!
Ingredients (UK/Australia? Click below for grams/ml)
For the roasted brussels sprouts
1

pound

brussels sprouts

3

tablespoons

olive oil

salt & pepper

to taste
Instructions
For the brussels sprouts
Pre-heat the oven to 390F/200C.

Wash the brussels sprouts and remove any battered or dirty looking outer leaves. Slice the narrow end off and slice in two lengthwise.

Scatter over a large baking tray in one layer, then drizzle with the olive oil. Include any leaves that have fallen off! Grind over salt and pepper to taste.

Roast for around 25 to 35 minutes until the brussels are golden brown and crispy. Toss once or twice during cooking. Keep a close eye on them towards the end of the cooking time so that they don't burn.

Tip onto a serving platter or into a bowl and serve as soon as you can as described below.
For the tahini sauce and almonds
Meanwhile, whisk the lemon juice into the tahini in a small bowl or jug (I use a small whisk or a tea spoon).

Slowly whisk in the water until you have a smooth paste that's a little thinner than mayonnaise.

Whisk in the crushed garlic, cumin (if using) and salt. Set aside.

Heat the flaked almonds in a small frying pan for a few minutes. Shake regularly until they are golden brown. Keep a close eye on them as they burn quite easily!

Drizzle the tahini sauce generously over the crispy brussels sprouts. Scatter with the toasted almonds and serve.
Notes
Cooking time
I find 30 minutes to be about right, but check from 25 minutes as exact cooking time can depend on your particular oven as with most things.
The most important thing is to keep an eye on them towards the end of the cooking time. They should be golden brown and crispy in parts, but not burnt!
How crispy will your brussels be? Well, not crispy like triple cooked chips/fries, but the they will be lightly crispy in parts, especially if you have plenty of leaves that have fallen off onto the baking tray!
How to serve your brussels sprouts
These roasted brussels sprouts are best served straight from the oven so that they keep as much crisp as possible. Yum!
They are delicious served with any kind of protein e.g. grilled or roasted meat or fish, or a vegetarian option.
I would even serve them as part of special meal such as a Thanksgiving or Christmas roast dinner.
They are also wonderful served as part of a 'sharing table' including other dishes such as chicken wings, Greek potatoes or spinach and feta filo pie (keeping to the Mediterranean theme here, but of course you don't have to!).
How can I use up the rest of the tahini sauce?
You may have some tahini sauce left over. If so, it will keep in the fridge for up to a week. Use it to drizzle over salads and falafel during the week. It's much healthier and more delicious than mayonnaise!
If you'd like more information about tahini and the tahini sauce in this post, take a look at this post!
Nutrition
Calories:
318
kcal
Carbohydrates:
18
g
Protein:
9
g
Fat:
26
g
Saturated Fat:
3
g
Sodium:
47
mg
Potassium:
619
mg
Fiber:
6
g
Sugar:
3
g
Vitamin A:
868
IU
Vitamin C:
106
mg
Calcium:
99
mg
Iron:
3
mg