There's mash, and then there's THIS potato and cauliflower mash. With slightly nutty and sweet roasted cauliflower, potato and cheese in them (and a bit of yummy thyme), they could well be your new go-to mash recipe – especially as they're really easy to make ahead!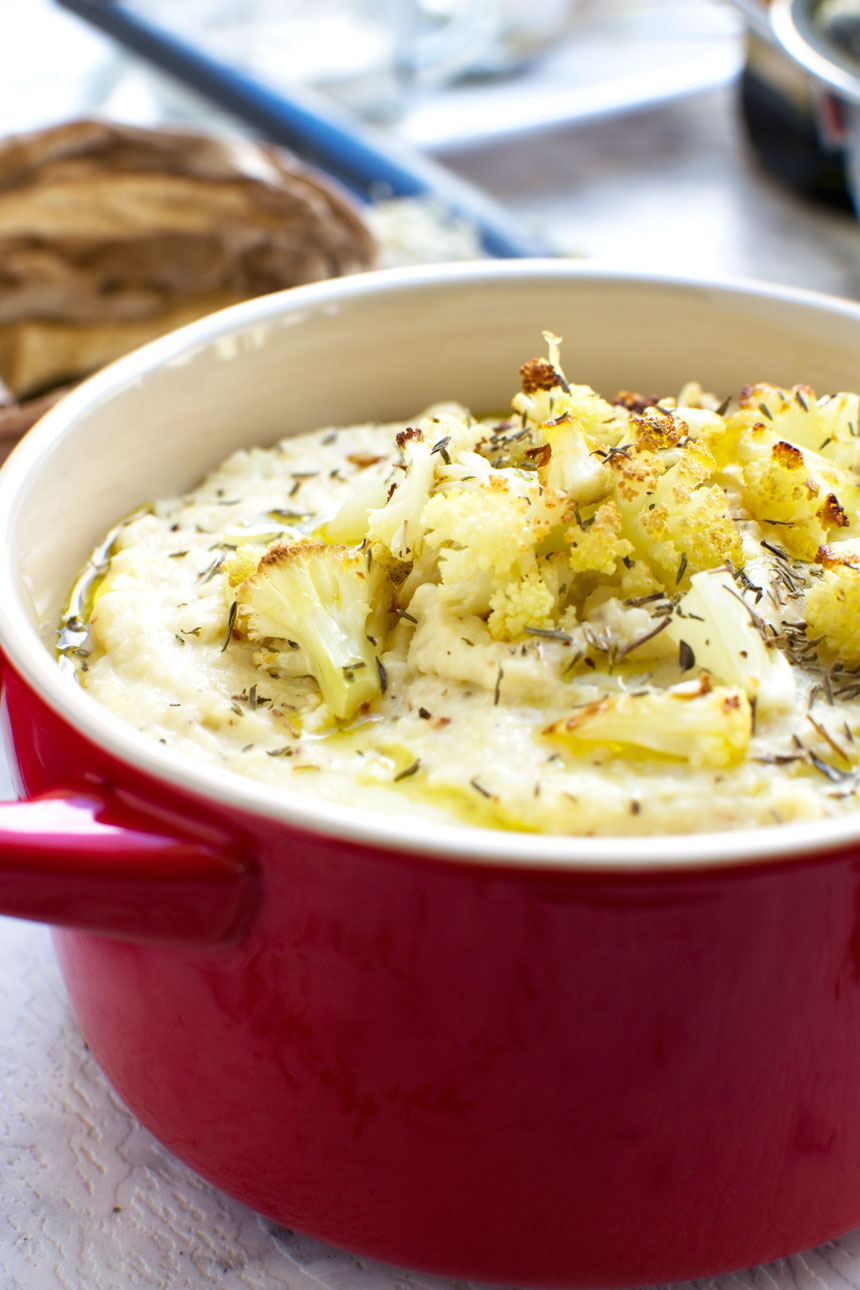 The BEST cauliflower mashed potatoes!
There aren't too many recipes that I would call my 'go-to recipes'. There's THIS amazing Greek chicken and potatoes that I literally could eat every day of my life, for instance. There's this easy moussaka which I like to make for guests. And there's this nothing-short-of-incredible 6-ingredient Swedish chocolate cake, which I have dreams about!

But when it comes to mashed potatoes, THIS potato cauliflower mash recipe is always the one I turn to.
What's so great about it? Well, here goes…
It's a mixture of pureed cauliflower AND potato AND cheese. Mashed cauliflower alone can be a bit too runny. Adding a little potato too makes the cheesy mash just right.
The cauliflower is roasted. It's an easy step, but it gives the mash a delicious, slightly nutty and sweet flavour. Yum. If you have an air fryer, check out this air fryer cauliflower recipe to speed up this step!
You can make it ahead. I sometimes make it the day before. I pour it into some kind of small serving dish with a lid. When I'm ready to serve up dinner, I simply reheat on medium power in the microwave.
It looks fancy! Save some of the delicious roasted cauliflower florets to sprinkle over the top, and drizzle over a bit of olive oil.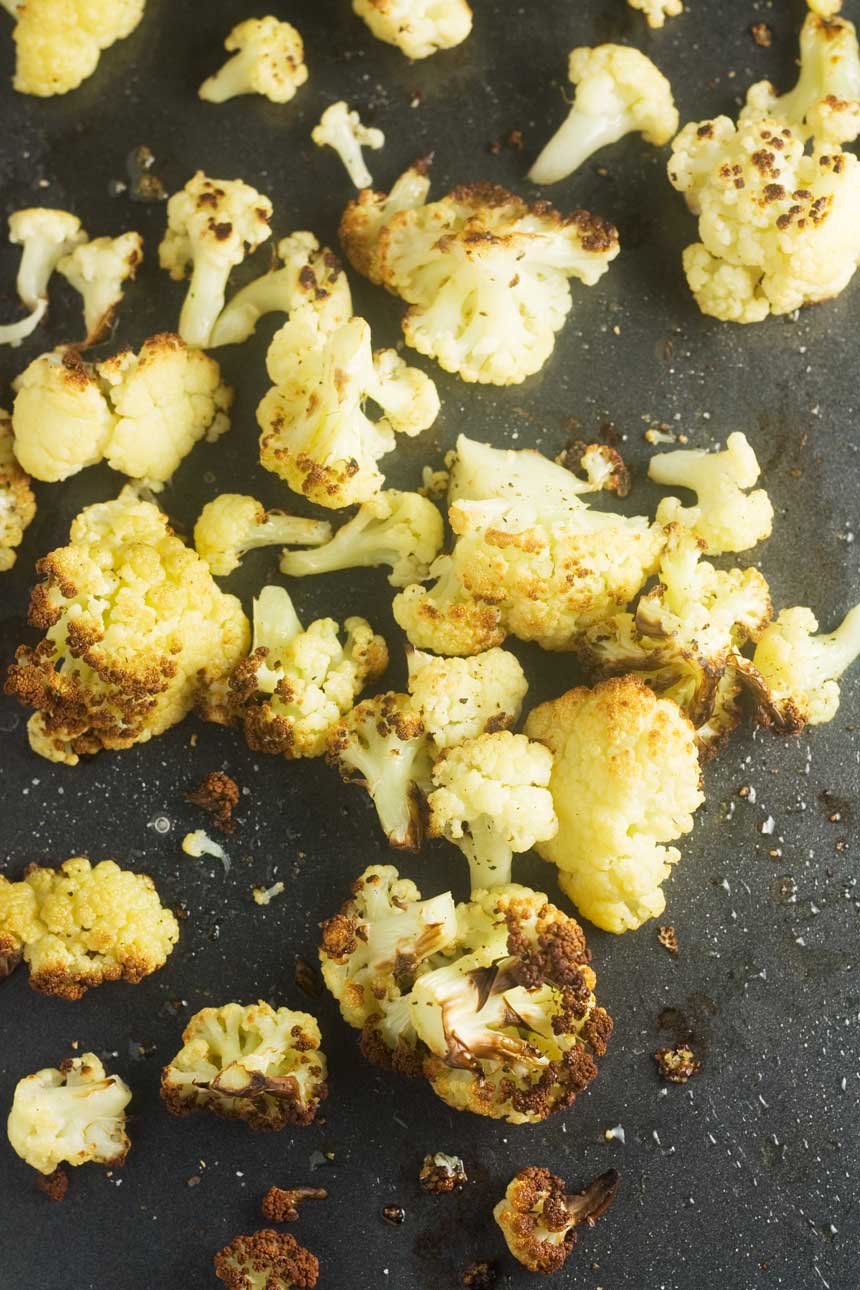 What ingredients do you need?
Roasted cauliflower: You'll need a whole head of cauliflower and a little olive oil.
Boiled potato: Russets are Yukon Gold are great for mashing, but to be honest any type of potatoes are fine.
Warm milk infused with fresh or dried thyme.
Cheese and butter (swap for a big drizzle of olive oil if you prefer or for vegan cheese and olive oil if you want to make your mash vegan). I usually use a sharp tasty cheddar, but any favorite grated cheese will work.
Salt and pepper to taste.
How do you make it?
All you do is roast cauliflower while boiling a bit of choppped potato (photos 1 and 2). If you have an air fryer, you can make this step a little easier by air frying the cauliflower in just 12 minutes.
Then you pulse the cauliflower, potato, cheese and a bit of warm herb-infused milk and butter in the food processor (photos 5 to 8). Done!
I usually warm the milk in a small saucepan and add some thyme to infuse with the wonderful flavour. If I'm feeling a bit short on time though I sometimes mix the thyme into the milk and microwave it instead (photo 3)!
Just like this…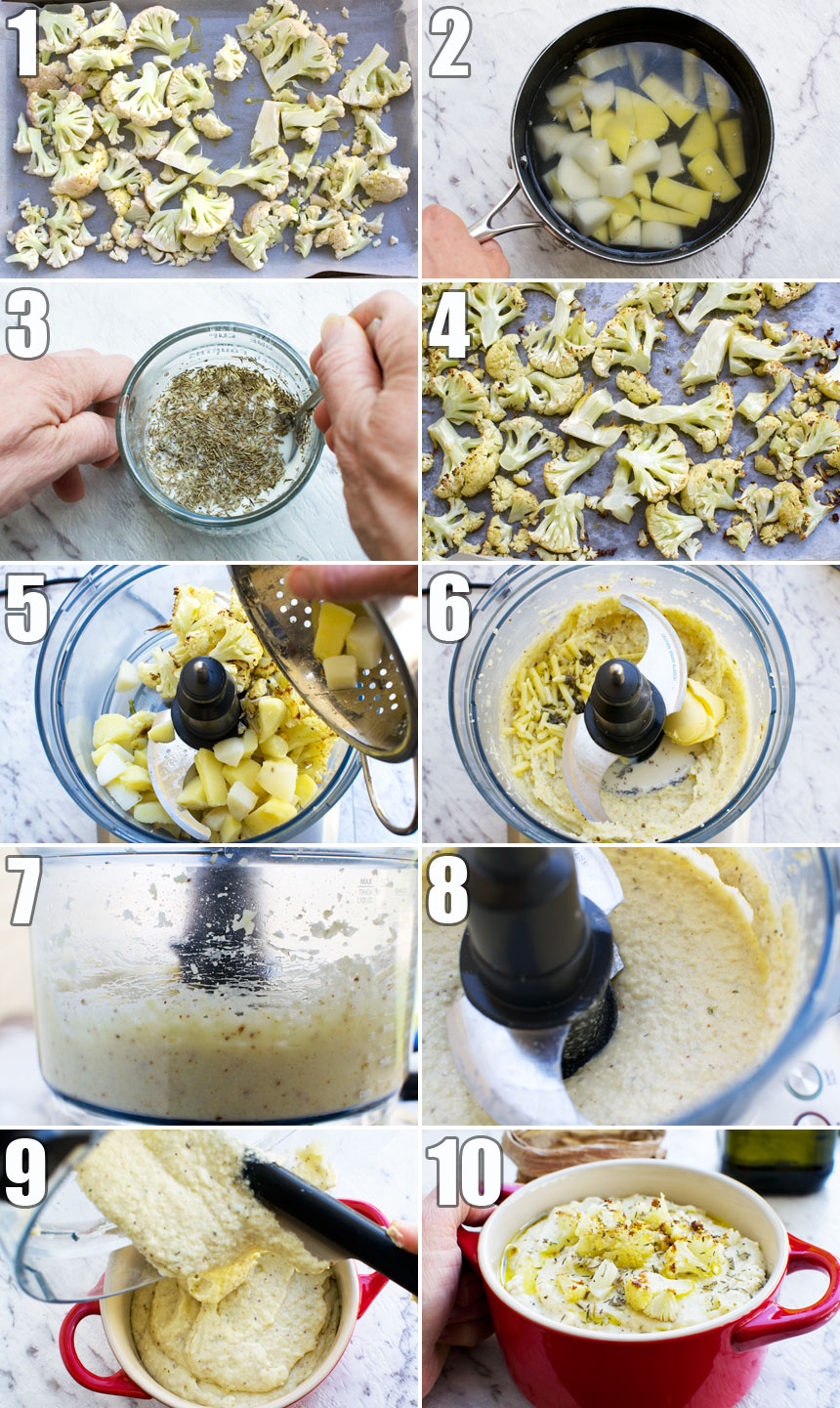 You will end up with a mash that is somewhere between classic mashed potatoes and a potato puree. If you'd prefer your mash to be a bit thicker, simply add a bit more potato.
Save some of the smallest, crispiest bits of cauliflower for garnishing the top!
Pro tips: 1. Don't over process. If you blend for too long, the mash can become a little too smooth and 'gloopy' – at least for my liking! 2. Once you've made it, you can pop a lid or cover on it and keep it warm in the oven until you're ready to eat.
What can I serve with it?
With these incredible (and super easy) spinach and feta stuffed chicken breasts. Add cranberry sauce and fancy vegetables and you've got a very delicious alternative to roast turkey for Thanksgiving or Christmas!
Good quality sausages. This meal is delicious comfort food either as it is or with a green vegetable on the side.
Believe it or not, the taste and texture of this mash reminds me a little of hummus! So if you are feeling brave, why not serve it as a dip with raw vegetables, bread sticks or tortilla chips?
More things to know (FAQ)
I don't have a food processor. Can I still make this?
Don't worry if you don't have a food processor. Mashing and stirring works well too. Just use your potato masher, or even a fork. Your mash might not be quite as smooth, but that's OK.

A hand-held blender can work well too.
Hmmm… butter and cheese… how can I make my cauliflower mash healthier?
Well… there's only a little bit of butter and cheese in each portion of mash. But if you prefer you can add a big drizzle of olive oil instead of butter. You could even skip the cheese altogether if you like, or use less of a stronger tasting cheese. Something like parmesan or even feta would work really well.

Skipping the butter and cheese will make this a vegan cauliflower mash, of course. 😉
How long will it keep?
The beauty of this recipe (other than the fact it's incredibly delicious) is that it's very easy to make it up to 3 days ahead. Just cover and keep in the fridge until you're ready to eat. Then microwave on reduced power for a few minutes until piping hot.
Can I freeze it?
The answer to this is… again… YES! Perhaps surprisingly, the added butter and cheese will help the mash to keep well in the freezer.

Simply pour into a freezer container, put an airtight lid on and freeze for up to a month. If you like, you can roast just a little extra fresh cauliflower for the top just before serving, but this step is not essential by any means.
Need some greens on your plate too? These 10-minute sautéed frozen green beans are surprisingly tasty, and perfect for both special occasions and busy weeknights.
More easy potato side dishes
These air fryer smashed potatoes are also Greek style, but ready a little quicker than the potatoes above. Make them in your regular oven if you prefer.
Or see all my side dish recipes here.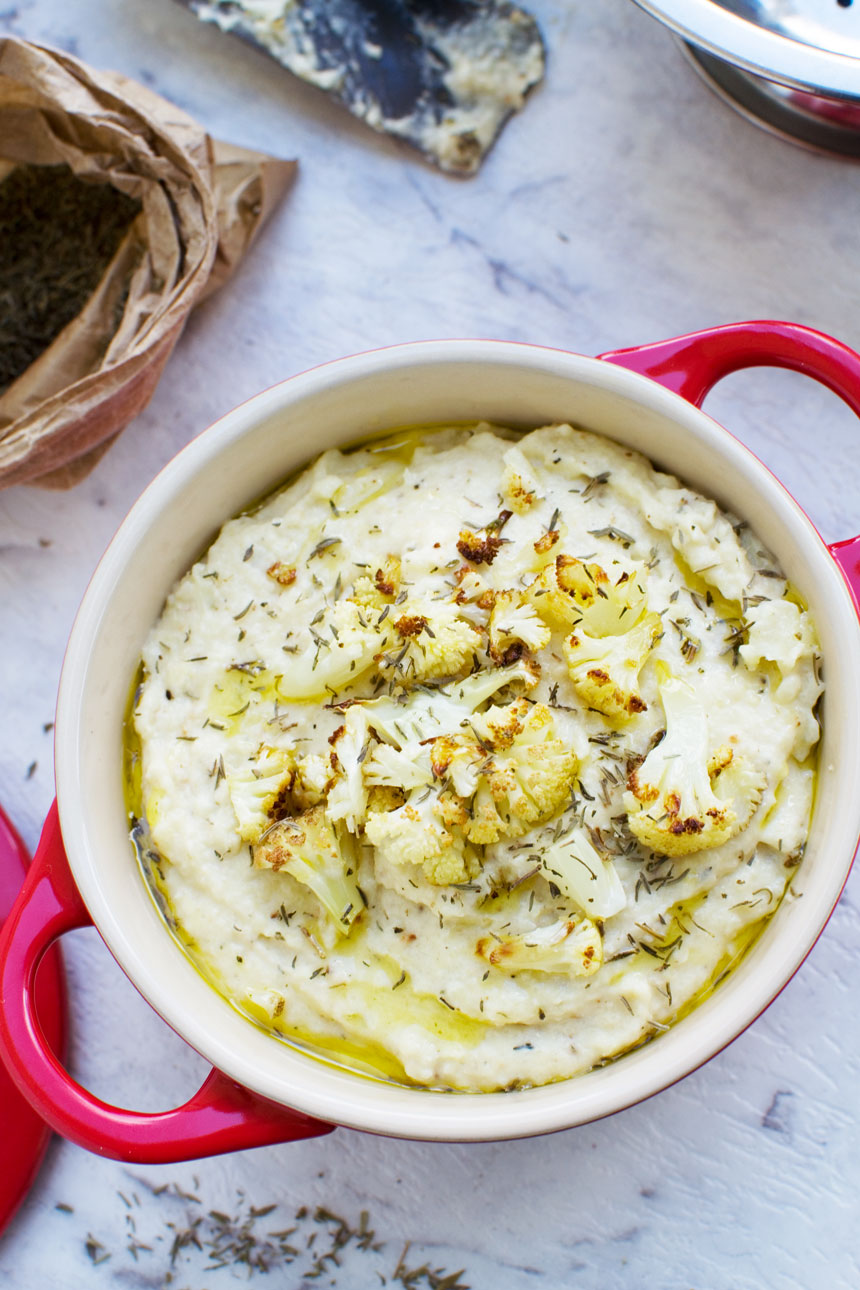 IF YOU MAKE THIS RECIPE, LET ME KNOW HOW YOU GET ON BY LEAVING A COMMENT AND RATING BELOW… AND DON'T FORGET TO SIGN UP TO RECEIVE ALL MY NEW RECIPES BY EMAIL!
FOLLOW ME ON FACEBOOK, INSTAGRAM, PINTEREST AND YOUTUBE.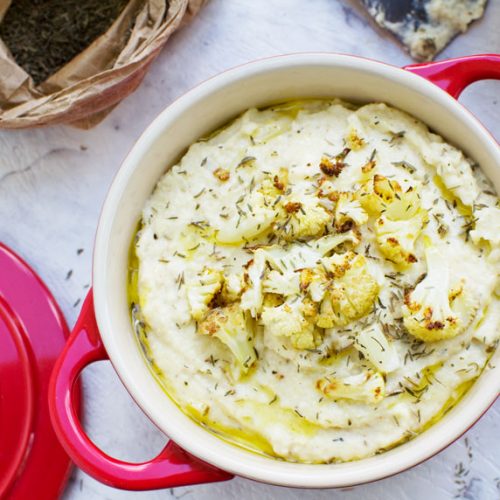 Potato And Cauliflower Mash (Make Ahead)
Mash made with delicious roasted cauliflower and potatoes and cheese. These are the best mashed potatoes I've ever tasted!
Ingredients (UK/Australia? Click below for grams/ml)
1

medium

cauliflower

cut into florets

2

tablespoons

olive oil

(for roasting)

1

medium

potato

peeled and chopped into small chunks.

4

tablespoons

grated cheese

(or 1 handful – any strong cheese e.g. strong cheddar)

2

tablespoons

butter

⅓

cup

milk

2

thyme sprigs

(or 1 teaspoon dried thyme)

salt & black pepper
Instructions
Preheat the oven to 220C/420F.

Spread the cauliflower out on a baking tray in one layer and drizzle with the olive oil. Roast for 15 to 20 minutes or until the cauliflower is golden and almost caramelised.

1 medium cauliflower,

2 tablespoons olive oil

At the same time, boil the potato chunks until they are soft (about 15 minutes). Also warm the milk in a small saucepan with one of the thyme sprigs or the dried thyme.

1 medium potato,

⅓ cup milk,

2 thyme sprigs

Put aside a small handful of the roasted cauliflower florets. Then put the rest into the bowl of a food processor and blend with a bit of the warm milk (thyme sprig removed!).

Add the potato, butter, cheese and as much of the rest of the milk as you need to blend to a smooth puree.

2 tablespoons butter,

4 tablespoons grated cheese

Finally, grind in plenty of salt and pepper and blend for a couple more seconds.

Scrape the mash into a nice serving dish. Top with the reserved cauliflower florets, a sprinkle of fresh thyme leaves (if using fresh) and a drizzle of olive oil.
Notes
Roasting the cauliflower in your air fryer
Got an air fryer? Check out this recipe for air fryer cauliflower if you'd like to make roasting the cauliflower slightly quicker and easier.
Making your mash ahead
If you cover your finished dish of mash, it keeps warm in the oven really well until you're ready to eat.
You can even make it up to 3 days before and take it along to a party/event. Just warm it through in a microwave just before serving (try 3.5 minutes at 80% power).
Cheese
This is 'cheesy' enough for us, but go ahead and add more cheese if you want your mash to be super cheesy.
Alternatively, swap the 4 tablespoons of ordinary grated cheese e.g. cheddar for something stronger like parmesan. I'd use just 2 tablespoons of parmesan, though.
To make this cauliflower mash vegan, you can even skip the cheese and butter altogether and just add a big drizzle of olive oil instead. Yum!
How to serve this cauliflower mashed potatoes
I sometimes serve this with sausages, vegetables (fresh or frozen) and gravy. It's also great with grilled or roasted meats or fish, a casserole, or any other dish you'd usually serve mashed potatoes with.
Nutrition
Calories:
226.05
kcal
Carbohydrates:
14.98
g
Protein:
6.97
g
Fat:
16.62
g
Saturated Fat:
6.85
g
Cholesterol:
26.01
mg
Sodium:
160.14
mg
Potassium:
676.58
mg
Fiber:
4.28
g
Sugar:
3.82
g
Vitamin A:
316.8
IU
Vitamin C:
76.16
mg
Calcium:
131.86
mg
Iron:
2.48
mg