Last Updated on
Are these the best mashed potatoes you'll ever taste? With the slightly nutty and sweet roasted cauliflower, potato and cheese in them, they could well be!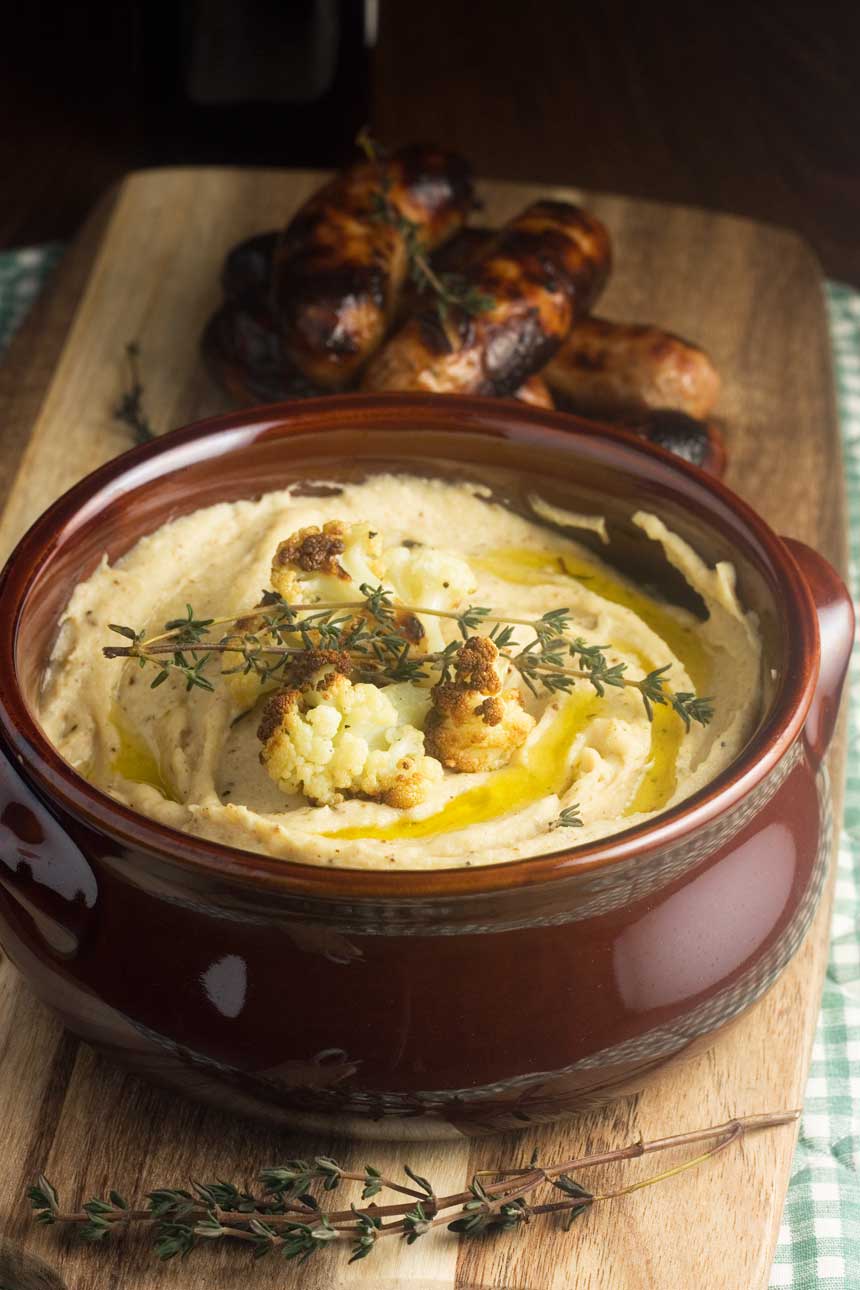 Sausage and mash has always been one of those classic meals like spaghetti bolognese, shepherd's pie or fish and chips over here in the UK. As we all well know, though, 'classic' doesn't always have to equal good. I'm lookin' at you, cheapy 'value' sausages and lumpy tasteless mash of the school diners and chain restaurants of my childhood!
Lately, though, the humble British 'bangers and mash' has had a bit of a revival, along with those other classics. Restaurants and especially pubs have been taking great pride in serving the best versions possible … with the creamiest mash and the best butcher's gourmet sausages.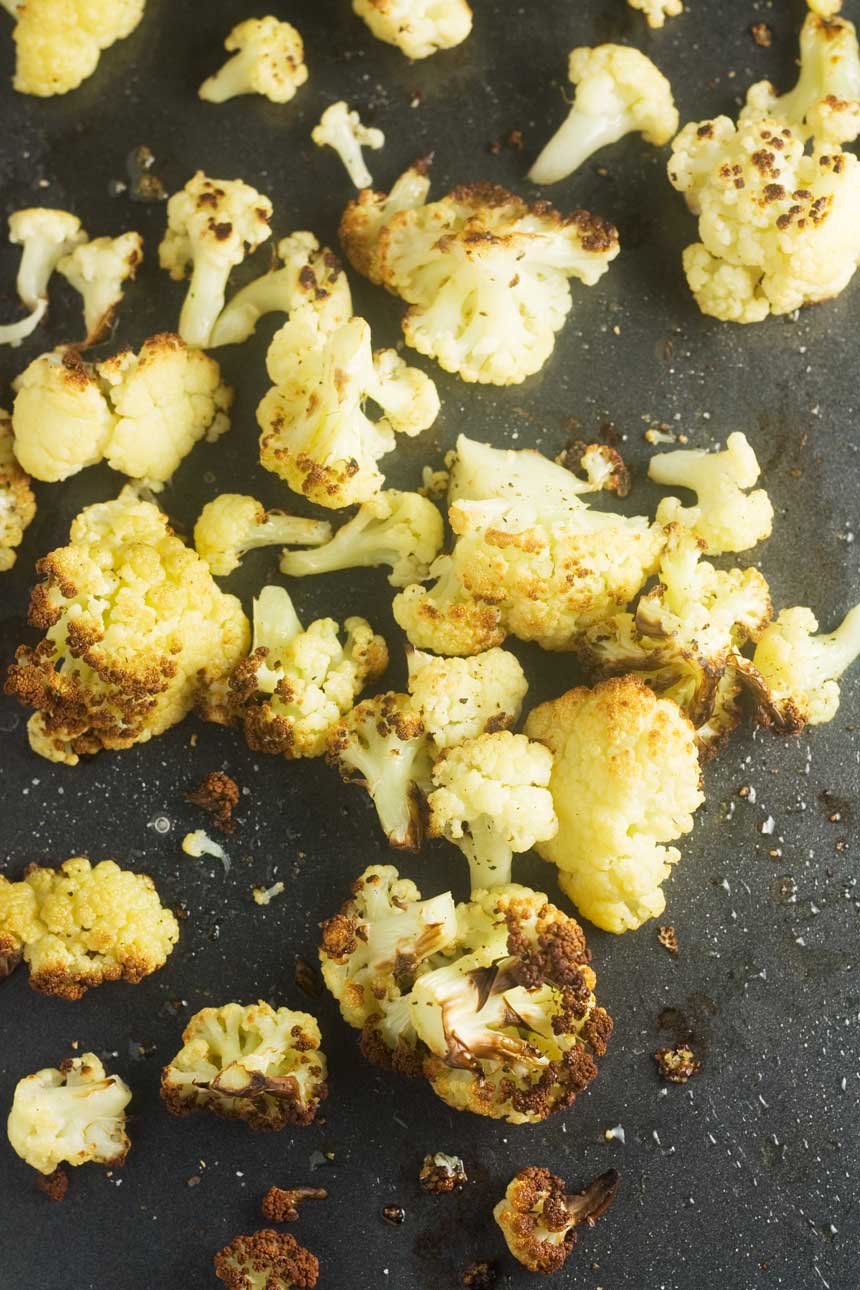 So … I thought I'd chime in here with a good version of sausage and mash of my very own. Well, more accurately, with my own interpretation of 'the best mashed potatoes' because you certainly don't have to pair them with sausages. I admit that it's possible, just possible that you have indeed tasted better than this, but I'm pretty sure no tastier mash has ever passed my lips!
What makes this mash so humbly delectable is that it's a mixture of pureed roasted cauliflower and potato and cheese … oh, and a tiny bit of thyme. I've seen versions of mash with just cauliflower in, but to be honest some of the reviews I've read have accused it of being a bit tasteless and runny. Adding just a bit of potato too makes for a perfect consistency and gives your meal a 'carb element' as well.
I'll most definitely be making this again … and again, and again. It was super easy to make (just roast cauliflower while boiling potato, wizz up cauli, potato, cheese & a bit of warm milk and butter in the food processor … done!) Don't worry if you don't have a food processor, though. Mashing and stirring would work just as well. I also liked that after I'd made the mash I could pop a cover on the dish and keep it warm in the oven until I was ready to serve.
What you end up with is a super smooth, slightly sweet, nutty and cheesy side dish that goes perfectly with sausages (of course!) but would be equally as great with a casserole or some grilled meat. The taste and texture even somehow reminded me a bit of hummus, would you believe!
Hope you feel tempted enough now to give this a try some time. Oh, and have a great weekend!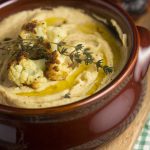 Print
Cheesy roasted cauliflower mash (the best mashed potatoes!)
Mash made with delicious roasted cauliflower and potatoes and cheese. These are the best mashed potatoes I've ever tasted!
Servings
2
to 3 as a side dish
Ingredients (UK/Australia? Click button below for grams & ml)
1

small to medium head of cauliflower

cut into florets

1

medium-sized baking potato

peeled and chopped into small chunks.

2

tablespoons

tasty cheese

e.g. cheddar, grated

2

tablespoons

butter

1/3

cup

milk

2

thyme sprigs

salt & black pepper

really good quality sausages

gravy & frozen veg (optional, to serve)
Instructions
Preheat the oven to 220C/420F.

Spread the cauliflower out on a baking tray in one layer and drizzle with a little olive oil. Roast for about 15 minutes or until the cauliflower is golden and almost caramelised.

At the same time, boil the potato chunks until they are soft (about 15 minutes). Also warm the milk in a small saucepan with one of the thyme sprigs.

Reserve a small handful of the roasted cauliflower florets, then tip the rest into a food processor and blend with a bit of the warm milk (thyme sprig removed!) Add the potato, butter, cheese and as much of the rest of the milk as you need to blend to a smooth puree (add a little more if needed). Finally, grind in plenty of salt and pepper and blend for a couple more seconds.

Scrape the mash into a nice serving dish. Top with the reserved cauliflower florets, a sprinkle of fresh thyme leaves and a drizzle of olive oil. Serve with sausages, gravy & veg (if you like!)
Notes
If you cover your finished dish of mash, it keeps warm in the oven really well until you're ready to eat.
This was 'cheesy' enough for me, but go ahead and add more cheese if you want your mash a bit cheesier.
I served this with sausages, veg (just the frozen type) and gravy, but I think it would be great with grilled meat, a casserole or any other dish you'd usually serve mashed potatoes with.
Nutrition
Calories:
280
kcal
|
Carbohydrates:
24
g
|
Protein:
8
g
|
Fat:
17
g
|
Saturated Fat:
11
g
|
Cholesterol:
49
mg
|
Sodium:
226
mg
|
Potassium:
657
mg
|
Fiber:
2
g
|
Sugar:
3
g
|
Vitamin A:
605
IU
|
Vitamin C:
33.5
mg
|
Calcium:
174
mg
|
Iron:
1.4
mg
This post may contain affiliate links, and I will earn a commission if you purchase through them. There is no additional cost to you.

You can also find more from Scrummy Lane on Facebook, Pinterest, Twitter and Instagram and follow me on Bloglovin! Thanks so much for reading!
*This post may contain affiliate links which means that if you click on a link and make a purchase I get a small percentage of the amount you spend. At no extra cost to you, of course! Thank you!*