How do you like the idea of a really easy pantry meal that's always a crowd pleaser? You may not have thought of frying gnocchi, but trust me, it takes an already yummy food from good to incredible. This pan fried gnocchi recipe is ridiculously easy and delicious. The best part? It's ready in just over 30 minutes. Try it once and it might just become one of your new favourite meals!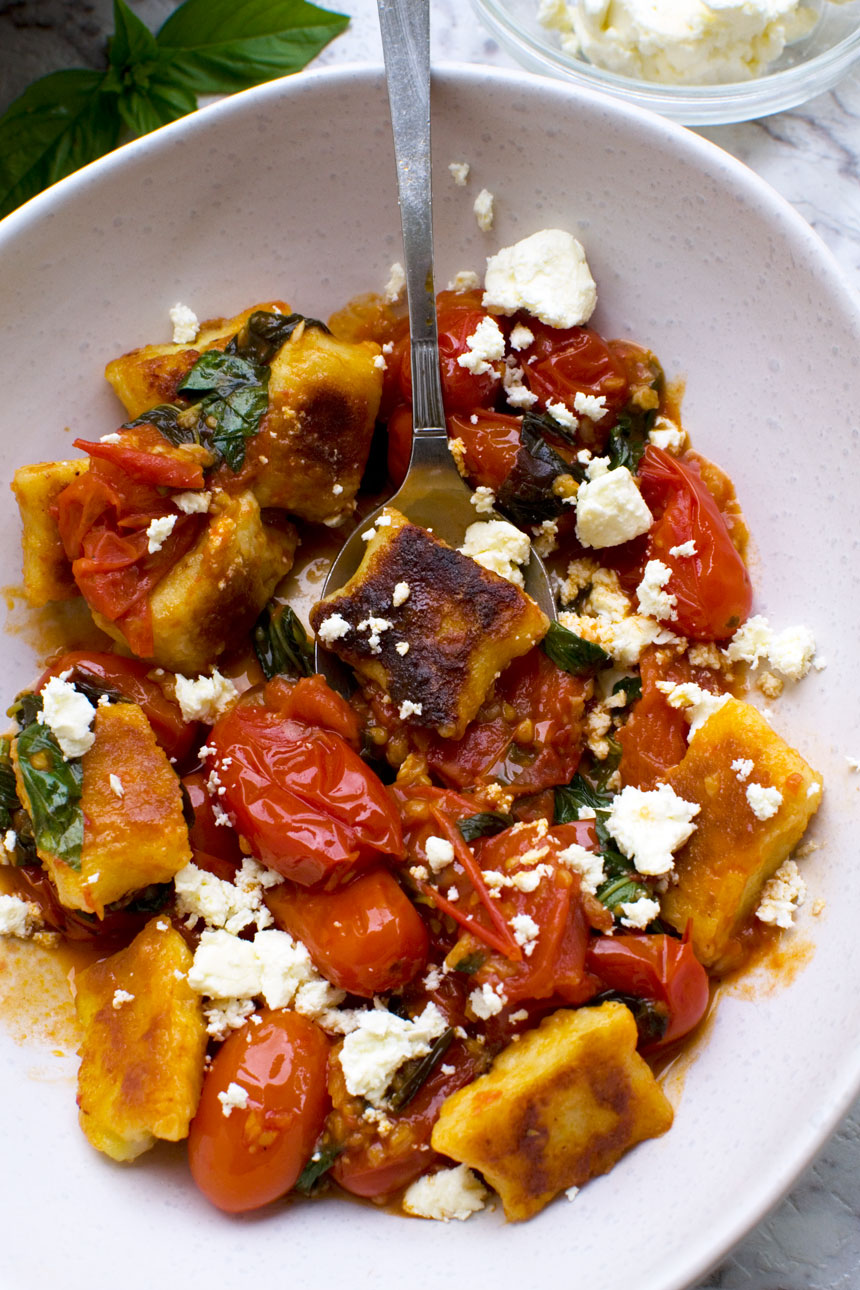 I knew something like this crispy gnocchi recipe had the potential to be really delicious, but I didn't know just HOW delicious it would be.
Pan-fried gnocchi is one of those meals that I'll make time and time again, just like this baked chicken and chorizo with cherry tomatoes, or this Thai chicken and butternut squash curry.
Why this is one of our go-to meals
It's easy – made in just a few steps with gnocchi, cherry tomatoes and a few other basic pantry ingredients.
It tastes much more delicious than the sum of its parts.
It's a crowd pleaser! It appeals equally to the palates of kids and adults.
It's versatile. It makes both a simple midweek meal or an impressive meal worthy of serving to guests.
You can either pan fry it, or AIR FRY IT! How about that?!
What does it taste like?
More delicious than you thought it would.
The fried gnocchi
These taste like cute little crispy potatoes, and who doesn't like those?
The sauce
The sauce is simple, sweet, and very flavoursome. It's ideal for garlic lovers, and lovers of traditional Italian cuisine.
The combination of the crispy gnocchi and the delicious sauce is quite frankly heavenly.
You think I'm going over the top with my description of this meal? Give it a try and decide for yourself.
What ingredients do you need?
Just a few basic pantry ingredients, really.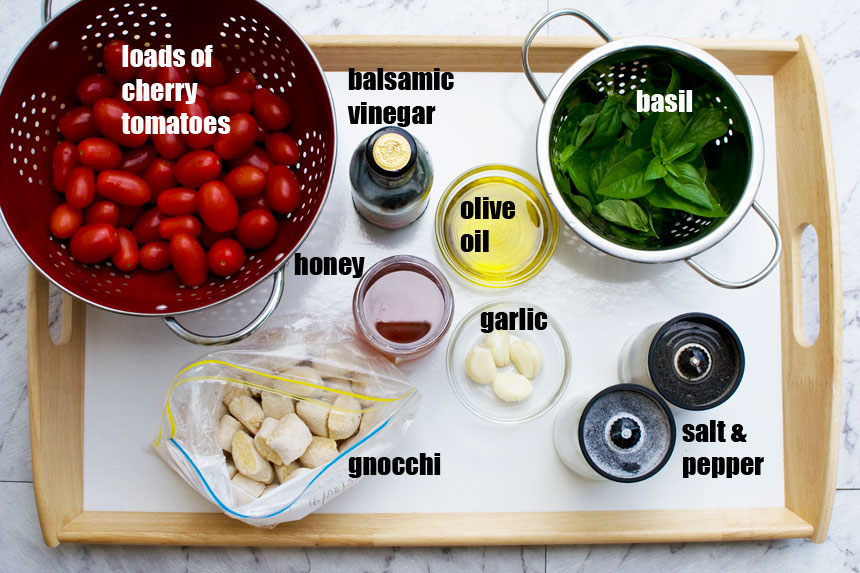 cherry tomatoes – fresh or canned/tinned
olive oil for cooking
garlic – quite a lot of it!
a packet of pre-made gnocchi. OR if you're feeling brave you can make your own (actually very very easy – see notes below the recipe!)
balsamic vinegar and honey for some sweetness and tang
loads of fresh basil (dried will do if you don't have it)
nice cheese to sprinkle over the top – my favourite is feta, but goat's cheese or parmesan is great too (no cheese in the photo above, but you can use any kind of cheese you like)
plenty of salt and pepper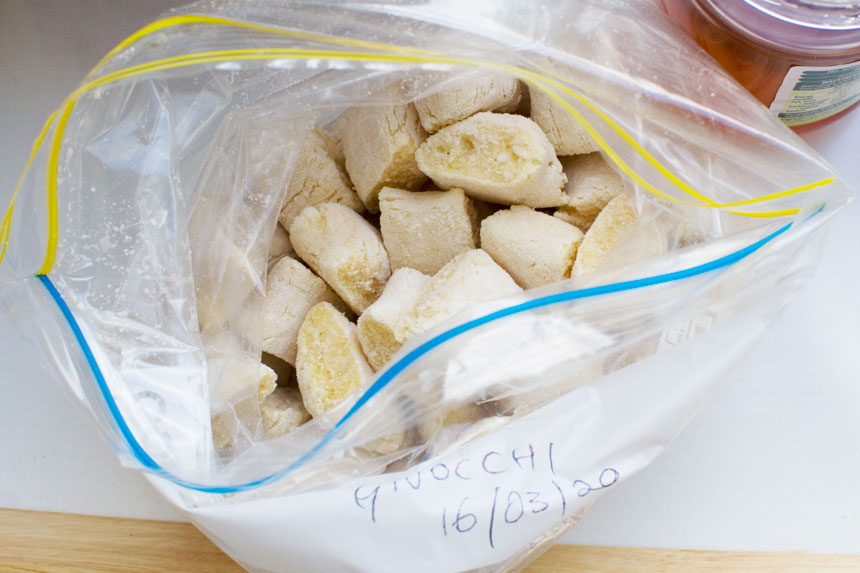 I suggest using potato gnocchi because it holds up well without breaking up when you pan fry it. If you want to try the recipe with classic boiled gnocchi (without pan frying), however, I highly recommend this ricotta gnocchi recipe instead – it's quicker and easier to make, and possibly even more delicious than potato gnocchi!
How to make it step by step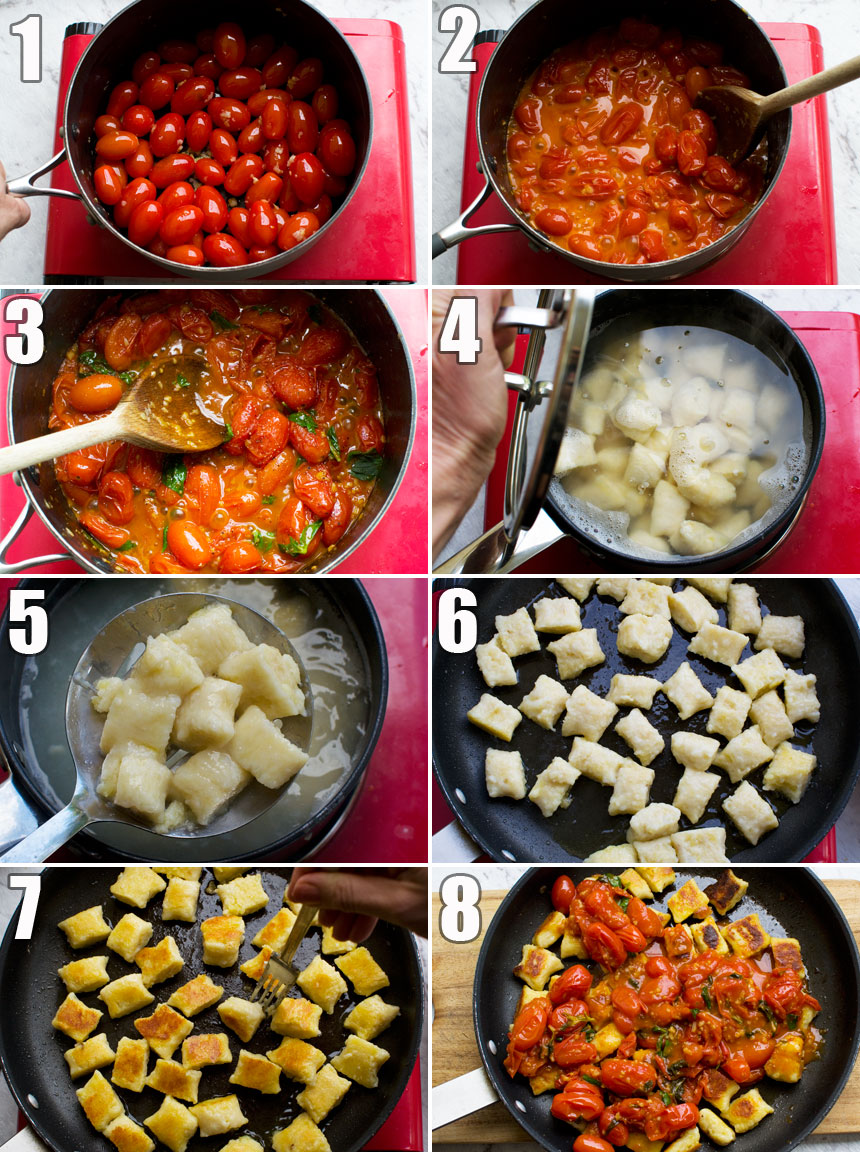 Make a simple cherry tomato sauce out of just olive oil, garlic, cherry tomatoes, and a few finishing touches (AROUND 20 MINUTES).
Meanwhile, boil your gnocchi until they float to the top (JUST A FEW MINUTES).
Pan fry gnocchi (AROUND 10 MINUTES). Don't move around at first. Let them get all golden and crispy! If you prefer, you can air fry the gnocchi (see below for instructions!).
Stir a few finishing touches into the sauce! (balsamic, honey…)
Toss the sauce through the crispy gnocchi. Serve sprinkled with your favourite cheese.
Tip for pan-frying gnocchi: Don't move it around too much at first. Let it get golden and crispy in the oil. Then flip the gnocchi with a fork or jiggle the pan a few times so all sides get a chance to brown. Homemade gnocchi can be more delicate and require more care when frying – but it's worth the extra effort!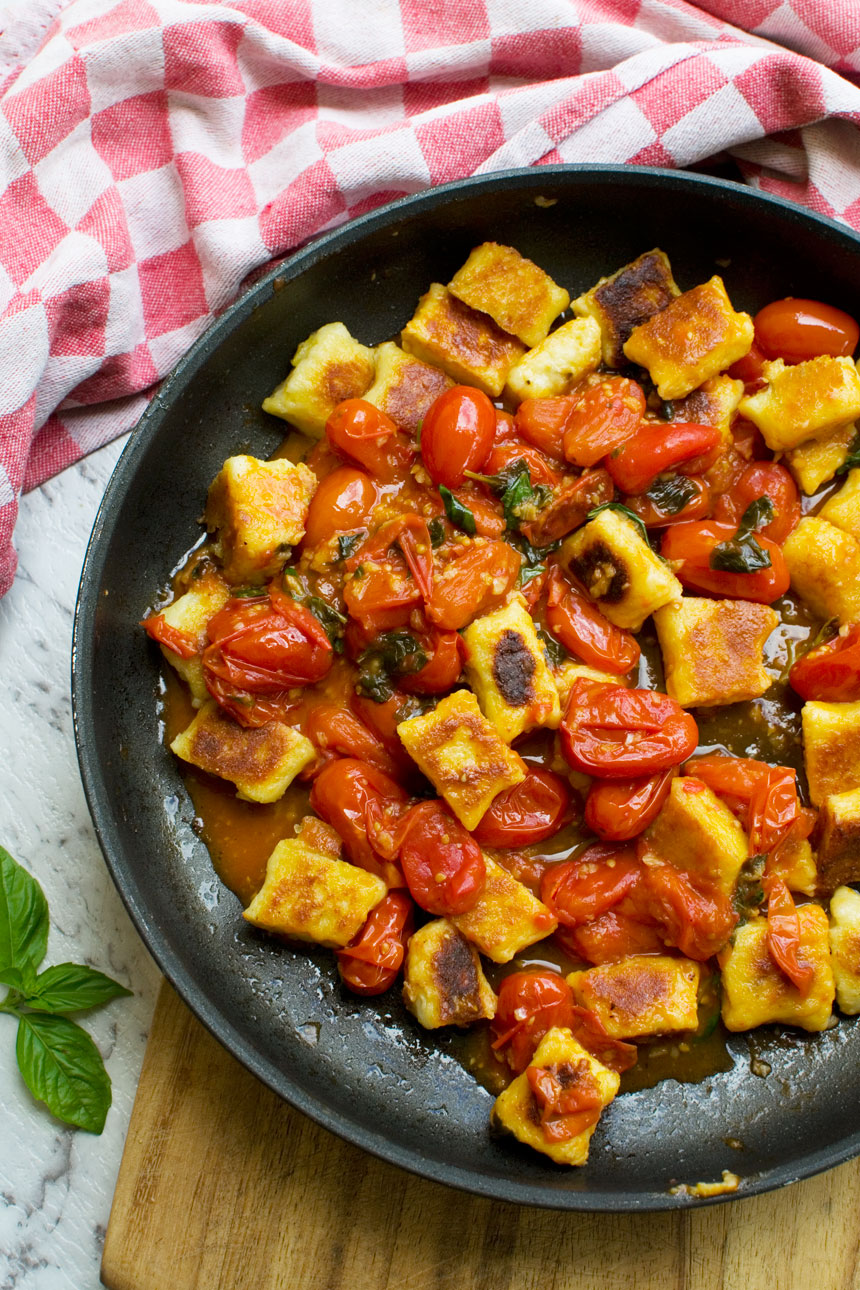 More things to know (recipe FAQs)
Can I fry gnocchi in my air fryer?
You might be surprised to learn that you can also air fry the gnocchi instead of pan frying it!
This is what you do:
Spray your air fryer basket lightly with oil.
Put the gnocchi in the basket.
Spray the gnocchi lightly with oil.
Air fry at 390F/200C for around 15 minutes. Shake/Turn the gnocchi half way through cooking. Not very crispy after 15 minutes? Just give them another few minutes.
Stir the gnocchi briefly into the tomato sauce and serve!
Should I use pre-made gnocchi or make my own?
I have made this pan fried gnocchi with both pre-made gnocchi or homemade gnocchi. Either is fine.
There's a company here in Australia that sells fresh gnocchi at farmer's markets and shopping malls. If you can find something similar to this then that's perfect for this meal.

You can even just buy packaged gnocchi from the supermarket although do check the back of the packet. I find some brands here (but thankfully not all) contain a lot of preservatives and other rubbish.

If you have a little extra time, I'd strongly encourage you to have a go at making your own potato or ricotta gnocchi. It's well worth the extra effort. I have a great recipe for ricotta gnocchi here.
Can I make it ahead?
Yes, absolutely! If you like quickly make the sauce by itself, then refrigerate or freeze until you're ready to make the recipe.

Gnocchi is perfect for making ahead if you'd like to make your own. I usually freeze the finished gnocchi on baking trays in one layer, then throw them into freezer bags until the day I want to make the recipe.
You don't need to defrost the gnocchi – just boil from frozen.

You can find a quick and easy recipe for homemade gnocchi in the recipe notes below the printable recipe!

On the other hand, this is a great 15-minute recipe for those nights when you don't want any fuss. Just grab a good quality package of ready-made gnocchi and make the recipe just before you want to eat it.
More Gnocchi Recipes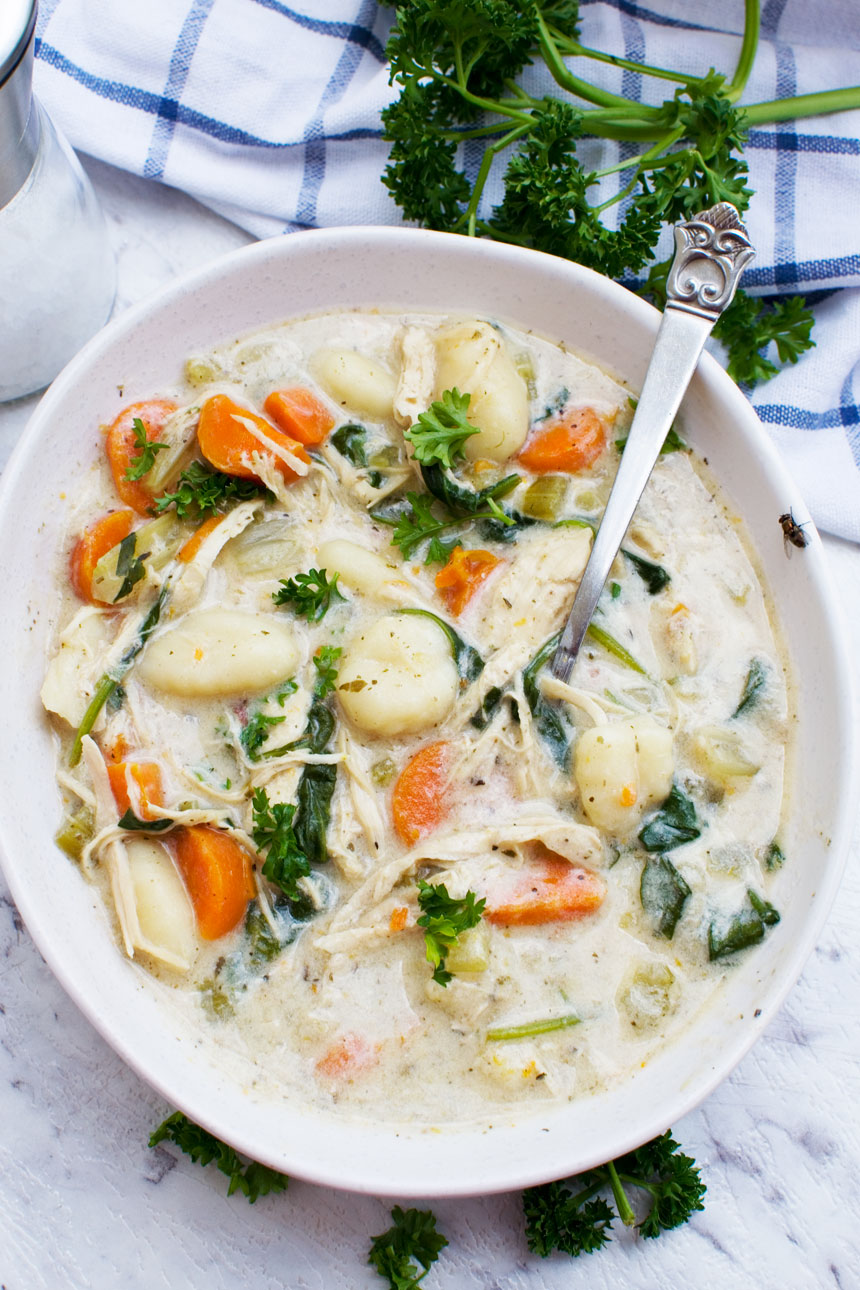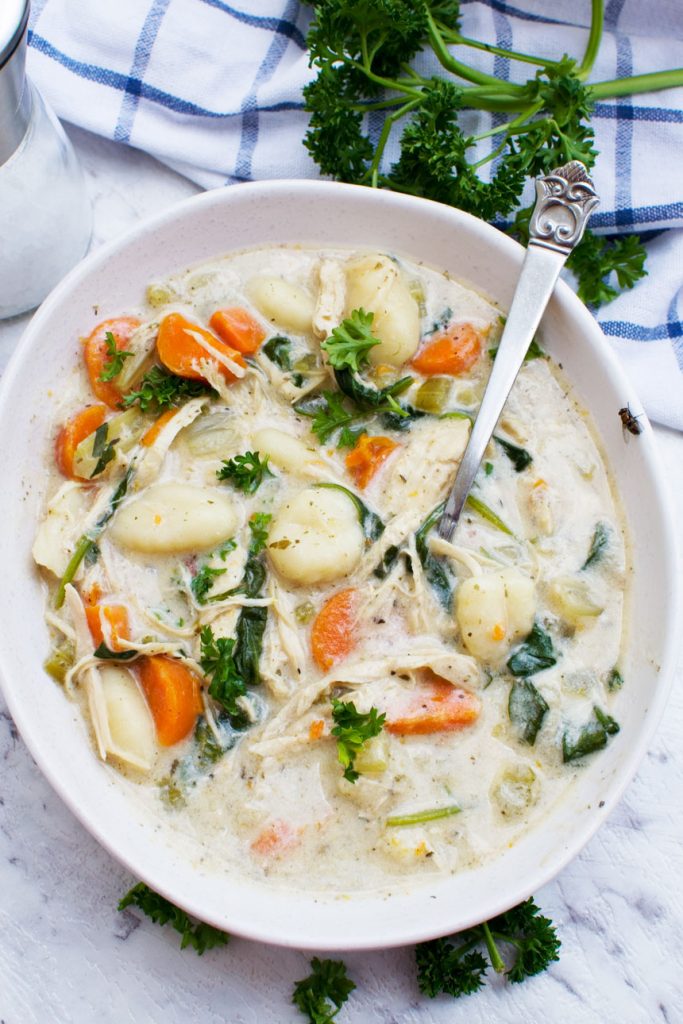 IF YOU MAKE THIS RECIPE, LET ME KNOW HOW YOU GET ON BY LEAVING A COMMENT AND RATING BELOW… AND DON'T FORGET TO SIGN UP TO RECEIVE ALL MY NEW RECIPES BY EMAIL!
FOLLOW ME ON FACEBOOK, INSTAGRAM, PINTEREST AND YOUTUBE.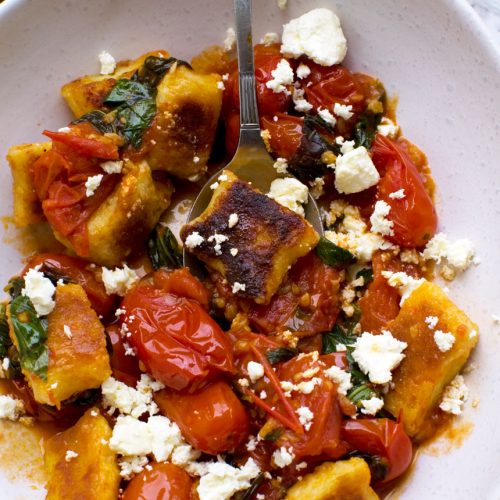 Pan-fried Gnocchi With Cherry Tomato Sauce
Try this meal once and it may become one of your go-to meals! Pan fry gnocchi until golden and crispy, then toss in a simple but very tasty cherry tomato and basil sauce. The icing on the cake is a sprinkle of tangy feta cheese!
Ingredients (UK/Australia? Click below for grams/ml)
4

tablespoons

olive oil

(2 for the sauce, 2 for pan frying)

3

cups

cherry tomatoes

(17 ounces (US) or 2 x 250 gram punnets (UK/Australia) – this amount doesn't have to be exact!) Alternatively, use a can of cherry tomatoes.

4

cloves

garlic

crushed

17

ounces

gnocchi

(packaged is fine but if you'd like to make your own, see recipe in notes section)

½

tablespoon

balsamic vinegar

1

tablespoon

honey

salt and pepper

to taste

1

bunch

fresh basil
to serve
crumbled feta cheese or goat cheese, or grated parmesan cheese

to taste
Instructions
Heat up around 2 tablespoons of olive oil in a large saucepan.

Add the cherry tomatoes and garlic. Let cook on high for a few minutes, then turn down the heat to medium. Add around ¼ cup (or 60ml) of water. Cook until the tomatoes break down into a chunky sauce (around 20 minutes). Shake the pan from time to time.

While the sauce is cooking, prepare the gnocchi. Boil water in a really large saucepan. Add the gnocchi and boil just until they begin to float to the top.

Scoop the gnocchi that have floated to the top out of the water with a slotted spoon and let them drain briefly in a colander.

Heat the remaining 2 tablespoons of oil in a large frying pan on a medium heat. When it starts to sizzle lightly, add the gnocchi in one layer. Let them cook for at least 5 minutes before moving them, or until they are starting to go golden and crispy on the bottom. Turn them over (or shake the pan if they're the rounded packaged kind) to let the other side brown, or shake the pan a few more times until they look crispy all over (around 10 minutes).

Take the gnocchi off the heat. Stir the balsamic vinegar and honey into the sauce. Add plenty of salt and pepper. Stir in the basil. Add a splash or two more water to loosen up the sauce if necessary.

Quickly toss the sauce through the gnocchi in the pan. Serve immediately. Garnish with the crumbled/grated cheese.
Notes
Should you use packaged gnocchi or homemade?
My vote goes with homemade, but it's fine to use packaged in this recipe too. I've used both good quality packaged (homemade from a farmer's market) or I've made my own.
If you'd like to make your own, here is a basic recipe for potato gnocchi (you only need potatoes, flour, an egg and a bit of salt):
Bake 1 pound/450 grams potatoes in their skins. You can either microwave for 8 to 10 minutes, bake in the oven for an hour to an hour and a half, or cook in your air fryer for about 40 minutes. Cut the potatoes in half and scoop out the potato flesh with a big spoon. Mash well in a medium bowl.
Tip one cup of plain flour onto a large wooden board or clean work surface. Make a well in the middle and add the mashed potato, 1 egg and half a teaspoon of salt.
Bring together and knead with your hands until you have a soft dough. Divide the dough into 4. Flour your surface and roll each piece of dough out into a long 'sausage' with your hands. Cut the 'sausage' into small rectangles. Your gnocchi are ready to cook!
Can't you just pan fry the gnocchi without boiling them first?
Yes you probably can. I just prefer to boil them briefly first so they are nice and fluffy and pillowy inside and there's no chance of a nasty raw flour taste. Just don't overboil them, though – just until they start to float to the top.
This way you won't end up with any soggy, disintegrating gnocchi!
Making the gnocchi ahead and freezing it
I usually try to make some gnocchi ahead and freeze it. Especially when I have some potatoes that need using up quickly.
Then you have your own pre-made gnocchi and don't need to rely on often sub-par supermarket versions!
Just freeze the uncooked gnocchi on baking paper lined trays for a couple of hours. Then empty them into freezer bags and freeze until you want to make this recipe.
You DON'T need to defrost the gnocchi first – just tip it into the boiling water while still frozen.
It might seem like a hassle to make your own gnocchi, but they're really quick and easy to make. They also taste amazing!
Getting the right consistency to the sauce
I usually add a few extra splashes of water to the sauce before tossing it through the gnocchi. There are no rules on exactly how much. Just use your judgement and add enough so that it's still chunky but loose enough to actually look like a sauce and not just a pan of squishy tomatoes!
Amount of garlic
The sauce is quite garlic-y! If you aren't such a fan of garlic, just reduce the amount you use to just 2 cloves.
Amount of cheese
I haven't specified an exact amount of cheese to sprinkle over the top of the meal. I'd start with a smallish amount and let people add more if they like.
I prefer to use feta cheese and I usually use about a quarter of a 250 gram packet, so about 60 grams (2 ounces).
Air frying the gnocchi
You can also air fry the gnocchi instead of pan frying. Spray lightly with oil in the air fryer basket and cook for about 15 minutes at 390F/200C.
Nutrition
Calories:
723
kcal
Carbohydrates:
106
g
Protein:
12
g
Fat:
30
g
Saturated Fat:
5
g
Sodium:
845
mg
Potassium:
511
mg
Fiber:
7
g
Sugar:
15
g
Vitamin A:
1304
IU
Vitamin C:
54
mg
Calcium:
91
mg
Iron:
11
mg