The greeks can get pretty fancy with a simple rice dish. This delicious Greek lemon rice uses just rice, chickpeas and a few other pantry ingredients to make a delicious lunch or side. Got a pressure cooker? It's ready in 10 minutes. Or just make it on the stove top.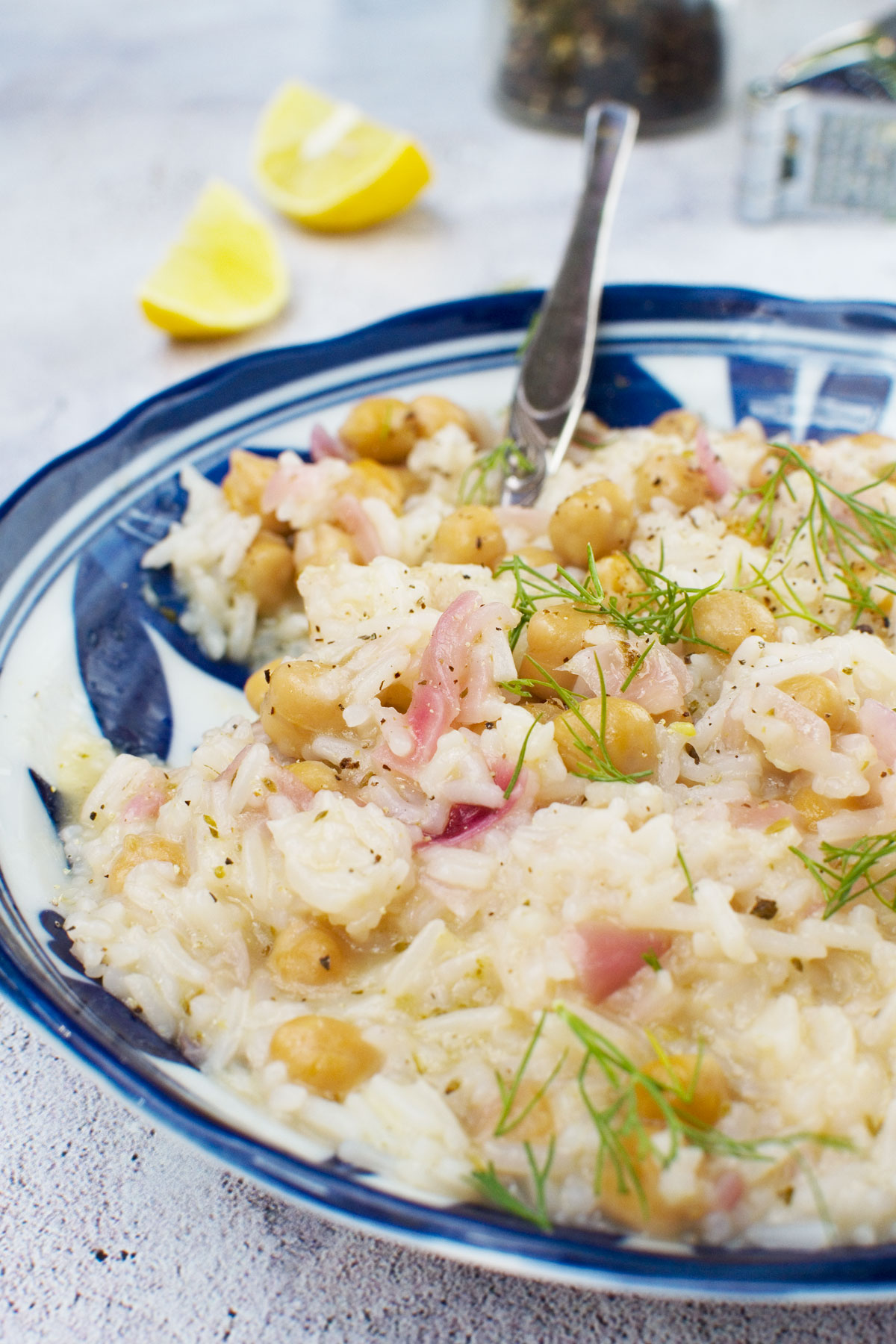 Why you'll love it
If you're a fan of risotto, you'll probably like this. You could say it's like a Greek risotto or a rice pilaf. A simple one made with just a few ingredients. If you have a pressure cooker, it's ready in about 10 minutes. If not, just make it on the stove top in not much more time than this.
You absolutely could eat this beautiful Mediterranean rice and chickpeas by itself, perhaps squeezed with extra lemon and a sprinkle of feta cheese. All you need is a bowl of this and you have a simple but delicious, hearty and healthy vegetarian lunch.
Personally, my favourite way to eat it is as a side dish – with something simple like roast chicken, steak, meatballs or fish. But it also makes pretty good lunch leftovers – either hot or cold.
Ingredients
It's quite possible that you have almost everything you need in the cupboard already to make this delicious and very easy Greek lemon rice.
Things you may have already:
olive oil, salt and pepper
dried oregano
rice
chicken or veggie stock (choose veggie of course if you want to keep the dish vegetarian or even vegan)
onion and garlic
Things you might have to buy:
a couple of lemons (both the zest and the juice)
a can of chickpeas
Optional – but recommended – toppings:
What kind of rice to use
Actually, the kind of rice you use for this recipe isn't as important as you might think.
Usually (but not always), I use a risotto rice. Or arborio rice. These types will get you a creamy result, a bit like an actual risotto.
But to be honest I've used all kinds of rice to make this… successfully!
Only got plain white rice? No problem!
Pro tip: Don't wash the rice first. You don't want to wash away the starch as that's what will make the dish nice and creamy.
Recommended equipment
This is my equipment of choice for making this simple Mediterranean style chickpeas and rice dish:
Any kind of Instant Pot or electric pressure cooker. It doesn't have to be Instant Pot. I have a Breville which I've been pleased with.
If you don't have the above, just make it on the stove top/cooktop. A cast iron pot with a lid is perfect, but any large heavy pan will work.
How to make it in an electric pressure cooker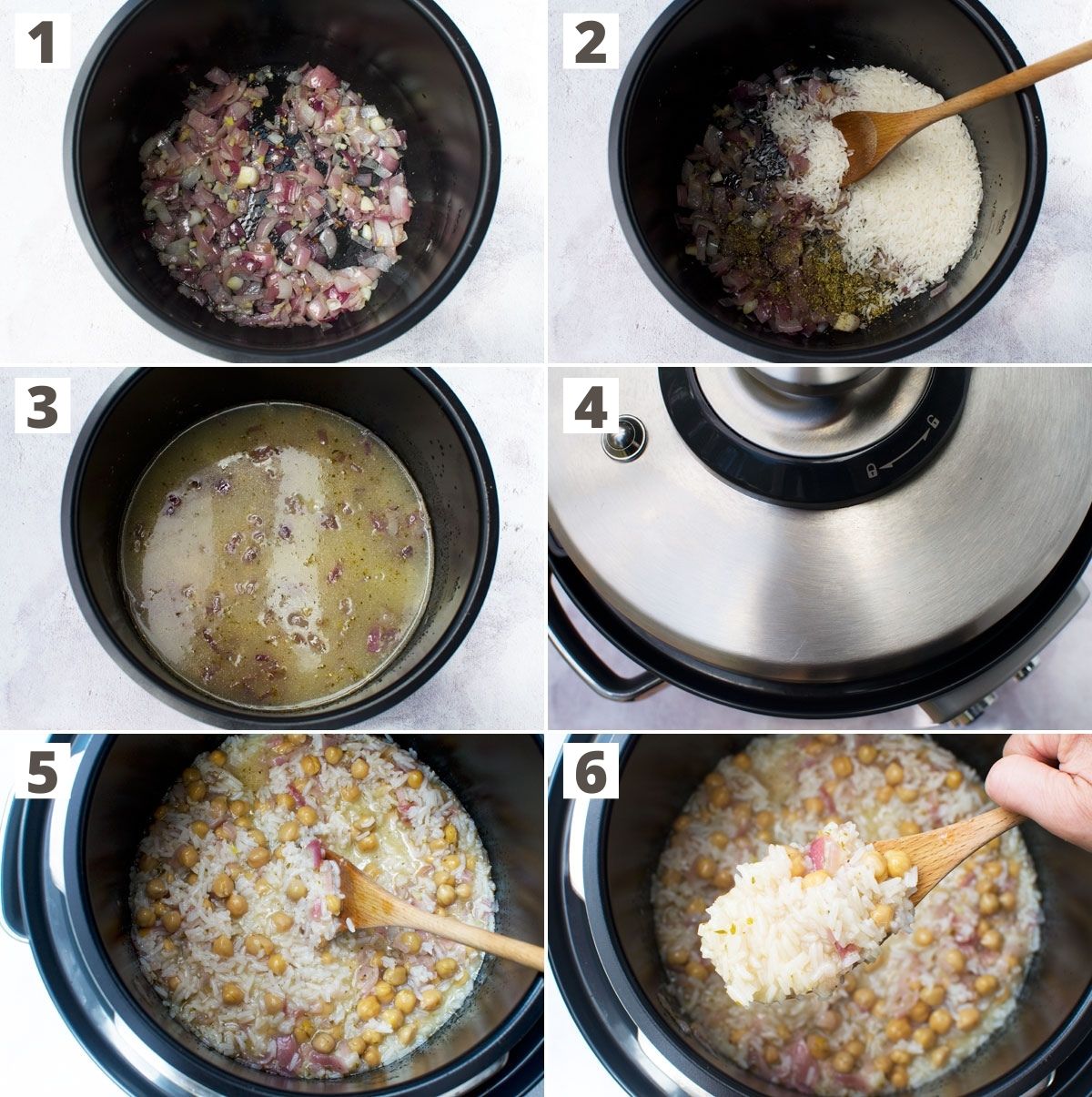 It couldn't be easier to make this if you happen to have an Instant pot or electric pressure cooker. Can you believe you can make it in just 10 minutes?
Here's what you do.
Soften red onions with garlic in a generous amount of olive oil (don't be shy).
Add most of the other ingredients (rice, stock, herbs, lemon, chickpeas, salt, pepper).
Pressure cook on high for 6 minutes followed by a quick release of the pressure.
Scatter over more lemon juice and fresh dill. Sprinkle over some feta cheese too if you like.
There might be a little excess liquid when it's just cooked. As it stands, however, the liquid will be absorbed. Leftovers will absorb even more of the liquid. The amount of liquid doesn't really matter, however. Either way is delicious.
Can you make it on the stove top?
Yep! If you don't happen to have a pressure cooker, you can still make this very quickly and easily in about 15 minutes.
The process for making it is pretty much the same. The cook time is slightly longer, but the dish ends up being ready at about the same time because you aren't waiting for the pressure cooker to come to pressure.
You don't have to babysit it while it's cooking too much, either. Just stir a couple of times during the cooking time and add a splash more water if it needs it.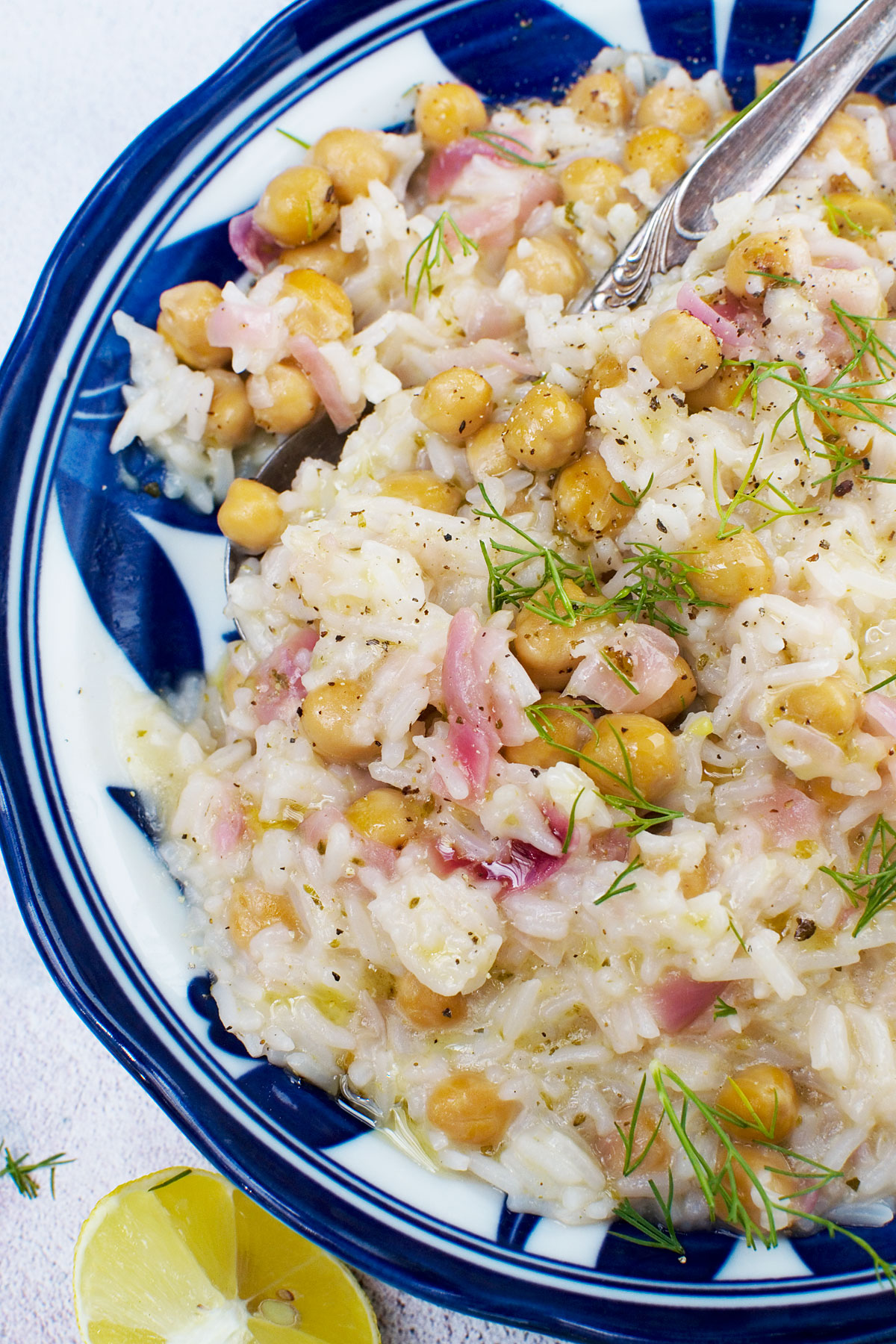 How to serve Greek lemon rice
This yummy lemony rice with chickpeas makes an excellent easy side dish! It goes especially well with:
these easy baked chicken thighs. You can throw them in your oven or even air fryer before you start cooking your rice so that they're ready at the same time. Prefer to stick with a Greek theme? How about Greek marinated chicken? (wings, thighs, whatever you like)
all kinds of warm or cold leftovers. Just whatever you have!
However… I do sometimes happily eat this rice on its own. It's particulary delicious scattered with a bit of fresh dill and feta cheese. Maybe you could even add a serving of delicious Greek tsatziki sauce on the side. Mmm!
What to do with the leftovers
Greek chickpea rice also makes great lunch leftovers. Warm through again in the microwave, or take to work and eat cold.
Alternatively, you could turn your leftovers into a real treat. Have you ever made arancini balls? Leftover Mediterranean rice with chickpeas would make incredible arancini. Just stuff cubes of feta cheese in the middle of small balls of leftover rice, then roll in flour, then egg, then breadcrumbs and fry! Serve with marinara sauce. Yum.
Variations
If you like, add some frozen or fresh spinach as well as or even instead of the chickpeas. Spinach rice is also very tasty and a common lunch food in Greece.
Add some mushrooms or leeks with the onions. Vary the dried herbs. You don't have to use dill if you don't like it or can't find it. In fact I wrote a whole post on the best dill substitutes, if you'd like to take a look!
This is delicious as a vegan (just skip the feta) or vegetarian rice dish. But if you like you can add meat. Just saute some chicken pieces with the onions for a few minutes before cooking as normal.
More easy Mediterranean side dishes
I've made these 2-minute olive oil toasts more times than I can count when I need a SUPER easy side. Give them a try – you'll be hooked!
IF YOU MAKE THIS RECIPE, LET ME KNOW HOW YOU GET ON BY LEAVING A COMMENT AND RATING BELOW… AND DON'T FORGET TO SIGN UP TO RECEIVE ALL MY NEW RECIPES BY EMAIL!
FOLLOW ME ON FACEBOOK, INSTAGRAM, PINTEREST AND YOUTUBE.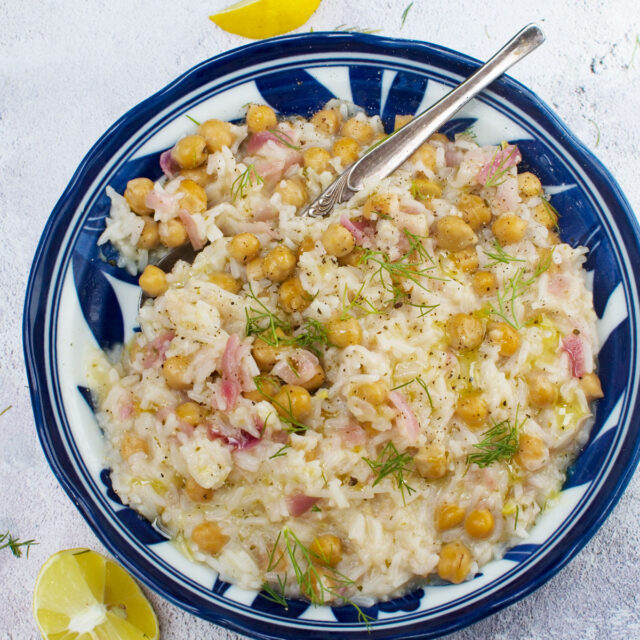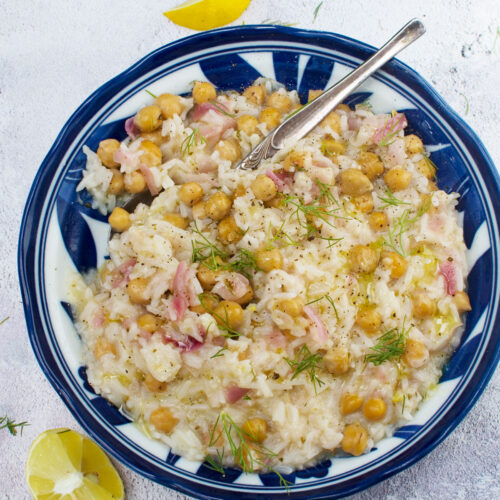 Greek Lemon Rice (With Chickpeas)
A lemony, Mediterranean style rice dish with chickpeas that's equally as delicious as a simple side dish as delicious lunch leftovers. It's healthy, economical, and ready in just 20 to 25 minutes, depending on whether you make it in a pressure cooker or on the stove top.
Ingredients (UK/Australia? Click below for grams/ml)
3

tablespoons

olive oil

(2 to 3 tablespoons)

1

onion

chopped

2

cloves

garlic

crushed

1

teaspoon

dried oregano

1

cup

rice

1

can

chickpeas

ready cooked (14 ounces or 400 grams)

2½

cups

stock

(vegetable or chicken) US = broth

2

lemons

zest and juice of 1, second lemon to add to taste

¾

teaspoon

salt

¼

teaspoon

pepper
To add after cooking (dill and feta both optional)
2

tablespoons

fresh dill

(chopped) plus a little extra for sprinkling over the top

2

ounces

feta cheese

(crumbled over the top)
Instructions
Heat the olive oil in the pressure cooker on the saute function. Alternatively, heat it on the stove top.

Add the chopped onion and soften for a couple of minutes. Add the garlic and stir for another few seconds.

Add the oregano and rice. Stir fry for about a minute until the rice starts to go translucent.

Add the stock, chickpeas, the zest and juice of 1 lemon, and salt and pepper. If using the pressure cooker, cook on high pressure (manual) for 6 minutes. Do a quick release of the pressure. If cooking on the stove top, simmer for around 15 minutes or until the rice is cooked and most of the liquid has been absorbed. Stir every now and again during cooking.

Stir the dill (if using) through the rice. Serve as a side or in bowls for lunch with the feta crumbled over the top if you like and a little extra dill. Also let everyone squeeze over a little more lemon juice to taste.
Notes
Pressure cooker or stove top? Both of these methods take about the same time as you have to wait for a pressure cooker to come to pressure before it starts cooking. However the pressure cooker/Instant Pot method is more hands-off! What kind of rice to use. I usually use either plain long grain rice, or risotto/arborio rice. But you can also use short grain, basmati or jasmine rice. Using risotto rice will get you results more like a classic risotto. The other types will yield a drier result, more like a pilaf than a risotto. Both types are delicious. Should you wash the rice first? No, don't do this. You'll get a creamier result because you won't have washed away the starch.
Nutrition
Calories:
337
kcal
Carbohydrates:
48
g
Protein:
6
g
Fat:
14
g
Saturated Fat:
4
g
Cholesterol:
13
mg
Sodium:
1187
mg
Potassium:
168
mg
Fiber:
3
g
Sugar:
4
g
Vitamin A:
388
IU
Vitamin C:
31
mg
Calcium:
114
mg
Iron:
1
mg