For a go-to vegetable side for Thanksgiving, Christmas, Easter, or any roast dinner, these roasted brussel sprouts and carrots are perfect. Save time and effort by making TWO veggies in the one dish. Roast, then toss in an easy maple (or honey!) mustard balsamic dressing just before serving. Yum!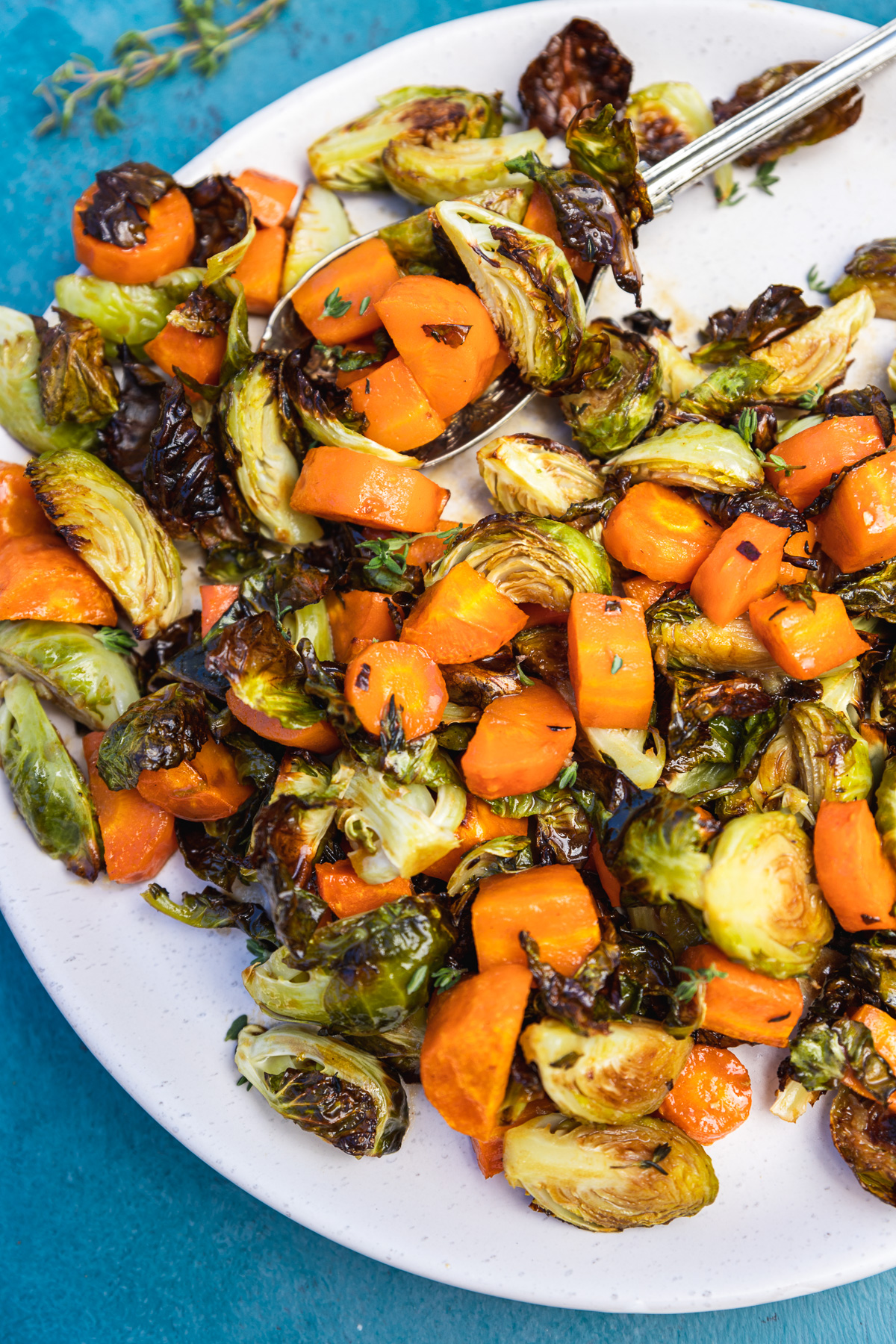 If you love brussels sprouts but would like to make a different recipe, try these honey balsamic brussels sprouts with caramelized onions, pine nuts and feta, or these crispy brussels sprouts with tahini sauce and almonds.
Why roast brussel sprouts and carrots together
I first came up with this roasted vegetable recipe when thinking of great dishes for feeding lots of people on Christmas day.
There are so many ways you can cook brussels sprouts and carrots, but roasting is my favourite. They roast in around the same amount of time as each other, so why on earth not cook them together in the same pan?
Other reasons I love this dish (and think you will too!):
SO EASY TO MAKE. Just clean and chop the veggies roughly. While they're roasting in a little olive oil and some herbs, prepare a simple honey mustard balsamic dressing. Warm it to melt the butter, then toss through JUST before serving!
INTERESTING TEXTURE. The brussels are slightly crisp and the carrots caramelised on the outside. The veggies are soft on the inside.
SIMPLE, ZINGY FLAVOURS. We all know brussels sprouts aren't everyone's favourite. But mixed with the sweet caramelised carrots and this sweet and punchy dressing, there'll be no more brussels haters in the house.
QUICK, EASY AND NUTRITIOUS. How can you go wrong?
PREPARE AHEAD. Chop the veggies and cover. Prepare the dressing, ready to warm and pour over the vegetables when roasted.
If you like this recipe, you'll love these honey roasted carrots and parsnips as well!
About the ingredients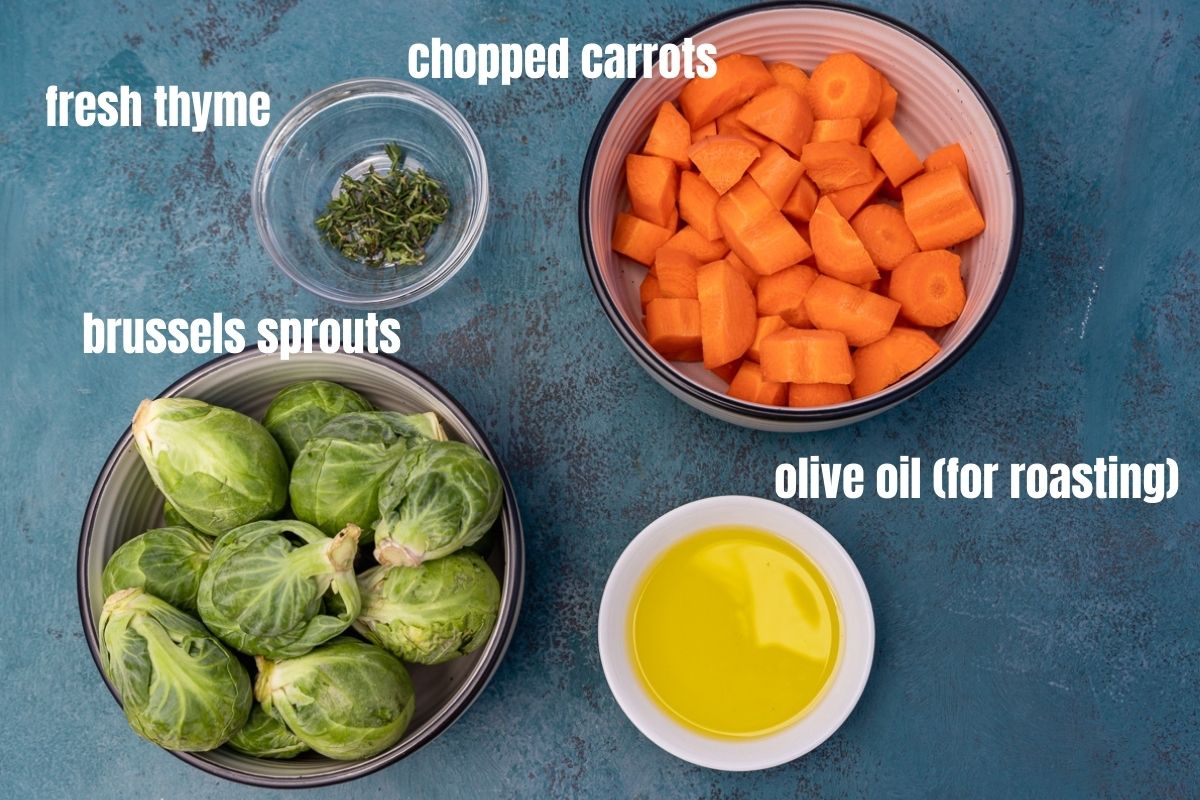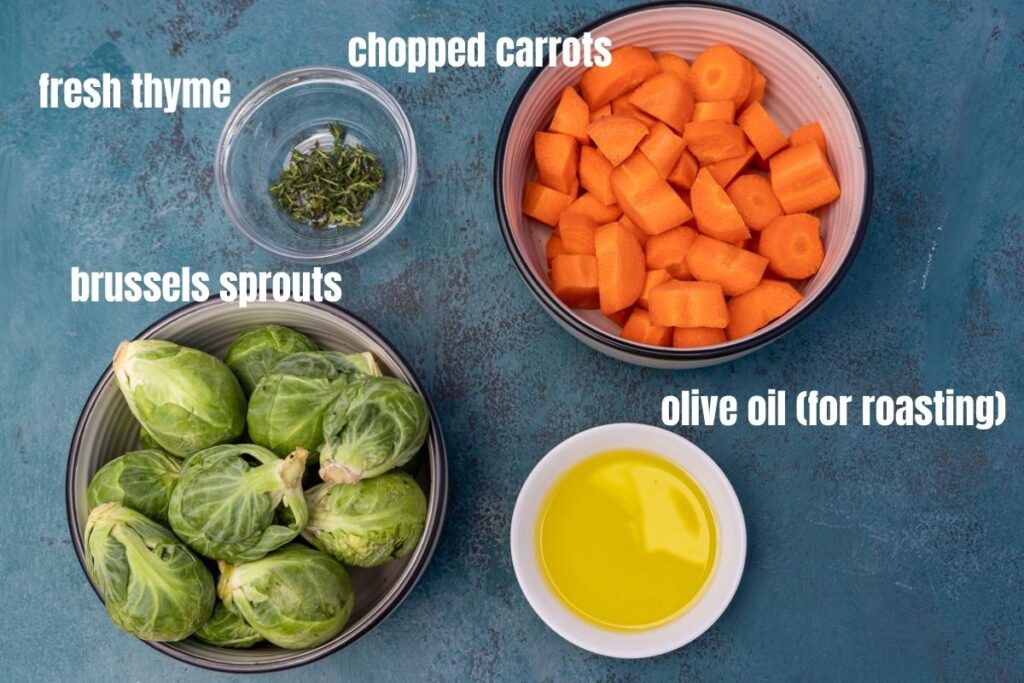 Brussels sprouts: Grab a 400-gram (14-ounce) bag. Look for fresh ones with tightly-packed bright green leaves without holes in them.
Carrots: Honestly? Any kind. A regular bag of cheap-as-chips carrots will do, or go fancy with multi-coloured or baby carrots if you prefer. Best to use nice fresh, firm ones rather than the ones that have been hanging out in the bottom of your fridge for a month! (don't worry we all have some of those)
Olive oil: You'll need just a couple of tablespoons for roasting. If you don't have olive oil, any kind of oil will be fine.
Thyme: Just 4 teaspoons of thyme leaves. Use dried if you prefer, but you'll only need a teaspoon.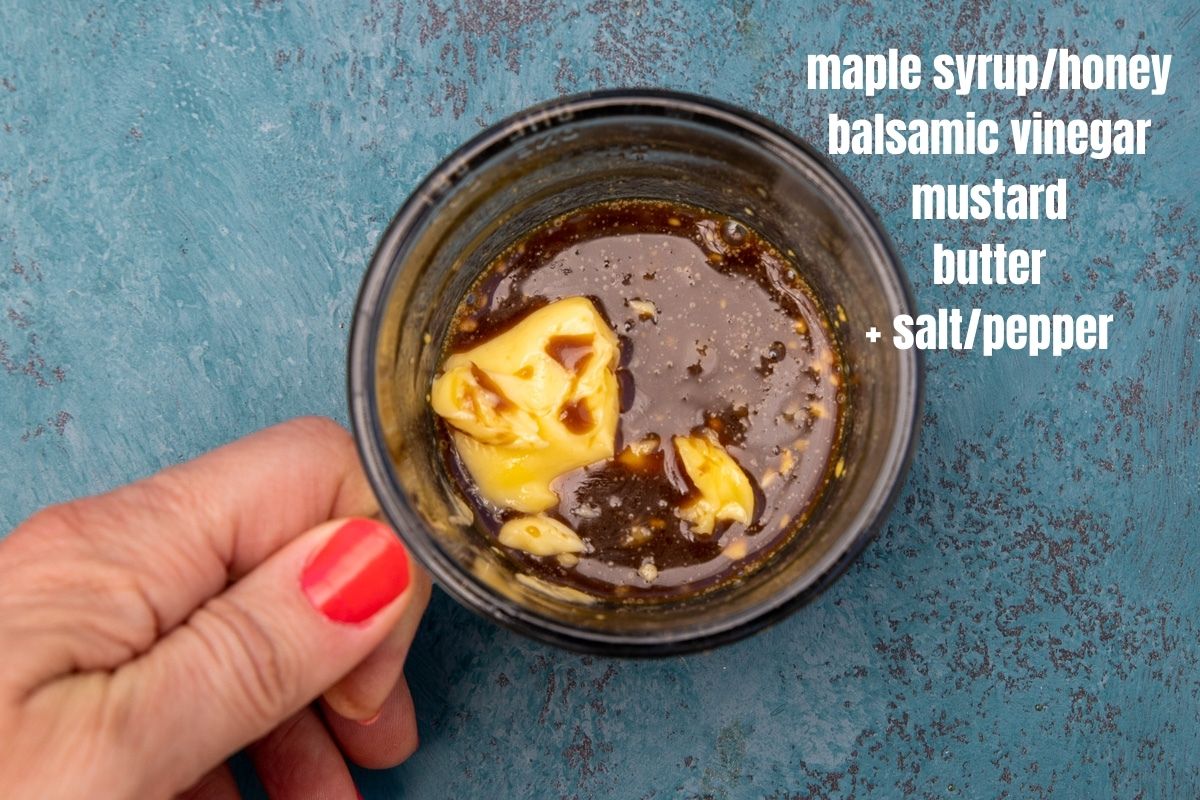 Mustard: I usually have Dijon in my fridge, so that's what I use. But any mustard works. Skip the mustard if you're not a fan.
Balsamic vinegar: Just a tablespoon for a beautiful contrast with the honey.
Honey or maple syrup: A couple of tablespoons for an irresistible hint of sweet. Which is best? Honestly, just use what you have or prefer. Both taste awesome!
Butter: Warm the dressing slightly so that the butter melts. You'll only add a tablespoon, but it makes all the difference to the final result.
Salt and pepper: Just a touch!
How to make them
The great thing about these vegetables (apart from how delicious they are) is that you can make them in just a few simple steps, detailed below. For the full printable recipe and video, please scroll down!
Start by preparing the dressing and vegetables. Just mix all the dressing ingredients together and microwave for a few seconds to melt the butter. Set aside!
To prepare the veggies, wash the brussels and remove any scruffy leaves. Slice off the rough top part, then slice in half. Just wash and peel the carrots, then slice into chunks that are similar in size to the brussels.
Line a baking tray with baking paper (not essential but I nearly always do this for easier cleanup). Throw the veggies onto the tray, then toss with 2 tablespoons of olive oil and the thyme.
Roast at a medium high temperature (205C or 400F) for 25 to 30 minutes. The brussels will be browned and crisp in parts and the carrots starting to caramelise. I usually toss the veggies around half way through the cooking time.
Finally, toss the dressing through the hot vegetables and serve immediately.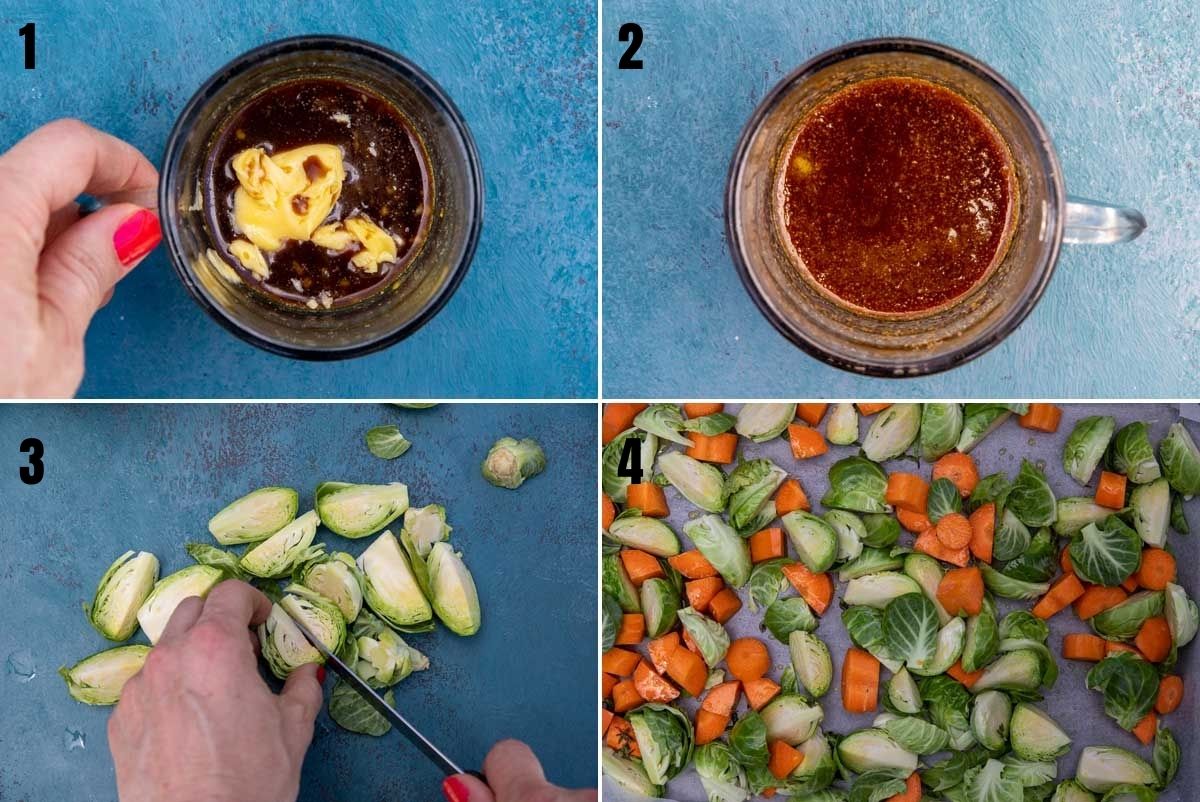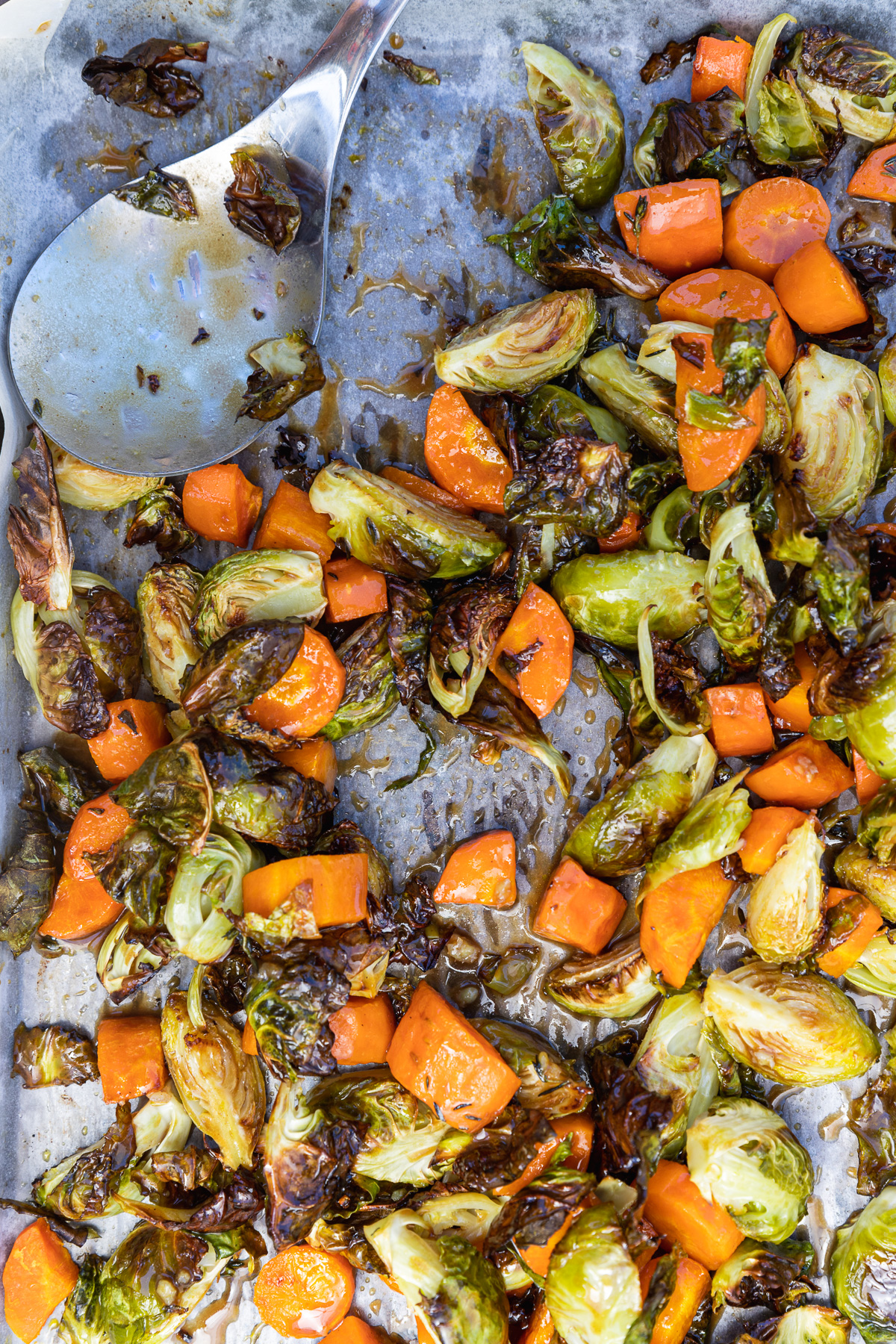 Helen's top tips
Don't overcrowd the pan. If it's crowded, the veggies may 'sweat' and not brown/caramelise as well.
Some of the brussels leaves will fall off as you slice them. Throw them onto the tray too! They'll be lovely and crispy!
Cooking time can vary in different ovens. Go by the colour rather than by the exact time stated in the recipe. Keep an eye on them. When the brussels are browned and crisp in parts and the carrots are starting to caramelise, they're done (20 to 40 minutes).
Carrots can take slightly longer than brussels to cook. If the brussels sprouts look like they're charring too much, just reduce the oven temperature a little.
Ways to vary them
ADD CHOPPED BACON, CHORIZO OR SAUSAGE! Try this on the most ardent of brussels haters. I'd suggest cooking a few chopped rashers of bacon/chopped chorizo or crumbled sausage separately in a frying pan for 5-10 minutes, then sprinkling it over the dish of veggies before serving. I don't roast the bacon with the vegetables as it doesn't need that long to cook.
SWAP HONEY FOR MAPLE SYRUP: This possibly depends on which you already have. But of course maple adds a different flavour dimension!
SPRINKLE OVER TOASTED NUTS. Chopped hazelnuts, pecans, walnuts, pistachios, macadamias, slivered almonds – your choice. Pine nuts work well, too.
SKIP THE NUTS – SPRINKLE OVER CHEESE INSTEAD. Parmesan, feta, blue cheese, brie, goat cheese and potentially other cheeses would go well with this dish, too. Don't go crazy – a little goes a long way, but my, how delicious!
VARY THE HERBS. This is an easy one. No thyme? No worries. Use dried rosemary, oregano or sage, or fresh basil or parsley scattered over at the end.
ADD A FESTIVE SPIN. Sprinkle with dried cranberries or cherries! Or… here's a fancy trick… skip the honey and use cranberry sauce in the dressing instead!
JUST SERVE THE VEGGIES PLAIN, WITHOUT ANY DRESSING OR ADDITIONS. Because… why not? Scatter with herbs, salt and pepper and be done with it. Sometimes simplest is best.
How to serve them
The most classic way to serve roasted brussel sprouts and carrots is with some kind of roasted meat and potatoes. In the UK this would be called a roast dinner! If you have an air fryer, you just have to try my 1-hour air fryer rotisserie chicken!
Make the potatoes easy with these classic French potatoes parmentier (mini roast potatoes). More in the mood for mash? Try these very simple mashed potatoes with truffle oil.
This simple veggie dish would also be perfect for a special dinner such as for Thanksgiving, Christmas or Easter. It simplifies things as there are 2 vegetables cooked together, but not at the expense of flavour.
Lastly, I could see these served as an easy midweek side to go with any kind of main – chicken, steak, fish, or a vegetarian alternative. Try serving them with this truly delicious mustard parmesan crispy chicken, these easy baked chicken thighs, or these copycat Ikea meatballs!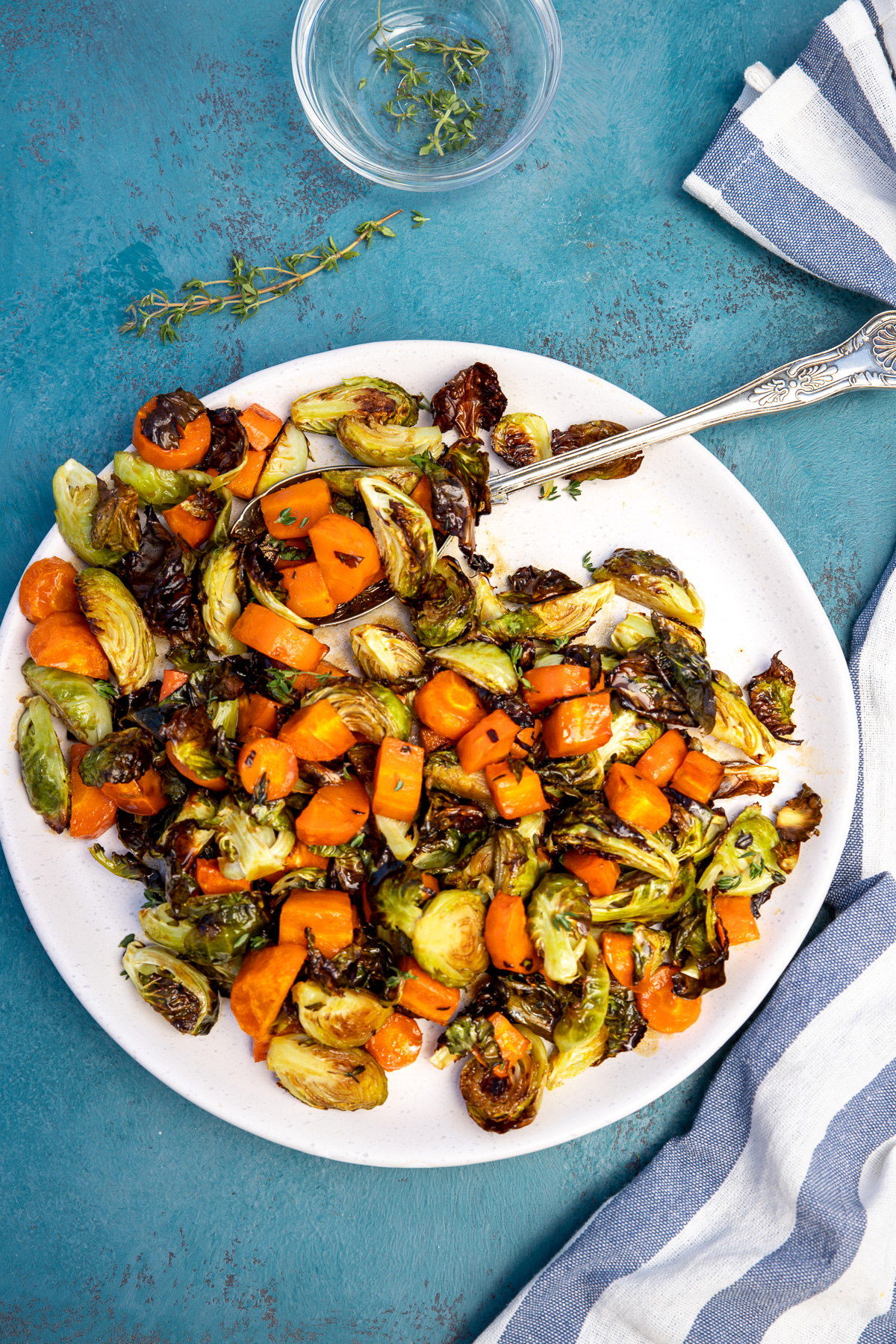 More things to know (recipe FAQ)
Should brussel sprouts and carrots be blanched (briefly boiled) before roasting?
Nope. Some people do this, but there's really no need. Why create more work for yourself when it just isn't necessary?

On the other hand, if you like your brussels sprouts to be really tender on the inside, do go ahead and blanch them for 5 minutes before roasting. Rinse in cold water and dry well before proceeding with the recipe as normal.
Can't I keep the brussels sprouts whole?
Yes! If you choose to do this, you'll need to roast for an extra 10 to 15 minutes. Also make sure you chop your carrots a bit larger so that they're about the same size as the brussels sprouts. This way, the 2 types of vegetables will still be ready at the same time.
Why are my brussels sprouts mushy?
This can sometimes happen if the sprouts aren't drained well after washing or blanching. To be sure this doesn't happen again, blot them with kitchen paper before roasting. Also make sure you don't crowd the baking tray. Use two if you need to.
Can this dish be prepared ahead?
You can certainly wash and prepare the vegetables ahead and put them on the baking tray covered and ready to roast. You can also prepare the dressing ahead and keep it in the fridge until you're ready to use it.

Once you've cooked the vegetables, it's best to serve them right away while the brussels are still nice and crisp.
IF YOU MAKE THIS RECIPE, LET ME KNOW HOW YOU GET ON BY LEAVING A COMMENT AND RATING BELOW… AND DON'T FORGET TO SIGN UP TO RECEIVE ALL MY NEW RECIPES BY EMAIL!
FOLLOW ME ON FACEBOOK, INSTAGRAM, PINTEREST AND YOUTUBE.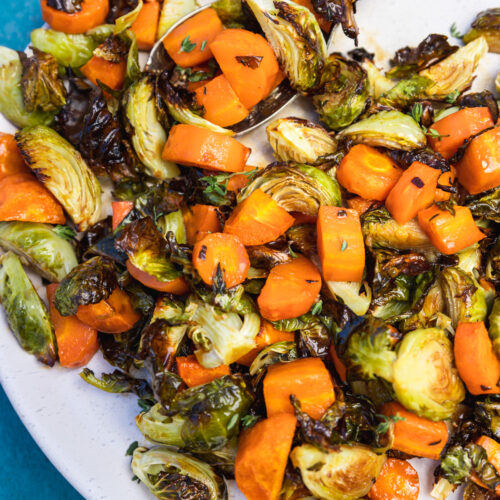 Amazing Roasted Brussel Sprouts And Carrots
Roast TWO humble veggies in one – brussels sprouts and carrots – and toss them in a very simple but delicious honey mustard balsamic dressing for a side dish that's perfect for both fancy and simple meals alike. Browned, crisp and caramelized on the outside and soft and delicious on the inside, these will convert even the most ardent of brussels sprouts haters!
Equipment (affiliate links)
Ingredients (UK/Australia? Click below for grams/ml)
For the vegetables
14

ounces

brussels sprouts

washed, ends chopped off and cut in halves or lengthwise

14

ounces

carrots

washed, peeled and chopped into pieces roughly the same size as the brussels

2

tablespoons

olive oil

for roasting the vegetables

4

teaspoons

fresh thyme

Pull the leaves off the tough stalk by running your thumb and finger down it (I find it's best to do this from the top of the stalks downwards). Alternatively use just 1 teaspoon of dried thyme.
For the dressing
2

tablespoons

honey

or maple syrup

1

tablespoon

balsamic vinegar

2

teaspoons

mustard

½

clove

garlic

crushed (optional)

1

tablespoon

butter

½

teaspoon

salt

¼

teaspoon

pepper
optional toppings
crumbled cheese, toasted nuts, dried berries
Instructions
Pre-heat the oven to 205C/400F. Line a large baking tray with baking paper.

Empty the washed and cut brussels sprouts and carrots onto the baking tray. Include any brussels leaves that have fallen off. Toss through the olive oil and thyme.

14 ounces brussels sprouts,

14 ounces carrots,

2 tablespoons olive oil,

4 teaspoons fresh thyme

Roast the vegetables for around 25 to 30 minutes or until the brussels are golden and crispy in parts (but not burnt) and the carrots are starting to caramelize. Toss around half way through cooking.

Meanwhile, whisk together the dressing ingredients. Microwave for 30 seconds to melt the butter.

2 tablespoons honey,

1 tablespoon balsamic vinegar,

2 teaspoons mustard,

½ clove garlic,

1 tablespoon butter,

½ teaspoon salt,

¼ teaspoon pepper

When the vegetables are cooked, immediately toss the dressing through them. Empty them into a serving bowl. Sprinkle over any toppings (purely optional) and serve immediately.

crumbled cheese, toasted nuts, dried berries
Notes
Preparing the brussels sprouts and carrots: Wash well. Chop off the bottom ends. Slice in half lengthwise (from the top to the bottom). Sometimes I even slice in quarters if the brussels are especially big.
I sometimes wash again after I've prepared them. Don't throw away any rogue leaves that fall off as you prepare the brussels. Throw them onto the baking tray too and they'll get extra crispy!
I usually cut the carrots into chunks slightly smaller than the brussels sprouts as they take slightly longer to cook than brussels.
How long to cook for: You want the brussels to be nicely browned and a little crispy in parts. Charred is OK but burnt is not! Just keep an eye on them towards the end of the cooking time. The carrots take a little longer to cook than the brussels, so it's a fine balance.
Preparing ahead: You can wash and cut the vegetables in advance, toss them with the olive oil and thyme and then cover and store in the fridge until ready to cook.
You can also prepare the dressing ahead. Whisk everything together and store in the fridge covered until ready to use.
When roasted, toss the vegetables with the dressing just before serving. You want the brussels to retain their crisp!
Nutrition
Calories:
140
kcal
Carbohydrates:
19
g
Protein:
3
g
Fat:
7
g
Saturated Fat:
2
g
Polyunsaturated Fat:
1
g
Monounsaturated Fat:
4
g
Trans Fat:
1
g
Cholesterol:
5
mg
Sodium:
293
mg
Potassium:
489
mg
Fiber:
5
g
Sugar:
11
g
Vitamin A:
11673
IU
Vitamin C:
62
mg
Calcium:
59
mg
Iron:
1
mg