Next time you're tempted to buy salsa from a supermarket, why not have a go at making your own fresh tomato salsa at home? It only contains 6 simple ingredients, takes 10 minutes to make, and tastes fresh and healthy. You'll never look back!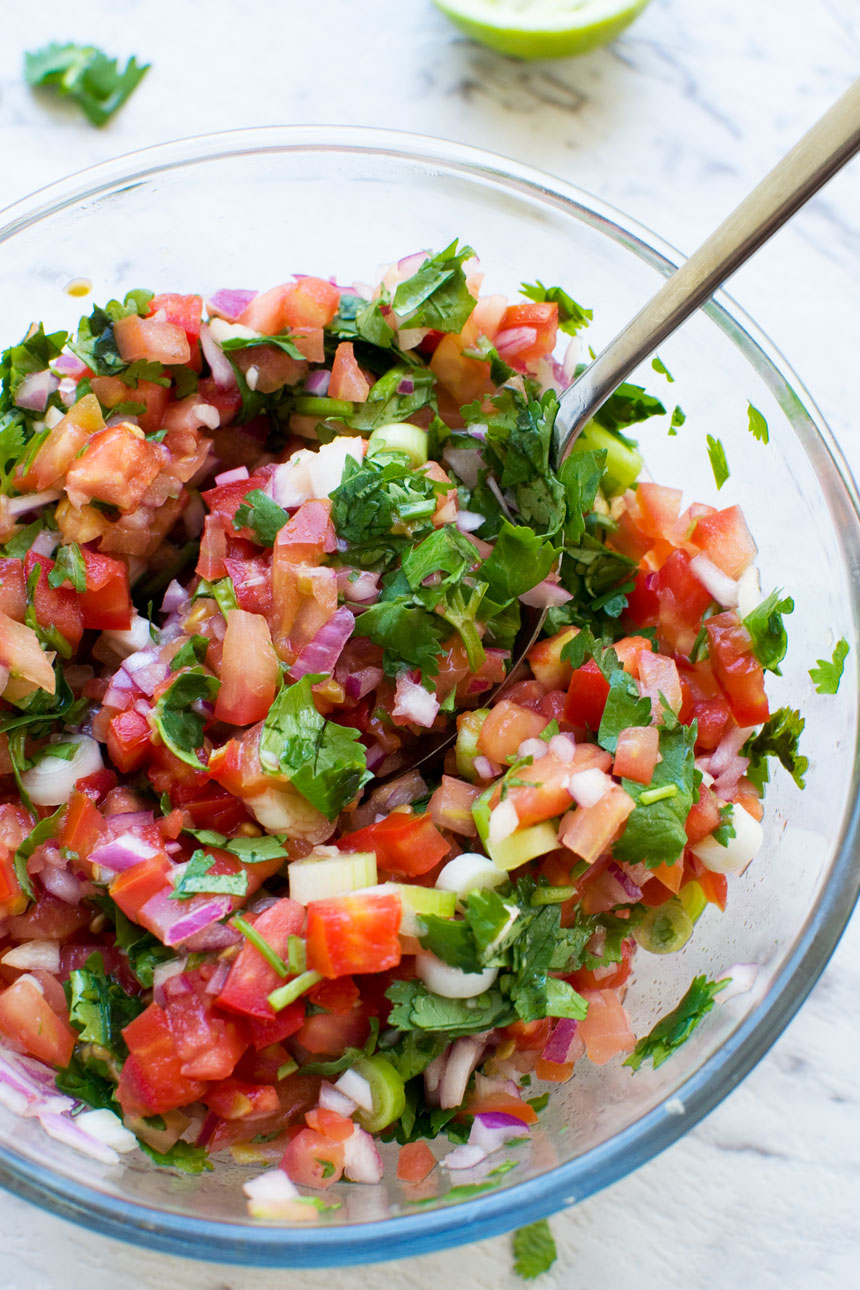 Just recently, I discovered a gourmet supermarket that stocks wonderful ready prepared foods.
The one thing Mr Scrummy and I couldn't resist buying was a big tub of homemade salsa and a huge bag of tortilla chips to dip into it.
It was delicious, but a bit expensive, so I decided to try to guess what was in it and make my own version at home. The result is this 10 minute fresh tomato salsa!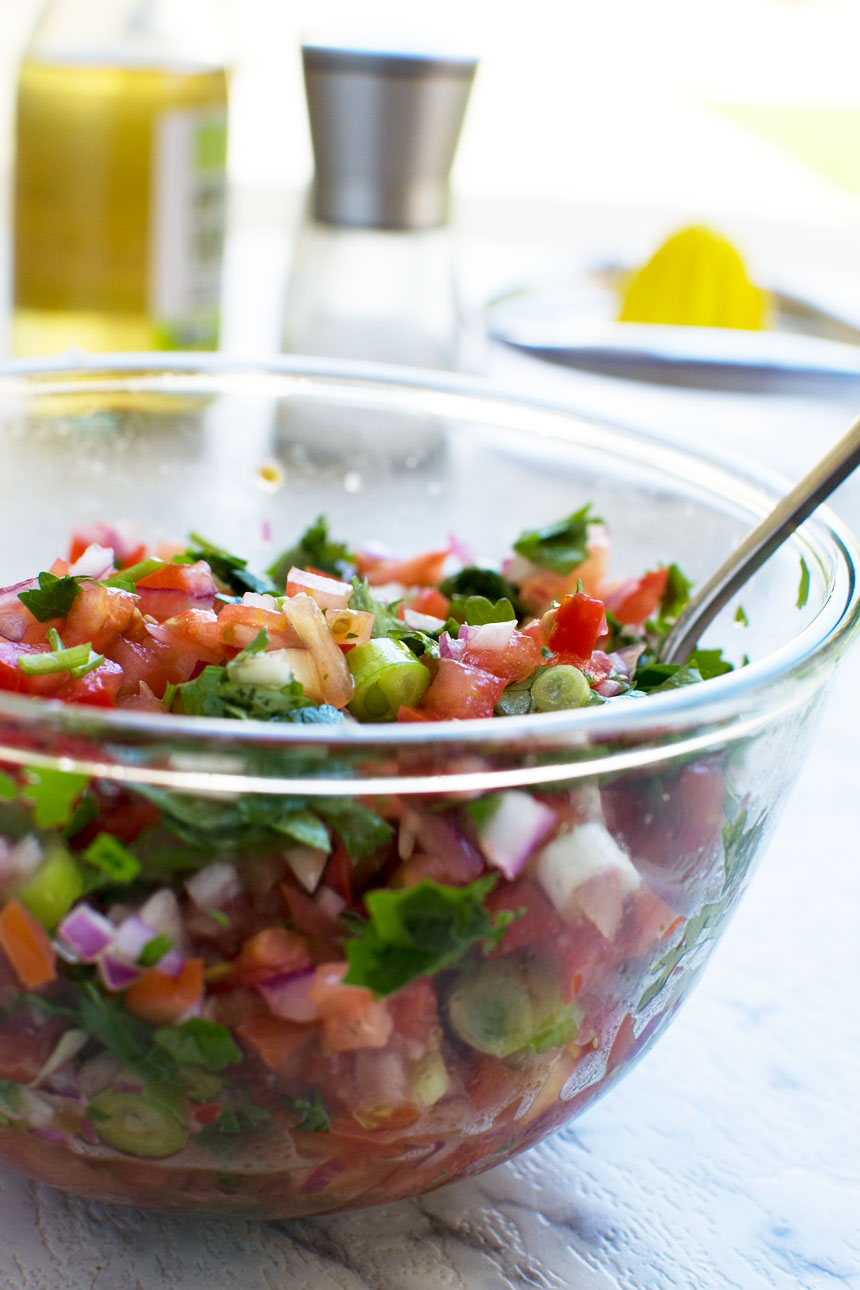 Simple… but delicious!
This is a very SIMPLE SALSA.
To be honest, when we have a meal that salsa goes well with, like these 5 bean chili loaded nachos, I usually just dice some tomatoes and onions and add a drizzle of olive oil.
Generally I think this is a neat hack. I only have 30 minutes to an hour (maximum!) to prepare dinner, so I don't have time for anything else.
HOWEVER, if I'm just pulling something from the freezer (again, like 5-bean chili!), I sometimes go the extra mile and make this simple 10 minute tomato salsa. Sometimes I make it ahead and pop it in the fridge ready for that night's meal.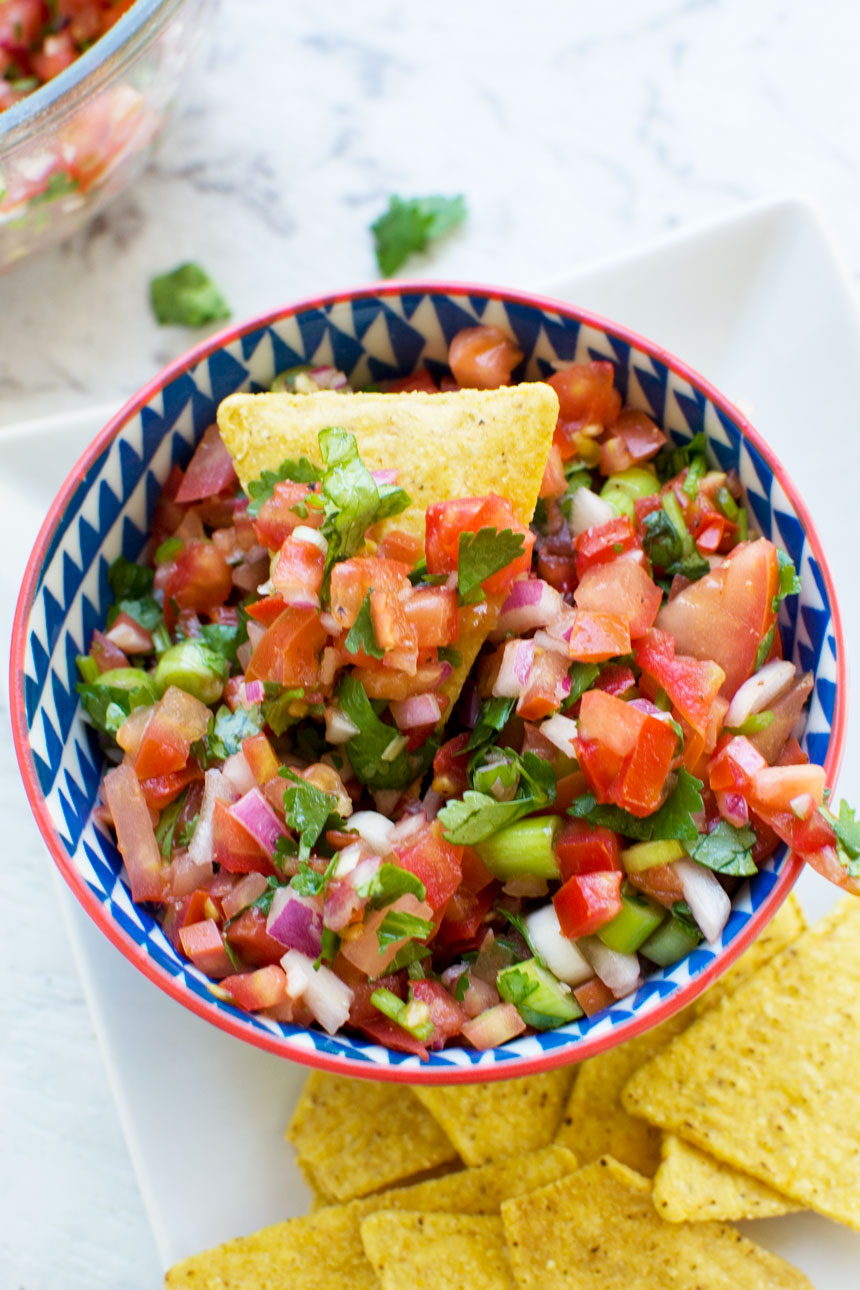 So how do you make a tomato salsa?
This is what I put in my 10 minute fresh tomato salsa:
diced tomatoes (of course!)
a little diced red onion (but any kind of onion is fine)
some finely chopped salad onions / spring onions
lime juice
a drizzle of vinegar
chopped fresh coriander
salt & pepper
So yes, just 6 ingredients!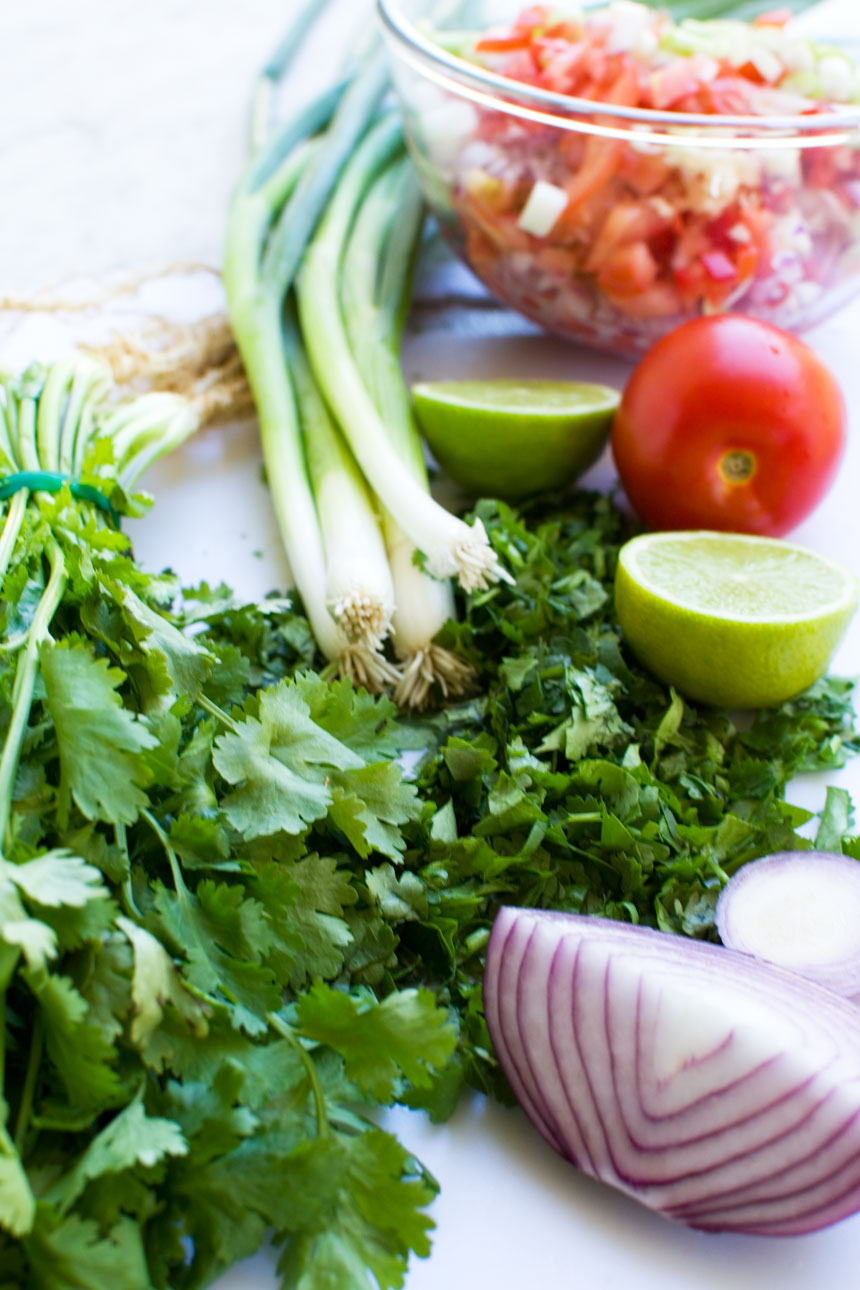 How long does tomato salsa keep for, and can you freeze it?
This tomato salsa keeps for quite a few days in the fridge – at least 3 to 4. After that you might find it's gone past its best, but keep eating it if you dare!😉
I've never frozen salsa before, but it's fine to do so. There might be a bit more watery liquid in it after you've defrosted it, but you can easily drain it off.
If you have any leftover salsa, you could:
have it as a snack with a few tortilla chips or these air fryer pita chips (use your regular oven if you prefer)
serve it with quesadillas, tacos, or something else 'Mexican'!
use it as a raw pasta sauce
mix it into a salad (why not?)
eat it with crackers and cheese, a bit like a chutney (again, why not?)
add it to a sandwich
eat it from a big spoon (just kidding – I probably wouldn't eat it like this, but hey there are no rules!)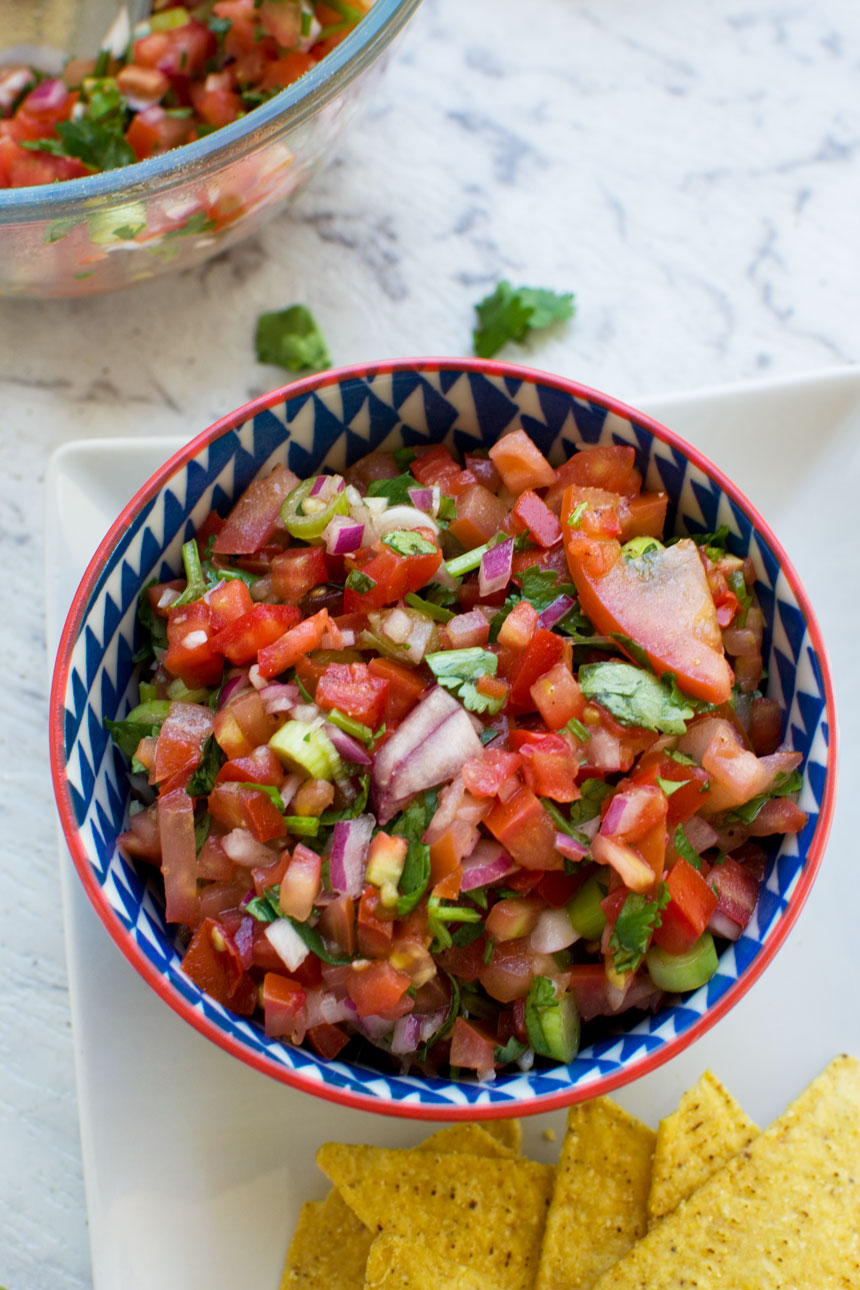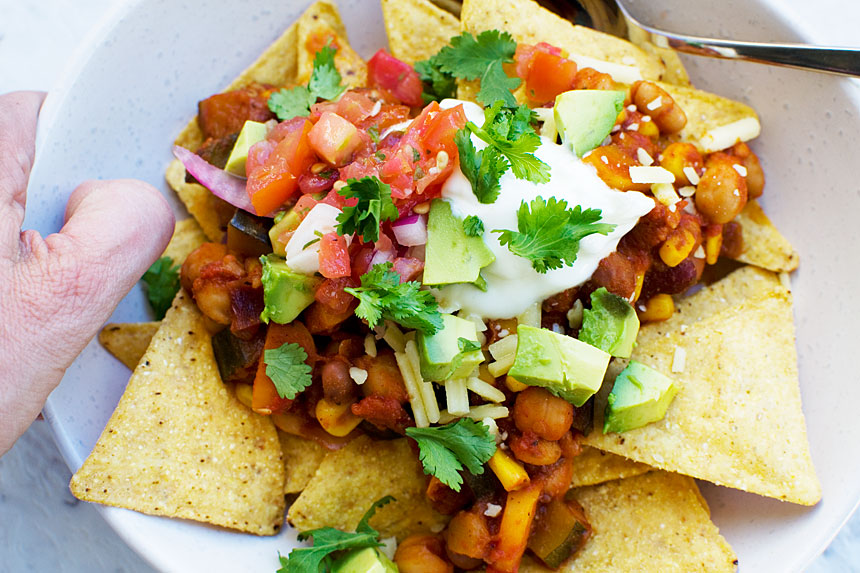 This is one of those basic but delicious recipes that are just good to know. They have everything. They're easy. They're nutritious. They're versatile. They're popular for a reason.
You make them again and again and they never grow old.
I hope this becomes an old favorite of yours too!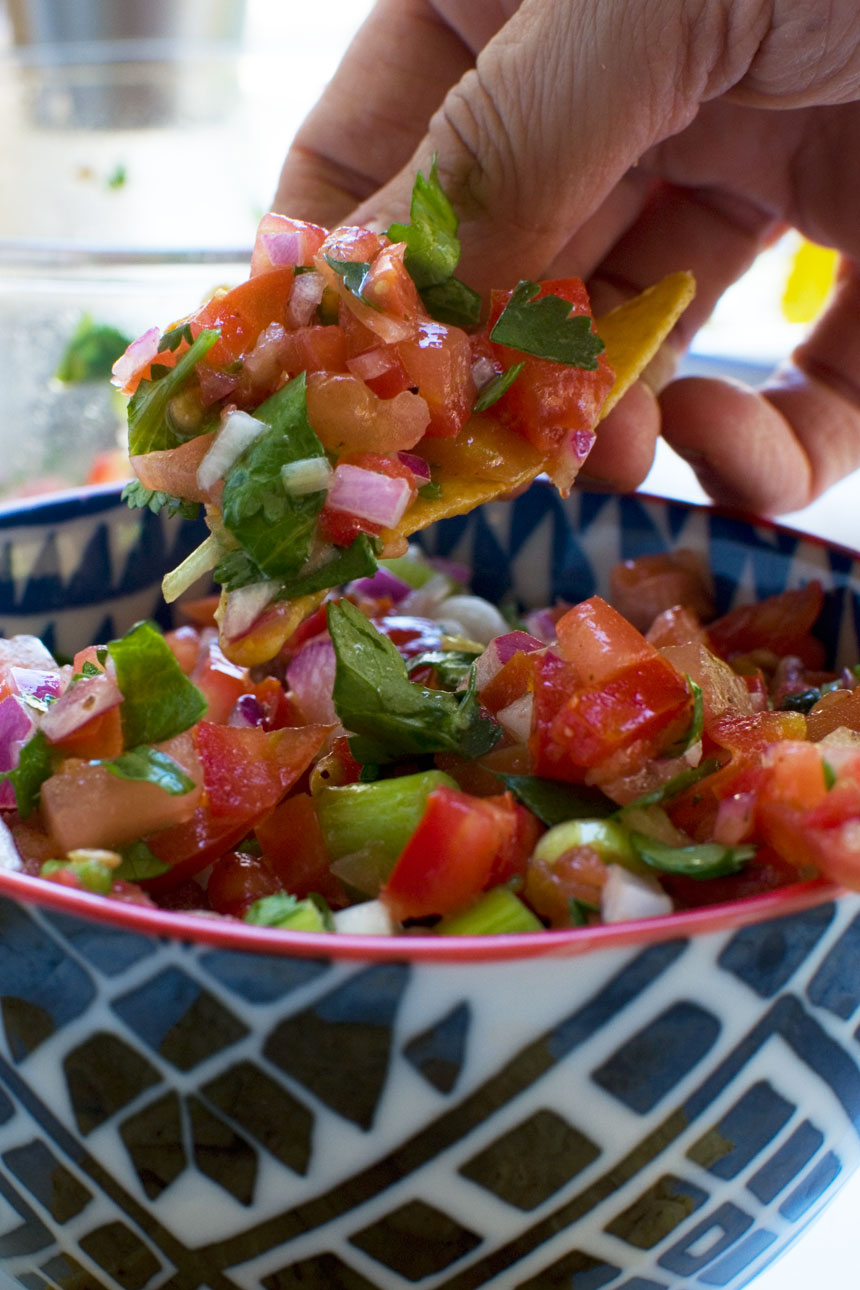 More delicious dips and sauces
Don't forget the homemade pita chips (air fryer or regular oven!) to go with them!
IF YOU MAKE THIS RECIPE, LET ME KNOW HOW YOU GET ON BY LEAVING A COMMENT AND RATING BELOW… AND DON'T FORGET TO SIGN UP TO RECEIVE ALL MY NEW RECIPES BY EMAIL!
FOLLOW ME ON FACEBOOK, INSTAGRAM, PINTEREST AND YOUTUBE.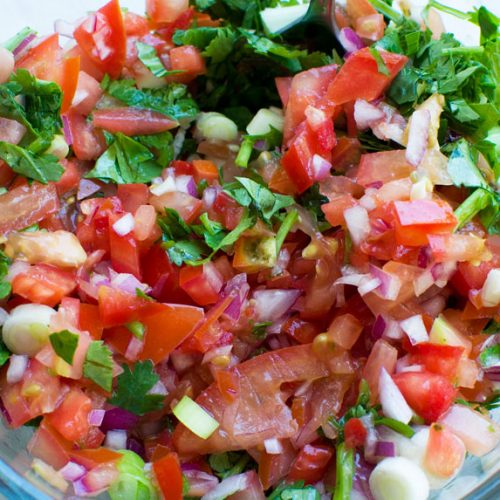 10 minute tomato salsa
Next time you're tempted to grab some ready made tomato salsa at the supermarket, why not grab extra tomatoes and make your own instead. It's simple and delicious, and only takes 10 minutes to make. Perfect with 5 bean loaded nachos, or just scooped up with tortilla chips as a snack. Yum!
Ingredients (UK/Australia? Click below for grams/ml)
3

medium

tomatoes

chopped finely (3-4)

¼

large red

onion

chopped finely

3

spring onions

(salad onions) chopped (3-4)

¼

bunch

fresh coriander

chopped (1/4 – 1/3)

1

lime

juice only

a

drizzle

apple cider vinegar

(or any vinegar!)

2

tablespoons

olive oil

salt & pepper to taste
Instructions
Stir all of the ingredients together in a medium bowl.

Serve immediately or keep covered in the fridge for a few days. Alternatively you can freeze the salsa for later.
Notes
A note on storage
This salsa should stay fresh for 3 to 4 days in the fridge. You can freeze it if you like although you may want to drain off a little of the liquid after it's defrosted.
Why not serve with these air fryer pita chips? (will work in a regular oven too!)
Nutrition
Calories:
69
kcal
Carbohydrates:
4
g
Fat:
5
g
Sodium:
5
mg
Potassium:
208
mg
Fiber:
1
g
Sugar:
2
g
Vitamin A:
715
IU
Vitamin C:
15.3
mg
Calcium:
17
mg
Iron:
0.4
mg