Have you ever tried tahini dressing? It's genius – creamy, nutty, lemony, and garlic-y. It's versatile – delicious drizzled over roasted vegetables, all kinds of salads, and of course falafel. It also happens to be vegan, dairy free, and gluten free, and takes just FIVE MINUTES to make.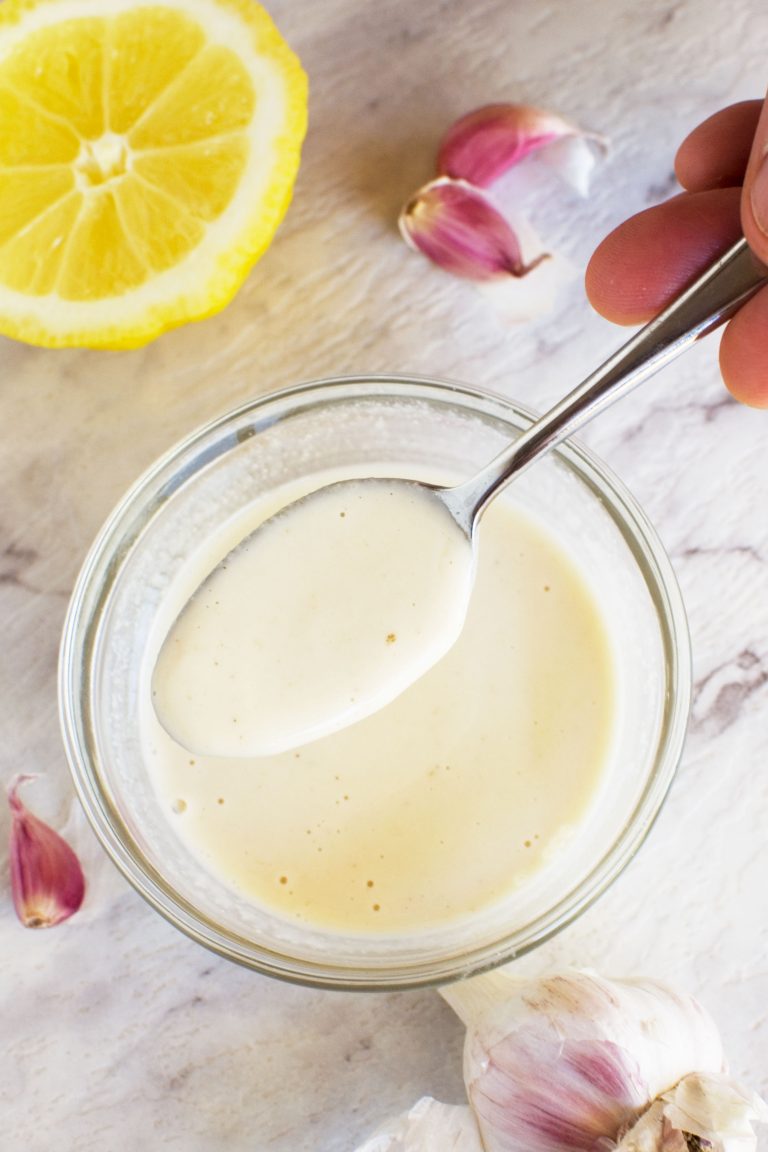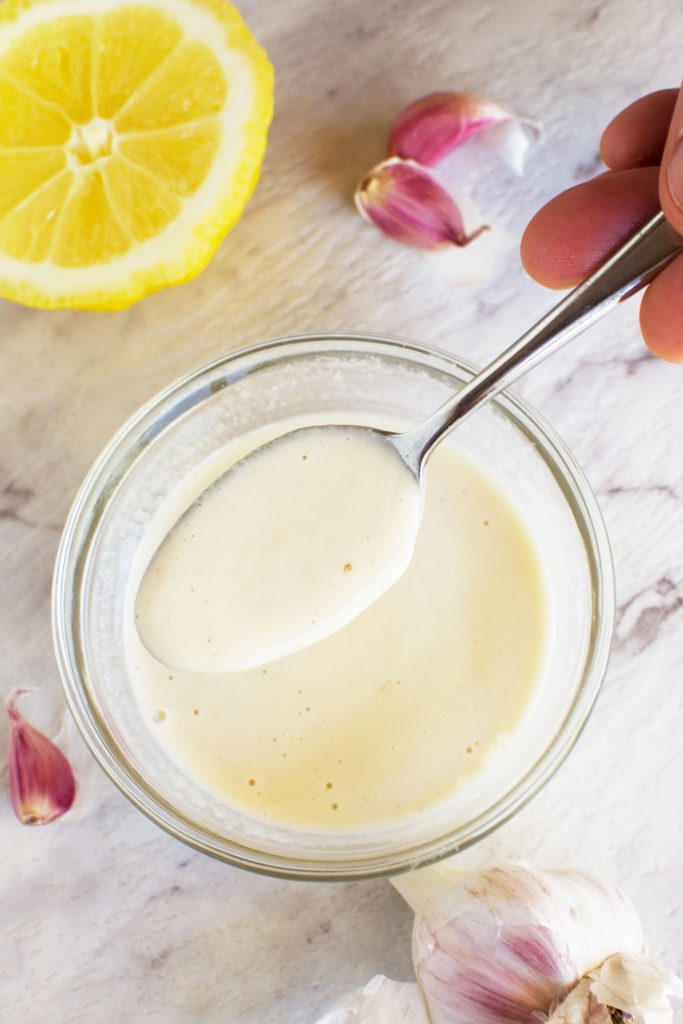 It's quick and easy, versatile, and delicious!
If you've never tried tahini dressing, you could be seriously missing out on a very easy way to take your food from good to incredible.
If you don't like it – no worries. If you do, you've then got an amazingly quick and delicious 'alternative' dressing trick up your sleeve that's perfect for vegetables, salads, bowls, and more!
Over the years I've eaten tahini sauce mostly with traditional falafel wraps. I've always loved it, so it was a very pleasant surprise to discover that it also makes a truly delicious dressing for: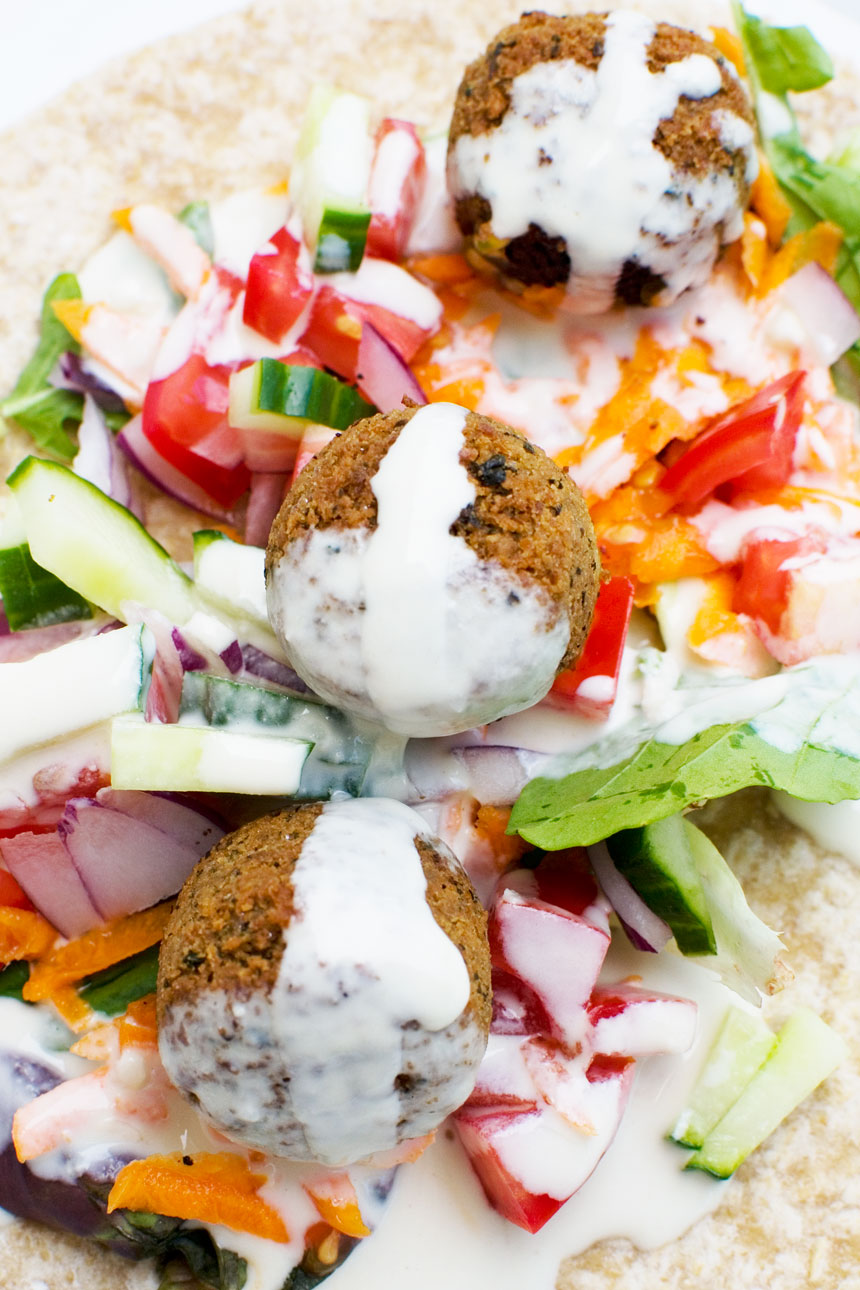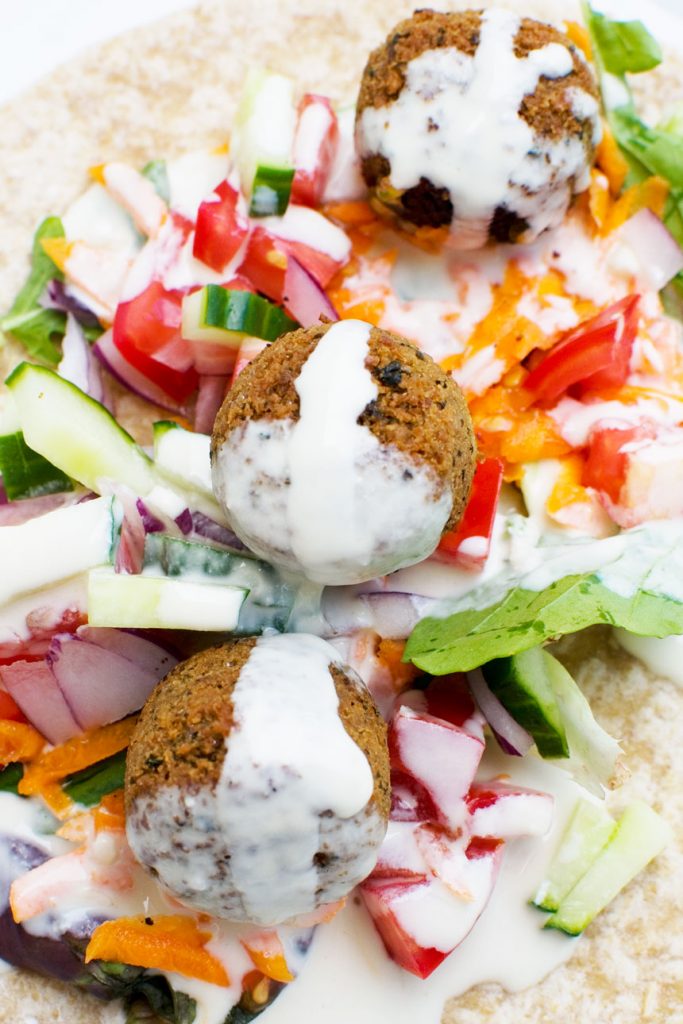 So, erm… what is tahini sauce, anyway?
It's made from… tahini! No surprises there, but what's it made of? Well, all it is is blended sesame seeds. So you could say it's just the sesame seed equivalent of peanut butter.
When I lived in Greece I used to spread tahini on toast sometimes, just like I would peanut butter. For some people it can be an acquired taste because it tastes more bitter than nut butter. But it's delicious with something sweet like jam (UK)/jelly (US) on top. Think of it as a posh PB&J!
Or made into a dressing with water and lemon!
So tahini sauce (or dressing – whatever you want to call it) is just a very simple dressing made from:
tahini paste
water
a small clove of crushed garlic
lemon juice
cumin (which is optional but highly recommended)
salt
And how do you make it?
It's so simple. It literally takes 5 minutes, or even less if you have all the ingredients to hand.
The creamy dressing is so delicious that you'd think you'd spent ages making it. Nope. Just whisk all the ingredients together for the most delicious and easy vegan and dairy free dressing ever.
Do you need a food processor? No again, which is good news (who else thinks they are sometimes more trouble than they're worth because they take so long to clean?).
Just use a mini wire whisk, or even a tea spoon. It takes just seconds, and you hardly have any washing up.
How to make it step-by-step
If truth be told, you hardly need a recipe for this dressing because as I said all you do is whisk the few ingredients together!

Just one trick…
Whisk the lemon juice in first. The tahini paste might go a bit grainy, almost as if it's curdling, but that's fine. Just blend the water in slowly until you have a smooth dressing.
The result should be a creamy dressing that's a little thinner than mayonnaise. Of course, you can easily adjust it slightly if it seems too thick by adding a drizzle more water.
When you're happy with the consistency of your dressing, add the crushed garlic, the pinch of cumin (if you like), and the pinch of salt and whisk again.
Drizzle generously all over your vegetables, salad, or falafel and enjoy!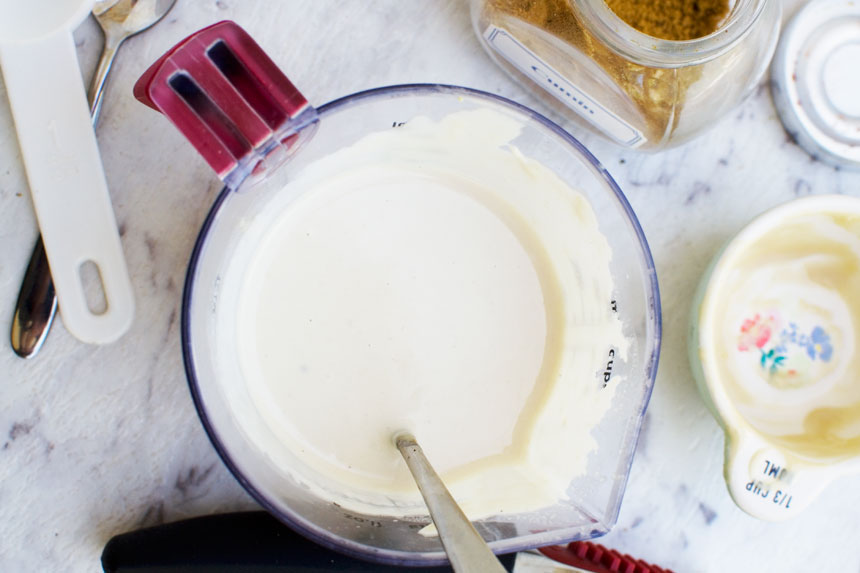 How long does it last?
Ages! You can keep tahini sauce in the fridge for about a week. Just make sure you cover it.
You might find that it thickens slightly, but just thin it out again with some water and it'll be as good as new.
My recipe makes enough to drizzle over a roasted vegetable side dish, and then to keep in the fridge to drizzle over salads during the week!
Where can I buy tahini?
Obviously this depends a lot on where you live. When I lived in Greece tahini was available from any supermarket.
In the UK and Australia (where I've lived since leaving Greece) it's usually available in the health food section of big supermarkets. Trader Joe's sells it in the USA.
Alternatively, you can usually find it in a health food shop.
Failing all these options, good old Amazon sells it both in the USA and the UK (affiliate links).
So now I have a big jar of tahini in the cupboard. What else can I make with it?
Tahini is a main ingredient in hummus. This is my go-to hummus recipe. You just have to make the 2-ingredient flatbread to go with it!
Tahini brownies! As tahini is quite like nut butter, it's delicious swirled into brownie batter. Just swirl a few tablespoons of tahini into the top of the batter before you put it in the oven.
Why not make some tahini chocolate snack balls? Just throw 2 cups of rolled oats and 2 cups of coconut into a food processor with half a cup of tahini, a little honey and some dark chocolate chips. Pulse then roll into balls and keep in the freezer until a snack attack hits. They don't freeze exactly, but I think the texture and taste is somehow better straight from the freezer.
Pro tip: You may find that your tahini separates in the jar after a while, with the sesame paste on the bottom and the oil on the top. If this happens just stir it vigorously with a knife. Or if it's hard to stir, scrape it into a food processor and pulse for a few seconds, then pour back into the jar.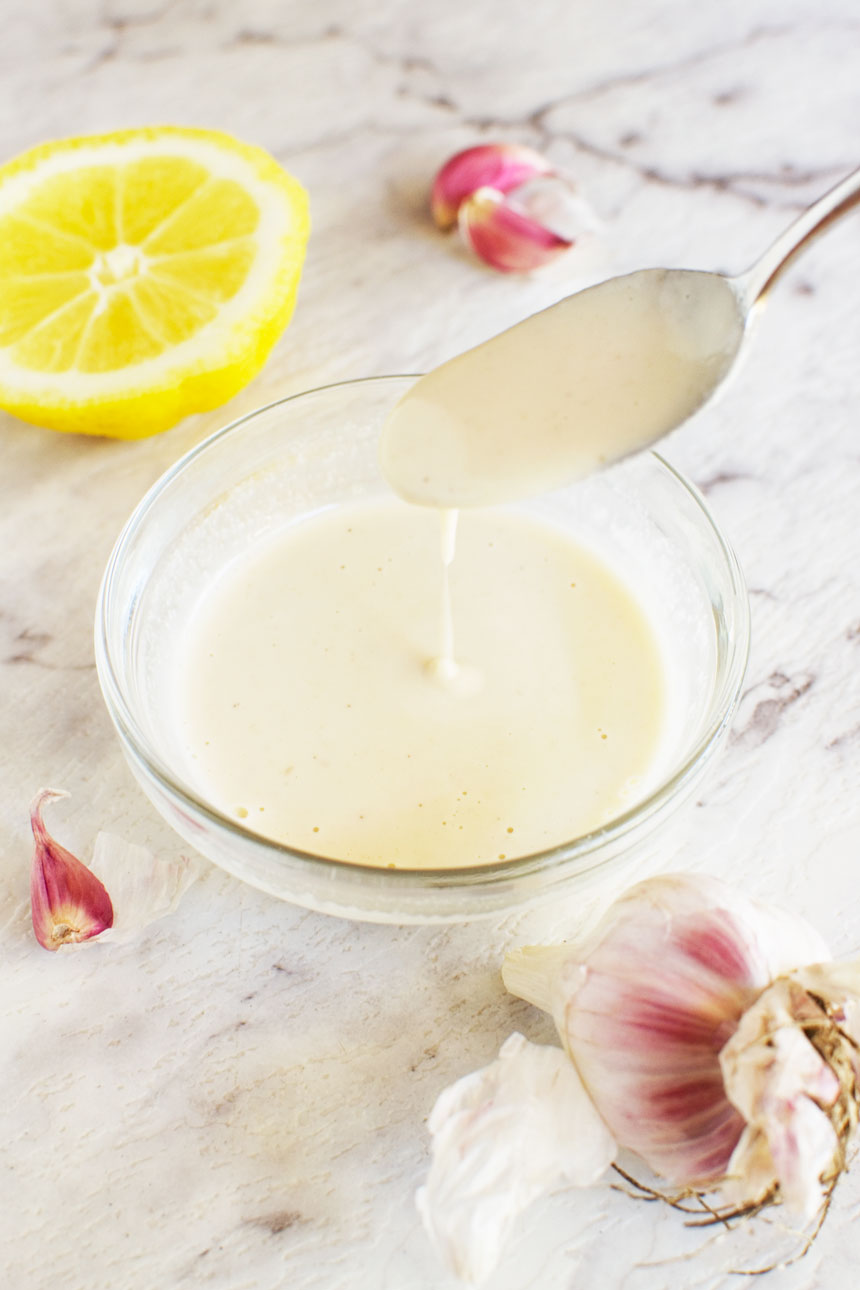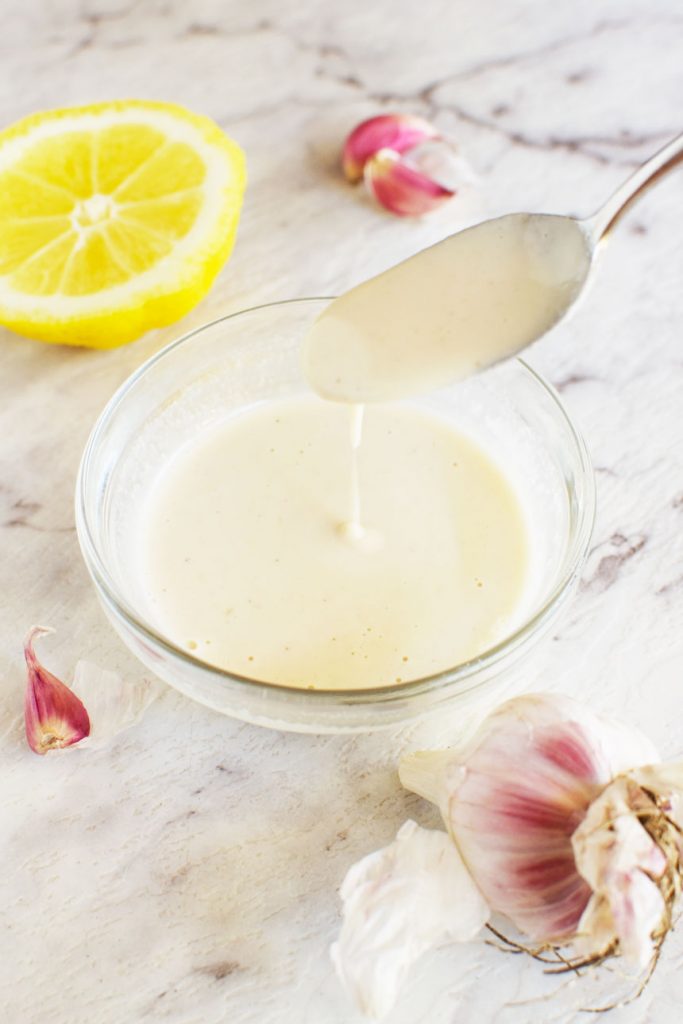 More amazing Mediterranean recipes that you must try!
Or browse all my Mediterranean recipes here
IF YOU MAKE THIS RECIPE, LET ME KNOW HOW YOU GET ON BY LEAVING A COMMENT AND RATING BELOW… AND DON'T FORGET TO SIGN UP TO RECEIVE ALL MY NEW RECIPES BY EMAIL!
FOLLOW ME ON FACEBOOK, INSTAGRAM, PINTEREST AND YOUTUBE.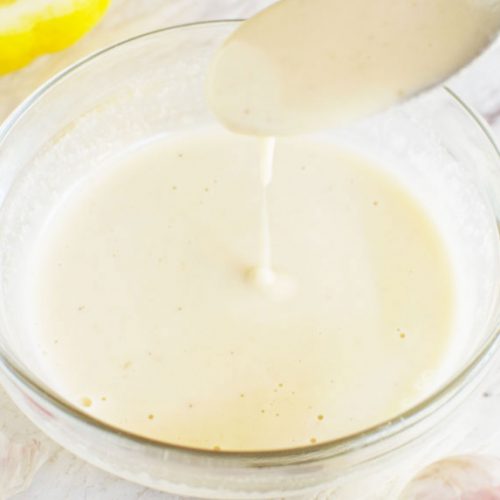 Incredible 5-minute tahini dressing
This incredible creamy tahini dressing will rock your world – or at least your roasted vegetables, falafel and salads! Just combine tahini with lemon juice, garlic, water and a bit of cumin and salt and you're done. The dressing takes just 5 minutes to make and keeps in the fridge for a week!
Equipment (affiliate links)
Ingredients (UK/Australia? Click below for grams/ml)
Instructions
Whisk the lemon juice into the tahini in a small bowl or jug (I use a small whisk or a tea spoon).

Slowly whisk in the water until you have a smooth paste that's a little thinner than mayonnaise.

Whisk in the crushed garlic, cumin (if using) and salt.

Drizzle over roasted vegetables, a salad or falafel immediately, or cover and keep in the fridge for up to a week.
Notes
Whisking the ingredients together
If you like you can just throw everything together and whisk until smooth. I find it's easier to get a perfectly smooth dressing however if you blend in the lemon juice first, then slowly add the water, then whisk in everything else.
How long a tahini dressing lasts
You can cover tahini sauce and keep it in the fridge for about a week. I sometimes make it to drizzle over roasted vegetables like brussel sprouts, then save the leftovers for drizzling over salads during the week.
How to serve tahini dressing or sauce
My favourite way to serve tahini dressing is to drizzle it over crispy roasted vegetables like brussel sprouts or cauliflower. It's delicious just like that, or you can sprinkle over some toasted almonds as well.
Check out these crispy brussels sprouts with tahini sauce and almonds!
It's also delicious drizzled over any kind of salad or 'bowl', and of course in a falafel wrap.
Nutrition
Calories:
125
kcal
Carbohydrates:
6
g
Protein:
4
g
Fat:
11
g
Saturated Fat:
1
g
Sodium:
18
mg
Potassium:
115
mg
Fiber:
1
g
Sugar:
1
g
Vitamin A:
13
IU
Vitamin C:
10
mg
Calcium:
28
mg
Iron:
1
mg