If there's one rule in baking, it's 'don't burn', right? But with this amazing San Sebastian cheesecake, this rule is turned on its head. Also known as a Basque burnt cheesecake, it's like a lighter, quick baked crustless version of a New York cheesecake. With its dark golden and caramelized top, this cheesecake is so easy, but sure to impress!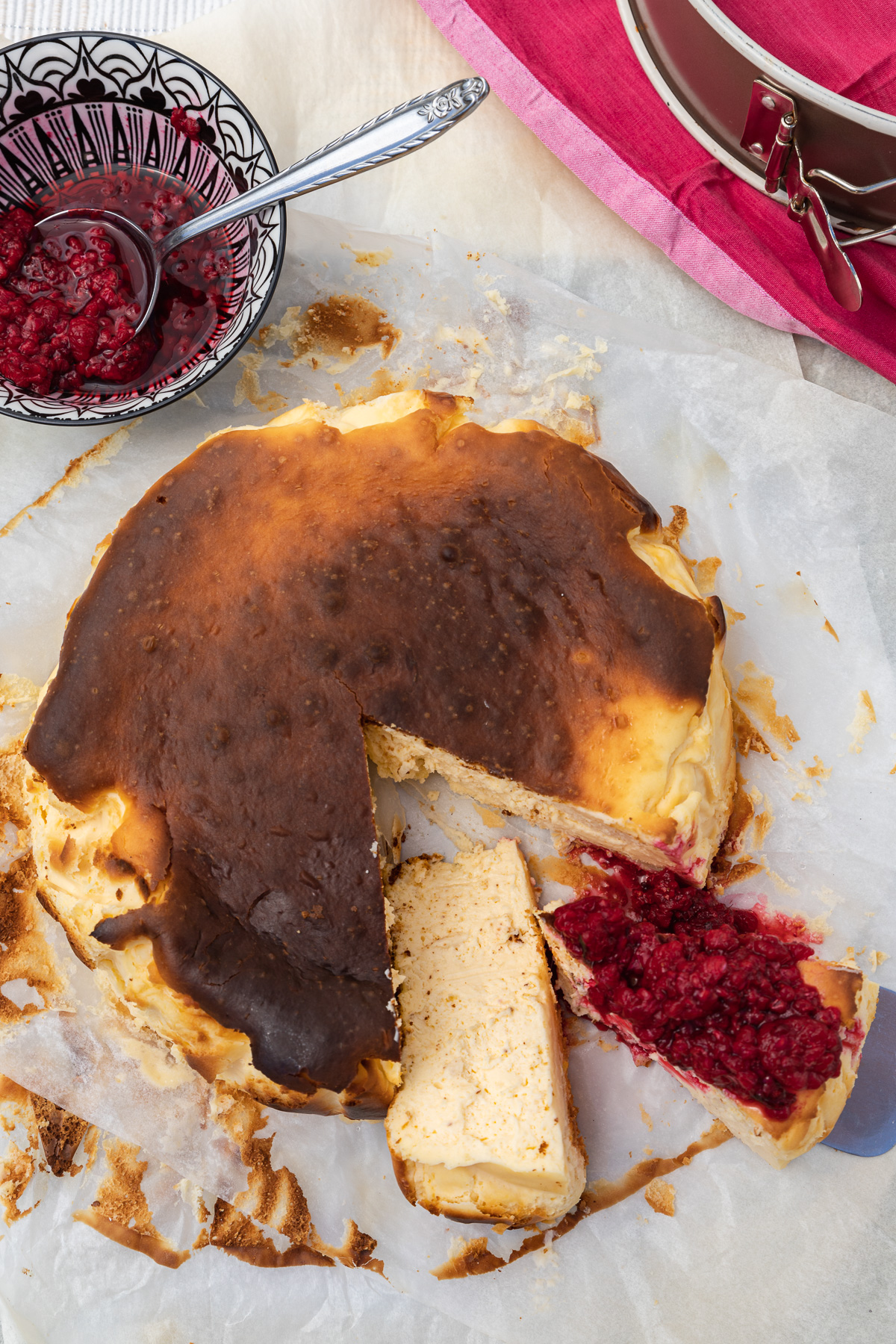 Cheesecake lover in general? You might also like to check out my other quick and easy cheesecake recipes such as this easy ginger and white chocolate cheesecake (Wagamama copycat), this delicious baked white chocolate cheesecake with raspberry puree, and these chocolate malt cheesecakes in a glass.
What's a San Sebastian cheesecake and what makes it special?
You might be wondering why this is called a San Sebastian cheesecake. This modern Spanish dessert originates from Spanish restaurant La Viña in San Sebastian in northern Spain. Chef Santiago Rivera developed the original recipe a few decades ago, and now it seems everyone wants a slice!
Very easy: check. Impressive: check. It's a perfect choice for a simple dinner party, a Valentine's day dessert or any special occasion.
Here are more reasons why this modern Spanish dessert is so special:
The outside of the cheesecake looks… burnt! It's cooked at a high temperature for a (relatively) short time. This gives it its impressive (ugly duckling?) golden brown top. Which is why it's also known as a Burnt Basque cheesecake!
The inside is surprisingly light and smooth. Cook it for a shorter time for a soft and silky, almost custardy interior. Serve it while still slightly warm if you like. Cook a little longer and serve chilled for a denser result that's more like a New York cheesecake without a crust. It's easy to make this incredible burnt cheesecake recipe your own!
There's no crust, which is what makes this such a quick cheesecake to make. Just mix everything together in a food processor, with a hand-held whisk (I like ones like this that come with a storage case!) or even just with a spoon. Then pour into a 9 inch spring form pan and bake. No water bath necessary! (affiliate links)
Watch it rise up like a soufflé as it cooks! Pour the batter into a high-sided spring form pan lined with a triple layer of baking paper pointing straight up. The cheesecake will sink as it cools. The paper is part of the impressive presentation so only remove it as you serve the dessert.
Tweak the ingredients to match your taste. Add salt, vanilla, lemon zest, all three of these or none. Add a little yogurt, crème fraiche or sour cream for a tiny bit of tang. Or don't!
About the ingredients
You only need 5 main ingredients (plus a few optional ones) to make the easiest baked cheesecake recipe ever!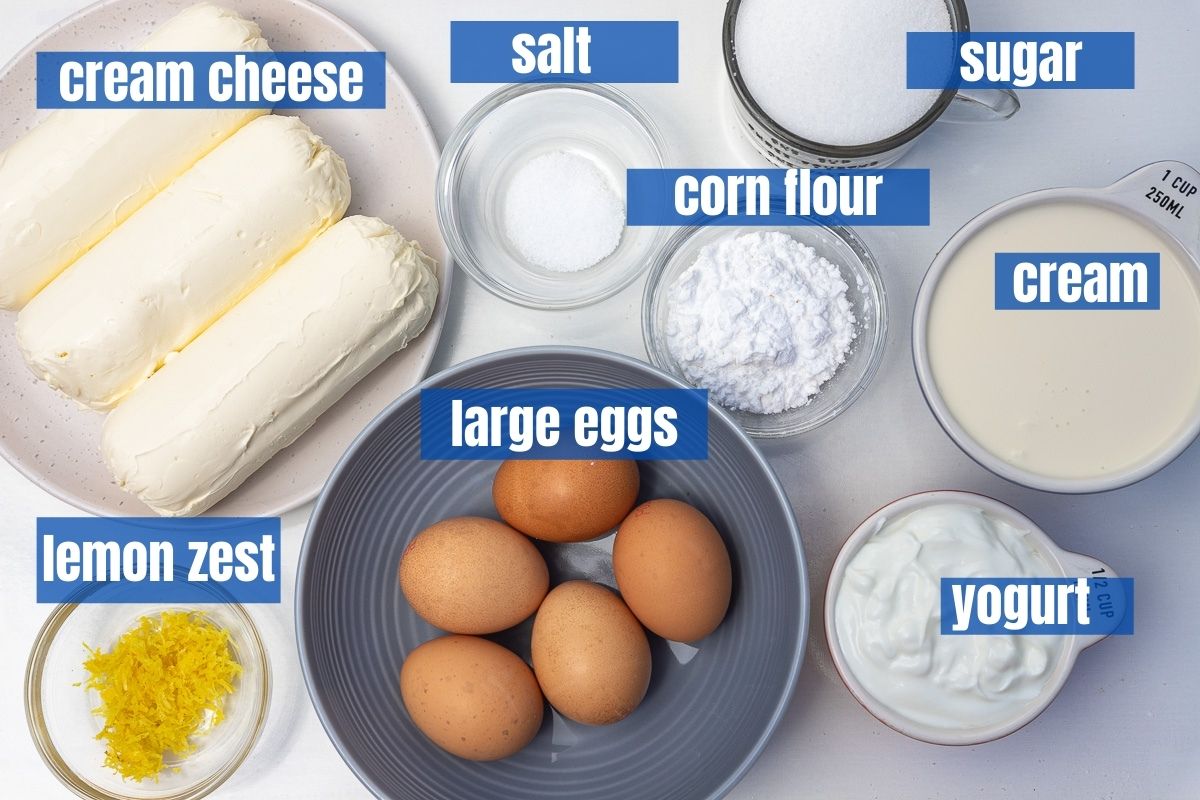 Cream cheese: Philadelphia is great, as are supermarket brands of plain cream cheese. Make sure you use full fat – this cheesecake is supposed to be ultra creamy! Other creamy cheeses can work, too. Try replacing a third of the cream cheese with mascarpone, for instance.
Sugar: Use ordinary white sugar. Different Basque cheesecake recipes call for very different amounts. I've kept it to a modest amount in my recipe – just 1 cup. Don't be afraid to increase or decrease the amount if you have a sweeter (or less sweet) tooth!
Eggs: 5 large.
Heavy cream: Sometimes called double cream (UK), thick cream or thickened cream (Australia). This is not the time to go low fat!
Greek yogurt: How do you make (arguably) the best cheesecake in the world even better? 😉 By adding half a cup of Greek yogurt for a tiny bit of tang! Use sour cream or crème fraiche instead if you like.
Salt: Just a teaspoon to complement the caramelized crust.
Cornflour: Different burnt cheesecake recipes contain different amounts of flour. I've gone for 3 tablespoons. It's not much but it helps the cheesecake to 'set' so it's easy to slice. Cornflour makes this a gluten free baked cheesecake, of course, but feel free to substitute with ordinary plain flour if you wish.
Lemon zest: This is another optional ingredient. If you don't have a lemon, no worries. Replace with lemon or lime zest, or just skip the zest.
How to make it
A no crust cheesecake is bound to be easy to make, right? Here's just HOW easy: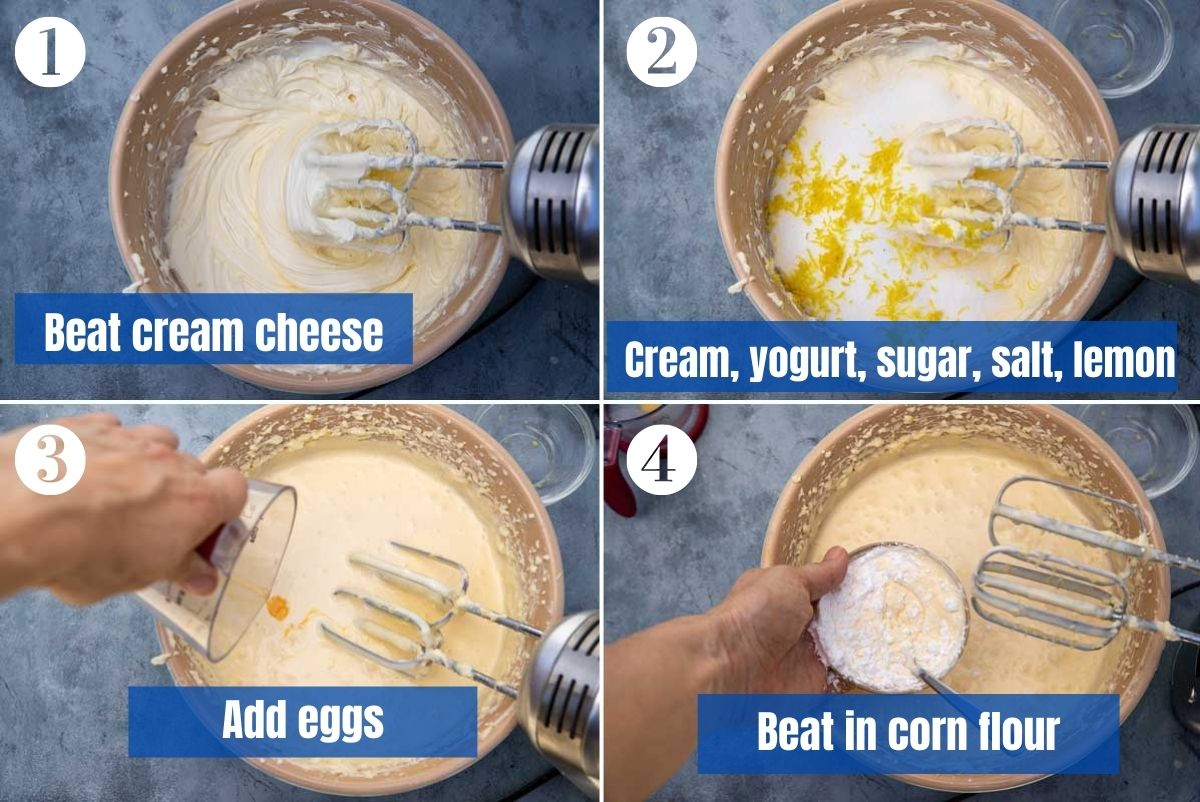 Step 1: Prepare the spring-form/loose-bottomed cheesecake pan. (affiliate link) Spray lightly with oil first to help the baking paper stick. Then line with 3 layers of baking paper at different angles. Don't fold it down at the top – keep it pointing straight up so the cheesecake doesn't overflow as it cooks! (Watch the how-to video to see what I mean!
Also preheat the oven to 210C/410F.
Step 2: Grab a big mixing bowl. Beat the cream cheese on a low speed. Beat in the cream and yogurt, then the sugar, salt and lemon zest.
Step 3: Add the whisked eggs a little at a time, just until mixed in thoroughly.
Step 4: Mix some batter into the cornflour. Then whisk this into the mixture too.
Step 5: Pour the cheesecake batter into the prepared tin/pan. Bake at a high temperature for around 40 minutes or until the top is dark golden, the edges are set and the middle is still wobbly.

Helen's top tips
Let the cold ingredients come to room temperature before making the recipe. They'll combine easily this way (hopefully) without splatting all over your kitchen!
The key to a perfectly smooth, creamy and not-too-eggy cheesecake is to combine the ingredients gradually and at a low speed. Stop as soon as everything is properly combined.
Try using a food processor for zero kitchen splattering.
Leave the baking/parchment paper on until serving. It's part of the impressive presentation!
How to serve San Sebastian cheesecake and variations
Another great thing about this easy burnt cheesecake recipe is that it tastes good enough and looks fabulous enough to serve on its own. No fussy toppings necessary!
You can actually serve San Sebastian cheesecake slightly warm, at room temperature or chilled from the fridge. I really like it chilled, but see what you prefer.
In Spain, this cheesecake is often served with a sneaky glass of sherry (sweet Spanish wine) on the side! If you'd like to give this a try but can't easily find sherry, just serve with any sweet red or white wine. This would be an especially nice touch at a dinner party, don't you think?
What I usually do is serve my cheesecake with a bowl of red berries on the side. Fresh is great, but frozen work really well too as they look more like a simple topping as they defrost.
Feeling adventurous? Another thing you can do is add a flavour to your cheesecake to make it a bit different. Vanilla is the obvious choice – just whisk 1.5 teaspoons into the batter.
For a chocolate Basque cheesecake, warm the cream in the microwave, before pouring it over 200 grams/7 ounces dark chocolate (70% cocoa). Stir well, then let it cool before making the recipe as described below, but using your 'chocolate cream' instead of ordinary.
For coffee flavoured, again warm the cream, then dissolve 2 tablespoons of instant coffee into it. Let it cool, then proceed with the recipe, using coffee flavoured cream instead of regular!
For a dramatic looking green matcha Basque burnt cheesecake, sift 2 tablespoons of matcha powder into the mixture.
Finally, why not try stirring some crushed Oreos into the batter before pouring it into the pan for a super decadent Oreo San Sebastian cheesecake?
Top tip: Make this 5-minute raspberry puree to pour over the top of this cheesecake. It'll elevate it to the next level, and you won't believe how easy it is!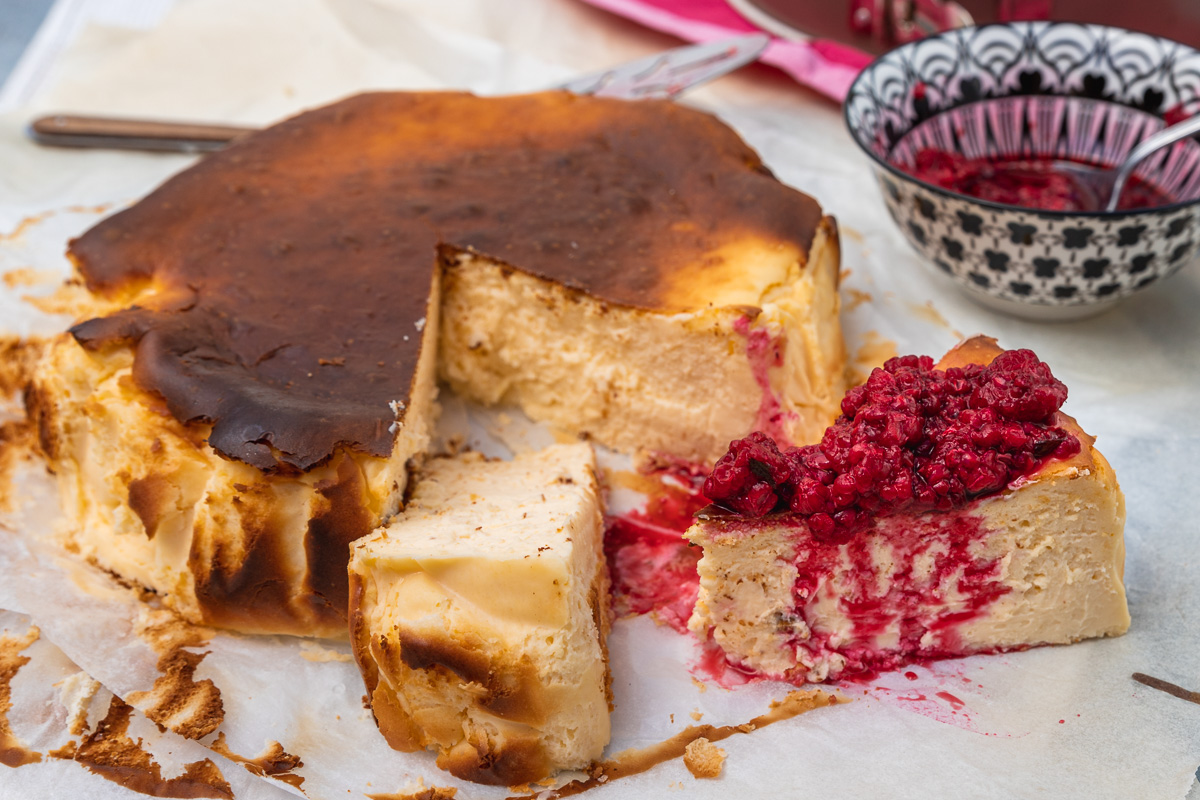 More things to know (recipe FAQ)
So… what's the difference between a burnt Basque cheesecake (San Sebastian cheesecake) and a New York style cheesecake?
Well, obviously the burnt cheesecake doesn't have a crust on the bottom. Instead, you could say it's self-crusting with the dense, golden baked exterior. As for the taste, I think that both are very similar. Some Basque cheesecakes are creamier and lighter. But that depends on the exact recipe and whether the cheesecake is served chilled or not.

Just as a side note, a Japanese cheesecake is a similar type of baked crustless cheesecake. It's also very popular but generally lighter and airier than its Spanish counterpart! Try Just One Cookbook's Japanese cheesecake recipe if you're interested in trying it!


How do I know when my cheesecake is done?
As I general rule, I let it bake for around 30 minutes, then I check it. Then I bake for another 5 to 20 minutes, or until it's bronzed and set on the top and around the sides but still very jiggly in the middle. It will firm up as it cools!

In my oven, my cheesecake is usually ready in around 40 minutes. I like it to be firm around the edges and light and soft in the middle. If you prefer yours slightly runnier, go ahead and underbake it a little.
Why is my burnt Basque cheesecake not burnt?
If you check your cheesecake after, say, 40 minutes and the sides are set and the centre is jiggly, you'd be right in thinking that it's done. BUT, what if the top still doesn't look… well… dramatically browned enough?

In this (rare) case, just turn on the broiler/grill for a minute or two. Keep a VERY close eye on the cheesecake, though. The difference between nicely browned and truly burnt (which doesn't taste good!) could be just a few seconds.
Can you freeze a San Sebastian cheesecake?
Yes, you can! Most cheesecakes freeze well, and this one is no exception. Just make sure you wait until it's completely cool. I'd keep it in the pan and wrap really well before freezing. Alternatively, if you don't want your pan to be in the freezer for weeks on end, carefully take the cheesecake out of the pan but keep it in the baking paper. Wrap with several more layers of cling wrap/aluminium foil and freeze for up to 1 month.

You can freeze it for longer than a month if you like, but I think cheesecakes begin to deteriorate in taste and texture after this.
Is this cheesecake keto/gluten free?
While this cheesecake is low-carb as it doesn't have a crust and has very little flour in it, corn flour is not strictly speaking 'keto'. If you like you can reduce the amount of flour or skip it altogether and this cheesecake recipe will still work.

The cheesecake is, however, gluten free! You can also make it with ordinary gluten free flour if you don't have any corn flour.
Take a virtual trip to Spain
Having a dinner party? How about serving a Spanish style main course, too? This one pan chicken with chorizo and cherry tomatoes is a crowd pleaser, and it's so quick and easy to make.
Loving the Spanish food vibe here in general? The Chef & The Dish runs a beautiful online San Sebastian cooking class teaching you the art of San Sebastian's famous 'pinchos' or small bites to share with friends. Alternatively, you can browse their classes and choose the one you like the sound of best. Use code 5TheDish to save 5% off any Chef & The Dish class! What an amazing and memorable date night or special gift! (affiliate links)
More easy impressive desserts
I think a San Sebastian or burnt Basque cheesecake is absolutely perfect for impressing at a dinner party. Here are a few similar easy, make ahead desserts:
Or see all my quick and easy desserts.
IF YOU MAKE THIS RECIPE, LET ME KNOW HOW YOU GET ON BY LEAVING A COMMENT AND RATING BELOW… AND DON'T FORGET TO SIGN UP TO RECEIVE ALL MY NEW RECIPES BY EMAIL!
FOLLOW ME ON FACEBOOK, INSTAGRAM, PINTEREST AND YOUTUBE.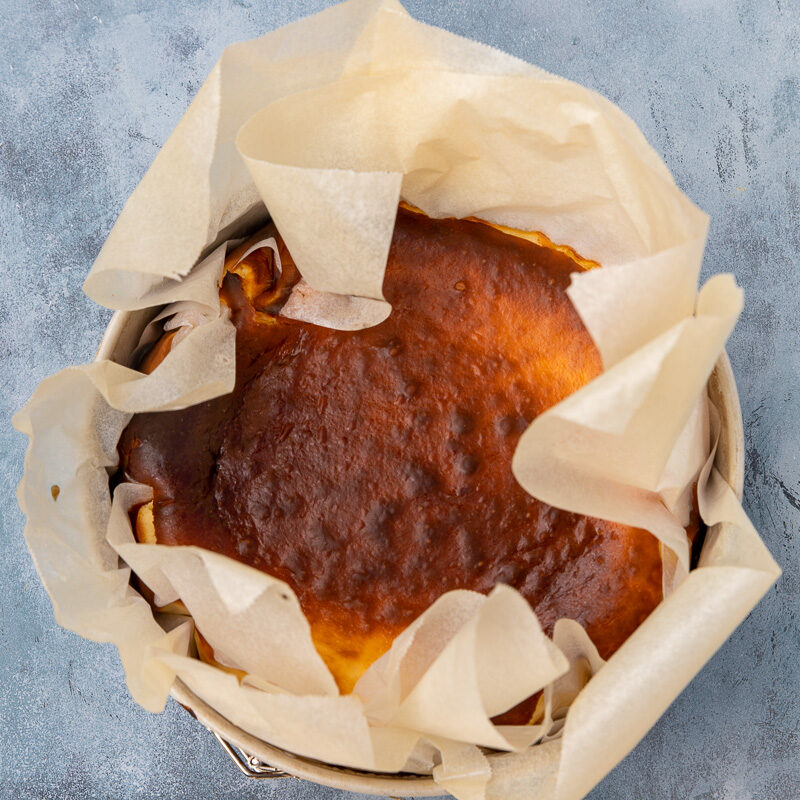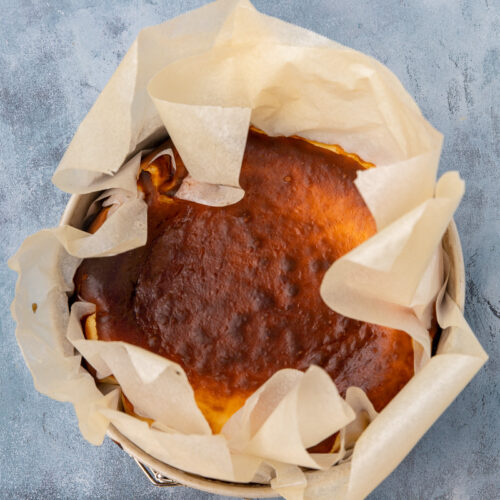 Amazing San Sebastian Cheesecake (Basque Burnt Cheesecake)
Next time you're looking for an impressive dessert that you can make ahead, try this delicious San Sebastian Cheesecake. Otherwise known as a burnt Basque Cheescake, there's no crust and you bake it relatively quickly on a high heat so it's super easy to make. It might be an ugly duckling with its deep brown, almost burnt looking top, but it's so soft and creamy inside. It's like a simpler version of a New York cheesecake. Try it once and you'll make it again and again.
Equipment (affiliate links)
Ingredients (UK/Australia? Click below for grams/ml)
1¾

pounds

cream cheese

(3⅓ cups, 26.5 ounces or 750 grams) room temperature if possible

1

cup

heavy cream

(250ml) double/thickened cream, not single or light cream

½

cup

Greek yogurt

(9 ounces or 250 grams) regular plain yogurt, sour cream, crème fraiche work too

1

cup

sugar

(7¾ ounces or 220 grams)

1

teaspoon

salt

1

lemon

(zest only) optional

5

large eggs

lightly whisked, room temperature if possible

3

tablespoons

corn flour

(corn starch) ordinary or gluten free flours work too
Instructions
Preheat the oven to 410F/210C.

Beat in the cream and yogurt, followed by the sugar, salt and lemon zest, if using.

1 cup heavy cream,

½ cup Greek yogurt,

1 cup sugar,

1 teaspoon salt,

1 lemon

Now beat in the whisked eggs, little by little, until well combined. Don't overmix.

Add a little of the cheesecake mixture to the corn flour/corn starch and mix well. Then beat this mixture into the cheesecake, again just until well combined. Alternatively, just sprinkle the corn flour evenly over the cheesecake mixture and beat in.

Pour the mixture into the prepared pan. Tap the pan on the benchtop to even out and get rid of any large air bubbles.

Bake for roughly 40 minutes, or until the sides of the cheesecake are set and the centre is still quite wobbly and the top of the cheesecake is a fairly dark golden brown.

Let cool in the pan. Then either chill for at least a few hours or overnight or serve while still slightly warm or at room temperature (it's up to you).
Notes
Inspiration: Inspired by original recipe San Sebastian cheesecake recipe from chef at La Viña restaurant, Spain.
Temperature of ingredients: Start with room temperature ingredients, if you remember to take them out of the fridge. If not, don't worry too much but it might be better to beat the ingredients using a food processor to prevent splattering.
Optional ingredients: The yogurt is actually an optional ingredient. If you prefer you can use sour cream, crème fraiche or just regular yogurt. The lemon zest and salt are also optional, but I think both complement the flavors really well. You can also use orange or lime zest instead.
Beating together the ingredients: I usually use a hand-held whisk if my ingredients (especially the cream cheese) are at room temperature. Otherwise I find the mixture splatters and I prefer to use a food processor. I also try not to overmix the batter. I find if you do there's too much air in the mixture which can change the texture and make it too 'eggy'.
How to know when it's cooked: I usually cook for around 30 minutes, then keep a close eye on the cheesecake until the edges are set and the centre is still very jiggly. Also the top should be very browned. If you think the cheesecake is ready but the top isn't very brown, you can switch on the broiler/grill for a couple of minutes. Keep a VERY close eye on it, however. You don't want it to 'actually' burn!
To serve: Serve with a bowl of red berries (either fresh or frozen), with a glass of Spanish sherry or sweet wine, or just by itself.
My top suggestion? Make a jug of this 5-minute raspberry puree to pour over the top.
To store/freeze: This San Sebastian cheesecake lasts well for up to 5 days in the fridge (if covered well). It freezes well for up to a month if well wrapped.
Nutrition
Calories:
401
kcal
Carbohydrates:
23
g
Protein:
8
g
Fat:
32
g
Saturated Fat:
18
g
Polyunsaturated Fat:
2
g
Monounsaturated Fat:
8
g
Trans Fat:
1
g
Cholesterol:
169
mg
Sodium:
443
mg
Potassium:
156
mg
Fiber:
1
g
Sugar:
19
g
Vitamin A:
1281
IU
Vitamin C:
5
mg
Calcium:
100
mg
Iron:
1
mg