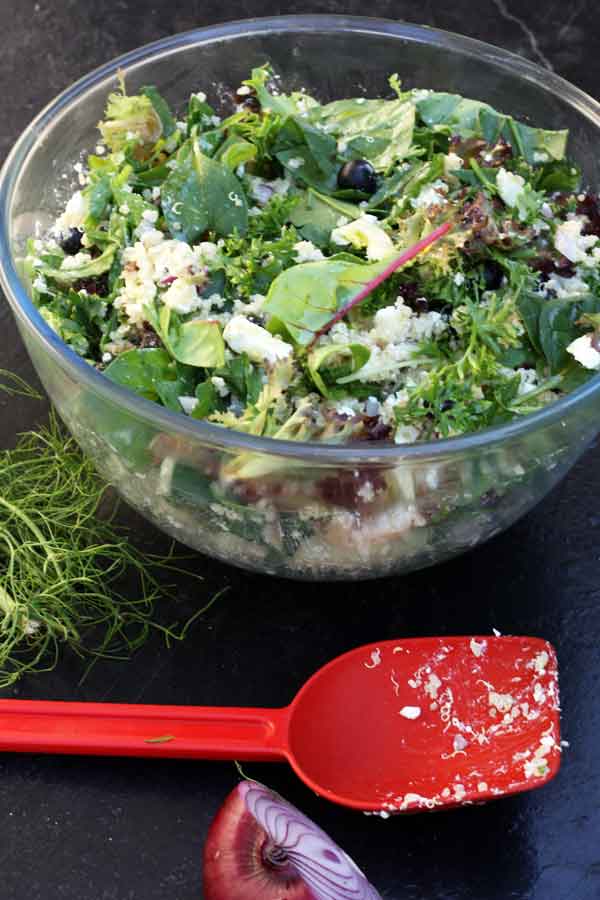 Since my last post I've travelled 9,000 miles from Perth Australia to Nottingham, England. I'm jetlagged. It's cold and wet. I've got terrible toothache (that's another story). But I'm so glad to be here. Lovely though it was to experience a BBQ-filled Christmas and New Year, it never quite felt right. I'm sure though I'll be wishing myself back to the warmth of the Southern hemisphere after a few days of shivering my socks off here, or rather shivering them on!
So as Mr. Scrummy and I were flying over the Middle East yesterday and shuffling around our third tray of little plastic packets and tubs, I found myself remembering, or perhaps subliminally longing for, one of the incredible salads that seemed to be available everywhere when I visited Israel last year. They were huge. They were fresh and crisp. They were colourful and jam-packed full of greens and herbs and cheeses and juicy veggies and fruit. I spent one of the loveliest couple of hours sitting in one of the bustling laneways of the Mahane Yehuda market outside a sweet little café endlessly shoving one of these salads into my mouth. I don't remember exactly what was in it, just that it was one of the freshest mixes of crunchy and crisp and sweet and juicy I'd ever had. It seemed to just go on and on, which allowed me the perfect opportunity to sit there for ages and drink in the bustle and colour of this amazing market.
I also, incidentally, had the best homemade pasta with a simple chicken, tomato and cream sauce ever in a little restaurant here in this market called Pasta Basta. There was some perfect people-watching to be done from there, too, and for a great price. In fact, I loved pretty much everything I tasted in Israel. Especially the shakshuka I had for breakfast. And the fabulous and ubiquitous bargain-basement falafel wraps, of course. It's no wonder Ottolenghi's book Jerusalem, which I've been wanting for some time (soon, very soon … when I have a bookshelf of my own again!) was such a hit. Have any of you got this book? Which recipes have you tried and what did you think?
Anyway, enough of the waffle. What I really want to tell you about today is this blueberry, fennel & feta quinoa salad which reminds me of one of those wonderful Israeli salads. A bowl of pure health and freshness. And perhaps exactly the sort of food I need to make me feel invigorated again after being trapped not-so-pleasantly in a 30 inch-wide seat 4 miles up in the air for nearly a full day and night.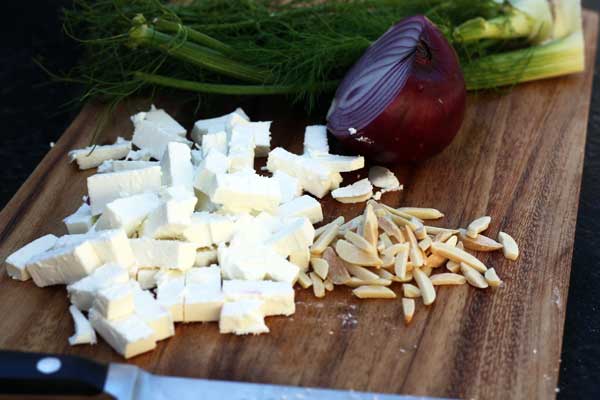 So after my first successful inclusion of fennel in this ridiculously tasty sausage and fennel pappardelle, I decided to try adding it raw to a salad. I chopped the bright white lightly-fragranced bulb finely like an onion and added it to a big bowl with a little chopped onion, the fresh blueberries, cubed feta cheese, mixed leaves and cooked quinoa. I drizzled a simple dressing of super-healthy apple cider vinegar and olive oil over it and tossed well, then sprinkled chopped roasted almonds liberally over the whole bowl. It was the perfect mix of crunchy, crisp, fruity and nutty that I was looking for.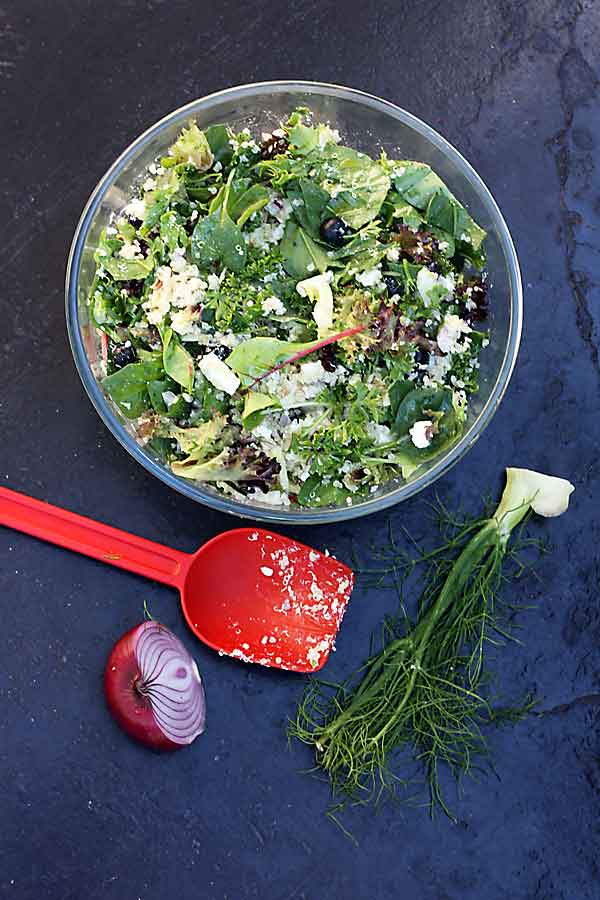 I served my salad as a side dish for a crowd at a BBQ, but I could just as easily eat this from a big dish all to myself … just like those lovely big Israeli salads I had!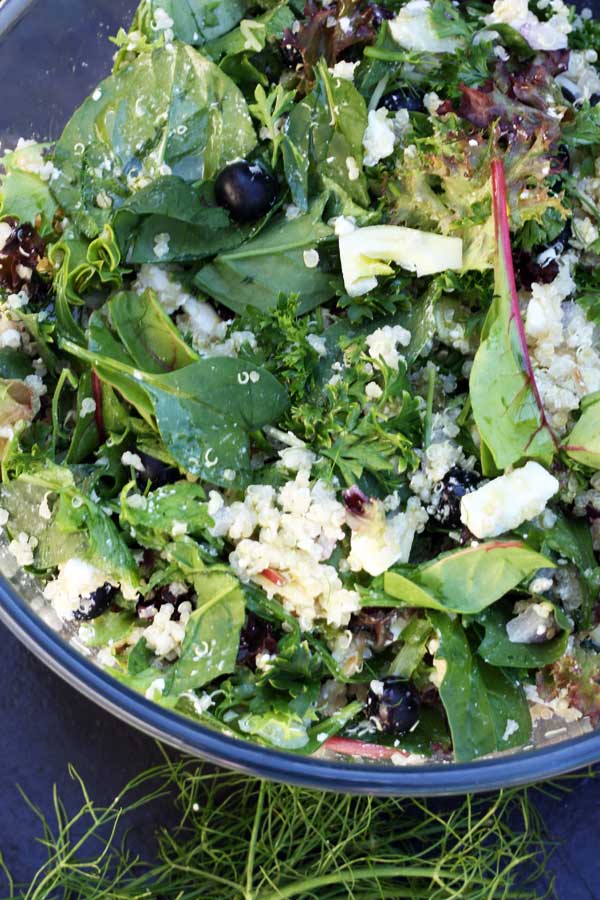 Blueberry, fennel & feta quinoa salad
A juicy, crispy and crunchy salad full of fresh green leaves, herbs, fruit, nuts and cheese and bursting with flavour. Great for sharing with a crowd as a side dish or for a few to enjoy as a light, vegetarian meal.
Ingredients (UK/Australia? Click below for grams/ml)
For the salad
1

cup

dry quinoa

1

bulb fennel

1/2

a red onion

1/2

cup

fresh blueberries

1

cup

crumbled or cubed feta cheese

3.5

ounces

rocket/arugula or mixed salad leaves

1-2

handfuls of chopped fresh parsley and/or dill

1/8 -1/4

cup

chopped or slivered toasted almonds
Instructions
Cook the quinoa according to the packet instructions and set aside.

Thinly slice the fennel bulb and onion and put in a large bowl.

Add the blueberries, feta, salad leaves and fresh parsley and/or dill and toss well. Then toss through the quinoa.

Make the dressing by whisking the vinegar with the oil, then pour over the salad and toss well again.

Finally, scatter over the almonds and, if you wish, some of the wispy green fronds from the top of the fennel. Serve immediately!
Notes
Serve immediately after preparation for the best results. Alternatively, prepare in advance up to step three, then add the dressing and almonds just before serving.
Try adding chopped apple instead of the blueberries or a different kind of cheese instead of feta.
As always with a salad, the above ingredient amounts are only a guideline. Adding a little more or less of an ingredient will not matter in the slightest (in my humble opinion!)
Nutrition
Calories:
580
kcal
Carbohydrates:
49
g
Protein:
16
g
Fat:
35
g
Saturated Fat:
11
g
Cholesterol:
44
mg
Sodium:
613
mg
Potassium:
869
mg
Fiber:
7
g
Sugar:
5
g
Vitamin A:
1130
IU
Vitamin C:
18.5
mg
Calcium:
369
mg
Iron:
4.2
mg
Like what you see here? Find more from Scrummy Lane on Facebook and Pinterest!