If you've never tried raw fennel in a salad, try it in this delicious – and very healthy – quinoa salad with feta, fennel and blueberries. With its easy apple cider vinegar dressing, it's super healthy, but it's also one very tasty salad. It's the perfect mix of crunchy, crisp, fruity and nutty!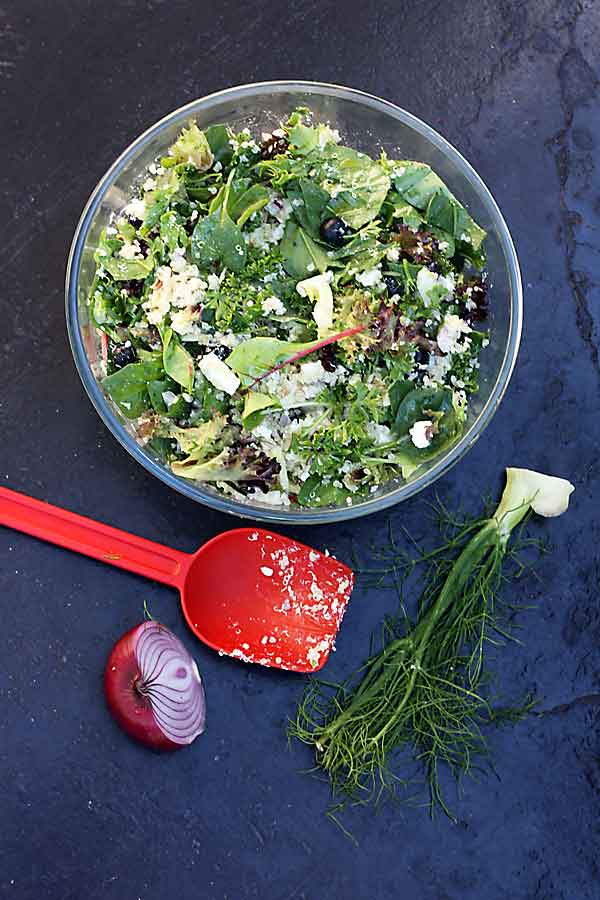 What's so great about it?
Quinoa salads are a pretty good idea in general, right?
Quinoa is filling and kind of nutty, like a grain (except it isn't a real grain – it's a protein!). It also tastes good cold so it's perfect for making ahead and tossing into salads. As if all that wasn't enough, it's also very nutritious for a bunch of reasons I won't bore you with.
But here's where you can take a humble(ish) quinoa salad from good to incredible. Add cheese (in this case feta cheese), fennel for crispness and a subtle aniseed taste, a fruit (blueberries) and a nutty crunch in the form of slivered almonds. What do you get? A perfect healthy combination of bite, umami, crunch and tang.
Pour a very simple apple cider vinegar and olive oil dressing over the top and I don't think there's any way to improve this simple, delicious and healthy salad.
About the ingredients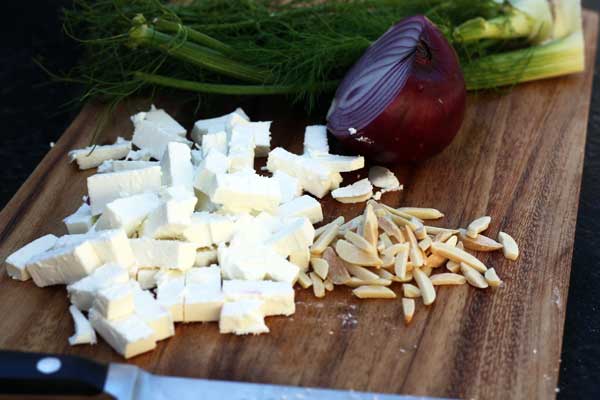 Quinoa: You need a cup of dried quinoa for this salad. To cook it, see what it says on the packet, but you usually rinse it then simmer it for around 15 minutes in 2 cups of water. Quinoa comes in various colours, so use whichever you like! If you like, you can even use a packet of 'instant' quinoa that comes in a microwavable pouch if you can get that where you live.
Fennel: If you've never prepared fennel before, don't be scared! It's really amazing both raw in salads and cooked in savoury dishes. Try this sausage and fennel bolognese to try it cooked! To prepare it raw for this salad, all you do is chop the long 'end' off, then chop up the big bulb like you would an onion.
Onion: Just 1/2 a red one for a bit of extra pizzazz! If you like, you can substitute with a few salad/spring onions instead.
Blueberries: No explanation needed here. You just need half a cup of nice fresh juicy blueberries.
Feta cheese: Again, around half a cup of it, crumbled. I should have called this salad the half a cup quinoa salad! The amounts don't have to be exact, though. Just crumble the cheese and throw it in. If you like, you can use goat cheese or another sharp crumbly cheese instead.
Salad leaves and herbs: In the recipe, I've stated arugula/rocket, but really any fresh green salad leaves will be fine. I also like to add some fresh parsley and/or dill if you're a fan.
Slivered almonds: For crunch! Obviously you can substitute with another kind of nut if you like!
For the dressing
It's so easy to make the dressing for this salad. All you need is apple cider vinegar and olive oil. You might not need all of the dressing, but it'll keep for quite a while in a sealed container in the fridge.
How to make it
Here are the extremely simple steps:
Step 1: Prepare the quinoa and set aside. Obviously you can chop all the other ingredients and whisk together the dressing while it's cooking.
Step 2: Toss everything together except the quinoa.
Step 3: Toss the quinoa through everything else. It'll probably still be warm, so you'll end up with a 'kind of' warm salad.
Step 4: Drizzle over the dressing and lightly toss. Serve immediately!
How to serve it
In a big dish all to yourself. Serve as it is or top with some rotisserie/supermarket cooked chicken, or pan-fried halloumi cheese. Yum!
As a side dish for a crowd at a BBQ.
Apple cider or blueberry vinaigrette?
If you want to keep things simple, just drizzle over a simple apple cider vinegar and olive oil dressing as suggested in the recipe.
Alternatively… if you really want your mind blown… make this 5-minute blueberry vinaigrette instead!
And while we're on the topic of the blueberry dressing, I'd also highly recommend trying it with this blueberry salad with bacon and avocado. It'll blow your mind!
Variations
There's a formula to this salad, and it's pretty simple – not to mention amazing: something filling and nutritious (the quinoa), something crispy and tasty (the fennel), something tangy and moreish (the cheese), something fruity (the blueberries), and something crunchy (the nuts).
And so… you know what I'm going to say… feel absolutely free to try different cheeses (goat's cheese, Swiss cheese, ricotta, blue cheese or even plain old cheddar…), different fruits (strawberries, peaches or mandarin slices…), and different nuts (pistachios, walnuts, hazelnuts, macadamias….).
If you like you can even replace the quinoa with pasta (orzo maybe?), brown rice or any kind of grain like farro or buckwheat. In this case it won't be a quinoa salad any more of course, but it will still be very delicious!
Pro tip: Like the sound of this 'salad formula'? Try this blood orange fennel salad with radishes and feta too!
Recipe FAQ
How do you cook quinoa?
Easy. Always check the packet instructions. But generally you cook it similarly to how you cook rice. Rinse in a fine sieve. Then pour quinoa into a saucepan and add double the amount of water: so 1 cup of quinoa, 2 cups of water, etc. Simmer for around 15 minutes until tender but still with a bit of bite.

Lately however I've noticed you can buy ready cooked microwavable pouches of quinoa in supermarkets. No harm in using one of these instead!
How do you prepare fennel?
Preparing fennel is a bit like preparing an onion! First cut off the long stem and the very end of the fennel bulb. Keep the green leafy parts for garnishing your dish if you like. Then cut off the other end of the bulb (just the very end – just like you do when cutting an onion). Then cut the bulb in half and slice each half thinly. Alternatively you can chop it more coarsely like when you prepare an onion for a savoury dish. It's up to you!
How long does this salad keep?
This salad is best eaten immediately when the quinoa is still slightly warm and the greens and nuts are crisp and fresh.

If you'd like to prepare it ahead you can pre-prepare the quinoa. Toss together all the other ingredients and pop in the fridge, covered. Just before you want to serve your salad, toss the quinoa through and pour over the dressing. Enjoy!

This makes a really good take-along lunch or picnic salad too. Just take the dressing along in a separate container.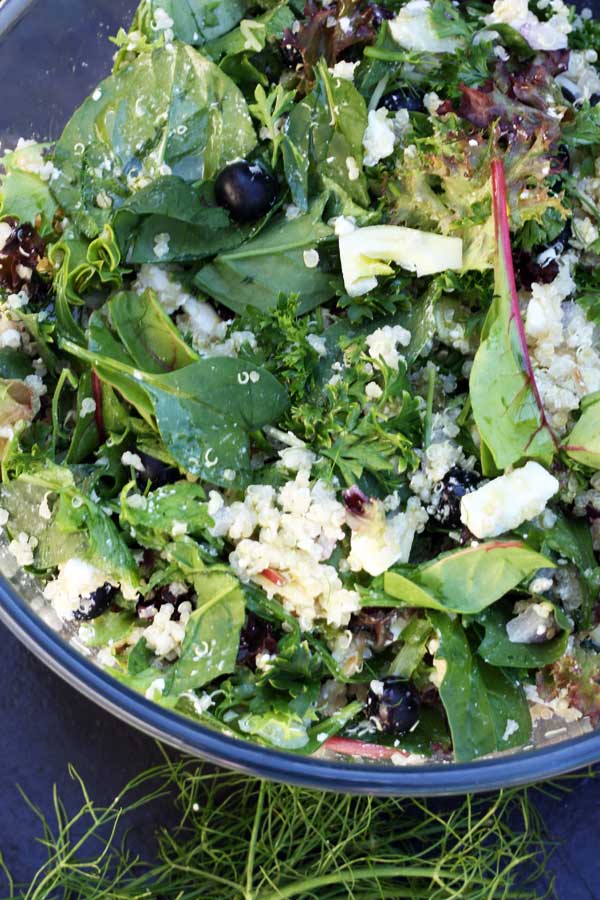 More salads perfect for light meals
This burrata caprese salad is a show-stopper! Bursting with flavor and texture contrasts, it's fresh and delicious. Make it a main by adding pasta or quinoa, or by serving with chicken, steak or fish.
This easy tuna salad is one of our go-to easy, healthy dinners all year round.
Or see all salads.
IF YOU MAKE THIS RECIPE, LET ME KNOW HOW YOU GET ON BY LEAVING A COMMENT AND RATING BELOW… AND DON'T FORGET TO SIGN UP TO RECEIVE ALL MY NEW RECIPES BY EMAIL!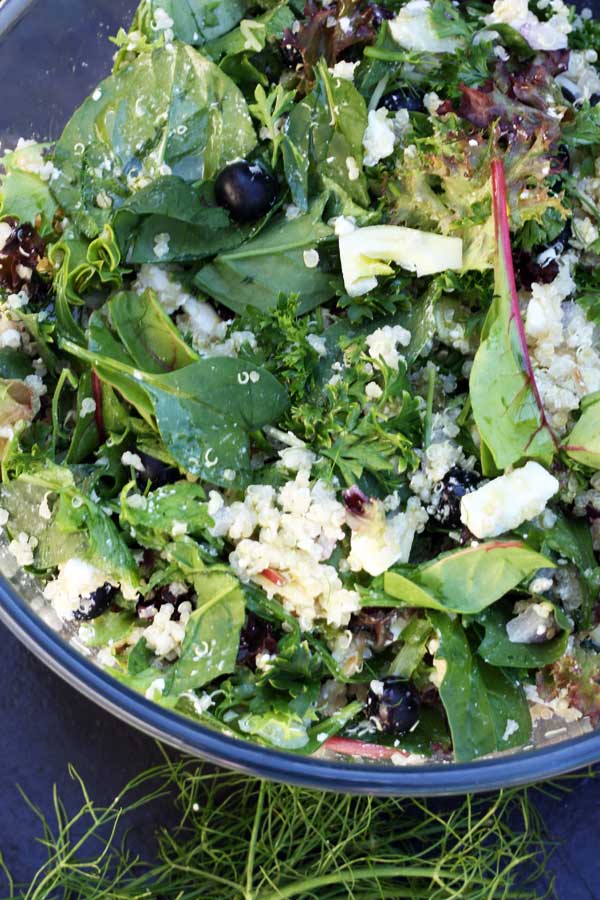 Quinoa Salad with Fennel, Feta and Blueberries
A juicy, crispy and crunchy quinoa salad full of fresh green leaves, herbs, fruit, nuts and cheese and bursting with flavour. Great for sharing with a crowd as a side dish or for a few to enjoy as a light, vegetarian meal.
Equipment (affiliate links)
Ingredients (UK/Australia? Click below for grams/ml)
For the salad
1

cup

dry quinoa

1

bulb fennel

½

a red onion

½

cup

fresh blueberries

1

cup

crumbled or cubed feta cheese

3½

ounces

rocket/arugula or mixed salad leaves

1-2

handfuls of chopped fresh parsley and/or dill

¼

cup

chopped or slivered toasted almonds
Instructions
Cook the quinoa according to the packet instructions and set aside.

Thinly slice the fennel bulb and onion and put in a large bowl.

Add the blueberries, feta, salad leaves and fresh parsley and/or dill and toss well. Then toss through the quinoa.

Make the dressing by whisking the vinegar with the oil, then pour over the salad and toss well again.

Finally, scatter over the almonds and, if you wish, some of the wispy green fronds from the top of the fennel. Serve immediately!
Notes
Serve immediately after preparation for the best results. Alternatively, prepare in advance up to step three, then add the dressing and almonds just before serving.
Try adding chopped apple, strawberries, sliced peaches or mandarin segments instead of the blueberries or a different kind of cheese instead of feta (goat's, blue, ricotta etc.).
As always with a salad, the above ingredient amounts are only a guideline. Adding a little more or less of an ingredient will not matter in the slightest (in my humble opinion!)
Drizzle over this blueberry vinaigrette instead of the apple cider dressing if you prefer.
Nutrition
Calories:
580
kcal
Carbohydrates:
49
g
Protein:
16
g
Fat:
35
g
Saturated Fat:
11
g
Cholesterol:
44
mg
Sodium:
613
mg
Potassium:
869
mg
Fiber:
7
g
Sugar:
5
g
Vitamin A:
1130
IU
Vitamin C:
18.5
mg
Calcium:
369
mg
Iron:
4.2
mg