Last Updated on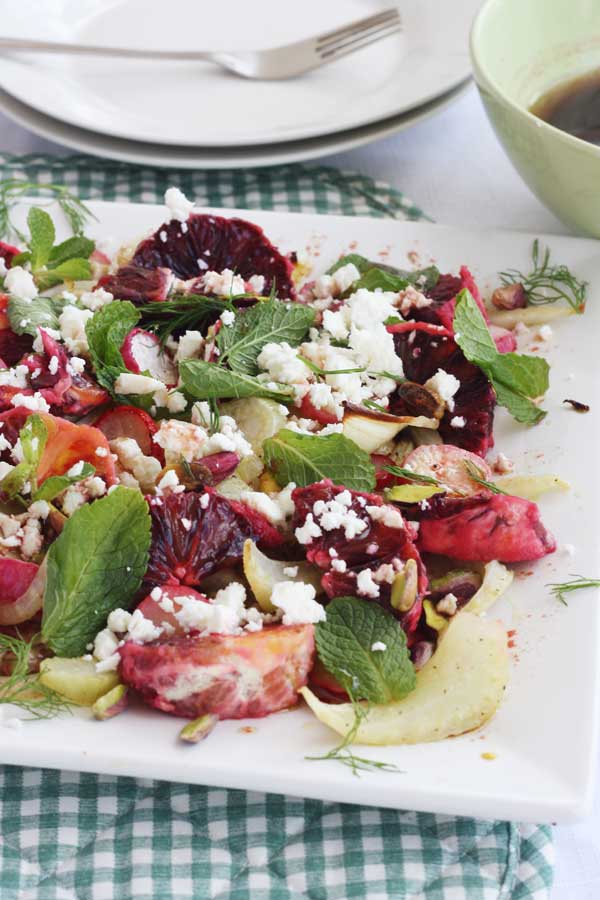 When I was a child in England, a salad usually meant one thing.
Or three things, to be precise. Lettuce, cucumber and tomatoes! Honestly, they are the only components that most people seemed to think belonged in a salad. So they would rustle up this same 'salad' to accompany their quiche lorraine or leftover cold roast beef every time. In a café or restaurant, you might occasionally find a little onion and 'cress' (a sort of peppery-tasting herb that seemed to appear everywhere at the time!) in there too, and get it brought to you with a bottle of then-fancy supermarket-bought 'French dressing'. But that was pretty much as sophisticated as a salad would get!
The worst form in which to find said salad was the 'side salad'. You would order a sandwich in a café (equally as uninventive as I remember!) and at the side of it there would be a couple of watery slices of cucumber and tomato sitting forlornly on top of a few limp dark green lettuce leaves!
Maybe it was just my family. Maybe it was just the places we ate. Maybe I'm exaggerating just a little. Hmm, no I actually don't think so. But anyway, one thing is for sure. Happily, salads are a whole lot less frightful these days!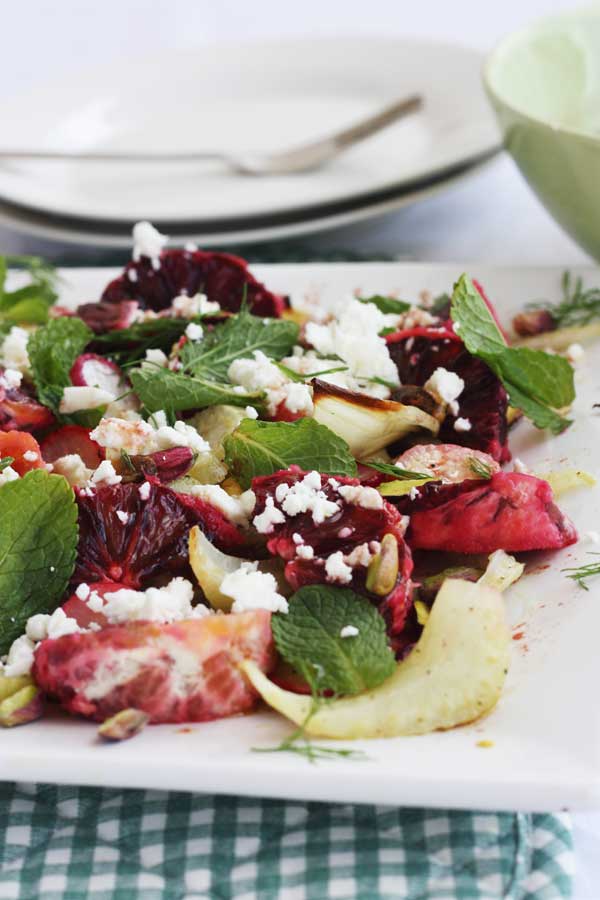 What about you? What kind of salads did you eat when you were a child? What's your favourite kind of salad now? I'd love to hear about it!
So back then, or until far more recently to be honest, I could never have imagined roasting radishes and fennel and pairing it with orange and pistachios, for instance, for a salad! In fact, I could never have imagined eating fennel at all. I don't think I even knew what it was!
Just in case you've never seen or tried fennel (don't worry, I didn't know what it looked like either until watching Jamie Oliver make a recipe with it on TV), this is what it looks like (at the bottom of the picture, obviously!):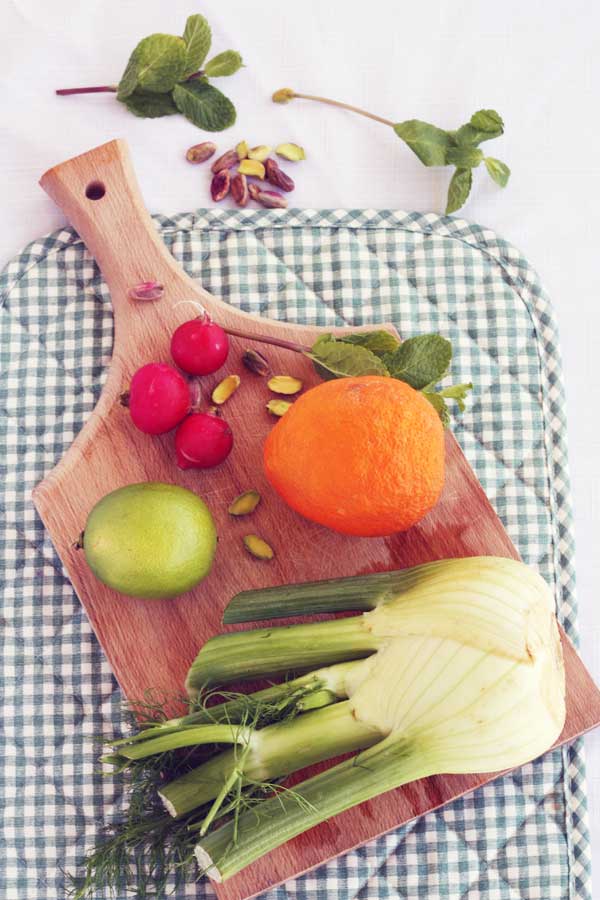 It has a beautiful subtle sweet aniseed taste and is equally as tasty cooked with meat, like in this sausage & fennel pappardelle, or raw, like in this blueberry, fennel & feta quinoa salad. For this salad, you cut off the green stalky parts and chop up the white bulb into rounds, a bit like you would an onion. Perhaps best of all, you can save the dill-like fronds to garnish your dish with just before serving. Trust me, they massively up the pretty-ness factor of whatever you are making!
But what I discovered when I made this salad recently was that fennel is also delicious roasted! And so are radishes! I don't know about you, but I don't really think to buy radishes very much at all, but they went beautifully in this salad. Both taste-wise and because of their vibrant pink exterior.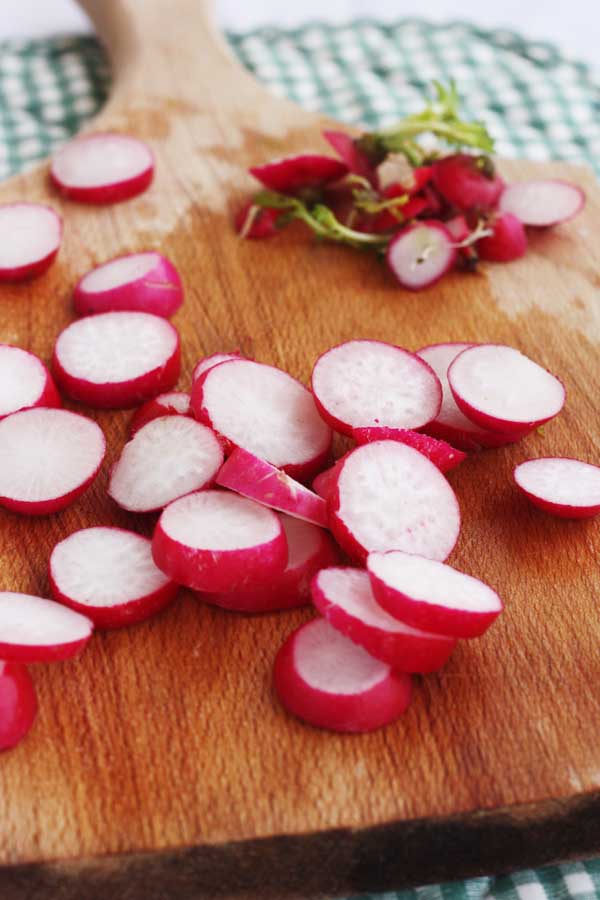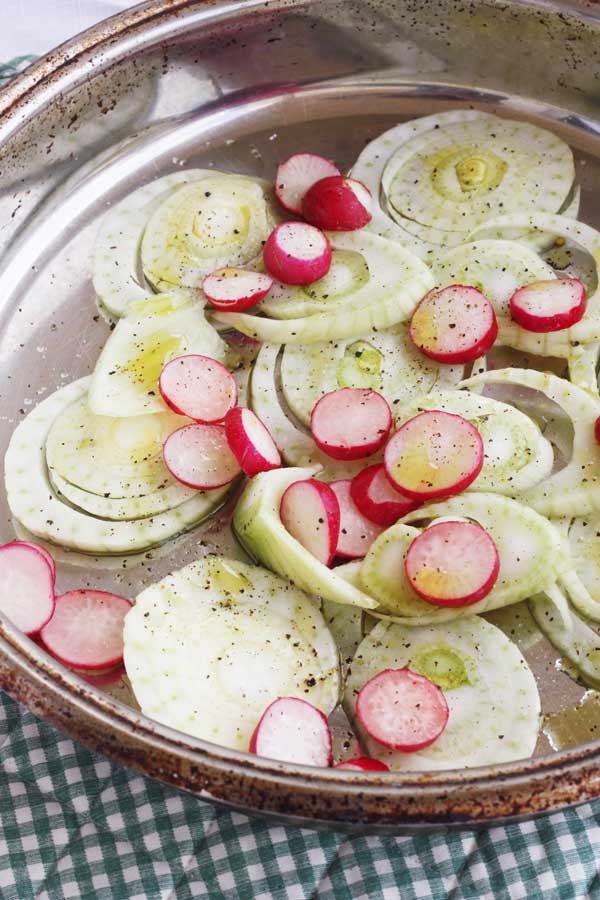 We also had a bowlful of blood oranges at the time, which I had been dying to make something with … mostly as they're so scary looking! So I decided to add some segments of these juicy red beauties into the mix as well.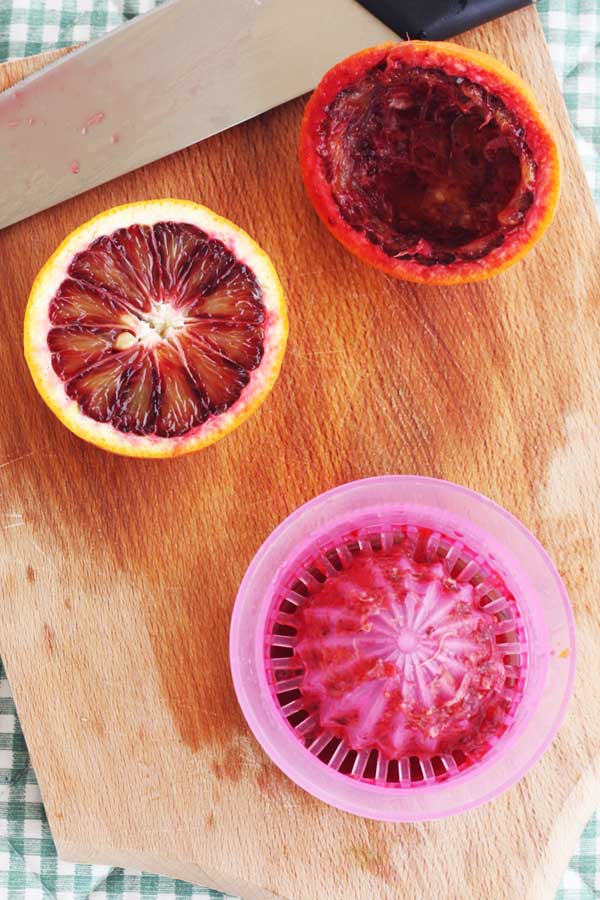 All that remained to finish off my colours-of-the-rainbow salad was to sprinkle over some pistachio nuts and mint leaves, crumble over a little feta cheese (I know, I'm obsessed! It's just that feta really does make almost everything taste better. Ask the Greeks!) … and drizzle over the dressing.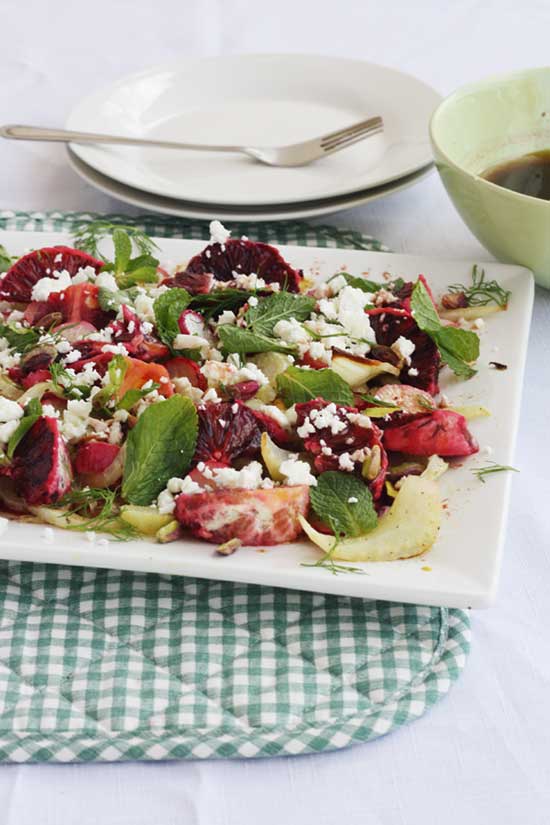 Ah, the dressing! Let's not forget that. To make it, I simply combined the juice and zest of the blood orange with half a lime, some olive oil, and a little balsamic vinegar and honey. I mistakenly whisked it up in a green dish so you might think it has a rather yucky tinge, but you'll just have to trust me that it provided the perfect citrusy-sweet accompaniment for this salad. You also end up with a lot more dressing than you need, so you can pop it in the fridge and drizzle it over other salads or even grilled meats over the following week. I'm guessing that you could even use it as a tasty marinade for meat if you wanted to give that a try.
I ate this with a little fresh crusty bread, but I think it could be pretty tasty with quinoa, couscous or any other kind of grain or carb you like.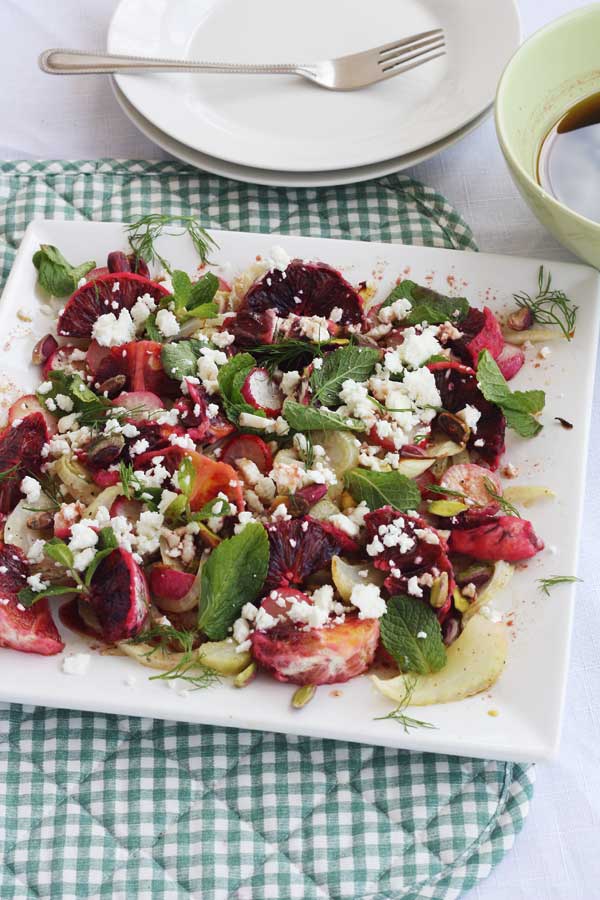 I'm not sure I've ever made a more colourful salad than this. Maybe it should be called a 'Happiness Salad' because surely you couldn't help but feel a little cheery when eating something so pretty!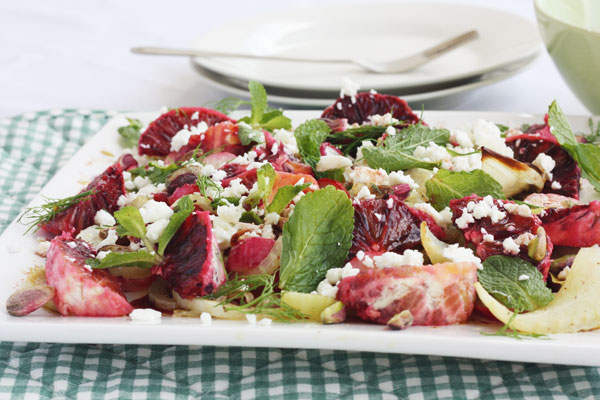 Blood orange and roasted fennel & radish salad
Cheer yourself up with this refreshing and colourful salad of blood oranges with roasted fennel and radishes, pistachios and feta cheese. Roasting the fennel and radishes gives them a beautiful sweetness that contrasts perfectly with the citrus, nuts and cheese.
Ingredients
For the salad
1

fennel bulb

sliced like an onion (reserve the fronds)

2.5

ounces

radishes

sliced

a little olive oil for roasting

1

blood orange

or an ordinary orange is fine!, cut or pulled into segments

1-2

ounces

pistachio nuts

a few sprigs of fresh mint

leaves ripped off

1/4

cup

feta cheese
For the dressing
juice of 1 blood orange

or ordinary orange

juice of ½ a lime

1/2

cup

olive oil

2

tablespoons

of balsamic vinegar

1

tablespoon

of honey
Instructions
Pre-heat the oven to 375F/190C.

Put the fennel and radish slices together in a roasting pan or baking dish and toss with a drizzle of olive oil and a little salt and pepper. Cover with tin foil and roast for 20 minutes. Then uncover and roast for a further 20 minutes until the fennel is tender.

In the meantime, make the dressing. Simply whisk the juices with the olive oil, vinegar and honey and set aside.

Spread the cooked fennel and radishes out on a large plate and add the orange segments, pistachio nuts, mint leaves and feta. You can also add a few of the reserved green fronds from the fennel.

Drizzle over a little of the dressing (or serve the dressing on the side if you prefer). Serve with crusty fresh bread or in a bowl with some cooked quinoa, pasta, rice, couscous or other grain/carb of your choice.
Notes
If you would prefer this salad to be dairy-free, you could very easily leave out the feta cheese and it would still be delicious.
Nutrition
Calories:
697
kcal
Carbohydrates:
26
g
Protein:
7
g
Fat:
64
g
Saturated Fat:
11
g
Cholesterol:
16
mg
Sodium:
289
mg
Potassium:
730
mg
Fiber:
5
g
Sugar:
14
g
Vitamin A:
295
IU
Vitamin C:
23.5
mg
Calcium:
174
mg
Iron:
2.1
mg
I hope you enjoyed this post! You can subscribe to receive posts directly to your inbox by entering your email address in the box below or at the top of the sidebar on the right.
You can also find more from Scrummy Lane on Facebook and Pinterest and follow me on Bloglovin! Thanks so much for reading!