A fennel orange salad might sound rather different – exotic even – but it follows a simple formula combining crunchy veggies with fruit, cheese and nuts for an incredibly delicious light meal or side. Roast the fennel and radishes, then toss with orange, pistachios, mint and feta for a delicious Mediterranean take on an easy, delicious and nutritious salad.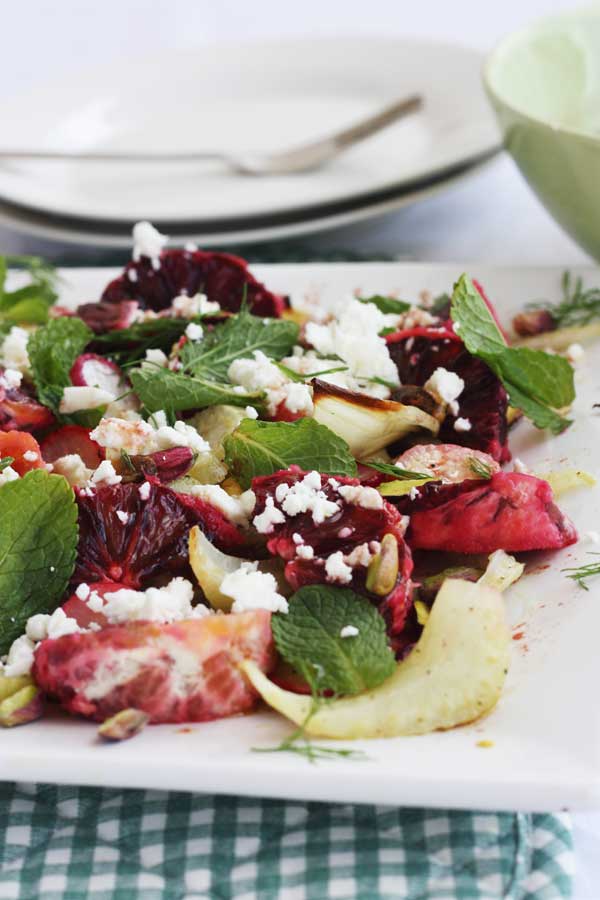 Roasted fennel orange salad
Have you cooked much with fennel?
It has a beautiful subtle sweet aniseed taste and is super tasty cooked with meat, like in this sausage & fennel pappardelle. But it's also crunchy and fabulous raw and chopped like an onion, like in this quinoa salad with fennel, feta and blueberries.
Whether you're a fennel newbie or not, what might surprise you is that you can also roast fennel, which gives it a beautiful sweetness to perfectly complement the aromatic flavour. And hey, guess what? You can roast radishes, too, and toss them together with the fennel for the basis of a wonderfully simple and yet tasty and healthy salad.
Add fruit (oranges), cheese (feta) and nuts (pistachios) and you have the formula for an incredible Mediterranean salad.
This is actually a very colourful salad, so you could even call it a rainbow salad!
About the ingredients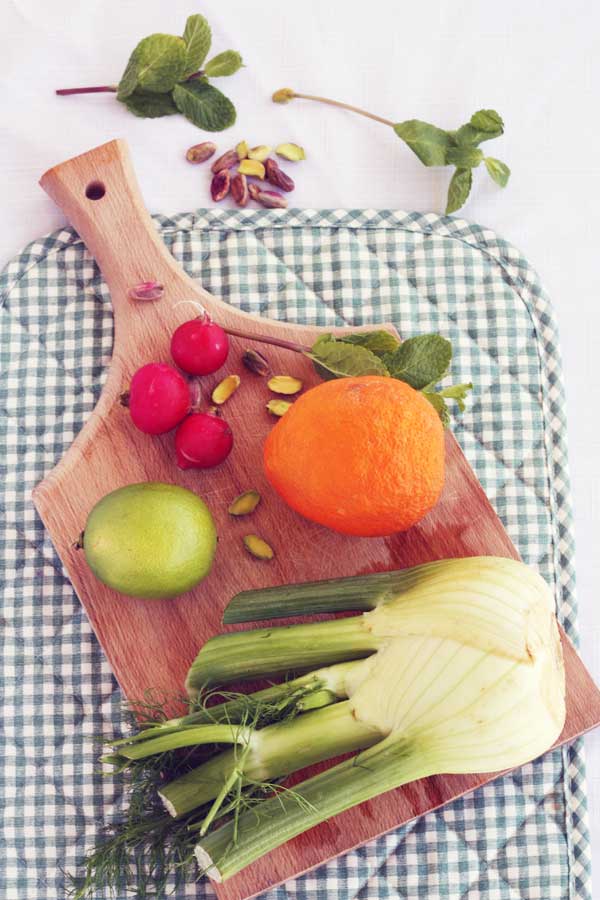 Fennel and radishes: The first time I cooked with fennel was to make this sausage and fennel bolognese sauce. It's very adaptable because it's also delicious in a salad! Buy a nice firm white/pale green one. Chop off both ends so you're left with just the big bulb. Then chop like an onion. Top and tail the radishes and slice thinly.
Olive oil: Just a little for roasting the fennel and radishes. Yes, roasting. Just wait – it'll be amazing! And a little more for the dressing.
Two oranges: I like to use blood oranges if I can find them (which is only when they're in season). This makes for a particularly beautiful salad. But of course use any oranges you like. I now have an orange tree in my garden, so those oranges are what I use.
Pistachio nuts: Just a handful. They go beautifully on this salad, and look amazing too. Feel free to substitute with a different nut. It's the crunch you're after!
Fresh mint leaves: A small handful will do, but these really make the salad 'sing'.
Feta cheese: Crumble all over the salad for a tangy pop of umami flavour that contrasts perfectly with everything else. Substitute with goat's cheese or another favourite cheese if you like.
The dressing: Orange juice and olive oil form the base of the dressing. Then simply add lime juice, balsamic vinegar and a dash of honey. It's a simple but very delicious dressing.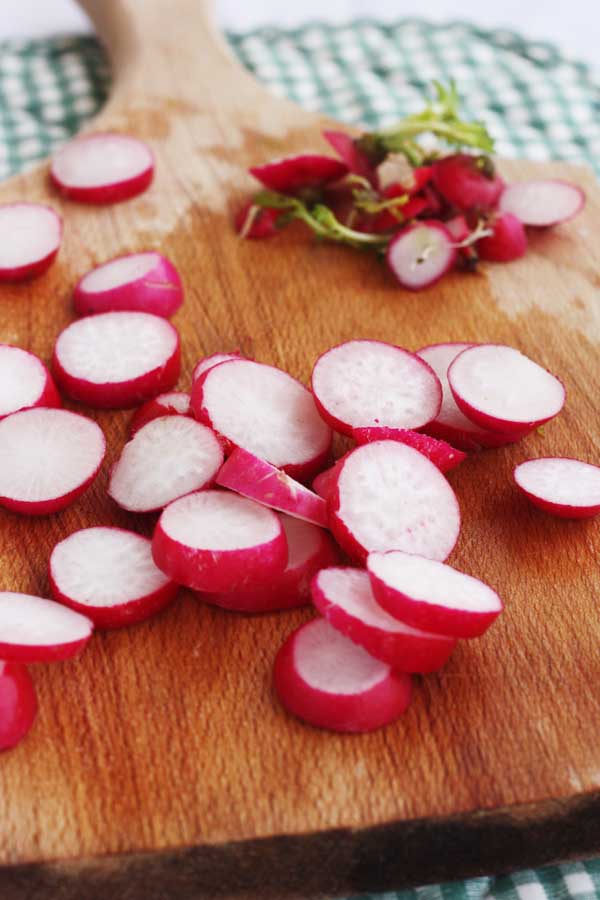 How to make it
As with any salad, there's not much to it. Except that this is a warm salad, so there's one extra step!
Step 1: Roast the fennel and radish slices in a little olive oil. Season and roast covered for 20 minutes. Then uncover and roast for another 20 minutes.
Step 2: In the meantime, you can prepare everything else – so cut the orange into slices, wash the mint leaves and break open the feta packet ready for crumbling!
Step 3: Whisk together the dressing ingredients. I'd pour everything into a jar with a lid and shake. This way you can pop any leftovers straight into the fridge for another time.
Step 4: Lay the roasted fennel and radish out on a big salad platter. Scatter everything else on and around it.
Step 5: Drizzle over the dressing and serve. Alternatively you can let everyone pour over their own dressing.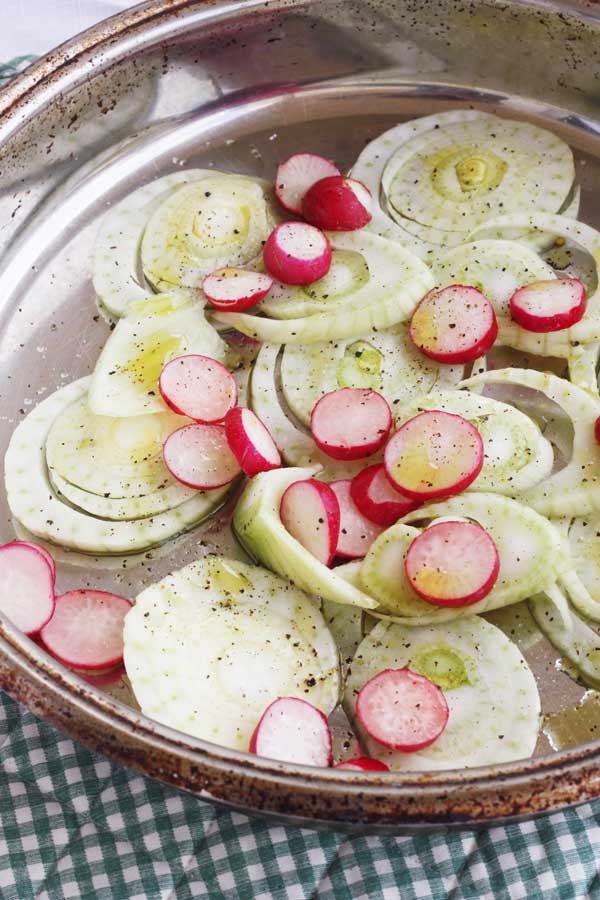 How to serve it
This is a delicious and easy salad with a little fresh crusty bread, but it's also pretty tasty with quinoa, couscous or any other kind of grain stirred through it.
Eat it by itself for lunch, or serve as a side dish. I'd serve it with simple baked chicken thighs or another kind of meat or fish.
Pro tip: You end up with a lot more dressing than you need, so you can pop it in the fridge in a sealed jar and drizzle it over other salads or even grilled meats over the following week. You can even use it as a tasty marinade for meat.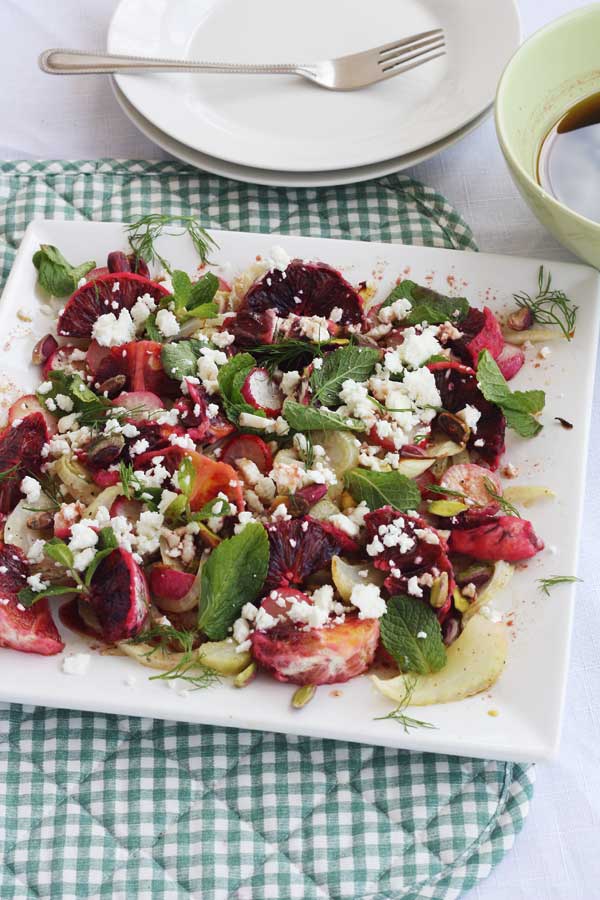 More things to know (FAQ)
What does fennel taste like?
Delicious! I find the texture almost a bit like celery, or onion, but it has a mild aniseed taste. If left raw it's crunchy and juicy. If cooked, it's softer of course, and mild tasting. Roasted is the most delicious of all. It's both soft and still a little crunchy, and mildly caramelised.
How do you prepare fennel?
Easy! Don't be scared! Just cut both ends off so that you're left with just the big bulb. But keep some of the fine green fronds – they're fantastic for garnishing!

Then either slice or chop like an onion. For this salad I like to slice it into medium-sized slices (not too thin not too thick). If I'm preparing it for a ragu sauce or something else savoury, I'll chop it more roughly, like chopping an onion for a bolognese.
Can I substitute some of the ingredients?
Yes! You can use different fruits (apple, mango, pear, peach, plum…), different nuts (macadamias, hazelnuts, walnuts, flaked almonds…) and a different cheese (goat's, blue, ricotta…).

This salad is also AMAZING with this blueberry dressing instead of the orange vinaigrette.
Can I prepare it ahead?
I wouldn't roast the fennel and radish ahead because this is really nice served as a warm salad. What you can do though is wash, chop and otherwise prepare all the ingredients, including the fennel and radish slices. You can also prepare the dressing ahead, of course.
I'm not sure I've ever made a more colourful salad than this. Maybe it should be called a 'Happiness Salad' because surely you couldn't help but feel a little cheery when eating something so pretty!
More delicious warm salads
IF YOU MAKE THIS RECIPE, LET ME KNOW HOW YOU GET ON BY LEAVING A COMMENT AND RATING BELOW… AND DON'T FORGET TO SIGN UP TO RECEIVE ALL MY NEW RECIPES BY EMAIL!
FOLLOW ME ON FACEBOOK, INSTAGRAM, PINTEREST AND YOUTUBE.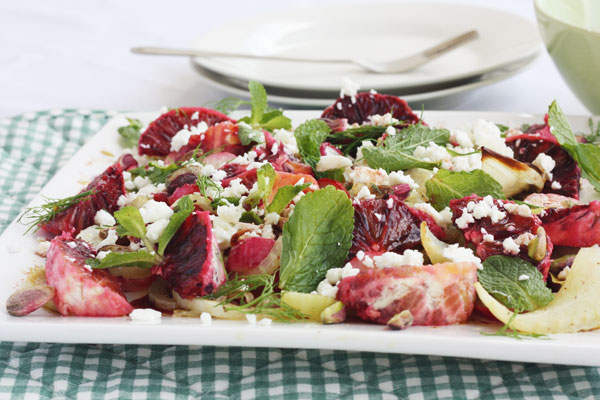 Roasted Fennel Orange Salad with radishes, feta and pistachios
Cheer yourself up with this refreshing and colourful salad of blood oranges with roasted fennel and radishes, pistachios and feta cheese. Roasting the fennel and radishes gives them a beautiful sweetness that contrasts perfectly with the citrus, nuts and cheese.
Equipment (affiliate links)
Ingredients (UK/Australia? Click below for grams/ml)
For the salad
1

fennel bulb

sliced like an onion (reserve the fronds)

2.5

ounces

radishes

sliced

2

tablespoons

olive oil

for roasting

1

blood orange

Or an ordinary orange is fine! Cut or pulled into segments

1

ounce

pistachio nuts

a few sprigs of fresh mint

leaves ripped off

¼

cup

feta cheese
Instructions
Pre-heat the oven to 375F/190C.

Put the fennel and radish slices together in a roasting pan or baking dish and toss with a drizzle of olive oil and a little salt and pepper. Cover with tin foil and roast for 20 minutes. Then uncover and roast for a further 20 minutes until the fennel is tender.

In the meantime, make the dressing. Simply whisk the juices with the olive oil, vinegar and honey and set aside.

Spread the cooked fennel and radishes out on a large plate and add the orange segments, pistachio nuts, mint leaves and feta. You can also add a few of the reserved green fronds from the fennel.

Drizzle over a little of the dressing (or serve the dressing on the side if you prefer). Serve with crusty fresh bread or in a bowl with some cooked quinoa, pasta, rice, couscous or other grain/carb of your choice.
Notes
How to prepare the fennel: Simply chop off both ends of the bulb, keeping some of the green fronds from the stem. Then slice like an onion. For this recipe I cut medium slices. How to prepare the salad ahead: Wash and cut everything in advance. You can also prepare the dressing ahead. I'd leave roasting the fennel and radishes until the last minute though because this salad is nice warm! Dairy free? If you would prefer this salad to be dairy-free/vegan, you could very easily leave out the feta cheese and honey and it would still be delicious. Got leftover dressing? Just pour into a sealed container (a jar is ideal) and keep in the fridge for around a week.
Nutrition
Calories:
829
kcal
Carbohydrates:
29
g
Protein:
8
g
Fat:
79
g
Saturated Fat:
13
g
Cholesterol:
17
mg
Sodium:
290
mg
Potassium:
789
mg
Fiber:
6
g
Sugar:
15
g
Vitamin A:
335
IU
Vitamin C:
32
mg
Calcium:
190
mg
Iron:
2
mg