Pasta dinner, pasta salad, or side? This delicious and very easy penne pesto pasta can be any of these – perfect as a summer side dish, in a lunch box or just enjoyed as is for a healthy midweek meal.
Packed full of colorful roasted vegetables, this is delicious, nutritious, creamy, so easy… and perfect for making ahead. Whether you enjoy it hot or cold, this is about to become your new favorite pesto pasta recipe!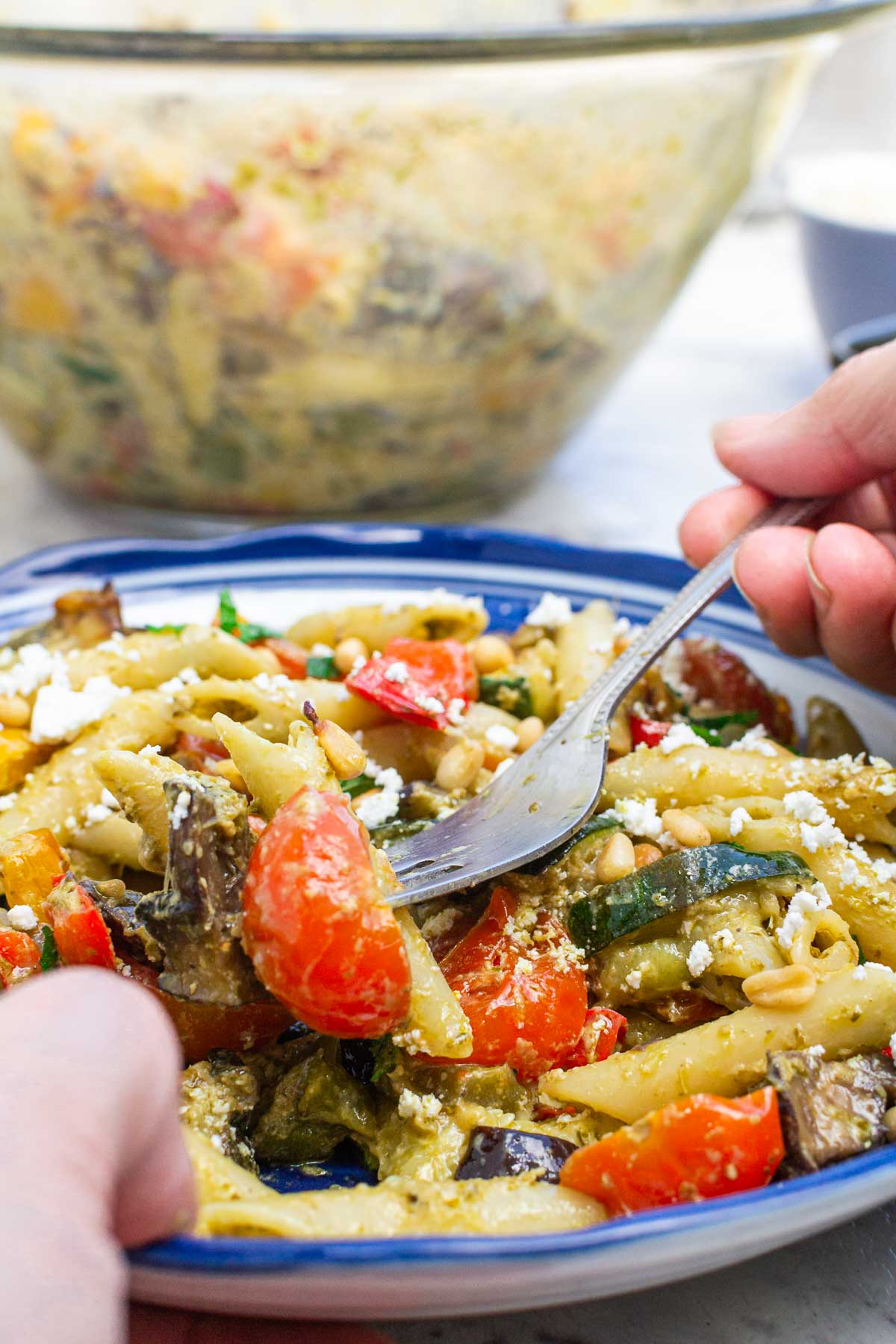 Why you'll love it
Delicious mix of flavors and textures. From the generous amount of creamy pesto sauce to crunchy pine nuts, caramelized veggies and tangy feta. No boring veggie pesto pasta here!
Veggie-packed! What puts me off many similar pasta dishes is the carb overload. This Mediterranean-style penne pesto recipe is heavy on the delicious, colorful roasted vegetables.
Very simple. The 'hardest' part is chopping up all the lovely veggies. Once you've done that it's just a case of roasting them, cooking the pasta and tossing everything together.
Super versatile. I've served this hot for dinner, or hot or cold as a summer side dish. I've also called it a pasta salad and taken it along to parties and picnics, and thrown it into lunch boxes the next day.
Great for making ahead. This is a perfect meal-prep dish. Make it up to a few days ahead, and store it in the fridge until needed – no problem!
Ingredients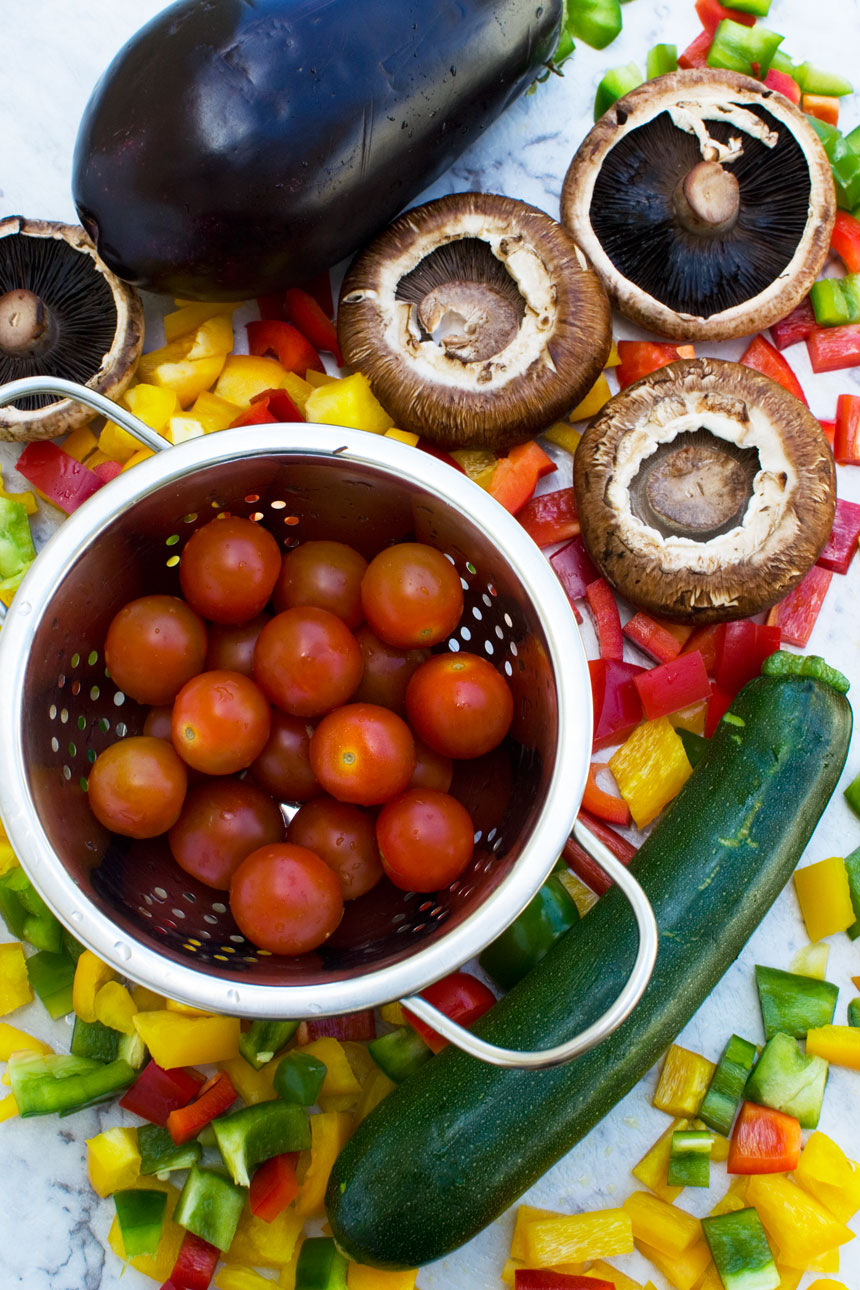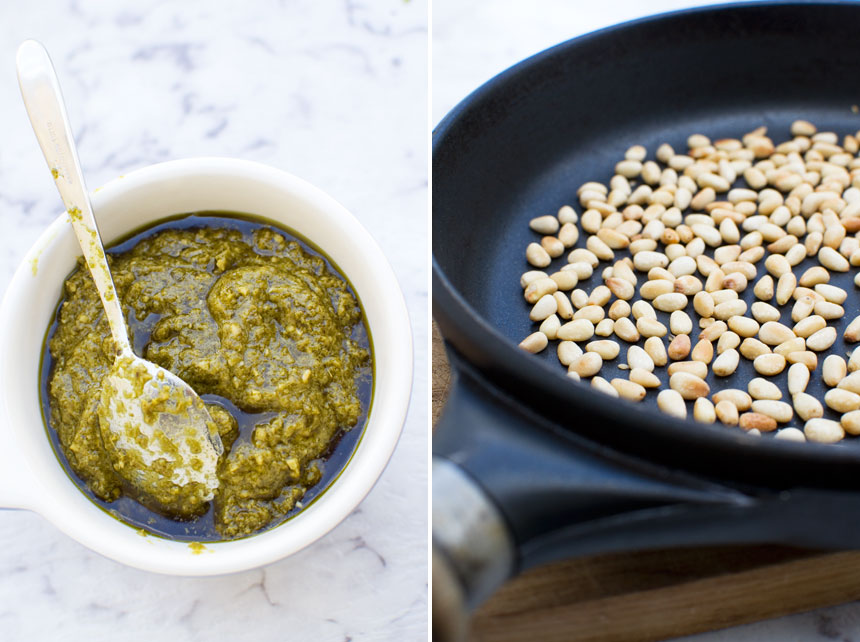 Roasted Mediterranean vegetables: Another great thing about this penne with pesto recipe is that you can roast pretty much any vegetables you like to add to it.
Typically, however, I go for 'Mediterranean summer vegetables' such as cubed eggplant (aubergine), rainbow peppers (typically one red, one yellow or orange, and one green), zucchini (courgette), and (always) cherry tomatoes. Sometimes, I also like to add mushrooms.
Dried penne pasta: Feel free to use wholewheat pasta if you prefer. You can also replace the penne with a different pasta shape such as ziti, rigatoni, farfalle (bow-ties) or fusilli (spirals).
Pesto: I usually use a good quality store bought pesto, to keep this pesto penne as simple as it can be.
By all means though, make your own. It's very simple to whip up a batch from fresh ingredients in a small food processor, and easy to skip the nuts if you need to.
If you prefer to do this, there is a recipe for homemade pesto in this orzo salad with pesto post.
You can also vary the type of pesto you use. How about sundried tomato pesto or a pesto made with arugula or even broccoli?
Greek yogurt: This is not essential, but I love the touch of creaminess and tang that it adds.
Toasted pine nuts: You can either toast them yourself in a dry pan in just a couple of minutes, or check if your local supermarket has them pre-roasted.
Crumbled feta cheese: I think the tangy taste of this cheese goes perfectly with the other ingredients. Any brand will be fine, but I prefer an authentic Greek brand if possible.
Fresh mint: I love the bright and refreshing flavor of fresh mint in this pesto penne pasta. Fresh parsley could be a good alternative – it's just a nice touch to add extra green and freshness just before serving.
How to make penne pesto pasta with vegetables
Once you've put the oven on, at a fairly high temperature (430°F/220°C), chop all of the vegetables up into even(ish) sized small pieces (1 to 2 cm).
After this, the hardest work is done!

Spread the chopped vegetables out over 2 to 3 sheet pans (baking trays). Except for the tomatoes! They take less time to cook so you can add them around half way through roasting.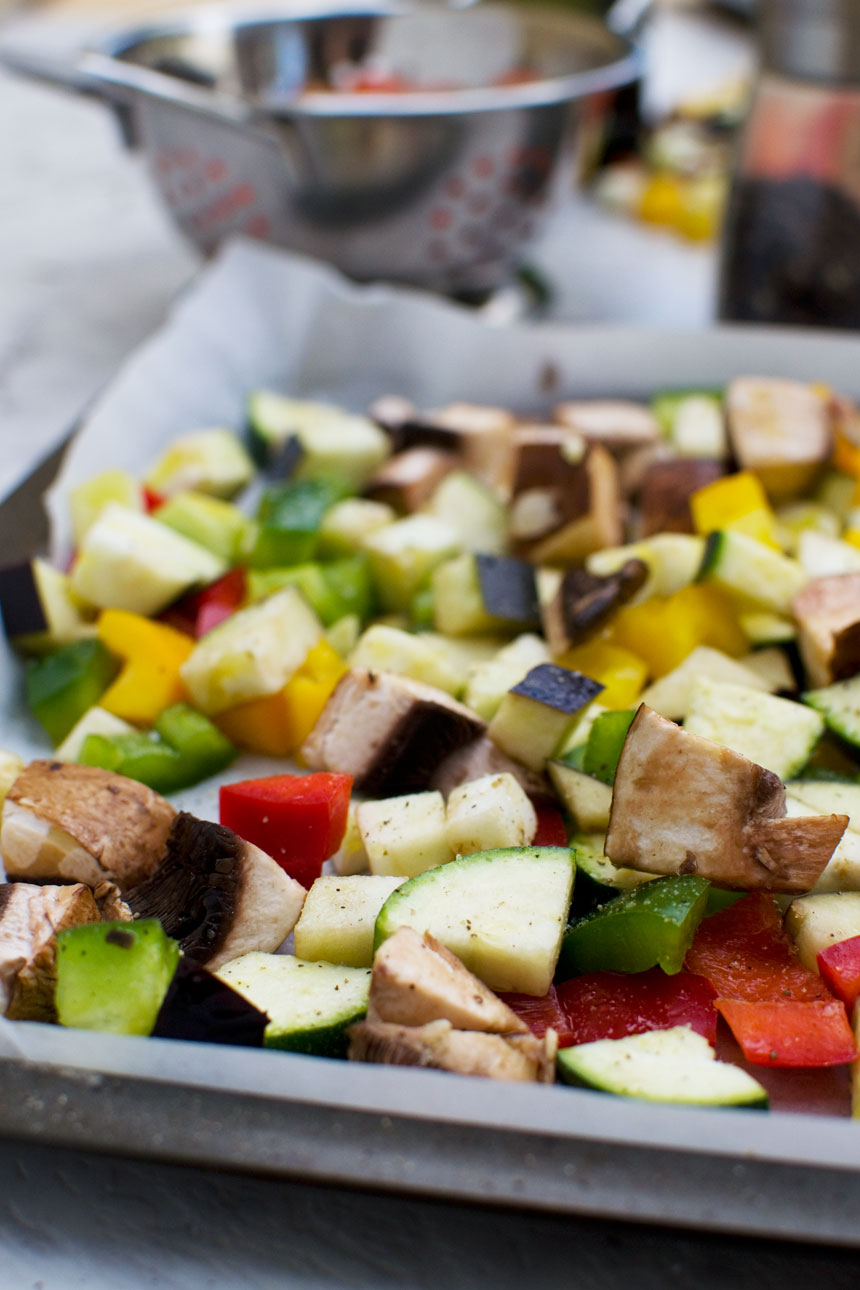 Give them a generous drizzle of olive oil, and toss thoroughly with your hands or a big spoon. Season with plenty of salt and pepper, then roast for about 15 minutes.
Then add the halved cherry tomatoes to the trays. Continue roasting for another 15 to 20 minutes, or until the vegetables are nicely browned and caramelized in parts.
Meanwhile, follow the pasta package instructions (usually 8 to 10 minutes) to cook your pasta. Drain it and transfer it to a large bowl.
Stir in the pesto.

Stir through the Greek yogurt as well (if using), or a little of the reserved pasta cooking water if not to loosen it up.
When the vegetables are ready, add those too and stir the delicious creamy pesto pasta thoroughly.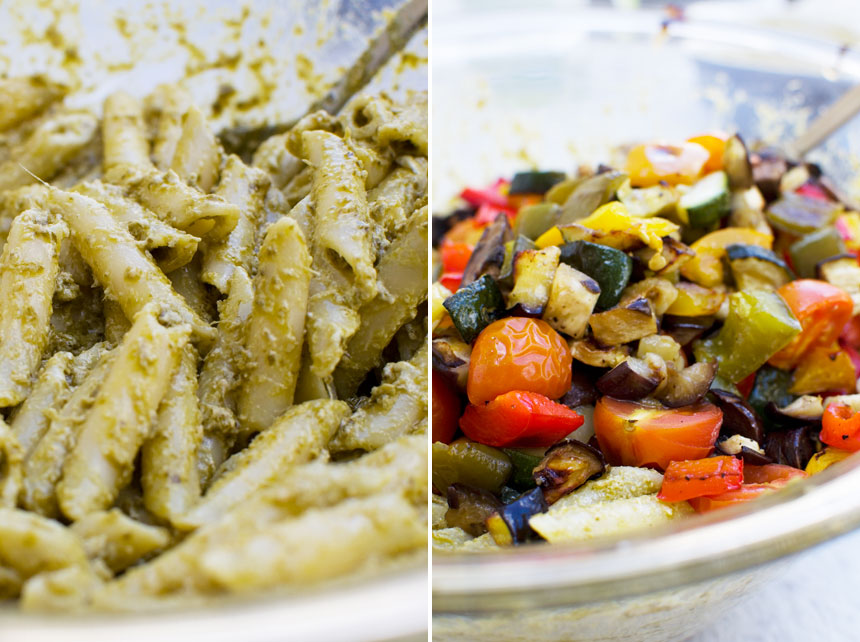 Before serving each portion, scatter the toasted pine nuts, feta, and mint evenly over the top.
How to toast pine nuts: 'Toast' on a medium heat in a dry frying pan for a couple of minutes. Shake every now and again until golden brown – but not burnt. Don't take your eyes off them – they can burn very quickly!
Helen's top tips
Be careful not to overcrowd the sheet pans when you're roasting the veggies. It's better to space them out evenly over two or even three pans. This way, they'll roast and caramelize rather than steam.
Cook the pasta only until it's 'al dente' or just tender with a little bit of bite.
Before draining the pasta, scoop out a cup of the cooking water. Use a little of it to loosen up the pesto pasta if necessary. You may not need to do this if adding a little bit of Greek yogurt (optional!).
I recommend scattering over your pine nuts, feta, and mint just before serving – or just before you leave the house if you're packing it for a work or school lunch.
How to serve
This is no ordinary pesto pasta with vegetables! It's incredibly versatile since it can be:
a tasty, nutritious dinner for 4
a prep-ahead dish to serve cold at a party, BBQ or picnic
an easy dinner side with meat or fish
perfect for lunch boxes the next day!
If you'd like to serve this as a dinner side, how about serving it alongside these delicious and very easy halloumi kebabs with chorizo and tomatoes and honey lime dressing (seriously, it's a party in your mouth).
Alternatively, keep things very simple and serve your penne pesto pasta with these easy baked chicken thighs, crispy panko chicken (a crowd pleaser!) or this legendary crustless quiche (aka impossible quiche!).
If you have an air fryer, why not air fry a whole chicken and serve the pasta with that? Or mix pieces of the chicken into the dish to make a chicken pesto pasta instead.
Tip: If I'm making this ahead for lunches during the week, I like to use glass meal prep containers like these ones. They're good for fridge, oven, microwave, and freezer!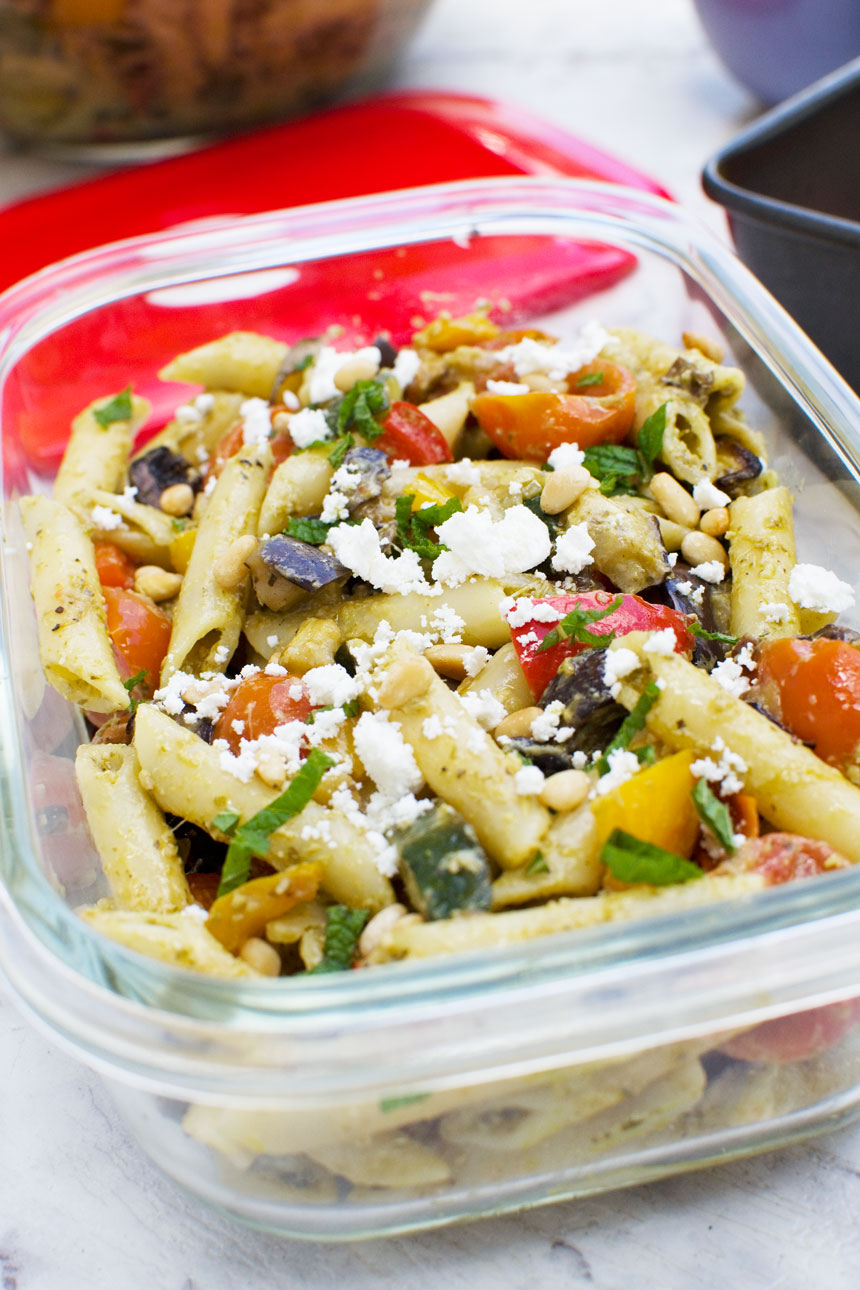 Variations
Vegetables: Don't have one of the vegetables I suggest? No worries, just leave it out, or replace with another vegetable such as broccoli, green beans or sweet potato (chopped into small cubes so that it cooks quickly).
I would not suggest leaving out the tomatoes, but feel free to replace fresh with sundried tomatoes if that's all you have.
Pesto: How about replacing the regular pesto with sundried tomato pesto instead? The recipe would also work with the pea sauce in this green pea pasta recipe. It's similar to pesto, but made with frozen peas.
Pine nuts: You can add a different nut such as walnuts, pecans or pistachios instead of pine nuts if you prefer.
On the other hand, if you would like to or need to keep this dish nut-free, simply leave out the pine nuts altogether and make the pesto yourself, leaving out the nuts. You can either replace with sunflower seeds, or just skip a replacement – it'll still taste fabulous!
Feta cheese: Try the dish with goat cheese, ricotta, mozarella or parmesan instead of feta if you like.
Special diet requirement? Use gluten free or whole wheat pasta, or pesto without cheese and egg-free pasta to make the 'penne al pesto' vegan (also skip the yogurt, replacing with pasta cooking water).
As already mentioned, use nut-free pesto and skip the pine-nuts for a version without nuts.
Recipe FAQs
How far ahead can you make this?
Chill quickly after making, then transfer to airtight containers. You can store this pesto pasta with vegetables in the fridge for up to 5 days, although it will taste best eaten within the first 3 days.
Can you freeze pesto pasta?
Yes, you can freeze it in an airtight freezer safe container for up to 2 months. It's best to freeze pasta 'al dente' (only 'just' cooked), however, to minimize a change in texture. Overall, it's best to enjoy pesto pasta when first cooked or after chilling in the fridge.
How do you reheat it?
Reheat covered and with an extra drizzle of water either in the microwave for 2-3 minutes, or on the stove. Heat gently until piping hot again. Alternatively, enjoy leftovers cold. This creamy pesto penne pasta is great eaten as a pasta salad!
IF YOU MAKE THIS RECIPE, LET ME KNOW HOW YOU GET ON BY LEAVING A COMMENT AND RATING BELOW… AND DON'T FORGET TO SIGN UP TO RECEIVE ALL MY NEW RECIPES BY EMAIL!
FOLLOW ME ON FACEBOOK, INSTAGRAM, PINTEREST AND YOUTUBE.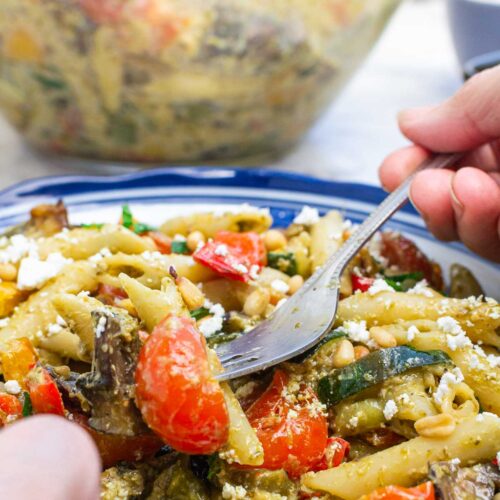 Easy Penne Pesto Pasta With Vegetables (Hot Or Cold)
If you're looking for a pasta dish that can be enjoyed either hot as an easy, healthy dinner or cold as a pasta salad, I think you'll love this penne pesto pasta with veggies! Stuffed full of colourful roasted vegetables it's really easy to make, and perfect for making ahead for parties, BBQs and lunches!
Equipment (affiliate links)
Ingredients (UK/Australia? Click below for grams/ml)
3

peppers

chopped into small pieces 1-2cm (1 green, 1 yellow, 1 red if possible)

1

zucchini

sliced and then quartered

1

eggplant

chopped into small cubes, 1-2cm

7

ounces

mushrooms

chopped into small pieces 1-2 cm (around 4 medium mushrooms)

9

ounces

cherry tomatoes

halved

olive oil

for cooking

10.5

ounces

penne pasta

dried

⅔

cup

pesto

good quality store-bought or homemade

4

tablespoons

Greek yogurt

optional – for a little creaminess!
For sprinkling (optional but highly recommended)
¼

cup

toasted pine nuts

(buy pre-toasted, or lightly toast in a dry frying pan, shaking every now and again)

2.5

ounces

crumbled feta cheese

or to taste

¼

cup

fresh mint

or to taste
Instructions
Preheat the oven to 430F / 220C.

Line 2 to 3 large baking trays with baking paper and scatter all of the vegetables except the tomatoes over the baking trays in a single layer.

3 peppers,

1 zucchini,

1 eggplant,

7 ounces mushrooms

Drizzle with a little olive oil, then toss well with your hands. Sprinkle with plenty of salt and pepper, then roast for 15 minutes.

Add the tomatoes to the tray. Roast for another 15 to 20 minutes until slightly browned and caramelised.

Meanwhile, cook the pasta according to the package instructions (8 to 10 minutes).

Drain the pasta and add it to a large bowl. Add in the vegetables and stir through the pesto and yogurt (if using).

⅔ cup pesto,

4 tablespoons Greek yogurt

Sprinkle with the pine nuts, feta and mint just before serving.

¼ cup toasted pine nuts,

2.5 ounces crumbled feta cheese,

¼ cup fresh mint
Notes
Pesto: I usually use a good quality supermarket pesto for quickness, but by all means make your own if you prefer. There's a recipe for pesto in this post for pesto orzo salad. This is the best option if you'd like to skip the nuts in the pesto, in case of an allergy or if you're making for a party or school lunch boxes, for instance.
Pasta: I prefer penne for this vegetable pesto pasta, but use another type of pasta if you like e.g. bow ties, casareccia or even macaroni.
Serving: Serve cold as a summer side dish or to take to a party, BBQ or picnic. Serve hot or cold as an easy midweek meal.
Serve on the side with chicken, salmon (or other fish) if you like.
Replace the pasta with quinoa, brown rice or couscous for a twist on the pasta version.
Toasting the pine nuts: If you buy untoasted pine nuts, simply roast for a few minutes in a dry frying pan. Shake every now and again. Be careful to keep a close eye on them – they burn easily once they start to toast!
Storage: This pasta salad keeps really well in the fridge for up to 5 days, although it's best eaten in the first 3 days. Simply store in an airtight container in the fridge or well covered in the bowl you made it in.
Or if you prefer store it in separate glass lunch containers for grab-and-go make ahead lunches!
Scatter over your pine nuts, feta, and mint just before serving, or just before you leave the house if you're packing it for a work or school lunch.
Servings: Serves 3 – 4 as a lunch or 4 – 6 as a smaller side.
Nutrition
Calories:
581
kcal
Carbohydrates:
78
g
Protein:
19
g
Fat:
23
g
Saturated Fat:
3
g
Polyunsaturated Fat:
4
g
Monounsaturated Fat:
2
g
Cholesterol:
4
mg
Sodium:
416
mg
Potassium:
1097
mg
Fiber:
10
g
Sugar:
14
g
Vitamin A:
1722
IU
Vitamin C:
100
mg
Calcium:
143
mg
Iron:
3
mg