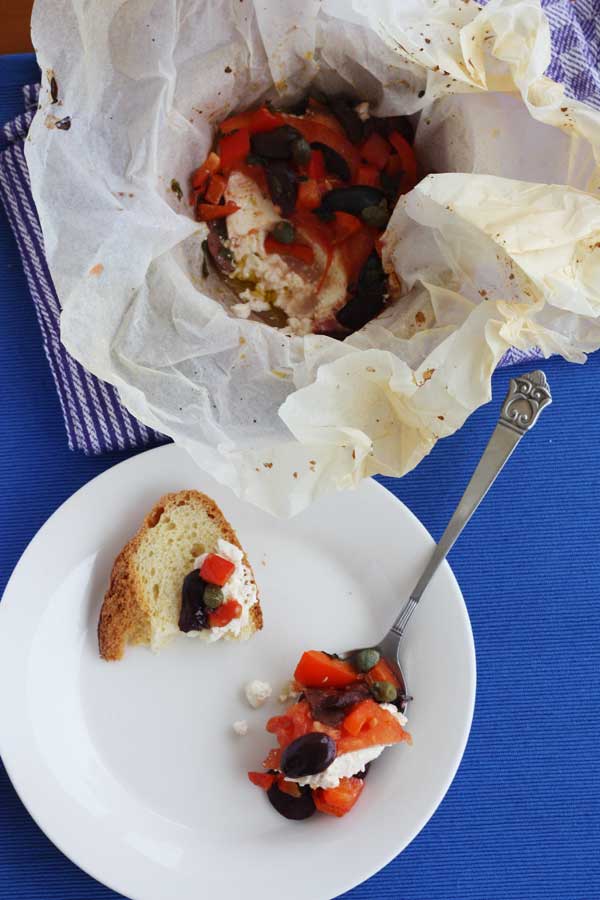 A visit to a Greek supermarket can be quite an experience! I could fill a whole post elaborating on this, but I'm sure that would get me into trouble, and we don't want that. On the other hand, I can't resist giving you just a teeny tiny glimpse into what I mean.
You see, there's usually a great selection of high quality fresh olives and olive oil, creamy and tangy feta cheeses from villages and islands all over Greece and bright and juicy tomatoes in an average Greek supermarket. Sounds great, you're probably thinking. But then to go and get all those lovely food items you have to survive the wildly determined grannies over-zealously ramming their trolleys around so that they bump you on the backside multiple times. Oh yes. You would like to think not on purpose. But let's just say I'm keeping an open mind on that one and drop the subject!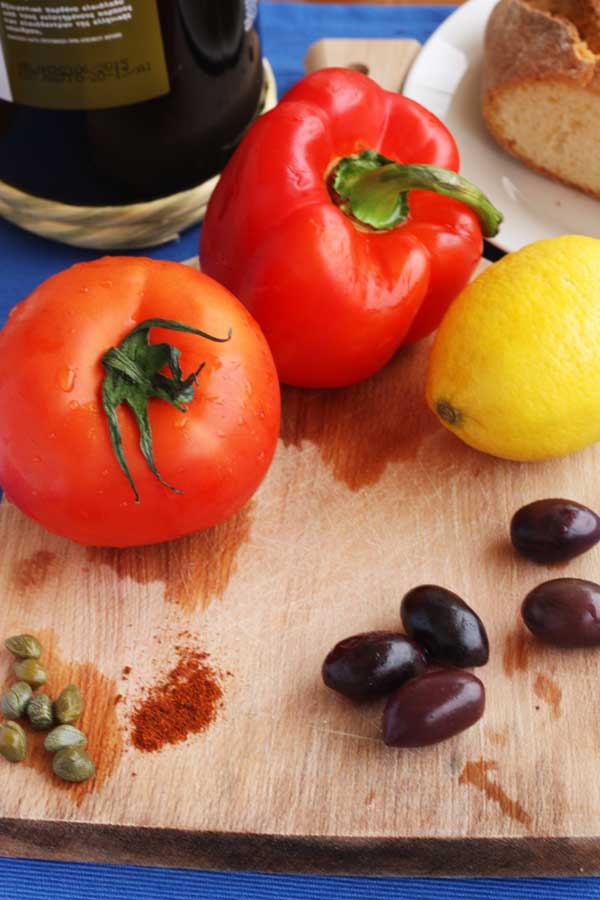 I'm trying to be diplomatic here, if you hadn't noticed, but I'm not sure I'm doing such a good job! Ah-hem. Anyway, apart from anything specific to a Greek supermarket, last Saturday's trip to my local one was a Pain … yes, with a capital P! Not only was it super busy, as Monday was a public holiday here in Greece, but I'd forgotten how small the aisles of this particular supermarket were so there were literally trolleys (pushed by some of those zany grannies … eeek!) blocking virtually every route I tried to take. I ended up throwing things into my own trolley far too fast just to get out of there more quickly and buying too many things to carry back to the car by myself comfortably. It didn't help that the closest parking spot I'd been able to find was a couple of streets away, it was raining and I couldn't hold an umbrella as well as all my shopping bags. So by the time I'd fought my way home let's just say I was more than a little sweaty, wet and frizzy-haired!
Grrrr.
But after getting home, de-frazzling (yes, I did just make up that word) and surveying all the lovely things I'd bought, I decided to make this baked feta for a snack for Mr. Scrummy and I. And was it worth getting frizzy hair and a 'trollied' backside for? Oh yes it was!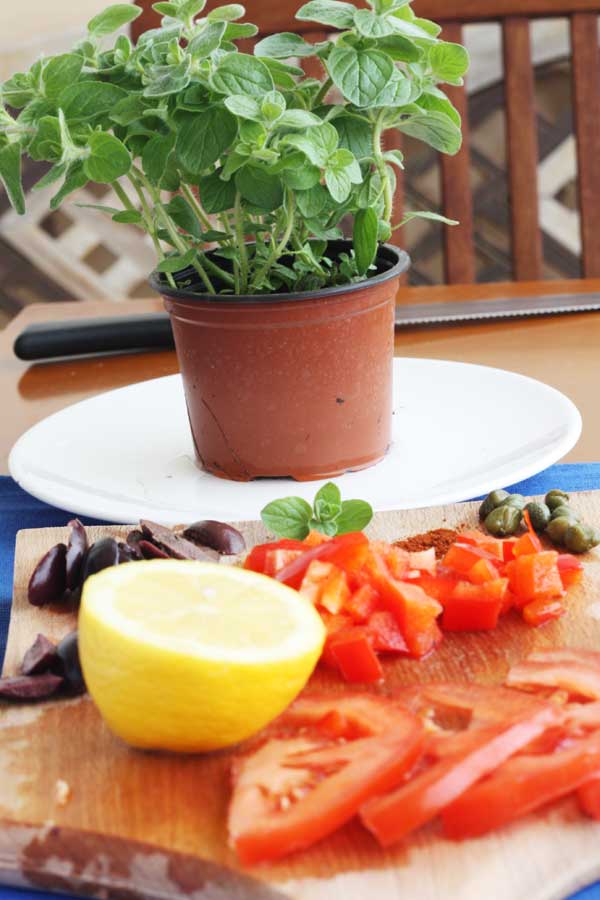 I'm sure someone's going to come over here and slap me if I say one time that I like easy recipes. But honestly, this appetizer is so simple that it's a bit cheeky of me to even call it a recipe. Perhaps apart from the feta you've probably got most of what you need floating around in your fridge and cupboards already, and to be honest it doesn't matter if you miss out one or two of the listed ingredients. It will still be delicious!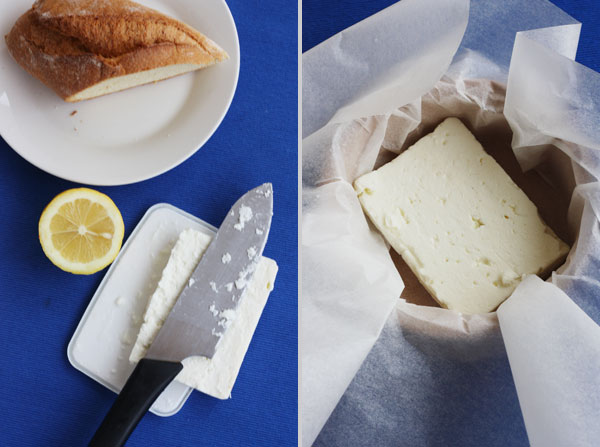 So really all you do is lay a nice thick slice of feta cheese in the centre of a piece of foil or baking paper, chop up little bits of tomato and pepper and pile them on top of the cheese together with pieces of olive, a few capers, a good sprinkle of paprika, some fresh or dried oregano and a drizzle of olive oil. You then scrunch in the sides of the paper to make a little parcel and bake the whole thing for about half an hour.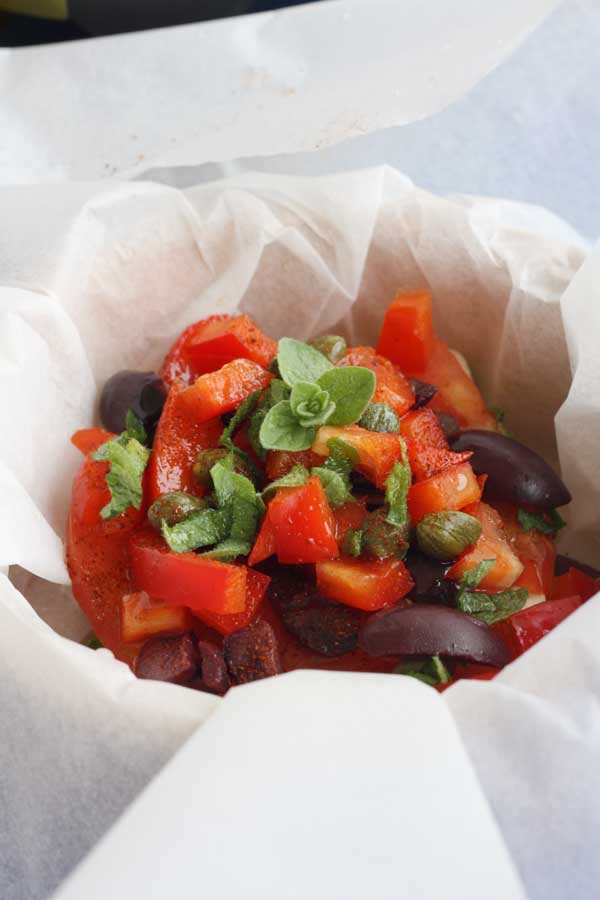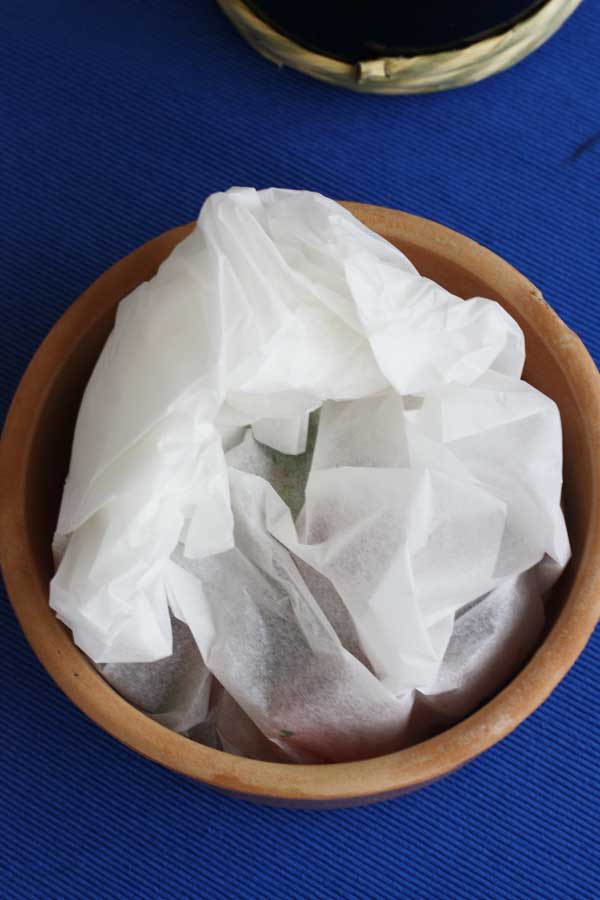 After you unwrap the paper, the feta should be lovely and squidgy and perfect for smooshing into pieces of your favourite bread. You can also use said bread to mop up the beautiful tomatoey olive-oily juice. It's almost like a deconstructed Greek salad. A warm one. I'm not sure if that makes it sound appetizing or not, but believe me, it really is!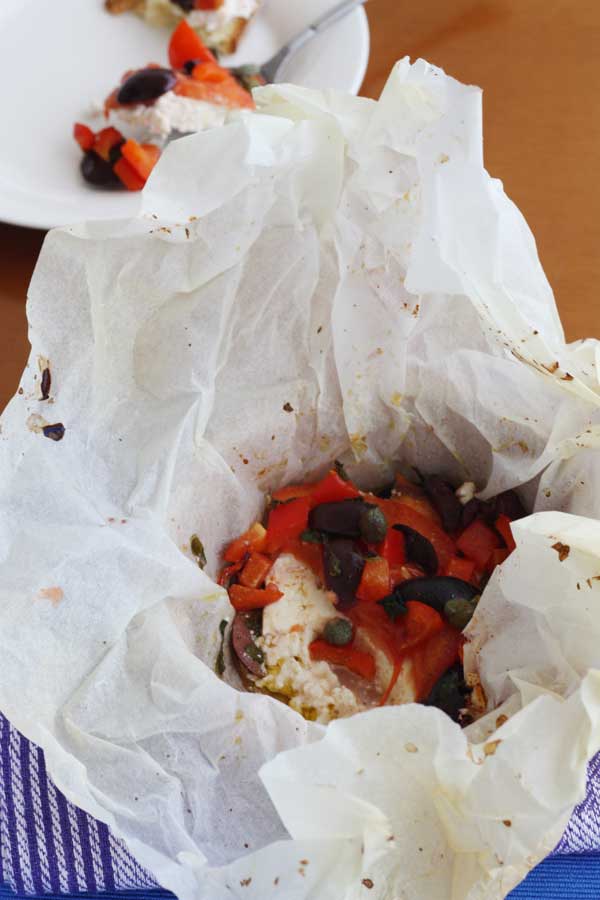 This is beyond simple as an idea, but the taste, in my (humble of course) opinion, is as good as if you'd slaved over a hot stove for hours!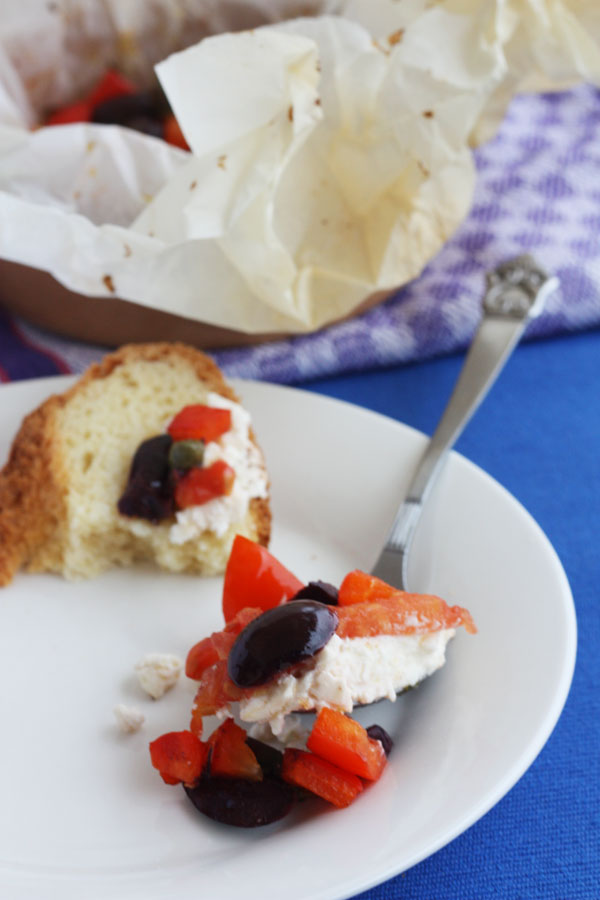 I've eaten various versions of baked feta over my years in Greece, usually shared with friends at an outdoor taverna, and it was always wonderful. So, wherever in the world you are, wait for a setting sun on a warm spring day, grab a friend or loved one and a glass of chilled ouzo or wine and sit outside on a veranda or in a garden to enjoy this lovely Greek appetizer with some freshly baked bread.
Or maybe life's too short to sit around waiting for elusive warm days! Just make it and enjoy it whatever the weather!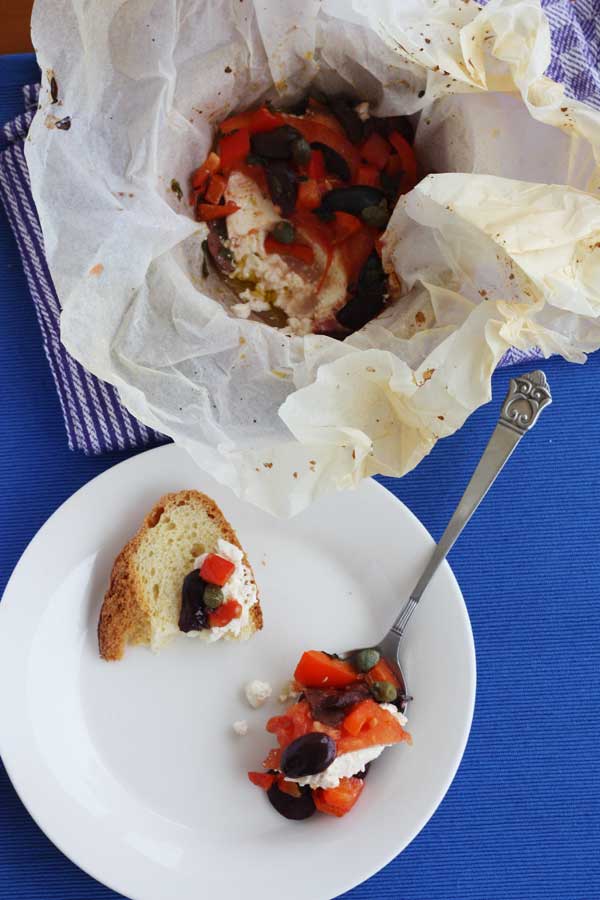 Baked feta with tomato, pepper & olives
A wonderfully simple Greek appetizer of baked feta cheese with tomatoes, peppers, olives, capers, paprika and oregano. This tastes a bit like a warm Greek salad and is wonderful smooshed onto bread with or without a glass of ouzo or wine!
Ingredients (UK/Australia? Click below for grams/ml)
3.5

ounces

a slab of feta cheese

a couple of slices of fresh tomato

either whole or finely chopped

1/5

finely diced red or green pepper

3

or 4 olives

de-stoned and chopped into small pieces

a few capers

a sprinkle of paprika

a few sprigs of chopped fresh oregano or ¼ teaspoon of dried

black pepper to taste

olive oil

about a tablespoon

a squeeze of lemon juice

optional
Instructions
Pre-heat the oven to 200C/390F.

Place the feta in the centre of a piece of baking paper or foil in a baking dish, making sure there is plenty of spare paper or foil around the cheese.

Pile the tomato, pepper, olives and capers on top. Then sprinkle with the paprika, oregano and black pepper. Finally, drizzle over the olive oil.

Gather up the sides of the paper or foil and scrunch it up roughly into the middle to make a parcel.

Bake for 30 to 40 minutes until the feta is soft. Squeeze a little lemon over if you like and eat immediately with fresh bread.
Notes
Don't have or don't like all the ingredients? No problem, just miss them out! The essential ingredients here are the feta (of course!), plus some oregano and a drizzle of olive oil. The rest are optional!
Nutrition
Calories:
143
kcal
Carbohydrates:
2
g
Protein:
7
g
Fat:
11
g
Saturated Fat:
7
g
Cholesterol:
44
mg
Sodium:
647
mg
Potassium:
55
mg
Sugar:
2
g
Vitamin A:
580
IU
Vitamin C:
15.2
mg
Calcium:
245
mg
Iron:
0.3
mg
I hope you enjoyed this post! You can subscribe to receive posts directly to your inbox here. You can also find more from Scrummy Lane on Facebook and Pinterest and follow me on Bloglovin! Thanks so much for reading!