Would you believe it? Blueberries go brilliantly with crispy bacon and avocado. It's hard to imagine a tastier salad than this blueberry spinach salad. I'd highly recommend serving it with an amazing blueberry vinaigrette. Get this delicious 4-ingredient salad on the table in just 20 minutes!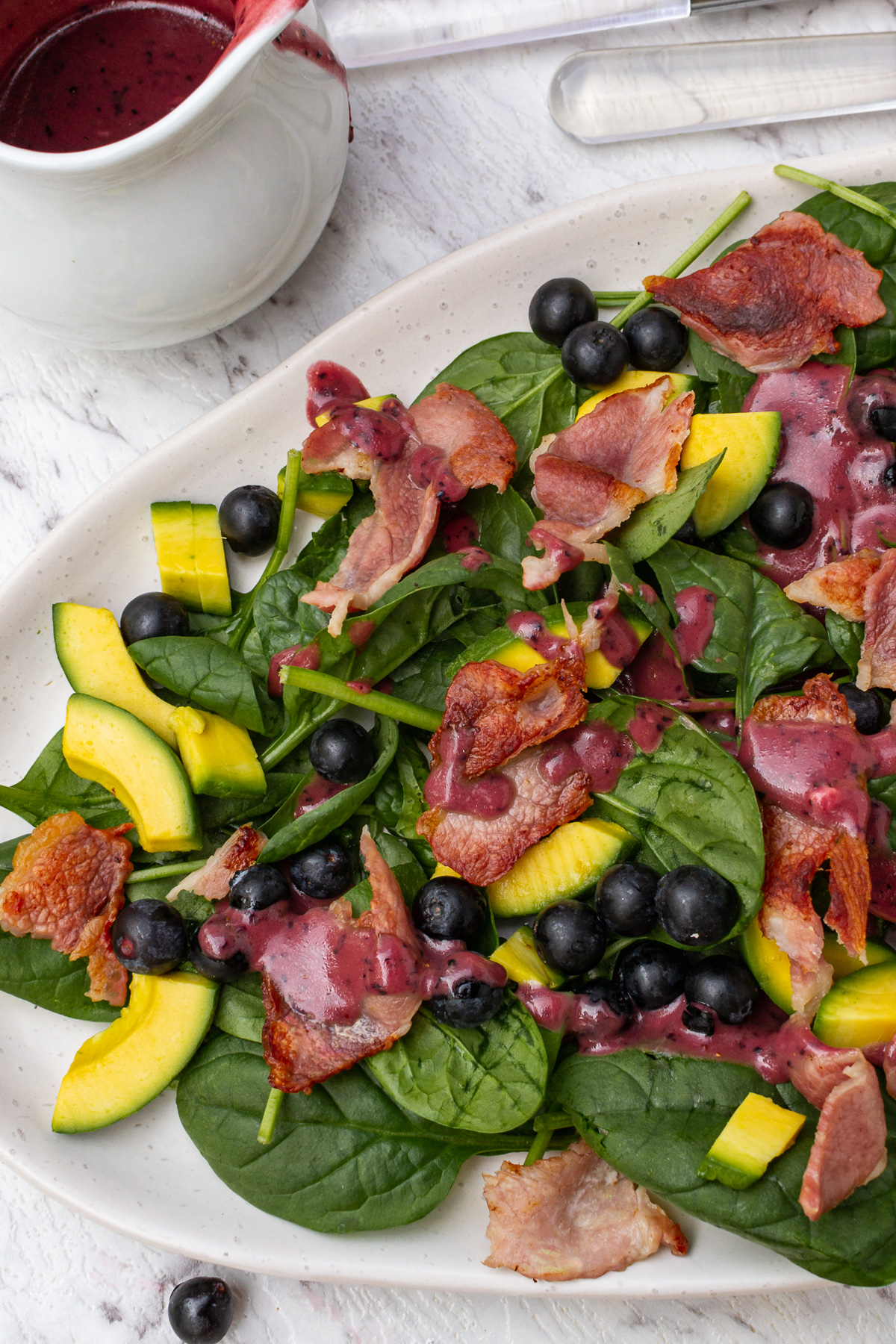 Why you'll love it
What's brilliant about a warm salad is that it's great for any time of year. Not quite cold enough for a casserole? How about a warm salad? Not quite salad days? Make it warm!
I already have some favourite warm salad recipes including this fennel orange salad with radishes, feta and pistachios, and this roasted butternut squash, chorizo and feta salad.
So what's so great about this one?
Make it in around 20 minutes and with just 4 main ingredients.
It's a colourful, healthy, comforting crowd pleaser. It mixes bacon with fruit (blueberries!), creamy avocado and a ton of healthy spinach.
Serve it as lunch, or as a simple but delicious side for dinner or at your next BBQ.
About the ingredients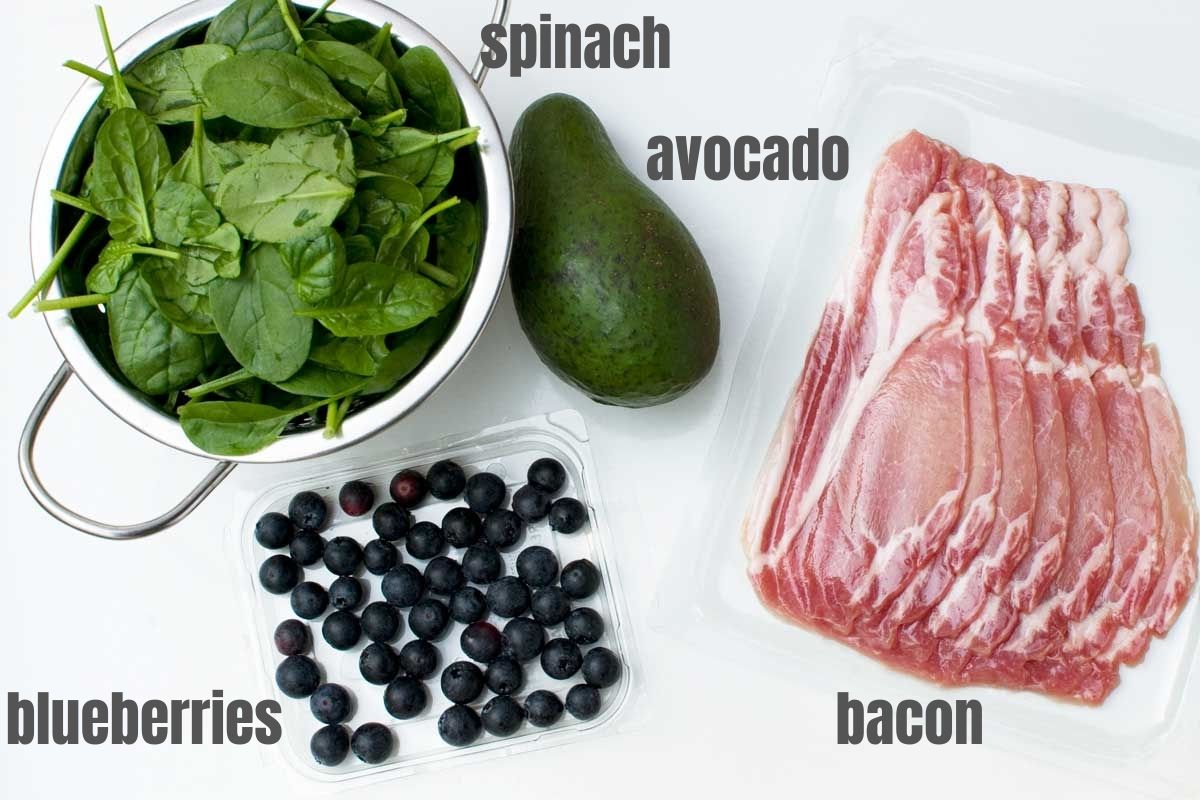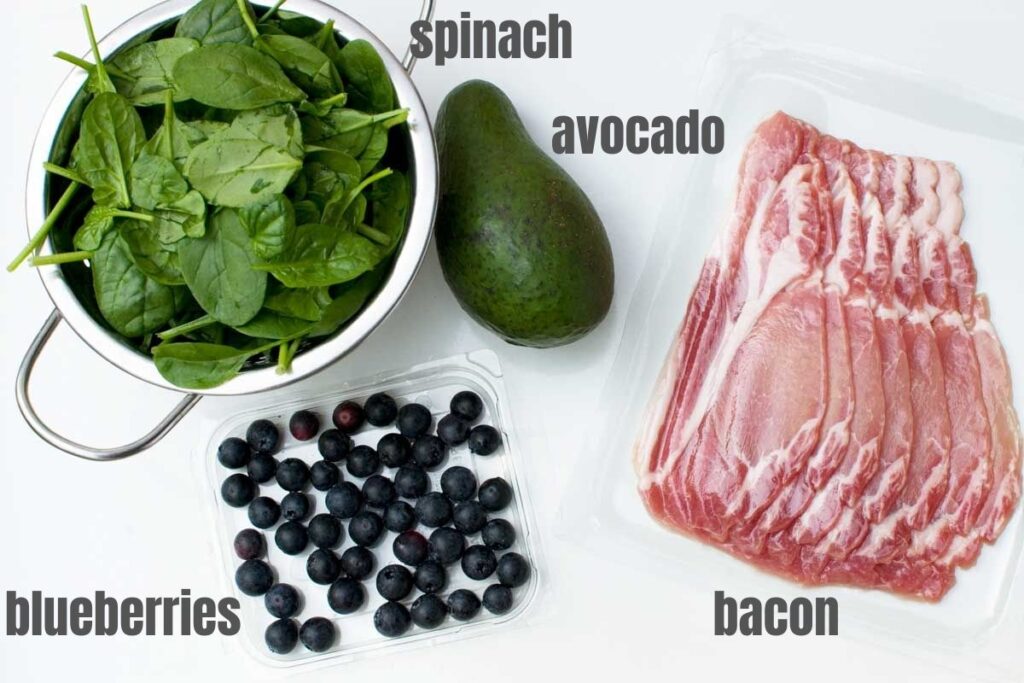 What amazes me about this blueberry spinach salad is how incredibly tasty it is with just 4 main ingredients in it! I say main ingredients because I also recommend serving it with the incredible blueberry vinaigrette. Skip it at your peril!
So to make the salad:
Bacon: For maximum flavour, use smoked bacon. Cook it for a few minutes on each side until cooked through and crisp. I find it easier to lay the whole slices in a big frying pan and cook the bacon that way. After it's done, let it cool slightly before ripping it into pieces.
Spinach: Like all the best spinach salads, start with some nice fresh… spinach, of course! I like to use baby spinach. If you can find organic, great, if not wash it well. I'll let you into a secret, though. I've actually made this salad with different kinds of fresh green salad and it's always delicious.
Avocado: No real rules here but of course it's worth waiting for a perfectly ripe one. Any type. Just peel and chop as you normally would, and throw it in the salad.
Blueberries: Maybe it sounds a bit strange to you to make a salad with blueberries, but hear me out. Bacon is pork and pork often gets paired with fruit, and blueberries are fruit … so why not?
I know blueberries can be expensive (at least they can here in Australia). But surprisingly you only need one standard (fairly small) container of blueberries to make this salad, including the blueberry dressing if you're going to make that too – and you should!
If you only have a handful of blueberries, throw them into the salad. You can use frozen blueberries for the dressing, but I'd stick to fresh for the salad.
For the dressing
For the optional blueberry vinaigrette you need: a few blueberries, olive oil, balsamic vinegar, mustard, honey (plus a bit of water and possibly some seasoning).
Yep, I know that's more ingredients than the salad itself, but it takes just 5 minutes to make. Just throw everything in a food processor (a mini one is perfect) and whizz.
You can read more about this amazing 5-minute blueberry vinaigrette here. What more is there to know, you might be thinking. A-ha, you'd be surprised… 😉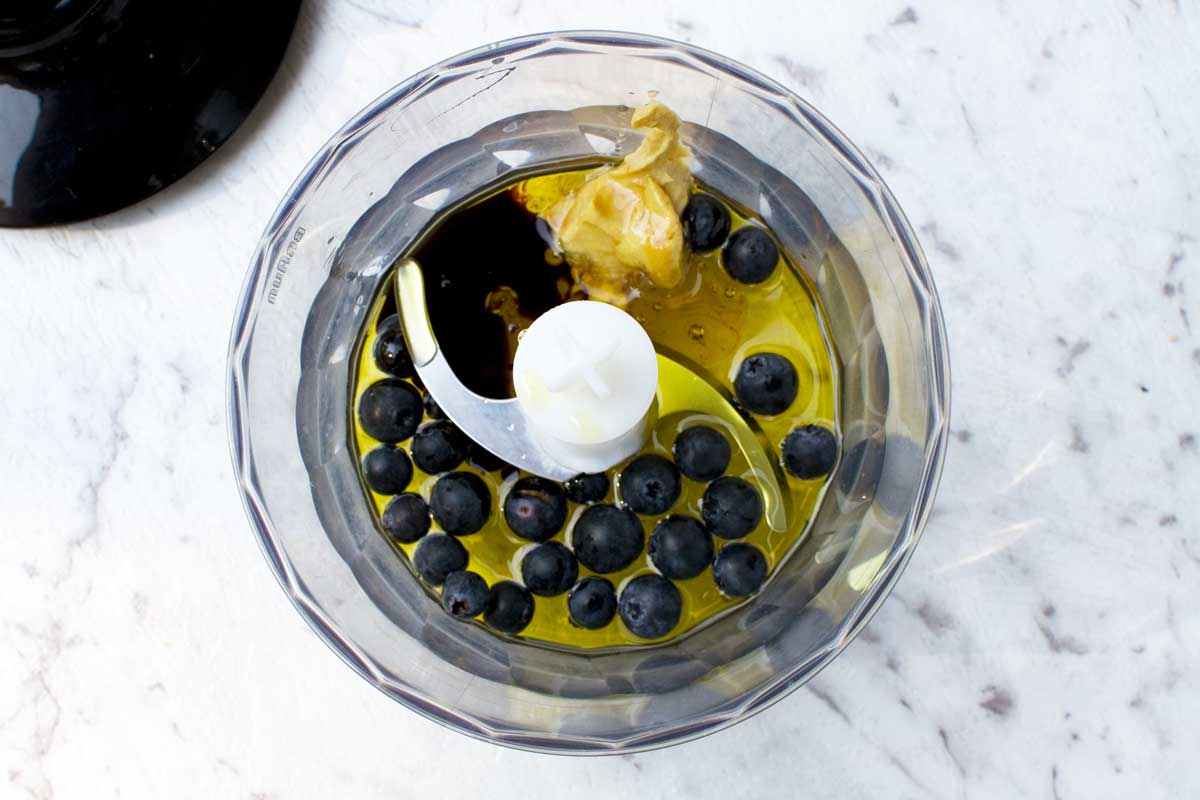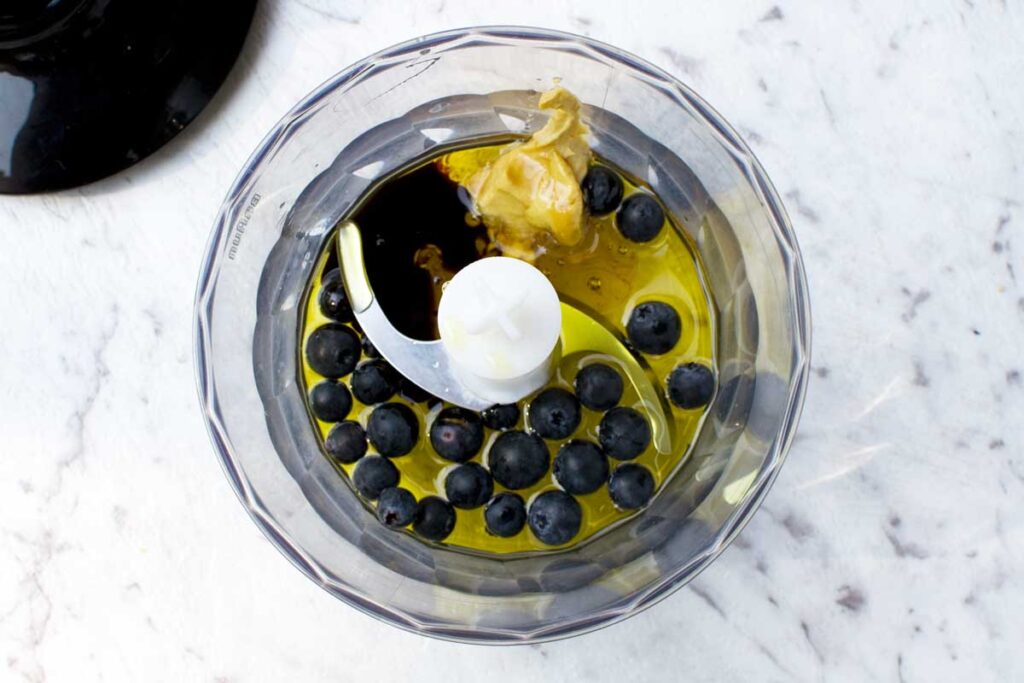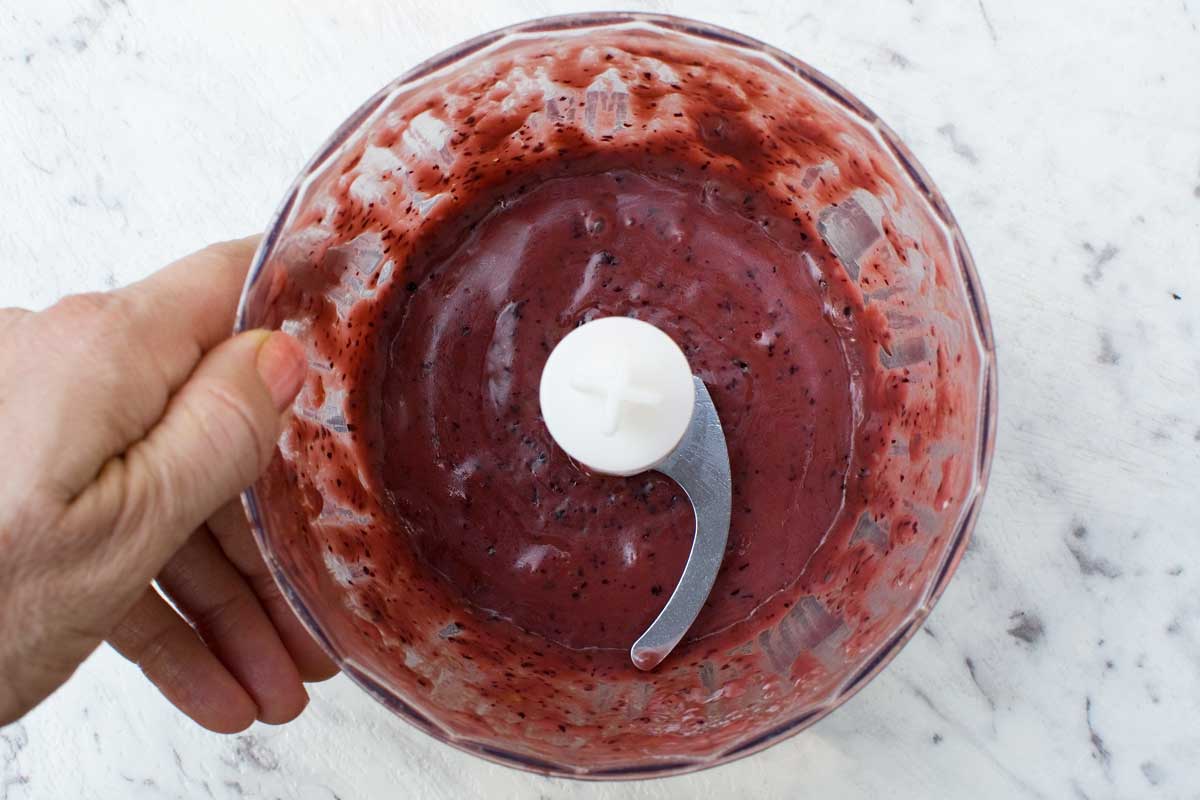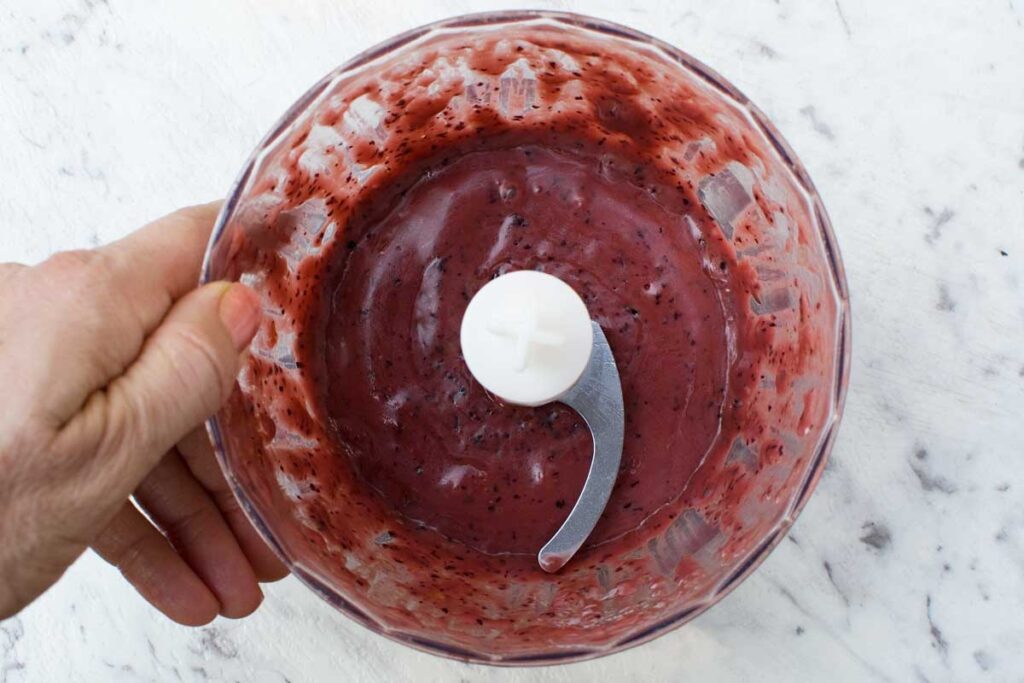 How to make it


Step 1: Cook the bacon! I like to keep it whole. Simply crisp up in a pan (no oil necessary). Then tear into pieces and set aside. Alternatively, got an air fryer? Make air fryer bacon (hands-off, less mess!).
Step 2: Meanwhile, wash and chop everything else.
Step 3: As it's so colourful, I like to use a big salad platter for this salad. Layer up on the platter in this order – spinach, avocado, blueberries, bacon.
Step 4: Drizzle over your favourite dressing. My favourite for this salad is a blueberry vinaigrette, which I've also included in the recipe instructions. But if you like you can use something else, like honey balsamic dressing. Try 1/4 cup olive oil and a couple of tablespoons each of balsamic vinegar and honey.
Step 5: Serve immediately while the bacon is still warm. Mmm!
How to serve it
As mentioned above, serve it drizzled with this blueberry vinaigrette or with another simple dressing of your choice. Even just a good quality olive oil would work.
Make a dinner of it and serve with some simple grilled chicken, steak or fish.
Variations
Not a big fan of bacon (what's wrong with you?) Use supermarket cooked chicken (rotisserie chicken) instead.
For a vegetarian version, why add crispy halloumi instead of bacon? Just cut the halloumi into small cubes, roll in a bit of flour and pan fry in a cm or so of oil until crisp.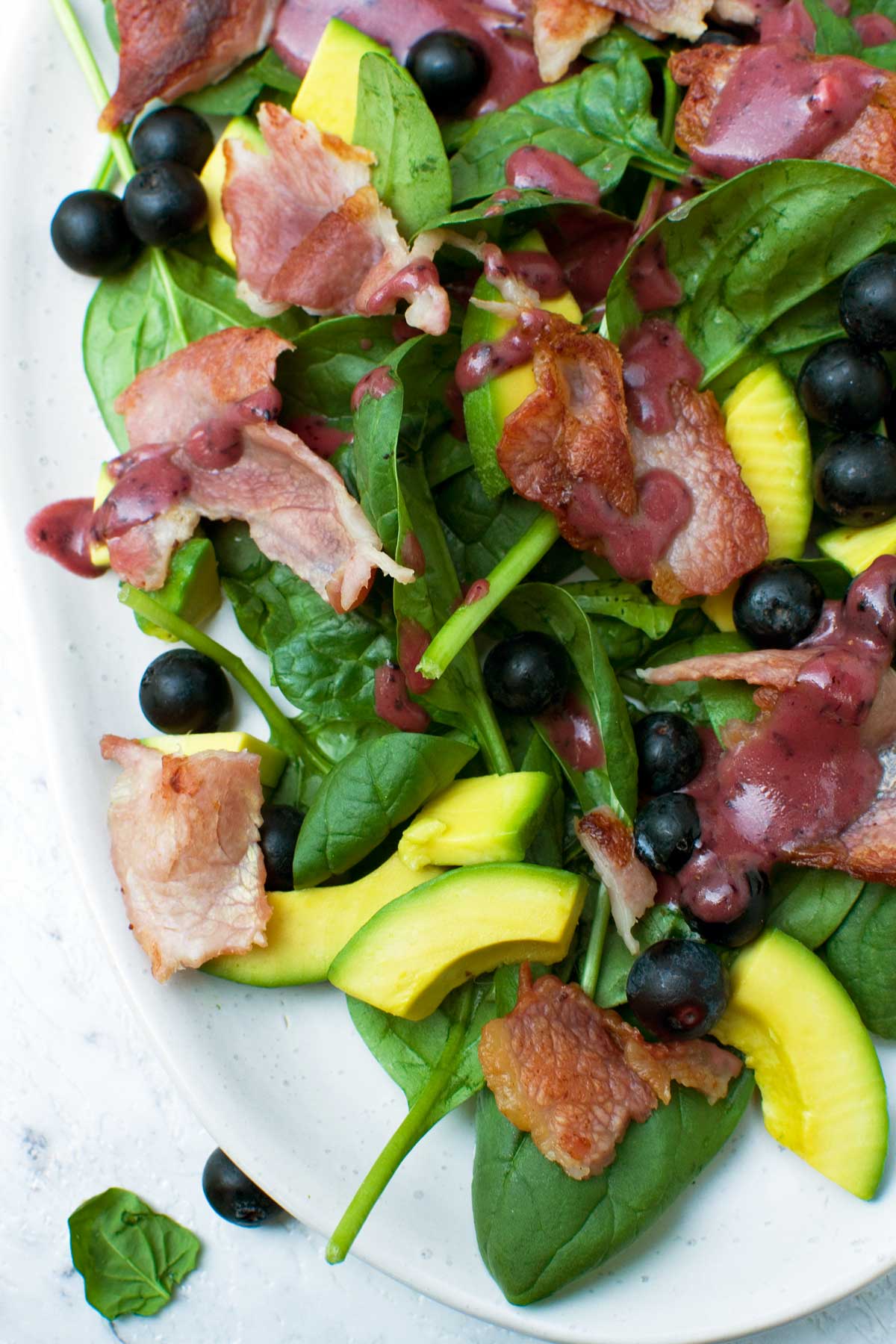 Can you make a blueberry spinach salad ahead?
I usually prepare this salad just before serving as I like to add the bacon just after it's cooked. This way it's a delicious warm salad.

However, you can definitely prepare everything else ahead and then toss the 4 ingredients together at the last minute. I like to prepare the blueberry dressing ahead and keep it covered in the fridge. You can also wash the spinach (if needed).

I recommend adding the avocado at the last minute, however, as of course avocado can brown pretty quickly once it's peeled.
More delicious and easy salads
IF YOU MAKE THIS RECIPE, LET ME KNOW HOW YOU GET ON BY LEAVING A COMMENT AND RATING BELOW… AND DON'T FORGET TO SIGN UP TO RECEIVE ALL MY NEW RECIPES BY EMAIL!
FOLLOW ME ON FACEBOOK, INSTAGRAM, PINTEREST AND YOUTUBE.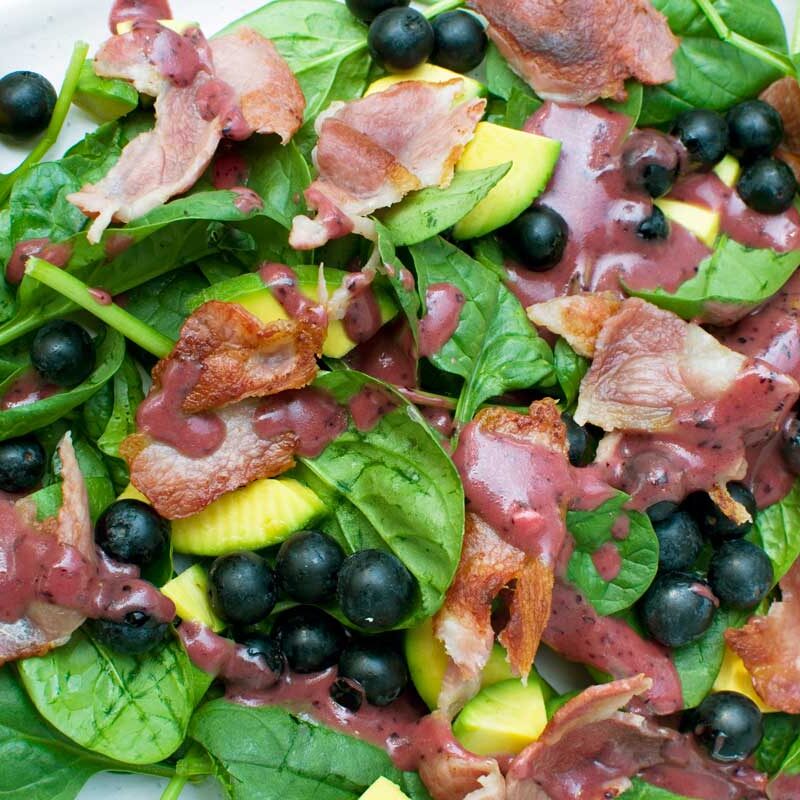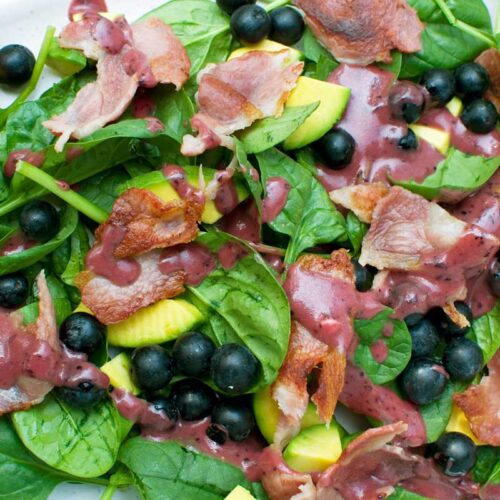 Delicious Blueberry Spinach Salad (With Bacon And Avocado)
A simple 4-ingredient blueberry spinach salad fancied up with crowd pleasing crispy bacon and avocado! I promise you, it all goes really well, and the pièce de résistance is the tangy mustard-y optional but highly recommended blueberry vinaigrette. Delicious, and ready in just 20 minutes.
Equipment (affiliate links)
Ingredients (UK/Australia? Click below for grams/ml)
For the salad
4

slices

smoked bacon

2

ounces

baby spinach

Alternatively, use any fresh salad leaves

½

a large avocado

sliced into chunks

2½

ounces

blueberries
For the dressing
1

ounce

blueberries

2

tablespoons

olive oil

½

tablespoon

balsamic vinegar

½

tablespoon

Dijon mustard

1

teaspoon

teaspoon clear honey
To serve
toasted bread drizzled with olive oil & salt

optional
Instructions
Heat a frying pan over a high heat and cook the bacon for 5 minutes or so on each side until golden and a bit crispy. Transfer to a plate and set aside.

Scatter the salad leaves over a large plate or platter, then sprinkle over the avocado and blueberries. Tear the bacon over the salad, too.

To make the dressing, combine all the ingredients in a food processor (hand-held works well) and whizz until smooth.

Serve the salad with the dressing drizzled over and the toasted bread (if using).
Notes
Cooking the bacon: I find it's easier to cook the bacon in whole slices in a dry pan until crisp, and then tear it into pieces to throw into the salad. Alternatively, if you have an air fryer, I highly recommend trying your hand at air fryer bacon.
How to serve: Serve with this blueberry vinaigrette to elevate your salad from good to exceptional. Alternatively serve with a simple honey balsamic dressing: quarter cup olive oil whisked with 2 tablespoons balsamic and 2 tablespoons honey.
Eat immediately while the bacon is still warm.
Serve as a simple but delicious lunch, or with grilled chicken, steak or fish on the side.
Nutrition
Calories:
345
kcal
Carbohydrates:
17
g
Protein:
14
g
Fat:
26
g
Saturated Fat:
4
g
Cholesterol:
29
mg
Sodium:
586
mg
Potassium:
648
mg
Fiber:
5
g
Sugar:
9
g
Vitamin A:
2761
IU
Vitamin C:
18
mg
Calcium:
45
mg
Iron:
2
mg