Finally, it's the time of year to start eating salads again! This delicious but simple asparagus, tomato and chickpea orzo salad goes perfectly as a side with chicken, fish, or steak.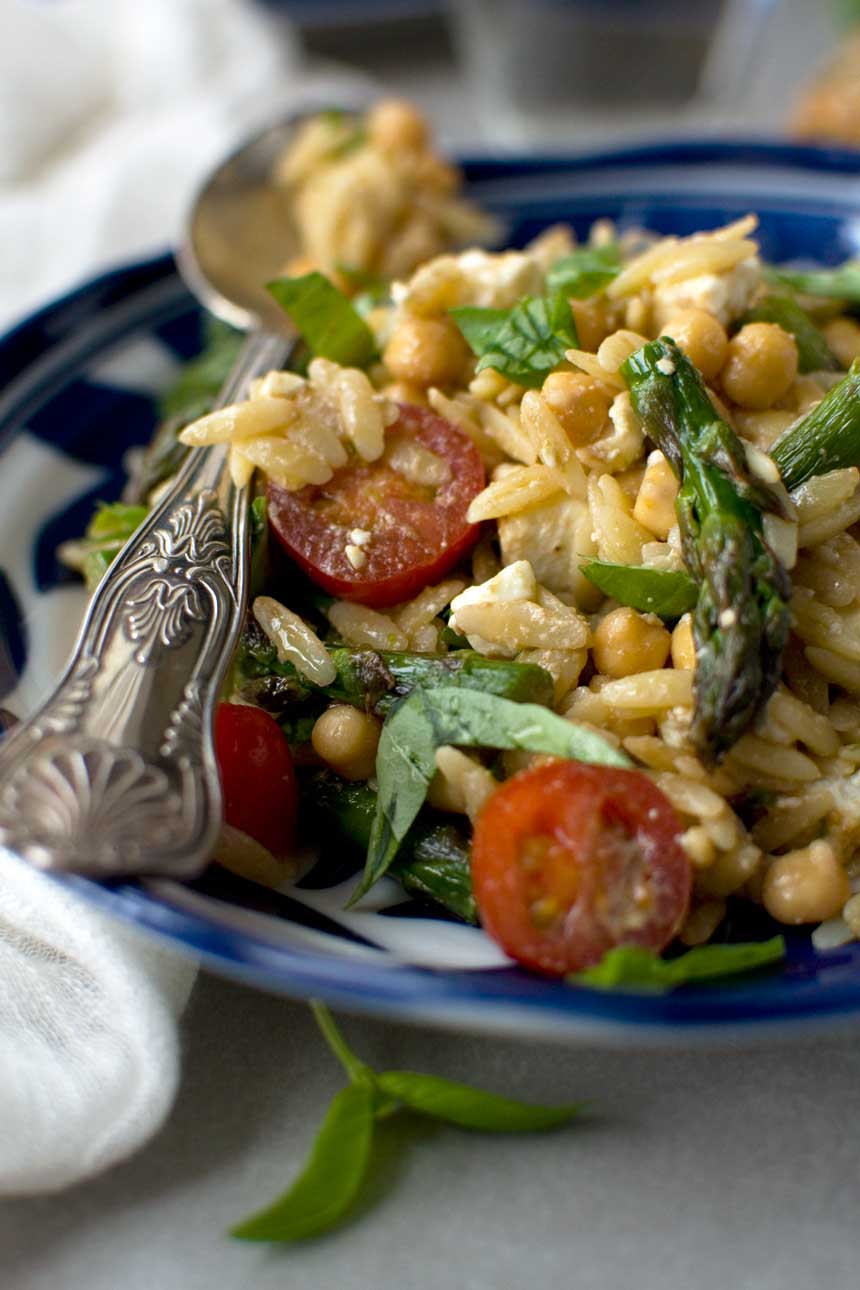 Thanks to our beautiful new addition Benjamin, so far this year is passing by faster than any other I can remember. I can't believe our son is 4 months old already!
It's also been one of my busiest years and to add to the chaos we're about to move… yes, again. If you've been following along for any amount of time you'll know we move from country to country quite a bit. In Australia I think they call us the Ping Pong Poms!
So as we are moving back to Australia, Mr. Scrummy seems to have developed somewhat of an obsession with eating up all the food in the fridge, freezer and cupboards.
Never mind, he says, if we're eating really weird combinations of food for dinner. Let's just eat it all up.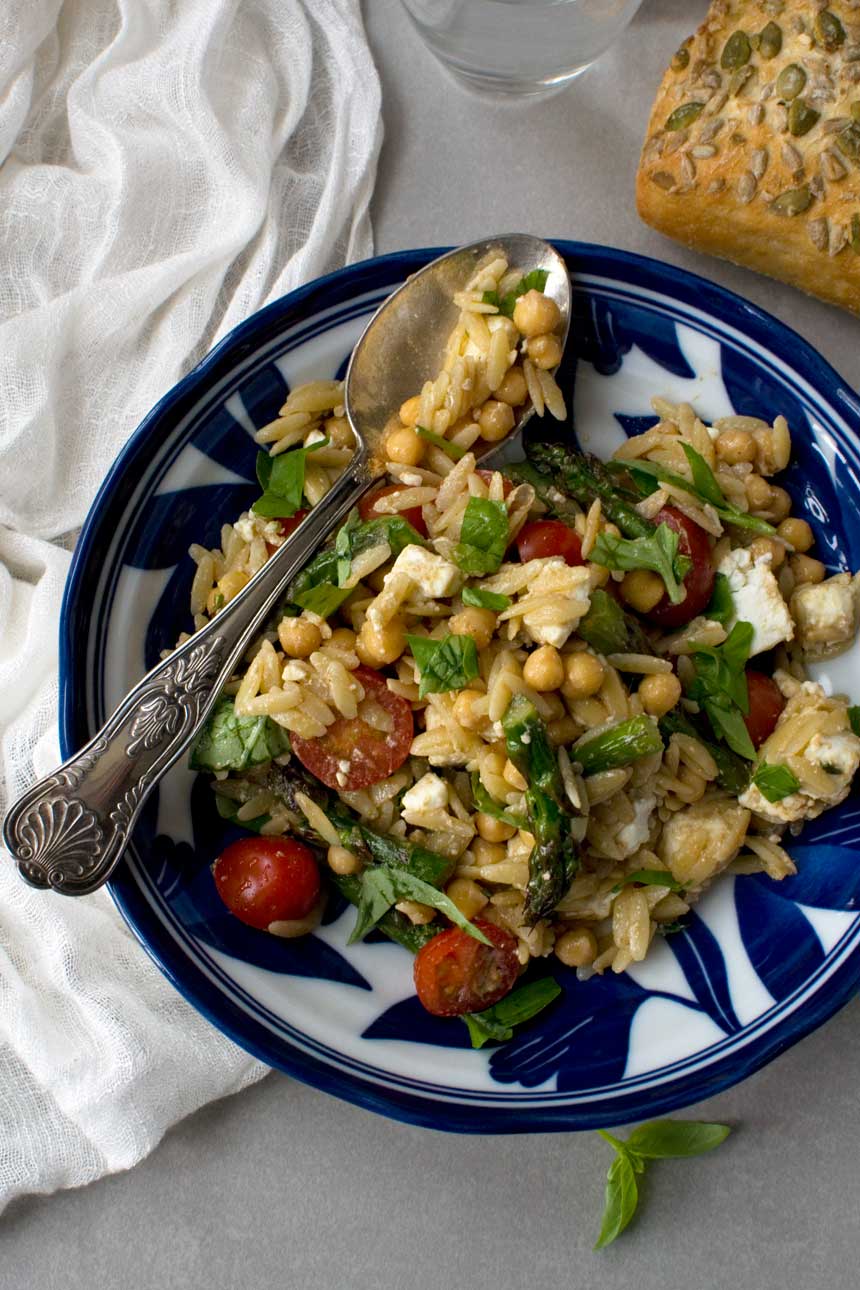 Hmmm. That's all very well but he wasn't so enthusiastic last night when I suggested tortellini and pesto with frozen green beans and corn. I actually don't think that's so weird at all, do you?
Anyway, while deciding what to make for the blog this week (after an epic gnocchi fail…eek!) I came across a can of chickpeas hiding at the back of a cupboard.
My usual solution for using up chickpeas is hummus of course, with some delicious and quick homemade flatbread, but as I was (really really!) short of time this week I decided to make a salad.
I kept it fairly simple, making the star of the show some lovely griddled asparagus – after all, asparagus has such a short season here we have to eat as much of it as we can.
To this I added some sweet cherry tomatoes, halved, cubes of feta cheese, those back-of-the-cupboard chickpeas, loads of fresh basil leaves, and finally the cooked orzo pasta (if you're not familiar with orzo, it's like rice-shaped pasta and available from big supermarkets here in the UK).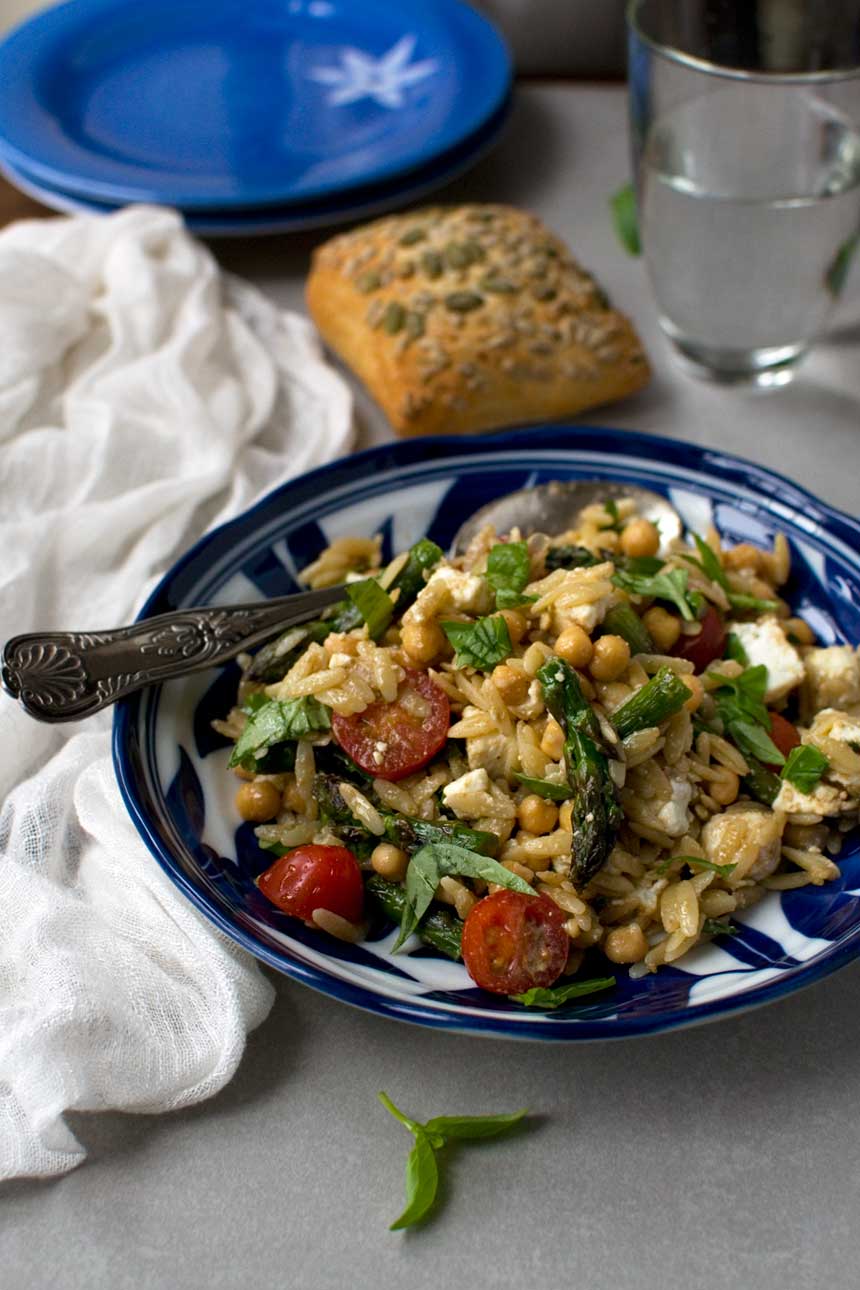 The icing on the cake is of course the dressing. Again I kept it simple, combining just olive oil, balsamic vinegar, a little bit of Dijon mustard and some pepper. I skipped adding any extra salt because there's plenty of that in the feta.
I added about half the dressing to what became a humungous salad (enough for about 6 as a side dish with chicken, fish or steak, for example). Another option would be to take this along to a pot luck. It would definitely serve a crowd if everyone was just having a little bit.
Then I left the rest of the dressing for everyone i.e. just me and Mr. Scrummy to drizzle over their own portion. If you like though just add all the dressing at the start. Add and taste until you have it to your liking!
Wish us luck with our move. You might just find another store cupboard recipe on here next week. I tell you, Mr. Scrummy's determined to use up all that food. He's a man possessed!

Asparagus, tomato and chickpea orzo salad
Prep time:
Cook time:
Total time:
Looking for something refreshing, simple, and healthy to go with your chicken, fish, or steak main? Look no further! This asparagus, tomato and chickpea orzo salad is the perfect choice!
Ingredients
for the salad
7 ounces / 200 grams orzo pasta
1 large bunch asparagus, woody ends removed
7 ounces / 200 grams cherry / small tomatoes, cut into halves or thirds
7 ounces / 200 grams feta cheese, chopped into small cubes
a bunch of fresh basil, roughly chopped
1 x 14 ounce / 400 gram can chickpeas / garbanzo beans, drained
for the dressing
3 tablespoons olive oil
1½ tablespoons balsamic vinegar
1 teaspoon Dijon mustard
1 clove garlic, crushed
a few grinds of black pepper
Instructions
Cook the orzo according to the packet instructions. Drain and rinse in cold water, then add to a large bowl.
Meanwhile, prepare the asparagus. Griddle or pan fry in a tiny bit of olive oil until tender and slightly charred (about 10 minutes). Chop into small lengths (a few centimetres each). Let cool for a few minutes while you prepare the rest of the ingredients.
Add the tomatoes, feta, asparagus pieces and basil to the large bowl of orzo with the drained chickpeas / garbanzo beans.
Whisk the dressing ingredients together, then pour over the salad (to taste – you might like to start with just half and see how you like it*)
Serve with chicken, fish, steak, or whatever you like, and fresh crusty bread. Delicious!
Notes
*I like to pour about half to two thirds of the dressing over the salad, then let everyone add a bit more to their own portion if they like. Mr. Scrummy doesn't like too much balsamic dressing on his salads, but I like a bit more!

This salad keeps quite well in the fridge for two or at a push three days (I polished off the leftovers on day 3 and it still tasted really good!).