If you're looking for a trusty side dish to come to your rescue at mealtimes all year round, these Mediterranean roast vegetables could be it. They're juicy, colourful and healthy, ridiculously easy to make, and go with almost anything. Perhaps most importantly, they're easy to prep and out of the oven in just over 30 minutes, or even less time if you make them in your air fryer.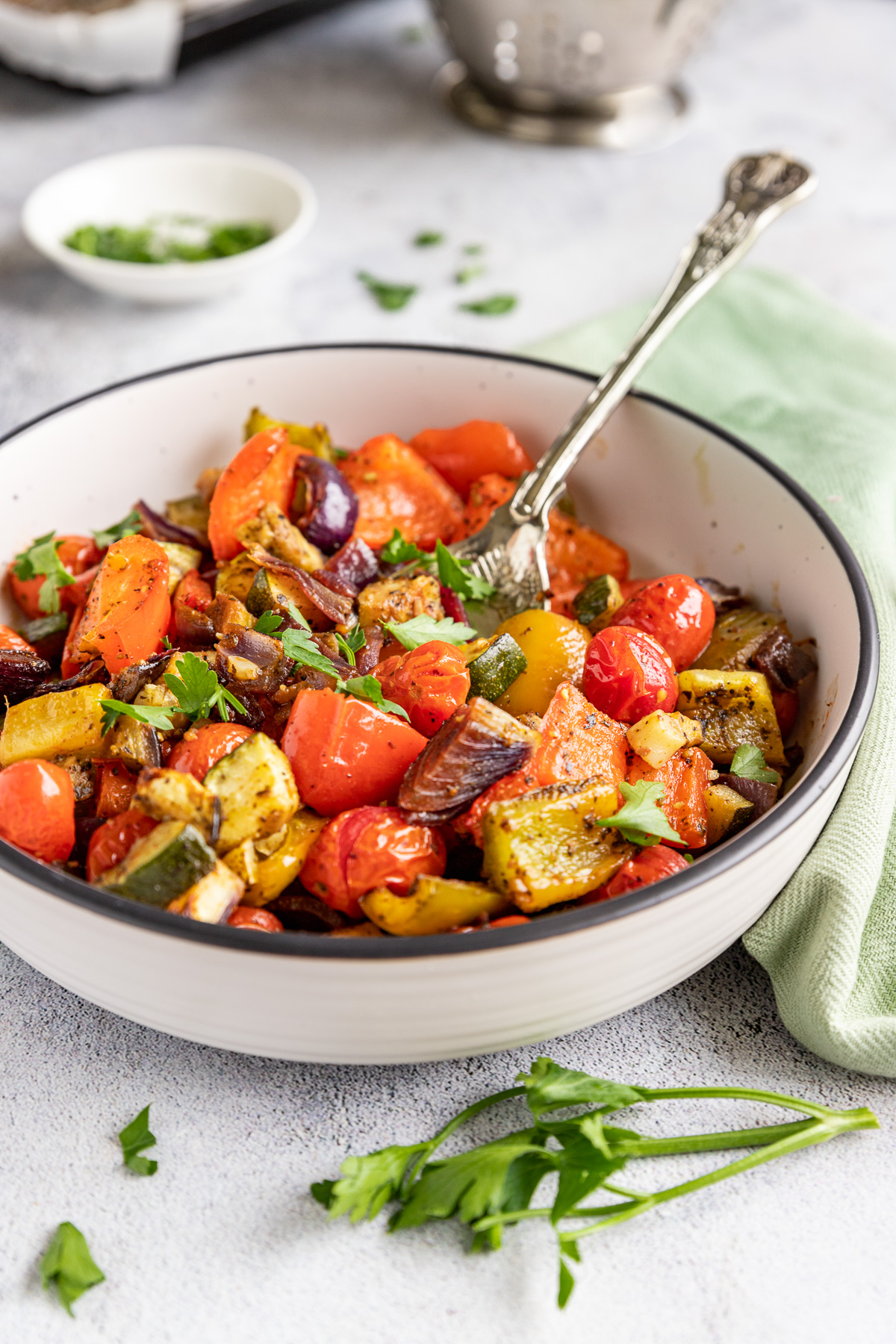 Why you'll love them
I make these roasted Mediterranean vegetables at least once a week – sometimes more. They're a great summer side for quick midweek meals, BBQs and more. But I make them all year round. Here's why:
They're so easy to prep. You can even do the 'work' in advance. All you do is chop all the vegetables roughly, throw them on a baking tray lined with baking paper, and toss them in olive oil and a few basic herbs and spices.
They take only around 30 minutes to roast. Or half that time in an air fryer. Maybe toss them around half way through cooking. That's it.
You probably have the vegetables in your fridge already. There's nothing unusual or hard to find. If you don't have one of the veggies, you can skip it or replace with something else.
They're colourful. They're healthy. They're crowd pleasers. What more can I say?
About the ingredients
You might be wondering why I call these Mediterranean vegetables!
There are actually many vegetables that are commonly grown and cooked with in Mediterranean countries such as Greece, Spain and Italy. But the 5 vegetables listed below (+ garlic!) are the ones I most commonly roast together, because they all cook in around the same amount of time (apart from the tomatoes which I add later).
You could say they're roasted summer vegetables, because they're plentiful and at their best in the summer. But to be honest I make them all year round!
I forgot the garlic in the photo below, but you may find it helpful to 'see' which veggies I include.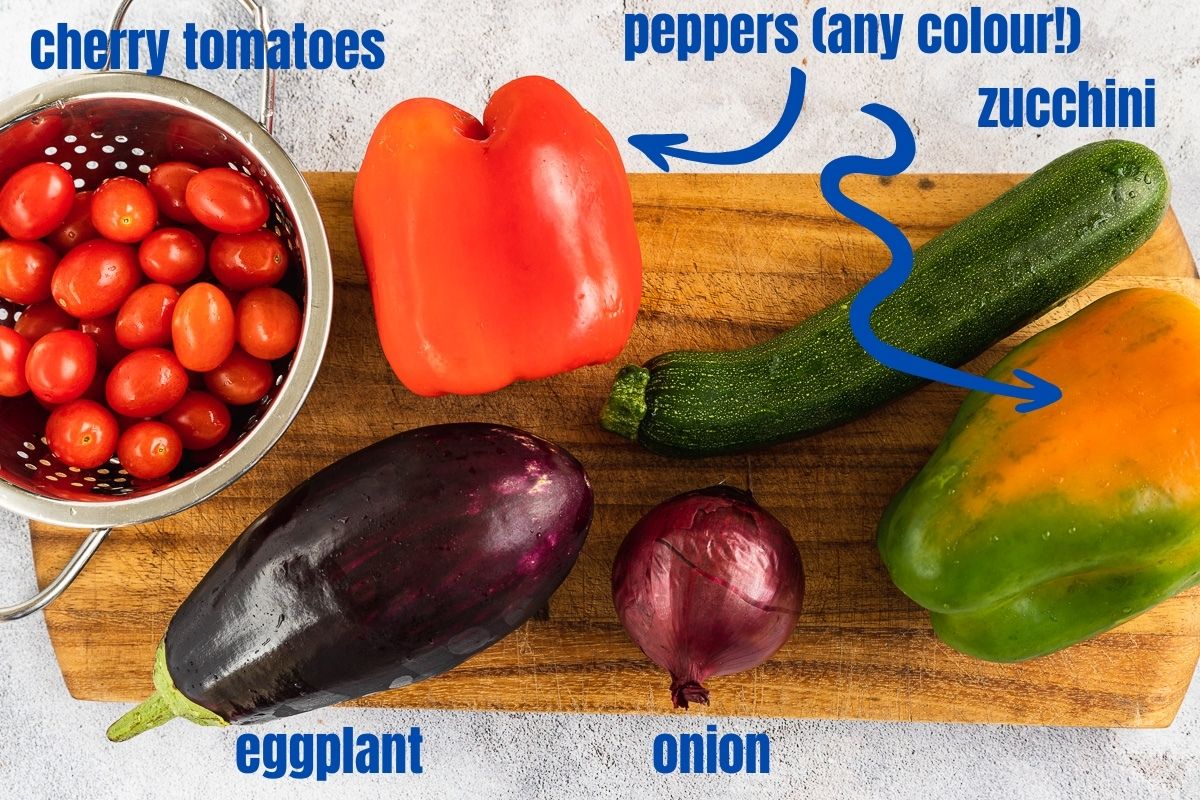 Eggplant: You only need part of a small eggplant. I recommend slicing it into rounds, then into roughly 1 inch cubes. Roasted eggplant is delicious, but not if it's undercooked!
Zucchini/Courgette: I slice it into thick rounds, then slice each round into quarters.
Red onion: Slice into thick(ish) chunks. I usually use 1 big or 2 smaller onions. Roasted onions are particularly delicious! If you don't have red onion, any onion is fine.
Peppers/Capsicum: I always include peppers because they add sweetness and colour. Red pepper is usually my first choice, but I often include a yellow, orange or green one, too. I usually keep the pieces a bit larger because peppers cook quite quickly.
Cherry tomatoes: I ALWAYS throw in a whole container of cherry tomatoes (around 250 grams or 9 ounces). They add more colour and almost become like a sauce when you squish them with your fork. I add them around half way through because they cook in less time than the other veggies.
Oil and herbs/spices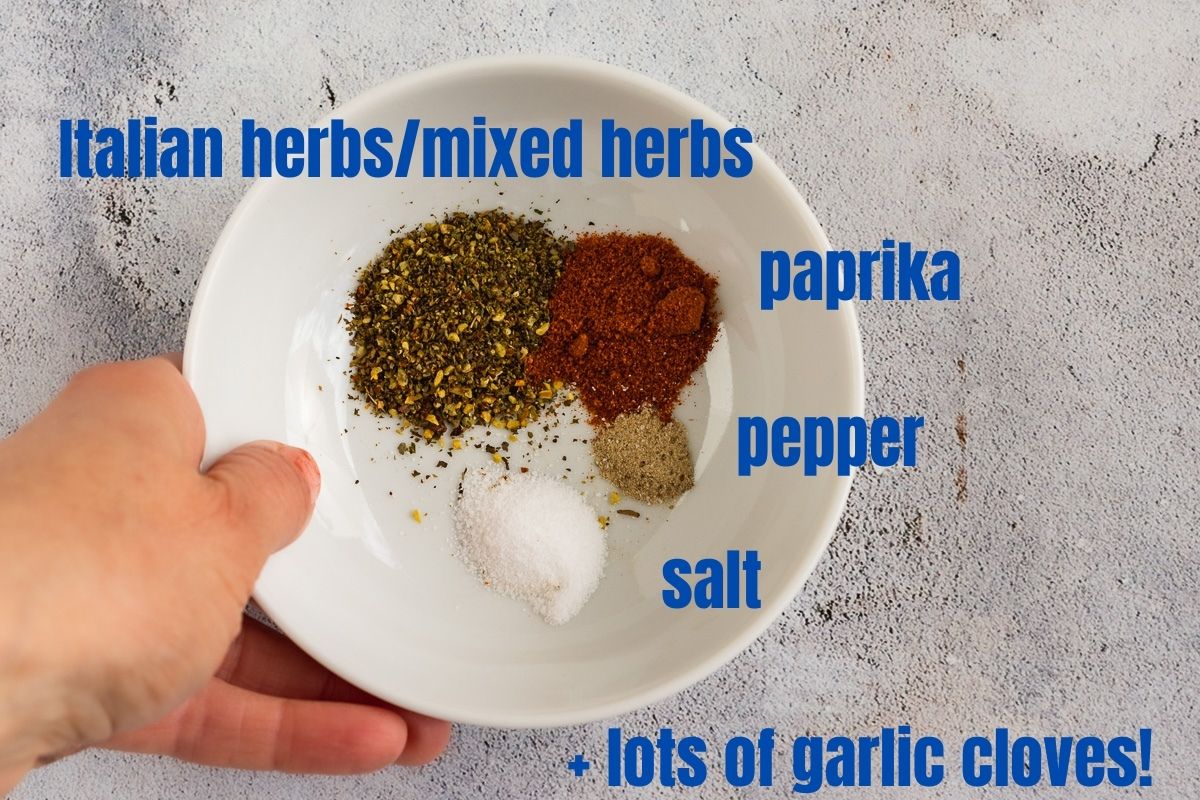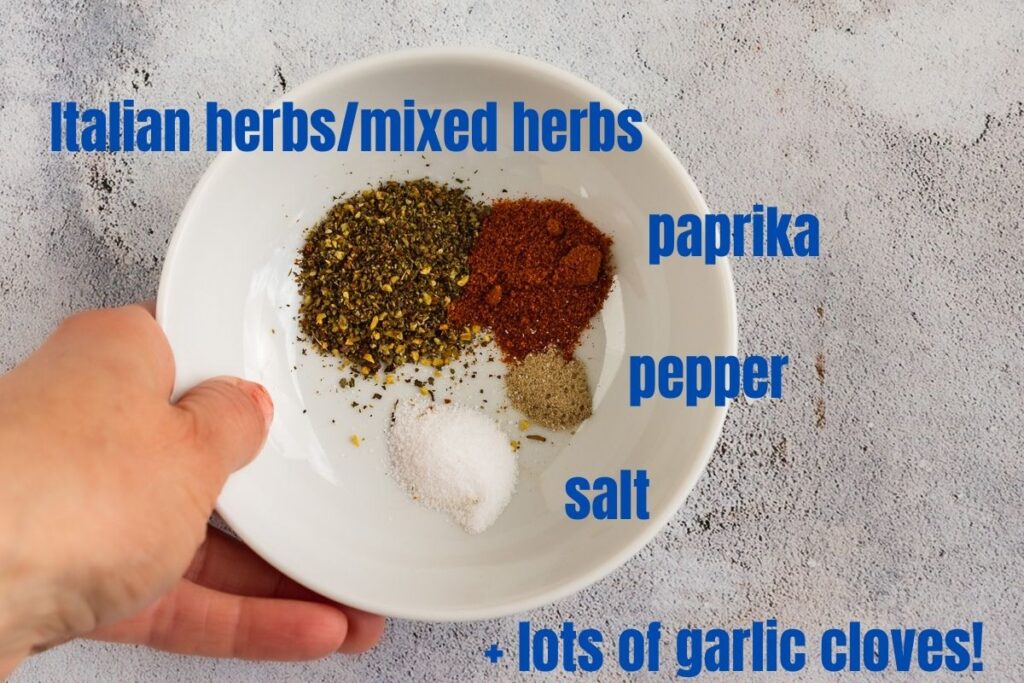 Olive oil: Of course, no self respecting Mediterranean vegetables recipe would be complete without a good drenching in olive oil! Actually, you need around 3 tablespoons – roughly. Not too much, not too little.
Garlic: Throw loads of cloves of garlic on the tray, too (at least 5 to 6 cloves, but more if you like). Roasted garlic is mild, sticky, sweet and delicious!
Mixed Italian herbs (or similar): I usually throw on a good teaspoon of dried mixed herbs. I use mixed herbs for ease, but if you've only got basil or oregano or thyme, that's fine too.
Paprika: You could say this is the 'secret' ingredient. Just half a teaspoon adds some extra smoky flavour, but you can easily skip it if you don't have any.
Salt and pepper: Of course! I usually just grind plenty of both over before giving the veggies a final toss and popping them into the oven.
How to make them in the oven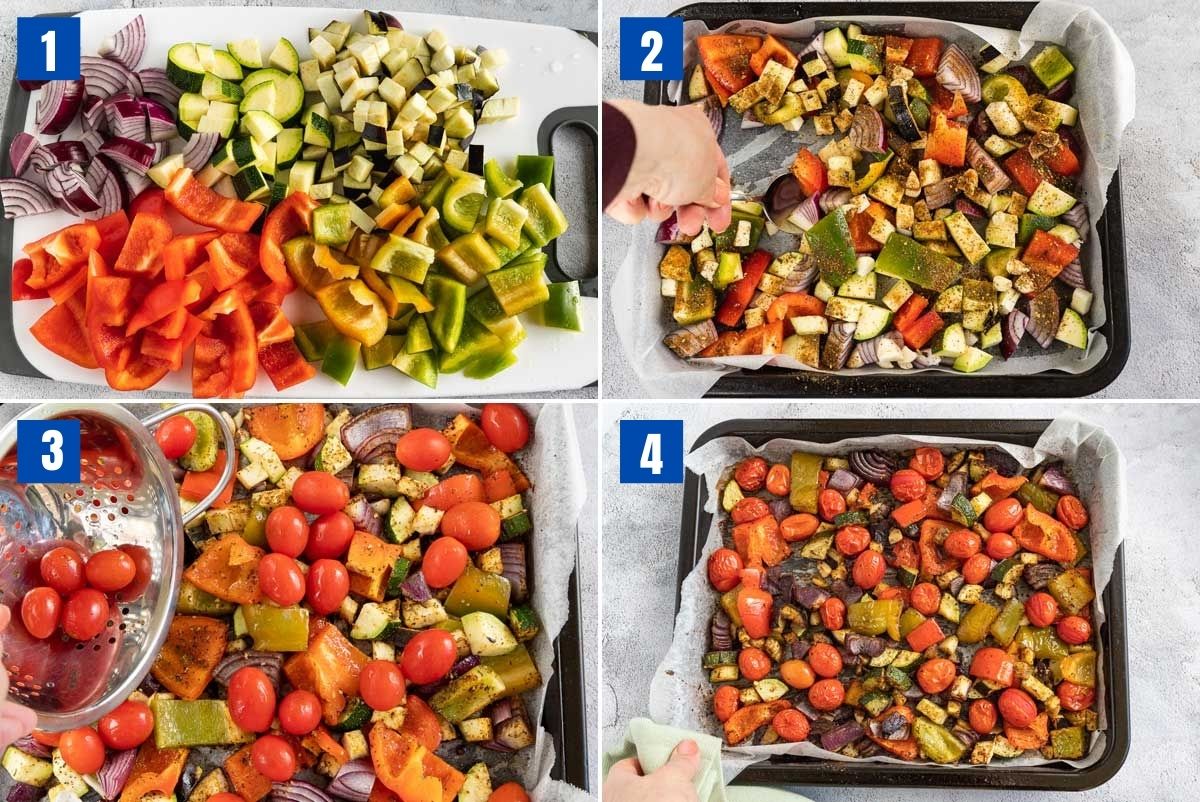 Step 1: Quickly chop all the vegetables apart from the tomatoes. You don't need to be very precise about it. I usually cut the eggplant into smallish cubes and keep the peppers quite large so that everything cooks evenly in around half an hour.
Step 2: Throw them all onto a lined baking tray. You don't have to line the tray but it makes clean-up SO much easier. Toss with all the herbs and spices and around 3 tablespoons of olive oil. Roast for around 15 minutes at a fairly high temperature – so 220C/425F.
Step 3: Add the tomatoes to the tray, then roast again for another 15 or 20 minutes or until the vegetables are browning and starting to caramelise – but not burnt!
Helen's top tip: Use a large baking tray so that the veggies don't crowd each other out and become soggy. Giving them space results in deliciously golden, caramelised veggies!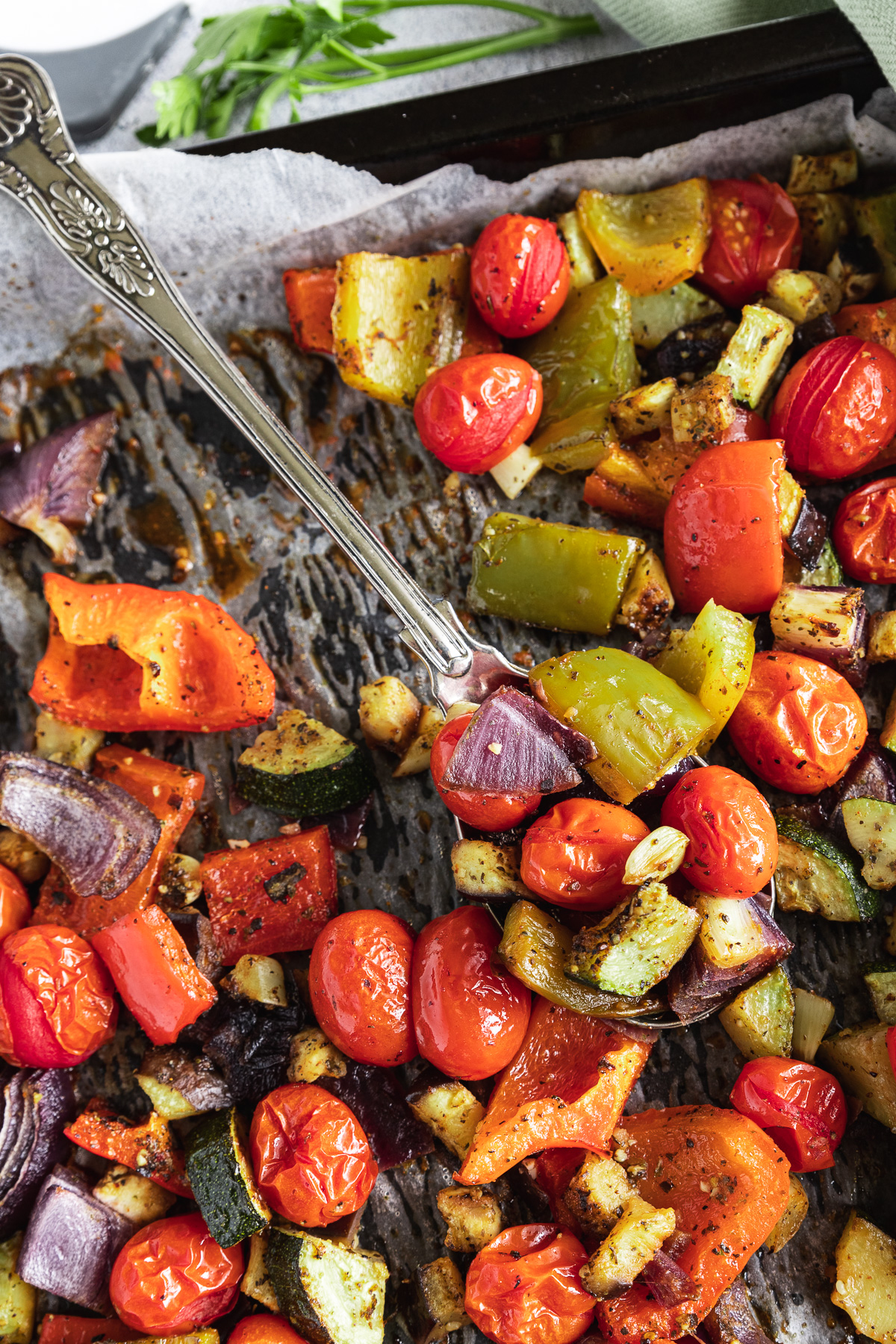 How to make them in your air fryer
These vegetables are also perfect for air frying! Prep them in the same way as you would for the oven, except it's better to season them with the flavourings in a big bowl. Mix them well with the oil (you can spray it on if you'd like to use less). Then empty into the air fryer basket.
If you have a basket-style air fryer, I'd recommend halving the recipe, or saving the second half of a full batch to cook another day. If you have an oven-style air fryer you might be able to get away with cooking the full amount.
Preheat your air fryer to 190C/375F. Pour the vegetables into the basket, then air fry for between 10 to 15 minutes or until golden and crisp in parts. Toss the vegetables every 5 minutes so that they cook evenly. Also this way you can check on their progress as you'll need to learn how long to cook them in your particular brand of air fryer (cook time varies!).
As with the oven version, you'll want to add the tomatoes around half way through the cooking time.
Make the recipe your own
Vegetable substitutions: I usually don't add root vegetables such as carrots, beetroot or parsnips to the tray because they do better roasted at a higher temperature and for a longer time.
However… I must admit that I do sometimes add some sweet potato. The key is to cut it into really small cubes so that it's done at the same time as the other vegetables. You could do this with ordinary potato, too – but don't forget to cut it into small cubes.
Mushrooms also roast well in the same amount of time as the other vegetables, so why not add a few to the tray as well?
Flavour substitutions: Although my go-to is Italian mixed herbs, you can literally throw a teaspoon of ANY dried herbs you have or like – basil, oregano, thyme or a mixture. You could also sprinkle over a pinch of chili flakes. If you don't have garlic cloves and/or onion, sprinkle over around a quarter teaspoon each of garlic and onion powder.
If you want to be really fancy (!) you can add a few sprigs of fresh herbs to the tray instead of dried – oregano, thyme, or a bit of rosemary, although go easy on the rosemary.
My 'wild card' suggestion? Try tossing a drizzle of honey through the veg, too. Add it at the same time as adding the tomatoes to prevent burning. Delicious!
Optional toppings/garnishes: Why not sprinkle some fresh basil or parsley over the dish just before serving? Or even some crumbled feta cheese? Mmmm.
What to serve them with
This is one of my go-to easy side dishes. It's perfect to go with almost any main dish.
One meal that is on almost weekly rotation at our place is simple baked salmon with these Mediterranean vegetables. Just bake the salmon for around 10 to 15 minutes – drizzle with olive oil and put in the oven at the same time as you add the tomatoes to the baking tray. I usually add some of this 2-minute toasted bread with olive oil and salt as well.
Another option is to serve them with either chicken baked kabobs or these easy baked chicken thighs and olive oil toasts as described above!
I've also been known to serve roasted veg with:
This even makes a good side dish when you have guests. Just pile the veg into a nice serving bowl, sprinkle with a little chopped parsley or basil, and let everyone serve themselves.
Helen's top tip: Make more than you need. Cooked roasted veg keep well in the fridge for a few days. They're perfect for stirring through pasta or pasta or couscous salad, as pizza toppings, or as toasted sandwich or quesadilla fillings. Try these yummy caprese quesadillas!
More things to know (FAQs)
My vegetables came out soggy. What did I do wrong?
You may just need to roast your vegetables for a bit longer. Try 5 minutes then check again. Also, remember not to crowd the baking tray too much. Your veggies need room to 'breathe' to brown and caramelise well.

Another little trick is to blot the vegetables before adding them to the baking tray or dish to remove any excess moisture. Just use a clean tea towel or even kitchen paper to do this.
Can I make them ahead?
Yes, absolutely! If you cook them ahead and then reheat them in the microwave, they'll lose any crisp they had when they first came out of the oven. But they'll still be really tasty. I've done this lots of times.

Alternatively, you can prepare the vegetables, then cover the baking tray and store it in the fridge until you're ready to cook. You can even add the herbs/spices and oil ahead of time.
I have leftovers! What can I do with them?
I have so many ideas for you! Leftover roasted Mediterranean vegetables will keep well covered in the fridge for a few days. Use them as pizza toppings, for toasted sandwiches or simple quesadillas with cheese, or to add to simple pasta dishes or pasta salads. You can also stir them through salads to make an ordinary salad into something really delicious.

Roasted vegetables are also great for throwing into a quiche. Add them to this amazing crustless quiche (impossible quiche) to make it an even easier meal.
Can you freeze roasted vegetables?
Actually, you can! Let them cool completely, then pop them into freezer containers or bags. You might like to separate them out in the freezer bags, then lay them flat in the freezer so that they don't all stick together. To be honest though this doesn't matter too much as they will 'unstick' soon enough when you defrost them!

They'll keep well for around 6 months in the freezer. To reheat, let defrost, then reheat covered in the microwave for a minute or two until hot. They won't be crisp reheated this way, of course. Breathe some new life into them by reheating in the oven for 10 minutes at a high temperature – say 445F/230C.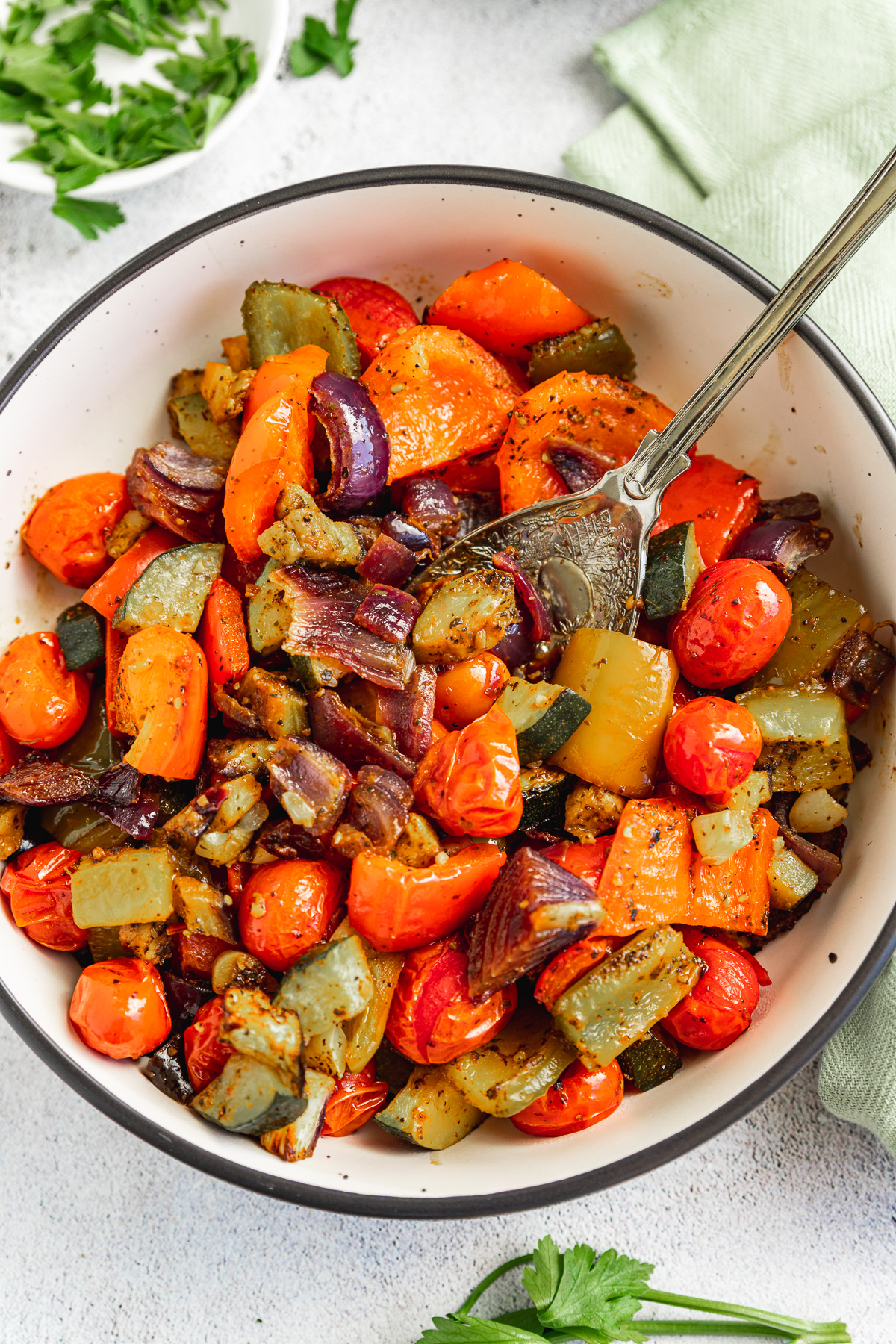 IF YOU MAKE THIS RECIPE, LET ME KNOW HOW YOU GET ON BY LEAVING A COMMENT AND RATING BELOW… AND DON'T FORGET TO SIGN UP TO RECEIVE ALL MY NEW RECIPES BY EMAIL!
FOLLOW ME ON FACEBOOK, INSTAGRAM, PINTEREST AND YOUTUBE.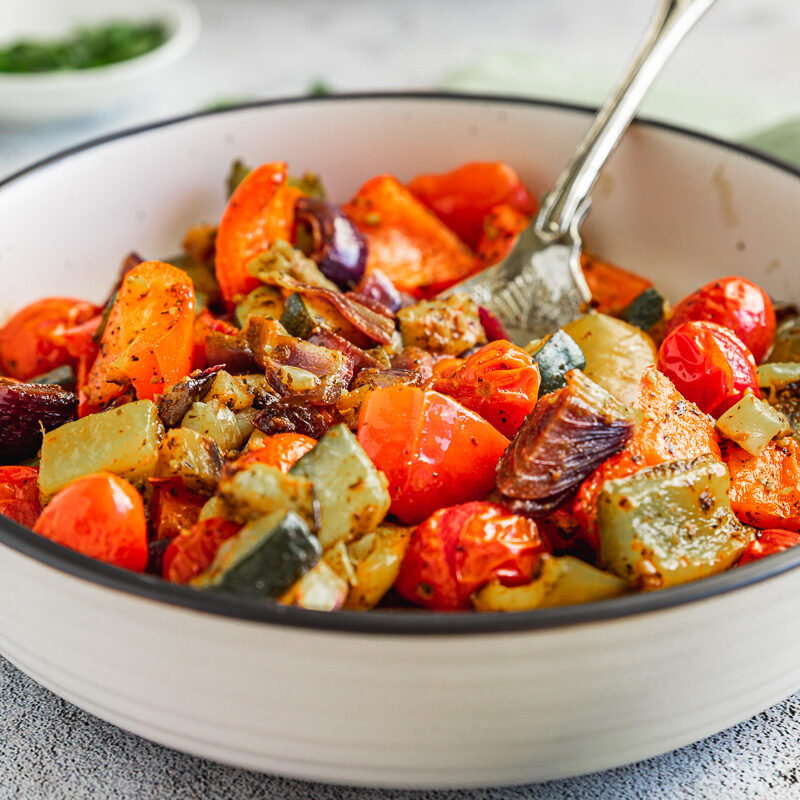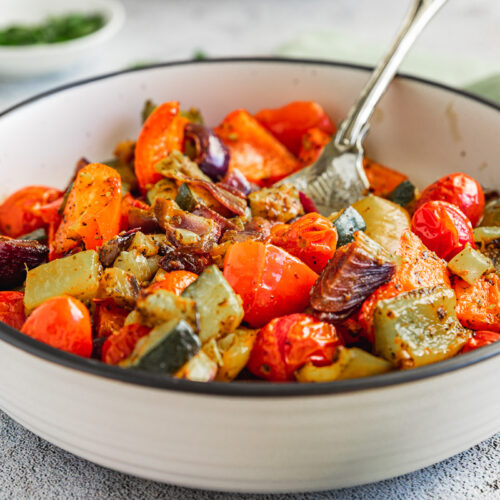 Mediterranean Roast Vegetables (Oven Or Air Fryer)
Looking for a go-to easy side dish that's also economical, healthy and delicious? You won't go wrong with these Mediterranean roast vegetables. Throw them on a baking dish, toss through some olive oil and simple herbs and spices, and roast for around half an hour (or just 15 minutes if you're using your air fryer). They're low-carb, go with virtually any main dish, and the leftovers are great on pizza, salads, sandwiches and more.
Equipment (affiliate links)
Ingredients (UK/Australia? Click below for grams/ml)
½

medium

eggplant

sliced into rounds and then into small cubes (1 inch) (UK = aubergine)

1

small

zucchini

slice into rounds like a cucumber, then halve or quarter the rounds, depending on how big they are (UK = courgette)

1

red pepper

sliced roughly into large(ish) pieces (Australia = capsicum)

1

yellow pepper

(or orange or green)

1

medium

red onion

peeled and chopped into rough chunks (white onion is fine too)

5

cloves

garlic

peeled and quartered (add more if you like)

9

ounces

cherry tomatoes

Or other small tomatoes, or even larger tomatoes, chopped.
Herbs, spices, oil
½

teaspoon

paprika

1

teaspoon

dried mixed herbs

Italian or other, or use whichever dried herbs you have e.g. basil, oregano, thyme

½

teaspoon

salt

(or just grind over plenty)

¼

teaspoon

pepper

3

tablespoons

olive oil
Optional garnishes
a few fresh herbs e.g. basil, thyme/oregano leaves, chopped fresh parsley

crumbled feta cheese
Instructions
Oven version
Preheat the oven to 220C/425F.

Scatter all of the chopped vegetables apart from the tomatoes over a large baking tray lined with baking paper.

½ medium eggplant,

1 small zucchini,

1 red pepper,

1 yellow pepper,

1 medium red onion,

5 cloves garlic

Drizzle over the oil, then scatter over the spices, herbs and seasoning. Toss well with a big serving spoon.

½ teaspoon paprika,

1 teaspoon dried mixed herbs,

½ teaspoon salt,

¼ teaspoon pepper,

3 tablespoons olive oil

Roast for 15 minutes. Take out of the oven and toss again, then scatter the cherry tomatoes over the tray of veggies.

Roast for another 15 minutes or until the vegetables are starting to go golden brown and lightly crisped and caramelised.

Serve as they are, or pile into a big bowl and scatter with a few fresh herbs and/or crumbled feta cheese.

a few fresh herbs e.g. basil, thyme/oregano leaves, chopped fresh parsley,

crumbled feta cheese
Air fryer version
Set the tomatoes aside. After chopping the rest of the vegetables, toss them with the oil and flavourings in a big bowl. You can use a bit less oil if you like, or spray it on.

Pre-heat the air fryer to 190C/375F.

Pour half of the vegetables into your air fryer basket if you have a basket-style air fryer (save the rest until another day). You may be able to fit all/most of them in if you have an oven-style air fryer.

Air fry for between 10 to 15 minutes, checking and tossing the vegetables every 5 minutes. Add the tomatoes around half way through. The vegetables are ready when they are golden brown and tender.

Empty into a big serving bowl and scatter with fresh herbs and/or feta cheese if using.
Notes
Alternative vegetables: If you like you can add some small cubes of sweet potato or ordinary potato to the tray. Mushrooms also work well.
Spacing out the vegetables: It's important not to overcrowd the baking tray for the best results. Scatter the veggies evenly in a shallow layer over the whole tray. If they are going to be piled on top of each other too much, use 2 baking trays instead of 1.
Alternative herbs/spices: Although I usually use mixed dried herbs, feel free to use a single dried herb such as basil, oregano or thyme. Alternatively throw a few sprigs of fresh thyme or finely chopped rosemary on the tray, then sprinkle some more fresh herbs over the top at the end. Go easy if using rosemary – it's a strong flavour!
Leftovers: Leftovers are fantastic sprinkled over pizzas or salads, or thrown into pasta, couscous or quinoa with a simple vinaigrette. Or use them in toasted sandwiches or quesadillas with cheese and chutney/relish.
Freezing instructions: Why not make extra and freeze the extras for another time? Just throw into freezer bags and freeze for up to 6 months. I usually spread them out flat in the bag, then seal and freeze horizontally. You don't have to do this, but it means you don't have to 'unstick' them when defrosting.
To reheat, just let defrost then reheat covered in the microwave for 2 to 3 minutes or until hot. Sprinkle over fresh herbs and/or feta cheese to freshen them up.
Or reheat on a baking tray in the oven for 5 to 10 minutes on a high heat for an 'as new' result.
Note about the air fryer version: You'll probably only get 2 servings with the air fryer version if you have a basket-style air fryer. You may still get 4 servings if you have an oven-style air fryer.
Nutrition
Calories:
158
kcal
Carbohydrates:
15
g
Protein:
3
g
Fat:
11
g
Saturated Fat:
2
g
Polyunsaturated Fat:
1
g
Monounsaturated Fat:
8
g
Sodium:
305
mg
Potassium:
542
mg
Fiber:
4
g
Sugar:
7
g
Vitamin A:
1508
IU
Vitamin C:
117
mg
Calcium:
45
mg
Iron:
1
mg