Is there any end to how versatile and delicious pan-fried halloumi is? This halloumi salad is so classy, and yet takes less than 20 minutes to make. Just toss spinach in a simple honey-balsamic dressing, then top with grilled halloumi, sundried tomatoes and minty yogurt. It's the perfect light but luxury lunch for yourself, or a simple and tasty appetizer for dinner guests.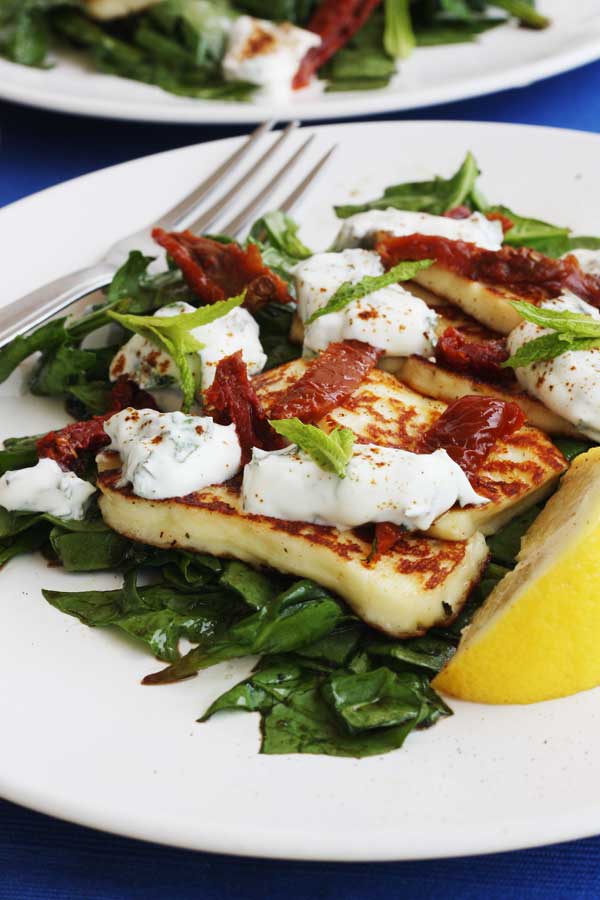 What's so great about this halloumi salad?
OK, so you've discovered the wonderful-ness that is halloumi cheese – that white, salty, semi-hard cheese from Cyprus that turns into one of the most delicious appetizers ever when it's cooked. You've eaten it grilled simply with lemon wedges and toasted bread, you've tried halloumi fries (I hope!), halloumi kebabs and halloumi burgers.
But have you ever tried to make halloumi the star of the show on a salad? This crispy halloumi salad with avocado, corn and tomatoes is legendary, but what's so great about this halloumi salad with sundried tomatoes and spinach?
Like many Mediterranean appetizers, it takes a few fresh and simple ingredients and makes something incredibly delicious and memorable out of them (see next point below!).
You need just 4 ingredients for the salad, 3 for the dressing and another 3 for the minty yogurt.
It's a spinach based salad, and therefore nice and healthy.
This works perfectly as a simple lunch or a side for an easy midweek meal. But it works equally as well as a simple but classy appetizer for guests. Or perhaps BBQ the halloumi and serve as a BBQ side?
About the ingredients
Halloumi: You'll need 1 'log' or roll of halloumi cheese to make this salad. I prefer to go for an authentic Cypriot halloumi if it's available. It just seems to have a better texture when cooked. Most supermarkets sell halloumi in the packaged cheese section these days, but if you're having trouble finding it try a European style deli or even Amazon!
Sundried tomatoes: This is easy! Just grab a jar or tub from your supermarket shelf or deli. Sundried or semi-dried will do the trick.
Spinach: Grab a bag of ready-washed baby spinach to make things easy, if it's available.
Mint: Fresh. It's so easy to grow your own, or grab a package from the supermarket. If you can't find any fresh at the shops, which I sometimes can't, dried will work instead.
Greek yogurt: I usually go for an authentic brand like Chobani. Here in Australia most brands are made of cream, which I try to avoid.
Lemon, balsamic vinegar, olive oil and honey: for the easy dressing, and for the garnish.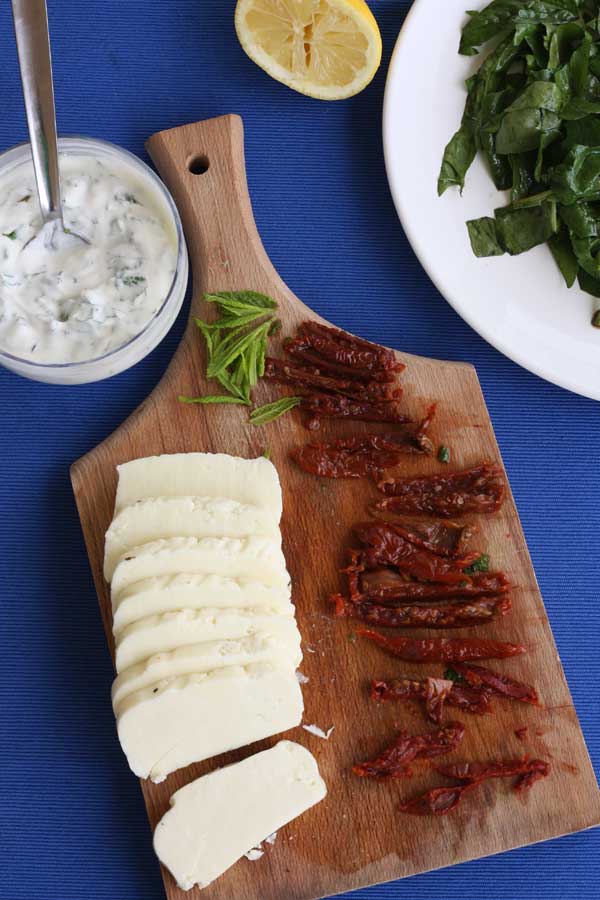 How to make it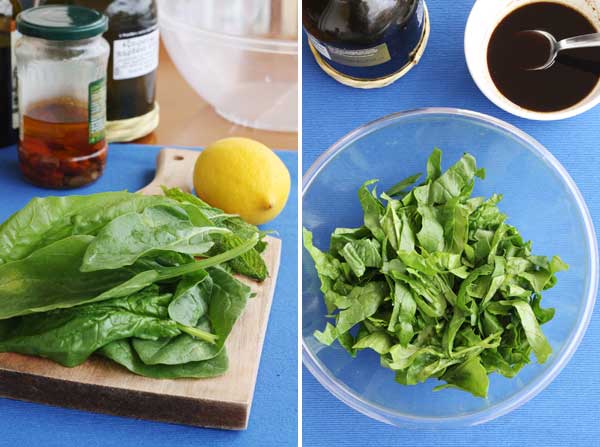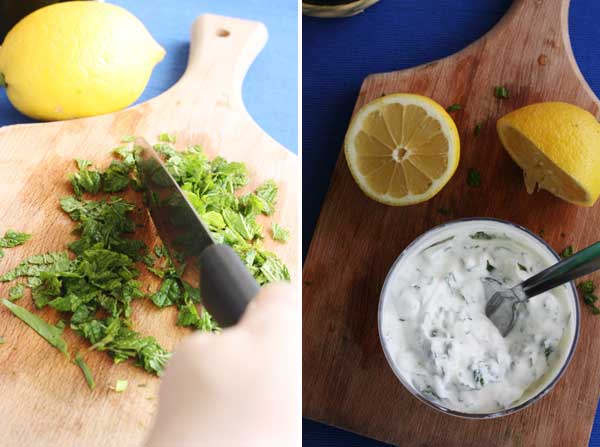 Step 1: Whisk the dressing ingredients together. Toss it through the spinach in a big bowl.
Step 2: Pan-fry the halloumi slices for a few minutes on each side or until dark golden and lightly crispy. The key to cooking halloumi is to not move it until the liquid that oozes out has evaporated and the residue has turned golden brown. Then check if it's sufficiently cooked and flip over to cook on the other side.
Step 3: Working quickly, arrange the just-cooked golden halloumi over the spinach on a large plate. Then scatter over the sundried tomatoes.
Step 4: The final step is to whisk together the Greek yogurt and chopped mint and a few squeezes of lemon juice. Spoon it over the salad together with a sprinkle of paprika and more fresh mint for an extra minty 'kick' but also a final decorative touch.
Step 5: Serve immediately while the halloumi is still hot and crisp. I like to serve this with either toasted Greek pitta bread, or this 2-minute toasted bread with olive oil and salt. Alternatively, a little couscous or quinoa would go well.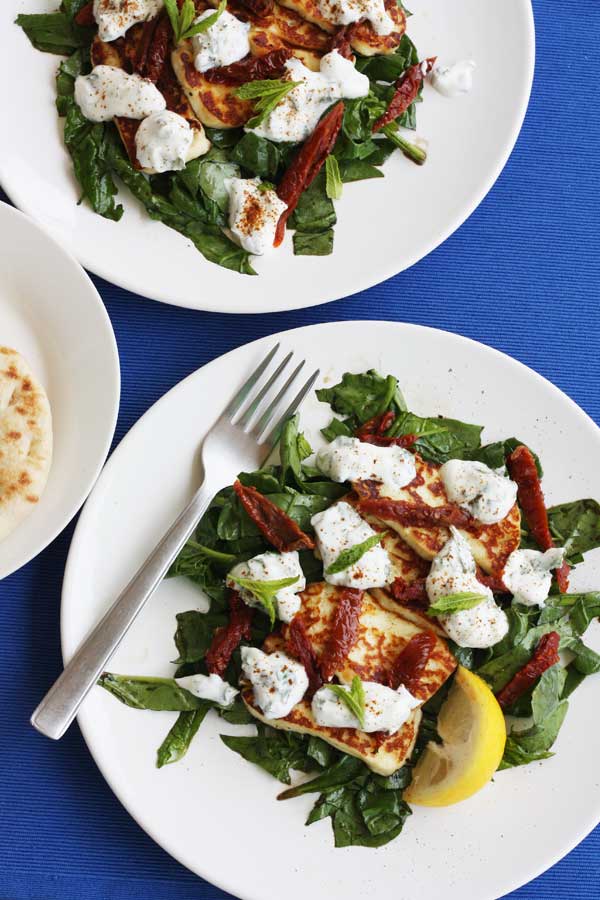 How to serve it
As halloumi is so 'meaty', I think this halloumi salad makes a great light(ish) lunch. It's also a great choice for an appetizer or side for guests. It's so simple and yet hearty and classy, don't you think?
I think it would make a particularly great BBQ side dish. You could BBQ the halloumi instead of pan-frying it. Just cut the halloumi slices a little thicker so that they hold up well on the grill. Spray with a little olive oil and cook for a few minutes on each side.
Alternatively serve it on the side midweek with steak, chicken or fish.
More things to know (FAQs)
Where can I buy halloumi?
In the UK and Australia halloumi is available in most major supermarkets. In the USA you can try Whole Foods, Walmart or Costco, a European style deli or even Amazon.

I like to go for an authentic Cypriot brand if there's a choice as I find the texture better.
Can I bake or air fry my halloumi instead?
Actually… yes! If you'd prefer to bake it, just preheat the oven to 200C/390F. Then pop the halloumi slices in a baking dish, drizzle with olive oil and bake for around 15 minutes, turning half way.

If you'd like to air fry it, brush the halloumi with olive oil lightly on both sides. Then air fry for 15 minutes at 200C/390F, or until dark golden and crisp. Turn half way.
Can I make it ahead?
Halloumi is always best served immediately after cooking, when it's hot and squidgy in the middle and crispy on the outside. MMmm.

However, what you can do is whisk up the dressings in advance. Just cover them and keep them in the fridge until you're ready to make the salad.
More warm salads (perfect for lunches, BBQs and more!)
Or see all easy salads.
IF YOU MAKE THIS RECIPE, LET ME KNOW HOW YOU GET ON BY LEAVING A COMMENT AND RATING BELOW… AND DON'T FORGET TO SIGN UP TO RECEIVE ALL MY NEW RECIPES BY EMAIL!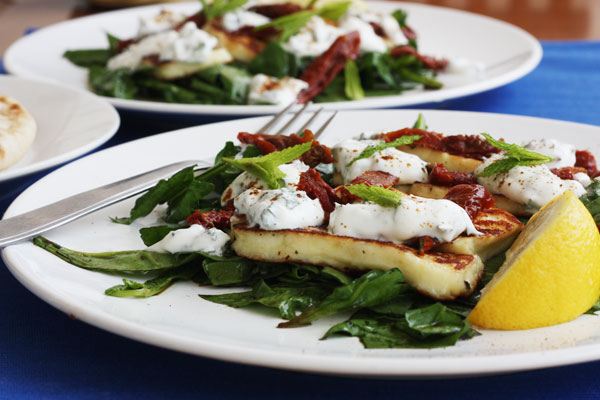 Halloumi Salad With Sundried Tomatoes, Mint And Honey-balsamic Spinach
A vegetarian salad of crispy halloumi on a bed of spinach dressed in honey & balsamic vinegar. Scattered with tart sundried tomatoes and dotted with a minty lemony yoghurt. So easy to make, in just 20 minutes, and, meat-eaters, you really won't miss the meat!
Equipment (affiliate links)
Ingredients (UK/Australia? Click below for grams/ml)
For the honey-balsamic dressing
For the minty yoghurt
2

tablespoons

Greek yoghurt

2

tablespoons

chopped mint

2

good squeezes fresh lemon juice
For the salad
3½

ounces

fresh spinach

washed & chopped

1

'log' of halloumi cheese

cut into 1-cm wide slices (8.8 ounces/250 grams)

5

sundried tomatoes

chopped

a few sprigs of fresh mint & a sprinkle of paprika

hot or regular
To serve (optional)
a slice of lemon & toasted pitta bread
Instructions
First of all, make the honey-balsamic dressing by whisking together the three ingredients. Toss 3 or 4 tablespoons of it with the washed spinach in a bowl, then turn it out onto two plates.

2 tablespoons balsamic vinegar,

1 tablespoon honey,

⅓ cup olive oil,

3½ ounces fresh spinach

Now prepare your minty yoghurt by stirring the mint and lemon into the yoghurt. Set aside.

2 tablespoons Greek yoghurt,

2 tablespoons chopped mint,

2 good squeezes fresh lemon juice

Heat up a large skillet/frying pan or griddle pan and dry fry the halloumi slices for a few minutes on each side or until nicely browned. Then arrange them in an overlapping line down the centre of your spinach.

1 'log' of halloumi cheese

Sprinkle the sundried tomatoes

over the salad along with the mint sprigs. Quickly dot the salad with spoonfuls of the minty yoghurt and sprinkle with a couple of pinches of paprika. Serve while the halloumi is still warm with a slice of lemon for squeezing over the cheese and some toasted pitta bread if you like. Then enjoy!

5 sundried tomatoes,

a few sprigs of fresh mint & a sprinkle of paprika,

a slice of lemon & toasted pitta bread
Notes
Alternative ways to cook halloumi: BBQ for a few minutes on each side. Bake for 15 minutes at 200C/390F, turning half way. Air fry for 15 minutes, brushing lightly with oil beforehand. Turn half way. Making ahead: Halloumi is best cooked just before eating. However, prepare the dressings ahead and keep them in the fridge until ready to use. Remaining dressing: Store any remaining dressing and yoghurt covered in the fridge to use over the following few days.
Nutrition
Calories:
402
kcal
Carbohydrates:
16
g
Protein:
3
g
Fat:
36
g
Saturated Fat:
5
g
Sodium:
67
mg
Potassium:
460
mg
Fiber:
1
g
Sugar:
13
g
Vitamin A:
4900
IU
Vitamin C:
17.1
mg
Calcium:
79
mg
Iron:
2.3
mg