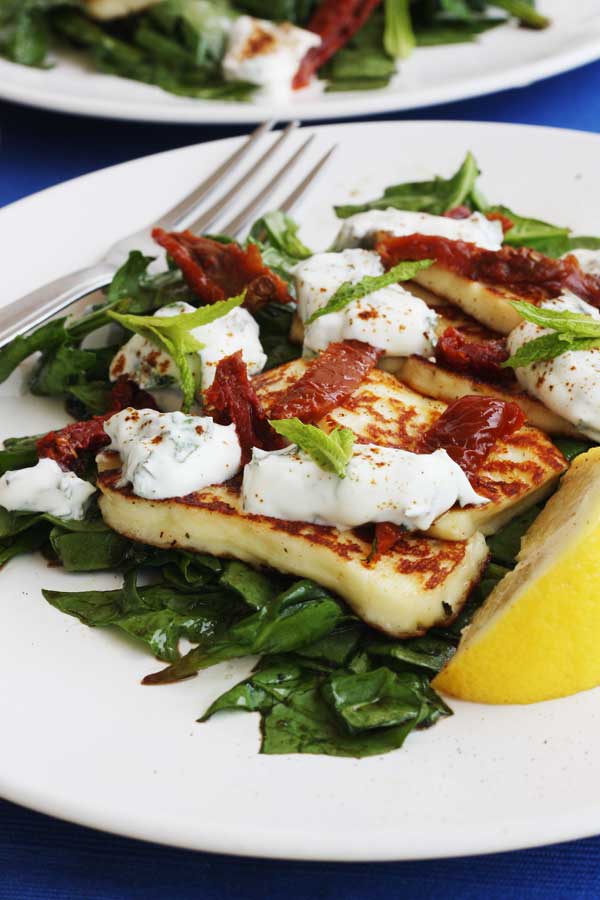 When I was a child, my younger sister was the meat-lover of the family. She loved a classic Sunday roast lamb and mint sauce and would always shun the fish fingers or pizza on the child's menu and push for a steak instead. Which is why the rest of us were absolutely astounded when, as a teenager, her love for animals won out over her love for meat and she announced that she was becoming a vegetarian. This lasted for seven years until finally the smell of bacon cooking became too much to bear and she joined the ranks of the carnivores once again.
As for me, I have a bit of a take-it-or-leave-it attitude towards meat. As a single person, I ate mostly vegetarian and fish-based meals with a little splash of meat here and there. But enter Mr. Scrummy, carnivore extraordinaire, and all that changed very quickly. I do attempt to sneak in some vegetarian meals, however, which sometimes goes down alright and sometimes doesn't. I recently served up a veggie pasta, for instance, which was subjected to suspicious scrutiny followed by this declaration: 'Isn't there some chicken missing from this?' Certainly when he cooks it's steak, pork chops or a chicken stir-fry. Man-food if ever there was!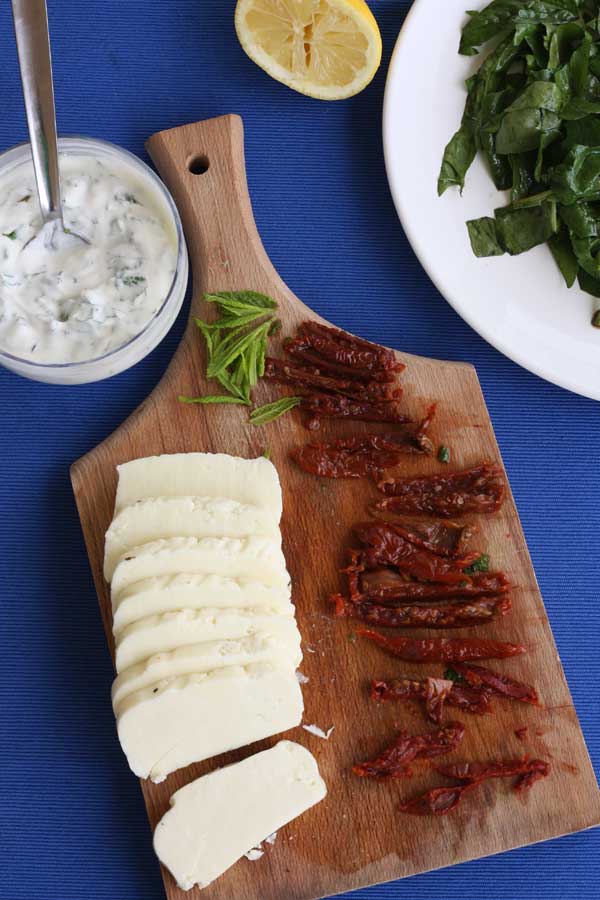 Now to me this minty halloumi & sundried tomato salad is proof, if you needed it, that some dishes just do not need meat. As I created it in my mind, it included a few slices of prosciutto and in fact I bought some to include but ended up peeling them off the salad as it just seemed so completely unnecessary. If you've ever tried halloumi cheese (a Cypriot cheese made with a mixture of sheep's, goat's & sometimes cow's milk for anyone who's interested), you'll know that you buy it in a sort of log-shaped roll flecked with mint (it was apparently traditionally wrapped in mint leaves to preserve it, according to Mr. Wikipedia). It's packaged in a little brine like mozzarella balls are, so you dry it off, slice it into one-centimetre or so thick slices and fry it on each side for a few minutes until crispy. The finished result is dense, milky, salty, warm of course and … now this is the best part, in my opinion … a little crispy. All this makes it feel very substantial, which is why I would say that it's a great alternative to meat.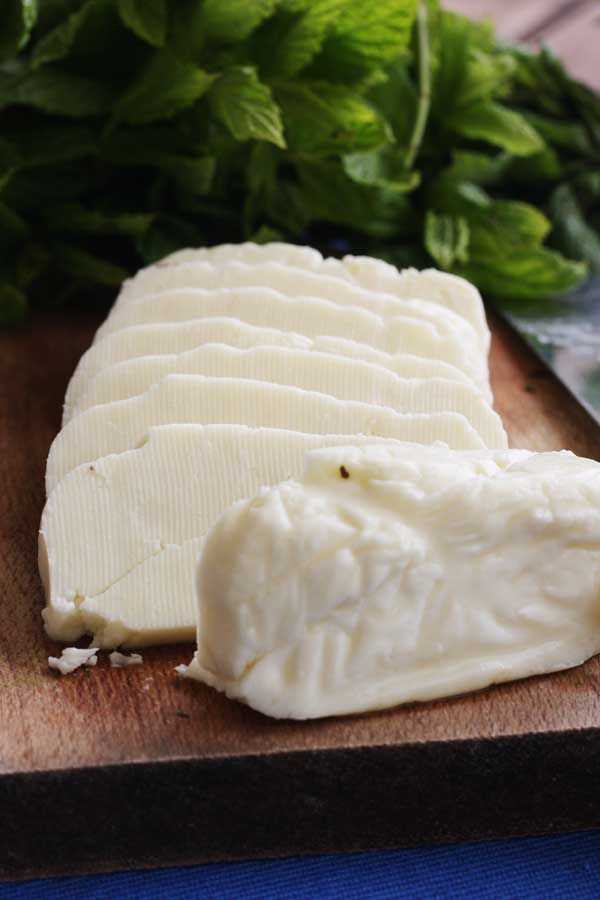 So this is how this salad was born. I spotted a nice fresh-looking bag of spinach at the supermarket which I decided to coat in a honey-balsamic dressing and arrange first on my two plates.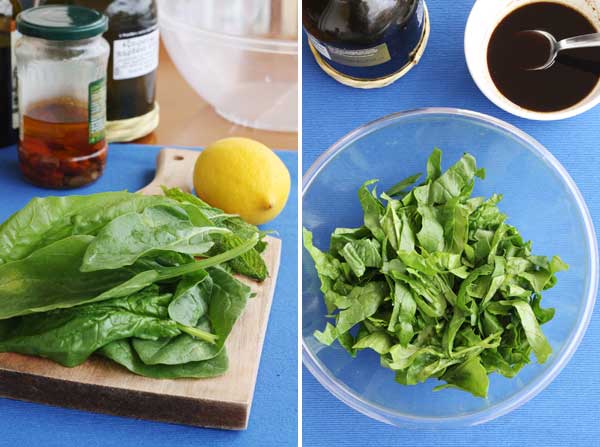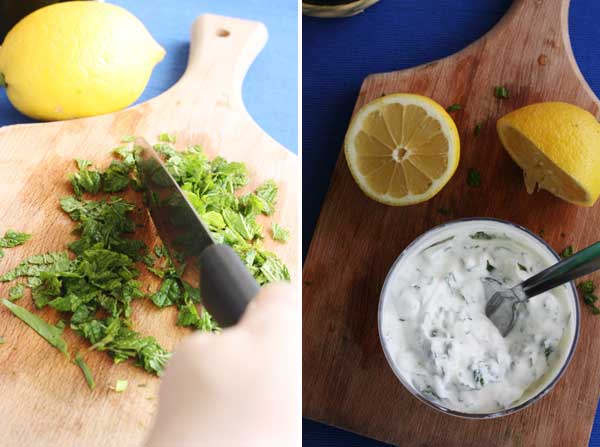 I then fried my halloumi slices, arranged them over the spinach and scattered on some chopped sundried tomatoes – a perfect contrast to the salty, milky cheese. I finished my salad off with spoonfuls of Greek yoghurt mixed with mint and a little lemon, a sprinkle of paprika and a few sprigs of mint scattered all over the salad for an extra minty 'kick' but also a final decorative touch. I served the salad with my usual toasted Greek pitta bread, but any bread or even a little couscous or quinoa would go well.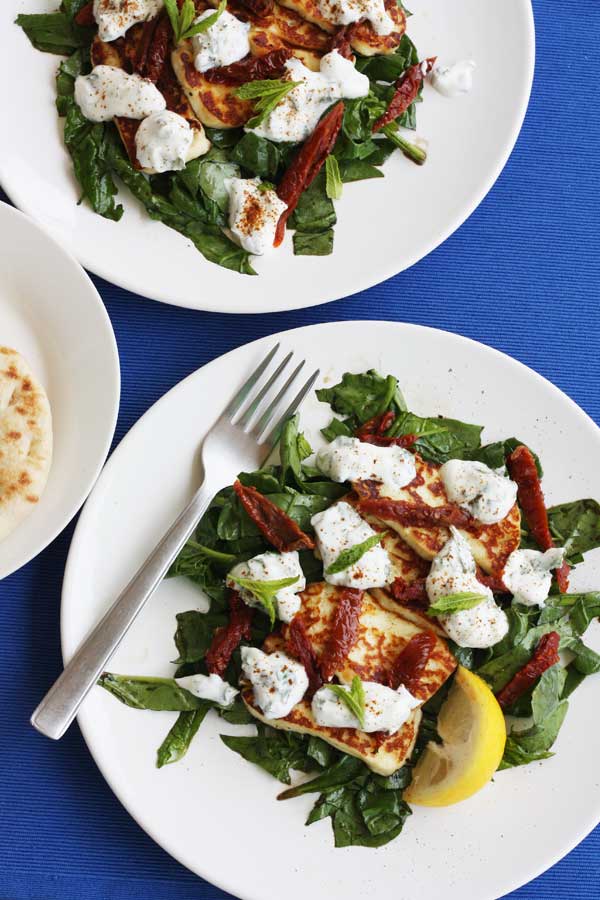 Conclusion? For me, this salad is definitely a keeper. I love the mixture of tart, salty, fresh and sweet flavours, and hope you do too if you try it!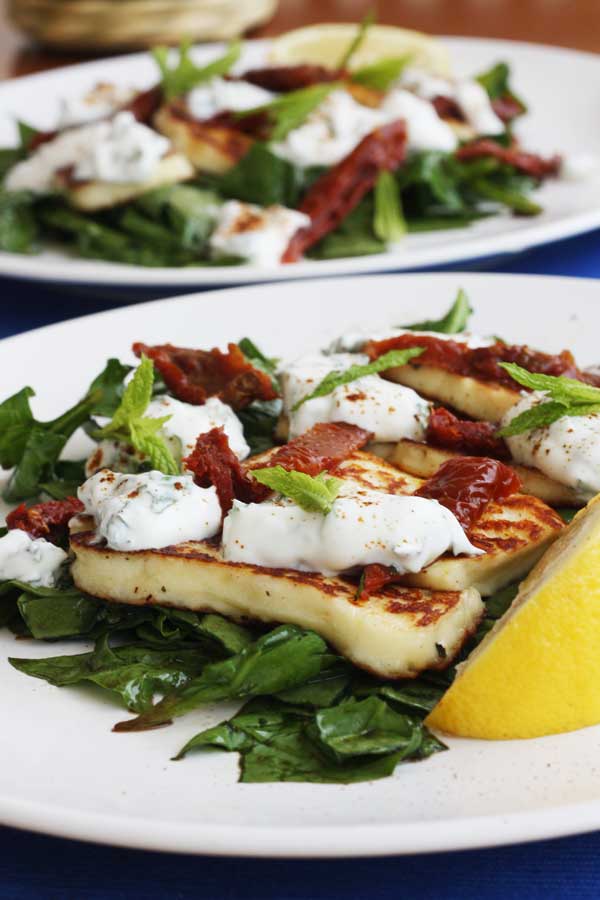 So which meals do you make that you feel just don't need meat? And where do you fall on the meat appreciation scale? Do you find yourself feeling disappointed and wondering where the meat is if you're served a veggie meal or are you as happy to eat vegetarian as you are meat-based meals? Or maybe you're a vegetarian, vegan or paleo-only guy or gal? Whichever, feel free to invite me over for dinner because I'd happily accept. Don't worry, vegetarians, I'll leave Mr. Scrummy at home.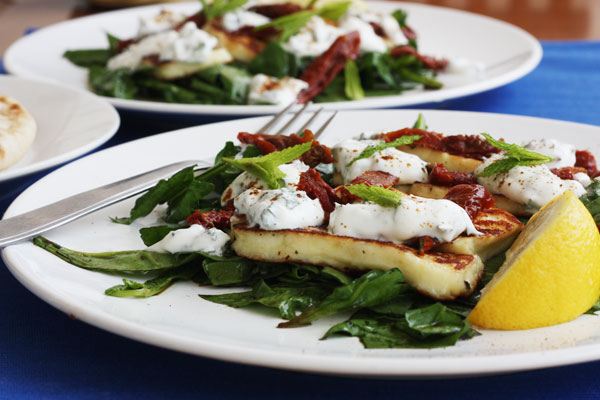 Minty halloumi & sundried tomato salad with honey-balsamic spinach
A vegetarian salad of crispy halloumi on a bed of spinach dressed in honey & balsamic vinegar. Scattered with tart sundried tomatoes and dotted with a minty lemony yoghurt. So easy to make, and, meat-eaters, you really won't miss the meat!
Ingredients (UK/Australia? Click below for grams/ml)
For the honey-balsamic dressing
For the minty yoghurt
2

tablespoons

Greek yoghurt

2

tablespoons

chopped mint

2

good squeezes fresh lemon juice
For the salad
3.5

ounces

fresh spinach

washed & chopped

1

'log' of halloumi cheese

cut into 1-cm wide slices (8.8 ounces/250 grams)

4-5

sundried tomatoes

chopped

a few sprigs of fresh mint & a sprinkle of paprika

hot or regular
To serve (optional)
a slice of lemon & toasted pitta bread
Instructions
First of all, make the honey-balsamic dressing by whisking together the three ingredients. Toss 3 or 4 tablespoons of it with the washed spinach in a bowl, then turn it out onto two plates.

Now prepare your minty yoghurt by stirring the mint and lemon into the yoghurt. Set aside.

Heat up a large skillet/frying pan or griddle pan and dry fry the halloumi slices for a few minutes on each side or until nicely browned. Then arrange them in an overlapping line down the centre of your spinach.

Sprinkle the sundried tomatoes

over the salad along with the mint sprigs. Quickly dot the salad with spoonfuls of the minty yoghurt and sprinkle with a couple of pinches of paprika. Serve while the halloumi is still warm with a slice of lemon for squeezing over the cheese and some toasted pitta bread if you like. Then enjoy!
Notes
I made this salad on two individual plates, but of course feel free to make one big salad on a large platter to share.
Store any remaining dressing and yoghurt covered in the fridge to use over the following few days.
Nutrition
Calories:
402
kcal
Carbohydrates:
16
g
Protein:
3
g
Fat:
36
g
Saturated Fat:
5
g
Sodium:
67
mg
Potassium:
460
mg
Fiber:
1
g
Sugar:
13
g
Vitamin A:
4900
IU
Vitamin C:
17.1
mg
Calcium:
79
mg
Iron:
2.3
mg
I hope you enjoyed this post! You can subscribe to receive posts directly to your inbox by entering your email address in the box below or at the top of the sidebar on the right.
You can also find more from Scrummy Lane on Facebook, Pinterest and Twitter and follow me on Bloglovin! Thanks so much for reading!
*This post contains affiliate links which means that if you click on a link and make a purchase I get a small percentage of the amount you spend. At no extra cost to you, of course! Thank you!*