Need a go-to quick and tasty side dish? Try sautéed frozen broccoli! No need to defrost beforehand – simply toss the florets in a skillet with simple seasonings, stir fry for a few minutes, then toss with tangy parmesan and bright lemon juice.
Within 10 minutes, your tender-crisp healthy, super tasty and go-with-anything veggies will be ready!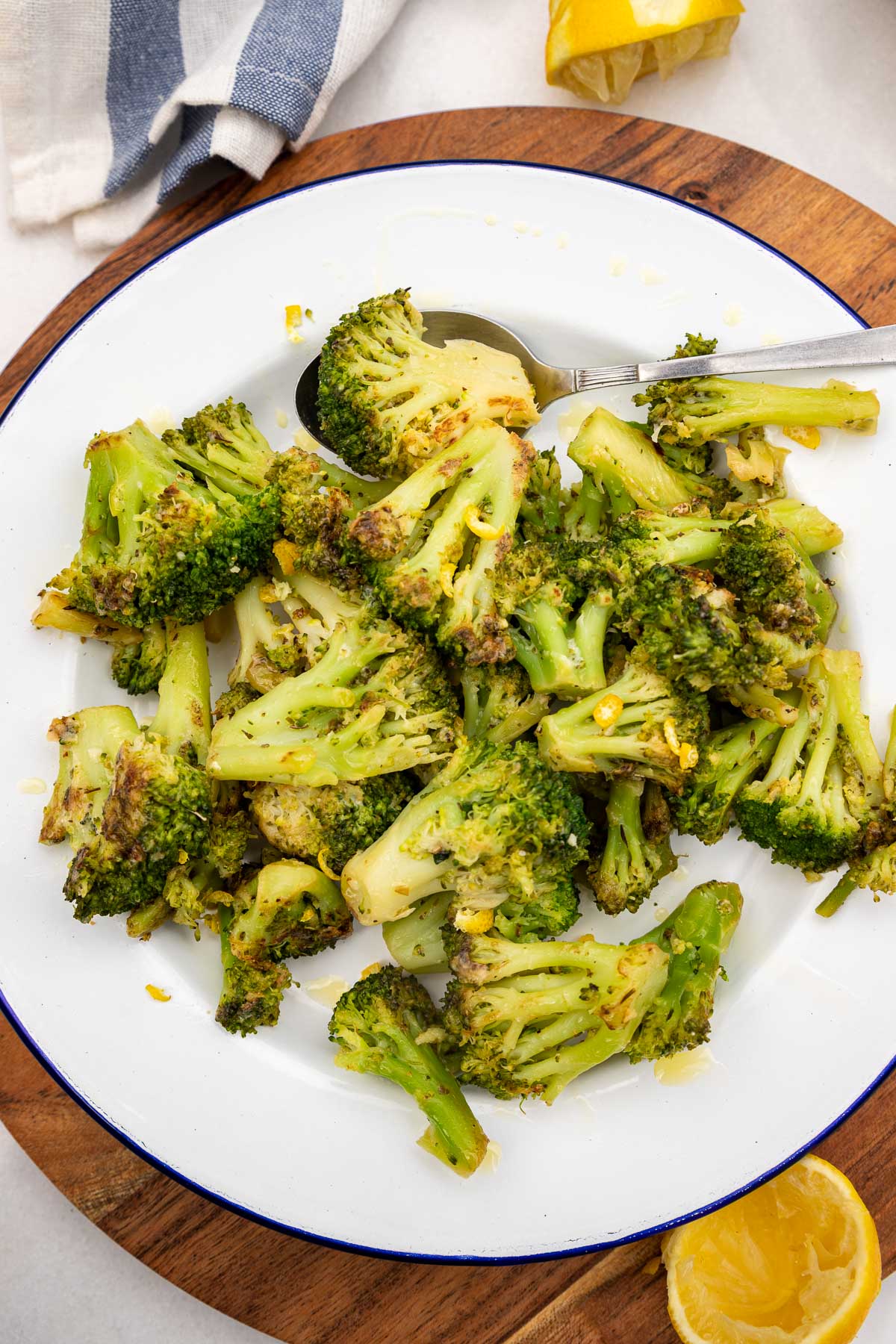 Why you'll love it
10-minute sautéed frozen broccoli is one of my go-to simple side dishes for dinner (along with this frozen green bean recipe or this easy sauteed butternut squash). It's easy, healthy, and, in my humble opinion, the perfect broccoli dish to convert even the most ardent of broccoli haters.
It's kind of a blank canvas. You can keep it plain, just cooking in some extra virgin olive oil, or add easy dried herbs and spices that you happen to have in the pantry.
But my favorite way to cook this is with dried basil, salt, dried garlic, and then with plenty of parmesan tossed through at the end. The final 'cherry on the cake' is a big squeeze of fresh lemon juice.
Served this way, the broccoli is a perfect mix of tender and lightly browned and caramelized florets. The simple but punchy flavors go perfectly with the earthy and mildly bitter greens!
The best part? With no need to defrost beforehand, sautéed frozen broccoli is a convenient, economical and very flavorful side dish for busy weeknights… or, frankly, any time.
This also goes with pretty much any meal. Dinner's ready, but you just feel like you need a pop of fresh green on the plate? Make this easy broccoli side dish!
Fun fact. The word 'sauté' actually comes from the French word "sauter," which means "to jump." Can you picture it? Your broccoli happily bouncing and sizzling in the pan as it cooks up to perfection!😉
Ingredients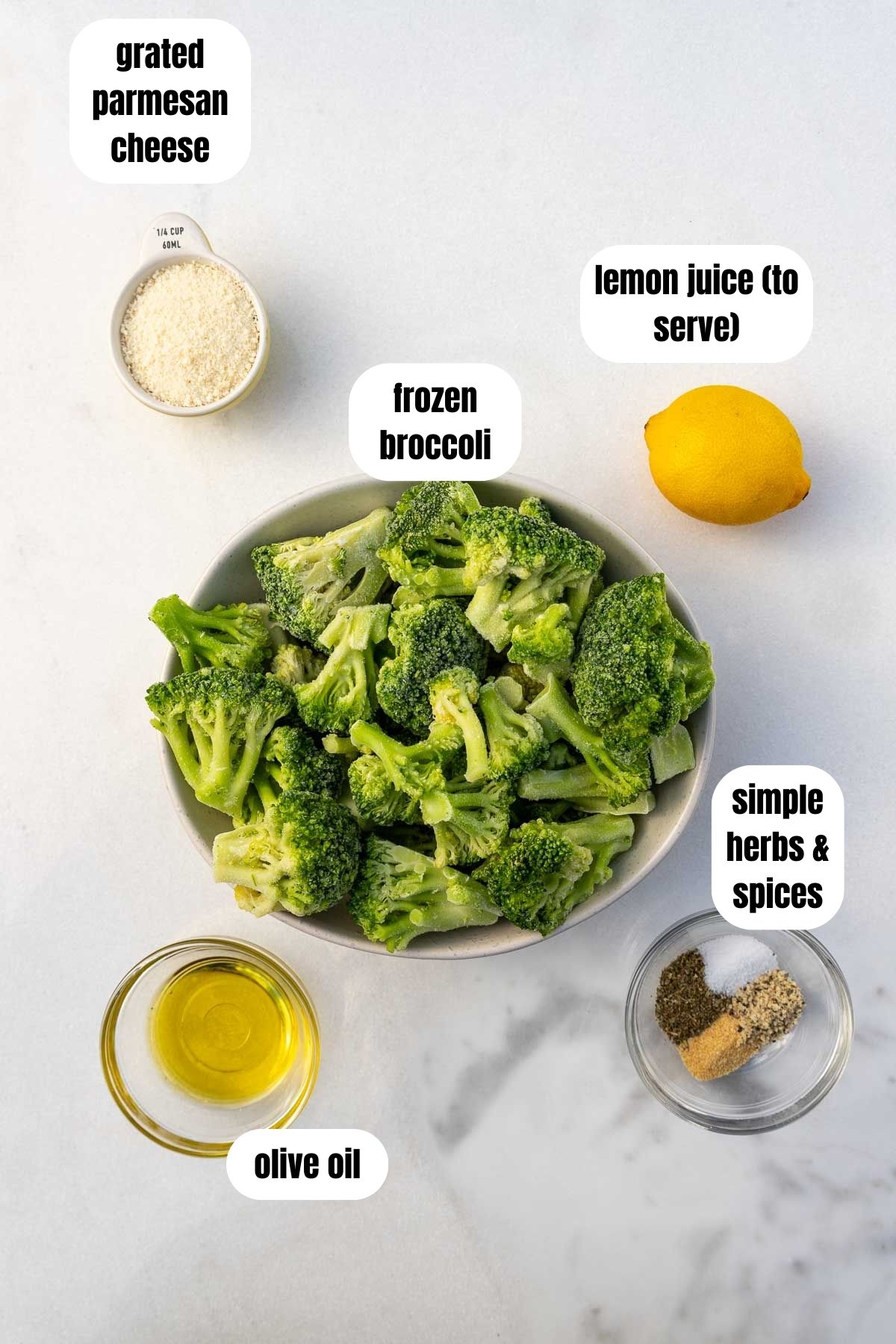 Oil (for cooking): I usually go for olive oil to pan-fry my broccoli in. And then I like to drizzle over a little more extra virgin olive oil (Mediterranean style!) at the end for extra flavor.
Broccoli: Any package of frozen broccoli florets is fine for this recipe. Using frozen broccoli means it will always taste fresh, no matter what the season.
You can however substitute with fresh broccoli if you prefer! Use any kind – regular 'Calabrese broccoli', broccolini, purple broccoli, Romanesco or even sprouting broccoli.
Seasonings: In keeping with the simplicity of this sautéed frozen broccoli recipe, I don't wash, peel or chop anything when making it. I simply empty the package of broccoli into the pan along with salt and DRIED basil, garlic, and lemon pepper seasoning if I happen to have it. If I don't just pepper is fine.
I then add ready-grated parmesan (the fresh kind, definitely NOT the powdery stuff off the shelf). Plus the juice of a lemon (and some zest sprinkled over the finished dish if you like).
How to sauté frozen broccoli
First, heat around 2 tablespoons of olive oil in a large pan on a medium high heat.
Then empty the package of frozen broccoli into the pan (no need to defrost first, remember). Give the pan a quick stir so that the broccoli is coated in the oil.
Sprinkle over the the salt, basil and garlic.

Stir-fry, stirring regularly, for around 5 to 8 minutes or until the broccoli is tender-crisp and browned in parts.
For the last couple of minutes of cooking, sprinkle over the parmesan and pan-fry, stirring, until lightly crisp and caramelized.
The final step before serving is to squeeze over the juice of half a lemon.

If you like, before serving sprinkle with a little lemon zest and drizzle over some extra virgin olive oil.
Helen's top tips
I recommend using the largest frying pan or sauté pan you have. It's OK if the frozen florets overlap a little, but you need most of them to touch the hot pan so that they brown rather than steam.
Cooking time depends on the size of the florets, and personal taste. Generally you'll need to sauté the broccoli for 5 to 8 minutes. Just test with the end of a sharp knife and/or taste a little to see if it's ready.
For extra flavor and a Mediterranean Summer vibe, don't forget to serve drizzled with a little extra virgin olive oil!
How to serve
Made this way, Mediterranean style with parmesan and lemon and olive oil drizzled over at the end, this sautéed broccoli recipe is delicious served warm, at room temperature, or even cold like a salad.
This makes it very versatile.
I often serve this as a last-minute side dish when I just feel like the plates need some green. Here are some examples of dishes I'd consider serving this sautéed seasoned broccoli with:
Or browse all my quick and easy midweek meals for more ideas.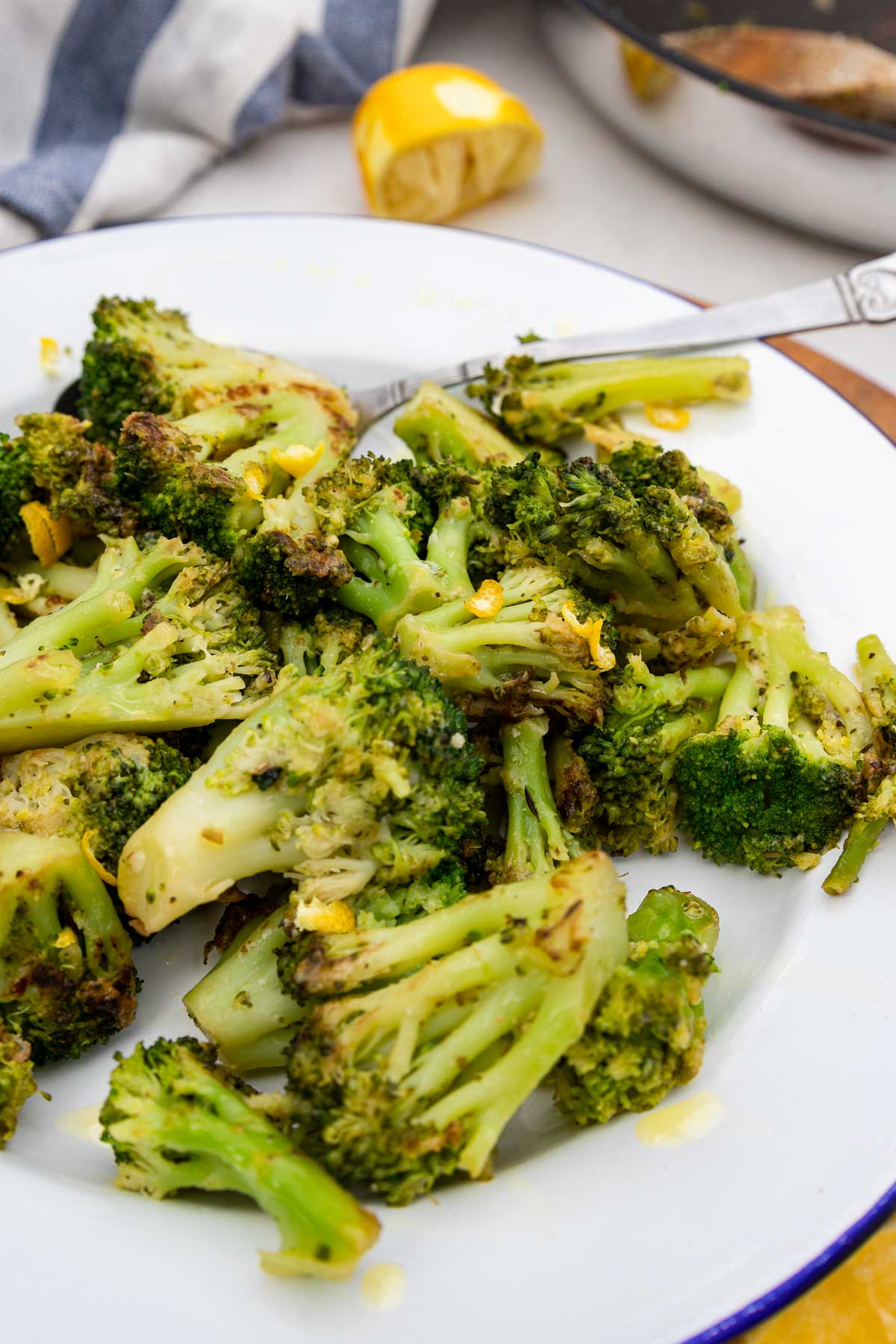 Variations
Mix in different fresh or frozen veggies such as chopped carrots, green beans, brussels sprouts, cauliflower and onions.
Skip my suggestions and try your favorite alternative seasonings instead. Try a little paprika, dried onion, different dried herbs, red pepper flakes, cumin, curry powder… whatever you like!
Fry a little bacon or chorizo along with your broccoli. I'd pre-fry the bacon for a few minutes, then add the frozen broccoli into the pan (along with the bacon grease – mmm!).
Try tossing a few anchovies into the pan just before the end of the cooking time.
Replace the parmesan with another hard cheese such as pecorino, or stir through crumbled feta, goat cheese or blue cheese just before serving.
Stir nuts through towards the end. Try walnuts, hazelnuts, flaked almonds or pistachios.
Skip the parmesan and lemon and stir-fry the broccoli with a little soy sauce and/or oyster sauce and sliced ginger instead. You could even toss in some thinly sliced beef and then serve with rice for a complete quick and easy meal!
Recipe FAQs
Are there any nutritional differences between fresh and frozen broccoli?
They are very similar. There can be slight differences depending on how the broccoli is stored and/or frozen. However, both options offer essential vitamins, minerals, fiber, and antioxidants, making frozen broccoli a convenient and nutritious choice!
Can I reheat sautéed broccoli?
Yes, you can. Simply cover and reheat for 30-60 seconds in the microwave until hot again, or briefly pan-fry again until hot. Alternatively, a great way to reheat this broccoli so that it's lightly crisp again is in your air fryer, if you have one! Simply air fry for around 4 minutes at 170C.
IF YOU MAKE THIS RECIPE, LET ME KNOW HOW YOU GET ON BY LEAVING A COMMENT AND RATING BELOW… AND DON'T FORGET TO SIGN UP TO RECEIVE ALL MY NEW RECIPES BY EMAIL!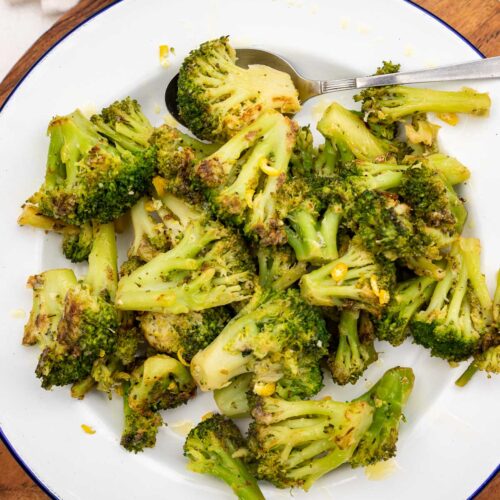 10-minute Sautéed Frozen Broccoli
Welcome to your new favorite last minute vegetable side dish! You can cook this sautéed frozen broccoli straight from frozen (yep, no defrosting necessary!). Season with dried basil and garlic, lemon and parmesan for the kind of perfectly tender and browned seasoned broccoli that can convert even the most ardent of broccoli haters. The best part? It's on your dinner table in only 10 minutes!
Equipment (affiliate links)
Ingredients (UK/Australia? Click below for grams/ml)
2

tablespoons

extra virgin olive oil

plus extra for drizzling over at the end

14

ounces

frozen broccoli

or roughly 3.5 ounces per person

½

teaspoon

garlic powder

½

teaspoon

salt

1

teaspoon

dried basil

½

teaspoon

lemon pepper seasoning

(optional)

¼

cup

parmesan cheese

grated

½

a

lemon

Juice only, but grate and keep aside a little lemon zest before juicing to sprinkle over to serve.
Instructions
Pre-heat the oil in a large skillet or sauté pan on a medium-high heat.

2 tablespoons extra virgin olive oil

Add the frozen broccoli florets to the pan. Stir briefly with a wooden spoon just until the broccoli is coated in the oil.

14 ounces frozen broccoli

Sprinkle the dried basil, salt, garlic powder and lemon pepper seasoning (if using) all over the broccoli. Then sauté on a medium-high heat for 5 to 8 minutes or until the broccoli is perfectly tender and lightly browned.

½ teaspoon garlic powder,

½ teaspoon salt,

1 teaspoon dried basil,

½ teaspoon lemon pepper seasoning

Scatter over the parmesan and stir-fry for another minute or so. Then squeeze over the lemon juice.

Serve hot, warm or at room temperature scattered with a little lemon zest and a little extra olive oil, if you like.
Notes
Type of pan: I recommend a very large skillet/frying pan, dutch oven, wok or sauté pan for this recipe. A bit of overlapping is fine, but try not to overcrowd the pan which can result in soggy/not browned broccoli.
Cooking time: I usually cook the broccoli for as long as it takes for it to become tender and browned. This takes roughly 5 to 8 minutes depending on the size of the florets and personal taste. You may wish to cook the broccoli for a little longer for slightly softer veggies.
Variations: Fry a little bacon or chopped chorizo for a few minutes before adding the broccoli to the pan for a super tasty variation. Try adding crumbled feta or goat cheese or blue cheese instead of the parmesan, add toasted nuts, a few anchovies, different veggies as well such as chopped carrots, green beans, cauliflower or onions, or make Asian style by adding a little soy sauce or oyster sauce and grated ginger.
For a quick and easy dinner version, why not add some thin strips of beef together with soy and oyster sauces and ginger?
Nutrition
Calories:
92
kcal
Carbohydrates:
7
g
Protein:
5
g
Fat:
6
g
Saturated Fat:
2
g
Polyunsaturated Fat:
1
g
Monounsaturated Fat:
3
g
Cholesterol:
4
mg
Sodium:
424
mg
Potassium:
334
mg
Fiber:
3
g
Sugar:
2
g
Vitamin A:
670
IU
Vitamin C:
89
mg
Calcium:
128
mg
Iron:
1
mg