Crispy fries with a dip – yum. We all love those, so let me introduce you to a different sort – crispy halloumi fries! This is the best, original recipe, tried and tested over many years. You only need 3 ingredients, just halloumi, flour, and oil. This is the perfect easy appetizer for entertaining. Everyone loves them, and they're ready in minutes.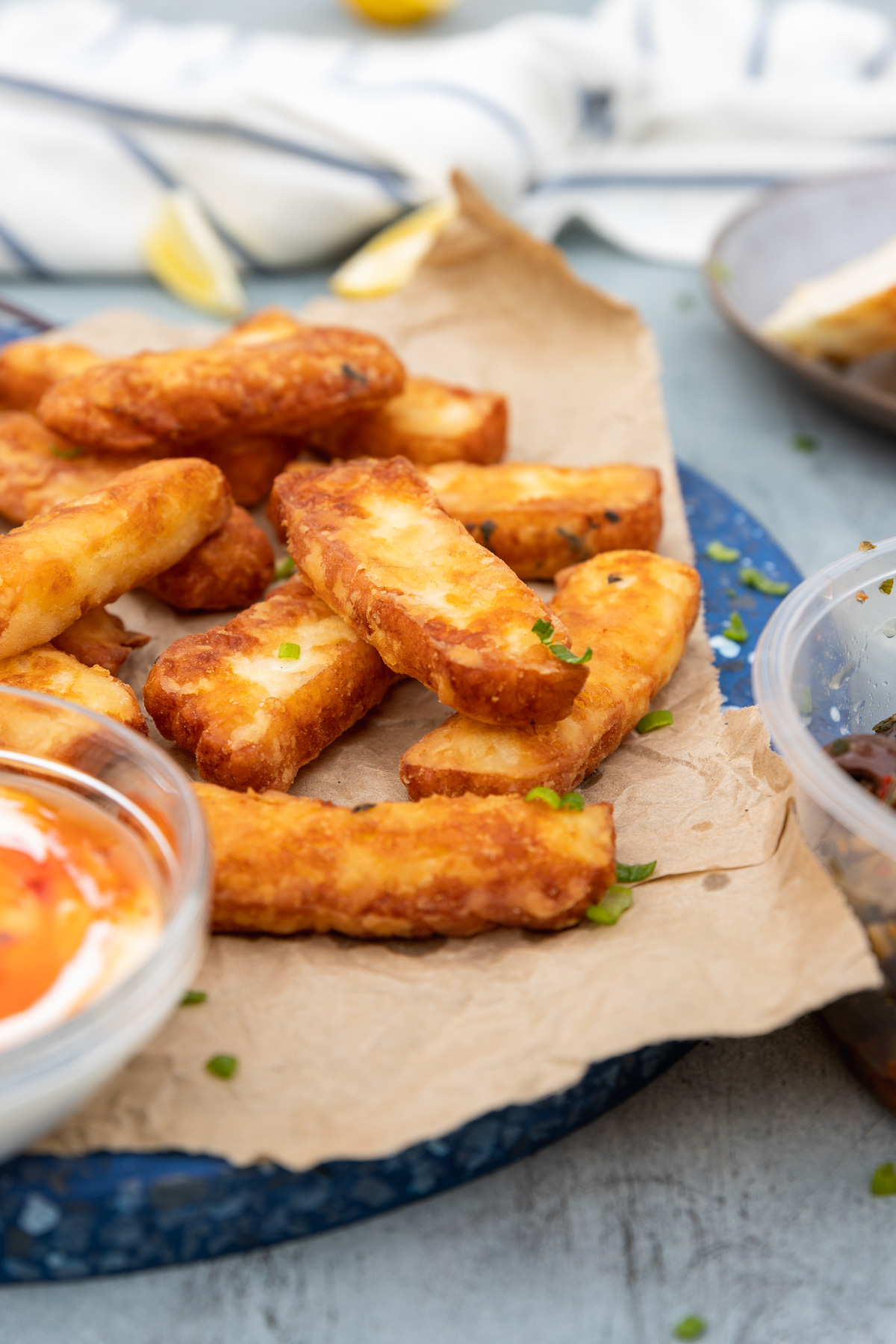 What are halloumi fries?
Halloumi fries (or chips as you may call them) are delicious fried sticks of halloumi cheese.
In case you don't already know, halloumi cheese is a hard white cheese from Cyprus. It's traditionally made from sheep's milk or goat's milk – but it can be made from cow's milk, too, or a mixture of milks.
It reminds me of mozzarella cheese, with its mild flavour, but you'll find it quite a lot saltier. It's also firmer, with an almost 'meaty' texture.
It doesn't melt when it's cooked, either, which makes it perfect for frying to a lovely crisp!
You could say halloumi fries are the best kind of cheesy finger food. A sort of Mediterranean version of fried mozzarella sticks. Or a fast food take on Greek saganaki, a shallow fried cheese dish that greeks have been enjoying for a very long time.
Interesting? I also wrote an ultimate guide on how to cook halloumi with tons of info, recipes and more. I hope you check that out too!
Why this is the best halloumi fries recipe
Did you know that halloumi fries were invented by Oli Baba's, a London food stall, in 2015? My recipe is similar to the original recipe, which is very simple with no breading, panko or batter.
This is the main reason I love it so much, but also:
Just 3 ingredients (plus easy dips). All you need is halloumi, flour and oil, and a small saucepan to make halloumi fries that people will literally swoon over! No deep fat fryer necessary.
Tried and tested x 100. This has to be one of the easiest fried halloumi recipes, and I've done all the testing for you. I've lost count of how many times I've made these fries!
Make on your stovetop or in your air fryer. Just shallow fry in a saucepan, or air fry (don't worry, I'll tell you how).
Literally EVERYONE loves them. Just like regular fries, they're super crispy and addictive. From the kids to the grandparents, they'll definitely be fighting over the last one!
About the ingredients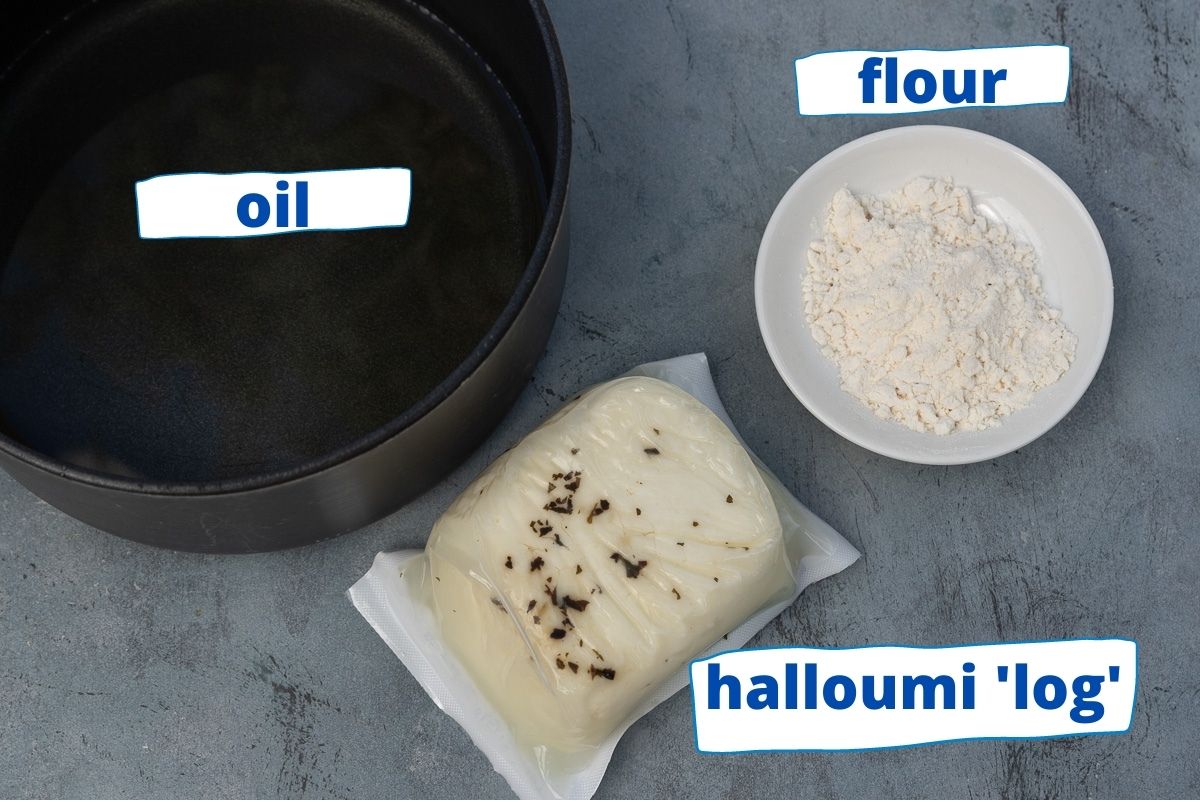 Did I mention you only need a block of halloumi, flour and oil to make these? Oh, I did. Here's what else you might need to know about these 3 ingredients:
Halloumi cheese
The star of the show, halloumi cheese is now widely available in supermarkets. If you're struggling to find it where you live, try a Mediterranean or Middle Eastern deli.
Any brand of halloumi will work, but I prefer a Cypriot style brand. These are usually sold in a packet in a 'log shape'. Sometimes there are tiny flecks of mint in the cheese, too. I love this, since this is how traditional halloumi is. But don't worry, any brand will work.
You'll find that usually there is a little milky liquid in the package when you open it. This is great because the little bit of moisture is what will help the flour to stick.
I usually get 1 standard sized package of halloumi per 3 to 4 people I'm serving as a small appetizer. You should get around 12 thick fries out of this.
Flour
You roll the slices of raw halloumi in a little flour to help them get super crispy when fried. I usually use plain/all purpose flour. You only need 2-3 tablespoons per package of halloumi.
Since you only need a little flour, however, I find many types work. Gluten-free, corn starch and rice flour all work really well. I'm pretty sure others would work well, too, such as almond flour or coconut flour.
It might be my imagination, but I feel like corn starch/cornflour makes the outside of the fries even crispier than usual! Try it and see what you think.
Oil
You can use any oil you like to fry halloumi in. I prefer a light olive oil, but I've also used vegetable oil.
Just bear in mind you'll need enough to cover the bottom of a saucepan, so you might not want to use your best extra virgin olive oil!
Substitutes for halloumi
This cheese is really worth trying to track down. But if you just can't find it, there are some good substitutes for halloumi such as other types of Greek style cheese. Examples include kefalotyri, kasseri, graviera, or even feta!
Latin American 'queso para freir' (cheese you can fry) and Indian paneer can also be good substitutes. Or any kind of hard cheese that has a high melting point.
Give one of these substitutes a try and let me know how you get on!
How do you make halloumi fries?
I think these are so ridiculously easy to make, you hardly need a recipe. But everyone who tries them will be impressed. Great news for fans of easy entertaining!
So this is all you do: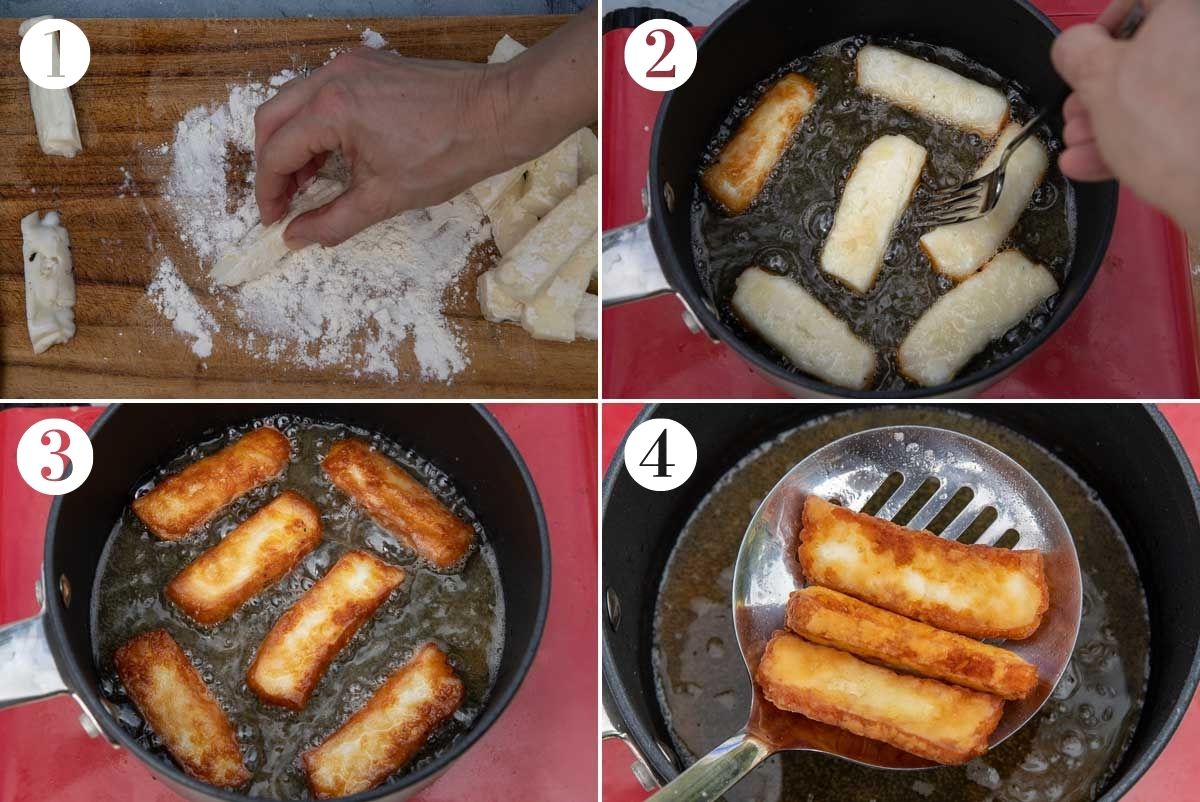 Step 1: Cut your 'log' of halloumi into thick(ish) fry shapes lengthwise. Pinch the cheese between your thumb and first finger to stop the cheese breaking apart. Don't worry however if a few pieces break.
Step 2: While the cheese is still slightly moist (dip in milk if dry), roll the fries in flour.
Step 3: Cover the bottom of a small saucepan with oil, to a depth of about half an inch. Heat on a medium-high heat until the end of a halloumi stick sizzles when dipped in.
Step 4: Carefully add around half the cheese sticks to the hot fat. Let cook for a few minutes on each side until medium to deep brown and crispy. I use a fork to flip them over and a slotted spoon to fish them out when they're ready.
Step 5: Repeat with the rest of the cheese. Drain briefly on paper towel.
Step 6: Then serve your delicious stack of crunchy, salty, cheesy fries immediately with the Greek yogurt and sweet chili sauce. Or your own choice of dips! (see below for ideas)
They look just like super crunchy regular french fries, don't they? I'm pretty convinced that fried halloumi cheese is one of the world's tastiest, most addictive foods!
Helen's top tips
Make sure the oil is the right temperature before adding the halloumi. Heat it on a medium-high heat. Test it by dipping in the very end of a raw fry. If it sizzles, it's hot enough.
If the halloumi isn't very moist when you take it out of the packet (different brands have more or less of the milky liquid, or maybe there isn't any at all), use a bit of milk instead. Just dip them in before rolling in the flour.
Use a small saucepan so that you don't have to use much oil. Cook in 2 batches. After cooking, let the oil cool down before double bagging it and throwing it away.
Air fryer halloumi fries
Yes, you CAN also make halloumi fries in your air fryer! They don't necessarily cook any faster, but you might find this method even easier. It's also handy if you don't want to use as much oil.
I still prefer to cook my fries in a small saucepan (it's worth the effort), but air fried halloumi is pretty good, too.
When air frying halloumi sticks, I usually skip the flour and just spray them lightly with oil instead. I've even skipped the oil before and they still turned out well! Experiment and see which method you like best.
So, to air fry:
Step 1: Cut the halloumi into fry shapes. Spray with a little oil.
Step 2: Cook in your air fryer basket for around 5-7 minutes on each side. Each air fryer cooks a little differently, but the fries are ready when they are a medium to deep golden brown and crispy on the outside. Yum!
Thinking of getting an air fryer? There are many good ones, but I love this oven-style Breville Smart Oven Air Fryer. I use it every day. If you prefer a basket-style air fryer, this Cosori Air Fryer XL 5.8Qt gets great reviews, too. (These are affiliate links!)
What to serve with halloumi fries
Dips
Fried halloumi is definitely best when piping hot and super crispy. So make sure you have one or two simple dipping sauces ready for generous scooping as soon as your yummy cheesy fries are ready!
Which are the best dips for halloumi fries?
Well, my favourites are Greek yogurt (or sour cream if you prefer) and sweet chili sauce. You can either mix them together or keep them separate.
Here are a few more ideas:
Garlic sauce or mayonnaise (or aoli)
Warm honey or maple syrup (mmm)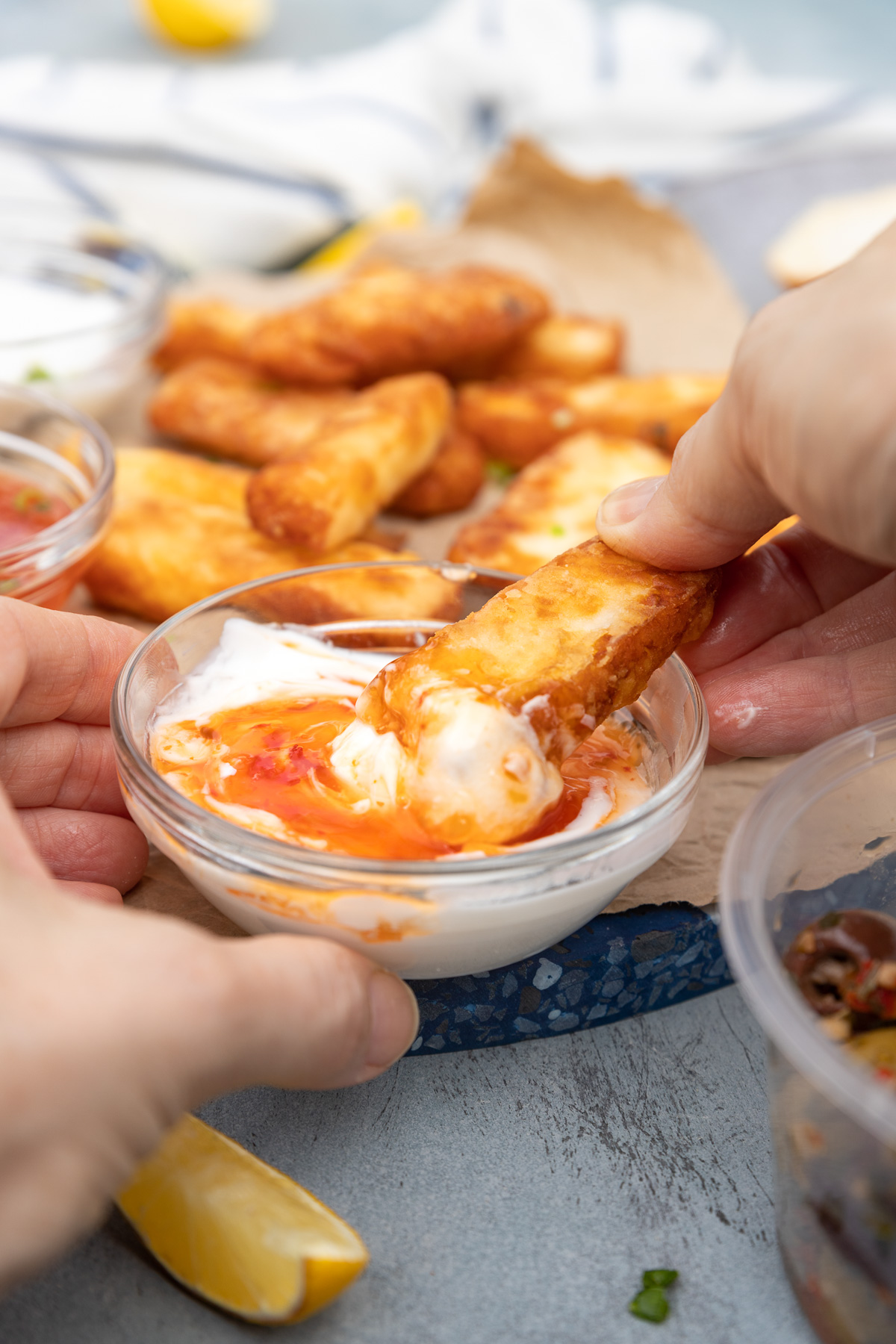 Or how about making your crispy fried halloumi even more amazing by serving it Oli Baba/street food/Middle Eastern/nachos style? How? Top with yogurt, za'atar spices, pomegranate seeds, mint, sumac and pomegranate molasses.
Mmm, how amazing does that sound?
I also love to eat my fries plain with a little lemon juice squeezed over the top! If you like, add a pinch of chili powder to the flour to make the fries spicy. Or a little garlic powder, dried mint, oregano or cumin for a fragrant twist.
All of these sweet, tangy or fragrant flavours go well with the salty, crispy fried halloumi! Which will you choose?
Halloumi as a side dish
I mostly serve halloumi fries as an appetizer or snack. We've even enjoyed them as a simple lunch with crusty bread, olives and the dips (serves 2 to 3 this way).
But there's no reason why you couldn't also serve them as a low-carb side dish – or main!
They'd be particularly awesome served as a BBQ side or passed around at a party, or as part of a Greek or Mediterranean style mezze/sharing board.
I also think they'd go well on top of any salad. Or with a 'saucy' Mediterranean dish such as this delicious baked eggplant with tomatoes and feta, or this one pan chicken and chorizo with cherry tomatoes.
Finally, serve as a side to go with these Greek chicken meatballs (perhaps add marinara sauce and a simple green salad).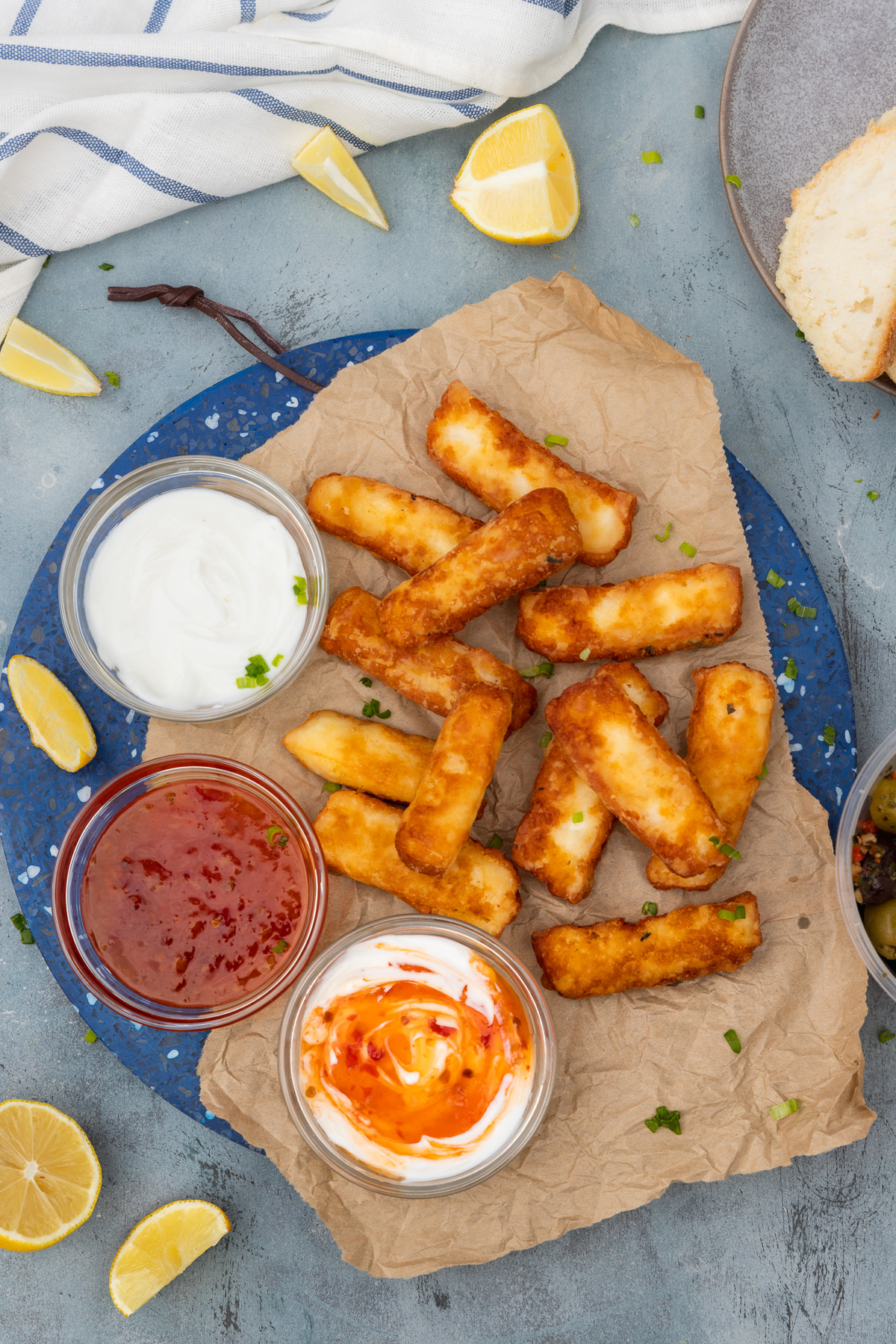 More things to know (recipe FAQ)
Are halloumi fries healthy?
Well, halloumi is high in calcium, which of course is good for your bones! Halloumi fries are a low-carb snack, but they're also quite high in sodium and fat. If you just eat a few at a time, however, you can enjoy them guilt free!

If you prefer to keep your fries on the healthier side, simply air fry or bake them (see below) instead of frying them in oil.
Are halloumi fries keto?
Yes and no. Fried halloumi can easily become the perfect keto fries! Either skip the coating of flour (the fries will still turn out well), or use a keto-friendly flour instead. Here's some info on keto flours if you need it.
Can I also bake them in the oven?
Yes, you can. You might want to do this if you already have the oven on.

Oven baked halloumi fries turn out similar to the air fried version. Just spray the cheese with a little oil (skip the flour). Then bake on a baking tray lined with baking paper at 390F/200C for around 15 minutes, turning half way.
Can I prepare them ahead?
You should always make halloumi fries just before you want to serve them. They can have a rubbery texture when cold and won't be as crispy.

But you can prepare them for cooking a little ahead of time. Just cut the halloumi into fry shapes and roll them in the flour, then cover until you're ready to cook them. Don't do this too soon, however, because the flour will dissolve into the cheese.
Can I reheat halloumi fries?
I honestly doubt you'll have any leftovers. If you do, however, you can pan-fry them again to reheat, but just in a drizzle of oil this time. Or air fry them for a few minutes until hot and crispy again.

Just remember though that they are at their very best when first out of the pan!
More halloumi recipes
You might also like these fried halloumi bites (I call them life-changing for a reason). The process for making them is pretty much the same, but they're perfect for passing around at parties.
Generally a big fan of halloumi? You also have to try these 15-minute crispy halloumi burgers. They're the simplest (and most delicious?) veggie burger ever.
I also have a sort of expert how to cook halloumi guide. With pro tips, lots more halloumi recipes, and more. I hope you check this out too!
More easy Mediterranean appetizers
Or see this list of 15 easy Greek appetizers for a great selection of appetizers all in one place.
IF YOU MAKE THIS RECIPE, LET ME KNOW HOW YOU GET ON BY LEAVING A COMMENT AND RATING BELOW… AND DON'T FORGET TO SIGN UP TO RECEIVE ALL MY NEW RECIPES BY EMAIL!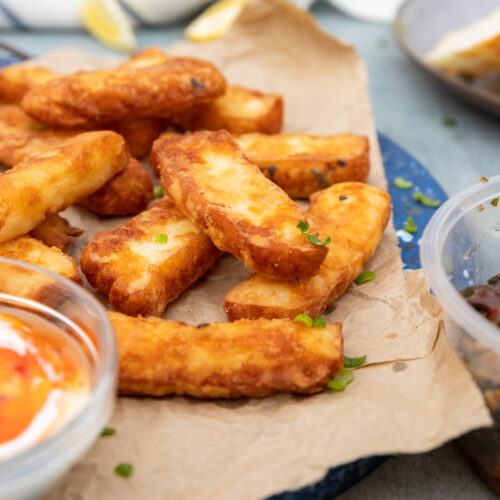 The BEST Crispy Halloumi Fries (+ Air Fryer Option)
Really crispy fries… but they aren't regular fries. They're fried halloumi cheese – with easy, yummy dips like Greek yogurt and sweet chili sauce. A family favorite for years, these halloumi fries are the original recipe with just 3 ingredients (no breading necessary!). They truly are legendary. Everyone loves them, and they take just minutes to make. Will they become a new family go-to for you, too? Try them and see!
Equipment (affiliate links)
Ingredients (UK/Australia? Click below for grams/ml)
For the 'fries'
9

ounces

halloumi cheese

(this is usually 1 'log' but exact weight doesn't matter)

2

tablespoons

flour

vegetable oil

For frying (enough to fill a medium saucepan to a depth of about half an inch). Use light olive oil or another favorite oil if you prefer.
For the dips (optional)
Greek yogurt (or sour cream), sweet chili sauce

(I prefer Greek yogurt. I sometimes swirl the two together.)
Instructions
Cut the halloumi cheese into roughly equal sized 'fries'. Mine are about 1.5cm in thickness and I get 12 fries out of one block of cheese.

Roll the 'fries' in the flour.

Heat up the oil in a small to medium-sized saucepan until the end of the 'fry' dipped into it sizzles. Then, carefully lower the fries into the oil.

Fry for a few minutes on each side or until golden and crunchy-looking (flip over with a fork). You might have to do this in 2 or more batches.

Remove carefully from the oil with a slotted spoon and serve immediately with the dips.

Greek yogurt (or sour cream), sweet chili sauce
Notes
Inspiration: Recipe inspired by Oli Baba's original halloumi fries invented in 2015 and sold at Camden market in London.
Best pan to use: I usually use a small to medium-sized saucepan so that I don't use much oil. I prefer to cook in 2 batches instead of using a larger saucepan.
Oil: I prefer either vegetable oil or light olive oil but you can use any oil, really. After you've finished cooking, let the oil cool down then pour it into a double layer of leak-proof bags before throwing away.
How to serve: While I love to serve with Greek yogurt and sweet chili sauce, you can serve these with any sweet, tangy or creamy dip. My advice is to keep the dip(s) simple! Alternatively, you can serve with lemon wedges for squeezing over.
I usually serve halloumi fries as a small appetizer for guests, or as a light lunch with bread and olives for ourselves.
Nutritional info: Note that when calculating the nutritional info for this recipe, I did not include the cooking oil or dips.
Where to buy halloumi: It's widely available in supermarkets/grocery stores or Mediterranean style delis in many countries. If halloumi is tricky to find where you are, you could use Latin American 'queso para freir' or Indian paneer instead if you like. Or any hard cheese that you know doesn't melt easily when heated.
Nutrition
Calories:
215
kcal
Carbohydrates:
3
g
Protein:
14
g
Fat:
16
g
Saturated Fat:
11
g
Polyunsaturated Fat:
1
g
Monounsaturated Fat:
4
g
Sodium:
766
mg
Potassium:
4
mg
Fiber:
1
g
Sugar:
1
g
Calcium:
638
mg
Iron:
1
mg