Doesn't everyone love crispy fries with a dip? We all know how to make those, though, so I thought I'd introduce you to a different sort of fries today – crispy halloumi fries! Don't forget the sour cream and sweet chili sauce, now …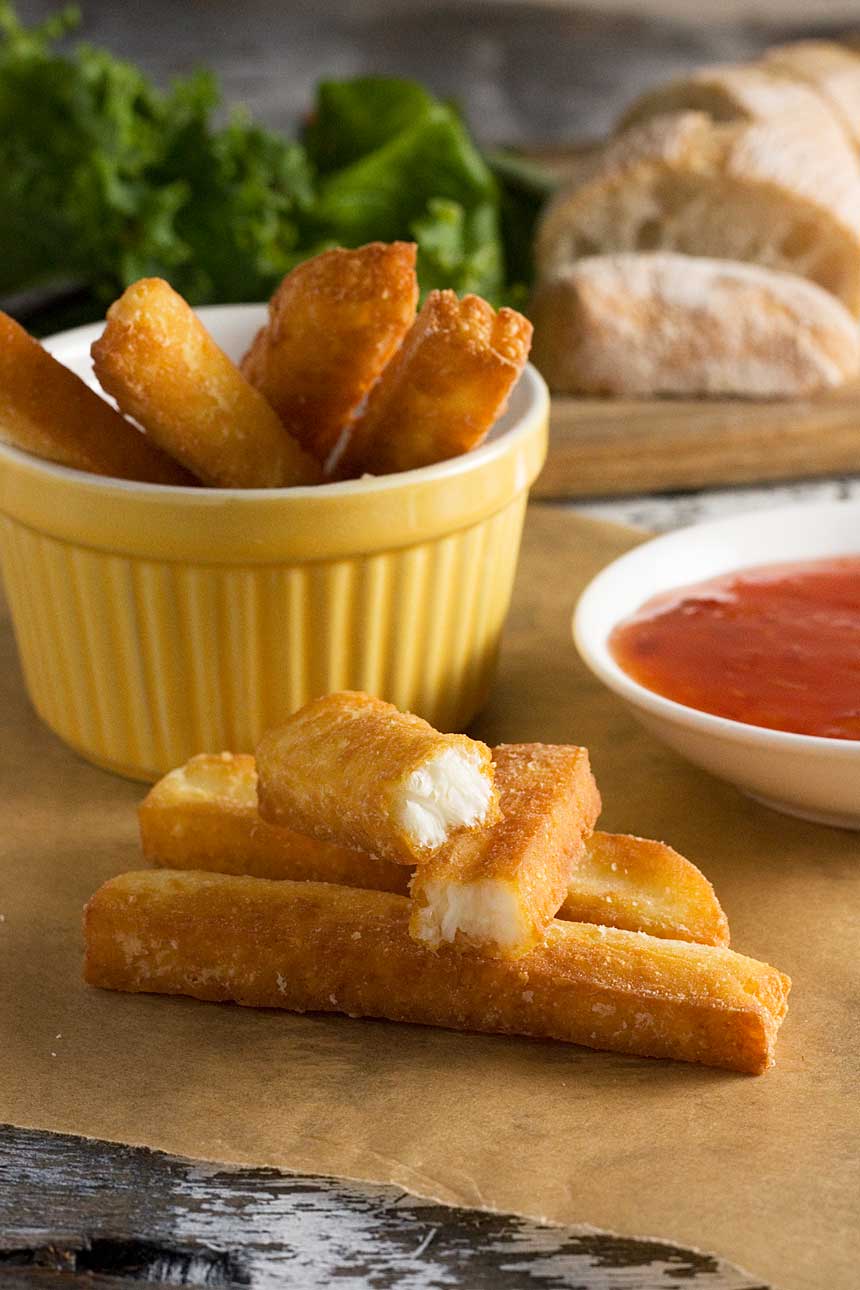 I've told you before about mine and Mr. Scrummy's very unhealthy addiction to fried potato wedges with sour cream and sweet chili sauce when we were living in Australia. We would go for a longish Saturday morning run, then somehow find ourselves perched on outdoor barstools stuffing our faces and ooh-ing and ah-ing over the deliciousness of the moment. We just might also have moaned a bit (oh OK then, a lot) about the paltry portions of sauce, and about having to pay if we wanted more. Cheapskates.
I still dream about these moments, but alas, potato wedges at the pub aren't such an institution here in the UK. I would make them at home but they're just not the same if they aren't fried to a deep crisp in a deep fat fryer.
So what's a girl without a deep fat fryer to do but find alternatives?
A different kind of crispy fry!
I realised that I'd found just that when I first had a go at making some 'fries' out of halloumi cheese recently.
So what IS halloumi cheese anyway?
Halloumi cheese has been breaking the Internet lately! But just in case you're not familiar with it, it's a hard white Cypriot cheese traditionally made out of sheep's milk or goat's milk – but now often made out of cow's milk.
It reminds me of mozzarella cheese, with its mild flavour, but you'll find it quite a lot saltier.
Halloumi is one of those cheeses that doesn't melt when it's cooked, which makes it perfect for frying to a lovely crisp.
Where can I find halloumi cheese?
This cheese is widely available here in the UK, and I really hope it is where you are so you can try these amazing 'posh fries'. If you can't see it in your regular supermarket, try a Mediterranean or even Middle Eastern deli.
Halloumi cheese is really worth trying to track down, but if you just can't find it/can't be bothered to run all over town looking for it, try the Latin American 'queso para freir' (cheese you can fry!) instead.
Enough of the rambling. How do you make halloumi fries?
You'll rarely (if ever) find anything complicated on this blog, but these crispy halloumi fries have got to be one of the easiest recipes of all.
This is hardly even a recipe. Great news for fans of easy entertaining!
Literally all you do to make these delicious halloumi fries is:
cut the 'log' of halloumi into fry shapes
roll the fries in flour
fry them in a little bit of oil
After a few minutes (literally), you've got yourself a nice little stack of gorgeous crunchy, salty, cheesy fries. Yum!
They look just like super crunchy regular fries, don't they?
I'm pretty convinced that fried halloumi cheese is one of the world's tastiest, most addictive foods!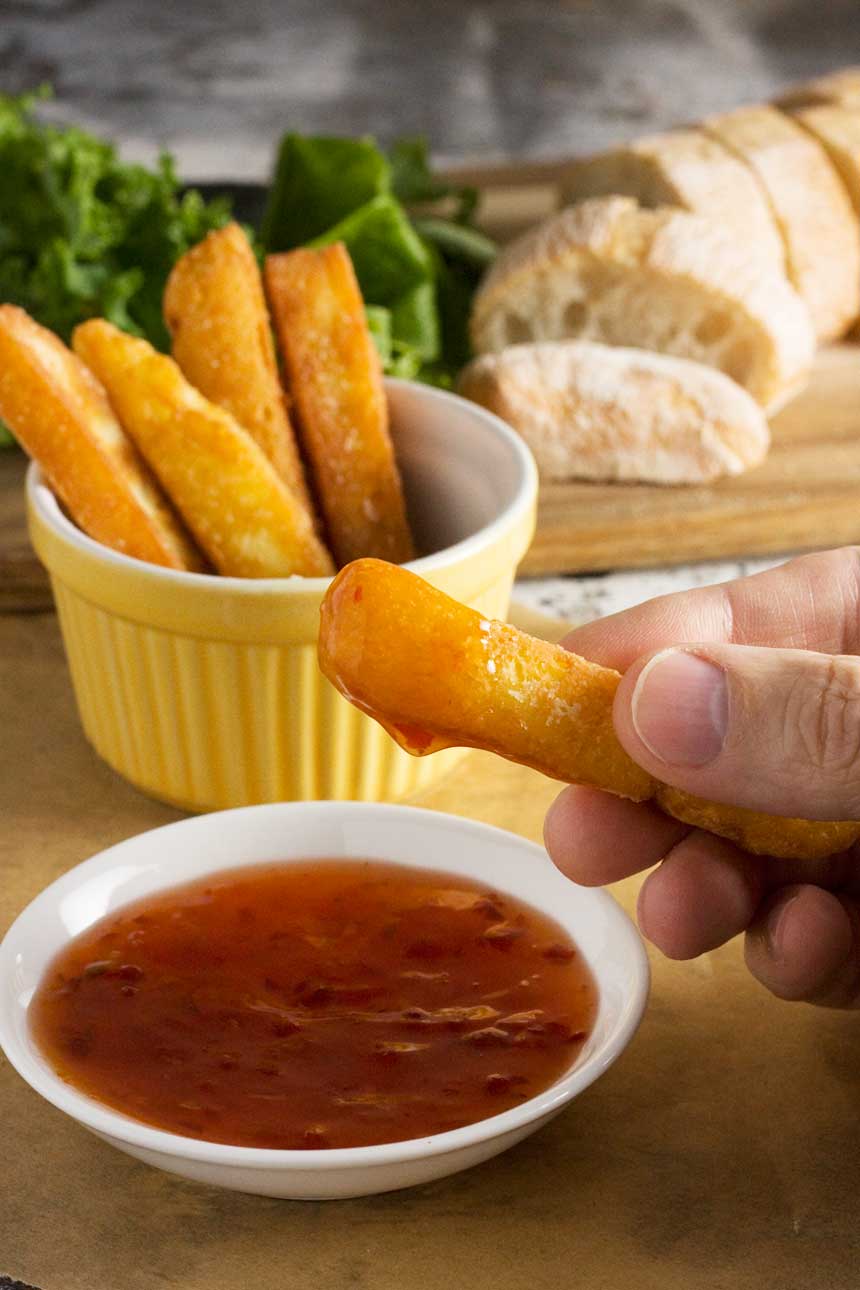 Perfect for dipping!
These are definitely best when piping hot, so don't delay with your dipping. Use your cheesy fries to generously scoop up Greek yoghurt (or sour cream if you prefer) and sweet chili sauce … and enjoy!
I'm thinking these would be great passed around with first drinks at a party over this holiday season.
Dip, sip, and dip again. Mmmm!
Scroll down to below the recipe to see the handy how-to video. The video actually shows how to make my life-changing fried halloumi bites (perfect for passing around at parties!) but the process is exactly the same. Just cut the halloumi into fry shapes rather than bites!
Think you might be a halloumi fries convert? You might also like these other halloumi recipes:
These crispy halloumi burgers are a fabulously easy and delicious veggie burger. I've never been much of a fan of veggie burgers, but one bite of one of these and you'll be a lifelong convert!
Crispy halloumi makes this tomato, corn, avocado and basil salad over-the-top delicious!
Just love halloumi? Check out my expert how to cook halloumi guide. With pro tips, recipes and more.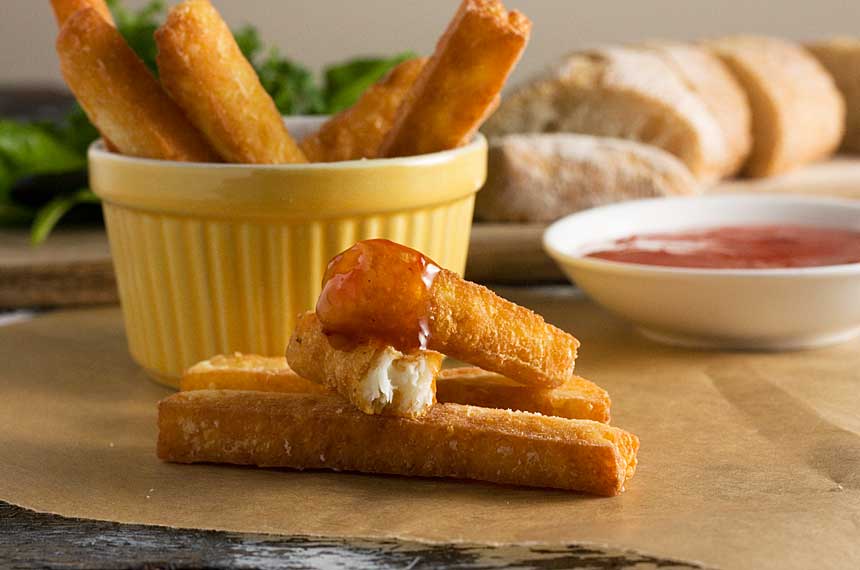 Crispy halloumi fries (and dips!)
Really crispy fries… but they aren't really fries. They're fried halloumi cheese – with lots of sour cream and sweet chili sauce to dip them in. Mmmm!
Ingredients (UK/Australia? Click below for grams/ml)
For the 'fries'
9

ounces

halloumi cheese

(this is usually 1 'log' but exact weight doesn't matter)

1

tablespoon

flour

vegetable oil

for frying (enough to fill a medium saucepan to a depth of about half an inch)
For the dip
sour cream or Greek yogurt

(I prefer Greek yogurt, and also sweet chili sauce)
Instructions
Cut the halloumi cheese into roughly equal sized 'fries' (mine were about 1.5cm in thickness).

Roll the 'fries' in the flour.

Heat up the oil in a medium saucepan until the end of the 'fry' dipped into it sizzles. Then, carefully lower the fries into the oil. Fry for a couple of minutes on each side or until golden and crunchy-looking (you might have to do this in 2 or more batches).

Remove carefully from the oil with a fork and serve immediately with the sour cream and sweet chili sauce.
Notes
Recipe inspired by 'halloumi fries' by Oli Baba's posted in the Sunday Times.
Note that when calculating the nutritional info for this recipe, I did not include the cooking oil or dips. So please take this information with a grain of salt!
*If halloumi is tricky to find where you are, you could use Latin American 'queso para freir' instead if you like. Or any hard cheese that you know doesn't melt easily when heated.
Nutrition
Calories:
207
kcal
Carbohydrates:
1
g
Protein:
14
g
Fat:
15
g
Saturated Fat:
10
g
Sodium:
765
mg
Calcium:
638
mg
Iron:
0.1
mg