This is a sort of copy of a supermarket salad I've been enjoying for ages. It's a simple (of course) cold orzo salad with just a few ingredients: a basil and olive oil pesto, toasted pine nuts, finely shredded spinach and thickly grated parmesan stirred into orzo pasta.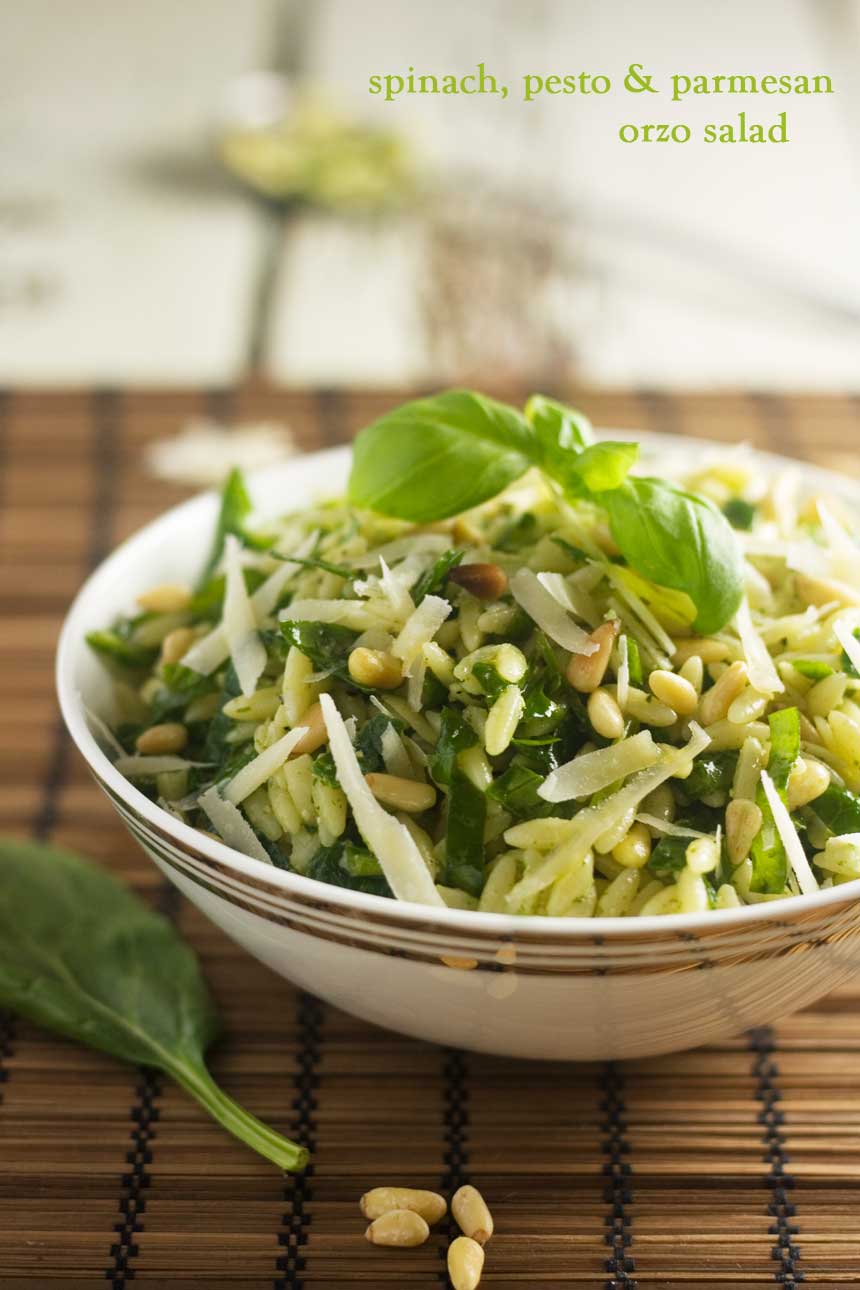 One of mine and Mr. Scrummy's (but especially Mr. Scrummy's) favourite meals when we go to my parents' for dinner is jacket potatoes (that's possibly baked potatoes to you!) with 'bits'. OK, so I know what you're thinking: 'Now stop being cryptic, or I'm clicking straight off this page. What's 'bits'? Pray do explain.'
Well, there's a bit of quiche, there's a bit of green salad, there's a bit of sliced avocado, there's a bit of grated cheese for the potatoes … and a few little bitty salad-y things in pots from a rather posh food hall called 'Marks and Spencers' (If you want an extra nice version of something pre-packaged here in the UK, this is where you go. You pay for it, but oooh it's so good!)
So one of the 'bits in pots' that I always enjoy the most is a cold pasta salad with a pesto-y dressing, spinach, parmesan and pine nuts. The only problem is, it's sold in the tiniest little pot you could imagine, and as you can probably guess I am a bit of a greedy guts so this sort of thing can be a problem. Soooo … I had the bright idea of trying to make something a bit like this for myself … and fortunately it turned out just as I had imagined!
This spinach, pesto & parmesan orzo salad, then, is pretty self-explanatory, really. It's orzo pasta (the rice-shaped kind, as you can see from the piccies) cooked al dente and tossed together with generous amounts of a basil pesto, finely chopped spinach, thickly-grated parmesan and toasted pine nuts. Really, that's it – oh, unless you count the splash of vinegar I added, too, just to give it a tiny bit of zing.
We enjoyed this last night with a simple meal of jacket potatoes with tuna and sweetcorn and other little 'bits'! It was certainly nothing fancy, but we enjoyed it just as much as I think I would have enjoyed the amazing creations we were watching on UK Masterchef as we ate! Well, almost as much, anyway … 😉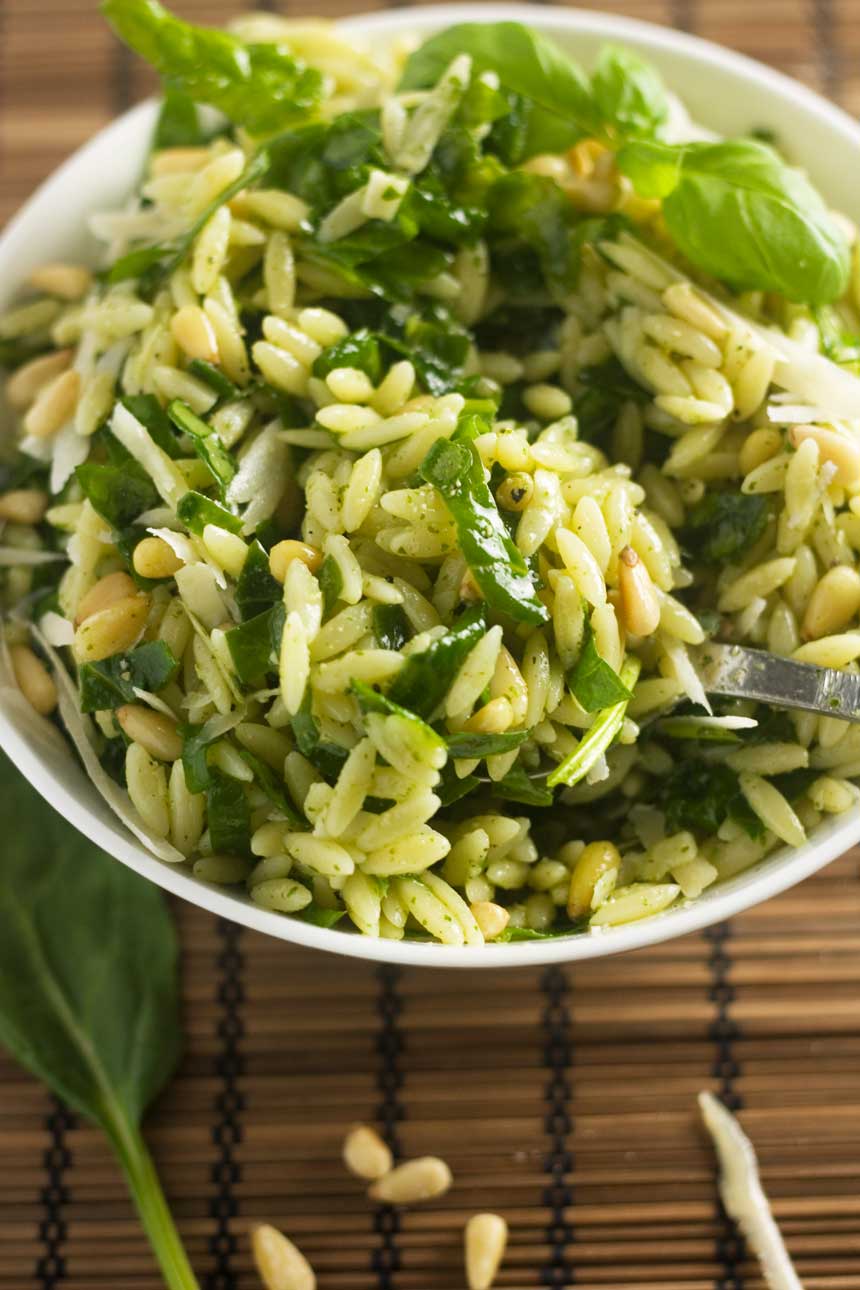 I think this would be a great pasta salad to accompany a grilled or barbequed meat or even a nice chunk of fresh fish. It would also be really easy to jazz up a bit with cubes of feta cheese, asparagus spears, Kalamata olives or sundried tomatoes. Mmmm … might try one of those variations next time!
So are we the only ones who enjoy 'bitty' meals like this? What do you include in your 'bitty meals'??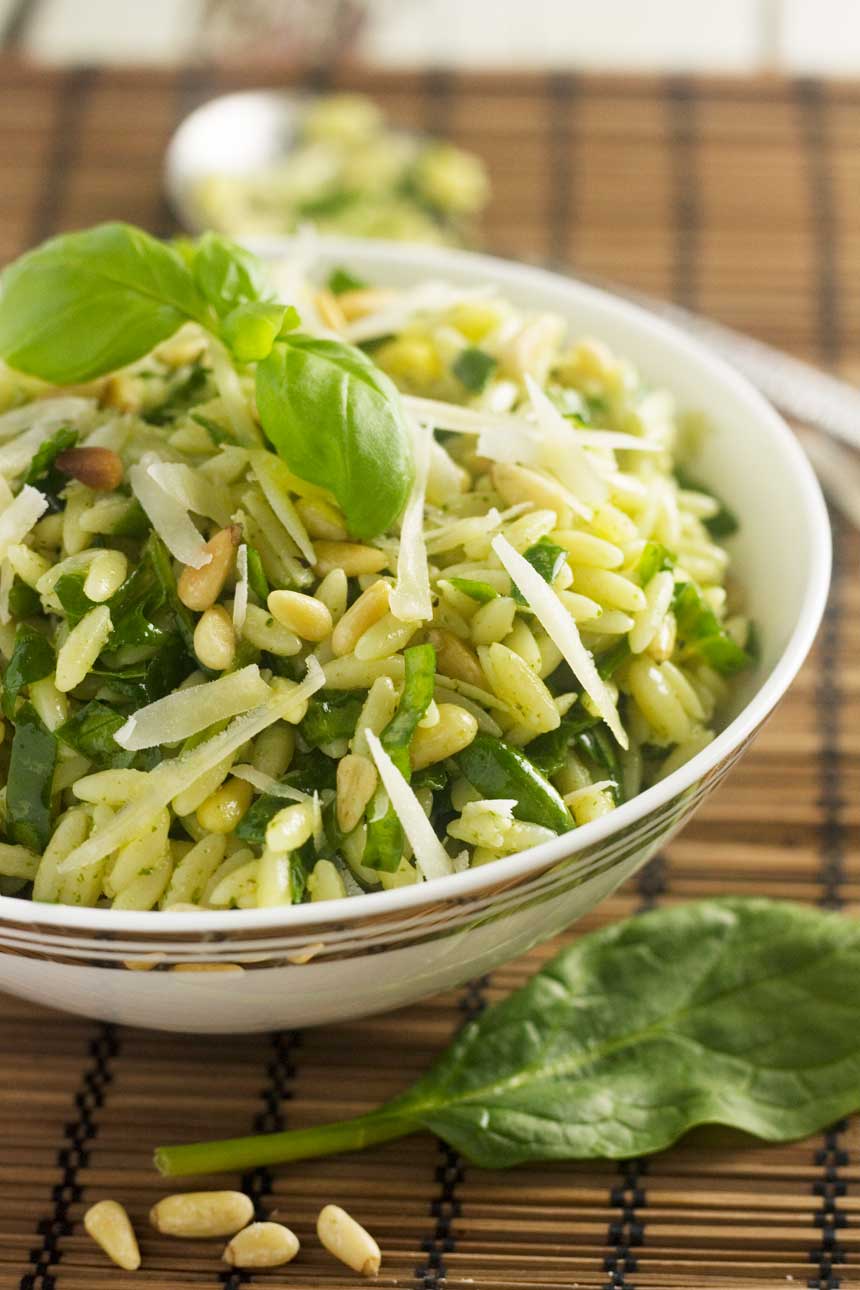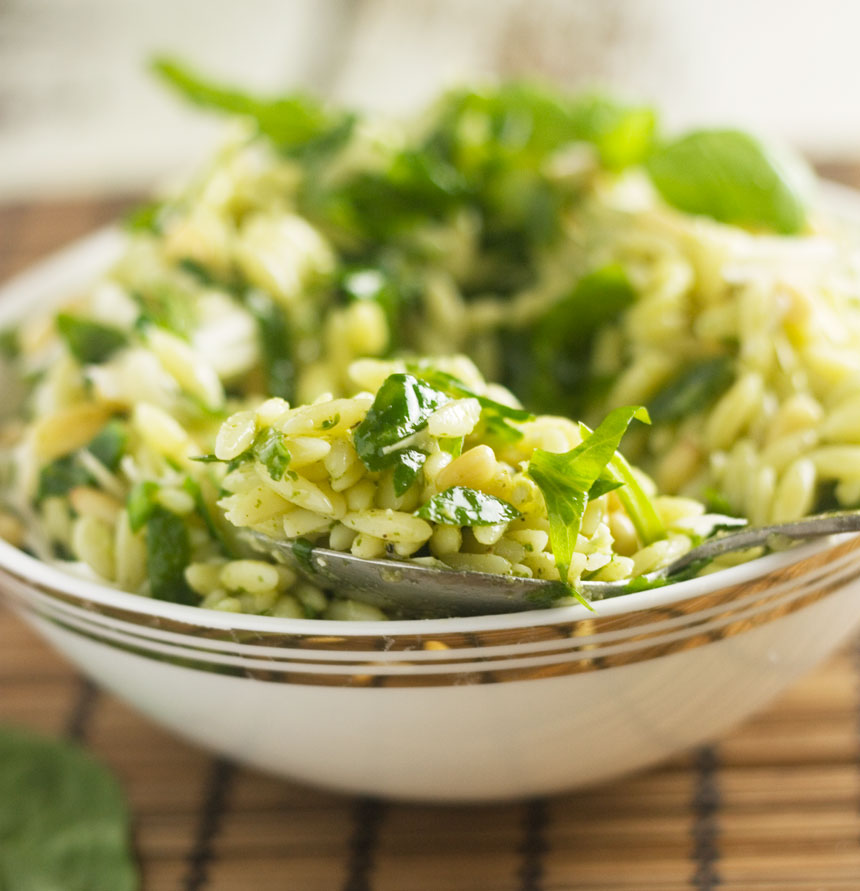 spinach, pesto & parmesan orzo salad
An orzo salad packed with freshly-made basil and olive oil pesto, toasted pine nuts, shredded baby spinach and parmesan cheese. This is a simple, subtle salad that would be perfect served with other 'little' salads or as part of a buffet.
Ingredients (UK/Australia? Click below for grams/ml)
8

ounces

dry orzo pasta

about 2 handfuls fresh basil

1

ounce

pine nuts

a small clove garlic

6

tablespoons

good quality extra virgin olive oil plus a little extra

2

ounces

fresh baby spinach leaves

finely chopped

2

tablespoons

parmesan cheese

grated (quite thickly)

2

tablespoons

white wine or cider vinegar

salt & pepper
Instructions
Cook the pasta according to the packet instructions (you want it to be al dente so don't overcook), then drain in cold water and put into a medium bowl. Meanwhile, toast the pine nuts in a dry frying pan on a medium heat. Keep jiggling them around until they are lightly brown.

Put about two thirds of the basil, a handful of the toasted pine nuts, the garlic and the 6 tablespoons olive oil into a food processor (a baby one is perfect) and whizz for a few seconds until well combined (the pesto can be slightly chunky or totally smooth – doesn't really matter). Tip the pesto over the orzo and combine well. Then add the chopped spinach, the rest of the basil (chopped a little), the rest of the pine nuts, the parmesan and vinegar and combine again. Season to taste.

Spoon the pasta salad into a nice bowl (if you like) to serve, then drizzle over a little extra olive oil.
Notes
Based on a salad I've been eating for ages from Marks & Spencers! Thanks for the idea, Marks & Sparks!
This is great served as a side dish with other salad-y 'bits' e.g. baked potatoes with a filling or two, a green salad, coleslaw, quiche etc.!
Add small cubes of feta cheese, sundried tomatoes or asparagus spears to this salad if you want to 'jazz it up' a bit!
Nutrition
Calories:
308
kcal
Carbohydrates:
29
g
Protein:
6
g
Fat:
18
g
Saturated Fat:
2
g
Cholesterol:
1
mg
Sodium:
37
mg
Potassium:
165
mg
Fiber:
1
g
Sugar:
1
g
Vitamin A:
900
IU
Vitamin C:
2.6
mg
Calcium:
37
mg
Iron:
1.1
mg

You can also find more from Scrummy Lane on Facebook, Pinterest, Twitter and Instagram and follow me on Bloglovin! Thanks so much for reading!
*This post may contain affiliate links which means that if you click on a link and make a purchase I get a small percentage of the amount you spend. At no extra cost to you, of course! Thank you!*