Roasting the tomatoes and corn makes this a warm salad, and scattering crispy halloumi bites and drizzling a honey and mustard dressing over the top takes it from good to totally addictive! This magical salad makes an easy meal in itself or a delicious side at any time of year.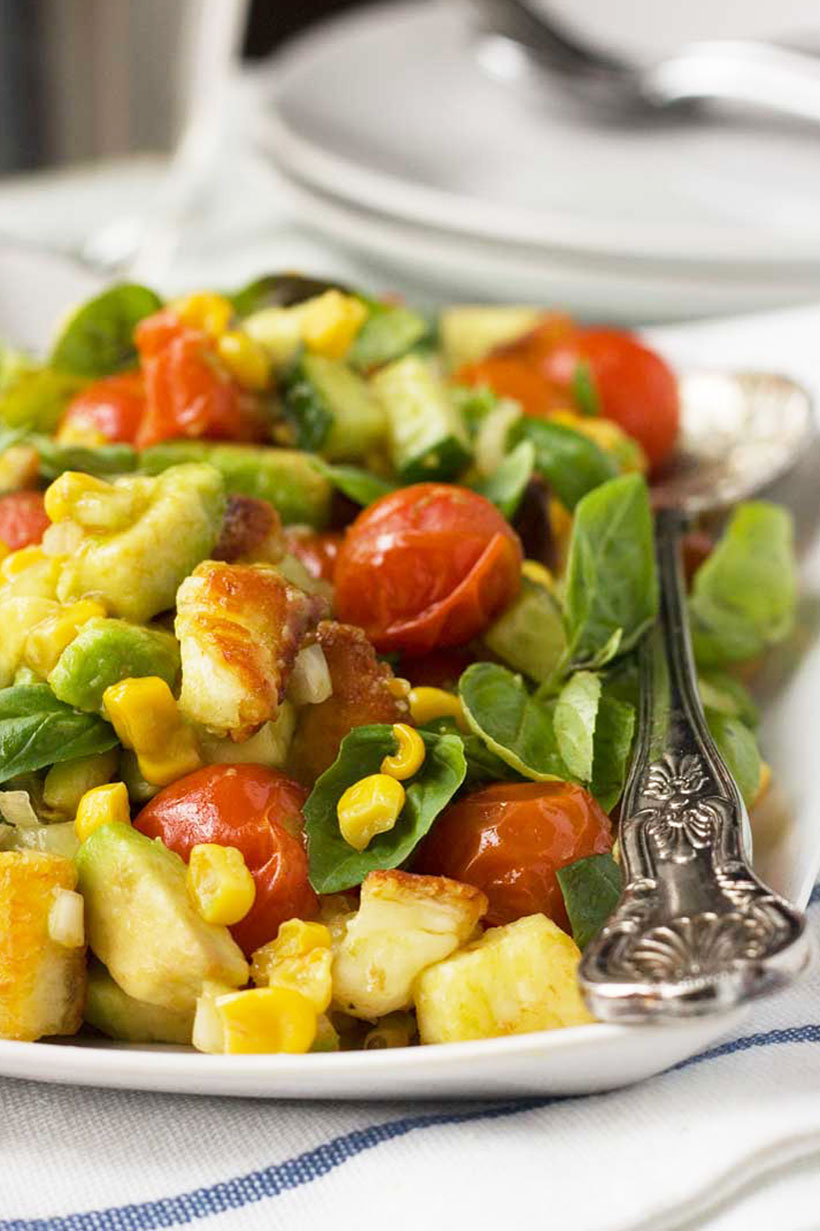 It's a warm salad
This is one of those 'magic' salads that's great all year round because it's a WARM salad, which of course are fabulous all year round.
If you're a fan of warm salads in general, or you think you could be persuaded, may I suggest this incredible roasted fennel orange salad with radishes, feta and pistachios? Or this roasted butternut squash, chorizo and feta salad, which makes an incredible light lunch or side?
But this crispy halloumi salad is one of my favourite warm salads for several reasons:
It showcases crispy halloumi bites. Not sure if you'll like them? Try these halloumi fries or this halloumi burger first. You'll be hooked on crispy halloumi forever.
Add yummy roasted cherry tomatoes, corn (who doesn't like that?) and creamy avocado and you've got one very crowd pleasing salad.
It can be a light meal all by itself or a delicious side dish for a BBQ or simple midweek meal. I've listed specific serving ideas below.
The easy honey mustard dressing is very tasty. It takes the salad from good to outstanding.
About the ingredients
All you need is:
Baby tomatoes: I usually roast them for ten minutes in the oven.
Corn: The best thing to do is to cook fresh corn as you normally would – either boil, grill or roast – then shave it off the cob and into the salad! Sometimes however I take the lazy approach – I simply open a can of cooked corn and roast it with the tomatoes. It aint fancy but it works.
Chopped cucumber, avocado and onion: No explanation necessary!
Halloumi cheese: Buy a 'log' of cheese and chop it into cubes. Crisp it by shallow frying in oil. Delicious… not to mention addictive!
Fresh basil
Honey mustard dressing: Whisk together honey, mustard, cider (or other) vinegar and olive oil. Done.
Making the halloumi bites is one life skill you really need to master. Need a quick and crowd pleasing appetizer idea? Skip the salad and just make halloumi bites!
How to make it
Step 1: Roast the tomatoes for 10 minutes. If using canned corn, add that to the tray too.
Step 2: In the meantime, cook the corn. Either boil for 10 minutes, or air fry for 10 minutes. You can even microwave it (go with 8 to 10 minutes). Let cool a little, then shave off the corn with a sharp knife.
Step 3: Cook the crispy halloumi. Simply roll smallish cubes of halloumi cheese (about 2cm square) in a little flour, then cook for a couple of minutes on each side in a cm or so of oil. Use a small saucepan – that's all you need.
Step 4: Stir everything together with all the other salad ingredients (the cold ingredients), then scatter the crispy halloumi on top.
Step 5: Whisk together the dressing ingredients. Serve the warm salad immediately with the yummy dressing on the side.
Tips for the perfect salad
First things first: get everything chopped and ready to go. You want to be able to serve the salad immediately after the halloumi is cooked.
As always with salads, try to use good quality ingredients – red juicy tomatoes, fresh corn on the cob if you can, perfectly ripe avocado, and nice fresh basil.
I'd recommend serving your salad on a big plate with the halloumi bites scattered on top so that it stays crispy. Let everyone drizzle over their own dressing once they've got the salad on their plate.
The salad is just as delicious with raw tomatoes. / Use a bottled salad dressing if you like. / I don't recommend skipping the crispy halloumi, but this salad is also delicious made with feta or goat's cheese.
How to serve it
More things to know (FAQ)
What's the best way to cook the corn for this recipe?
If you like, you can use fresh corn. Grill it, microwave it, or air fry it, then shave it off and into the salad. 10 minutes should do the trick.

You can also roast it for 35 to 40 minutes in the oven at 205C/400F. Or you can simply boil it for 10 minutes.

You can even just use a can of ready cooked corn and throw it onto the tray when you roast the tomatoes. Why not – I won't tell.
I'm not sure I like halloumi. Can I use a different kind of cheese?
What? You don't like halloumi!? Try it this way (crispy) and see if you change your mind. If you still don't like it, of course you can use another cheese. Try feta, goat's cheese, ricotta or even blue cheese.
Do I have to cook the halloumi and roast the tomatoes?
I definitely wouldn't skip cooking the halloumi. It's absolutely delicious and halloumi cheese is definitely better when cooked.

But yes, if you want to skip a step you can just use raw tomatoes. Just chop them in half and away you go!
More recipes for halloumi lovers
Just love halloumi? Check out my expert how to cook halloumi guide. With pro tips, recipes and more.
IF YOU MAKE THIS RECIPE, LET ME KNOW HOW YOU GET ON BY LEAVING A COMMENT AND RATING BELOW… AND DON'T FORGET TO SIGN UP TO RECEIVE ALL MY NEW RECIPES BY EMAIL!
FOLLOW ME ON FACEBOOK, INSTAGRAM, PINTEREST AND YOUTUBE.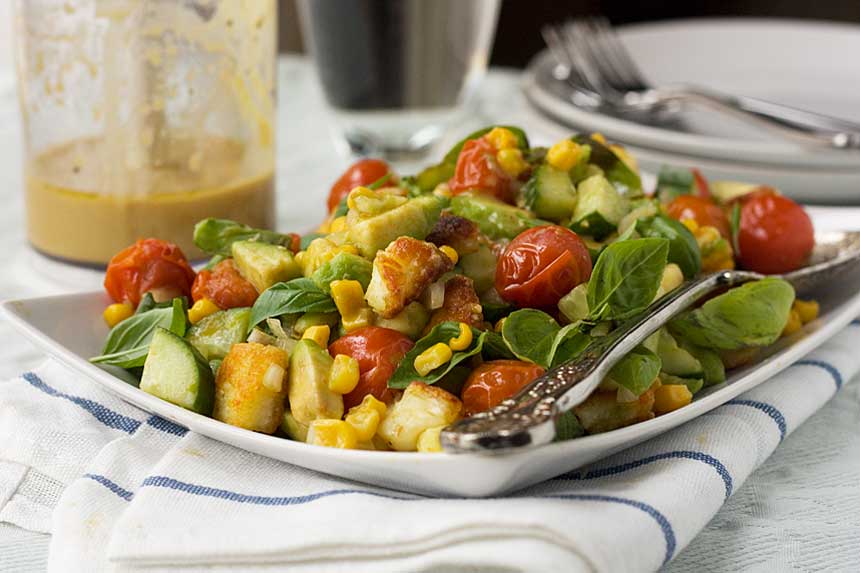 Crispy halloumi salad with roasted tomatoes, avocado and corn
A simple salad with roasted tomatoes and corn, avocado, and basil – all topped with addictively crispy halloumi cheese and a drizzle of honey mustard dressing. Lovely eaten by itself or with crusty bread and a protein of your choice.
Equipment (affiliate links)
Ingredients (UK/Australia? Click below for grams/ml)
For the salad
9

ounces

cherry tomatoes

(in Australia and the UK, this is about 1 punnet or container of tomatoes)

⅔

cup

cooked corn

(corn shaved off 1 cooked corn on the cob will be fine, or use cooked corn from a can – see notes below for cooking options)

⅔

cucumber

cubed

1

avocado

cubed (try to use one that's perfectly ripe – not too hard, not too mushy)

½

small

onion

finely chopped

1

large handful

fresh basil
For the halloumi bites
9

ounces

halloumi cheese

1 'log', chopped into cubes (about 1 – 2cm)

2

tablespoons

flour

(approximately)

oil for cooking

(about ½ inch in a medium saucepan – I usually use olive oil but any oil is fine)
For the dressing
1

tablespoon

honey

1

tablespoon

Dijon mustard

3

tablespoons

cider vinegar

(or your favourite vinegar)

5

tablespoons

olive oil
Instructions
Pre-heat the oven to 180C / 355F, then roast the tomatoes on a baking tray for 10 minutes. If you're using canned corn, you can add the corn too.

At the same time, boil the corn for 10 minutes if you're using fresh. Let cool a little, then shave off the cooked corn.

Roll the halloumi cubes in the flour and set aside.

Heat the oil in a large frying pan, then add the halloumi cubes. Let cook for two or three minutes without moving, then toss and let cook for a minute or two longer. Repeat until the cheese is well browned and crispy. Drain on kitchen paper.

When cooked, tip the tomatoes and corn onto a large plate or platter, then add the cucumber, avocado and onion. Stir through the basil, then scatter the crispy halloumi over the top.

Whisk together the dressing ingredients. Serve the warm salad immediately, with the dressing on the side.
Notes
How to cook the corn: If you like, you can use fresh corn. Grill it, then shave it off and into the salad.
You can roast it for 35 to 40 minutes in the oven at 205C/400F. Or you can simply boil it for 10 minutes.
Tomatoes: You don't have to roast the tomatoes if you don't want to. If you decide not to, simply chop the tomatoes in half.
Cheese: Feel free to use a different kind of cheese in this salad e.g. mozzarella, feta, goat cheese.
How to serve: Serve this salad by itself (halloumi is quite 'meaty'!), or with crusty bread and a protein of your choice e.g. salmon, chicken, sausages, burgers.
Feeling cheeky? You can even skip the rest of the salad and just make the crispy halloumi bites! Serve immediately with sweet chili sauce and Greek yoghurt or sour cream! 😉
Nutrition
Calories:
372
kcal
Carbohydrates:
20
g
Protein:
3
g
Fat:
32
g
Saturated Fat:
4
g
Sodium:
52
mg
Potassium:
433
mg
Fiber:
5
g
Sugar:
8
g
Vitamin A:
240
IU
Vitamin C:
11
mg
Calcium:
16
mg
Iron:
0.7
mg