This Greek baked eggplant with tomato sauce and feta is a great healthy (& gluten-free!) appetizer or side dish to serve with grilled meat or fish, meatballs and more. It might seem simple, but it'll send your taste-buds soaring!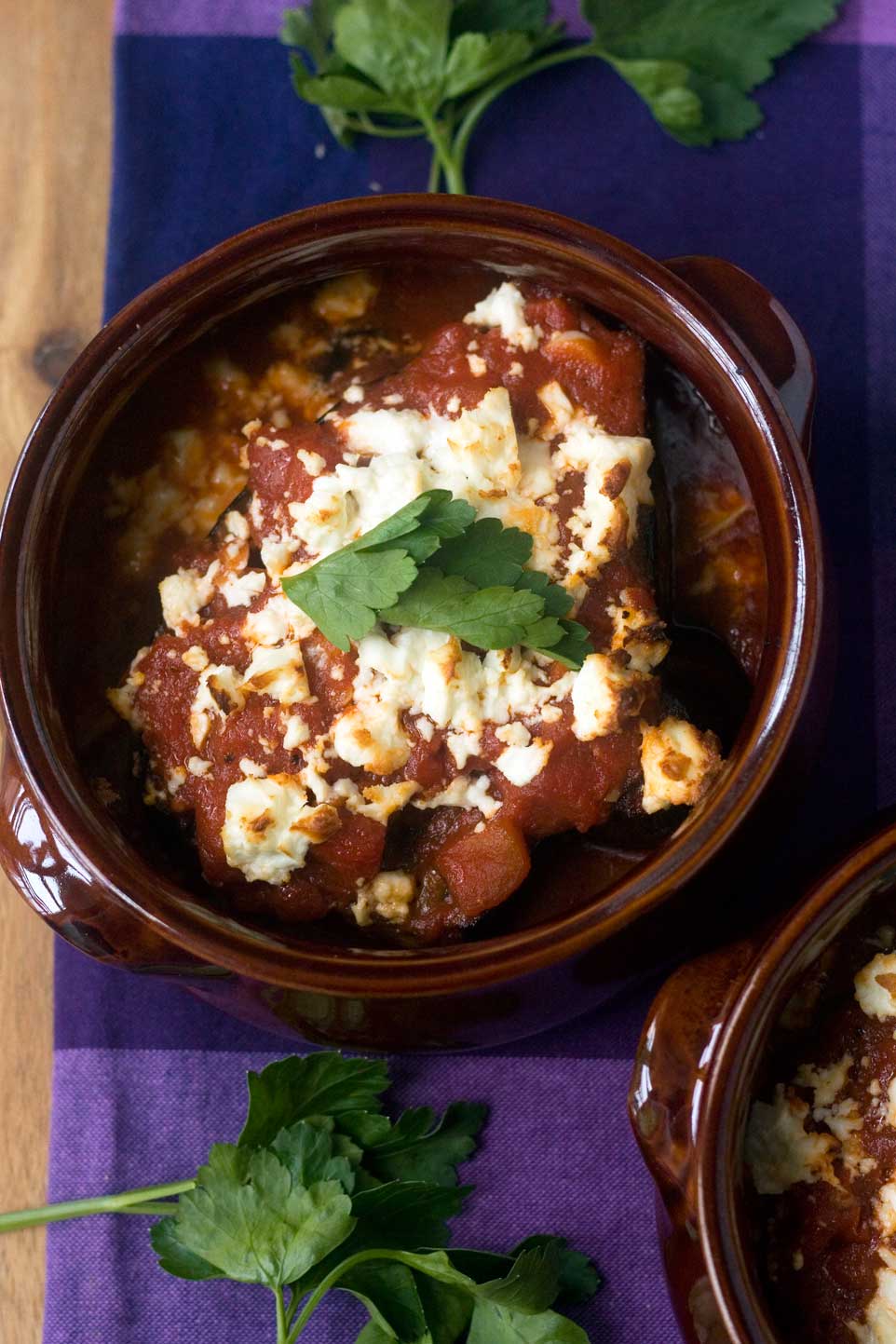 Eggplant ( or aubergine!) is a delicious, hearty and healthy ingredient that I barely knew existed before spending some years living in Greece. Eggplant moussaka is still one of my favorite dishes ever. These papoutsakia (Greek stuffed eggplant) will blow your mind. Or if you're in the mood for pasta, try pasta alla norma or eggplant lasagna.
I first found something very similar to this delicious baked eggplant with tomato and feta cheese on the slightly sticky pages of the menu of a tourist restaurant close to the Acropolis in Athens, Greece.
Surprisingly, this turned out to be one of the most delicious meals ever. And as tasty as the other parts of our meal were, both myself and Mr. Scrummy agreed that this simple eggplant side dish was the runaway show-stealer!
Lucky for us (and for you!) we took the chance to ask our waiter how the baked eggplant was made. He told us that the eggplant is first baked in the oven by itself with a little olive oil. Then tomato sauce is poured over the top, followed by crumbled feta cheese, before the dish is put back in the oven to finish off.
So simple that I didn't even need to jot it down.
I learned later that although not exactly the same, the recipe is similar to a traditional dish from the Greek island of Zakynthos called 'skordostoumbi', or garlic eggplant. It literally means 'stuffed with garlic', or rather 'We are stuffed with garlic', which I love!
Why you'll love it
Hopefully I've already piqued your interest in this amazing Greek eggplant recipe. Here are even more reasons to love it:
It's so easy to make with just an eggplant, marinara sauce and feta cheese.
It's so healthy! It's a great example of a Mediterranean diet recipe.
It's surprisingly delicious. It's hard to explain, but try it and I think you'll see what I mean.
About the ingredients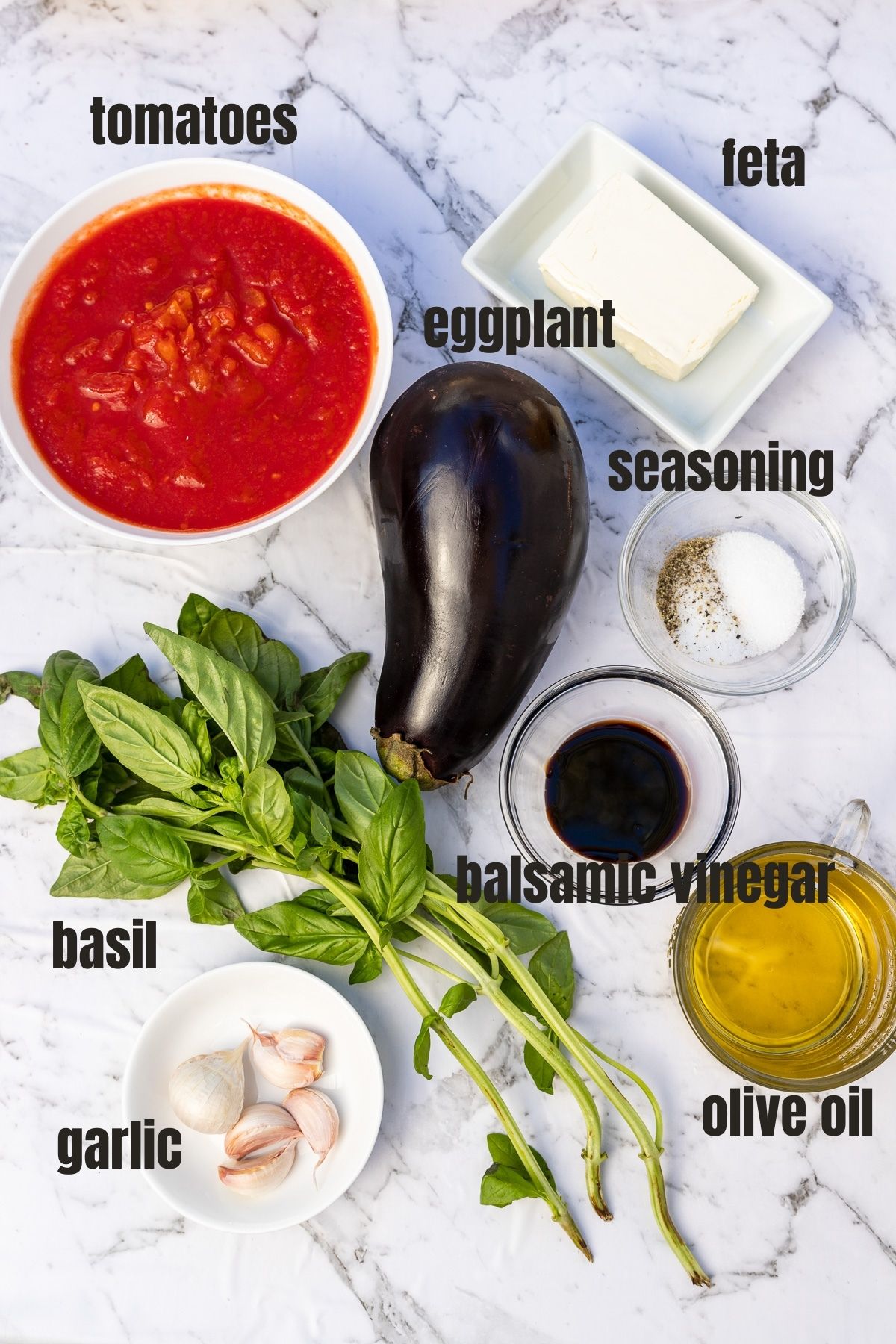 Eggplant: Grab a nice firm and shiny one! I find a small to medium eggplant is all you need to make enough to serve 4 as a side dish (or 2 as a main with bread).
Olive oil: As always, I recommend using a good quality extra virgin olive oil. It makes all the difference to the flavor!
Garlic: You need 5 cloves. I like to slice them rather than crush them for this recipe, since you really want the garlicky flavor to infuse into the delicious sauce.
Canned tomatoes: Just a regular can of tomatoes is fine – whatever you have. If you're buying a can especially for this recipe, however, I prefer to get organic whole peeled tomatoes. They're generally better quality than chopped tomatoes. Just 'snip' them in the can with a pair of scissors!
Fresh basil: This is optional but does add to the flavor of the sauce. I don't chop it. I just put a couple of whole sprigs into the sauce as it's cooking to infuse the flavor. Then I remove the herbs when the sauce is cooked.
Salt, peper, sugar, balsamic vinegar: These make all the difference! If you like you can substitute the sugar with honey.
How to make Greek baked eggplant
Clue: It's super easy.
Step 1: Bake the eggplant uncovered for 45 minutes (after slicing it in half and scoring it in a criss-cross pattern). I usually brush all over with olive oil first then place it face down in a baking dish. It's done when it looks kind of collapsed and wrinkled, but of course not burnt.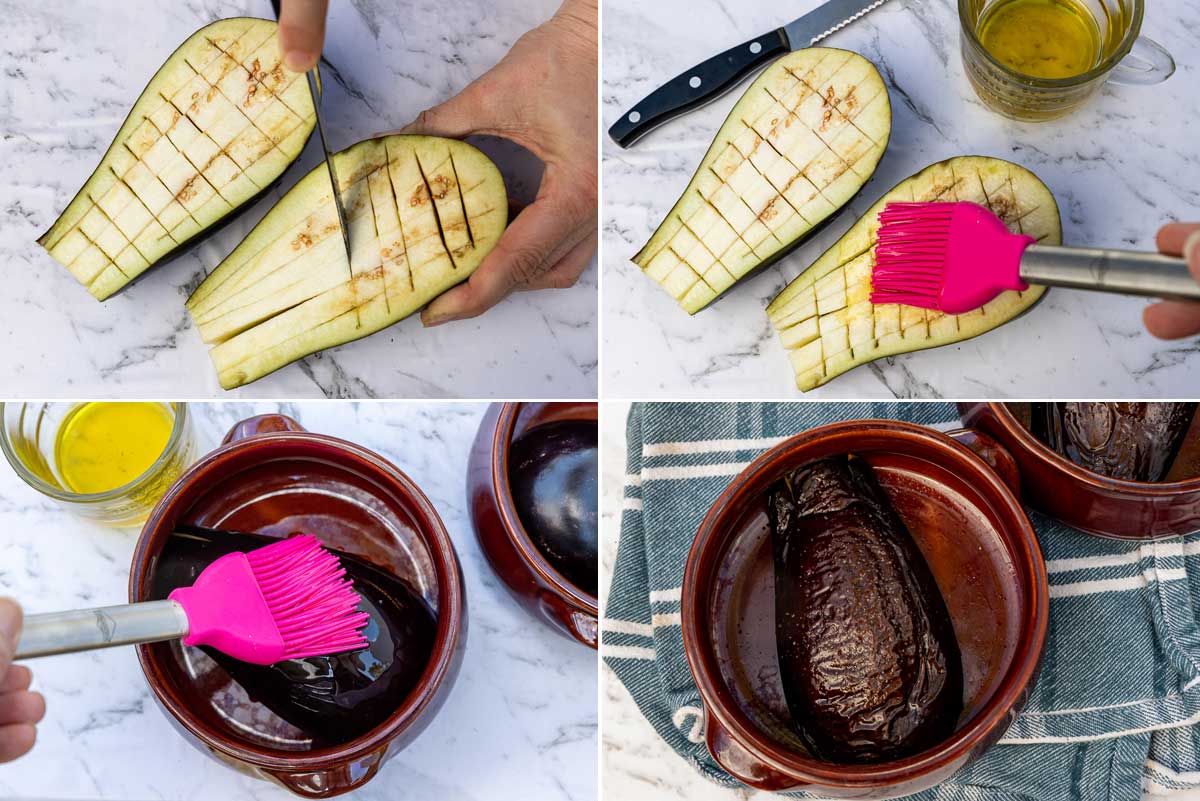 Step 2: Meanwhile, make the very easy tomato garlic sauce. This is the most incredible basic marinara sauce ever (Use store-bought instead if you like!). All you do is add the garlic to the oil in a medium frying pan, then add the tomatoes, herbs, salt and pepper, and herbs if you have them. Then add half a can of water and let the sauce simmer for around 15 to 20 minutes or until it's slightly thickened.
At this point, your kitchen will smell absolutely amazing!

Step 3: Pour the tomato sauce over the eggplant and scatter over some feta cheese. Bake again for another 15 minutes.

So all in all this version of Greek roasted eggplant takes just over an hour. This might sound like a long time, but you really do want that eggplant to be nice and soft.
And trust me, it's worth it. This really is simple vegetarian Mediterranean food at its best!
Helen's top tips
Use store-bought marinara sauce to make this recipe even easier. I do this at least half the time. Shh, don't tell anyone.
Make a double batch of the sauce and use the rest as a simple pasta or pizza sauce.
Feel free to serve this hot or a bit cooler (the Greeks often serve dishes like this at room temperature).
Vary the recipe by sprinkling with parmesan cheese instead of feta to make a simple eggplant parmesan.
How to serve this dish
The cute little brown dishes with lids that you see in the photos are just perfect for baking this delicious Mediterranean side dish in, don't you think? And all for the thrifty price of about 3 euros each!
You may not be able to jet off to the Mediterranean to pick some up, but I find these these mini casserole dishes by Pioneer Woman very cute too! (affiliate link)
When I first made my own slightly guessed version of this easy aubergine dish, Mr. Scrummy and I ate it alongside some greek lemon chicken and potatoes leftovers. Again … it was the star of the show.
Here are some more ways to serve your delicious tomato eggplant:
For a super low-carb meal, skip the feta on top and serve with these amazing crispy halloumi fries! Once tried forever a family favorite (trust me).
Keep it vegetarian but for a more substantial meal, serve alongside these legendary Greek potatoes.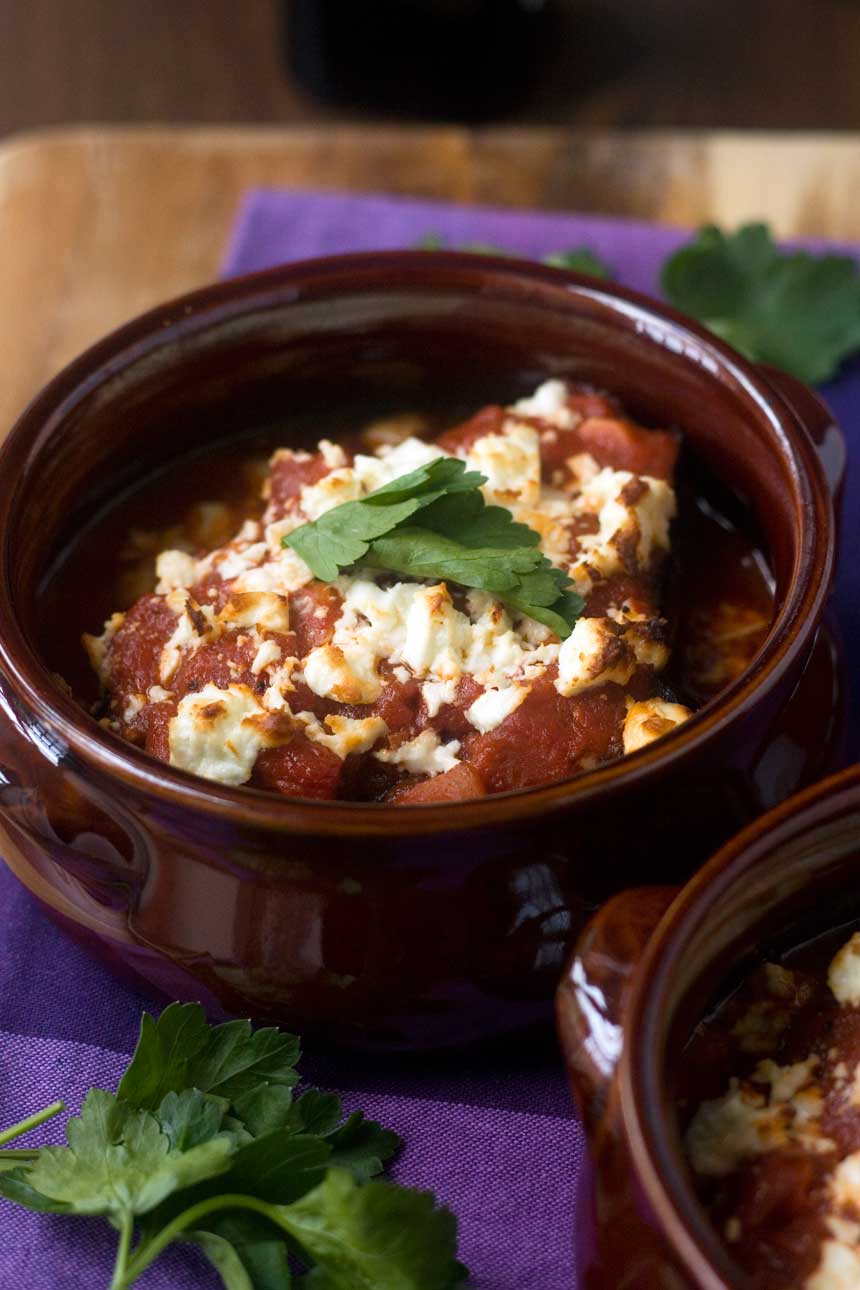 More things to know (recipe FAQ)
Do I need to salt eggplant before cooking it?
Some people think that you do. I never do, however, and certainly not for this dish. These days, eggplant doesn't generally taste bitter like it sometimes used to. So I think you can safely skip this step.
Can I make this ahead?
Absolutely! I do this all the time. You can bake the eggplant and make the sauce earlier in the day, or even the day before. Then top the cooked eggplant with the sauce and feta and store it covered in the fridge. When you're ready to eat, just bake for 15 minutes until hot and browned on top.

The leftovers are good reheated, too. I usually just cover and reheat for a few minutes in the microwave.
Is baked eggplant healthy?
Eggplant is exceptionally good for you. Especially when drenched in a delicious tomato garlic sauce like in this recipe. It contains antioxidants like vitamin A and C and is high in fibre and low in calories and fat. It doesn't 'taste healthy', though. You really won't believe how delicious this dish is!
Looking for another easy Greek vegetarian main dish? You have to try this easy stovetop version of classic Greek giant beans as well!
More 'favorite' Mediterranean recipes to try
Or browse all my Mediterranean recipes here
IF YOU MAKE THIS RECIPE, LET ME KNOW HOW YOU GET ON BY LEAVING A COMMENT AND RATING BELOW… AND DON'T FORGET TO SIGN UP TO RECEIVE ALL MY NEW RECIPES BY EMAIL!
FOLLOW ME ON FACEBOOK, INSTAGRAM, PINTEREST AND YOUTUBE.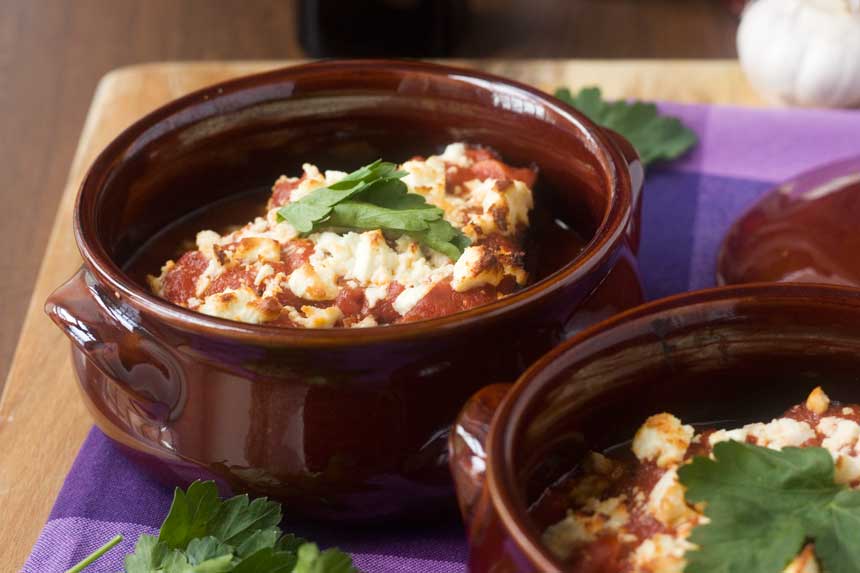 Our Favourite Greek Baked Eggplant With Tomato & Feta
A simple Mediterranean side dish of baked eggplant with tomato sauce and feta cheese. Perfect served with grilled meat or by itself with some garlic bread on the side.
Ingredients (UK/Australia? Click below for grams/ml)
1

eggplant

/ aubergine, sliced in half lengthwise and scored all over in a criss-cross pattern (without cutting through the skin).

olive oil

for baking

3

ounces

feta cheese
for the tomato sauce
0.25

cups

olive oil

5

cloves of garlic

sliced

14

ounces

chopped tomatoes

(400 grams = 1 can)

½

bunch

fresh basil

optional

1

teaspoon

salt

pepper

(to taste)

1

teaspoon

sugar

0.5

tablespoons

balsamic vinegar
Instructions
Preheat the oven to 200C/390F. Brush the eggplant with a generous amount of olive oil, and sprinkle with a bit of salt.

Bake each eggplant half facedown in little separate baking dishes (or side by side in a slightly bigger baking dish) for about 45 minutes or until the flesh is soft.

Meanwhile, make the tomato sauce. Heat the olive oil on a medium heat in a pan with a large surface area, then add the garlic. Cook for a couple of minutes (don't brown the garlic), then add the chopped tomatoes, herbs and salt and pepper. Half fill the empty tomato can with water and add that to the pan, too.

olive oil,

5 cloves of garlic,

14 ounces chopped tomatoes,

½ bunch fresh basil,

1 teaspoon salt,

pepper

Let the sauce simmer for about 15 minutes, then remove the herb sprigs. Add the sugar and balsamic vinegar and stir in.

1 teaspoon sugar,

0.5 tablespoons balsamic vinegar

Pour the tomato sauce over the eggplant/aubergines, then crumble over the feta. Bake for about another 15 minutes or until the tomato sauce is bubbling.
Notes
What baking dishes to use: I serve my eggplant halves in two separate dishes, but if you don't have two small suitable dishes, you can easily bake both in the same, slightly larger, dish. Obviously this dish is also very easy to double up on if you want to serve more than two.
Sauce: A tip for days when you're in a hurry. This Greek eggplant dish is amazing made with the homemade marinara sauce. However, at least half of the time, I use a jar of good quality pasta sauce instead. Shh, don't tell.
Make ahead instructions: I often make this dish ahead. Just bake the eggplant, pour over the sauce and scatter over the feta. Keep in the fridge covered until you're ready to serve it. Then bake for 15 minutes until hot and bubbling and the feta is slightly browned on top.
Leftover sauce: Why not make a double batch of the marinara sauce and use the rest as a simple pasta or pizza sauce? It freezes well!
How to serve: This dish is equally good served hot or a bit cooler (the greeks often serve this kind of dish at room temperature).
Serve alone with fresh crusty bread, garlic bread or 2-minute olive oil toasts (unless you need the meal to be gluten-free, of course, in which case forget the bread!), with grilled meats, chicken meatballs, Greek potatoes, or as a simple side dish.
Serves 4 as a side and 2 as a main.
Nutrition
Calories:
453
kcal
Carbohydrates:
25
g
Protein:
9
g
Fat:
36
g
Saturated Fat:
10
g
Cholesterol:
37
mg
Sodium:
1927
mg
Potassium:
923
mg
Fiber:
8
g
Sugar:
17
g
Vitamin A:
465
IU
Vitamin C:
23.5
mg
Calcium:
292
mg
Iron:
2.9
mg