This baked Greek eggplant with tomato sauce & feta is a great healthy (& gluten-free!) appetizer or accompaniment to grilled meat or fish. It might seem simple, but it'll send your taste-buds soaring … promise!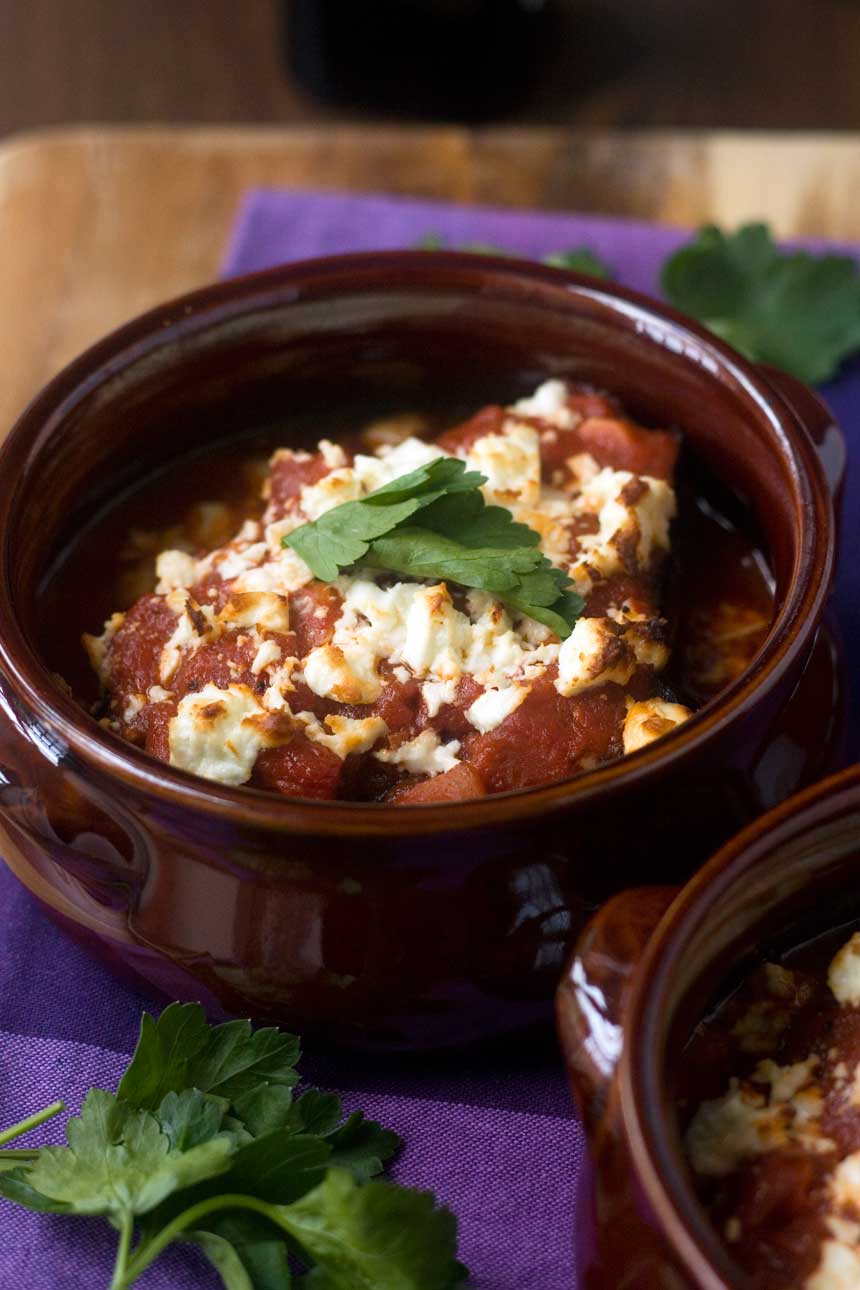 At the risk of sending some of your cursors racing straight to the cross in the right hand corner of your screens, I'm going to tell you about yet another meal that Mr. Scrummy and I had in Greece when we visited a few weeks ago.
Oh, you're still here? Well, thanks for humouring me! I promise you that it's a short story, very relevant to the post and leading on to a really delicious, easy Mediterranean dish.
So this is how the story goes … Mr. Scrummy and I went out for a walk in the old (and by that I mean really old, as you can imagine) area of Athens in search of a nice little restaurant where we could grab a yummy Greek meal. We eventually chose quite a traditional taverna pretty much under the shadow of the Acropolis, mainly because it looked busy with locals (always a good sign) and had some toasty-looking  patio heat lamps. Nice and cozy for a chilly Greek winter's night!
Then, as we got ourselves all comfy on our nice snug corner table, we started leafing through the menu and our hearts sank a bit. You see, the menu was the type that had garish, unappetizing pictures of some of the food. It was also well-worn and even a bit sticky in places. The food sounded very average, too, quite frankly. There was really nothing all that special-sounding.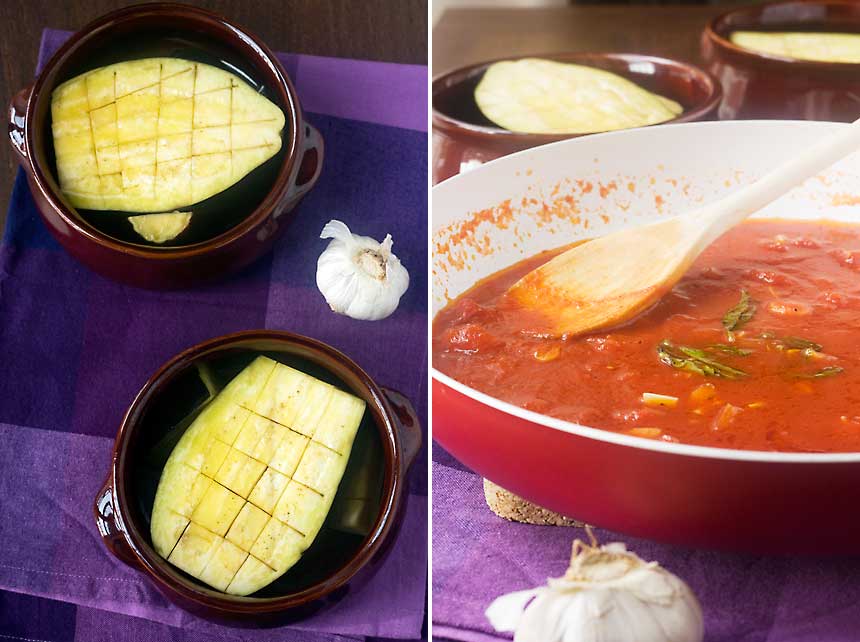 Still, after perusing the menu in silence for a short while, we decided to share a couple of appetizers and a 'poikilia' (pronounced pik-il-I-a, in case anyone's interested for their next trip to Greece!) which is basically a sharing plate of meats, cheeses, dips, little fritters and other Greek appetizer treats. And what do you know, that plate of food ended up being the most delicious you can imagine. The meat was mouth-wateringly tender, the little bits and bobs were all delicious, too, and even the toasted garlic bread on the side had us ooh-ing and aahh-ing with every bite.
Obviously you can't judge a menu by its sticky pages and tacky photos!
Now the main point of telling you all this, other than the fact that I like to make you jealous with tales of all the delicious meals I've had in Greece, is actually to tell you all about one of the appetizers we ordered alongside our meat sharing plate. Yup, you guessed it, it was something very close to the baked eggplant with tomato & feta cheese that you see here in today's post. As delicious as the meats etc. were, we both agreed that the eggplant side dish was the runaway show-stealer!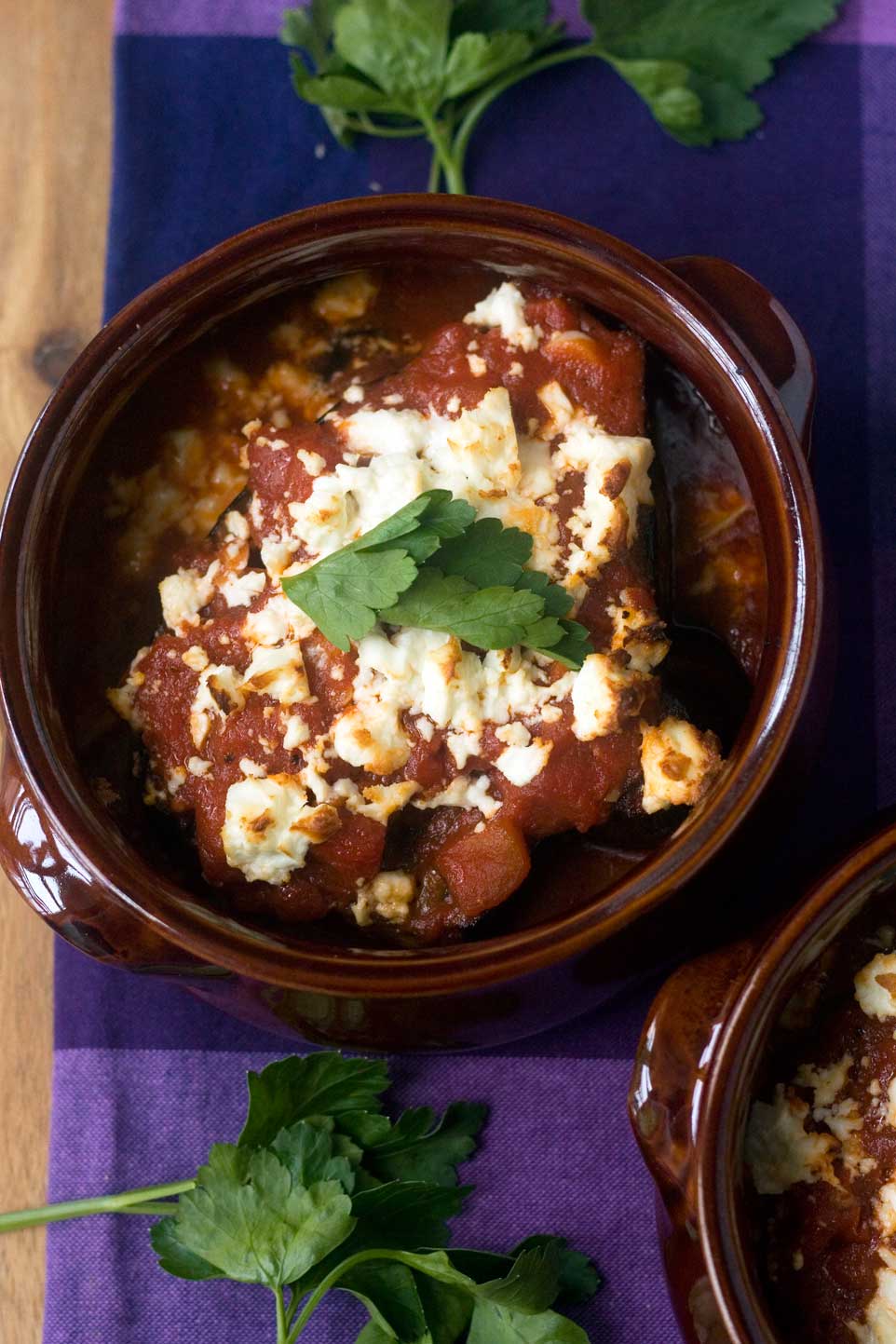 Lucky for myself and Mr. Scrummy (and for you!) we took the chance to ask our waiter how the baked eggplant was made. He told us that the eggplant is first baked in the oven by itself with a little olive oil, then tomato sauce is poured over the top, followed by crumbled feta cheese, before the dish is put back in the oven to finish off. So simple that I didn't even need to jot it down.
Later, while grabbing some last minute items to take home with us at a local supermarket, I spotted the cute little brown dishes with lids you see in the photos. They are just perfect for baking this delicious Mediterranean side dish in, don't you think? And all for the thrifty price of about 3 euros each!
I made my own slightly guessed version of this easy aubergine dish at the weekend and Mr. Scrummy and I ate it reheated yesterday alongside some greek lemon chicken and potatoes leftovers and again … it was the star of the show. I think it would be just as delicious eaten by itself with some crusty bread (or grilled garlic bread … mmm … unless you need the meal to be gluten-free, of course), or as a side dish alongside some grilled meat or even fish. This really is simple Mediterranean food at its best!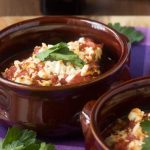 Our favourite baked eggplant with tomato & feta
A simple Mediterranean side dish of baked eggplant with tomato sauce and feta cheese. Perfect served with grilled meat or by itself with some garlic bread on the side.
Total Time
1
hour
10
minutes
Ingredients
1

eggplant

/ aubergine, sliced in half lengthwise and scored all over in a criss-cross pattern (without cutting through the skin).

olive oil

for baking

3

ounces

feta cheese
for the tomato sauce
0.25

cups

olive oil

5

cloves of garlic

sliced

14

ounces

chopped tomatoes

(400 grams = 1 can)

fresh basil

optional

1

teaspoon

salt

pepper

(to taste)

1

teaspoon

sugar

0.5

tablespoons

balsamic vinegar
Instructions
Preheat the oven to 200C/390F, then brush the eggplant with a generous amount of olive oil, sprinkle with a bit of salt and then bake each half facedown in little separate baking dishes (or side by side in a slightly bigger baking dish) for about 45 minutes or until the flesh is soft.

Meanwhile, make the tomato sauce. Heat the olive oil on a medium heat in a pan with a large surface area, then add the garlic. Cook for a couple of minutes (don't brown the garlic), then add the chopped tomatoes, herbs and salt and pepper. Half fill the empty tomato can with water and add that to the pan, too. Let simmer for about 15 minutes, then remove the herb sprigs. Add the sugar and balsamic vinegar and stir in.

Pour the tomato sauce over the aubergines, then crumble over the feta. Bake for about another 15 minutes or until the tomato sauce is bubbling.
Recipe Notes
I served my eggplant halves in two separate dishes, but if you don't have two small suitable dishes, you can easily bake both in the same, slightly larger, dish. Obviously this dish is also very easy to double up on if you want to serve more than two.
The tomato sauce I used is just a simple marinara sauce. Why not make a double batch and use the rest as a simple pasta or pizza sauce?
This dish is equally good served hot or a bit cooler (the greeks often serve this kind of dish at room temperature).
Serve alone with fresh crusty bread or garlic bread (unless you need the meal to be gluten-free, of course, in which case forget the bread!), with grilled meats, or as a simple side dish.
Nutrition Facts
Our favourite baked eggplant with tomato & feta
Amount Per Serving
Calories 453
Calories from Fat 324
% Daily Value*
Total Fat 36g 55%
Cholesterol 37mg 12%
Sodium 1927mg 80%
Potassium 923mg 26%
Total Carbohydrates 25g 8%
Protein 9g 18%
* Percent Daily Values are based on a 2000 calorie diet.