Need a dinner idea that's quicker than calling for takeout? This super simple casarecce pasta recipe is known as 'pasta sciue sciue' in Italy or 'pasta in a hurry' for a reason. Made with just juicy blistered cherry tomatoes, bright fresh basil, and just 5 more simple store cupboard ingredients, you can have this meal on the table in just 12 minutes!
Why you'll love this casarecce pasta recipe
There are so many things to love about this simple pasta from Southern Italy with its delicious cherry tomato sauce!
✔ Just 7 pantry ingredients and on the table in around 12 minutes! This is the ultimate simple summer pasta recipe.
In fact, this dish is very similar to a dish that the Italians call 'pasta sciue sciue' – pronounced 'shoo-ee shoo-ee' and meaning 'pasta in a hurry'!
✔ Simple but delicious. The simplicity of the dish allows the flavors of the few simple ingredients to shine without taking too much attention away from the fun and whimsical pasta.
'Blistering' the tomatoes in the sauce, or cooking them quickly in a hot skillet, brings out their natural sweetness while adding a slightly smoky flavor. The juicy, blistered tomatoes combine with the olive oil & balsamic to make the most delicious simple sauce!
✔ The unique twisted shape of casarecce pasta is great at helping the pasta hold onto sauces. But it also adds a playful and fun touch to your dish, don't you think?
✔ Family-friendly. The tasty but simple flavors and easy prep make it perfect midweek meal the whole family can enjoy.
Fun facts: Casarecce pasta (sometimes called casareccia) looks like little scrolls or rolled-up pieces of paper. 'Casarecce' actually comes from the word 'casa' in Italian, meaning 'home' since traditionally it was homemade.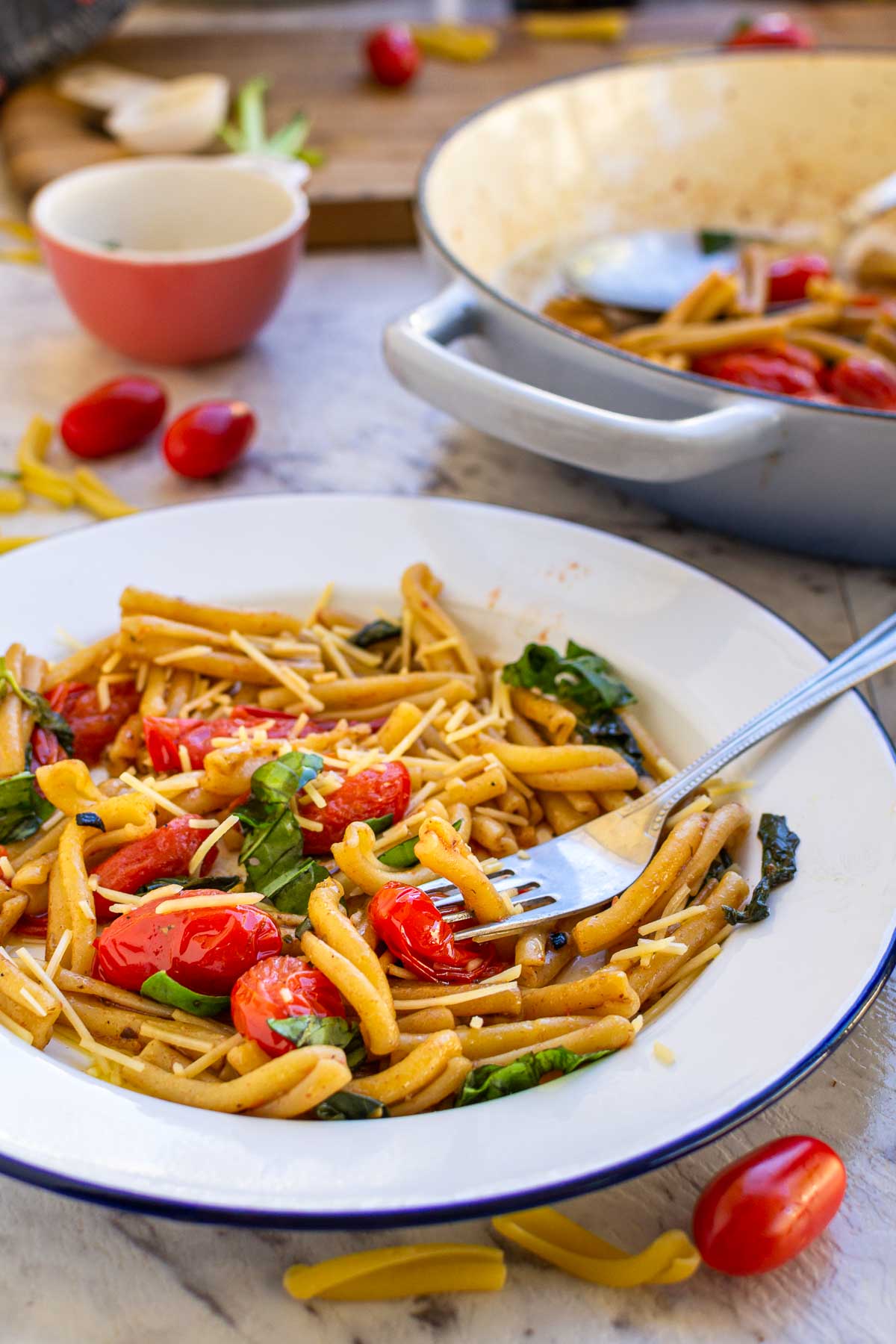 About the ingredients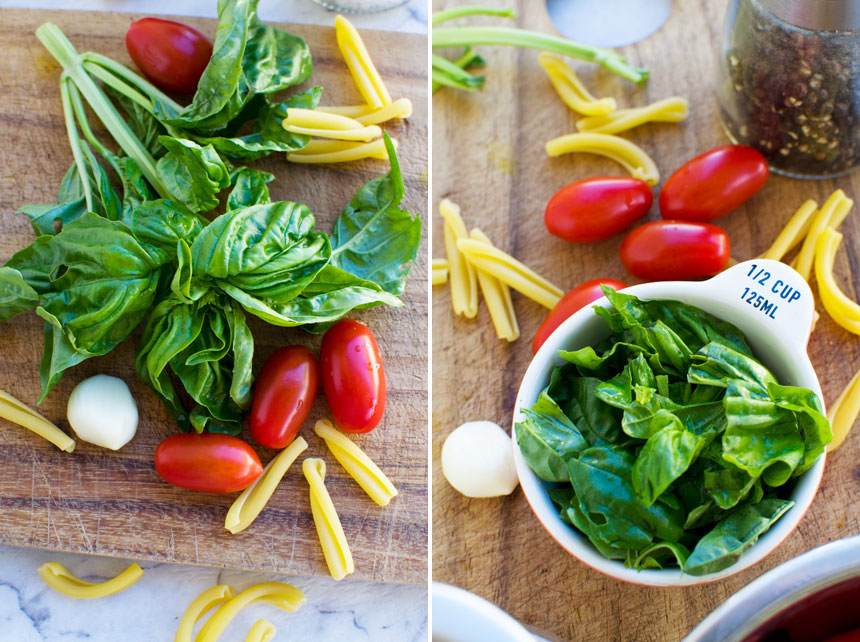 Pasta: If you can't find 'casarecce' pasta easily, any short, twisted pasta shape could be a great substitution. For example, spiral-shaped fusilli, which is generally easy to find. Other pasta shapes similar to casarecce are gemelli, rotini, farfalle (bow-tie pasta), or even penne. All of these pasta shapes hold the sauce well, just like casarecce does!
Olive oil: For cooking, plus a little extra for drizzling over at the end. For the freshest, brightest flavor, try to use a good quality extra virgin olive oil.
Garlic: Use 2 fresh cloves, either sliced or crushed.
Dried oregano: Feel free to substitute with a different Mediterranean dried herb such as thyme, basil, or Italian seasoning. For more ideas, you can check out this guide to oregano substitutes that I wrote!
Chili flakes: Just a pinch! And of course this is optional if you prefer not to add any heat, or want to serve the meal to the kids. Red pepper flakes are a good alternative.
Cherry tomatoes: The best time to make this is when cherry tomatoes are at their brightest and juiciest. However, of course you can make it whenever you need a quick and easy pantry meal in a hurry.
They'll squish into the pasta in a little pool, mixing with the oil, garlic, herbs, chilli, vinegar and parmesan to make the most heavenly and yet basic of sauces!
Other types of small tomatoes such as multi-colored cherry tomatoes (red, orange, green, purple for instance), grape tomatoes, or cocktail tomatoes are of course also fine.
Balsamic vinegar: You'll be surprised how much depth of flavor just a tablespoon adds to the dish.
Fresh basil: You'll add the whole of a small bunch to the pasta to bring its fresh and slightly sweet and peppery aromatic flavor (and a touch of green!) to the dish.
Freshly ground salt and black pepper: Of course! Taste and adjust before serving for a perfectly seasoned meal.
Parmesan cheese: To sprinkle generously over the finished dish before serving. Skip the parmesan and use a pasta without egg if you'd prefer the dish to be vegan.
How to make it
One of the things I love most about this casarecce pasta recipe is that you put the pasta on to boil, and you then have just enough time to get your ingredients together and make your 'sauce'. In a few ridiculously easy steps!
Firstly, add a huge splash of olive oil to a large pan and heat gently. Then add the oregano and chili to the pan.
Just as the oil begins to sizzle, turn up the heat to high and add the cherry tomatoes to the pan. Put the lid on, then cook for a few minutes, shaking a few times as the tomatoes sizzle, burst, and get lovely and juicy.
Then add the garlic to the pan as well as a dash of balsamic vinegar and the basil. Cook for a minute or two longer to cook (but not burn) the garlic.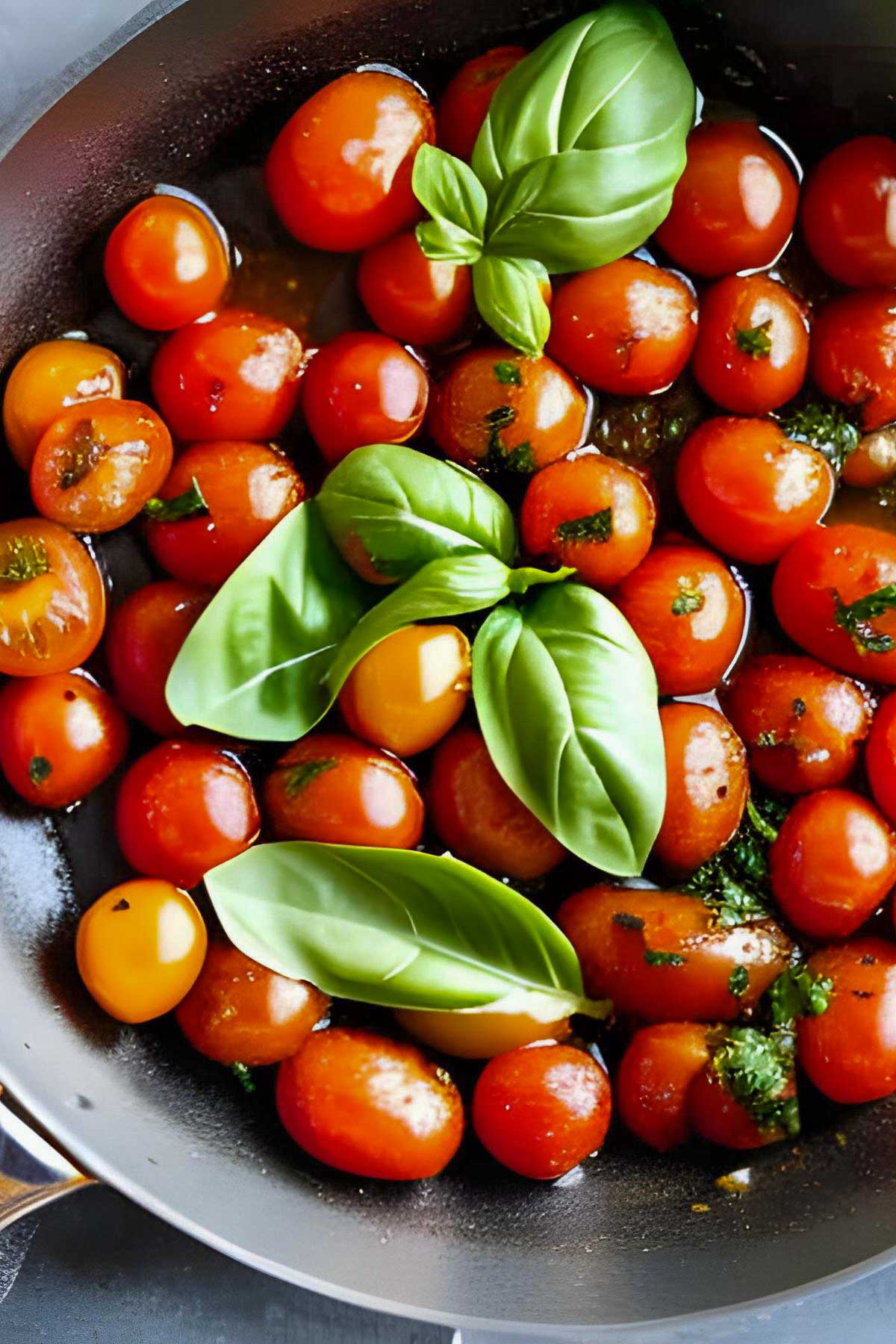 Now it's time to add the cute pieces of cooked pasta to the pan! Toss the al dente pasta together with the lovely juicy blistered tomatoes, flavors and juices.
Ladle into bowls, then top with a generous amount of parmesan cheese, extra fresh basil and another drizzle of extra virgin olive oil.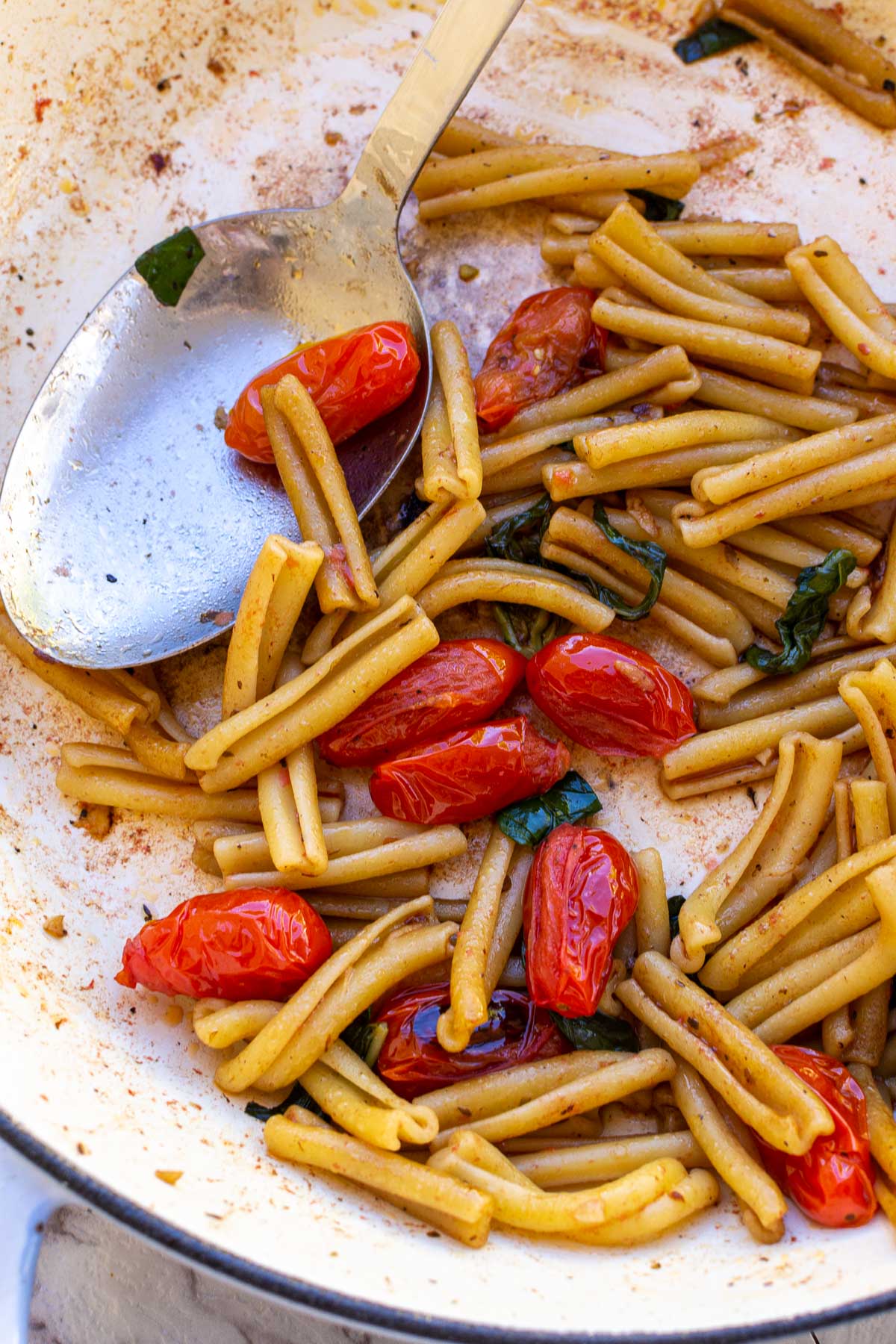 Helen's top tips
Since the pasta sauce is so simple, try to choose the freshest and best quality ingredients. Don't even think about using that wizened bulb of garlic lurking at the bottom of the fridge!
Follow the package instructions for cooking the pasta 'al dente', or so that it still has a little bite to it.
When you toss the pasta together with the other ingredients, add a good splash of the pasta cooking water too. This will help to bring the dish together and make the light but tasty sauce silky smooth.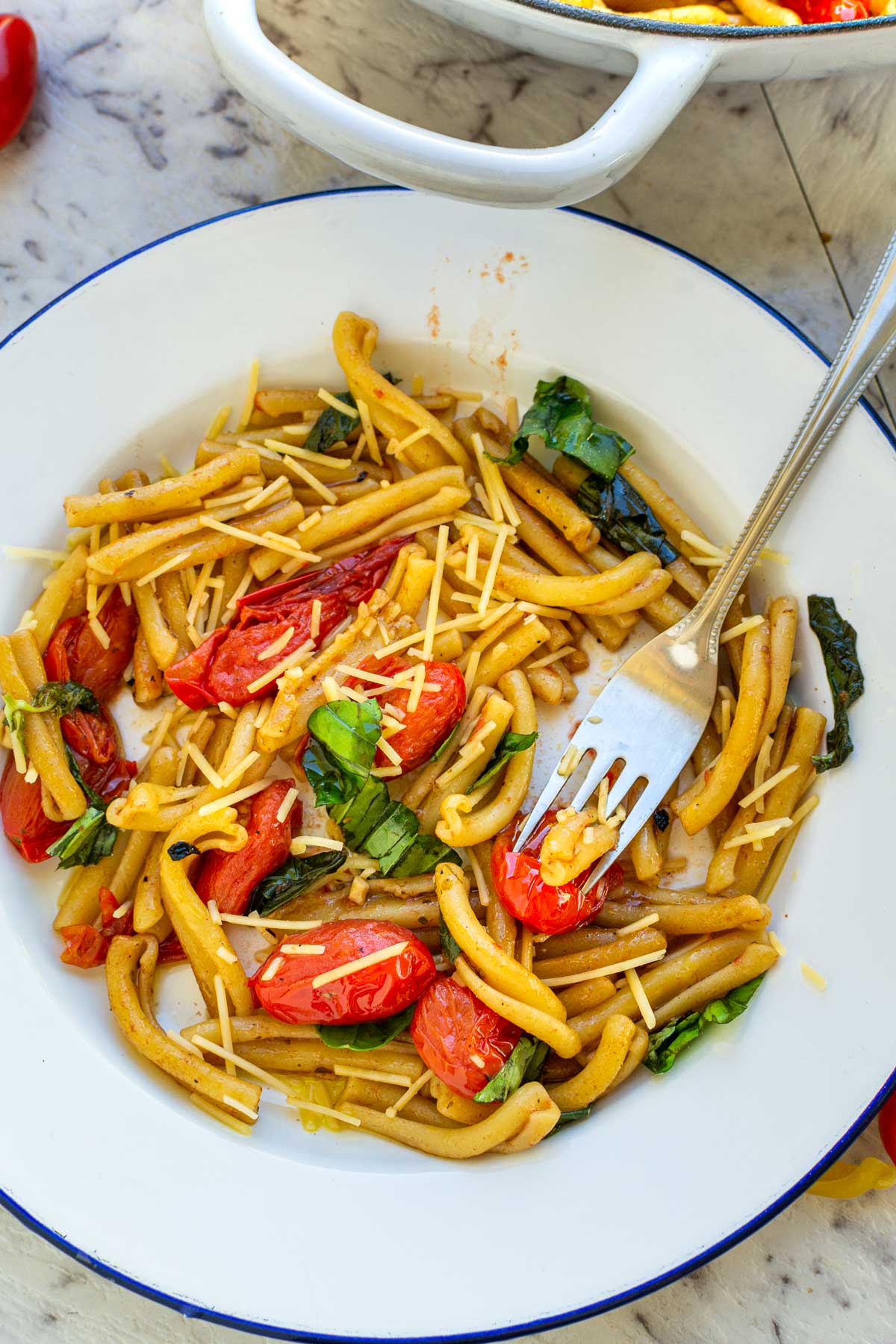 Variations
Why not wilt a little fresh spinach or arugula (rocket) into the dish just before serving?
For a richer version of the dish, add a splash or two of heavy cream towards the end of cooking. Let simmer for a minute or two to thicken.
Feel free to add more vegetables along with the tomatoes for more veggie goodness in the dish. How about finely diced zucchini or eggplant, or thin strips of red peppers?
Switch the balsamic vinegar for balsamic glaze to add a delicious sweet and caramelized note to the dish.
For a caprese-inspired twist, tear fresh mozzarella cheese and stir it through at the end. Alternatively, how about crumbled feta cheese?
How to serve
I serve this when I want a quick and easy no fuss meal that everyone will eat. I don't think it really needs anything on the side.
Since it's vegetarian, however, you can also serve it as a side dish. How about serving it with roast chicken, fish or steak on the side for the meat and fish lovers among you?
If you have an air fryer, try this 1-hour air fryer whole roast chicken to serve with it!
If you would like to serve your casarecce dish with a simple vegetable side, try these 10-minute frozen green beans or this simple Greek lettuce salad.
Would you like some bread on the side? These 2-minute olive oil toasts are always a great option, or if you you're looking to impress try this easy Italian focaccia bread.
Recipe FAQs
What are blistered tomatoes?
Blistered tomatoes are simply tomatoes that are cooked quickly in a hot pan until their skins get all blistered and slightly charred. This cooking technique brings out their natural sweetness and gives the dish a delightful smoky flavor.
Can I use canned tomatoes instead of fresh tomatoes?
Fresh tomatoes are the way to go for this recipe because they pack a punch of vibrant flavor. But if you can't get your hands on fresh ones, simply swap them for canned cherry or even diced tomatoes. Just make sure you drain them before tossing them into the dish.
Can I reheat the leftovers?
Absolutely! In an airtight container in the fridge, this casareccia pasta will keep for up to 5 days. You can enjoy it cold for a quick, tasty lunch. Alternatively, you can cover well and reheat in the microwave on 80% power for 2-3 minutes or gently in a pan on the stove. However, you might like to add a drizzle of water before doing so since the pasta will have soaked up some of the cooking liquid.
Equipment
This deep frying pan with a lid would be great for this pasta dish. You definitely need a lid, and even better if you can see the tomatoes through it!
More easy pasta recipes
Or take a look at all my pasta recipes.
IF YOU MAKE THIS RECIPE, LET ME KNOW HOW YOU GET ON BY LEAVING A COMMENT AND RATING BELOW… AND DON'T FORGET TO SIGN UP TO RECEIVE ALL MY NEW RECIPES BY EMAIL!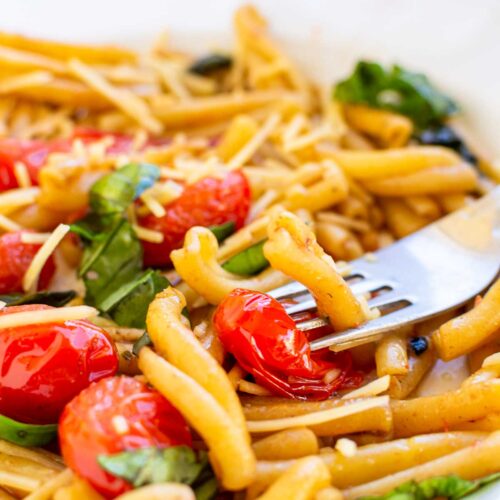 12-Minute Casarecce Pasta With Blistered Cherry Tomatoes
Casarecce pasta with the most basic of cherry tomato pasta sauces. It might be basic, with just 7 pantry ingredients, but this 'pasta sciue sciue' or 'pasta in a hurry' is extremely delicious if you use the best quality ingredients you can find. Perfect for summer, or any evening when you're short on time!
Equipment (affiliate links)
Ingredients (UK/Australia? Click below for grams/ml)
6

ounces

pasta

I like Casarecce, but any short twisted pasta that the sauce clings to easily is good, such as conchiglie (shells), fusilli (twirls) or even penne.

2

tablespoons

extra virgin olive oil

plus extra for drizzling

½

teaspoon

dried oregano

1

pinch

chilli flakes

optional

12

ounces

cherry tomatoes

2

large

cloves garlic

sliced or crushed

1

tablespoon

balsamic vinegar

½

cup

fresh basil

freshly ground salt & black pepper

to taste

½

cup

parmesan cheese

grated, or more to taste
Instructions
Cook the pasta according to the cooking instructions.

Meanwhile, gently heat the olive oil in a deep frying pan with a lid.

2 tablespoons extra virgin olive oil

Add the oregano, and chilli flakes to the pan and let cook until the oil just begins to sizzle.

½ teaspoon dried oregano,

1 pinch chilli flakes

Turn the heat up to high, then add the tomatoes to the pan. Cook for a few minutes with the lid on the pan, shaking from time to time until the tomatoes are juicy and slightly blistered.

12 ounces cherry tomatoes

Add the garlic and balsamic vinegar, most of the basil, and salt and pepper to taste. Cook for a minute or two longer until the garlic is softened (but not burned).

1 tablespoon balsamic vinegar,

½ cup fresh basil,

freshly ground salt & black pepper,

2 large cloves garlic

Scoop out a cup of cooking water, then drain the pasta. Add the pasta to the pan and loosen the whole dish with a few splashes of the reserved cooking water.

Ladle the pasta into dishes, then scatter with parmesan and the rest of the basil leaves. Finally, drizzle over a little more olive oil.
Notes
Quality of ingredients: Since there are only a few pantry ingredients in this dish, try to make sure you get the best quality possible e.g. ripe, juicy cherry tomatoes in season, fresh garlic and good quality extra virgin olive oil.
When everything is in the pan, including the pasta, add more pasta cooking water until the dish appears rich and silky. You don't want it to be watery, you want the cooking water to cling to the pasta so it's neither too dry nor too watery.
Blistering the tomatoes: Blistering the tomatoes cooks them quickly at a high temperature which gives them a slightly charred appearance and intensifies their flavor.
Variations: This dish is supposed to be super simple, but feel free to add more veggies such as finely chopped zucchini, eggplant or red pepper. Alternatively, wilt spinach into the sauce at the end. For a richer version, drizzle in a little cream and simmer until thickened slightly.
Storage: Kept in an airtight container, leftovers will keep for up to 5 days. To reheat, splash in a little more water before microwaving covered for 2-3 minutes or heating gently on the stove.
Nutrition
Calories:
582
kcal
Carbohydrates:
74
g
Protein:
22
g
Fat:
22
g
Saturated Fat:
6
g
Polyunsaturated Fat:
2
g
Monounsaturated Fat:
12
g
Cholesterol:
17
mg
Sodium:
428
mg
Potassium:
630
mg
Fiber:
4
g
Sugar:
8
g
Vitamin A:
1367
IU
Vitamin C:
41
mg
Calcium:
359
mg
Iron:
3
mg