Need a dinner idea that's quicker than calling for takeout? This super simply cherry tomato pasta, or pasta sciue sciue, is it. Made with the simplest of store cupboard ingredients, you can have this meal on the table in just 12 minutes!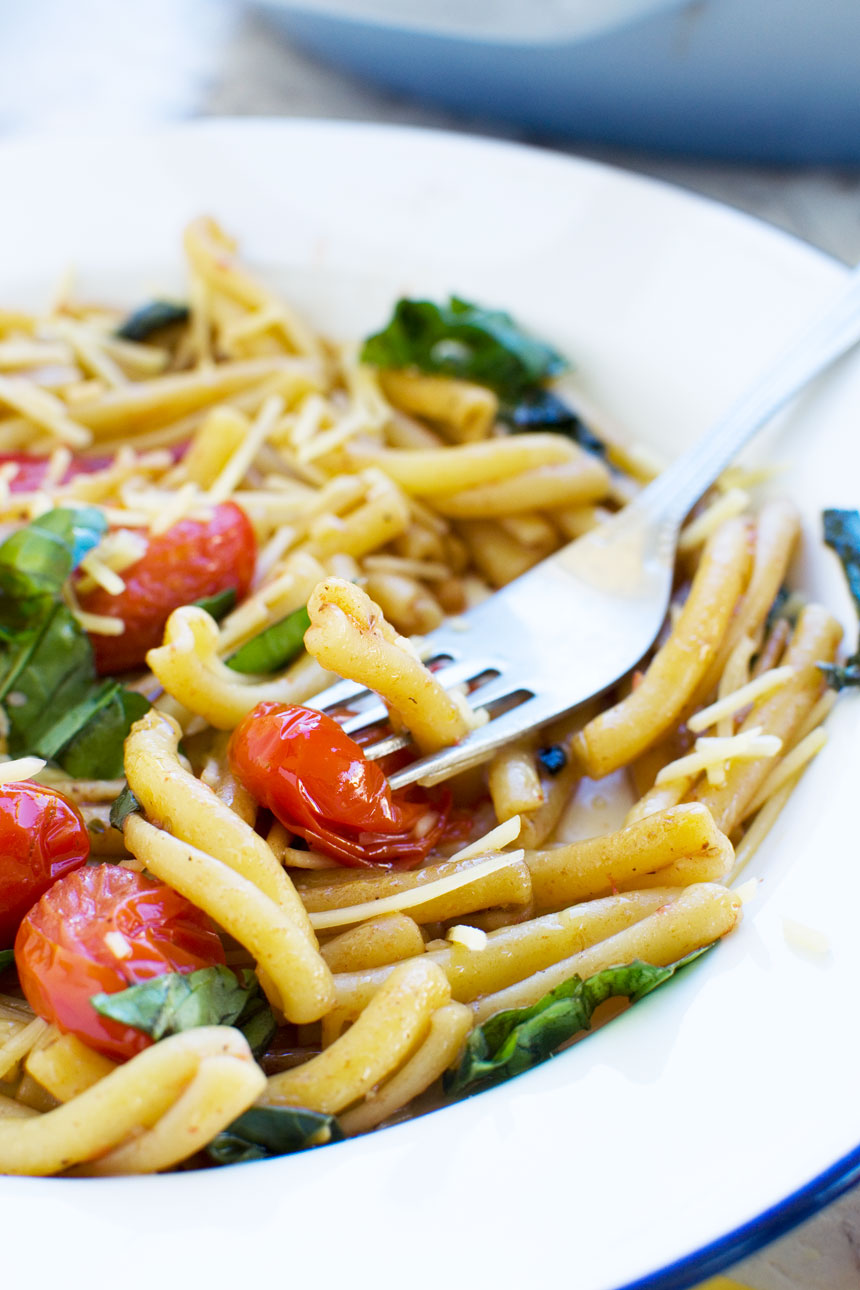 I'll let you into a secret. I almost didn't post this ridiculously simple cherry tomato pasta recipe because Mr. Scrummy declared it boring.
Oh no!
But here's the thing. This won't win any contests for complexity of flavour. It isn't oozy, gooey, creamy, cheesy, or meaty.
But the flavours in this pasta aren't SUPPOSED to be complex.
I made a couple of small changes to the traditional recipe (how dare I?!), but essentially this is a very basic Italian pasta dish called pasta sciue sciue – apparently pronounced 'shoo-ee shoo-ee'.
It means 'pasta hurry hurry'. Don't you just love that?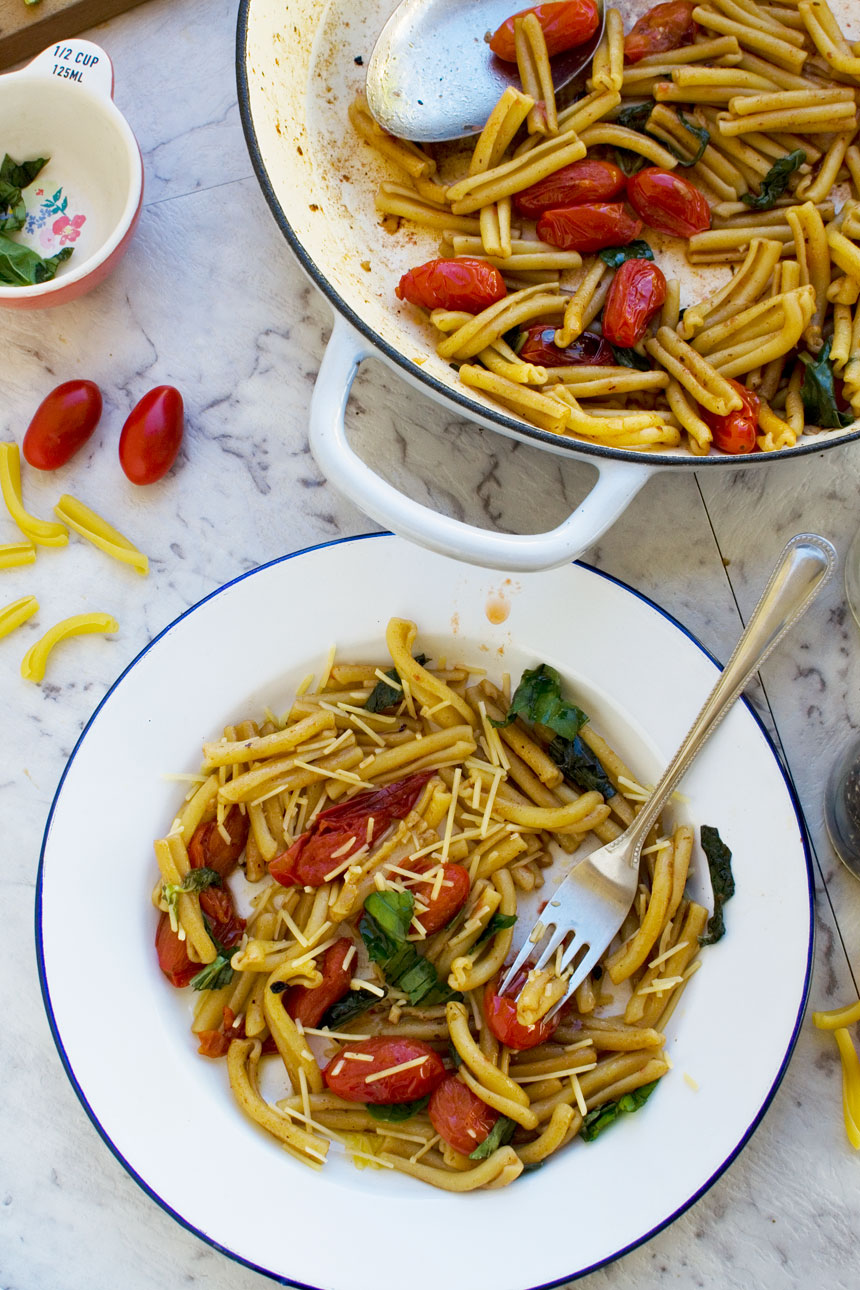 Which makes it perfect for this blog where we LOVE ridiculously easy food that hardly even needs a recipe.
Let the ingredients shine
It's a few basic, really really good quality ingredients that are supposed to shine here:
olive oil
garlic
dried oregano
chilli flakes
cherry tomatoes (lots of them!)
balsamic vinegar
fresh basil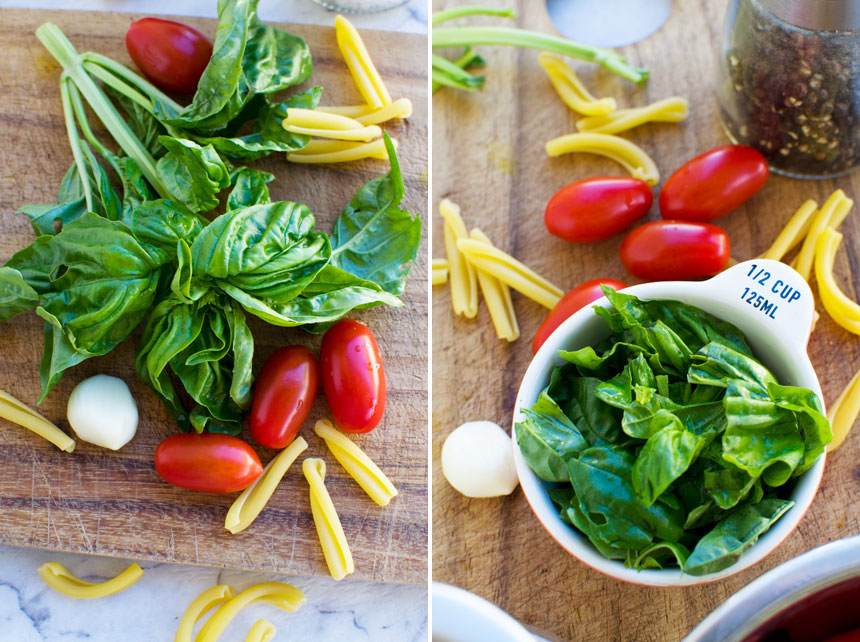 So when you buy your ingredients for this simple cherry tomato pasta, choose carefully:
Choose the reddist, juiciest tomatoes.
Get excellent quality olive oil.
Buy the freshest basil you can find.
Don't even think about using that wizened old clove of garlic lurking in the bottom of your fridge. You know the one. We all have it.
One of the things I love most about this cherry tomato pasta is that you put the pasta on to boil, and you then have just enough time to get your ingredients together and make your 'sauce' in a few ridiculously easy steps.
Add a huge splash of olive oil and heat your pan gently.
Add the next 3 ingredients until the garlic begins to sizzle.
Turn up the heat to high, add your cherry tomatoes and put the lid on the pan. Shake a few times as the tomatoes sizzle, burst, and get lovely and juicy, then add a dash of balsamic vinegar.
Stir in the fresh basil and cooked pasta, then splosh in a bit of the pasta cooking water to bring the dish together.
Ladle into bowls, then top with a generous amount of parmesan cheese and another drizzle of extra virgin olive oil.
Tricks for the perfect pasta sciue sciue
It's pretty important to only heat your olive oil gently when you first add it to the pan. I probably shouldn't admit this but you may spot that I did actually burn my garlic a bit in the video below.
It was still delicious, but garlic has a bit of a bitter aftertaste if you burn it. Better to try not to!
Also, it may seem like your pasta doesn't have much of a sauce, but wait until you cut into those juicy, blistered tomatoes.
As you do they'll splosh into your pasta in a little pool, mixing with the oil, garlic, herbs, chilli, vinegar and parmesan to make the most heavenly and yet basic of sauces.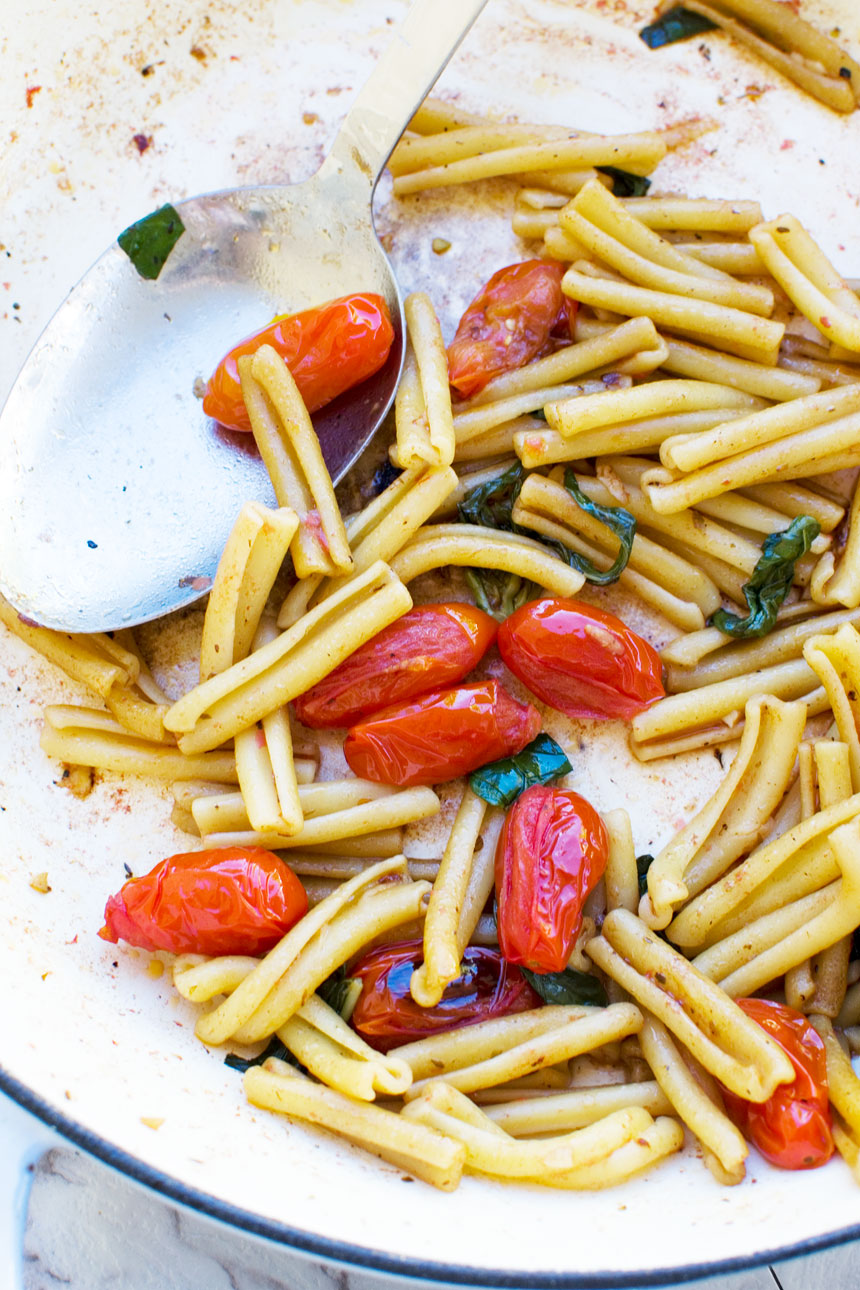 See? Juicy, blistered tomatoes combine with the olive oil & balsamic to make a delicious simple sauce!
Give it a try and you'll see how simple can still equal delicious!
What type of pasta shall I use for this cherry tomato pasta?
I really like to use Casareccia pasta for this pasta sciue sciue (which I recently discovered!), but I also think spaghetti, penne, pasta shells or any medium sized pasta shapes would work well.
Use your favourite, or whatever you happen to have in the cupboard!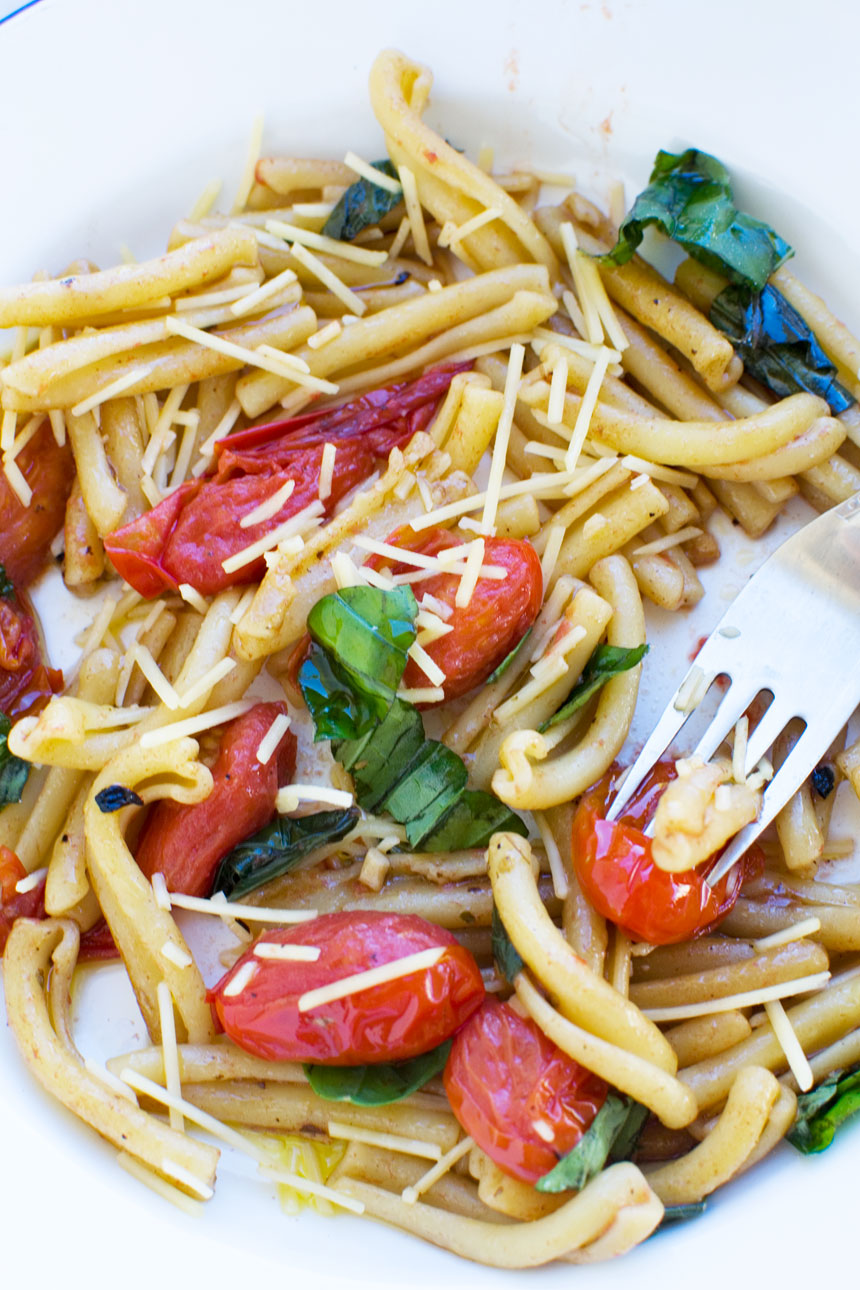 As you make the dish so quickly it might help to watch the how-to before you begin cooking.
Equipment/Products I like to use to make this (affiliate links):
This deep frying pan with a lid would be great for this pasta dish. You definitely need a lid, and even better if you can see the tomatoes through it!
And just to show you what it looks like… I like to use Casareccia pasta for this cherry tomato pasta.
More easy pasta recipes
Or take a look at all my pasta recipes.
IF YOU MAKE THIS RECIPE, LET ME KNOW HOW YOU GET ON BY LEAVING A COMMENT AND RATING BELOW… AND DON'T FORGET TO SIGN UP TO RECEIVE ALL MY NEW RECIPES BY EMAIL!
FOLLOW ME ON FACEBOOK, INSTAGRAM, PINTEREST AND YOUTUBE.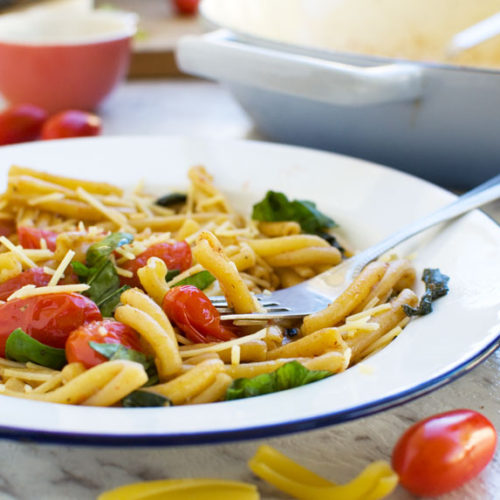 12-minute cherry tomato pasta (pasta sciue sciue)
Casarrecia pasta with the most basic of cherry tomato pasta sauces. It might be basic, with just 7 pantry ingredients, but this 'pasta sciue sciue' is extremely delicious if you use the best quality ingredients you can find. Perfect for summer, or any evening you're short on time!
Ingredients (UK/Australia? Click below for grams/ml)
6

ounces

pasta

(I like Casareccia, but penne, conchiglie or even spaghetti also work well)

2

tablespoons

olive oil

plus extra for drizzling

2

medium cloves garlic

sliced or crushed

½

teaspoon

dried oregano

1

pinch

chilli flakes

12

ounces

cherry tomatoes

1

tablespoon

balsamic vinegar

½

cup

fresh basil leaves

freshly ground salt & black pepper

½

cup

parmesan cheese

or more to taste
Instructions
Cook the pasta according to the cooking instructions.

Meanwhile, gently heat the olive oil in a deep frying pan with a lid.

Add the garlic, oregano, and chilli flakes to the pan and let cook until the garlic just begins to sizzle.

Turn the heat up to high, then add the tomatoes to the pan. Cook for a few minutes with the lid on the pan, shaking from time to time until the tomatoes are juicy and blistered.

Add the balsamic vinegar, most of the basil, and salt and pepper to taste. Cook for a minute or two longer.

Scoop out a cup of cooking water, then drain the pasta. Add the pasta to the pan and loosen the whole dish with a few splashes of the reserved cooking water.

Ladle the pasta into dishes, then scatter with parmesan and the rest of the basil leaves. Finally, drizzle over a little more olive oil.
Notes
When everything is in the pan, including the pasta, add more pasta cooking water until the dish appears rich and silky. You don't want it to be watery, you want the cooking water to cling to the pasta so it's neither too dry nor too watery.
I like to use Casareccia pasta for this dish, but many other types will work well – penne, conchigglie (shells), even spaghetti.
Nutrition
Calories:
577
kcal
Carbohydrates:
73
g
Protein:
21
g
Fat:
21
g
Saturated Fat:
6
g
Cholesterol:
17
mg
Sodium:
427
mg
Potassium:
601
mg
Fiber:
4
g
Sugar:
7
g
Vitamin A:
1345
IU
Vitamin C:
39.8
mg
Calcium:
351
mg
Iron:
2.8
mg