I'm sure you've discovered the magic of crispy roasted brussel sprouts. But I bet you haven't had them this way. Roast, then toss in a honey balsamic dressing with sweet caramelized onions, crunchy pine nuts and tangy feta cheese. It's the most amazing warm brussel sprouts salad!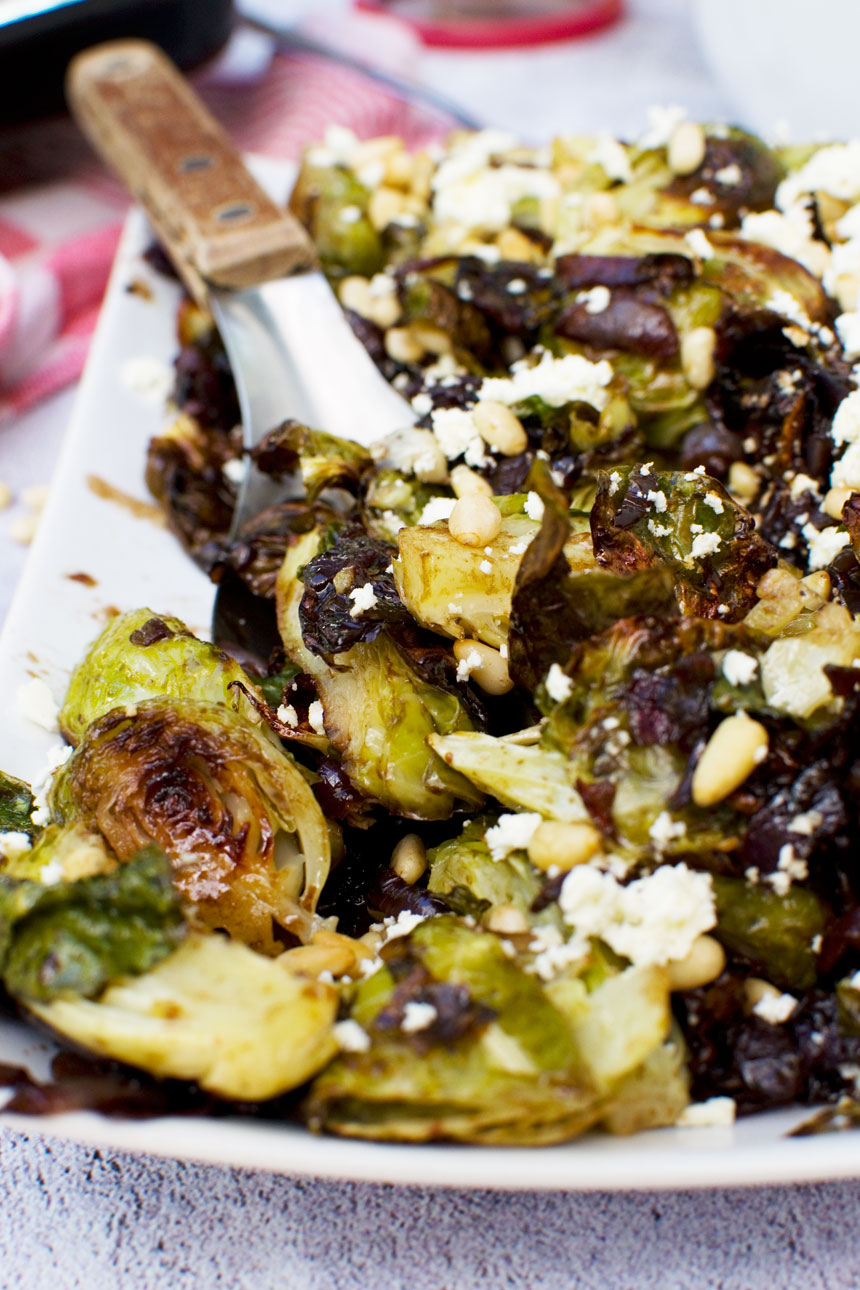 Brussels sprouts don't get such a bad rap these days, do they?
Finally, we've discovered how to make them extra delicious. Roast them to a crisp. Add bacon, or garlic, or parmesan, or all three. Make yummy crispy brussels sprouts with tahini sauce and almonds or these amazing roasted brussel sprouts and carrots.
The options are endless. You have to be a very hard line brussels hater to NOT like some of the amazing brussels sprouts recipes out there now.
Why you're going to love them
Reason 1: The sweetness of the caramelized onions and honey and tanginess of the balsamic vinegar and feta contrast perfectly with the crispy roasted brussel sprouts.
Reason 2: It's perfect for every season. Serve with your Christmas lunch, at a summer BBQ, or as a side dish for a midweek dinner. It works.
Reason 3: I guess you could say it's a Mediterranean style recipe. Say no more. You need no other reason to give them a try. 😉
About the ingredients
Apart from brussels sprouts, you need:
a big onion and a bit of olive oil: You're going to slice the onion and caramelize them while the brussels sprouts are roasting.
salt and pepper: for sprinkling over the brussels before roasting
a light honey balsamic dressing to toss through the salad: All you need is oil, balsamic vinegar, and honey.
a few toasted pine nuts and a bit of feta cheese: to sprinkle generously over the salad at the end.
How to make them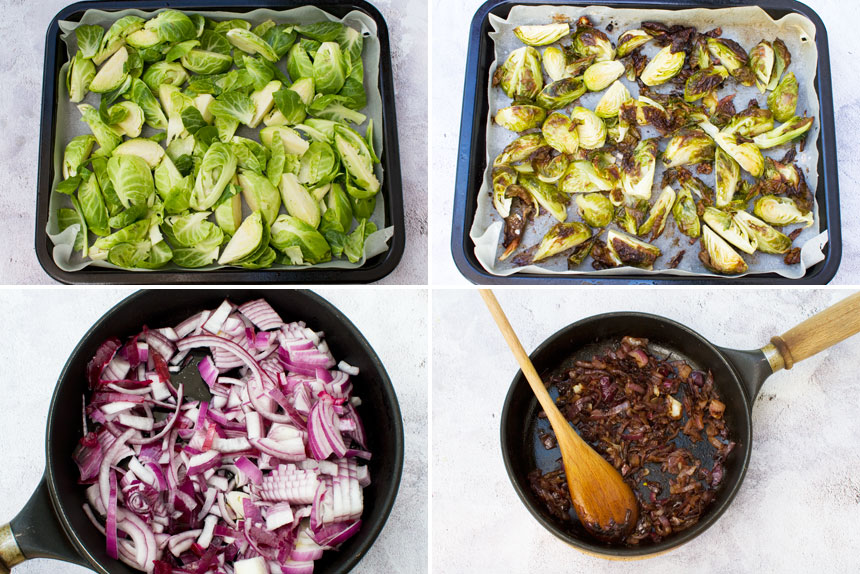 This is a quick and simple recipe, as nearly always around here.
There are 4 main steps:
Step 1: Toss brussels in a bit of oil and roast for around 20 to 25 minutes. The key is to catch them when there are plenty of crispy bits, but they aren't burnt.
Step 2: While the brussels are doing their thing in the oven, caramelize a big sliced onion. Just cook on a moderate heat on the stove top for around 15 to 20 minutes. Stir every now and again.
Step 3: Whisk together a small amount of a very simple dressing. All you need is equal amounts of olive oil and balsamic vinegar and a bit of honey. Along with the caramelized onions, toss it through the hot brussels sprouts as soon as they come out of the oven.
Step 4: Empty the charred brussels sprouts into a serving dish and sprinkle very generously with toasted pine nuts and crumbled feta cheese.
Serve immediately while still warm, crispy, sticky and delicious!
How to serve them
One of the things I love about these honey balsamic brussel sprouts is how versatile they are.
Option 1: Make them into a simple but delicious midweek family meal by serving them with something simple like chicken, steak or salmon.
Option 2: Serve them with a roast dinner – even for Thanksgiving or Christmas – for something a little bit different. If you have an air fryer, you just have to try my 1-hour air fryer whole chicken recipe (rotisserie style)!
Add this perfect cheesy cauliflower and potato mash and this sautéed butternut squash as well!
Option 3: Serve as a warm brussels sprouts salad at a BBQ, buffet, or other occasion. What with? Literally anything you like.
Option 4: Eat by themselves for lunch with some simple toasted bread with olive oil and salt. You'll be amazed how moreish they are!
It's best to serve these as soon as you can after they come out of the oven so that they're still hot and crispy.
A yummy variation
It occurred to me that you could easily make a similar dish with roasted broccoli. Or with roasted brussels sprouts and broccoli mixed together.
The cooking time and temperature is the same. Just keep a close eye on the broccoli towards the end of the cooking time as it can burn easily too.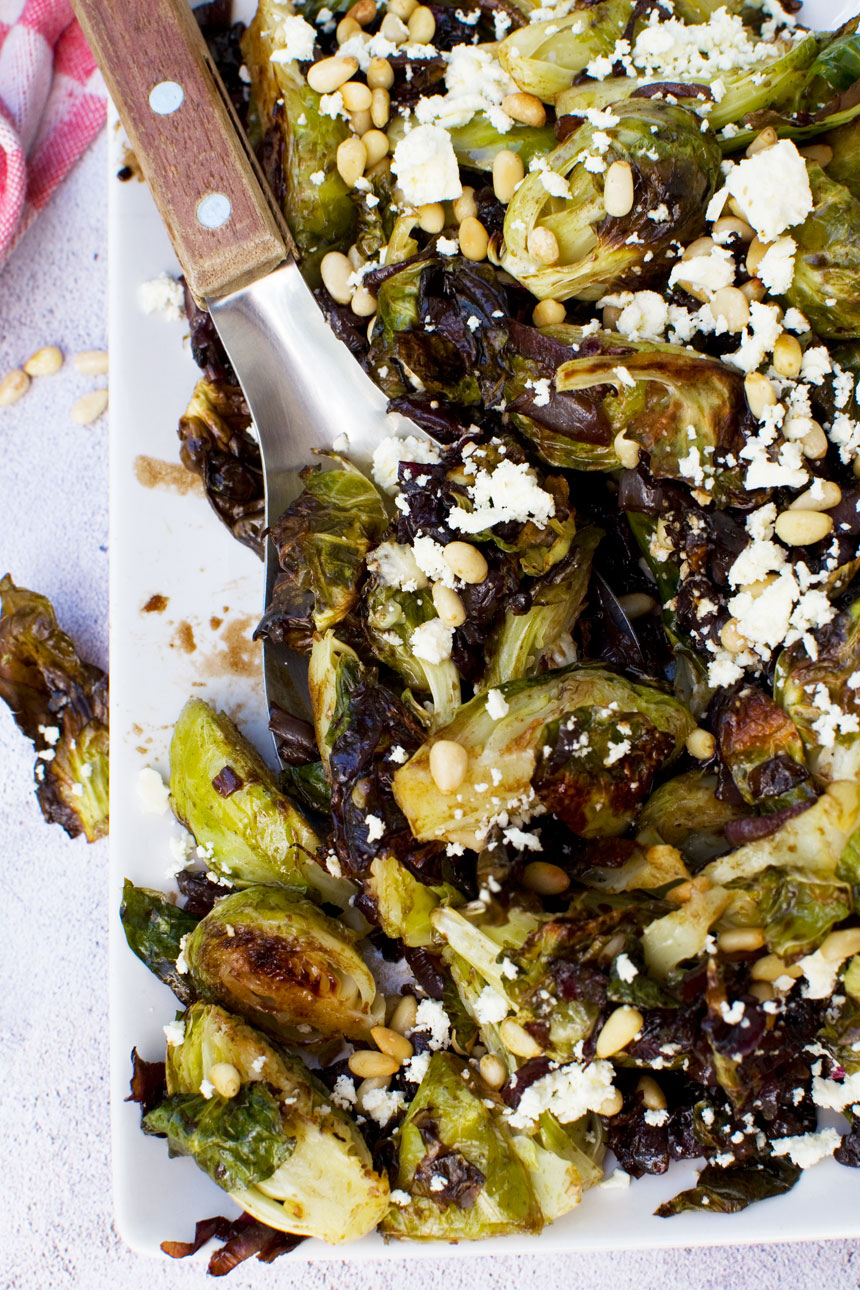 More things to know (recipe FAQ)
How do I know when they're cooked?
The brussels should be nicely browned and a little crispy in parts. Charred is OK but obviously you don't want them to be completely burnt! Just keep an eye on them from around half way through the cooking time. If it looks like they're browning too quickly, turn the oven down a little (say to 210 or 200C/around 400F).
Can you roast brussels sprouts in your air fryer?
Yes! What's the point? They'll take a little less time to cook in an air fryer, and they may even end up a bit crispier!

For air fryer roasted brussels sprouts, air fry at 205C or 400F for around 12 to 14 minutes. Just make sure you only have one layer of sprouts – otherwise they won't be very crispy.

I'd recommend cooking for 7 minutes to begin with, then tossing and cooking again for another 5 to 7 minutes. You may need to cook for a little longer if your brussels sprouts are larger. Just keep a close eye on them and see how you go.

Can the brussels be prepared ahead?
These are definitely best served when just out of the oven when crisp and hot. What I often do however is wash, cut and toss the brussels with the oil and salt and pepper, then cover and store in the fridge until ready to cook.

If you like you can caramelize the onions ahead too, then quickly reheat them (microwave is fine) before tossing them through the brussels.
IF YOU MAKE THIS RECIPE, LET ME KNOW HOW YOU GET ON BY LEAVING A COMMENT AND RATING BELOW… AND DON'T FORGET TO SIGN UP TO RECEIVE ALL MY NEW RECIPES BY EMAIL!
FOLLOW ME ON FACEBOOK, INSTAGRAM, PINTEREST AND YOUTUBE.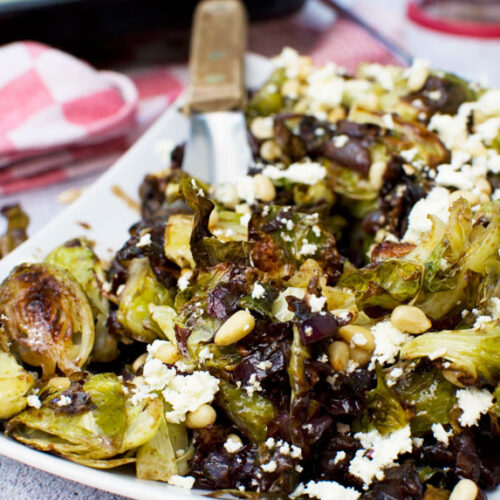 Honey Balsamic Brussels Sprouts With Caramelized Onions, Pine Nuts And Feta
A warm roasted brussels sprouts salad that can convert even the most ardent brussels sprouts hater! These honey balsamic brussels sprouts are tossed with a delicious but simple dressing while still warm and crispy, then generous amounts of crunchy toasted pine nuts and feta cheese is sprinkled over the top. The flavors and textures meld together beautifully to make one very delicious brussels sprouts salad!
Equipment (affiliate links)
Ingredients (UK/Australia? Click below for grams/ml)
For the brussels sprouts
For the toppings
2

tablespoons

pine nuts

toasted (If not already toasted, toast in a dry pan for several minutes until golden brown. Shake the pan every now and again)

1½

ounces

feta cheese

crumbled
Instructions
Pre-heat the oven to 220C/430F. Line a large baking tray with baking paper.

Empty the washed and cut brussels sprouts onto the baking tray and drizzle over the olive oil. Include any leaves that have fallen off. Sprinkle with the salt and pepper.

1 pound brussels sprouts,

½ teaspoon salt,

1 tablespoon olive oil,

¼ teaspoon pepper

Toss with a big spoon or your hands. Then roast the brussels sprouts for around 20-25 minutes or until golden brown and crispy in parts (but not burnt).

Meanwhile, caramelize the onions by cooking them in the olive oil/butter in a frying pan on a medium heat. Let cook for around 15 to 20 minutes or until sticky and reduced. Stir from time to time with a wooden spoon to stop them sticking to the pan.

1 large onion,

3 tablespoons olive oil

Whisk together all of the dressing ingredients and set aside.

1 tablespoon balsamic vinegar,

½ tablespoon honey,

1 tablespoon olive oil

When the brussels sprouts are cooked, immediately toss the caramelized onions and the dressing through them. Empty them into a serving bowl and sprinkle over the pine nuts and feta. Serve immediately.

2 tablespoons pine nuts,

1½ ounces feta cheese
Notes
Preparing the brussels sprouts: Wash well. Chop off the bottom ends. Slice in half lengthwise (from the top to the bottom). Sometimes I even slice in quarters if the brussels are especially big.
I sometimes wash again after I've prepared them. Don't throw away any rogue leaves that fall off as you prepare the brussels. Throw them onto the baking tray too and they'll get extra crispy!
How long to cook for: You want the brussels to be nicely browned and a little crispy in parts. Charred is OK but burnt is not! Just keep an eye on them towards the end of the cooking time.
Caramelizing the onions: This is a quick version of caramelized onions. They won't be as sweet and sticky as onions that you caramelize for an hour or more, but they'll still be pretty good!
Mostly let the onions cook by themselves on a medium heat. But occasionally give them a stir with a wooden spoon. Scrape up all the sticky bits on the bottom of the pan as they're the super delicious bits!
Amounts: Although I've stated rough amounts of feta cheese and pine nuts in the recipe, I generally don't weigh these ingredients. I just generously scatter over the dish until it looks like enough!
Nutrition
Calories:
257
kcal
Carbohydrates:
17
g
Protein:
6
g
Fat:
20
g
Saturated Fat:
4
g
Cholesterol:
9
mg
Sodium:
440
mg
Potassium:
511
mg
Fiber:
5
g
Sugar:
7
g
Vitamin A:
900
IU
Vitamin C:
98
mg
Calcium:
106
mg
Iron:
2
mg