Roasted vegetables are effortlessly delicious, don't you think? Add some couscous and simple Greek-style flavours and top with crispy halloumi cheese. Main dish or side, this roasted vegetable couscous makes an extremely easy and tasty 'almost' one-pan dish.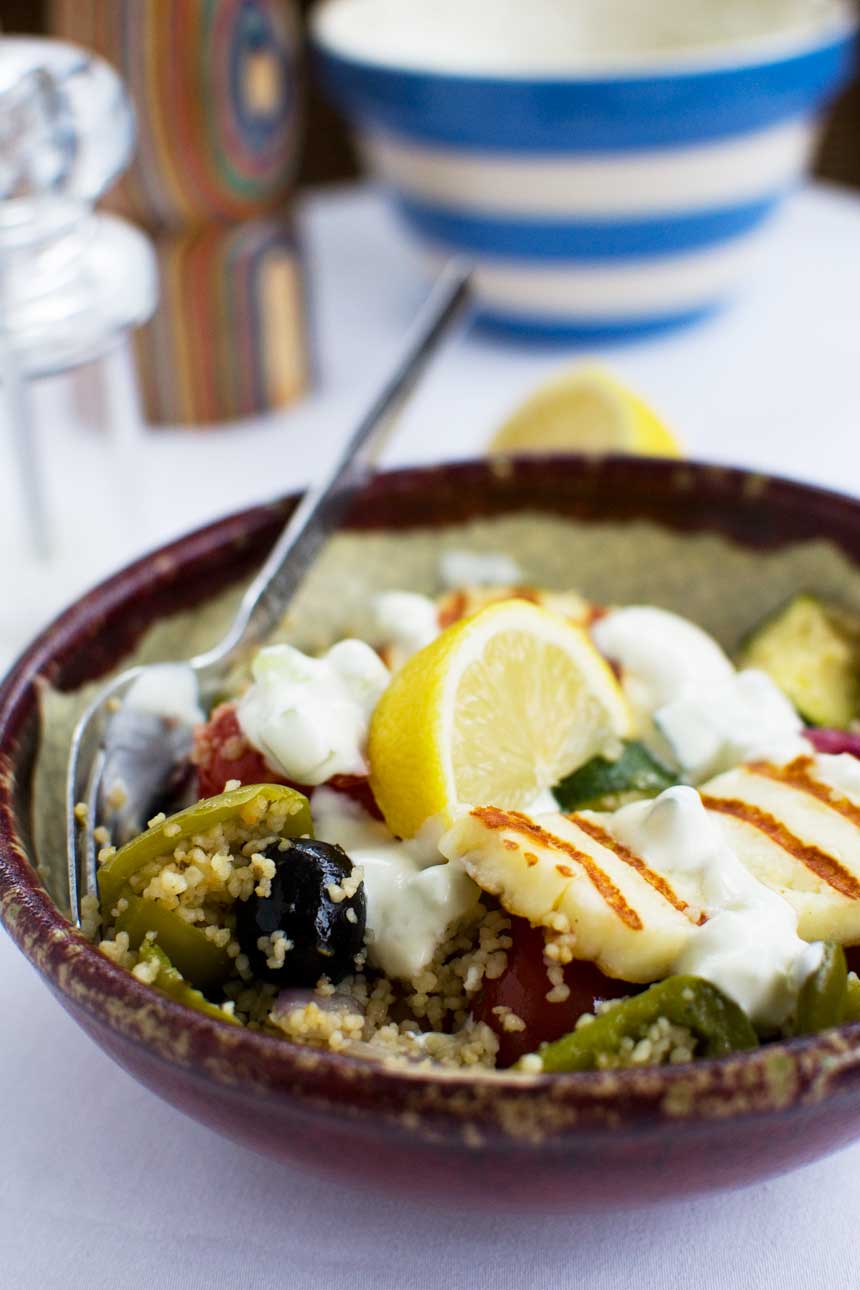 What's so great about it?
If I could, I'd eat traditional Greek meals every day, like this moussaka, this cheat's pastitsio, or this baked eggplant. These are all easy versions of typical Greek dishes, but they still require a bit of planning and time.
But when time and energy is extra short, this Greek couscous with halloumi is perfect for the midweek meals rotation because:
As the title suggests, you make it all in one pan! This is a win-win situation of course as not only is dinner pretty easy to prepare, you don't have much washing up afterwards either.
It's easy, tasty AND nutritious. Couscous takes barely any time to prepare of course, but it can be a challenge to make it tasty. This contains yummy Greek style flavours using just a few ingredients, plus easy-to-make healthy roasted veggies.
It's a yummy but different way to use halloumi. Ever tried it? It's easy to prepare, vegetarian, and adds some delicious crispy texture to this dish.
It's versatile. I roast green peppers with onions and zucchini, then towards the end of the cooking time I add little tomatoes and olives. But feel free to add any other veggies you like for a free-form roasted veg couscous. Good choices might be sweet potato, pumpkin, broccoli, or mushrooms (but add the mushrooms towards the end along with the tomatoes and olives).
About the ingredients
Roasted vegetables: I usually roast peppers, zucchini, onion, tomatoes and olives to make this Greek couscous. You can however include anything that roasts in roughly the same amount of time. Think small cubes of sweet potato, eggplant or broccoli.
I find 30 minutes is about right. I add anything that cooks faster e.g. tomatoes for the last 10 minutes only so you don't end up with a pile of mush!
Couscous and stock/broth: You'll need around a cup of dried couscous. What's brilliant about this dish is that you simply scatter the uncooked couscous over the roasted veggies after they're done. Then pour over the chicken or veggie stock and continue with the recipe. So easy!
Oregano: Like many Greek style recipes, this contains dried oregano. Any brand is fine and you want to add a generous amount – about a teaspoon and a half.
Halloumi: Halloumi is usually sold in a 'log shape' in a packet surrounded by a little brine to keep it fresh. In the UK and Australia it's widely available in supermarkets, but if you're elsewhere and can't find it try a deli that specialises in European products.
For this recipe all you have to do is slice the halloumi and pan fry it in a tiny bit of olive oil until hot and slightly crispy.
Dressing: The dressing is very simple – just olive oil, vinegar and lemon. It's fresh and zesty, but I like to serve this meal with some Greek yogurt or tzatziki on the side as well. Perfection!
How to make it
Step 1: Roast the vegetables in a little olive oil for around 30 minutes altogether. At this point the baking dish is uncovered.
Step 2: Take the dish out of the oven. Scatter over the cup of couscous and the dried oregano. Pour over the stock/broth.
Step 3: Tightly cover the dish with aluminium foil and roast for another 10 minutes until the couscous is cooked.
Step 4: Meanwhile, cook the halloumi. Slice into 1 to 2cm thick slices, then pan fry for a few minutes on each side until hot and a little browned and crispy. You can fry in a dry pan or in just a little olive oil.
Step 5: Take the veggies and couscous out of the oven and fluff everything up with a fork. Also stir through the easy dressing at this point.
Step 6: Top with the crispy halloumi and serve immediately. Yum!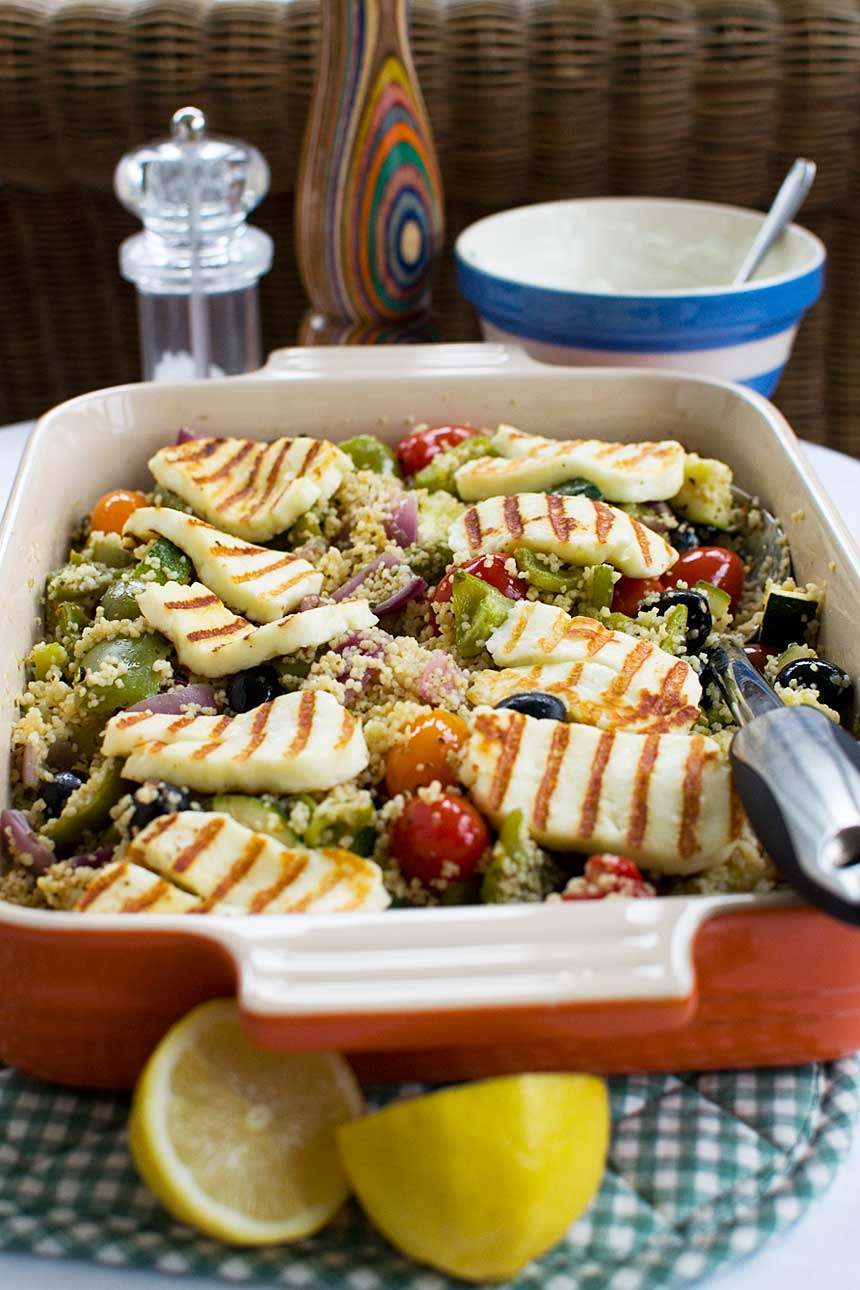 How to serve it
I like to serve this with big dollops of Greek yoghurt on top. If you like, you could use tzatziki instead. Store bought is absolutely fine, or I have a recipe for homemade tzatziki here. Delicious with either, and perhaps with some toasted pitta or flatbread on the side (see very easy 2-ingredient flatbread recipe here).
Serve by itself, or if you like with salmon, chicken or another meat or fish on the side.
I think this makes a lovely light, healthy, delicious and easy meal winter or summer. It also makes a fabulous BBQ side! Present it as a kind of Greek couscous salad. Delish!
I've even taken this to work for lunch. The halloumi isn't warm and crispy, but it's still a very tasty meal.
Ways to vary it
Use a different cheese: If you can't find or don't like halloumi, feel free to use feta cheese instead. You could just lay it on top of the finished dish and grill (broil) or bake for a few extra minutes until it begins to soften. Goat cheese or ricotta would work well too.
Vary the vegetables: As already suggested, you don't have to use exactly the vegetables I suggest in the recipe. Try small cubes of butternut squash or sweet potato, broccoli or cauliflower, eggplant, mushrooms and different coloured peppers. Anything that cooks in around 30 minutes is great! If it cooks in less time e.g. asparagus, just add it towards the end of the cooking time with some baby tomatoes.
Instead of couscous: You could easily substitute the couscous in this recipe for brown rice, quinoa, farro, bulgur wheat or another type of grain. In these cases though skip the chicken or veggie stock. Use a pre-cooked package of your chosen grain. Stir through the roasted vegetables at the same time as you stir through the dressing. It'll be just as delicious!
More things to know (FAQs)
What's halloumi and where can I buy it?
Halloumi is a Cypriot cheese (from Cyprus) traditionally made from sheep's or cow's milk. It's usually packaged in a 'log shape' in a bit of brine to keep it fresh. Sometimes it even has a few leaves of fresh mint rolled into it.

Halloumi is usually eaten cooked. You can slice it, cube it or cut it into fry shapes (for halloumi fries!). It doesn't melt when cooked so you can pan fry it (or even deep fry it… mmm!) until hot and a little crispy. It tastes quite salty and mild and the texture is a little rubbery, but in a good way! It's so delicious!

In the UK and Australia, halloumi is very widely available. In the USA, stores like Trader Joe's sell it, or you might be able to find it in a speciality deli or even on Amazon.
How do I cut the halloumi?
Halloumi is usually in a 'log shape' or small block so just slice 1 to 2cm thick slices of it. Sometimes the slices bread apart but don't worry too much if this happens – just cook the smaller pieces along with the larger ones. You really can't go wrong!

For this recipe I actually like to slice the cheese lengthwise so that the slices are bigger, but you can slice across the width too. It really doesn't matter.
What can I use instead of chicken stock?
If you'd like to keep this dish purely vegetarian, feel free to use veggie stock instead. You can even use water – or a mixture of white wine and water – no problem!
More delicious halloumi recipes
Just love halloumi? Check out my expert how to cook halloumi guide. With pro tips, recipes and more.
IF YOU MAKE THIS RECIPE, LET ME KNOW HOW YOU GET ON BY LEAVING A COMMENT AND RATING BELOW… AND DON'T FORGET TO SIGN UP TO RECEIVE ALL MY NEW RECIPES BY EMAIL!
FOLLOW ME ON FACEBOOK, INSTAGRAM, PINTEREST AND YOUTUBE.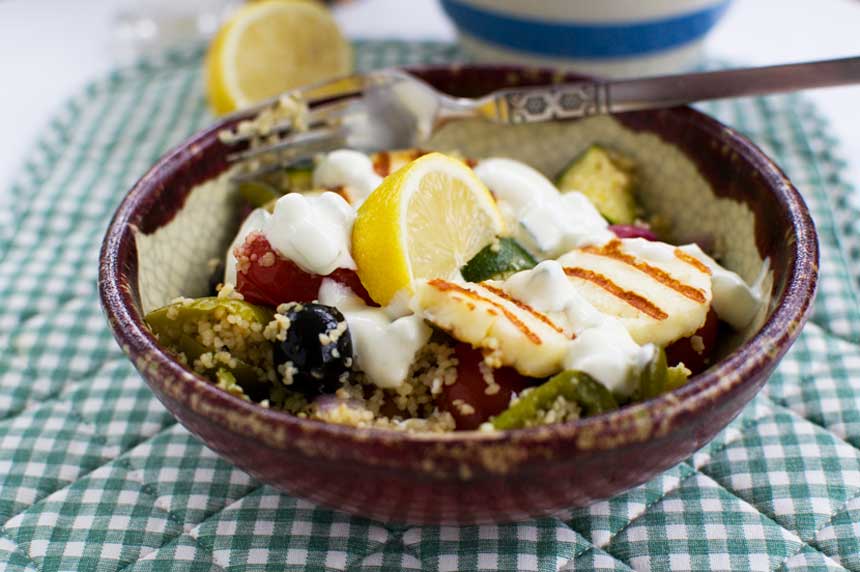 One Pan Roasted Vegetable Couscous With Halloumi
Delicious roasted vegetables with a Greek twist. Add couscous to the dish, and top with crispy halloumi cheese. This can be either a main meal in itself, or a tasty side to meat or fish.
Equipment (affiliate links)
Ingredients (UK/Australia? Click below for grams/ml)
for the Greek couscous
3

peppers

(peppers (UK), capsicum (Aus)) green, red, yellow, or a mixture!, chopped into medium pieces

1

zucchini

/ courgette, sliced

1

red onion

large, chopped into chunks

7

ounces

tomatoes

(I used baby tomatoes)

3.5

ounces

Kalamata olives

pitted

5

ounces

couscous

(dried – I used just under a cup)

1.5

teaspoons

oregano

dried

8.5

fluid ounces

stock

(broth) chicken or vegetable (1 cup) Alternatively use water or wine or a mixture.
to add at the end
9

ounces

halloumi cheese

(1 'log' = 250 grams in the UK) replace with feta cheese if you don't want to use halloumi

2

tablespoons

olive oil

2

tablespoons

white wine vinegar

(or apple cider vinegar)

1

squeeze

lemon juice

Greek yoghurt or tzatziki and lemon wedges

to serve
Instructions
Preheat the oven to 355F / 180C.

Put the peppers, zucchini, and onion in a large roasting dish, drizzle with a little olive oil and roast for 20 minutes.

Add the tomatoes and olives and roast for another 10 minutes.

Scatter the couscous and oregano over the dish, and pour over the water or stock. Cover tightly with aluminium foil and bake for 10 minutes more.

Meanwhile, slice the halloumi cheese into roughly 1 – 2 cm slices, then cook in a dry frying or griddle pan for a few minutes on each side until browned and crispy.

Remove the couscous and vegetables from the oven and fluff up with a fork. Combine the olive oil, vinegar and lemon juice and stir through the dish.

Serve topped with the halloumi cheese and big dollops of Greek yoghurt or tzatziki.
Notes
Varying it: You can vary the veggies you use in this dish. I find sweet potato and eggplant work particularly well, as do mushrooms and asparagus (add at the same time as the tomatoes and olives). How to serve: This dish is nice served by itself, but it's also delicious with some baked salmon on the side. But actually any kind of grilled fish or meat would go well. Not a fan of couscous? You can use brown rice, quinoa, farro, bulgur wheat or giant couscous (pasta) instead. In this case though stir it through cooked when you add the dressing and omit the stock/broth.
Nutrition
Calories:
494
kcal
Carbohydrates:
41
g
Protein:
21
g
Fat:
27
g
Saturated Fat:
12
g
Sodium:
1418
mg
Potassium:
552
mg
Fiber:
6
g
Sugar:
8
g
Vitamin A:
3550
IU
Vitamin C:
131.6
mg
Calcium:
697
mg
Iron:
1.5
mg