Roasted vegetables are effortlessly delicious, don't you think? Add some couscous and simple Greek flavours and top with crispy halloumi cheese. Main dish or side, you've got an extremely easy and tasty dish – all in one pot!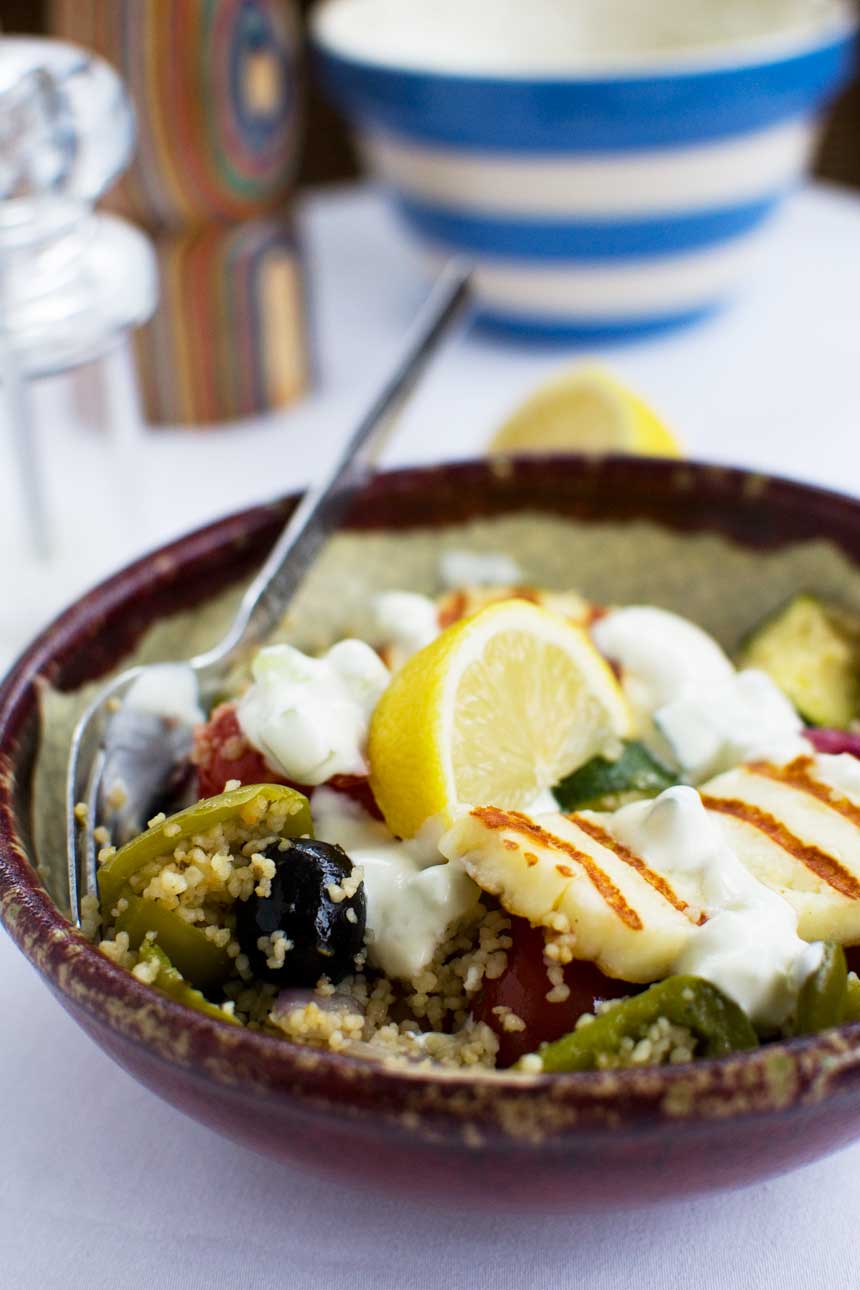 Every now and again, I have to get my fix of Greek flavours.
If I could, I'd eat proper traditional Greek meals every day, like this moussaka, this cheat's pastitsio, or this baked eggplant. These are all easy versions of typical Greek dishes, but they still require a bit of planning and time.
But when time and energy is extra short (I won't go on about it again, but if you've been following along for a while you'll know both are in short supply around here right now!), you have to think outside the box.
One of the meals we currently have on weekly rotation is this naan pizza. Another one is the Greek couscous with halloumi featured in this post. As the title suggests, you make it all in one pan! This is a win-win situation of course as not only is dinner pretty easy to prepare, you don't have much washing up afterwards either.
My kind of dinner! 🙂
Just lately I've been setting off for the supermarket, praying all the way that my little monkey will fall asleep long enough for me to dive into a nice café and tap away on my laptop for a while. Hey, even McDonald's will do!
Just like I've managed to do right now [imagine high five].
When I finally get to the shop, my mind is a blank. What can I cook that's easy but still tasty and nutritious? Coming up with something isn't always easy.
Easy to prepare, but is it tasty enough?
Couscous takes barely any time to prepare of course, but it's a bit of a challenge to make it tasty. Add to that the fact that Mr. Scrummy isn't a fan. 'Je déteste le couscous' he always retorts every time he sees it or, God forbid, gets served it.
But I decided to take a chance and make it for dinner anyway.
He didn't complain once, so it must have been OK!
We're a big fan of roasted vegetables, usually having them with salmon on the side, so the first step for this meal felt really familiar. All I did was roast green peppers with onions and zucchini, then towards the end of the cooking time I added little tomatoes and olives.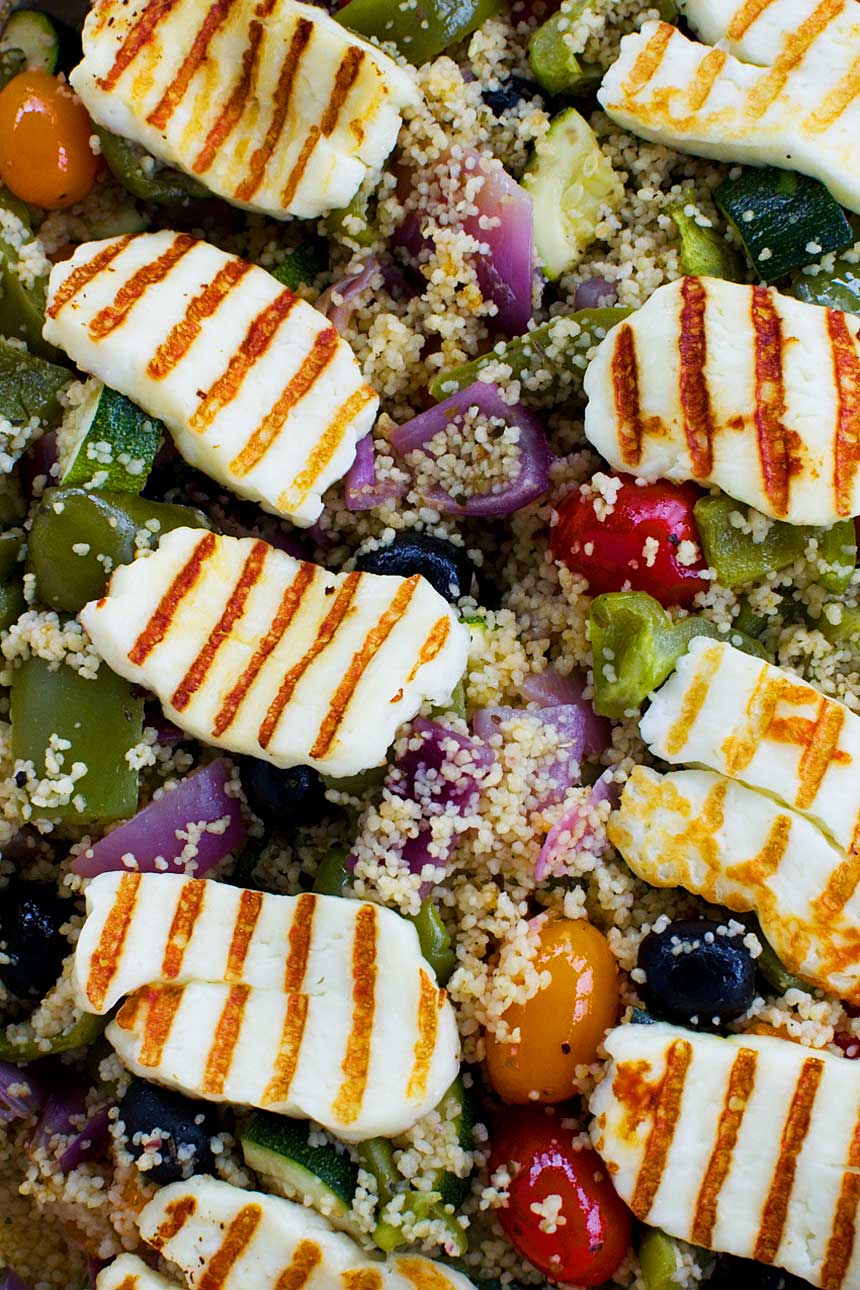 You'll eat green peppers, onions, tomatoes and olives in abundance if you ever visit Greece, of course. The zucchini I added just because they were in season, but feel free to add any other veggies you like. Good choices might be sweet potato, pumpkin, broccoli, or mushrooms (but add the mushrooms towards the end along with the tomatoes and olives).
How to make perfect roasted vegetables
The key to great roasted veggies is using things that roast in about the same amount of time, of course. I find 30 minutes is about right for the particular veggies I chose for this dish. I add anything that cooks faster e.g. tomatoes for the last 10 minutes only so you don't end up with a pile of mush!
When the veggies are cooked, you add the couscous straight into the pan along with some stock (or just hot water) and plenty of oregano. You'll find oregano in all sorts of dishes in Greece, of course, especially those beautiful Greek salads.
What's halloumi, anyway, and how do you eat it?
Actually, I'm probably cheating a bit calling this 'Greek'. The dish itself is no more Greek than I am, but it's got plenty of Greek flavours in it. The halloumi cheese isn't Greek either – it's Cypriot. Have you tried halloumi? It's popular in the UK and in Australia but I'm not sure about elsewhere.
If you can find some halloumi, give it a try. Just pan fry it in a dry pan for a few minutes on each side until crispy, and top the finished Greek couscous with it.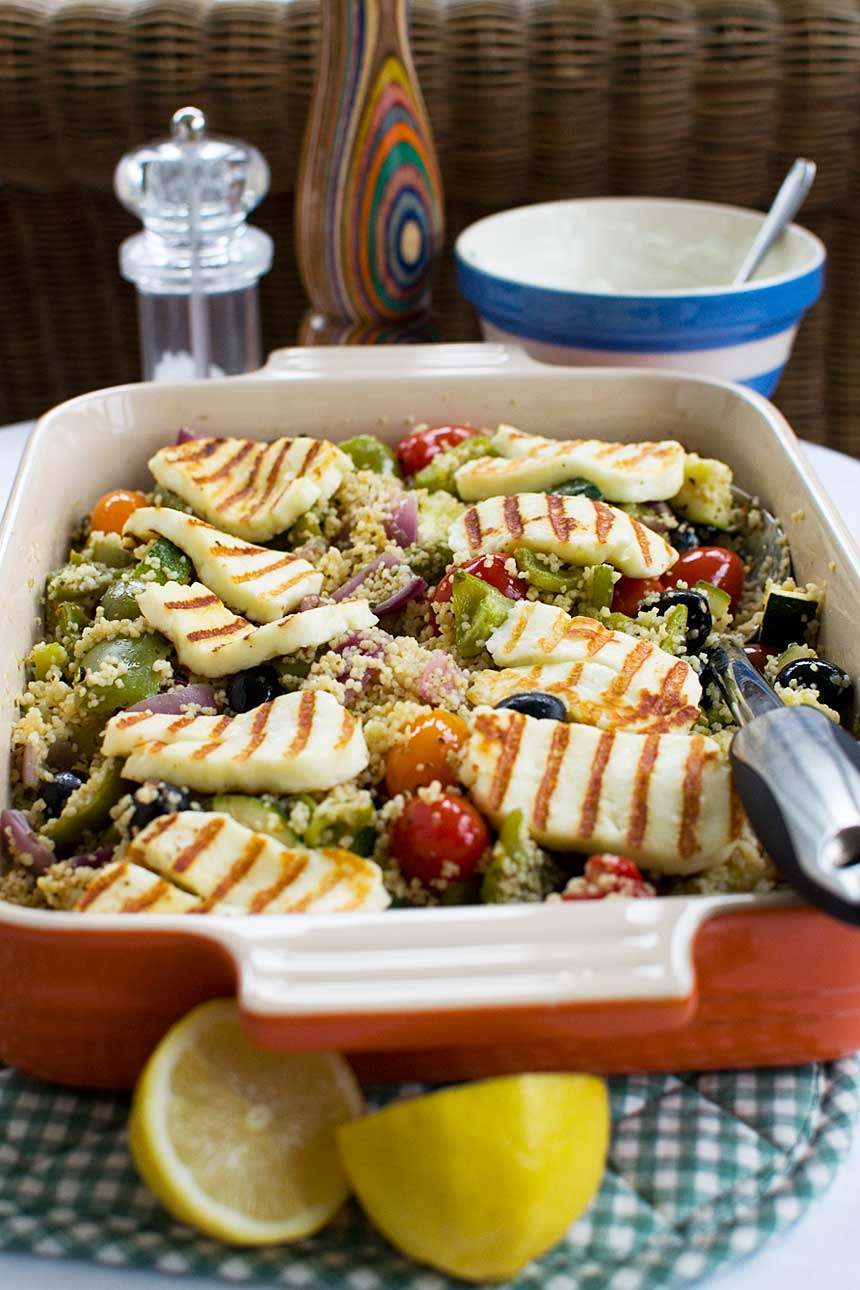 If you can't find or don't like halloumi, feel free to use feta cheese instead. You could just lay it on top of the finished dish and grill (broil) or bake for a few extra minutes until it begins to soften.
I like to drizzle the finished dish with a nice easy dressing, then serve it with big dollops of Greek yoghurt on top. If you like, you could use tzatziki instead. Delicious with either, and perhaps with some toasted pitta or flatbread on the side (see very easy 2-ingredient flatbread recipe here).
I think this makes a lovely light, healthy, delicious and easy meal winter or summer. We have just flown from summer to winter of course, so we need to consider these sorts of things. Although the outside temperature gauge in my car read 21C earlier today – hardly seems like winter, but anyway… 😉
This is the kind of grill pan I like to use to cook my halloumi. It goes lovely and crispy and has those cool griddle lines on it: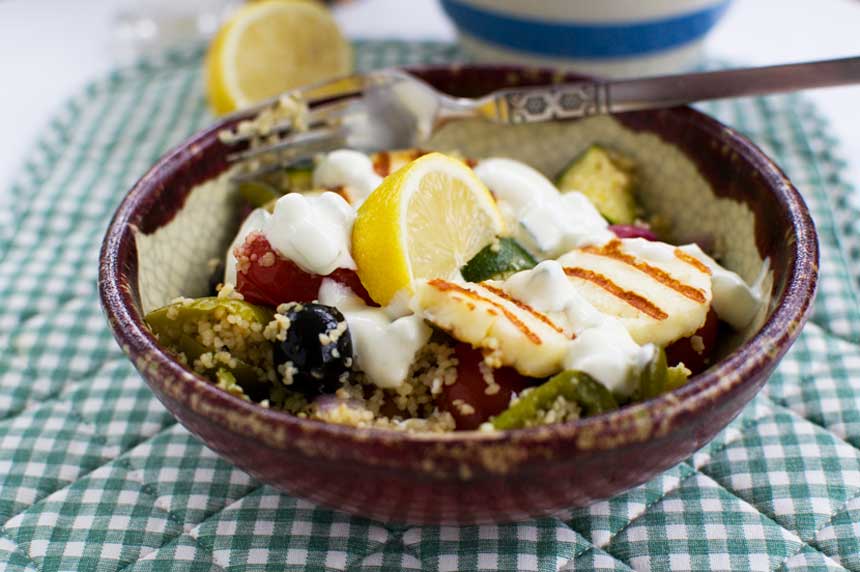 One pan Greek couscous with halloumi
Delicious roasted vegetables with a Greek twist. Add couscous to the dish, and top with crispy halloumi cheese. This can be either a main meal in itself, or a tasty side to meat or fish.
Ingredients (UK/Australia? Click below for grams/ml)
for the Greek couscous
3

bell peppers

(peppers (UK), capsicum (Aus)) green, red, yellow, or a mixture!, chopped into medium pieces

1

zucchini

/ courgette, sliced

1

red onion

large, chopped into chunks

7

ounces

tomatoes

(I used baby tomatoes)

3.5

ounces

Kalamata olives

pitted

5

ounces

couscous

(dried - I used just under a cup)

1.5

teaspoons

oregano

dried

8.5

fluid ounces

broth

chicken or vegetable (1 cup)
to add at the end
9

ounces

halloumi cheese

(1 'log' = 250 grams in the UK) replace with feta cheese if you don't want to use halloumi

2

tablespoons

olive oil

2

tablespoons

white wine vinegar

(or apple cider vinegar)

1

squeeze

lemon juice

Greek yoghurt or tzatziki and lemon wedges

to serve
Instructions
Preheat the oven to 355F / 180C.

Put the peppers, zucchini, and onion in a large roasting dish, drizzle with a little olive oil and roast for 20 minutes.

Add the tomatoes and olives and roast for another 10 minutes.

Scatter the couscous and oregano over the dish, and pour over the water or stock. Cover tightly with aluminium foil and bake for 10 minutes more.

Meanwhile, slice the halloumi cheese into roughly 1 – 2 cm slices, then cook in a dry frying or griddle pan for a few minutes on each side until browned and crispy.

Remove the couscous and vegetables from the oven and fluff up with a fork. Combine the olive oil, vinegar and lemon juice and stir through the dish.

Serve topped with the halloumi cheese and big dollops of Greek yoghurt or tzatziki.
Notes
You can vary the veggies you use in this dish. I find sweet potato works particularly well, as do mushrooms (add at the same time as the tomatoes and olives).
This dish is nice served by itself, but I served it with some baked salmon on the side – even tastier! But actually any kind of grilled fish or meat would go well.
Nutrition
Calories:
494
kcal
Carbohydrates:
41
g
Protein:
21
g
Fat:
27
g
Saturated Fat:
12
g
Sodium:
1418
mg
Potassium:
552
mg
Fiber:
6
g
Sugar:
8
g
Vitamin A:
3550
IU
Vitamin C:
131.6
mg
Calcium:
697
mg
Iron:
1.5
mg