Greek tzatziki is a delicious and creamy Greek yogurt and cucumber sauce. There's no way you'll ever eat a Greek souvlaki or gyros without it. But there are so many other ways to get creative with this simple, refreshing and healthy sauce!
Read on for over 50 tasty and interesting ways to eat tzatziki.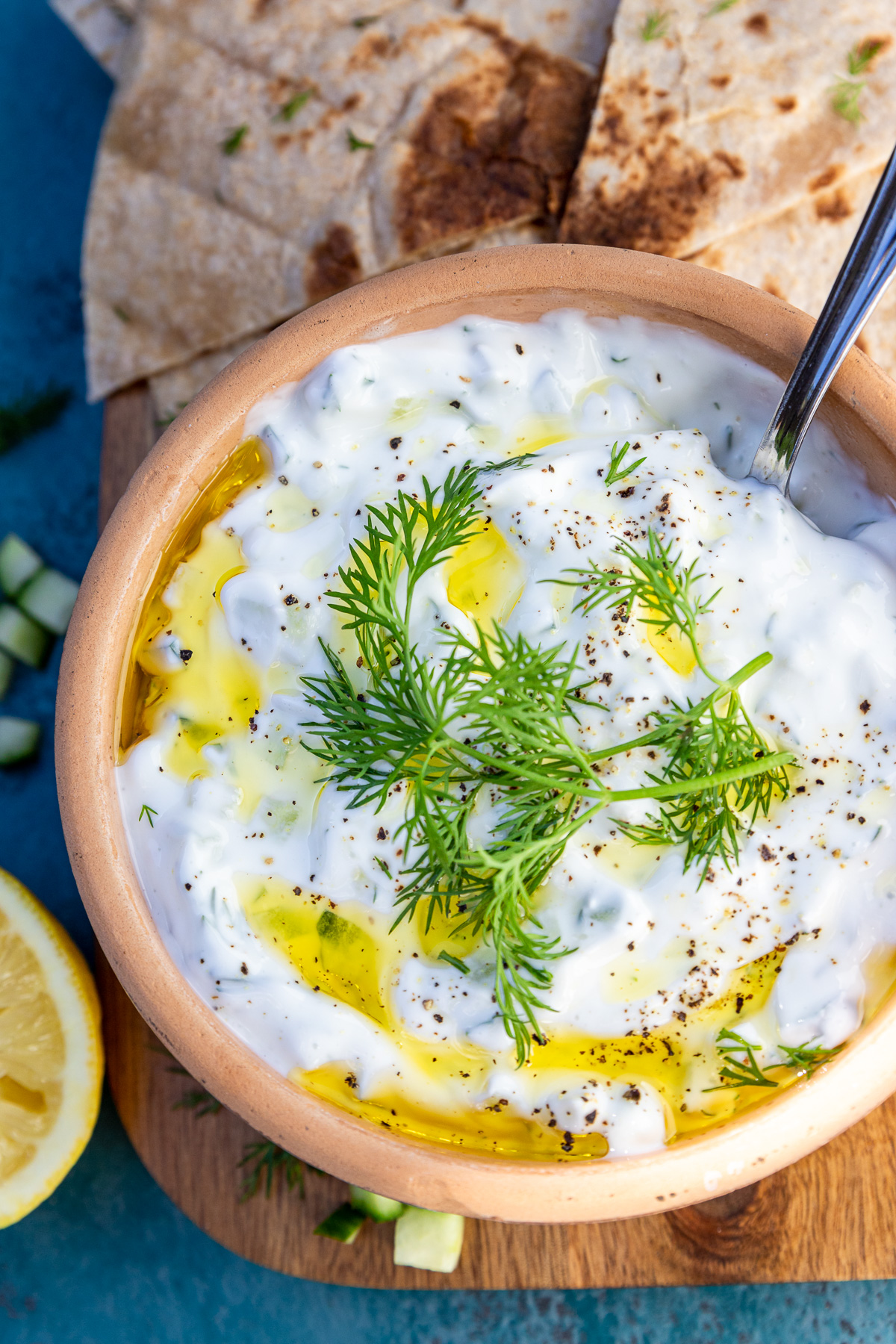 The best easy tzatziki sauce recipe
Of course, it's no problem to pick up some good quality store-bought tzatziki. But did you know that it's SUPER easy to make your own in around only 10 minutes?
You only need a few simple and healthy ingredients – thick Greek yogurt, cubed or grated cucumber, garlic, fresh dill, fresh lemon juice and olive oil.
If you'd like to give it a try, I have a simple recipe for authentic tzatziki (or tsatziki – pronounced t-sat-ZEE-zee in Greek) here on the blog. I hope you do!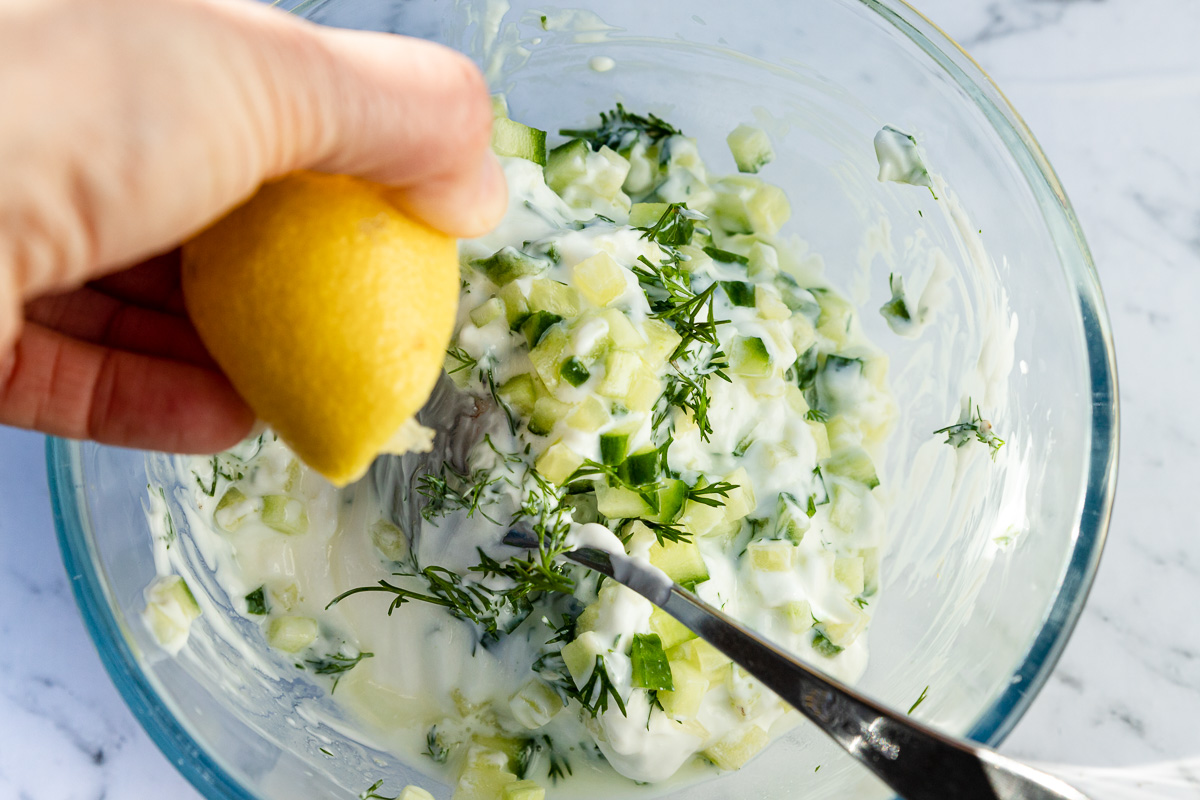 Souvlaki, wraps & kebabs
You just can't eat a Greek souvlaki (chicken or pork on skewers with pita bread) without plenty of tzatziki sauce!
Try my recipe below for a super easy chicken souvlaki gyro that you can bake either in the oven or air fryer. It's the simplest way to experience heaven on a plate. As you take a bite, close your eyes and transport yourself to a Greek taverna with rickety blue wooden chairs.
But really I wouldn't advise eating any kind of Mediterranean style wrap or kebab without some tzatziki with it.
Here are a few more options:
Middle Eastern style falafel wraps are a fantastic vegetarian option!
Classic Greek dishes
If you ever have the pleasure of enjoying Greek mezze (like Greek tapas!) in a restaurant, I can almost guarantee there'll be tzatziki on the table.
There are a few Greek dishes that I make often at home, I wouldn't dream of serving them without tzatziki sauce on the side. Here they are.
Browse more Greek appetizer and main dish recipes.
Salads
Healthy tzatziki can also go really well with a summer salad, instead of mayonnaise or a dressing. My top pick is a classic Greek salad (horiatiki salata).
Add your favorite bakery bread, some 2-minute olive oil toasts or some of this shockingly easy no-knead focaccia bread and you have a delicious light and nutritious meal for yourself or guests!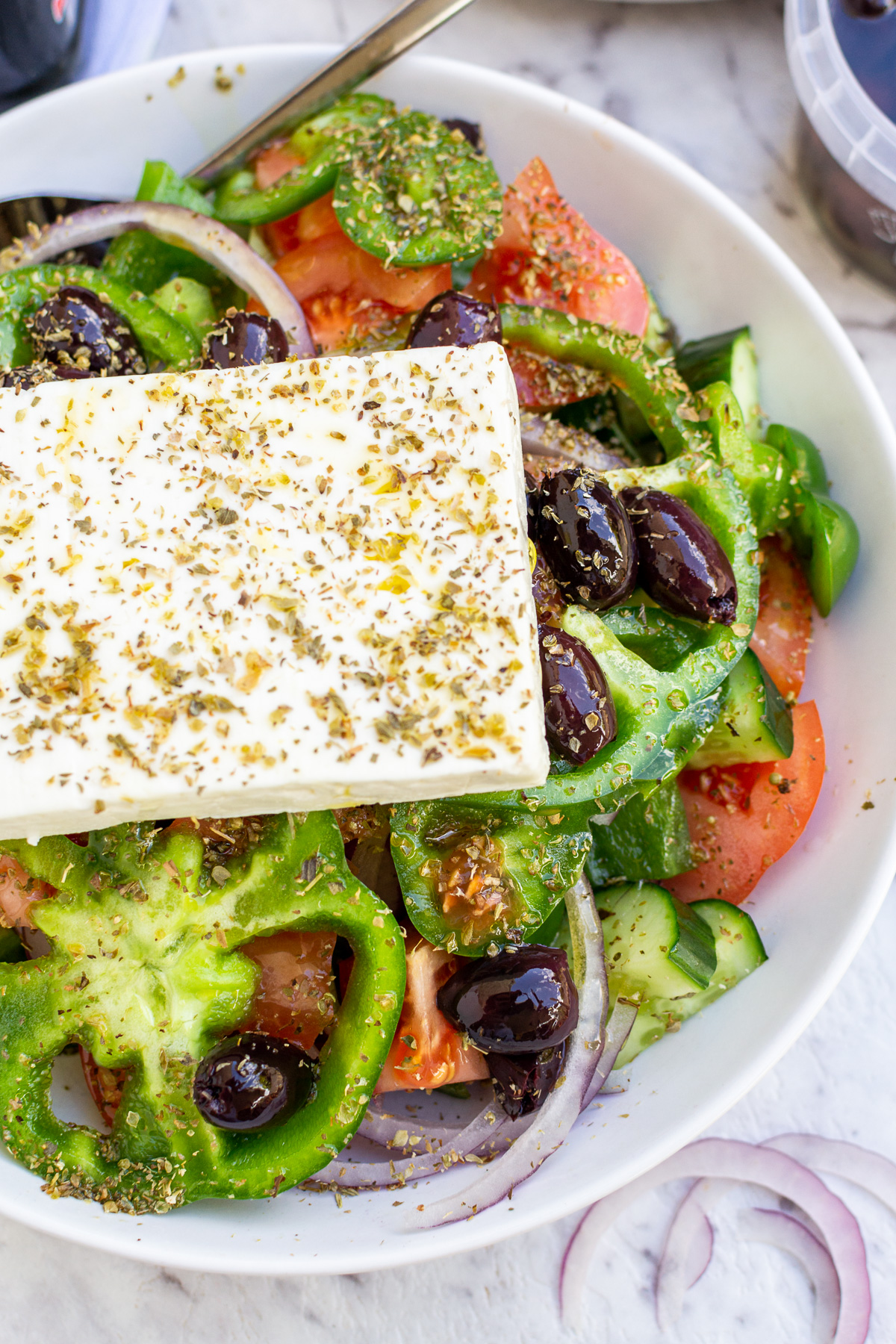 Here are a few more salad ideas that are perfect for serving tzatziki with.
Meat & fish
Tzatziki together with any kind of simple grilled, marinated, roasted or air fried meat or fish are a match made in heaven. Lamb chops or simply cooked salmon would be my top picks! Either spoon the sauce over the meat or fish or serve it on the side.
Add a simple salad or veggies and this is such a quick and easy midweek meal, or elevate your next BBQ with big bowls of this incredible Mediterranean sauce.
Here are a few more simple meat recipes that pair perfectly with tzatziki on the side.
Vegetarian main dishes
If you want to keep your meal vegetarian, there are plenty of options. Any kind of pizza with 'Greek' toppings such as feta, olives, tomatoes and green peppers, veggie burgers, plant-based burgers and sausages and much more will go perfectly with tzatziki.
Here are some more vegetarian ideas.
What to serve with tzatziki dip
Yep, it's true. Tzatziki isn't just a sauce, it's a healthy and delicious dip as well!
Of course, you can keep things super simple (and nutritious!) and just chop up some raw vegetables such as carrot sticks, cucumber and colorful peppers for dipping. Add some tortilla chips of any description for extra crunch.
But of course, that's not all you can dip into your delicious yogurt cucumber dip.
Try
french fries (skinny, wedges, sweet potato)
'alternative' fries (zucchini, eggplant, polenta…)
your favorite bread or pita bread, but into wedges or strips and toasted (if you like!)
simple or fancy garlic bread or garlic sticks
fancy store-bought potato or vegetable chips
roasted veggie 'wedges' (cauliflower, broccoli, carrots, beetroot, zucchini, sweet potato…)
cheese sticks (ideas: breaded mozzarella sticks or halloumi fries – see below for recipe!)
quesadillas (see below for a fantastic Greek quesadillas recipe!)
mini pies (see below for my top picks: mini Greek filo pies)
meat strips (chicken nuggets, chicken tenders, mini meat skewers, mini sausages, or even strips of steak)
Here are some of my favorite recipes that would be perfect for dipping into tzatziki!
Top tip: Tzatziki is also a great substitute for sour cream in a 7 layer dip! Try this Greek layered dip from A Gouda Life.
Even more ideas
Yep, there are even more creative uses for tzatziki! Maybe you have leftovers, or you might want to make another batch especially for the ideas below.
Make 'Greek fries' with chopped olives, tomatoes, cucumber, onion, feta and oregano sprinkled over the top. Serve with tzatziki on top or on the side.
Stir through pasta salad or potato salad instead of mayonnaise or sour cream. Try this trick with this Mediterranean penne pasta salad!
Serve leftover tzatziki on top of a baked potato with feta cheese and a salad on the side.
With a quiche or omelette and veggies or salad.
With a pizza instead of ranch dressing.
Stir through cooked chicken or tuna for an interesting twist on chicken or tuna salad.
FAQ
So now you know exactly how to eat tzatziki! Yes, with souvlaki, but you can enjoy it in so many other ways.
I'd love to hear how you decided to serve it!
Looking for more Greek side dish ideas? Take a look at this collection of 21 easy Greek sides for lots of delicious inspiration for your next Greek feast!
LET ME KNOW WHAT YOU MAKE BY LEAVING A COMMENT AND RATING BELOW… AND DON'T FORGET TO SIGN UP TO RECEIVE ALL MY NEW RECIPES BY EMAIL!