These crispy halloumi burgers might possibly be the quickest, easiest and best veggie burgers you'll ever make. Just coat halloumi cheese slices in flour, shallow fry and assemble your delicious burger!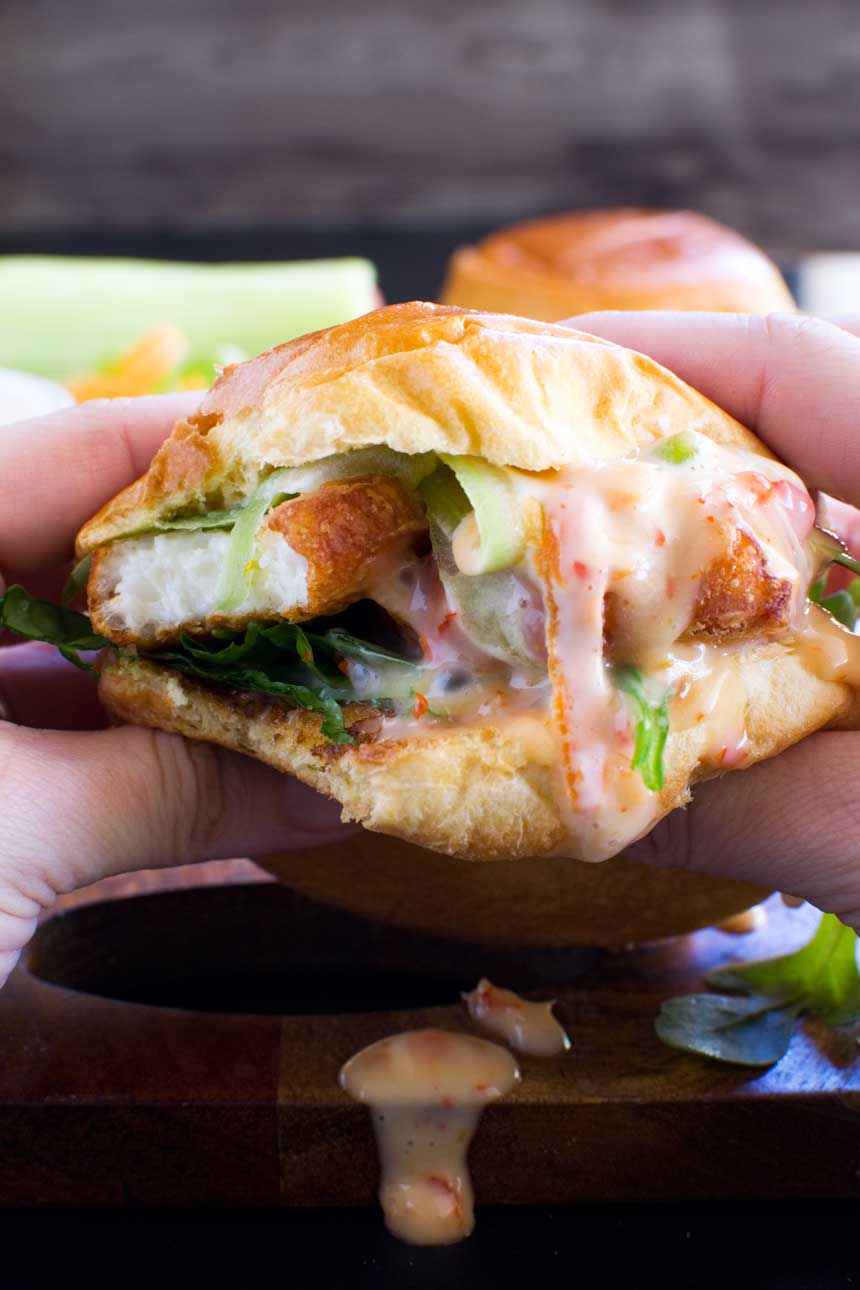 Why you'll love them
Browse through the recipes on Scrummy Lane and it won't be long before you come across a halloumi cheese recipe.
Maybe you've tried this one pan Greek couscous with halloumi or these halloumi, chorizo and tomato skewers with honey-lime dressing and you're already a convert.
If you've tried these crispy halloumi fries, I KNOW you're already a convert! My young niece and nephews are always asking me to make them again, and they can't be wrong. They're one of the most popular recipes on the blog for a reason. They're just SOOOOO GOOD.
And it's really no wonder these crispy halloumi burgers are so good. The halloumi cheese in them is really just a flatter, wider version of my crispy halloumi fries.
But there are more reasons why you'll love them.
You can have them on the table in just 15 minutes (hello, easy midweek dinner).
You only need a few basic ingredients and some nice burger buns to make them. Got carrots, cucumber and a few green salad leaves in the fridge? Grab some halloumi and you already have everything else you need!
They're topped with my special 2-ingredient halloumi burger sauce. Yum!
What's halloumi cheese anyway?
In case you don't know (which is possible) halloumi cheese is a cheese made only on the island of Cyprus. Yep, only there. It's made from different types of milk – sometimes sheep's, sometimes goat's, sometimes cow's, and sometimes a mixture of any of these.
It's a salty, semi-hard cheese that doesn't melt easily, which means it's perfect for cooking. In fact you probably won't ever eat it raw.
If you've never tried halloumi cheese, I challenge you to find some and make these delicious burgers.
If you'd like to find out more about this amazing cheese, I wrote this ultimate guide on how to cook halloumi (with tons of halloumi recipe ideas!).
Ingredients
You only need 8 simple ingredients (9 including the cooking oil) to have these delicious burgers on your dinner table:
brioche burger buns
halloumi cheese (I prefer an authentic Cypriot brand because I find the texture better)
flour (any: all-purpose, gluten-free, rice flour, corn starch all work well)
oil (for shallow frying)
green salad leaves
cucumber
carrot
For the burger sauce:
mayonnaise
sweet chilli sauce
And most of these are store cupboard ingredients so chances are you'd only have to go out and buy the halloumi cheese and possibly 1 or 2 more items that you're missing.
How to make them
I make these burgers in the same way as my halloumi fries:
Dredge them in a little flour. No need for egg, flour, breadcrumbs, or any other fancy coatings to make them crispy.
There's no need to deep fry the halloumi and waste all that oil. Just use about half an inch of oil in a small saucepan and shallow fry in batches for a few minutes.
When the cheese is a deep golden colour, a bit like slightly over-cooked fries, the burgers are nice and crispy and ready to take out of the pan.
Pop them onto a brioche burger bun, then pile on ribbons of cucumber and carrot and sweet chilli mayonnaise (just mix the 2 ingredients together). You'll have yourself one very tasty veggie burger…
… ready within about 15 minutes.
Pro tip: You'll find the cheese is a bit wet when you take it out of the wrapper and this little bit of water is enough to make the flour 'stick'.
Here are some step-by-step photos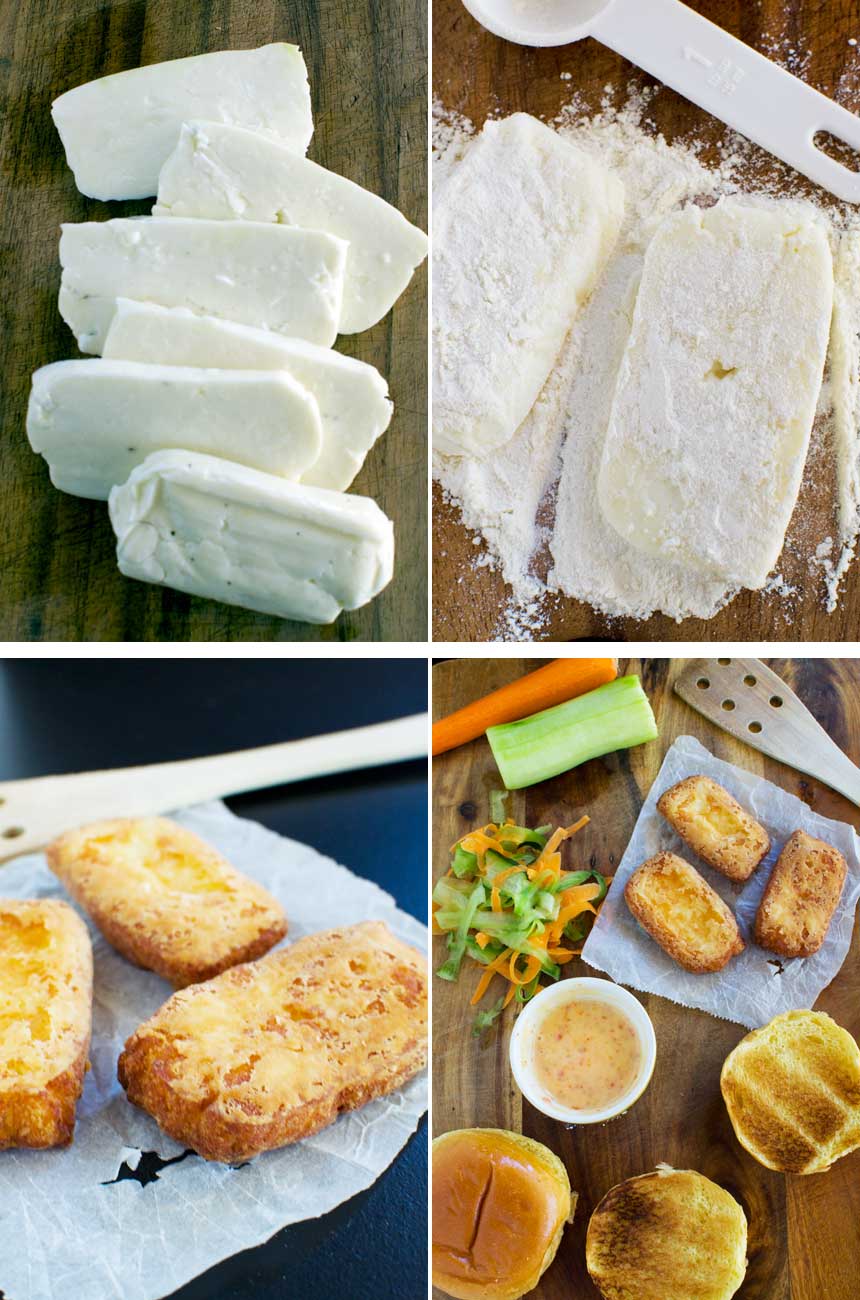 How to make the carrot and cucumber ribbons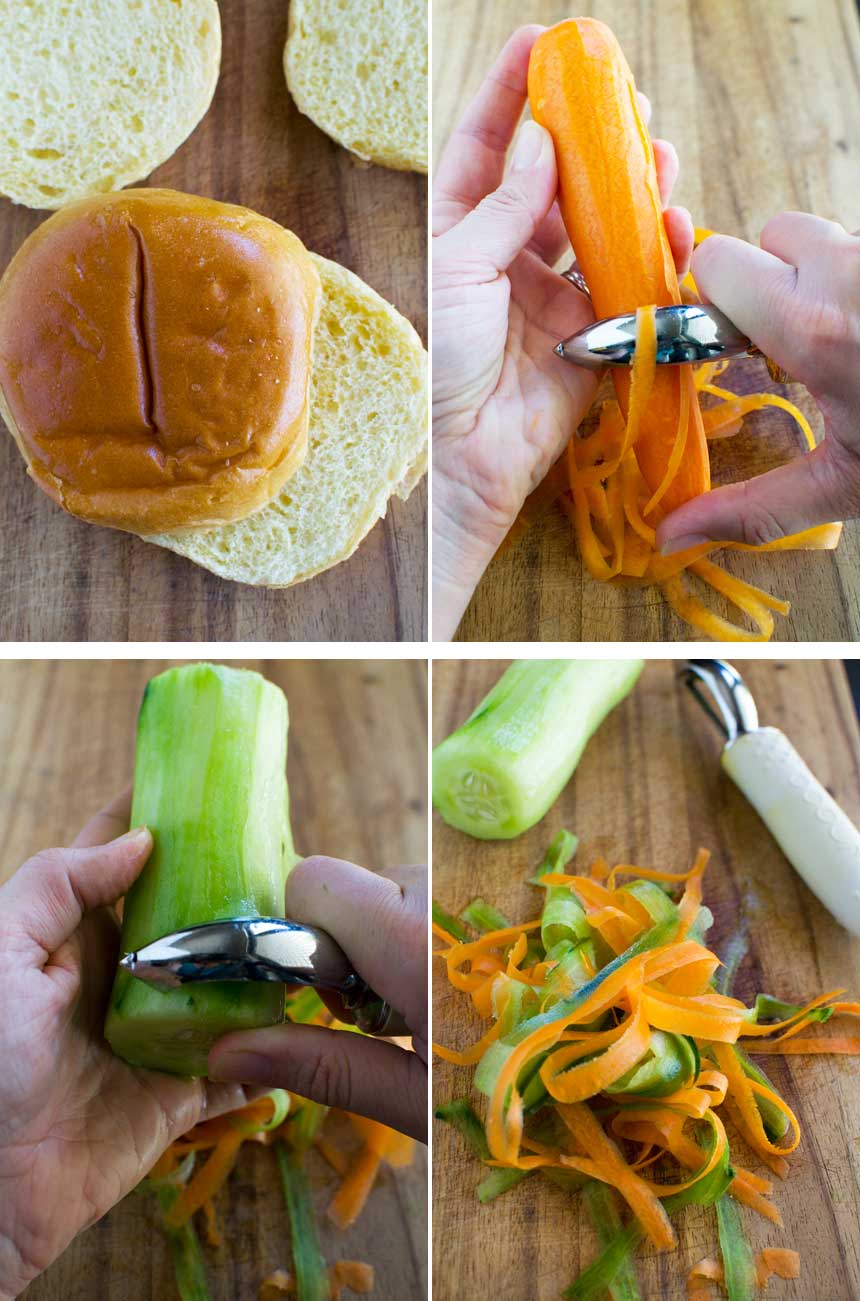 It's so easy to make the refreshing carrot and cucumber ribbons to pile onto your burger. Grab a good quality vegetable peeler. Now simply peel along the whole length of the vegetables until you have some nice thin ribbons.
What to serve with halloumi burgers
If it's just a light(ish) meal you're looking for, it's absolutely fine to serve the burgers on their own. Anyone who is extra hungry can just grab two. 😉
But if you'd like to make more of a substantial meal out of your burgers, here are some ideas for side dishes for halloumi burgers:
I think they go exceptionally well with sweet potato fries or wedges. If you have an air fryer, just toss sweet potato sticks with a little olive oil and herbs/spices if you like (I like paprika, onion or garlic powder and mixed Italian herbs) and air fry for around 15 minutes at 210C/410F. If not just bake them in the oven for around 30 minutes.
Keep with the yummy Mediterranean theme with these incredible Greek potatoes. You won't regret making these – everyone loves them.
Variations
I usually just keep these burgers exactly as they are. But here are a few more things you can add that I think work well:
Don't have any sweet chili sauce/mayo? Use tzatziki sauce, Caesar dressing or ranch dressing for the sauce instead.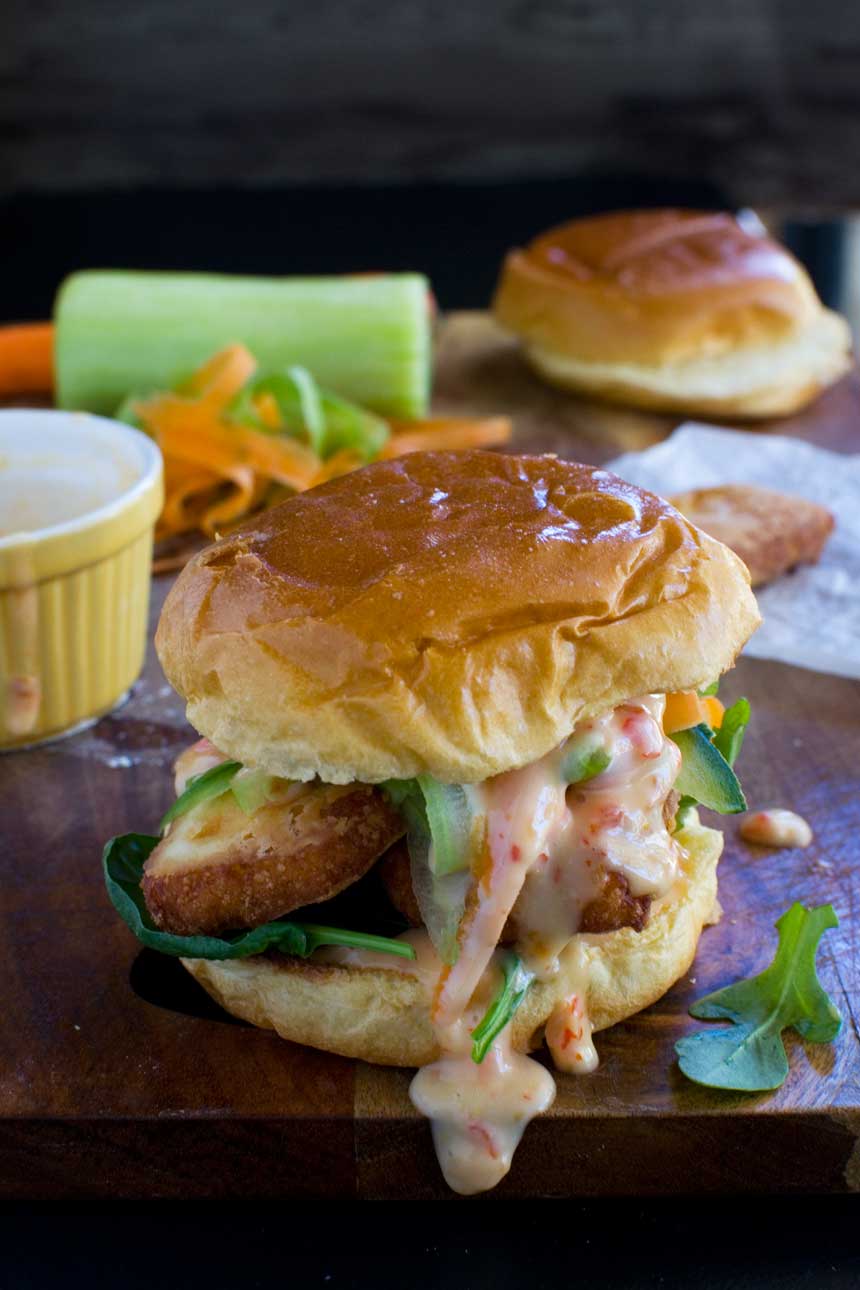 More things to know (FAQs)
Where can I buy halloumi?
In the UK almost every supermarket stocks halloumi cheese. It's pretty easy to find in Australia too. I got mine from Aldi this time. In the USA I believe you can get it at Trader Joe's. If you're struggling, try a European style deli. You can even use Hispanic cheese queso para freir as a substitute if you like.
How do I know when it's perfectly cooked?
When the halloumi is perfectly fried it will be golden brown and crispy looking all over. Usually I flip the halloumi over after about 2 minutes in the oil so that it cooks evenly. Altogether I usually cook it for between 3 and 4 minutes. It's hard to go wrong, to be honest. As long as your cheese is golden and crisp, it'll be delicious!
What's the best kind of bread to use?
I like to use brioche buns for these burgers but any smaller size bread rolls work. Remember to toast them lightly for a subtle crunch!
How can I adapt this burger for meat lovers?
Add a slice or two of crispy bacon or pan-fried chorizo! Bacon and chorizo happen to taste delicious with halloumi!
More ways to use halloumi
More 15-minute meals
Just love halloumi? Check out my expert how to cook halloumi guide. With pro tips, recipes and more.
IF YOU MAKE THIS RECIPE, LET ME KNOW HOW YOU GET ON BY LEAVING A COMMENT AND RATING BELOW… AND DON'T FORGET TO SIGN UP TO RECEIVE ALL MY NEW RECIPES BY EMAIL!
FOLLOW ME ON FACEBOOK, INSTAGRAM, PINTEREST AND YOUTUBE.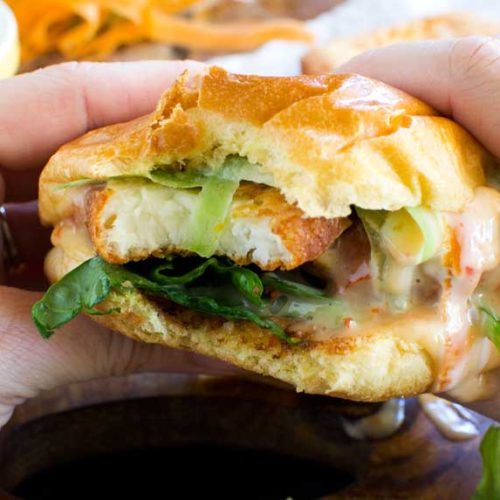 Crispy Halloumi Burgers
A really easy-to-make crispy veggie burger with halloumi cheese as the star of the show. Top brioche buns with shallow fried halloumi slices, then pile on ribbons of carrot and cucumber and sweet chilli mayonnaise. Delicious!
Ingredients (UK/Australia? Click below for grams/ml)
For the burgers
9

ounces

halloumi cheese

1 'log' = 250 grams, sliced into 6 slices lengthwise

2

tablespoons

flour

(roughly)

0.5

inches

oil

in a small saucepan

0.25

cucumbers

peeled

0.5

carrots

peeled

2

burger buns

(I like to use brioche buns)

1

handful

salad leaves

(I used rocket and spinach but any lettuce/greens is fine)
For the mayonnaise
4

tablespoons

mayonnaise

2

tablespoons

sweet chilli sauce
Instructions
Heat the oil until it sizzles when you dip the end of a piece of halloumi in it.

Dip each slice of halloumi in the flour so that it has a thin layer all over.

Carefully place the halloumi into the oil (in 2 batches) and let cook for 2 to 4 minutes until golden brown on both sides (you can turn it over half way through cooking if you like but you may not need to).

Meanwhile, use a vegetable peeler to peel thin strips of cucumber and carrot. Mix the two together.

Remove the halloumi from the oil and drain for a moment on kitchen paper while you prepare the mayo and burger buns.

Lightly toast the buns. Meanwhile, mix the mayo and sweet chilli sauce.

Assemble the burgers. Spread the bottom part of the bread with a layer of mayonnaise, then top with some salad leaves.

Top each burger with 2 slices of crispy halloumi, then pile a handful of cucumber and carrot on top.

Finally, spoon over more mayo to taste and cover with the top part of the burger. Enjoy!
Notes
What to serve with them: Although these halloumi burgers are delicious on their own, they also go really well with sweet potato fries, Mediterranean roast vegetables or Greek potatoes.
Sauce: If you prefer a bit more 'zing' in your burger, simply add a bit more sweet chilli sauce to your mayonnaise. Also feel free to use tzatziki, Caesar sauce or ranch dressing instead.
Where to buy halloumi: Widely available in supermarkets, but if not try a European style deli. In the USA try Trader Joe's. Queso para freir can work as a substitute!
Nutrition
Calories:
523
kcal
Carbohydrates:
25
g
Protein:
22
g
Fat:
36
g
Saturated Fat:
16
g
Cholesterol:
7
mg
Sodium:
1388
mg
Potassium:
102
mg
Fiber:
1
g
Sugar:
8
g
Vitamin A:
1715
IU
Vitamin C:
1.7
mg
Calcium:
907
mg
Iron:
1.2
mg