Quiche! A healthy, tasty, and simple anytime kind of meal. All you need for this super easy vegetarian red pepper and feta quiche is 7 simple ingredients plus seasoning. Thanks to a couple of shortcuts, you can make it in just 15 minutes of hands-on time.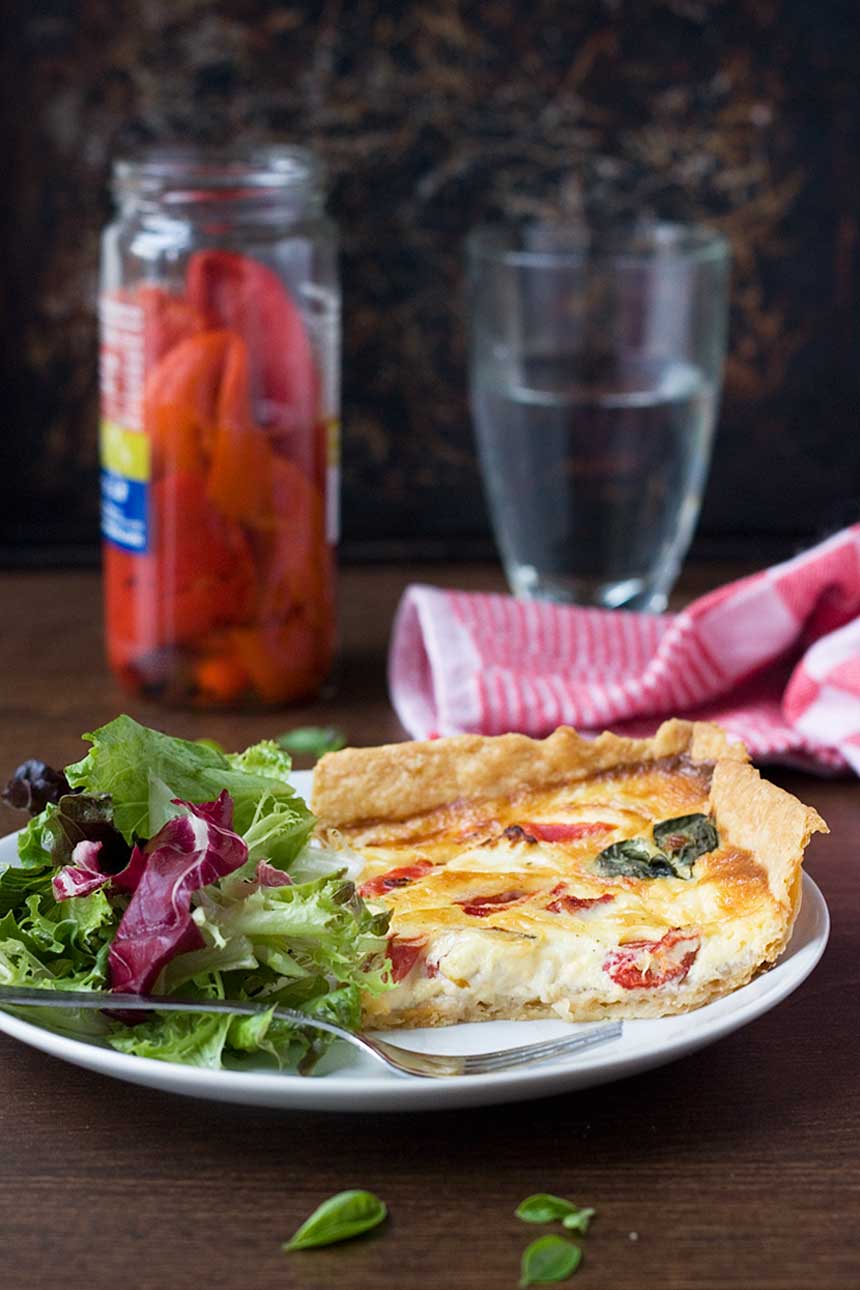 If you've ever attempted a homemade quiche, you'll know that they aren't always the quickest thing to put on your menu.
I'm still in love with this classic homemade Quiche Lorraine recipe and think it's sometimes worth the extra bit of effort to make it.
But when it's a really quick brunch, lunch or dinner you're after (translation: most of the time!), there is no shame in cutting a few corners with your homemade quiche. You can either skip the crust altogether and make this eternally popular self-crusting quiche ('impossible' quiche!).
OR keep the delicious flaky crust (because sometimes a no crust quiche just isn't going to cut it) and make this roasted red pepper and feta quiche instead!
I sometimes like to call it a Mediterranean quiche since it works well with lots of different Mediterranean ingredients that you don't need to pre cook.
Why you'll love it
Not only is this a super easy vegetarian quiche recipe, it's also very affordable (made with mostly basic pantry ingredients).
Choose whether to make it with frozen ready-rolled pastry sheets or a refrigerated pie crust. No messing around, but it'll still taste homemade!
You don't need to pre-cook any of the filling ingredients. Just sprinkle jarred roasted red peppers, cubed feta cheese and fresh basil leaves directly into the tart case.
This is a half heavy cream half milk recipe for the perfect balance of healthy but creamy.
It's really easy to make changes. Substitute with different vegetarian fillings or scale up the amount of filling to make a bigger quiche.
I sometimes like to call this a Mediterranean quiche since it works well with lots of different Mediterranean ingredients that you don't need to pre cook (see below for a list of ideas!).
The cool thing is that your super easy veggie quiche won't taste like you took any shortcuts at all!
About the ingredients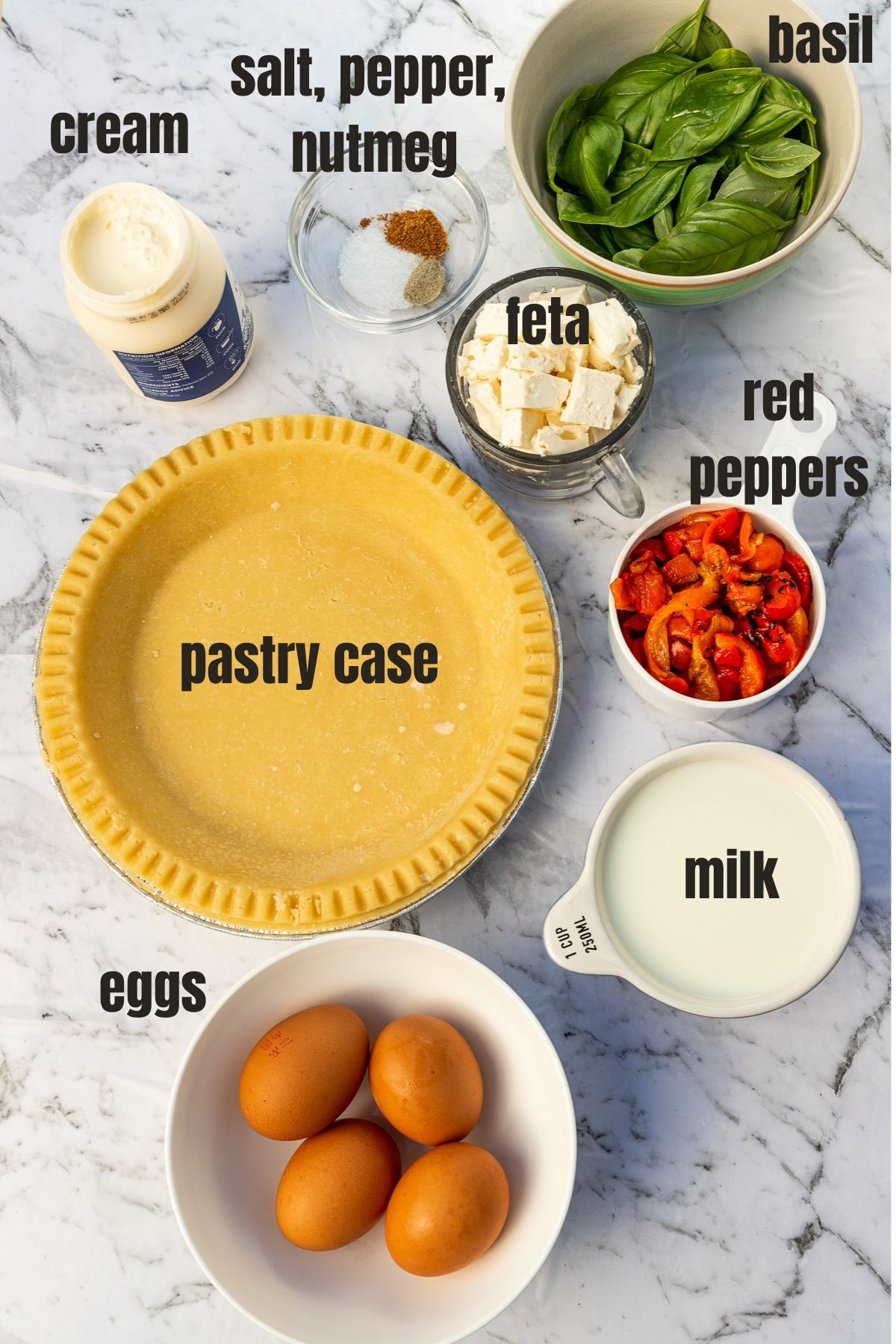 Pie crust: For the more rustic homemade flaky crust look (without actually having to make your own dough), use frozen shortcrust pastry sheets. Make sure it's unsweetened. Sometimes I roll the sheet slightly to fit my dish.
Alternatively, just grab a frozen or refrigerated pie shell!
Eggs: You'll need 4 large.
Heavy cream and milk: A cup of each for the perfect custard with a 'not-too-rich-not-too-watery' consistency. Whole milk or low-fat milk both work well.
SUBSTITUTION TIP You can easily substitute some or all of the cream for more milk. Or even a little Greek yogurt or creme fraiche. The result will be slightly less rich, but once you've added the eggs and feta your quiche will still taste luxurious.
Feta cheese: I prefer an authentic Greek brand or a creamy Danish style feta. But any type is fine.
Roasted Mediterranean red peppers (red bell peppers/capsicum): Depending on what's available, I use either jarred whole peppers or ready-chopped strips. Just drain off the oil or brine well first.
You'll need around a cup for your quiche. If you have leftovers, you can use them to make this 5-minute roasted red pepper feta dip. Mmm!
Salt, pepper and nutmeg: Season your delicious feta quiche well. Add a little nutmeg if you like (Purely optional but many swear it's one of the keys to good quiche!).
Fresh basil: This makes all the difference. A small bunch is perfect. If basil isn't available feel free to substitute a different Mediterranean herb such as oregano, tarragon or even mint instead.
How to make red pepper feta quiche
The step-by-step guide below should help you make the recipe perfectly first time. Scroll down to the end for the full recipe including ingredient amounts.
Step 1: Roll your pastry sheet out a little (if you need to) and press it into your pan. Obviously if using a ready to bake pastry case, you can skip this part.
Step 2: Blind bake your pastry. Prick it all over with a fork, to keep it flat as it bakes. Line the pastry with baking paper and either pie weights or dried beans, rice or even sugar. Bake for 10 minutes. Then remove the weights and paper and bake for another 10 minutes.
Step 3: Whisk together the eggs, cream and milk. Season well with salt, pepper and nutmeg (if you like).

Step 4: Pile the feta, roasted red pepper and basil into the pastry. I like to halve everything and add it in two layers. Then carefully pour egg mixture in.

Step 5: Bake for around half an hour, but you may need to adjust this time slightly according to your oven. What you're aiming for is a quiche that's mostly set but still slightly jiggly in the middle.
Note: You might have some of the egg mixture left over, especially if you're using a ready-made crust which can be smaller. Use the leftovers to make a second quiche for the freezer, or even freeze the mixture for another time (it will keep for a few months in the freezer).
Helen's top tips
If you trim the pastry around the top of the pan, leave a little overhanging as it may shrink in the oven. You can always trim a little more after the pastry is cooked.
Don't be tempted to skip pre-baking the crust. It's easy, I promise, and stops the bottom getting soggy after you've added the filling.
Bake your pie crust straight from frozen if using a ready made shell. If making your own, put the case in the freezer for at least 30 minutes before blind baking. This helps it to hold together better in the oven.
Cube the feta before adding it to the quiche. This way you'll get delicious pockets of tangy cheese throughout.
Fold some strips of aluminium foil around the edges of the crust to stop them over-browning. Or you can use a pie crust shield. (affiliate link)
Put the quiche pan onto a baking tray and in the oven BEFORE pouring the egg mixture in. Then carefully slide the tray fully into the oven to bake.
What pan to use
There's some flexibility here! The easiest option is to use a typical 9-inch quiche pan. A springform quiche pan is great, or just use a pie plate. I love this Emile Henry pie dish!
You'll see from my photos, however, that I have a rectangular quiche pan that I like to use sometimes, too. It's a bit bigger than a regular quiche pan.
If your pan is bigger too and you need more filling, 1 egg per half cup of milk/cream is a good rule of thumb.
More vegetarian fillings to try
Quiche recipes are highly adaptable. So go wild with your imagination if you like and switch around the fillings! To keep the quiche super easy, you don't have to pre-cook any of these alternatives (mostly Mediterranean style!).
Here are some ideas:
Try different types of cubed cheese. A good strong cheddar cheese is great. So is gruyere, goat cheese, creamy ricotta or even blue cheese.
Add chopped sundried tomatoes to your feta tart, too. Or even a few chopped cherry tomatoes.
Spinach. Frozen is a good option since it's usually already cooked. Just let it defrost, then squeeze out any extra water and chop. Spinach feta quiche is one of the greatest combos ever in a vegetarian quiche!
Jarred artichokes. Just drain out the oil/brine and chop. Just FYI artichokes and bacon are a match made in heaven (just try this artichoke and bacon sandwich and see). It wouldn't be a veggie quiche any more if you added bacon, of course. But I won't tell if you don't.
Spring onions/Green onions/Scallions or any kind of salad onion, since they don't need cooking first like regular onions do.
Add more classic Mediterranean salad ingredients to your feta quiche in the form of chopped olives, cherry tomatoes and a sprinkle of fresh or dried oregano.
How to serve it
In the Scrummy household we've always loved to pair quiche with baked potatoes or bread and a simple salad. You can't go wrong with a Greek salad although since there's lots of feta in the quiche skip it in the salad!
In fact, quiche goes so well with any salad in the summer. I love this simple quinoa salad with crispy chickpeas but you can browse more salad recipes here.
You could also make this healthy Greek yogurt brussel sprouts coleslaw.
If it's winter, you might want a more substantial side. How about these legendary Greek roasted potatoes? I'm not exaggerating when I say they never disappoint.
The truth is, you can serve a quiche with just about any side dish you like!
Looking for more ideas? Browse my list of 40+ easy quiche side dishes.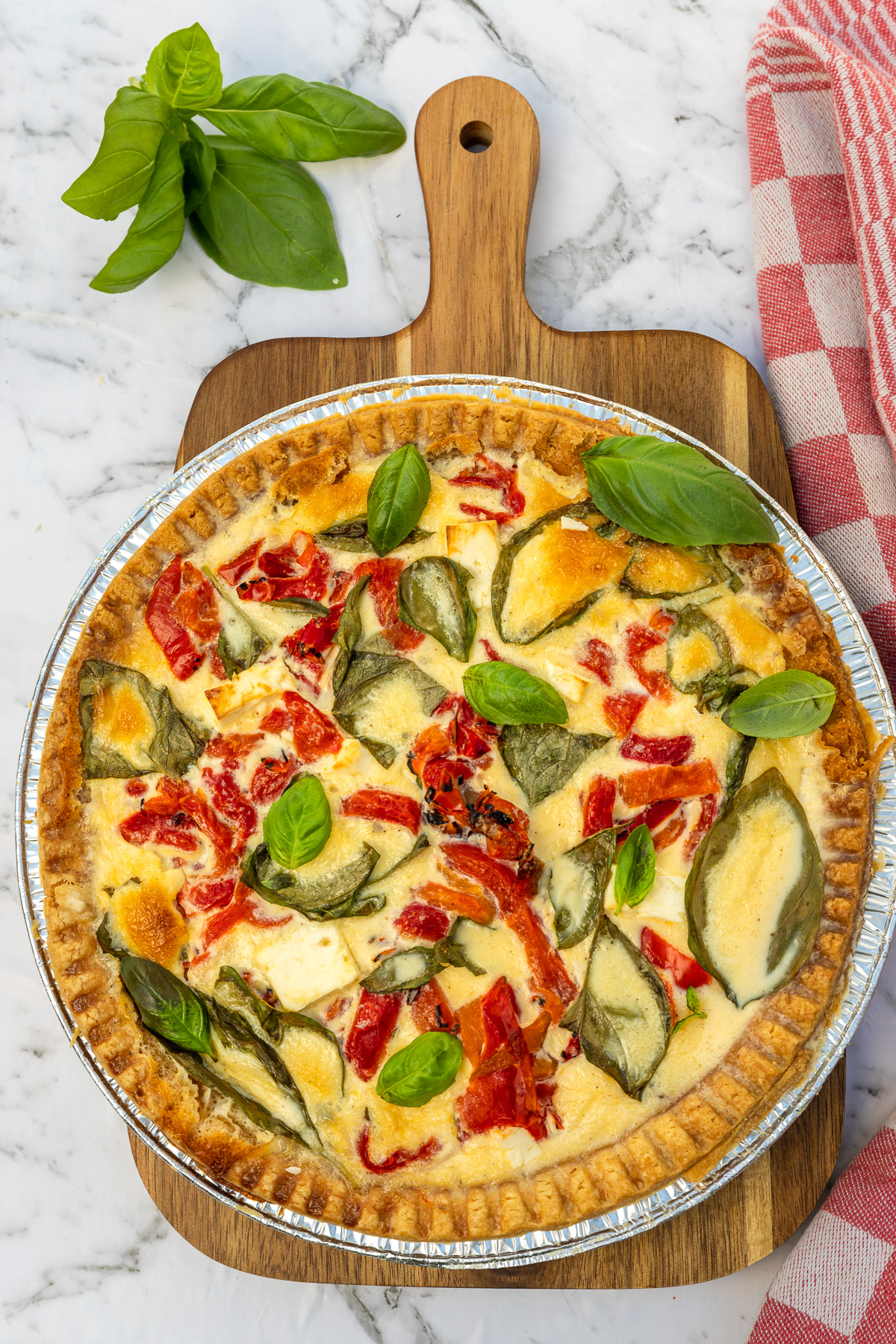 More things to know (recipe FAQ)
Can I make a quiche ahead of time?
Yes, you can! Perhaps surprisingly, you can pre-bake the crust up to 1 day ahead of time. You can whisk up the egg custard mixture, prepare the fillings, and keep each covered separately in the fridge. Then assemble and bake when you're ready.

Alternatively, you can assemble the quiche, then wrap it with plastic wrap and then foil and freeze. When you're ready to eat it, simply unwrap and bake straight from frozen for around 45 minutes at 400F/205C.
My crust cracked while blind baking. What should I do?
Don't worry! I've been there many times but there's a fix.

Simply mix some flour with a little water and use the thick paste to 'fix' any cracks in your pastry. Bake for a couple of minutes until just dry. Your crust will be as good as new and won't leak when you pour the egg mixture in!
Can I reheat leftover quiche?
For sure! You can keep any leftover quiche well covered in the fridge for a couple of days. To reheat, just bake it again at around 325F/160C for around 15 minutes. If you have an air fryer, it'll reheat perfectly at 340F/170C for around 5 to 6 minutes. I don't recommend reheating quiche in the microwave as the pastry will go soft.
More Easy Quiche Recipes
You can't get more classic than a delicious quiche lorraine when it comes to quiche. Give it a try. It's not too tricky, and is so worth the effort.
Very similar to crustless quiche, this easy zucchini slice is an Aussie classic. It's simple to make, nutritious, and enjoyed by kids and parents alike.
IF YOU MAKE THIS RECIPE, LET ME KNOW HOW YOU GET ON BY LEAVING A COMMENT AND RATING BELOW… AND DON'T FORGET TO SIGN UP TO RECEIVE ALL MY NEW RECIPES BY EMAIL!
FOLLOW ME ON FACEBOOK, INSTAGRAM, PINTEREST AND YOUTUBE.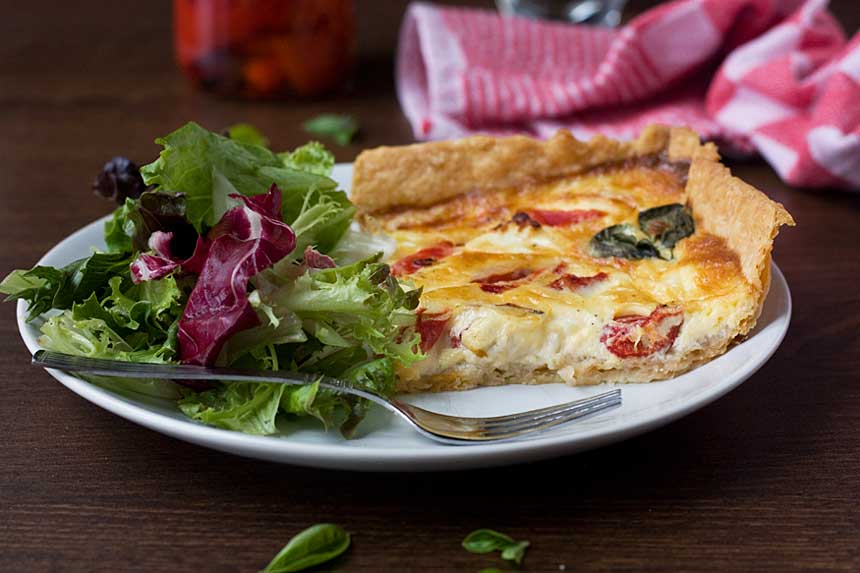 Easy Red Pepper And Feta Quiche (Mediterranean Quiche)
A homemade quiche always goes down well, but can be a bit of a hassle to make. Not this easy vegetarian feta and red pepper quiche! It's so easy to make with a store bought pie crust, a few pantry ingredients and some delicious Mediterranean vegetables that you don't have to pre-cook.
Equipment (affiliate links)
Ingredients (UK/Australia? Click below for grams/ml)
1

sheet

frozen pastry

(around 375 grams / 13 ounces) OR a ready made refrigerated or frozen shortcrust pastry case

4

large

eggs

1

cup

heavy cream

(UK = double cream)

1

cup

milk

½

teaspoon

salt

¼

teaspoon

pepper

¼

teaspoon

nutmeg

optional but recommended

1

cup

roasted red peppers

(from a jar) drained well and chopped (about 2 whole peppers, or use sliced)

5

ounces

feta cheese

cubed (about ¾ cup)

1

bunch

fresh basil
Instructions
Preheat the oven to 350F/180C.

Line a 9-inch quiche pan (loose-bottomed is good) or equivalent with the pastry, and trim. Prick the pastry all over with a fork then line with baking paper and fill with baking beads or beans. Bake for 10 minutes, then remove the paper and beans / beads and bake for another 10 to 15 minutes until lightly browned.

Remove pastry from the oven and cool a little.

Meanwhile, make the egg custard filling. Whisk the eggs in a jug or bowl, then add the milk and cream, salt and pepper, and nutmeg if using.

4 large eggs,

1 cup heavy cream,

1 cup milk,

½ teaspoon salt,

¼ teaspoon pepper,

¼ teaspoon nutmeg

Sprinkle the feta, peppers and basil over the base of the pastry case in two layers. Wrap aluminium foil strips over the pastry edges so that they don't brown too much while baking.

1 cup roasted red peppers,

5 ounces feta cheese,

1 bunch fresh basil

Put the quiche pan on a baking tray, then carefully pour in the egg mixture. Add the last bit when it's already in the oven to prevent spillage if you like.

Bake for about 30 minutes or until the quiche is set but still slightly wobbly in the middle.

Serve warm or at room temperature with a salad or veggies and potatoes (baked or roasted!).
Notes
Pastry: The easiest thing to do is to use a ready made frozen or refrigerated shortcrust pastry case (unsweetened of course). Blind bake it straight from frozen. Alternatively use a sheet of frozen pastry. Let it defrost then roll out if needed to fit your pan with a little left overhanging. I recommend popping it into the freezer for 30 minutes to an hour before blind baking.
I also recommend covering the edges of the pastry case with foil or a pie crust shield to stop overbrowning while baking your quiche.
If your pastry cracks while blind baking: Don't worry, just make a thick paste out of flour and water and 'repair' your cracks with it. Bake the pastry again for around 2 minutes until the paste is dry. Then continue with the recipe!
Making ahead: You can make and pre-bake the crust up to a day ahead. You can also store the egg custard filling in the fridge (covered). Then assemble and bake when you're ready.
Freezing: After blind baking the pastry, you can assemble the unbaked quiche, cover it well in plastic wrap and aluminium foil and freeze for up to 3 months. Bake straight from frozen for around 45 minutes.
Of course you can freeze a cooked quiche, too. Simply wrap really well and freeze for up to 3 months. Then cover with foil and reheat for 35 to 45 minutes until hot.
Reheating: Quiche reheats really well. Reheat at 320F/160C for around 15 minutes or until hot again. Alternatively reheat slices in your air fryer for 4 or 5 minutes at 340F/170C.
Nutrition
Calories:
275
kcal
Carbohydrates:
5
g
Protein:
10
g
Fat:
24
g
Saturated Fat:
14
g
Polyunsaturated Fat:
1
g
Monounsaturated Fat:
6
g
Trans Fat:
1
g
Cholesterol:
195
mg
Sodium:
857
mg
Potassium:
199
mg
Fiber:
1
g
Sugar:
3
g
Vitamin A:
1121
IU
Vitamin C:
11
mg
Calcium:
224
mg
Iron:
1
mg