Quiche has always been one of my favourite healthy, tasty and nutritious meals. I often buy ready-made, but homemade's always worth the effort. What's more, this simple feta and red pepper version is really easy to make. Why not give it a go?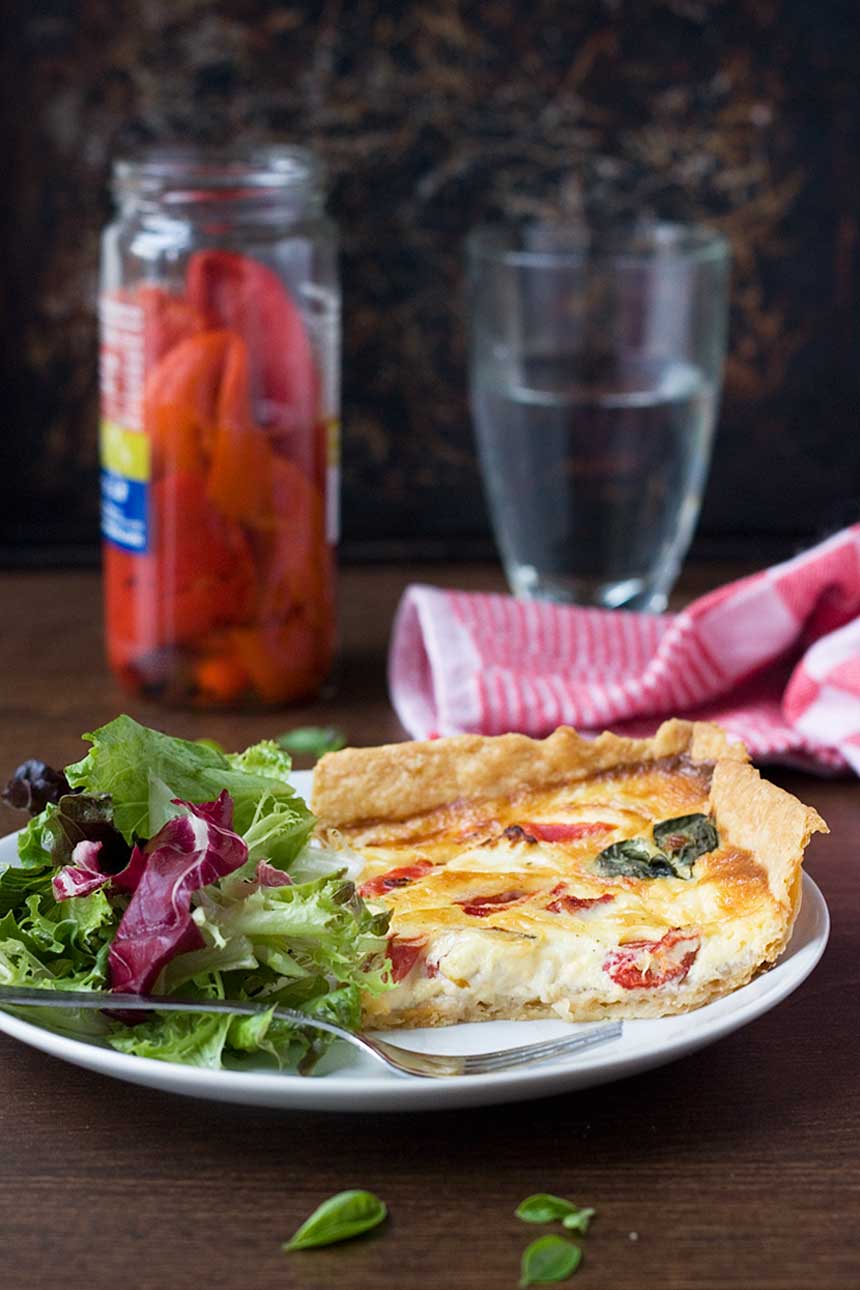 If you've ever attempted a homemade quiche, you'll know that they aren't always the quickest thing to put on the menu.
Especially quiche Lorraine, because to get it just right you need to make the pastry, bake with weights and then without, then fry up the onions and bacon, separately. And all this before you've made the eggy filling and popped it into the oven.
Honestly, it's really not that bad, and absolutely worth it, but I don't see any harm in 'cheating' now and again too – do you? And by 'cheating' I don't mean popping out to the supermarket for a ready-made quiche, although I do actually shamelessly do this quite often too!
I mean sticking with homemade, but cutting a few corners. Why not?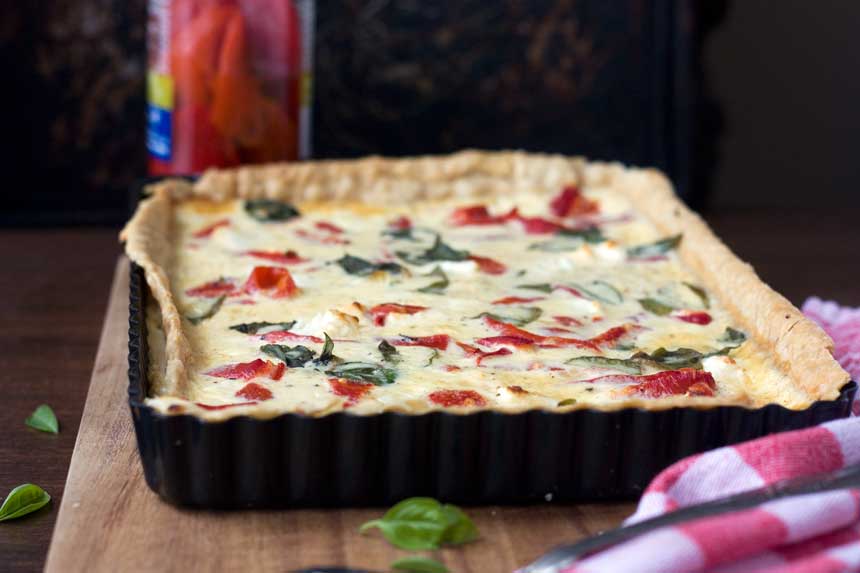 The first corner I cut when making this feta and red pepper quiche was using ready-made pastry. Tastes just fine, but takes a whole let less time. Just roll out your pastry sheet a little (if you need to), press it into your pan, and you're ready to bake.
My second 'shortcut' is keeping the fillings super easy – meaning ingredients that don't need any pre-cooking. In this case, feta cheese (just crumble over the pastry base!) and lovely roasted Mediterranean red peppers (capsicum) FROM A JAR! Just drain off any oil or brine, chop and add to the feta.
As for the eggy filling, it takes just moments to whip up. I use 4 eggs and 2 cups of a mixture of milk and cream for a perfect 'not-too-rich-not-too watery' result. Add a bit of salt, plenty of ground black pepper and a bit of nutmeg if you like and it's ready to pour on top of your feta and roasted peppers. Mmmm!
I usually bake for around half an hour, but you may need to adjust this time slightly according to your oven. What you're aiming for is a quiche that's mostly set but still slightly jiggly in the middle.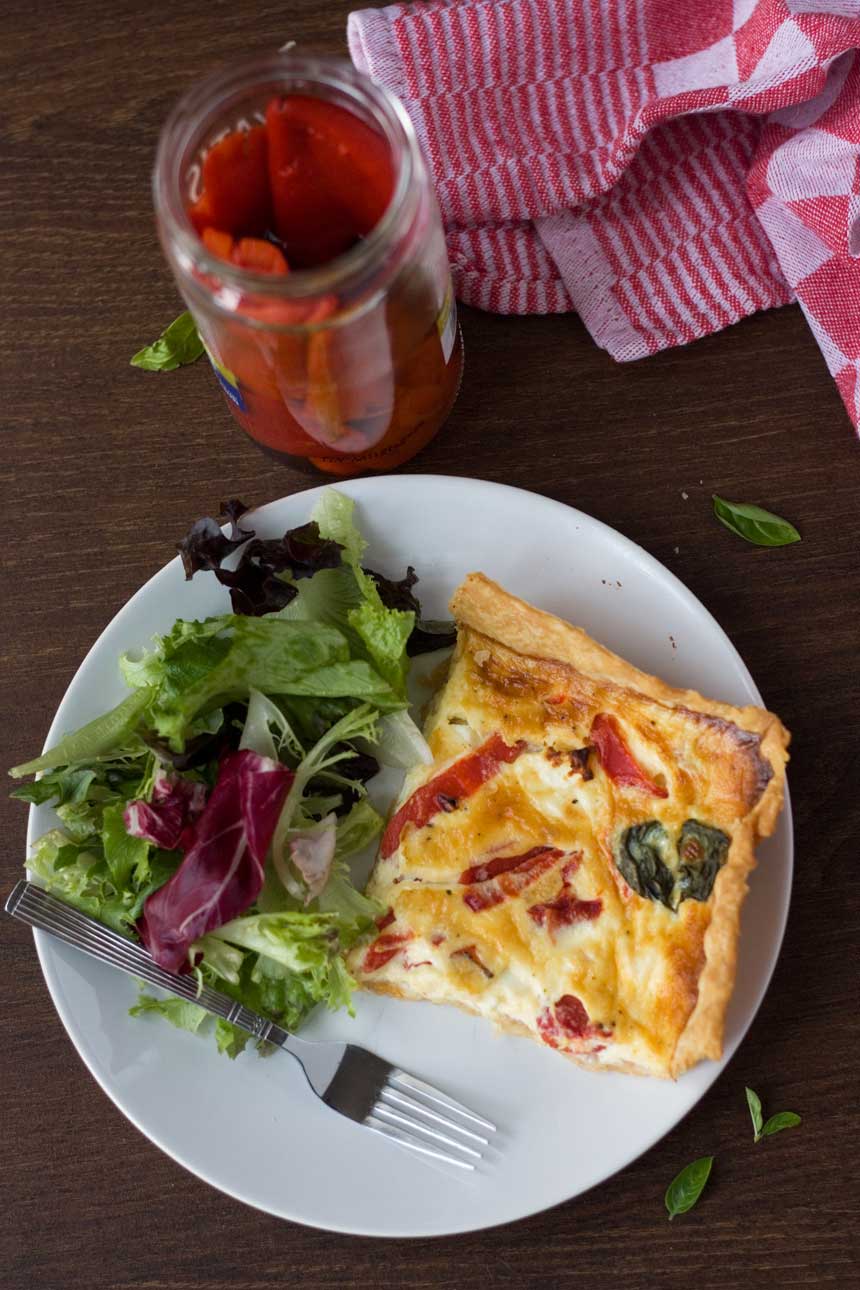 I went for a rectangular quiche pan this time, just for a change, but of course any shape pan you happen to have is fine. I usually find there's slightly too much eggy filling for a typical 9-inch quiche pan, which gives you some flexibility with the size of pan you use – within reason of course!
If your pan is bigger and you need more filling, 1 egg per half cup of milk/cream seems to be a good rule of thumb.
Quiche recipes are highly adaptable of course, so go wild with your imagination if you like and switch around the fillings! Add cooked chopped ham, cooked mushrooms or butternut squash, different kinds of cheeses (ricotta's good!), spinach, sundried tomatoes… or anything else you happen to have lying about in your fridge that you think would work.
In the Scrummy household we always pair quiche with baked potatoes and salad. How do you like to eat yours?? 🙂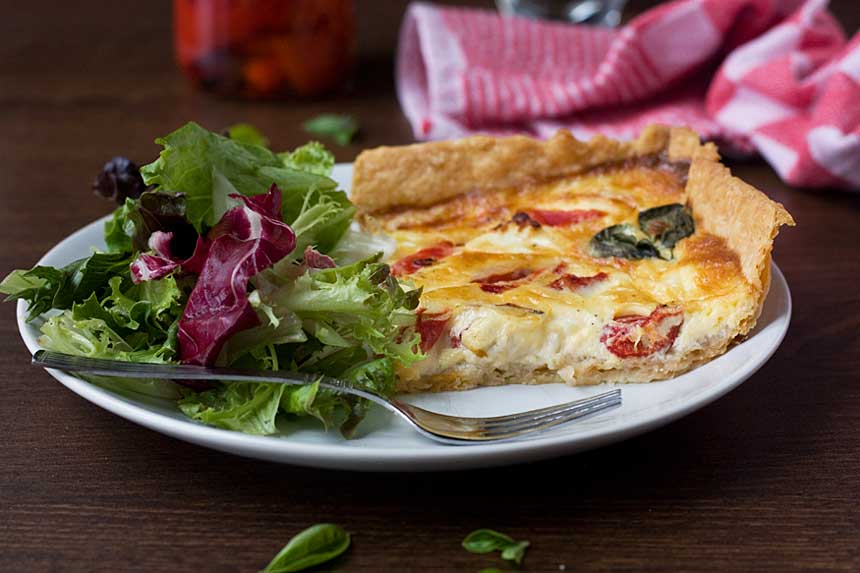 Easy feta and red pepper quiche
A homemade quiche always goes down well, but can be a bit of a hassle to make. Not this easy feta and red pepper quiche! It's so easy to make, but no less delicious!
Ingredients (UK/Australia? Click below for grams/ml)
1

sheet ready-made shortcrust pastry

mine was 375 grams / 13 ounces

1

cup

chopped feta cheese

150 to 200 grams / 5 to 7 ounces

1

cup

jarred roasted red peppers

capsicums, drained well and chopped (I used 2 whole peppers)

4

eggs

1

cup

heavy / double cream and 1 cup milk

about 125ml / 4 fl oz of each

1/2

teaspoon

salt & a good grinding of black pepper

1/4

teaspoon

nutmeg

optional

small bunch fresh herbs

optional – I used basil
Instructions
Preheat the oven to 350F/180C.

Line a 9-inch quiche pan (loose-bottomed is good) or equivalent with the pastry*, and trim. Prick the pastry all over with a fork then line with baking paper and fill with baking beads or beans. Bake for 10 minutes, then remove the paper and beans / beads and bake for another 10 to 15 minutes until lightly browned.

Remove pastry from the oven and cool a little.

Meanwhile, make the egg filling. Whisk the eggs in a jug or bowl, then add the milk and cream, salt and pepper, and nutmeg if using.

Sprinkle half of the feta and peppers over the base of the pastry case, then pour in the egg mixture. Add the rest of the feta and peppers, and the herbs if using.

Bake for about 30 minutes until the quiche is set but still a little jiggly in the middle.

Serve warm or at room temperature with a salad or veggies and potatoes (baked or roasted!).
Notes
*I rolled my pastry out just a little more so that it would fit my pan. Do this if you need to. When you trim the pastry around the top of the pan, leave a little overhanging as the pastry will shrink in the oven. You can always trim a little more after the pastry is cooked.
Nutrition
Calories:
477
kcal
Carbohydrates:
22
g
Protein:
11
g
Fat:
38
g
Saturated Fat:
17
g
Cholesterol:
185
mg
Sodium:
632
mg
Potassium:
163
mg
Fiber:
1
g
Sugar:
2
g
Vitamin A:
1625
IU
Vitamin C:
31.9
mg
Calcium:
171
mg
Iron:
1.8
mg
Why not save this to your Vegetarian Pinterest board for later? 🙂