Want to know how to cook gemista like the very best you've had on your holiday to Greece? Otherwise known as stuffed peppers and tomatoes, this fantastic summer recipe is a Greek classic dish that's stayed popular for good reason. It's healthy, it's filling, it's authentic, it's amazingly tasty… and it makes fantastic leftovers!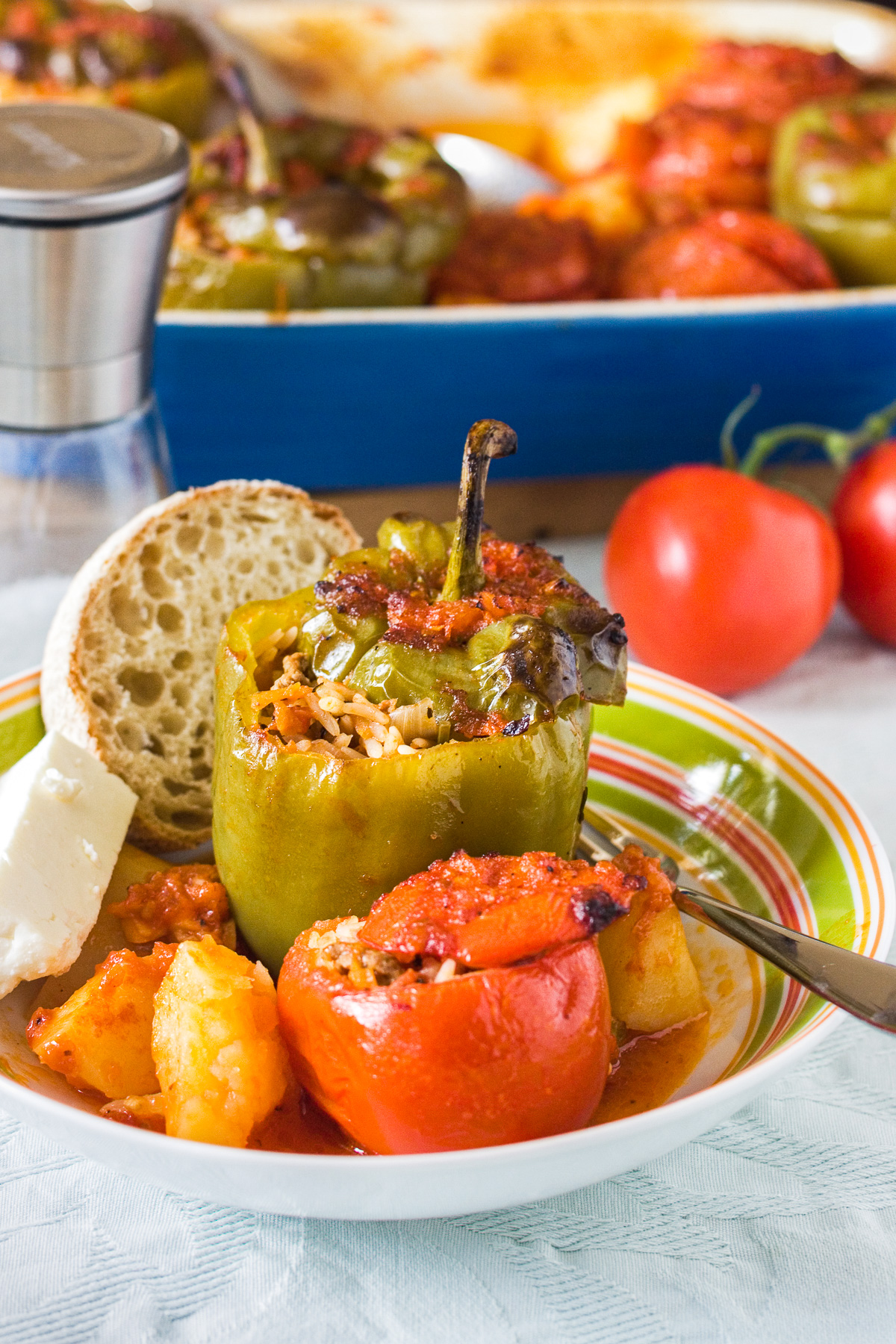 What's gemista?
Go to any Greek taverna and you'll find gemista / yemista (pronounced 'yemist-ah' and meaning 'stuffed' or 'things that are filled'!) on the menu.
Gemista are traditional Greek stuffed vegetables that are filled with rice and herbs and then baked with potatoes and a delicious tomato sauce. The potatoes are crammed in between the peppers and tomatoes so that they soak up all the yummy flavors from the veggies and sauce.
There are as many versions of this stuffed tomatoes and peppers recipe as there are restaurants and households in Greece. Everyone has their own favourite way of making it.
I tweaked my version until it was the tastiest it could be!
Fun fact: Traditional greek gemista are part of the 'ladera' (pronounced 'lather-ah') group of dishes. This word comes from the Greek word for oil – extra virgin olive oil, of course!
Ladera are usually vegetarian and cooked with lots of good quality olive oil and often tomatoes and garlic as well. Which makes them vegan! Unless of course you add meat and feta cheese, like I do… whoops.
Why this is the best gemista
5 star reviews
"Shut the back door. This was excellent. I used ground turkey. I wished I had made more filling, and more tomatoes. Easy to make. Thank you." ***** Greg
"Wow this was good. I made the recipe as written, and it was probably the best stuffed peppers I ever made." ***** Steve
✔ I'm not shy about adding plenty of herbs and spices, so it's REALLY tasty.
✔ Like all good authentic Greek dishes, this recipe has got plenty of good quality olive oil in it. It makes a big difference to the taste!
✔ The recipe makes a big batch – enough for 6 to 8 people. It's an easy recipe, but it takes a bit of time. It's worth it though! We have it for dinner twice and there are still leftovers to freeze for another time.
✔ The recipe makes enough rice filling to make the meal twice. I usually freeze half for the next time I make gemista.
✔ With the potatoes tucked between the stuffed vegetables and the yummy tomato sauce poured over the top, this is a balanced one pan meal. Just serve with feta and crusty bread. No need for time consuming side dishes!
✔ This is a very versatile recipe. You can replace the meat with lentils, You can use different vegetables like zucchini/courgette or eggplant. You can add pine nuts and/or sultanas or raisins to the stuffing.
What ingredients do you need?
This is one of the longest ingredients lists you'll find here on Scrummy Lane.
But don't worry. A lot of the ingredients are herbs, spices and other flavourings. It might take a while to gather everything together, but as I said, it's worth it 😉
PEPPERS/CAPSICUM AND TOMATOES: Use the biggest, reddest tomatoes you can find! I often use green peppers because they're easy to find and often cheap, but yellow, red and orange are great too.
OLIVE OIL: You need more than you would think (but trust me) for the sauce, and more for cooking. Use a really good quality extra virgin olive oil. Preferably Greek! It makes all the difference to the final taste.
TOMATO SAUCE: Pouring loads of easy tomato sauce all over the dish before you cook it takes it from good to absolutely delicious. All you need is olive oil, tomato puree/paste, garlic, sugar/honey, salt and pepper. Whizz in a food processor with the flesh scooped out of your tomatoes and voila!
RICE AND BEEF FILLING: As well as rice and minced beef, you need grated onion, zucchini and carrot, more garlic, tomatoes and tomato puree. Plus loads of herbs and spices – oregano, allspice, cinnamon, and fresh parsley and mint.
What's the best kind of rice to use? Traditionally, a Greek rice called Carolina is used. I usually use another starchy rice such as arborio or risotto rice.
POTATOES: Rice AND potatoes? Yep. You need just 2 or 3 to cut into small wedges to tuck among the veggies!
TO SERVE: Unless you're a vegan (in which case see below) you HAVE to serve your gemista with a chunk of feta cheese. Just trust me and try it.
Top tip: This is a great recipe to make in the summer when big juicy ripe tomatoes and bell peppers/capsicum are at their best. However… it's a tasty, comforting meal all year round!
How to make it
These delicious mince stuffed tomatoes and peppers are one of those recipes that's worth the little bit of extra effort.
Here's the basic (easy, 5 step!) process:
Slice the tops of the tomatoes and peppers off with a sharp knife. Don't throw them away!
Scoop tomato flesh out and throw into food processor with a few more simple pantry ingredients. This will be your sauce for pouring over during cooking.
Scoop seeds and 'bits' out of peppers. Stand hollowed-out tomatoes and peppers in a large baking pan.
Make a simple rice, minced beef, vegetables and herb filling on the stove top. Cook it until the rice is part cooked.
Stuff vegetables with rice and meat filling. Put the reserved tops back on. Tuck potato wedges into the spaces between the stuffed veggies.
Pour tomato sauce you made over the top, along with some water. Then bake until the potatoes and vegetables are perfectly soft. Serve with a big wedge of feta cheese.
Just like this: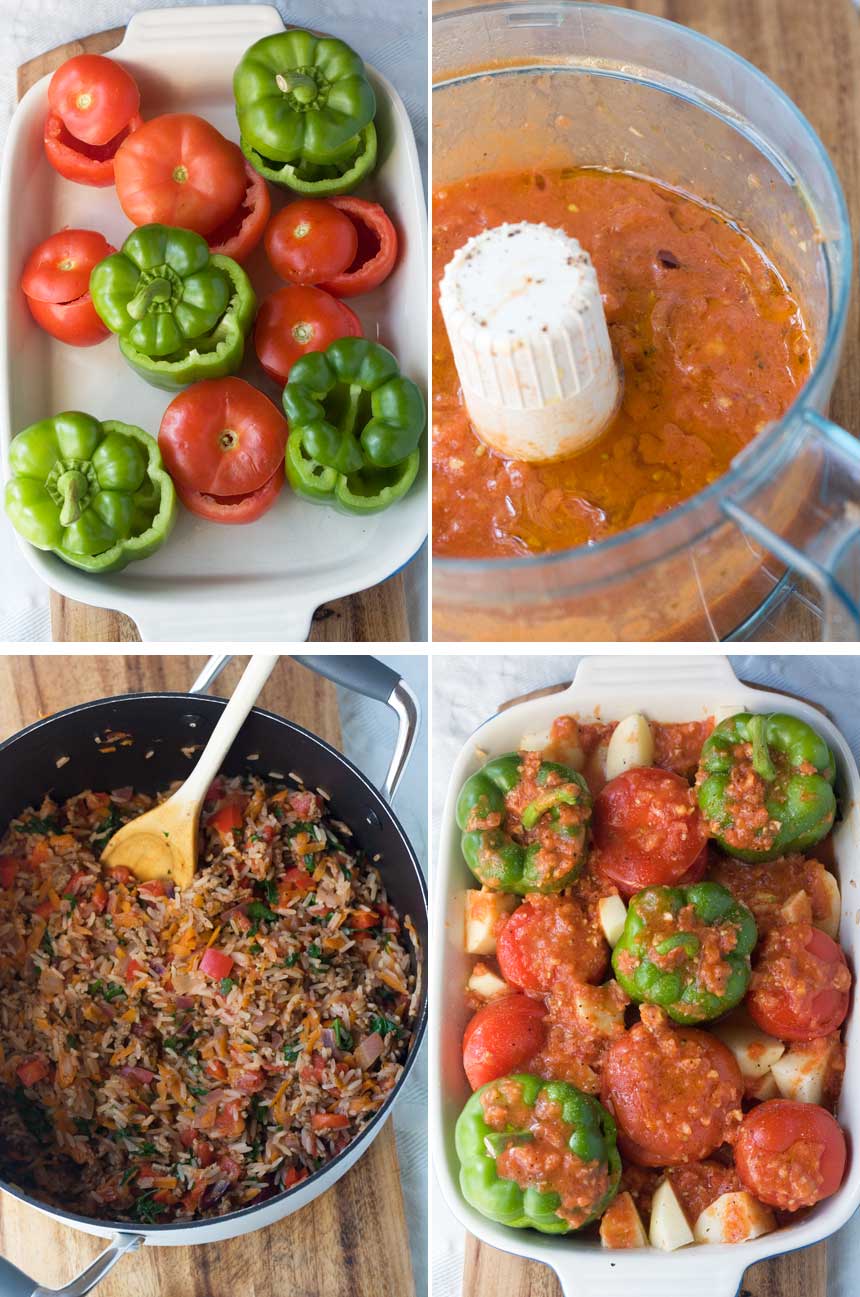 Helen's top tips
Cut the potato wedges fairly small. You want them to be perfectly cooked in the same time as everything else in the dish.
Use a teaspoon to scoop the tomato flesh out. Leave enough around the edge so that the 'shell' stays intact.
If you have one, save some time by using a food processor to grate all the veggies.
Cover the baking dish with aluminium foil for the first half of the cooking time. Then remove to allow the veggies to get slightly charred on top.
Make it your own (variations)
As with other traditional Greek recipes like moussaka (you have to try this too!), everyone seems to have their own recipe. It's sometimes been passed down through many generations!
So don't be afraid to create your very own perfect recipe. Some recipes leave out the tomato sauce but I think that's one of the things that makes it so delicious.
Fresh tomatoes not in season? Try stuffing a variety of vegetables such as zucchini/courgette, big onions, mushrooms, or eggplant/aubergine instead. Use canned tomatoes instead of fresh tomato flesh for the sauce.
Swap the beef mince for a lamb, turkey, chicken or pork mince. Or skip the ground meat altogether to make these traditional vegetarian stuffed vegetables. Add more grated vegetables, or replace the meat with cooked lentils or beans.
Vary the herbs and spices. Add some chopped dill if you like it (about a third to half a bunch) or even coriander.
Add some pine nuts and/or sultanas or raisins to the filling. Just trust me on this one. The dried fruit adds sweetness to balance the acidity of the tomatoes. I've had gemista like this, and it's amazing!
How to serve it
This gemista recipe is a nutritious and satisfying all-in-one-meal that doesn't need fussy side dishes.
All it needs is a big wedge of feta cheese on the side. And perhaps some tzatziki sauce. Some greeks also like to serve with lemon wedges for squeezing over the top.
If you like (or you're entertaining) you can serve a traditional 'Xoriatiki salata' (Greek salad) and this 2-minute toasted bread with it.
Serve the meal hot or serve it at room temperature like the greeks sometimes do.
Tip: Don't skip the feta cheese. In fact, be greedy with it. Eat a little bit with every mouthful!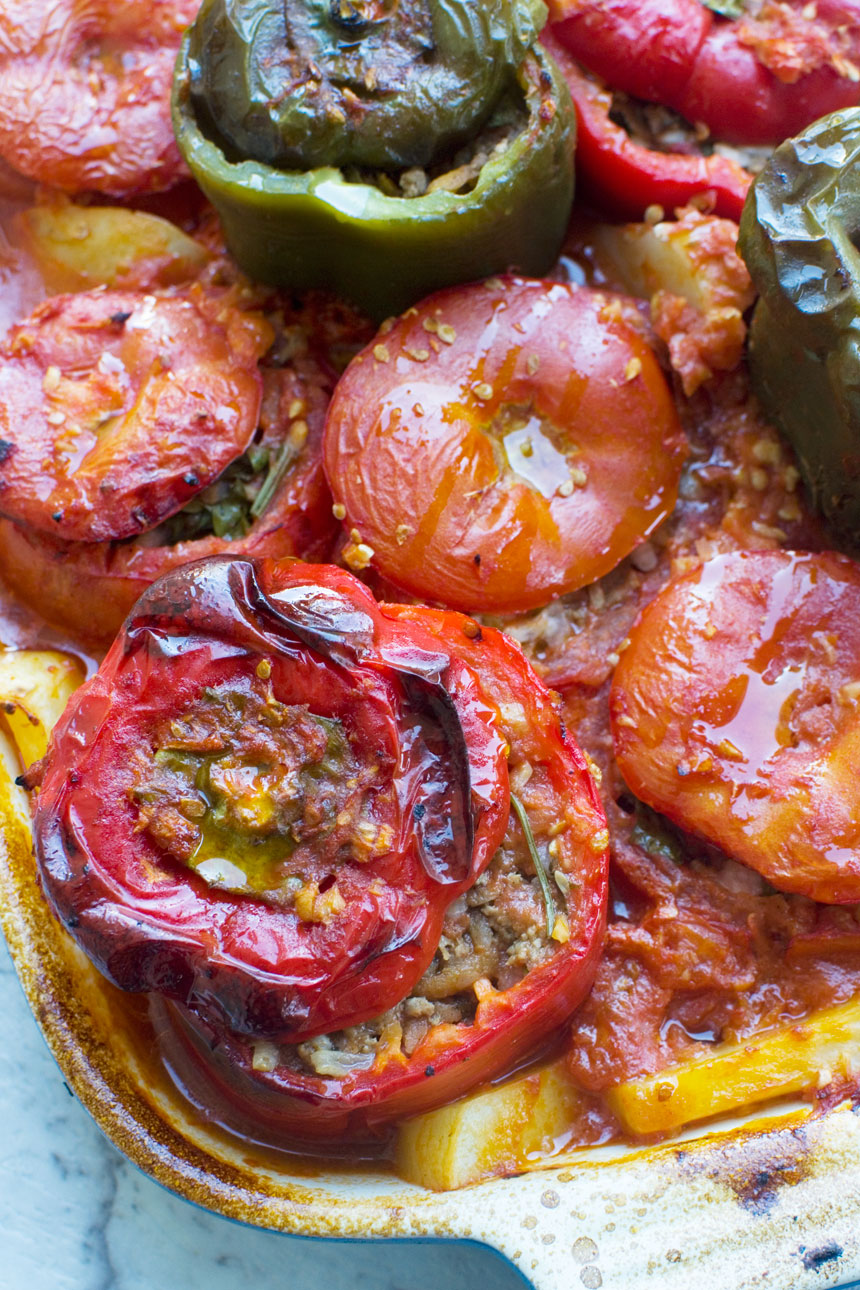 Making it ahead, reheating & leftovers
This is a perfect meal for making ahead. You can literally assemble it to the point where you'd put it in the oven. Then keep it in the fridge until about an hour and a half before you're ready to eat.
Leftover yemista will keep well for a few days in the fridge. You can also freeze it in sealed containers for up to 3 months. Let it defrost in the fridge overnight.
This meal reheats really well. Just cover and microwave on full power for 5 minutes. Check then microwave again for another 3 to 5 minutes. I know that sounds like a lot but I find the rice filling in the centre sometimes takes a while to reheat properly.
You'll also find you have quite a lot of the part cooked rice mixture left after stuffing your peppers and tomatoes. I usually freeze it for the next time I'm in the mood for yemista!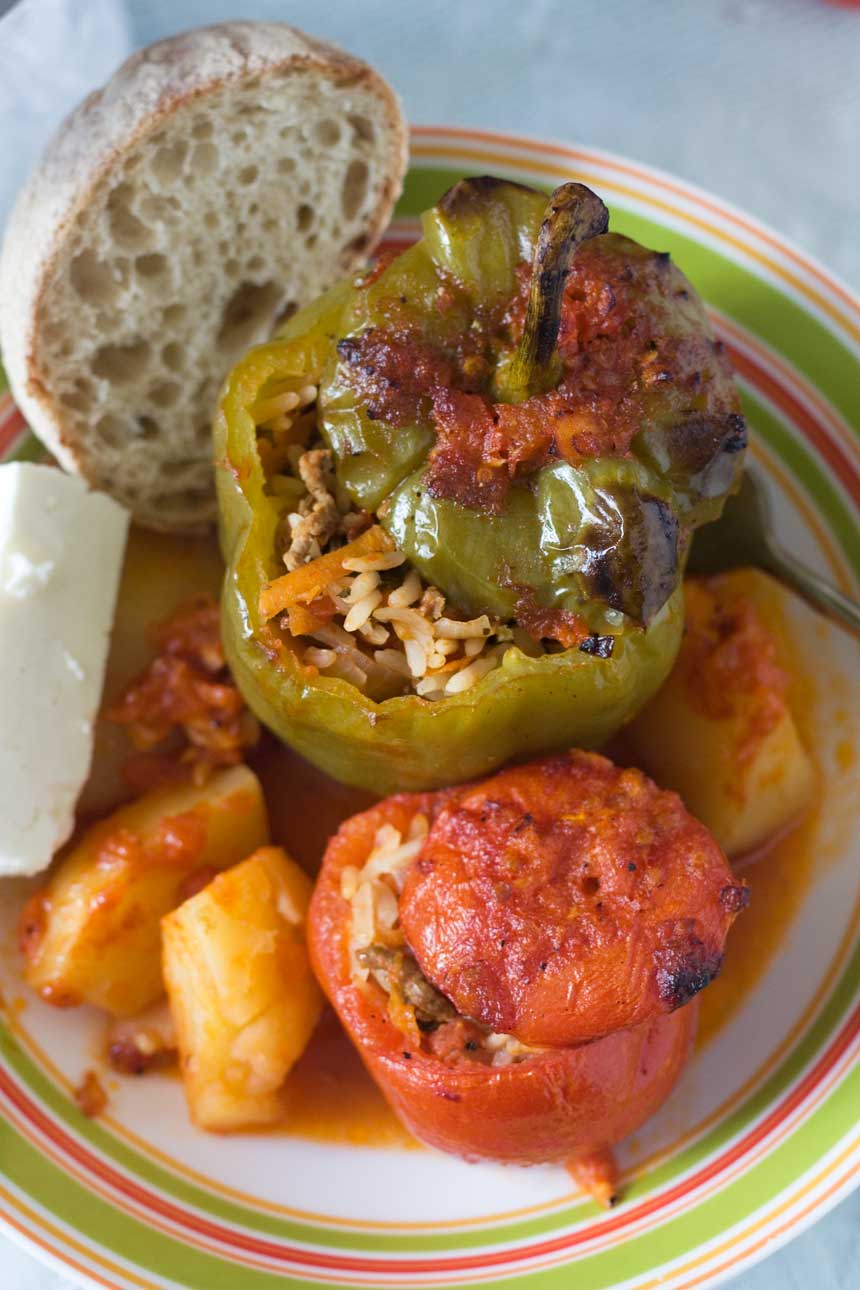 Make it into a Greek feast!
If you're making the gemista for guests, why not serve some halloumi fries or zucchini fries as an appetizer?
And don't forget a simple Greek dessert! My friend Voula from Pastry Wishes has a wonderful recipe for rizogalo (Greek rice pudding) and another for galatopita or Greek milk pie without a crust. Both of these can be made ahead.
That's my idea of a perfect meal!
Looking for more Greek style sides? Take a look at this collection of 21 easy Greek side dishes for loads of delicious inspiration!
More scrumptious Greek main meals
Or if you're just enjoying the whole Greek food vibe in this post, you might like to check out my Greek recipes archives!
IF YOU MAKE THIS RECIPE, LET ME KNOW HOW YOU GET ON BY LEAVING A COMMENT AND RATING BELOW… AND DON'T FORGET TO SIGN UP TO RECEIVE ALL MY NEW RECIPES BY EMAIL!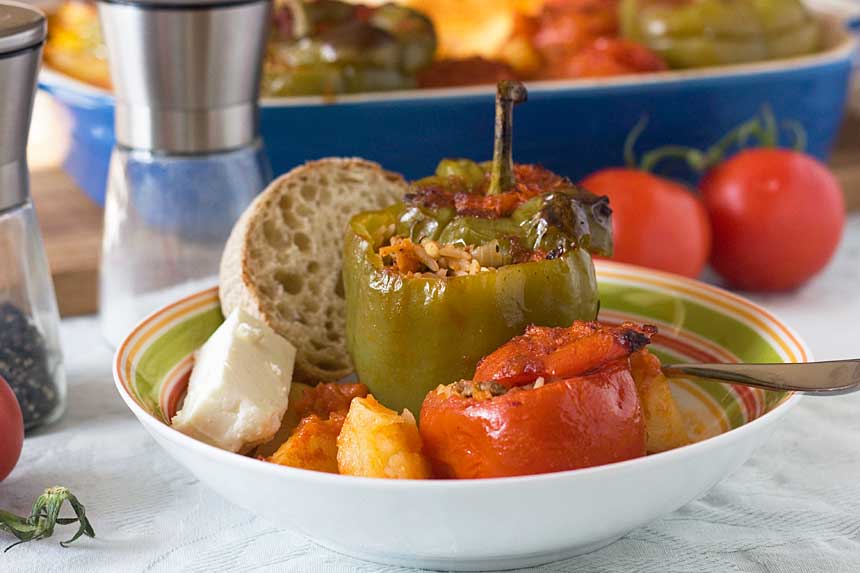 The Tastiest Gemista (Greek Stuffed Peppers And Tomatoes)
This gemista, or Greek stuffed peppers and tomatoes, is a staple meal in Greek households. Almost every home has its own recipe. My version is super tasty, with minced beef, lots of herbs and spices and a delicious tomato sauce spooned over the top. Don't forget to serve with big wedges of feta cheese!
Equipment (affiliate links)
Ingredients (UK/Australia? Click below for grams/ml)
For the peppers and tomatoes
4

large

tomatoes

or 6 slightly smaller ones

4

large

green peppers

Australia: capsicum, US: bell peppers
For the tomato sauce
For the filling
1

large onion

grated

1

zucchini

(UK: courgette) grated

1

carrot

grated

3

cloves

garlic

(crushed with a garlic crusher or grated along with the rest of the vegetables in a food processor)

1

pound

minced beef

(UK/Australia: 500 gram pack)

1½

teaspoons

dried oregano

½

teaspoon

allspice

1

teaspoon

cinnamon

1

cup

rice

Risotto/Arborio rice is best

14

ounces

chopped tomatoes

(1 can)

1

tablespoon

tomato puree

US = paste

1

bunch

fresh parsley

chopped

½

bunch

fresh mint

or 1 heaped teaspoon dried mint

1

teaspoon

salt

½

teaspoon

pepper
To tuck around the vegetables
3

medium potatoes

(2 to 3) peeled and cut into wedges – not too big
To serve
5

ounces

feta cheese

UK/Australia 150 grams (roughly – I usually get a 200 gram pack in case people want more)

lemon wedges

(optional)
Instructions
For the vegetables and tomato sauce
Slice the top of the tomatoes off (keeping each top close to its corresponding tomato), then scoop the flesh out of them using a teaspoon. Leave enough around the edge so that the tomato 'shell' stays intact. Put the tomato flesh straight into a food processor.

Add the olive oil, tomato puree, garlic, sugar, and salt and pepper. Pulse to combine and make a sauce.

6 tablespoons olive oil,

4 tablespoons tomato puree,

3 cloves garlic,

1 tablespoon honey,

1 teaspoon salt,

½ teaspoon pepper

Now slice the tops off the peppers (keeping the tops close by) and scoop out the pith and seeds. Arrange the empty peppers and tomatoes in a large baking dish (keeping the tops close by).
For the filling/stuffing
Pre-heat the oven to 200C / 390F. Heat up a big drizzle of olive oil in a large saucepan and add the grated onions, zucchini, carrot and garlic. Cook and stir for a few minutes until softened, then add the beef. Cook and stir again until meat is browned (another few minutes).

1 large onion,

1 zucchini,

1 carrot,

3 cloves garlic,

1 pound minced beef

Add the oregano, allspice, and cinnamon and stir for about another minute.

1½ teaspoons dried oregano,

½ teaspoon allspice,

1 teaspoon cinnamon

Add the rice, chopped tomatoes, tomato puree and about 1 cup of water. Mix well, then cover and leave to simmer for about 10 minutes, until the rice is partly cooked.

1 cup rice,

14 ounces chopped tomatoes,

1 tablespoon tomato puree

Stir through the parsley, mint, salt and pepper.

1 bunch fresh parsley,

½ bunch fresh mint,

1 teaspoon salt,

½ teaspoon pepper
To assemble the dish
Use a dessert spoon to fill tomatoes and peppers with the stuffing. Put the tops back on.

Tuck the potato wedges in between the peppers and tomatoes.

Pour the tomato sauce that you made in the food processor all over the tomatoes and peppers and potatoes. Then pour over 1 cup (250ml) water.

Cover the baking dish with aluminium foil and bake for 1¼ hours or until the potatoes are cooked and the tops of the vegetables are starting to brown. Remove the foil half way through cooking.

Serve a half to a whole tomato and a pepper and a few potato wedges for each person. Spoon over some of the tomato sauce. Serve with a wedge of feta and, if you like, lemon wedges for squeezing over everything.

5 ounces feta cheese,

lemon wedges
Notes
Making the filling
I usually grate all the vegetables for the filling (including the garlic) using my food processor.
Rice and potatoes
Yes, you can use brown rice if you prefer! However, you'll need to double the pre-cooking time to about 20 minutes. Also keep an eye on the water level. If it starts to dry out simply add a splash more water.
You'll notice that you have far too much rice filling! Simple freeze it for next time.
Don't make the potato wedges too big because you want them to be properly tender by the time the vegetables are baked.
Optional additions to the filling
Add a quarter to a third of a cup of chopped dill if you like
Add half a cup of pine nuts and a handful of raisins or sultanas if you're feeling brave (it's delicious!).
If you want to leave out the meat, either add more grated vegetables or add cooked lentils and/or beans.
How to serve
Always serve with chunks of feta cheese on the side. Add crusty bread if you like.
You can serve the stuffed vegetables hot, warm, or at room temperature. Delicious any of these ways!
Leftovers
Leftovers keep covered in the fridge for a few days. Alternatively freeze in sealed containers. Defrost then reheat in the microwave for 8 to 10 minutes (it takes a while for the filling to reheat from cold).
You can even eat the leftovers cold. They make a perfect fancy packed lunch!
Nutrition
Calories:
589
kcal
Carbohydrates:
48
g
Protein:
23
g
Fat:
35
g
Saturated Fat:
12
g
Cholesterol:
75
mg
Sodium:
1215
mg
Potassium:
1120
mg
Fiber:
6
g
Sugar:
14
g
Vitamin A:
4233
IU
Vitamin C:
133
mg
Calcium:
227
mg
Iron:
4
mg