How can you resist a freshly baked super cheesy (not to mention super easy to make) pastry?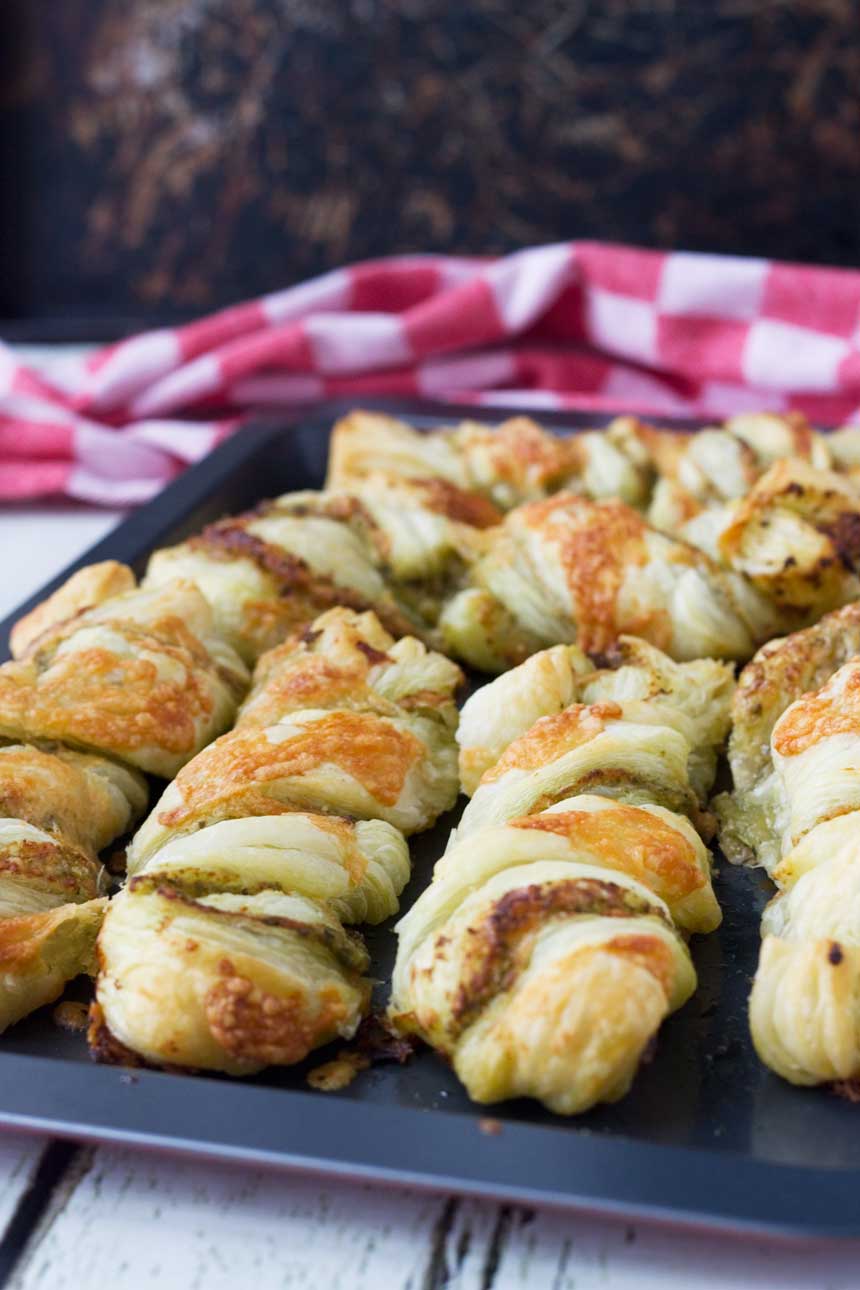 I'm sure I've mentioned before here on the blog how irresistible I find a warm, cheesy bakery pastry.
My obsession began during my days in Greece, where they have the most incredible cheesy breads and pastries you can imagine – but I still swoon whenever I spot something similar here.
Here in the UK, the equivalent temptation is in the form of a 'cheese twist', and many of the supermarkets sell them fresh every day in their bakery sections. They're gooey, really cheesy, smell divine, and are often still warm when you buy them.
Lately, every time the aroma of one of these pastries has wafted up my nostrils, I've thought about how easy it would be to make my own with a sheet of ready-made puff pastry and a block of tasty cheese.
I finally got around to giving it a go, and here's the result!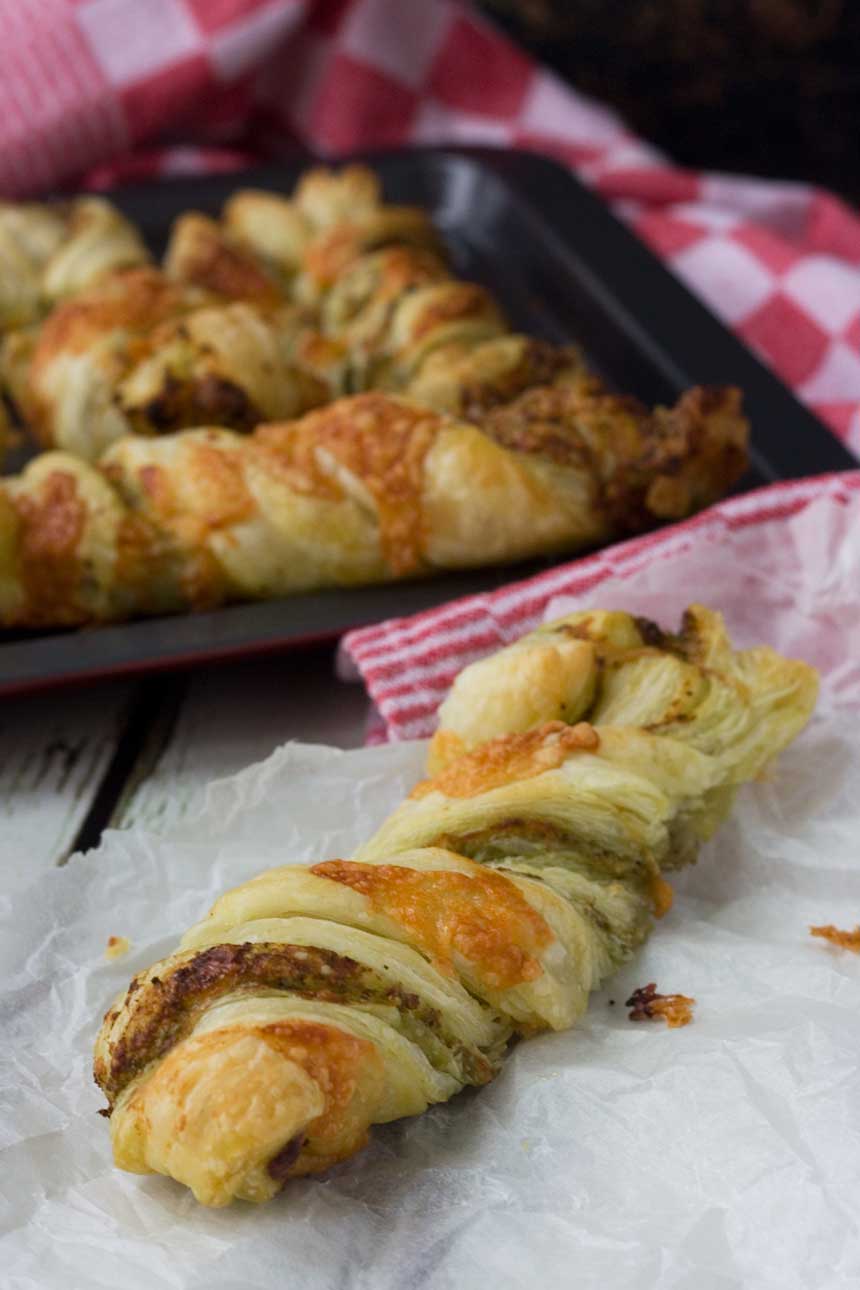 As I happened to have a half jar of pesto lurking in my fridge, I decided to add that too to my cheese twists, but of course it's up to you whether you add pesto or stick with plain cheese.
These are incredibly simple little snacks to make. Literally all I do is unroll a sheet of ready-made puff pastry, spread with pesto and sprinkle with cheese, then fold the sheet in half and slice into 6 strips.
Hold each strip at each end and twist in opposite directions, then lay on a baking tray. Finally, brush with a little whisked egg or milk, and sprinkle with more cheese.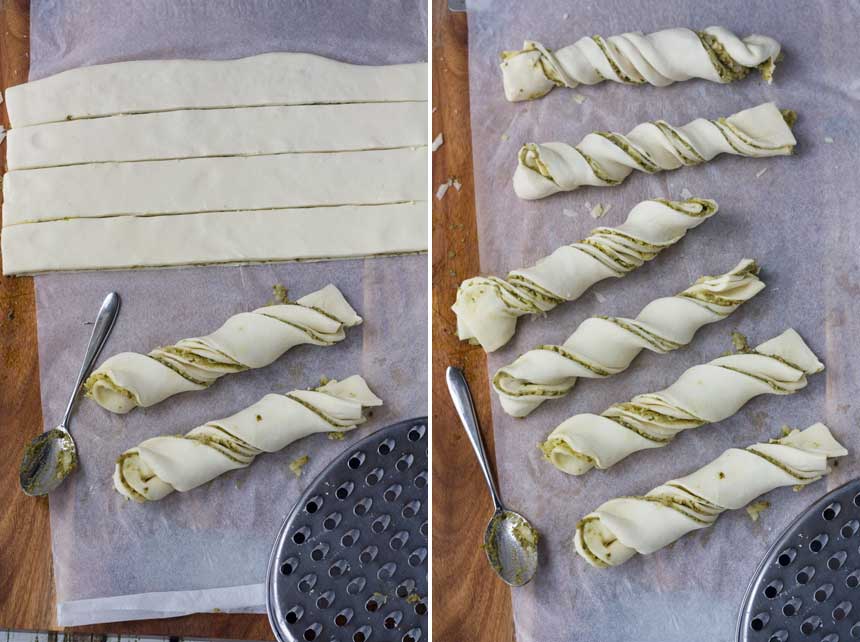 You can use whatever cheese you happen to have, of course, but I chose parmesan and sharp cheddar for maximum cheesy taste.
These pesto and cheese twists are perfect eaten with soup. I recently had them with a roasted sweet potato and chorizo soup I happened to have made (yum!), and they're even more perfect with a simple tomato soup.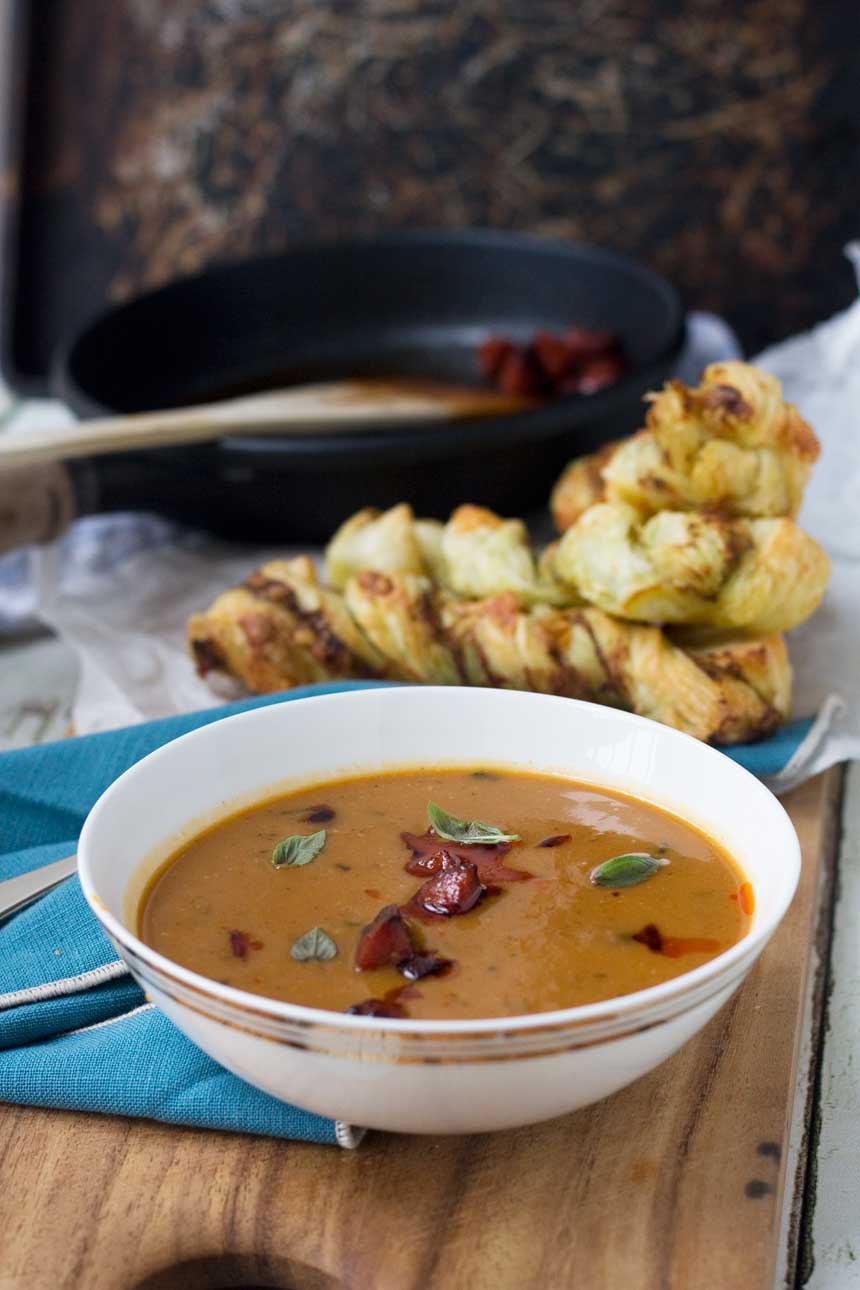 I keep a good stock in my freezer. Let defrost, then re-heat for a few seconds in the microwave. Mmmm – instant deliciousness.
Don't you think these would also be perfect take-along party appetizers?
I do. The only problem is, I find them so delicious, I truly believe I could eat all six in one go, and actually it takes all my willpower not to!

Supermarket copycat pesto and cheese twists
Prep time:
Cook time:
Total time:
Serves: makes 6 large twists per pastry sheet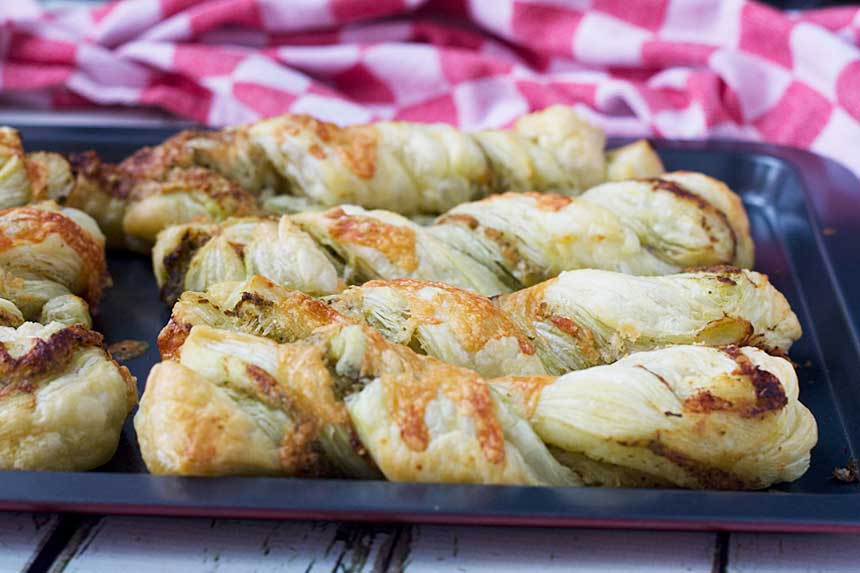 Super easy puff pastry twists filled with pesto and oozy cheese. So delicious warm from the oven!
Ingredients
1 sheet ready-made puff pastry (mine was 320 grams / 11 ounces)
pesto (3 to 4 tablespoons)
grated cheese (I used a couple of big handfuls of parmesan and strong cheddar, plus a bit extra for sprinkling at the end)
1 whisked egg or a bit of milk for brushing
Instructions
Pre-heat the oven to 180C / 355F.
Unroll the pastry out onto a floured board or work surface, then spread with the pesto.
Sprinkle the cheese all over the pesto, then fold the pastry sheet in half (width-wise like a book, so that the shortest ends meet).
Cut the pastry into six long strips (about 2 to 3cm wide – see picture above).
Hold each strip at either end and twist, then lay each twist on a baking tray, leaving a small space between each.
Brush each twist with a little milk or whisked egg, then sprinkle with a bit more cheese.
Bake for 20 – 22 minutes or until puffed up and golden.
Notes
You don't have to use pesto if you don't want to. Just cheese works really well. Just make sure you paste the pastry with a layer of egg before sprinkling on the cheese (so that it sticks nicely!).

You can freeze these. Either freeze them uncooked on a baking tray before transferring to food bags (then cook as above, adding a minute or two to the cooking time if necessary), or freeze already cooked and then defrost and reheat for about 20 seconds in a microwave for a quick no-fuss snack.
Why not save this to one of your food Pinterest boards for later? 🙂
Would you like to follow me on Pinterest, too? I'm always pinning tasty food!