Does your mouth water in the supermarket bakery section? Mine does, and especially when I spot these freshly baked (warm!) cheese twists with pesto. Luckily, you need just 4 ingredients to make your own!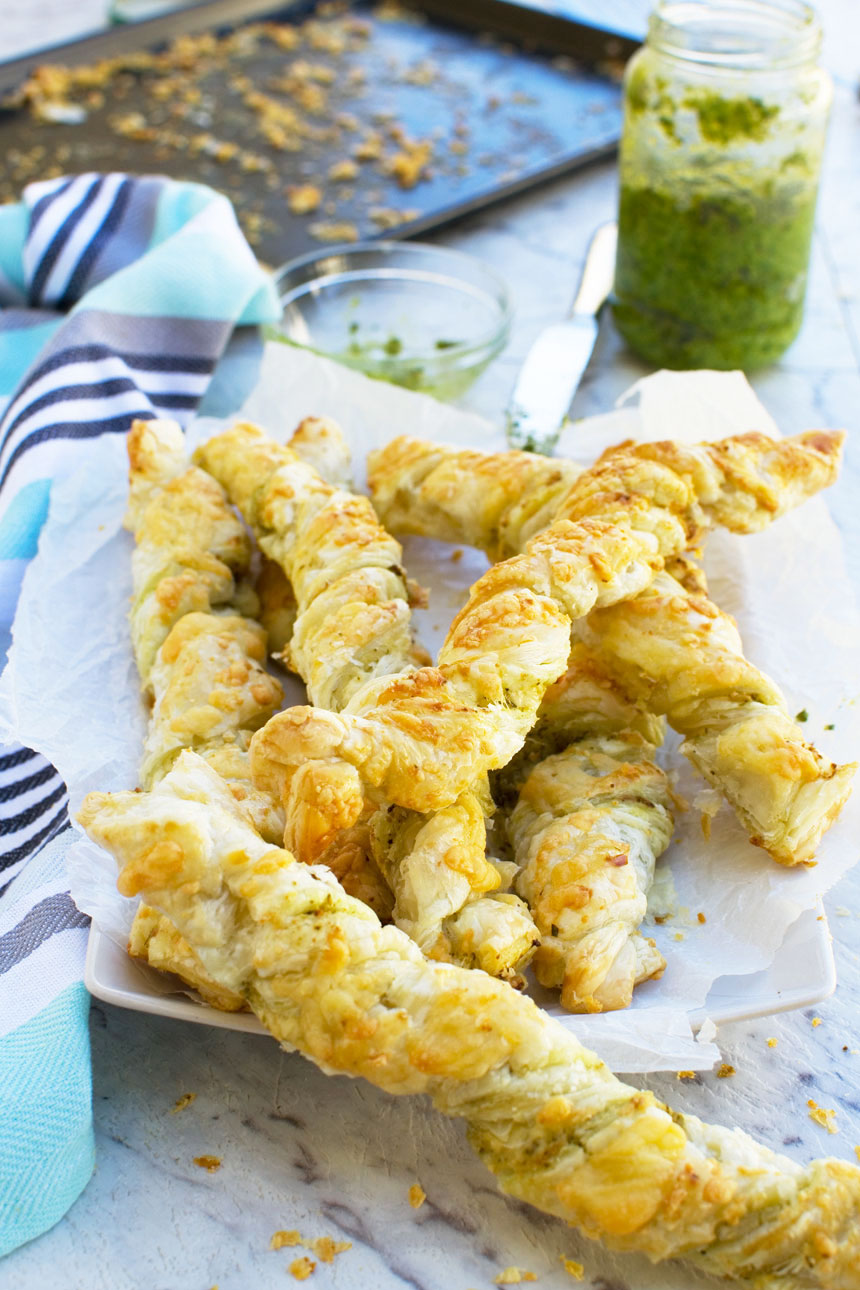 My cheese twist obsession
I blame two things for my obsession with anything remotely resembling cheesy bread: the warm feta cheese bread I used to buy a bit too often for breakfast when I lived in Greece, and the fresh supermarket puff pastry cheese twists I couldn't resist when I lived in the UK.
Now that I don't live in either of these countries, these homemade pesto cheese twists are my new way to feed my obsession!
Luckily, this 4-ingredient recipe only takes about 10 minutes to throw together, and about 20 minutes in the oven.
So if you too are wondering how to make cheese twists like Lidl, Sainsbury's, or Tesco, read on…
If you're not in the UK and have no idea what I'm talking about, but somehow your mouth is still watering, then read on too!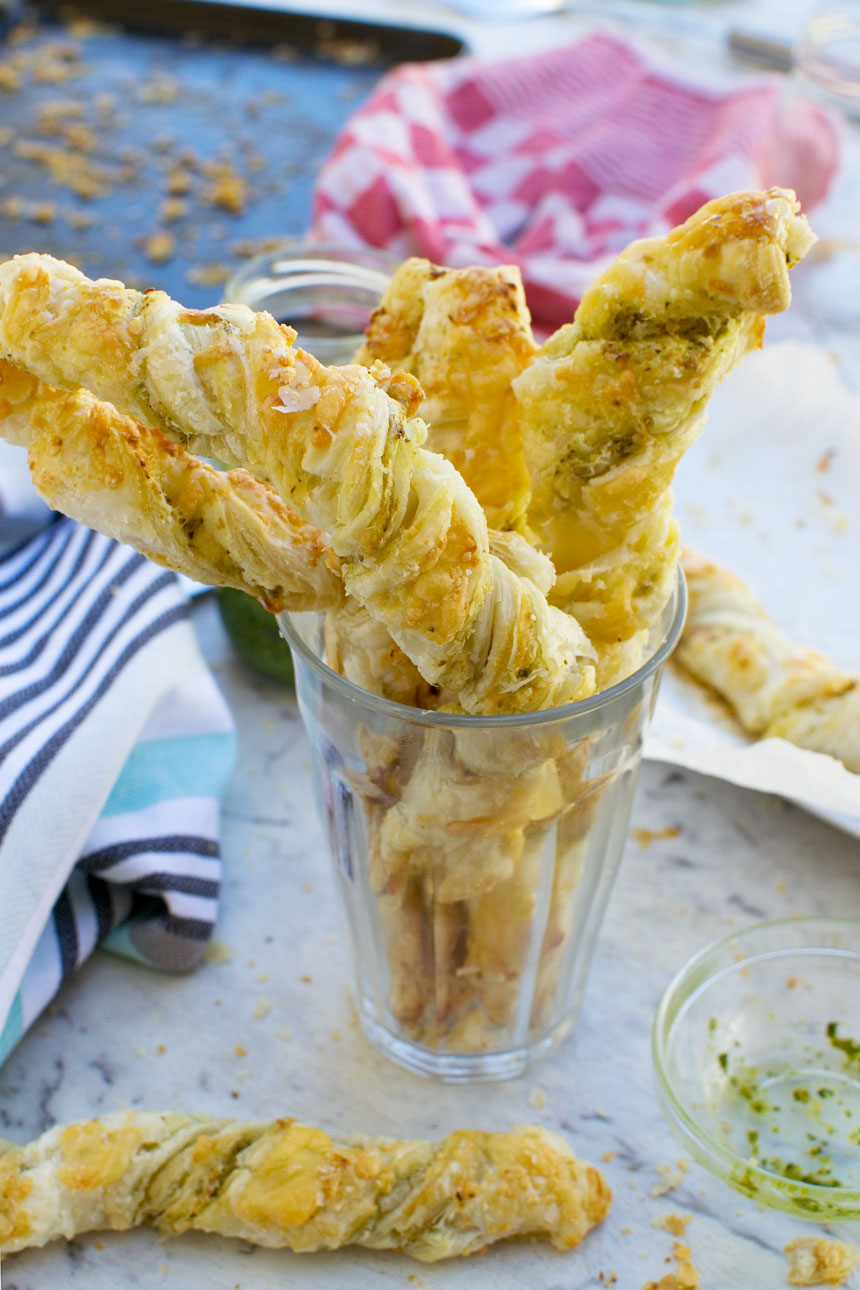 What's a cheese twist?
You may or may not be familiar with some version of these. Maybe you know them as cheese straws?
This version is incredibly simple… if a little rustic. But that's OK, right?
Warm, puffy, crispy, buttery, cheesy, and pesto-y pastry. Heavenly. And yes, just a little bit addictive. "
My pesto cheese twists kind of start out like a puff pastry sandwich filled with pesto and cheese. I slice my 'sandwich' into strips, then twist each strip so that it ends up looking like a corkscrew.
The final step is to lay the pastry twists on a baking tray and sprinkle over a bit more cheese.
You bake for about 20 minutes, and end up with a warm, puffy, crispy, buttery, cheesy, and pesto-y pastry. Heavenly. And yes, just a little bit addictive.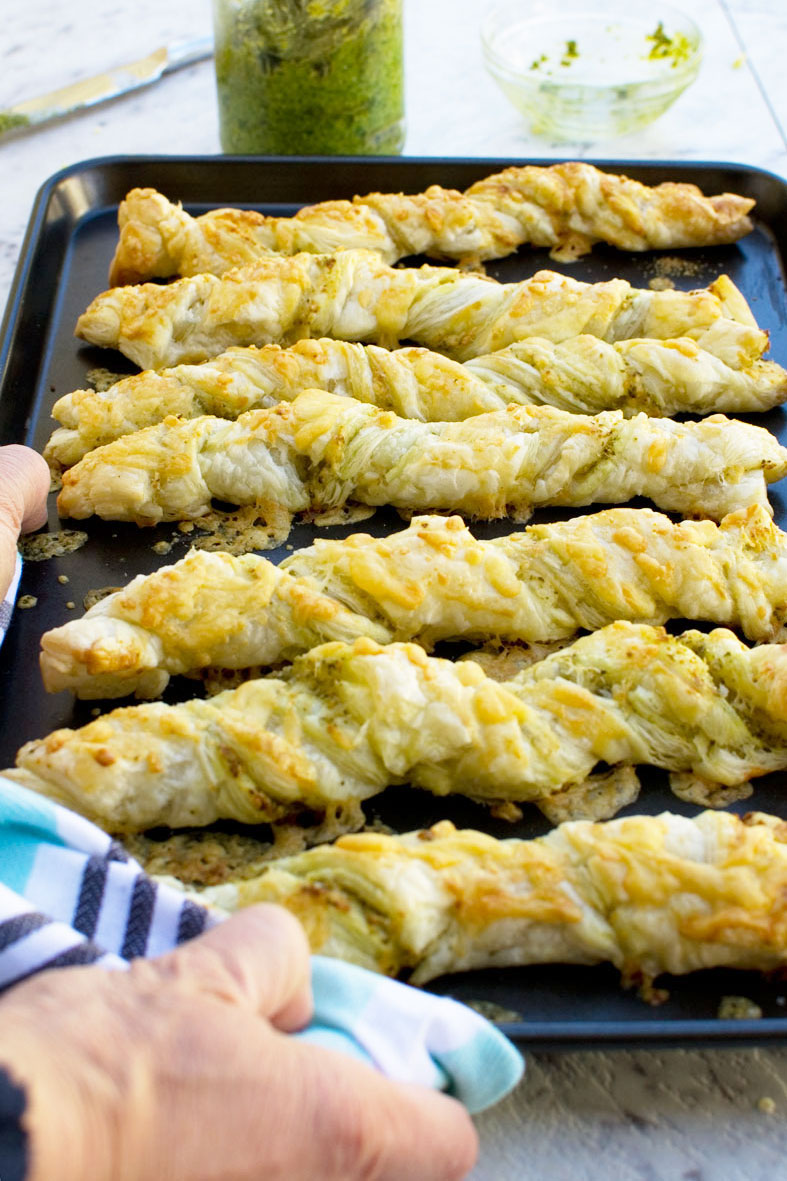 Ingredients
This is all you need to make these (yes, just 4 ingredients):
1 or 2 sheets of fresh or frozen store-bought puff pastry (depending on the size)
3 or 4 tablespoons of store bought or homemade pesto
a few handfuls of grated cheese
a whisked egg for brushing over the top (or just use milk!)
How to make them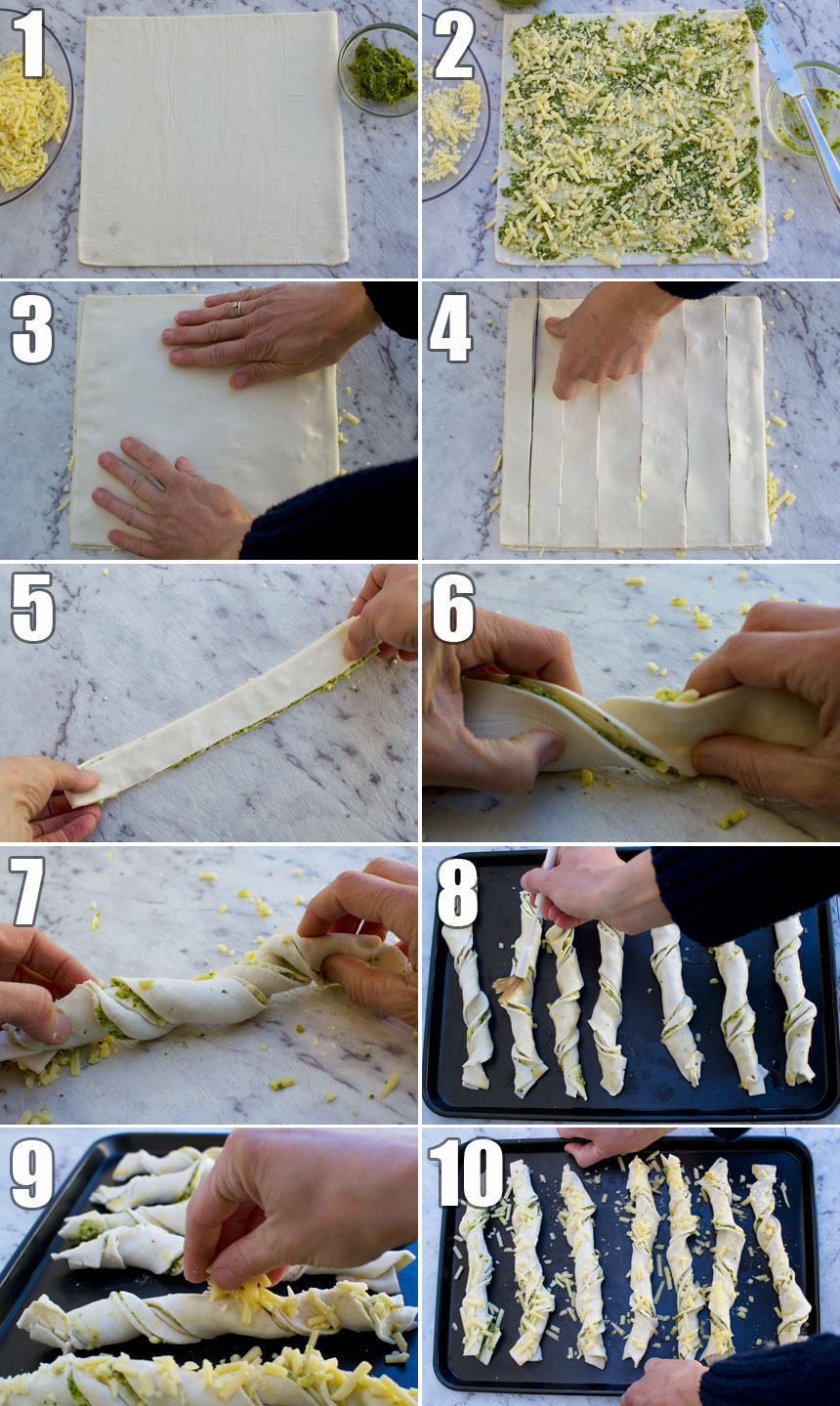 (Photo 1) Defrost 2 sheets of puff pastry (or use fresh), and lay one on a work surface. Here in Australia the sheets are square, but rectangular works too. If you're using a large rectangular sheet of pastry, you could simply make more cheese twists! Or you can spread pesto and cheese over half of the pastry, then fold it closed like a book!
(Photo 2) Spread a few tablespoons of homemade or store bought pesto over the puff pastry. Then sprinkle over a few handfuls of grated cheese. Any cheese works, but most often I use plain old tasty cheddar, or sometimes a mix of cheddar and parmesan.
(Photo 3) Place another sheet of pastry over the top and smooth down with your hands.
(Photo 4) Slice the pastry 'sandwich' into 7 or 8 equal(ish) strips. My strips are usually about 3 or 4 cm wide. But really there are no absolute rules here. It's hard to go wrong!
(Photos 5-7) Take one of the pastry strips in both hands, then twist until it resembles a corkscrew! It can feel a bit 'awkward', but that's OK. I find it's easiest to begin twisting in the middle, then work outwards. Again, no rules. Messy is fine!
(Photos 8-9) Carefully place the cheese twists on a baking tray (either with or without baking paper, but with is less messy!). Then brush over the top with a bit of whisked egg and sprinkle over a bit more grated cheese.
(Photo 10) Bake for about 20 to 22 minutes or until nicely puffed up and starting to brown.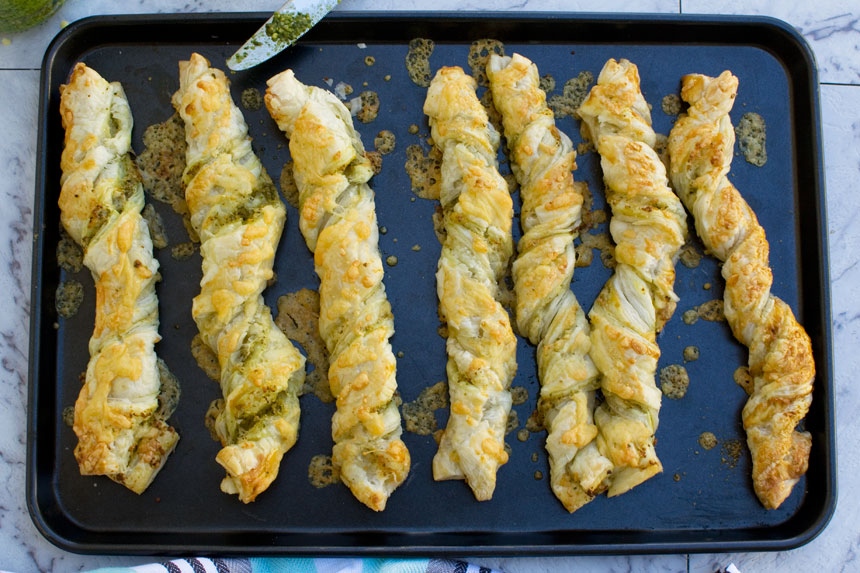 What to serve with them
I often make these 'just because', when the craving strikes. Did I mention that they're delicious warm out of the oven?
They're great served as an appetizer, and they make perfect party food if you make multiple batches. Serve with extra chunky pesto or a simple tasty marinara sauce.
They're perfect after school (or work!) snacks.
How to serve them
I usually pile my cheese straws onto a rectangular plate, but if you like you can stand them up in a glass jar. The only challenge is finding a jar that's the right size. Most of mine are too small. You need one that's 'just right' (3 bears style!).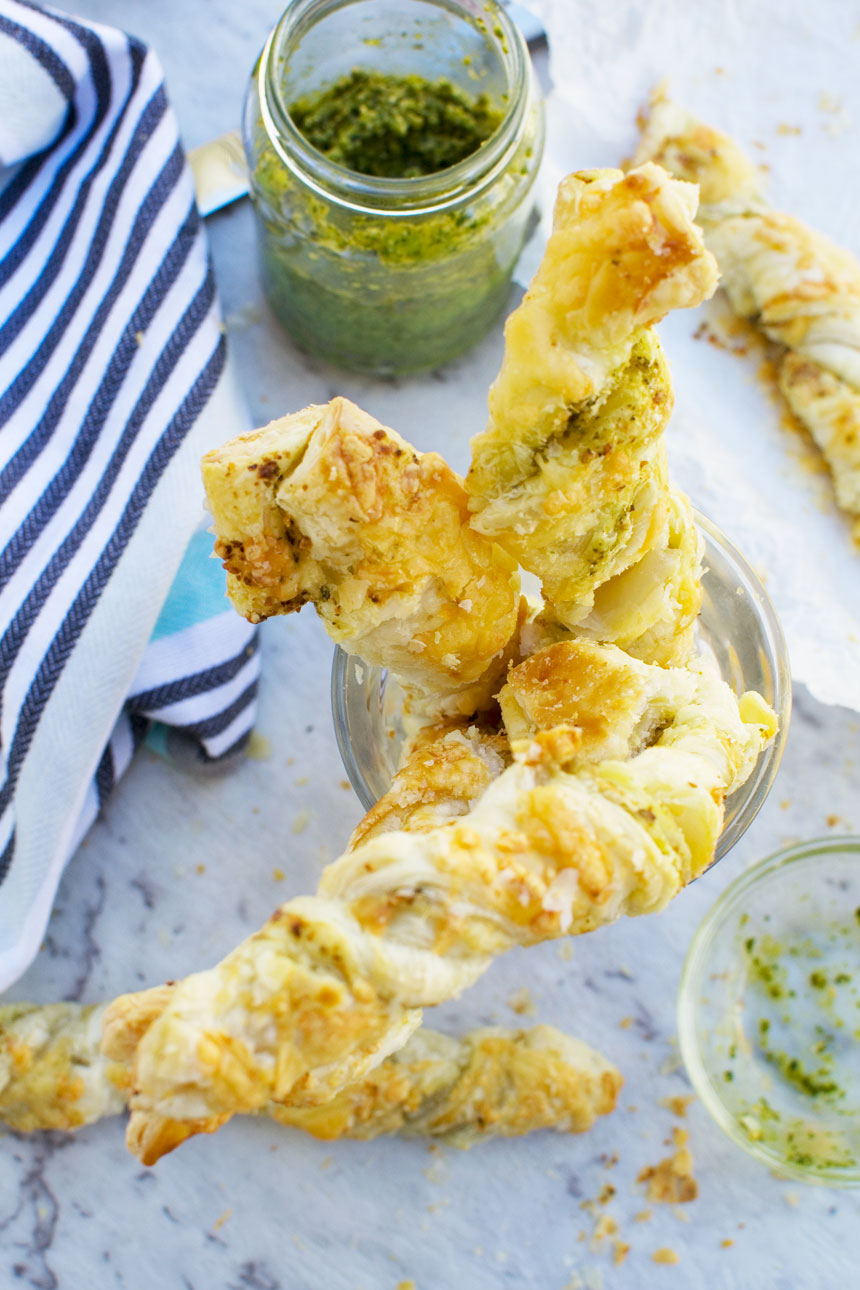 Can you freeze them?
Oh yes you can!
Freezing them raw
You can freeze your pesto and cheese twists raw in a large container between sheets of baking paper.
Baking from frozen
You can bake them straight from frozen! Just add a few minutes on to the cooking time.
Freezing cooked leftovers
OR you can freeze leftover cooked cheese twists. Simply reheat for 5 to 10 minutes at 180C/355F.
Pro tip: Air fryers are perfect for reheating these! I find 160C/320F for 2 to 3 minutes makes for perfect crispy twists that taste as good as new.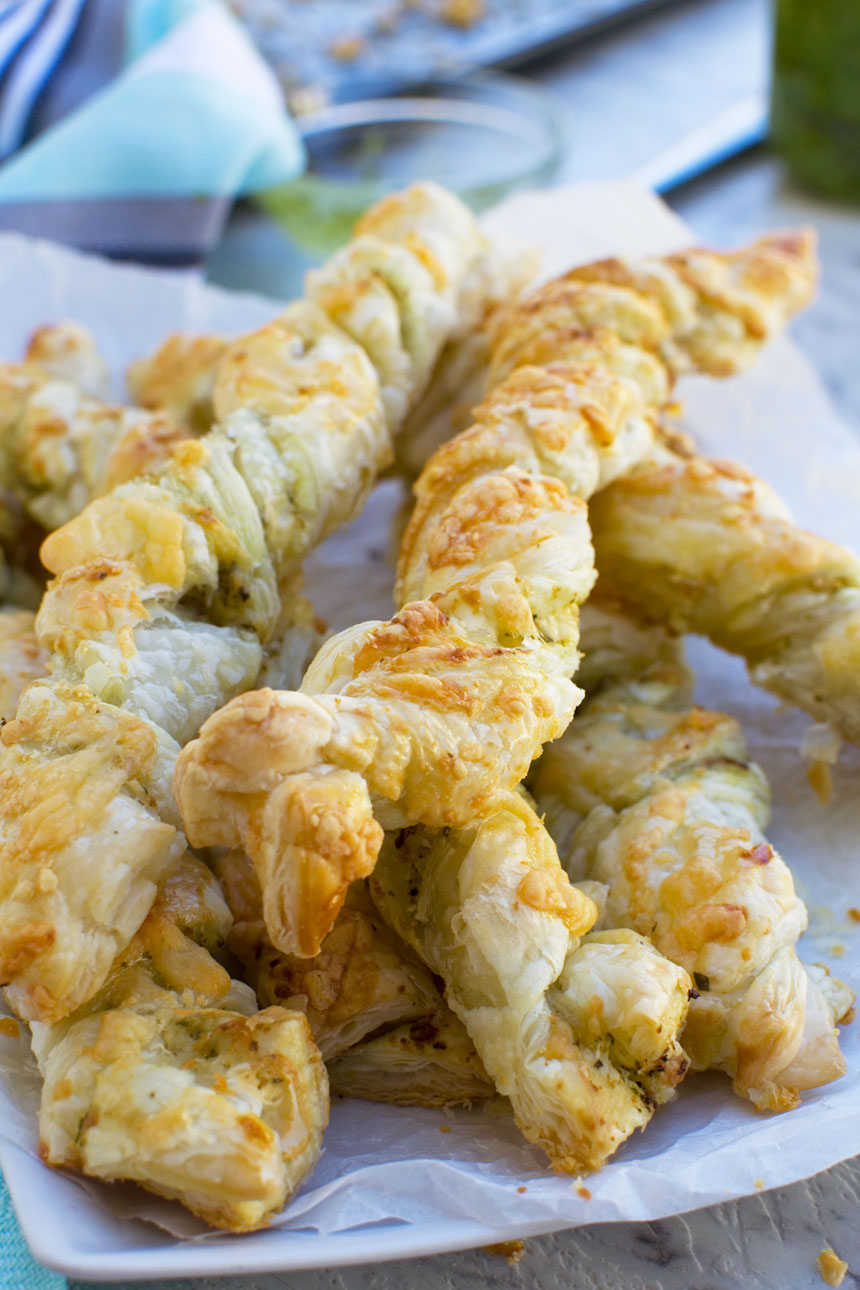 Variations
You don't have to make these exactly like mine. You can:
vary the type of cheese e.g. Swiss cheese, parmesan cheese, feta cheese, goat cheese, cream cheese with herbs, ricotta…
use something else instead of the pesto e.g. wilted & squeezed spinach, fresh or dried herbs, chopped sundried tomatoes, Vegemite or Marmite for you Ausssies/Brits!
sprinkle a bit of chopped ham, salami, or chopped cherry tomatoes over too (why not?)
And if you have some leftover puff pastry or pesto…
More puff pastry recipes
More pesto recipes
Or check out Scrummy Lane's snack archives for more easy & scrummy snack recipes!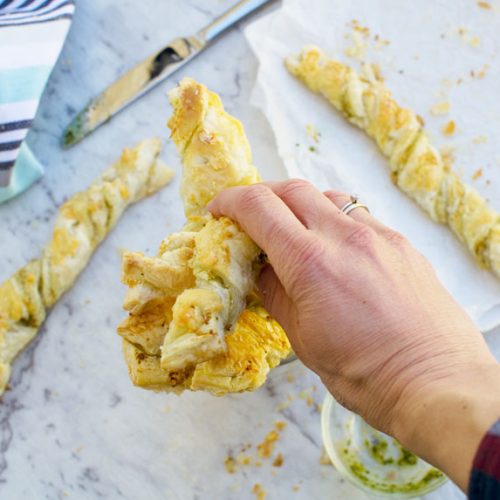 4-ingredient Cheese Twists With Pesto (Supermarket Copycat)
Super easy puff pastry cheese twists filled with pesto and oozy cheese – just like the ones from your local supermarket. Delicious warm from the oven, and you only need 4 simple pantry ingredients to make them!
Equipment (affiliate links)
Ingredients (UK/Australia? Click below for grams/ml)
11

ounces

puff pastry

(I use 2 square sheets 9.5 x 9.5 inches, but 1 larger rectangular one is OK too)

4

tablespoons

pesto

homemade or store bought

1

cup

grated cheddar cheese

or any kind of cheese

1

egg

whisked, for brushing (milk works too)
Instructions
Pre-heat the oven to 180C / 355F.

Lay one of the pastry sheets on a floured board or work surface.

Spread with the pesto, then sprinkle over most of the cheese.

Place the second sheet of pastry over the top and smooth down with your hands.

Cut the pastry into 7 to 8 equal strips (about 3 to 4cm wide).

Hold each strip at both ends and twist into a corkscrew, then lay each twist on a large baking tray, leaving a small space between each.

Brush each twist with a little whisked egg (or milk). Sprinkle with the leftover cheese.

Bake for 20 – 22 minutes or until puffed up and golden.
Notes
Pastry
I usually use 2 square sheets of store bought puff pastry, about 9.5 x 9.5 inches (or 24 x 24 cm).
This is only because this is what I usually find in the supermarket where I live. I've also successfully used larger rectangular sheets (about 300 grams in weight). In this case I simply spread the pesto and cheese over just half of the pastry and then fold it over like a book.
Fillings
Cheese twists are very adaptable! Use pesto and cheese, just cheese (any kind), parmesan cheese and finely chopped sundried tomatoes, fresh herbs and salt and pepper… The list goes on!
Freezing cheese twists
Cheese straws freeze really well.
Freeze them uncooked on a baking tray before transferring to food bags. Then cook as normal (from frozen if you like), adding a minute or two to the cooking time.
Alternatively, freeze already cooked and then reheat in a 180C/355F oven for 5 to 10 minutes.
Or defrost and reheat for about 20 seconds in a microwave or 2 to 3 minutes or in an air fryer (160C/320F) for a quick no-fuss snack. An air fryer works particular well as the cheese twists will crisp up again.
How to serve
Cheese twists make perfect after school snacks, lunch box treats and picnic foods. They are also great as part of a simple-but-fancy lunch, dipped into this delicious Instant Pot tomato soup (don't worry, you can make it on the stovetop if you prefer).
Nutrition
Calories:
353
kcal
Carbohydrates:
21
g
Protein:
8
g
Fat:
26
g
Saturated Fat:
8
g
Cholesterol:
41
mg
Sodium:
300
mg
Potassium:
52
mg
Fiber:
1
g
Sugar:
1
g
Vitamin A:
368
IU
Calcium:
138
mg
Iron:
1
mg