This easy tuna salad is one of our go-to healthy dinners all year round. Just grab a can of tuna. Then add tangy cheese and chopped onion, crisp and juicy lettuce, cucumber and tomatoes, creamy avocado, pickled beetroot and some crunchy nuts or seeds on top. It's surprisingly delicious for such a simple salad! The best part? Dinner is served in just 10 minutes!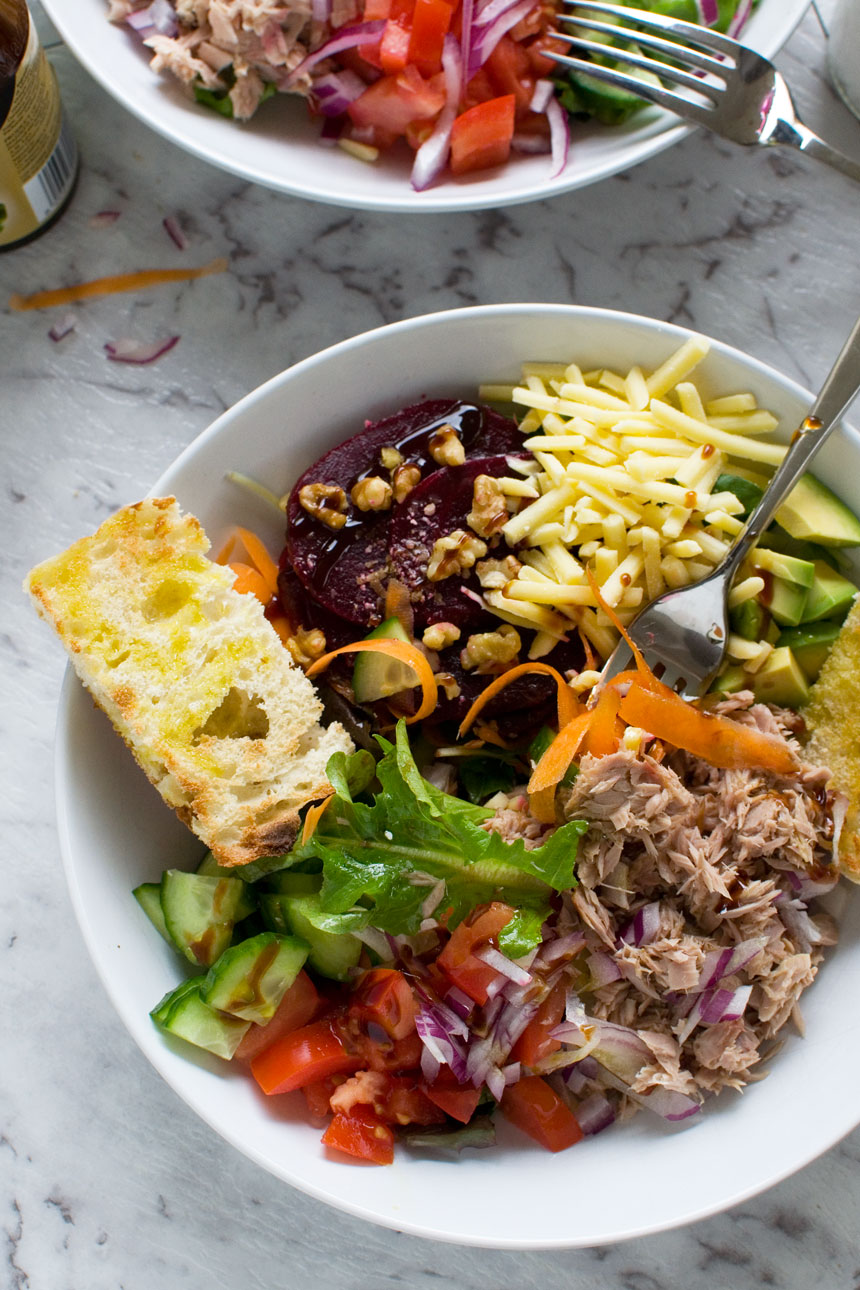 I know what you're thinking. Who needs a recipe for a canned tuna salad as easy as this one?
Well, if you're like me it's sometimes just IDEAS you need. What to have for dinner when you've got zero time to shop and a maximum half hour to get the meal on the table.
Why you'll love it
It can be a go-to easy (and healthy!) meal all year round (Mr. Scrummy says he'd be quite happy to eat this meal every single night!).
Use whichever seasonal salad ingredients you already have in your fridge. Got a can of tuna, cheese and a few other salad ingredients? You're good to go.
The contrast of simple flavors and textures is surprisingly delicious! There's crisp, tang, freshness, creaminess and crunch all in there together. Mmm!
You can have it on the table in around 10 to 15 minutes, depending on how fast you can open a can of tuna and get everything else out of the pantry and fridge!
It's a surprisingly filling meal. You only need a little bit of each ingredient to make a gigantic tuna salad!
Use leftovers to make tuna salad sandwiches or wraps the next day.
This might be a basic recipe, but it's a pretty colorful dinner – don't you think? 😉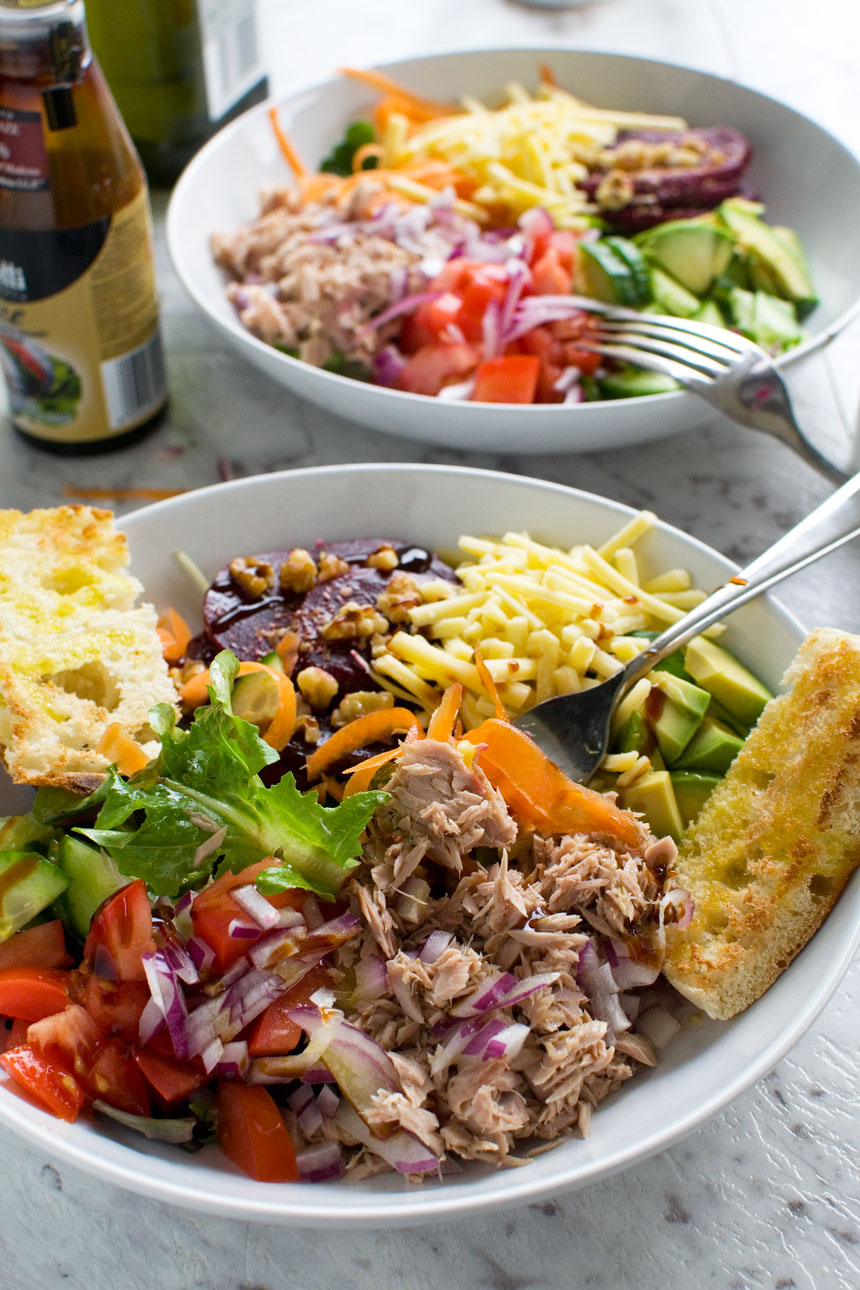 About the ingredients
Wondering what to put in a tuna salad for dinner? I've made some version of this tens of times (at least!). Here's what I think you should include for maximum deliciousness:
A small bed of green leaves (any you like): Iceberg lettuce, baby spinach, and mixed salad greens are all good choices.
Canned tuna: I usually reach for tuna in water or occasionally in olive oil. Either chunks or solid tuna is fine, but I usually look for sustainable tuna. Albacore or skipjack can be good choices, but sustainable types will differ depending on where you live.
Avocado: If you have a perfect creamy avocado in your fridge, definitely include it!
Chopped tomatoes and cucumber: For freshness and crunch.
Chopped (raw) onion: Sprinkled over the top, or stirred through the tuna. I usually opt for red onion or spring onions (scallions) since they're milder, but any type works.
Cooked beetroot: Plain or pickled are both delicious. Alternatively, any kind of pickles or dill pickles add the same flavor contrast.
Cheese: I usually just add a handful of strong grated cheddar from a pre-grated bag, or crumbled feta, but any cheese works.
Nuts or seeds: I love the bit of crunch this adds. My go-tos are toasted pine nuts, walnuts, or mixed crushed nuts and seeds. For a nut-free option, try store-bought croutons or these yummy crispy chickpeas.
Grated or finely chopped carrot: I don't always include this, but it's a nice-to-have.
Mayonnaise or greek yogurt: This is purely optional. You can add it to the top of the salad or mix it into the tuna. Sometimes I mix mayo and yogurt 50:50 to lighten it a little.
Alternatives
Don't worry if you don't have one or two or more of my suggested ingredients above. Just skip them, or you can add alternatives such as:
sundried tomatoes or artichokes from a jar
a handful of cooked chickpeas
croutons for a bit of extra crisp
a few slices of apple
grapes or pineapple chunks (or both!) which go so well with the cheese
raw bell peppers / capsicum
olives
crispy Asian noodles
hard-boiled eggs
How to make it
The first thing I do is drain the tuna, of course. You might have a favorite way of doing this, but I usually drain the liquid out over the sink by pressing the opened lid down onto the fish.
Then here's how I assemble my simple tuna salad bowl:
I start with a bed of lettuce or green leaves. Then I add little piles of everything else on top of the greens. I like to sprinkle the chopped onion over the tuna and tomatoes. The crunchy seeds or nuts get sprinkled over at the end.
I think this looks prettier than mixing all the ingredients together, don't you?
The dressing
What's the best dressing for a tuna salad bowl like this?
To keep things super simple, I always simply drizzle over a bit of good quality olive oil and some balsamic glaze or balsamic vinegar.
If you prefer you can use your favorite salad dressing, or whatever you have in the fridge. Or how about elevating your salad with this truly delicious (but easy) 5-minute tahini dressing?
Occasionally I even forget to add any dressing at all to this salad and it's still delicious.
I do tend to add a bit of mayonnaise to my bowl, as well. Or you can replace this with Greek yogurt as described above!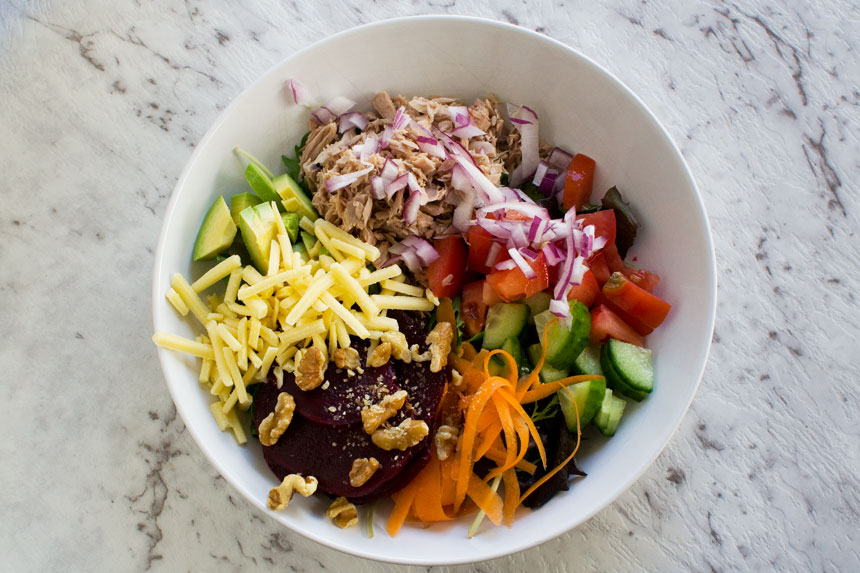 Helen's top tips
I always try to include cheese, nuts or seeds, avocado and beetroot in my salad. If one of these is missing from my tuna salad, it just doesn't seem QUITE as delicious!
Keep the tuna plain, or why not mix it with some mayonnaise, Greek yogurt or even this 10-minute Greek tsatziki? Add chopped onion, chopped celery, pickles (or sweet pickle relish), mustard or lemon juice if you like for a classic tuna salad recipe (American style).
This 'salad formula' works for different proteins too, of course! Try shredded rotisserie chicken, smoked or cooked salmon, good quality ham, or halloumi bites.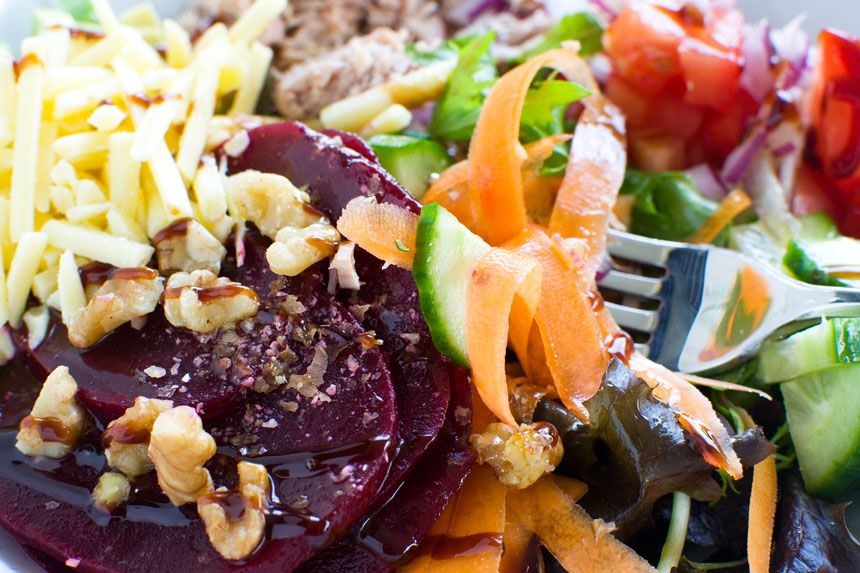 How to serve
I usually assemble this salad in individual bowls which works well if you have any picky eaters who don't want onion, dressing etc. (mentioning no names!).
However, there's no reason why you couldn't serve it as one gigantic salad for everyone to help themselves from! It could be a simple summer dinner for the family, or you could even take it along to a party or pot-luck.
One thing I never forget is to serve this salad with my 2-minute toasts with olive oil and salt. Other 'bread options' for serving could be:
Got leftovers? Enjoy as is for lunch, make tuna salad sandwiches or wraps, or stir some pasta through and make a tuna pasta salad!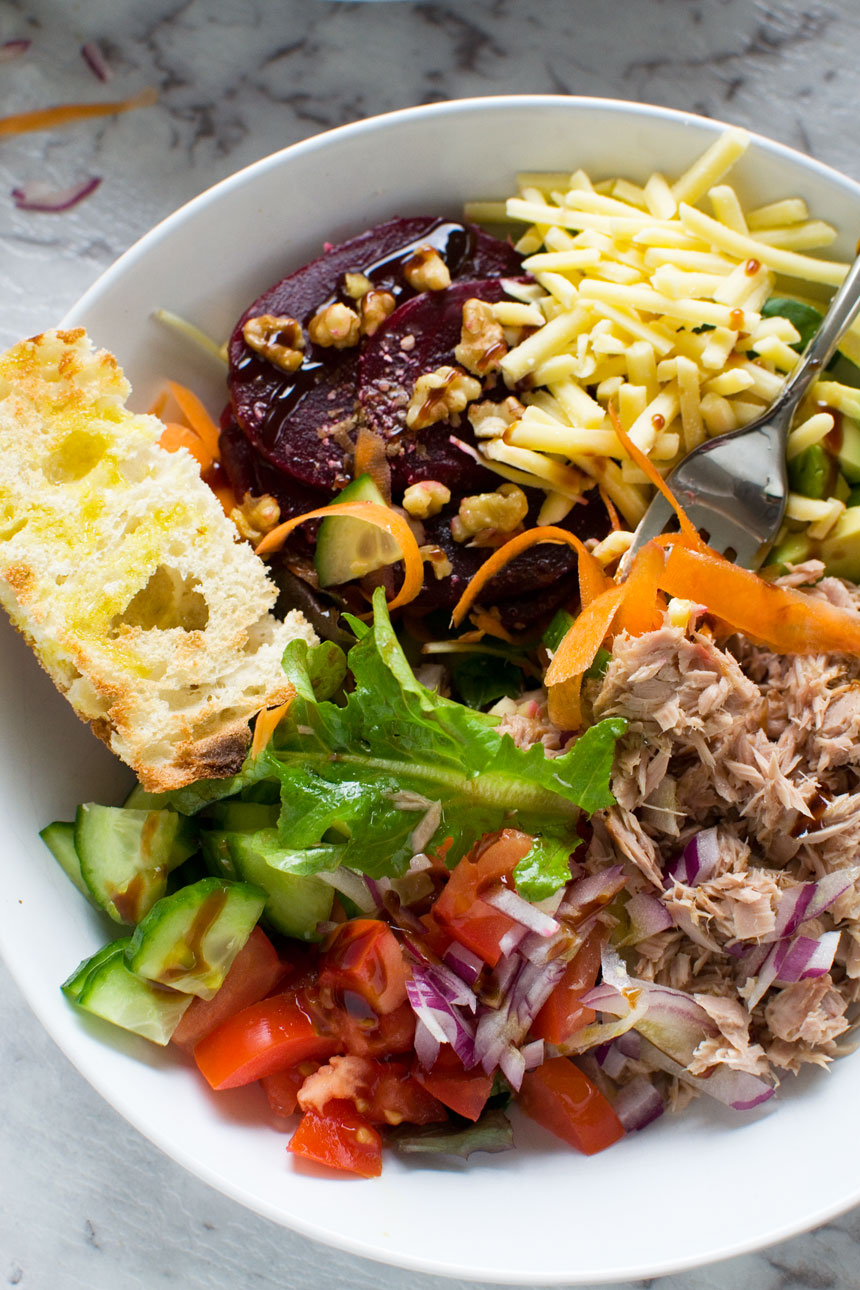 Recipe FAQs
How long will this salad keep?
This salad is easy to make fresh in just 10 minutes. However, you can definitely make it up to a day ahead and keep it covered in the fridge. After that, some ingredients such as the lettuce might go past their best. Leftovers are still tasty the next day or you can make them into a sandwich or wrap.
Is canned tuna healthy?
Yes, it is! It's low fat and calories and an excellent source of high quality protein. It also contains omega-3 fatty acids, vitamins like A and D, and minerals such as iron and selenium.
What can I put on tuna instead of mayonnaise?
The best alternative to mayo on tuna is plain Greek yogurt. You can mix it with a little mayonnaise, or add a drizzle of apple cider vinegar and/or mustard for extra zing. Other options are tzatziki sauce, sour cream or crème fraîche. 'Wild card' options include pesto, mashed avocado, olive oil, or onion dip.
More main meal salads
This delicious blueberry spinach salad will blow you away. A perfect light meal or lunch when you're in the mood for something a little different.
More easy fish dinners
Or browse all easy fish dinner recipes.
IF YOU MAKE THIS RECIPE, LET ME KNOW HOW YOU GET ON BY LEAVING A COMMENT AND RATING BELOW… AND DON'T FORGET TO SIGN UP TO RECEIVE ALL MY NEW RECIPES BY EMAIL!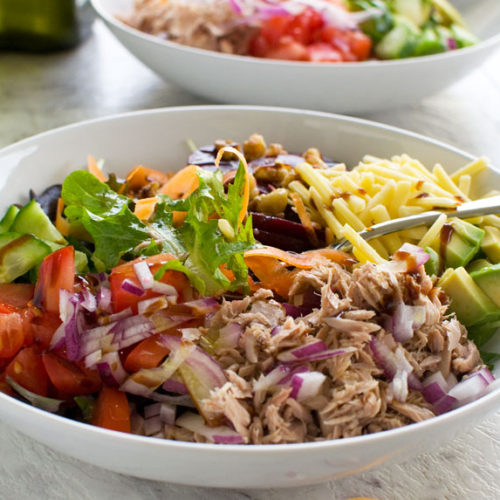 Our Favourite Easy Tuna Salad (10-minute Dinner)
There's a reason I've been making this easy tuna salad for years. It's healthy and delicious and made with the simplest of salad ingredients that you've probably nearly always got in your fridge. Try it – I don't think you'll be disappointed!
Equipment (affiliate links)
Ingredients (UK/Australia? Click below for grams/ml)
6

handfuls

lettuce

or similar fresh green leaves

6.5

ounces

tuna in water

(canned)

2

tomatoes

chopped

¼

cucumber

sliced

10

slices

beetroot

(canned or jarred is fine)

2

handfuls

grated cheese

or use another tasty cheese – whatever you have

½

avocado

½

carrot

grated or finely sliced (optional)

4

slices

onion

(raw) I like red onion.

2

handfuls

walnuts

crushed (or toasted pine nuts, or mixed crushed nuts and seeds)
to serve (optional)
toasted bread with olive oil and sea salt

mayonnaise

(or Greek yogurt)
Instructions
Start by placing the fresh green leaves in the bottom of 2 big wide bowls.

Divide the tuna between the 2 bowls, then add all the other ingredients (apart from the walnuts and onions) next to each other in little piles.

6 handfuls lettuce,

6.5 ounces tuna in water,

2 tomatoes,

¼ cucumber,

10 slices beetroot,

2 handfuls grated cheese,

½ avocado,

½ carrot

Scatter the onion over the tuna and the walnuts over all the ingredients in the bowls.

4 slices onion,

2 handfuls walnuts

Drizzle over the olive oil and balsamic glaze.

2 tablespoons extra virgin olive oil,

1 tablespoon balsamic glaze

Serve with the toasted bread and mayonnaise (if you like).

toasted bread with olive oil and sea salt,

mayonnaise
Notes
This recipe is only a guide, of course! Don't have any carrots or cucumber? No worries, just throw in something else that you have got, like sundried tomatoes or a few slices of apple.
I often vary the exact ingredients and amounts in this recipe, but I always try to include some kind of cheese, avocado, beetroot and some kind of nut for maximum deliciousness!
Dressing: Of course, you can use balsamic vinegar (or a different kind of vinegar or dressing) instead if you don't have balsamic glaze. May I suggest this incredible 5-minute tahini dressing if you'd like to try something a little different?
Leftovers: This salad will keep well in the fridge for a day. Leftovers make a great lunch, or stuff into a sandwich or wrap.
Nutrition
Calories:
546
kcal
Carbohydrates:
22
g
Protein:
25
g
Fat:
42
g
Saturated Fat:
5
g
Cholesterol:
34
mg
Sodium:
287
mg
Potassium:
1062
mg
Fiber:
8
g
Sugar:
9
g
Vitamin A:
3725
IU
Vitamin C:
25.9
mg
Calcium:
87
mg
Iron:
3.3
mg