You might think you don't need a recipe for a tuna salad, especially an easy tuna salad, but I really wanted to share this one with you. It's healthy, delicious, extremely quick, and looks quite impressive, don't you think?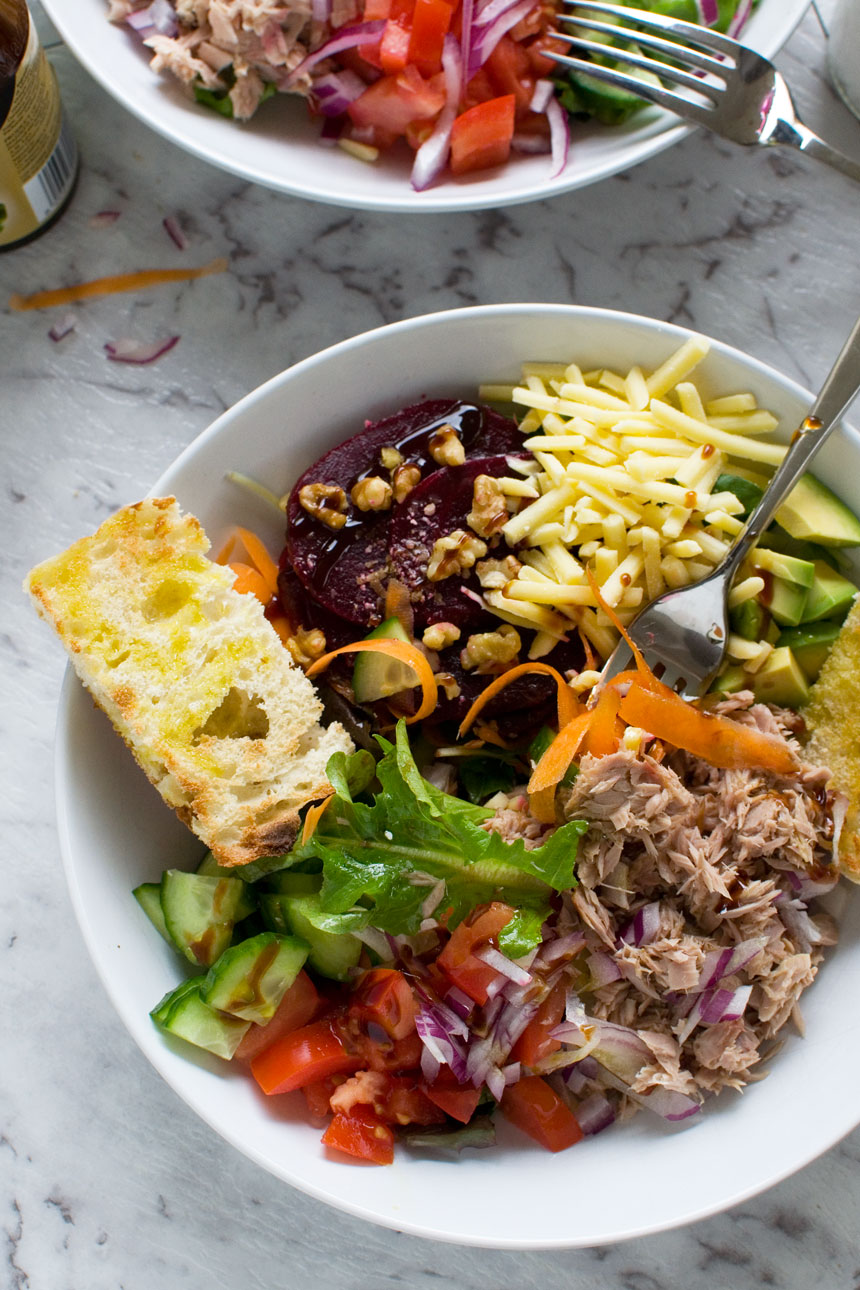 I know what you're thinking. Who needs a recipe for a tuna fish salad?
Well, I guess you're right – you don't. But one of my favourite types of 'recipes' to post are those that hardly need a recipe.
Because if you're like me it's sometimes IDEAS you need. What to have for dinner when you've got precisely zero time to shop that day and a maximum half hour to get the meal on the table.
Mr. Scrummy and I (and now little Benjamin, although we aren't at the stage yet where he'll share a salad with us, sadly) have been having this easy tuna salad for dinner regularly for a couple of years now. We started off having it on warm summer evenings, but now it's in our regular meal rotation all year round.
And in fact Mr. Scrummy says he'd be quite happy to eat this meal every single night!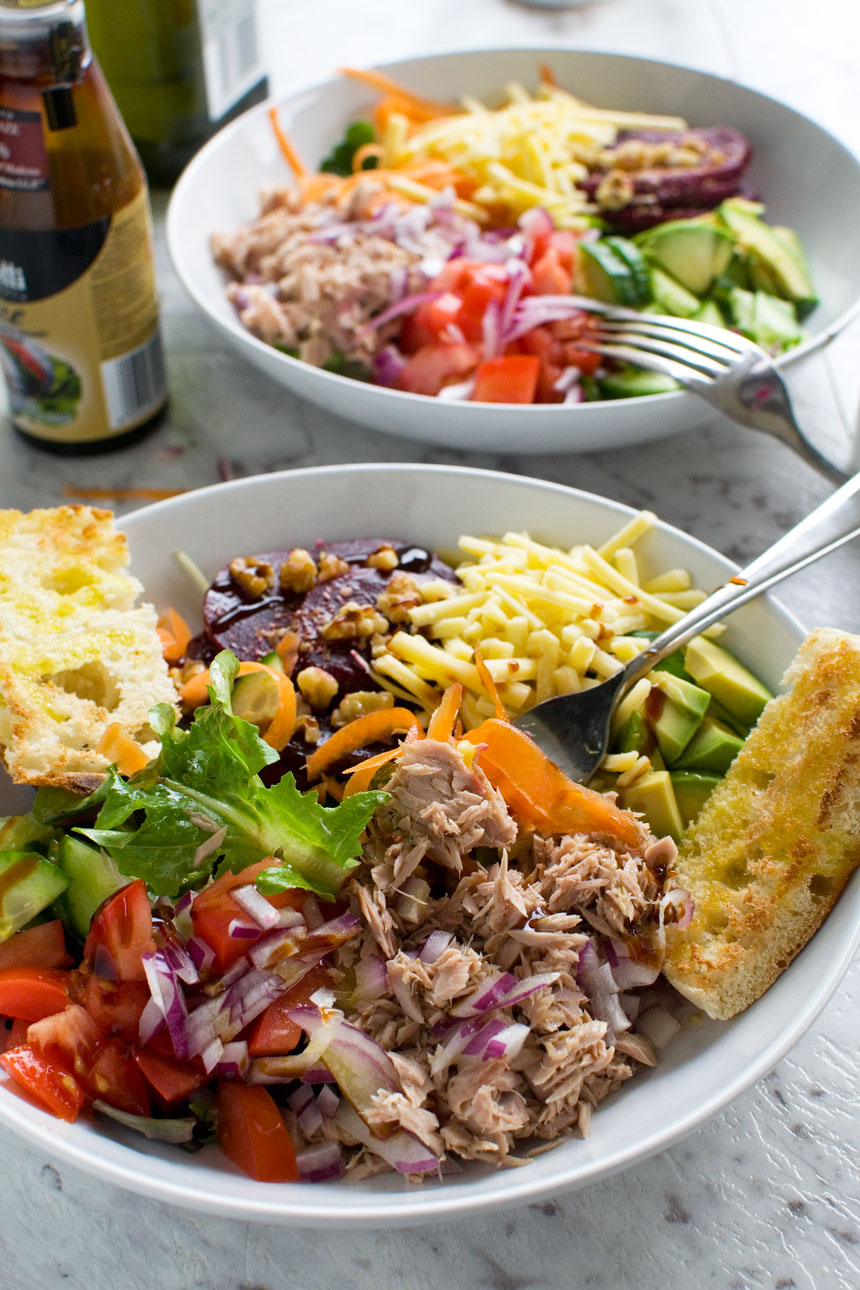 I'm not sure how long it would take for him to get bored of it if he did do that, but it really is VERY GOOD. And trust me, it's the simplest thing. As long as you have a can of tuna fish in your pantry, you can make it with salad ingredients that you've probably got in your fridge most of the time.
Until now I haven't thought of sharing it with you, but I figured that if we eat it so often – at least once every two weeks – maybe some of you would appreciate the idea, too.
So as I've probably made some version of this easy tuna fish salad tens (possibly approaching hundreds) of times, I now consider myself an expert on it, and in my humble opinion this is what you should include for maximum deliciousness:
a small bed of green leaves (any you like)
canned tuna (of course!)
avocado
chopped tomatoes & cucumber
a bit of raw onion (sprinkled over the tuna and maybe the tomatoes)
canned beetroot
some kind of cheese – I usually just add a handful of strong grated cheddar from a pre-grated bag, but I have been known to include feta cheese instead
some kind of nut scattered over the whole salad such as walnuts or pine nuts
grated or finely chopped carrot (I don't always include this, but it's a nice-to-have)
TIP: I particularly try to make sure I always include the cheese, nuts, avocado and beetroot. Not sure why, but If one of these is missing from my tuna salad, it just doesn't seem QUITE as delicious.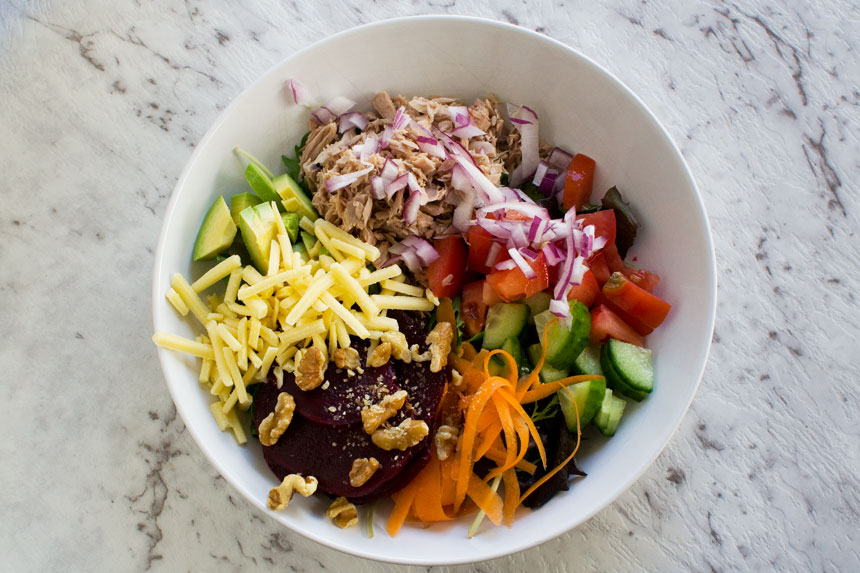 But the beauty of this tuna salad is that if you don't have one or two of the ingredients it really doesn't matter. I've missed out things before because I don't have them in my fridge at the time and included extra things sometimes too.
Great additions, if you happen to have them, would be:
sundried tomatoes or artichokes from a jar
a handful of cooked chickpeas
croutons for a bit of extra crisp
a few slices of apple
raw bell peppers / capsicum
olives
crispy Asian noodles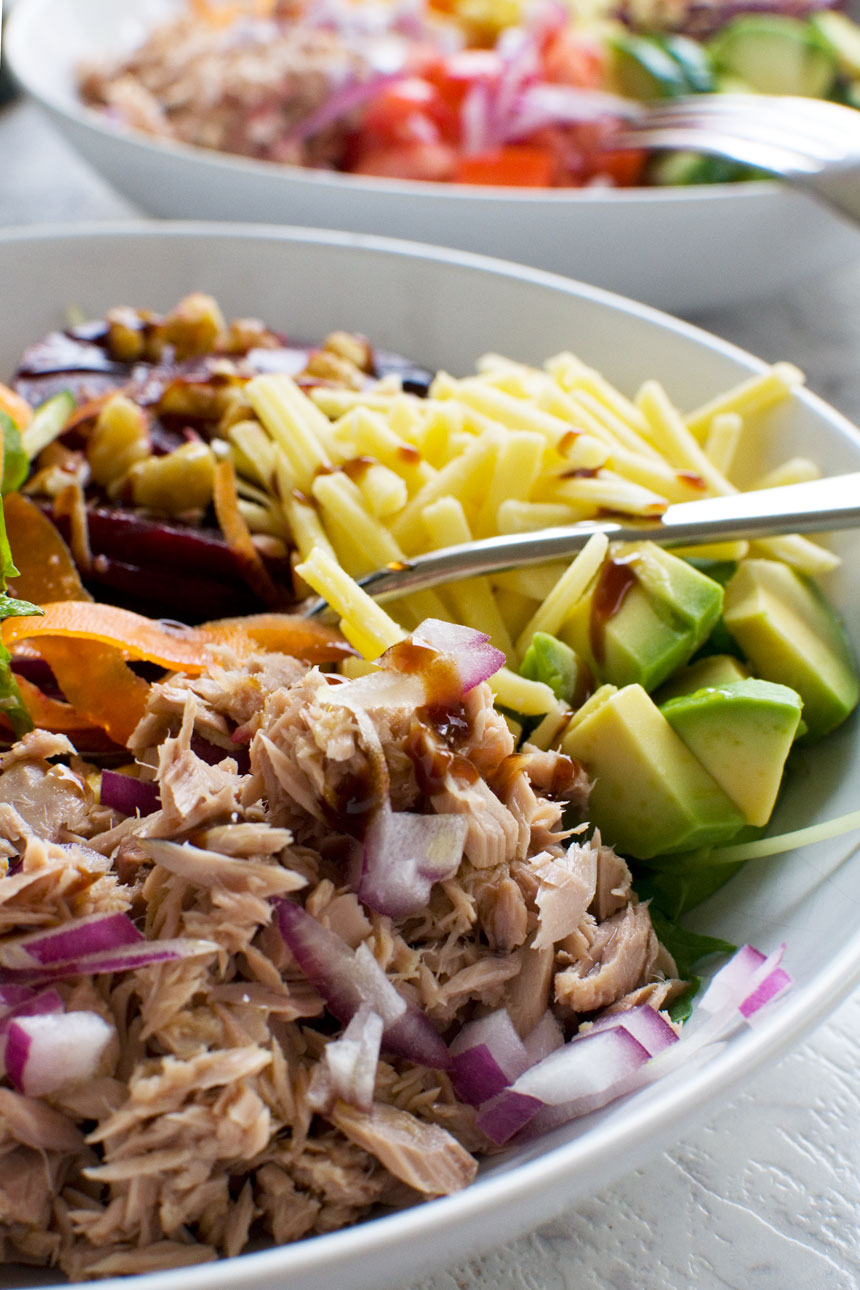 What is the best salad dressing for a tuna fish salad?
To keep the salad super super simple, I always just drizzle over a bit of olive oil and some balsamic glaze.
I don't feel like I need a more complicated or heavier dressing. Occasionally I even forget to add any dressing at all, and to be honest I don't really miss it.
Oh, I do tend to add a bit of mayonnaise to my bowl, though. I find it goes really well, especially with the tuna!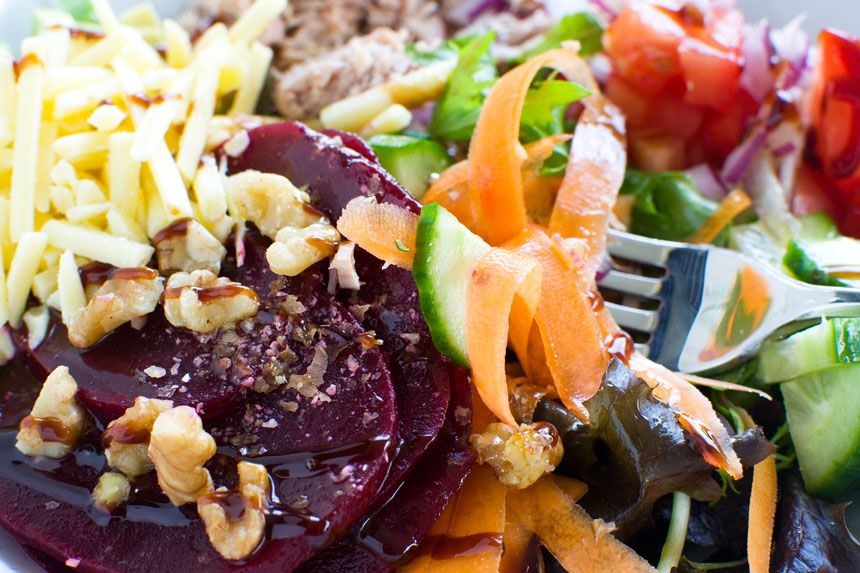 There are two more things that I always make sure of when we have this for dinner:
I always serve it with plenty of toasted crusty bread with olive oil and sea salt.
I never mix up the ingredients. I start building my salad with a couple of handfuls of fresh green leaves, then add the rest of the ingredients in little piles. I just think it looks prettier and tastes better this way.
And that in my mind is the best tuna salad recipe – one that you can throw together in 5 to 10 minutes, depending on how fast you grab things out of the fridge and throw them in the bowl.
It really doesn't matter if you don't have one of the ingredients you can see here in the photos. Make your own version and it will still be pretty, healthy and delicious.
This is also a surprisingly filling meal. You only need a little bit of each ingredient to make a gigantic tuna salad!
Don't forget to watch the how-to video below the recipe!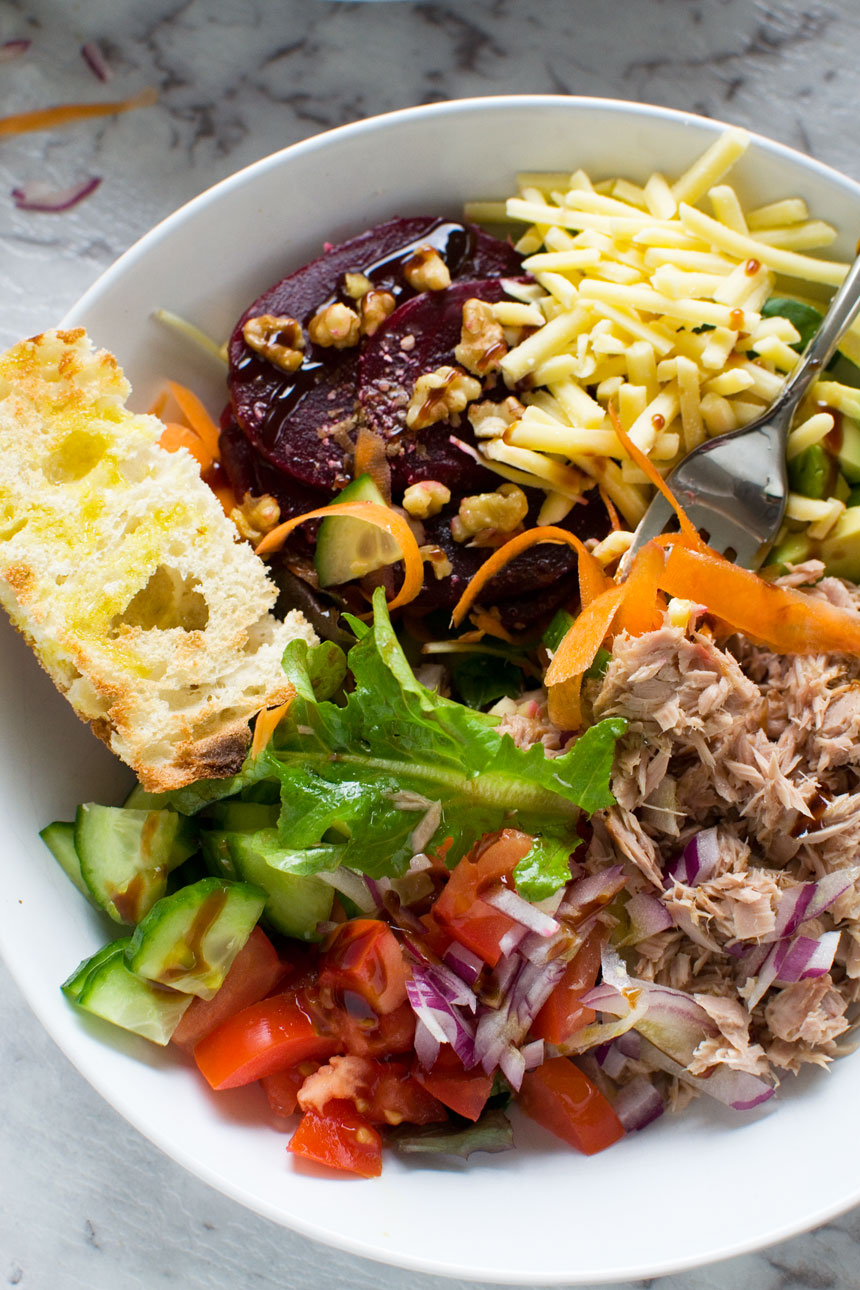 If you get tired of tuna…
If you hate canned tuna and are reading this far (which I doubt, but just in case… ), of course you could substitute the tuna for rotisserie chicken or thin strips of steak for an equally as quick and delicious salad.
I actually can't believe I wrote such a long post about a simple salad like this one. I guess I really do think it's that good.
I hope you try making this simple tuna salad for dinner one day soon! If you do, let me know in the comments below what you thought. Maybe it will become your favourite tuna salad, too!
More favourite main meal salads:
More easy fish dinners
IF YOU MAKE THIS RECIPE, LET ME KNOW HOW YOU GET ON BY LEAVING A COMMENT AND RATING BELOW… AND DON'T FORGET TO SIGN UP TO RECEIVE ALL MY NEW RECIPES BY EMAIL!
FOLLOW ME ON FACEBOOK, INSTAGRAM, PINTEREST AND YOUTUBE.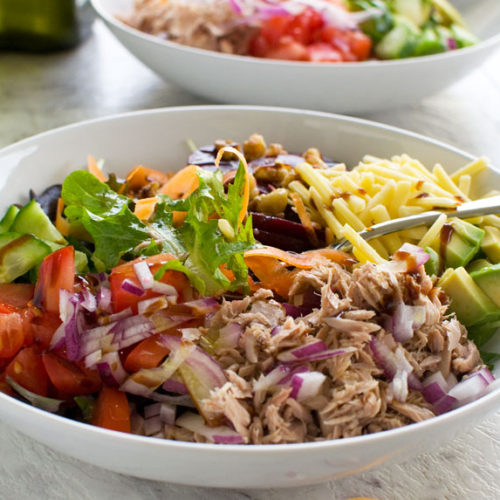 Our favourite easy tuna salad
There's a reason I've been making this easy tuna salad week after week for years. It's healthy and delicious and made with the simplest of salad ingredients that you've probably nearly always got in your fridge. Try it – I don't think you'll be disappointed!
Ingredients (UK/Australia? Click below for grams/ml)
6

handfuls

lettuce

or similar fresh green leaves

6.5

ounces

tuna in water

(canned)

2

tomatoes

chopped

¼

cucumber

sliced

10

slices

beetroot

(canned or jarred is fine)

2

handfuls

grated cheese

or use another tasty cheese – whatever you have

½

avocado

½

carrot

grated or finely sliced (optional)

4

slices

onion

(raw)

2

handfuls

walnuts

crushed
to serve (optional)
toasted bread with olive oil and sea salt

mayonnaise
Instructions
Start by placing the fresh green leaves in the bottom of 2 big wide bowls.

Divide the tuna between the 2 bowls, then add all the other ingredients (apart from the walnuts and onions) next to each other in little piles.

Scatter the onion over the tuna and the walnuts over all the ingredients in the bowls.

Drizzle over the olive oil and balsamic glaze.

Serve with the toasted bread and mayonnaise (if you like).
Notes
This recipe is only a guide, of course! Don't have any carrots or cucumber? No worries, just throw in something else that you have got, like sundried tomatoes or a few slices of apple.
I often vary the exact ingredients and amounts in this recipe, but I always try to include some kind of cheese, avocado, beetroot and some kind of nut for maximum deliciousness!
Of course, you can use balsamic vinegar (or a different kind of vinegar or dressing) instead if you don't have balsamic glaze. May I suggest this incredible 5-minute tahini dressing if you'd like to try something a little different?
Nutrition
Calories:
546
kcal
Carbohydrates:
22
g
Protein:
25
g
Fat:
42
g
Saturated Fat:
5
g
Cholesterol:
34
mg
Sodium:
287
mg
Potassium:
1062
mg
Fiber:
8
g
Sugar:
9
g
Vitamin A:
3725
IU
Vitamin C:
25.9
mg
Calcium:
87
mg
Iron:
3.3
mg