Many of us scramble around for party appetizer ideas at this time of year. But let's face it, we really don't want to spend long making them. Enter these easy peasy and mighty tasty Greek tortilla pinwheels!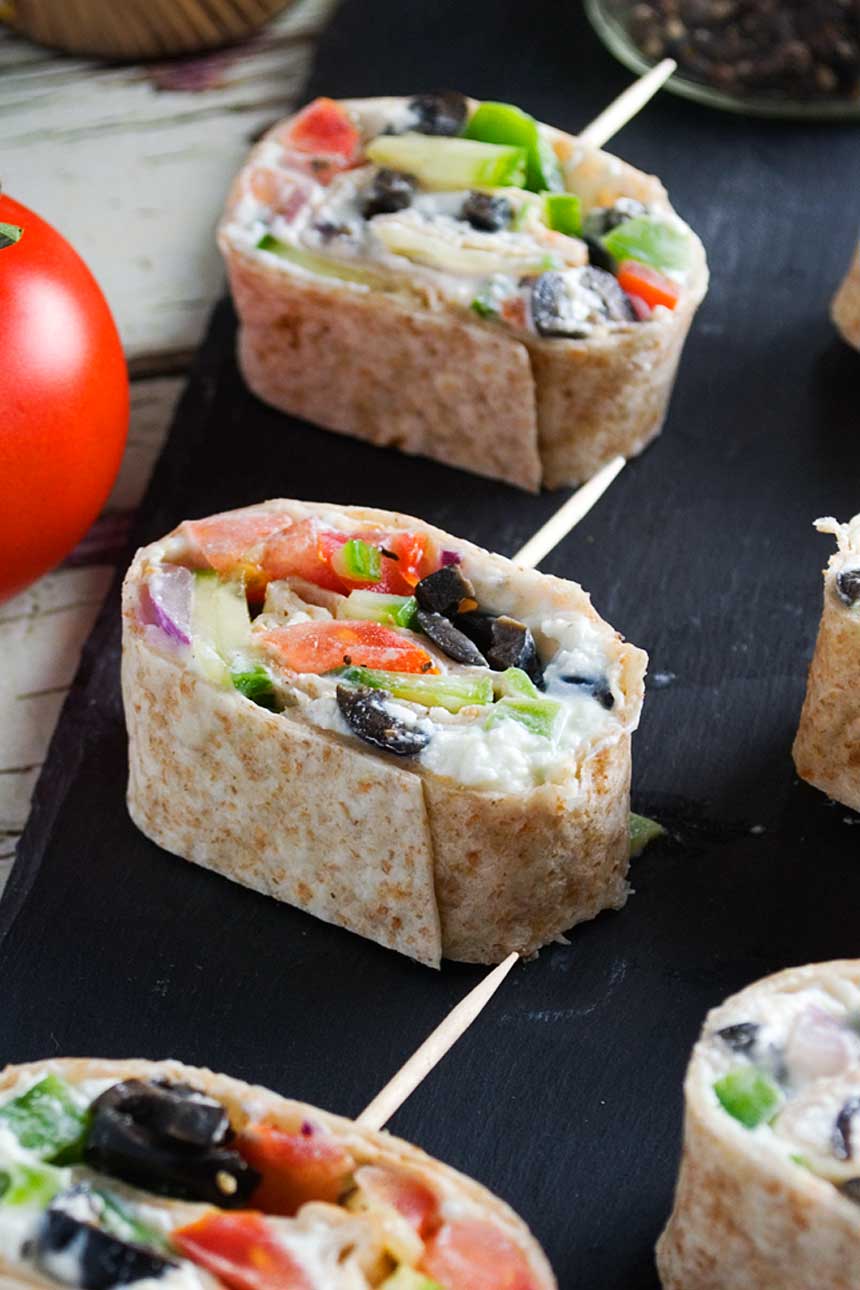 'Tis the season of goodwill, and… lots of party appetizers!
The party season is in full swing, and we all need plenty of simple party appetizer ideas. Specifically, simple appetizers that look like you've spent ages making them… but actually they've taken you 5 minutes. You know the sort.
The sort where you don't really even need a recipe.

There are several specific things I love about tortilla pinwheels:
They'll make you really popular at parties. They look pretty impressive (don't you think?) and shout 'FUN'. Even though they're really just a fancy kind of sandwich. 😉
No cooking required! They're really QUICK and EASY to make with just a few ingredients. Pretty fool proof, actually, as long as you don't sprinkle over too much of the toppings (the voice of experience!).
They're perfect for taking along to others' parties. Keep the rolled-up tortillas wrapped in plastic wrap until you arrive at your destination, then chop into pinwheels and serve!
There are a million different variations on the theme. Don't like the idea of Greek tortilla pinwheels? No problem, make them with pizza flavours, posh cream cheese and smoked salmon, or just plain ham and cheese.
I'm sure you aren't surprised that I've chosen to make Greek tortilla pinwheels. Deliciously fresh tomatoes, cucumber, olives and feta cheese just seemed to lend themselves perfectly to this idea.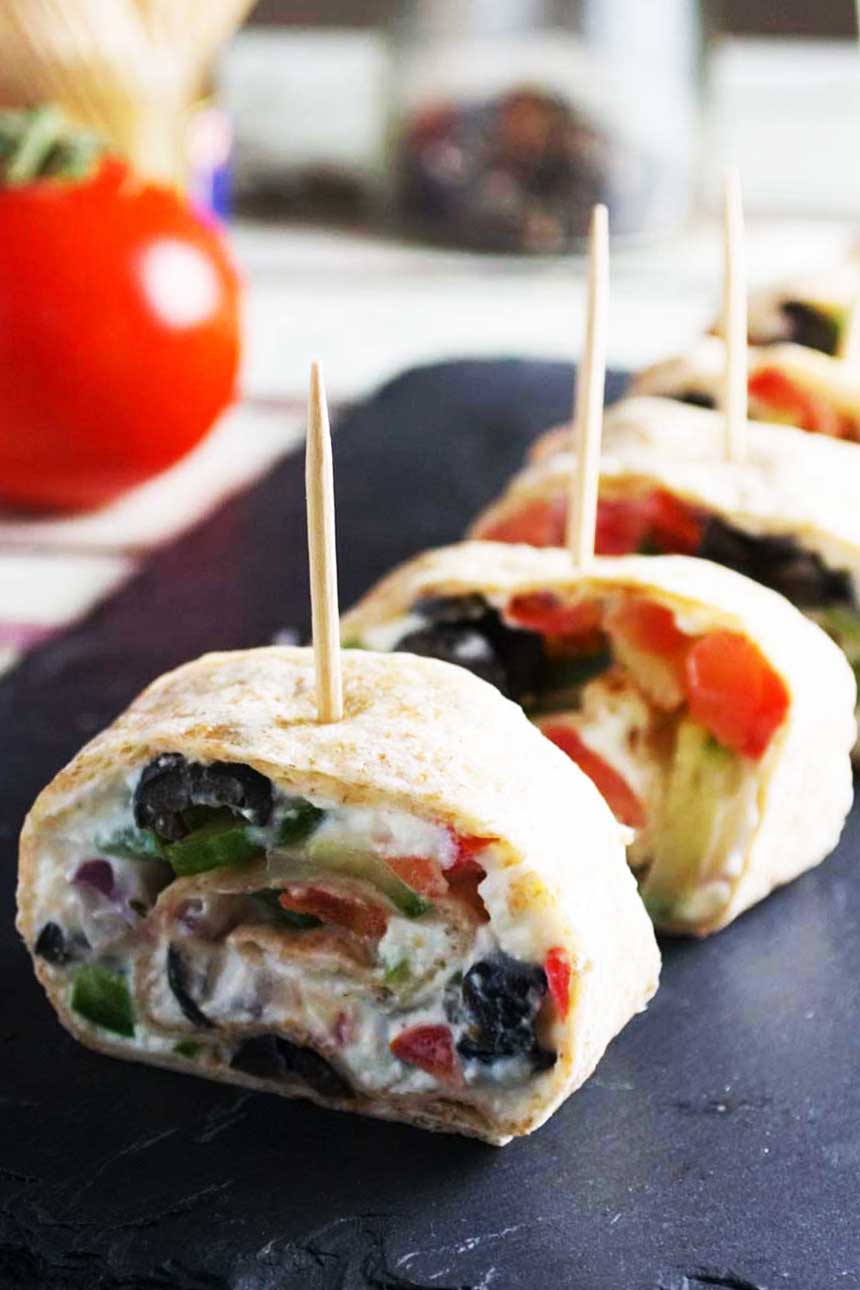 Many pinwheel recipe ideas I'd already seen around use cream cheese as a base spread for the tortillas. Which is what gave me the idea of mashing feta cheese with a bit of Greek yoghurt to make a spread with the same consistency of cream cheese.
Genius, no? 🙂
I have to say it works perfectly. Just spread a layer of this feta-yoghurt spread all over your tortilla (leaving a small border around the edge), then scatter over small cubes of the other ingredients.
Sprinkle over a bit of oregano and black pepper, and you're ready to roll!
It's best to wrap your tortilla rolls in plastic wrap and refrigerate them for about half an hour to make them easier to chop. Then make sure you use a big sharp knife and you'll have no problem cutting them into lovely rounds.
I like to serve my pinwheels stood up on their sides, with a cocktail stick poked through the top to keep them together. But you can also just lay them flat on a plate. Arguably, you can see the insides of the pinwheels better this second way.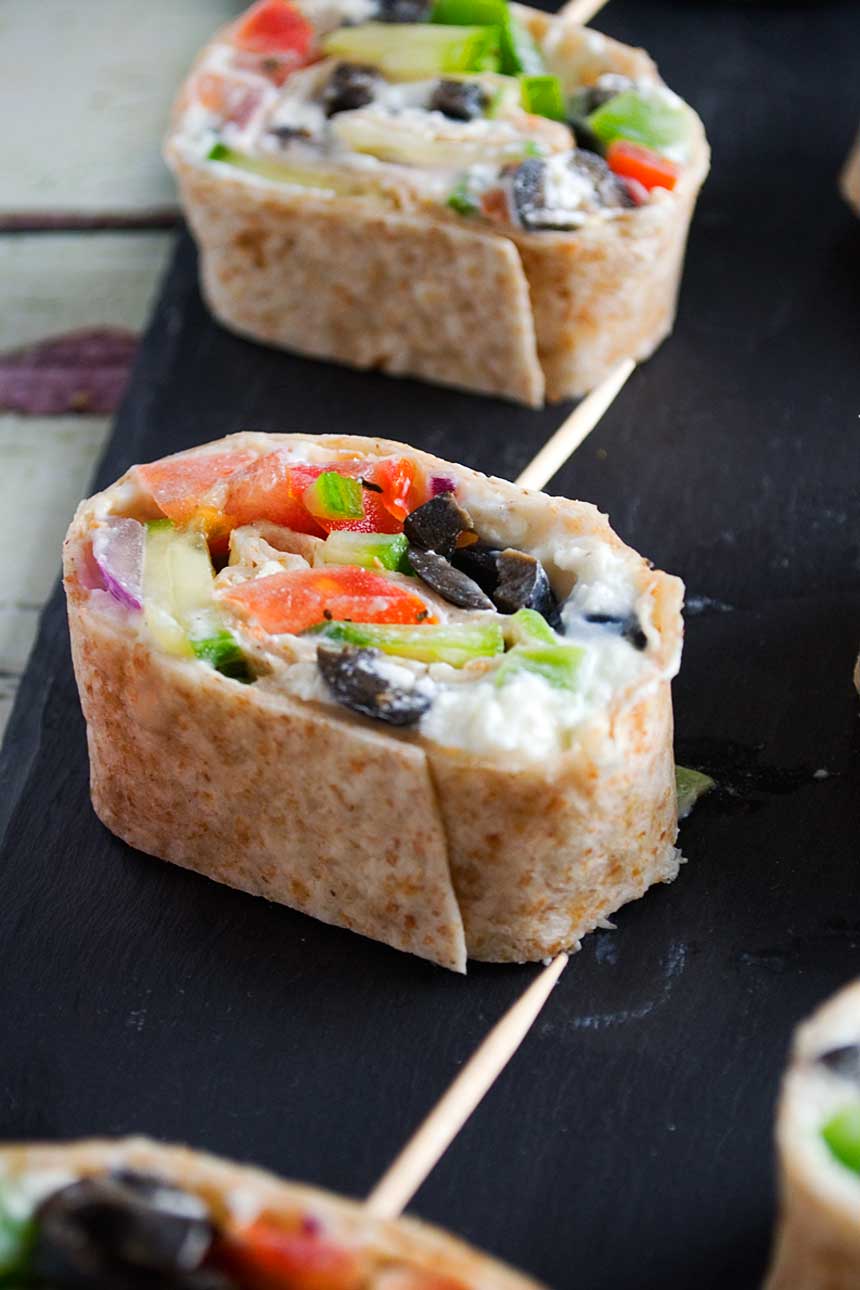 As I've said, these are super easy to make, but I've still made you a little video to help you on your way.

Let me know if you try these, or try adding other tasty fillings!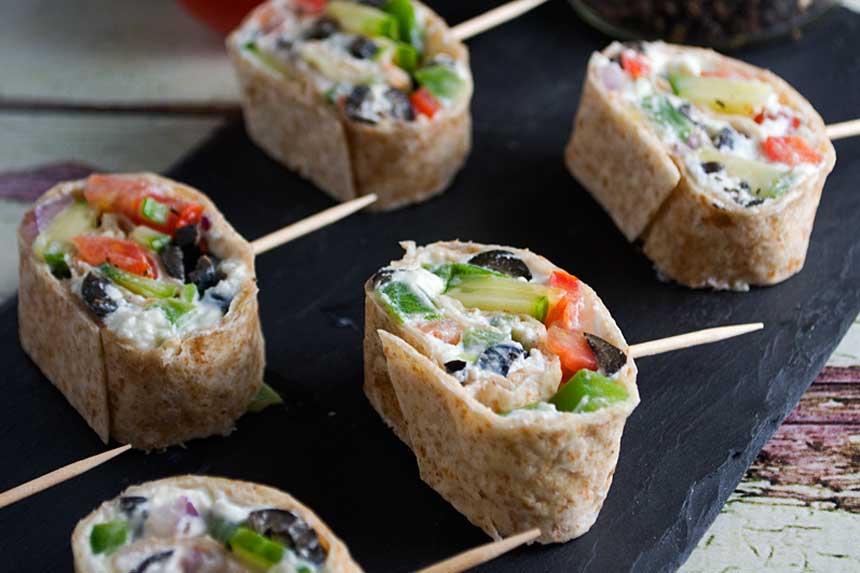 Greek tortilla pinwheels
An easy little party appetizer that takes hardly any effort to make but looks pretty cute! Just chop Greek salad bits, scatter them over a feta and yogurt spread on a tortilla, roll up the tortilla, and chop into rounds. Delicious!
Ingredients (UK/Australia? Click below for grams/ml)
to make about 8 pinwheels (just multiply the ingredients below to make as many pinwheels as you need)
1

tortilla

or wrap (large)

3

tablespoons

Greek yogurt

1.75

ounces

feta cheese

mashed to a smooth paste with the Greek yogurt

1

tomato

chopped into small cubes (one medium tomato is about right)

0.2

cucumber

cubed

5

black olives

chopped

0.25

green bell pepper

(=pepper (UK), capsicum (Australia)), cubed

0.25

teaspoon

oregano

dried

black pepper
Instructions
Have all your prepared ingredients ready. Lay out a tortilla on a board or other clean work surface, then spread with the feta cheese and yoghurt mixture. Leave a small border clear around the edge.

Sprinkle the salad veggies evenly all over the cheese, then sprinkle over the oregano and pepper.

Roll the tortilla up as tightly as you can, then wrap in plastic wrap. Pop into the refrigerator for about half an hour to firm up a bit.

Unwrap the tortilla and chop into about 8 even rounds. To serve, lay out flat on a plate (or stand on their sides and poke through with a cocktail stick – your choice!).
Notes
Also see 'how to' video above!
You can prepare these ahead, then take them along to your party. Roll up, wrap in plastic wrap and take along to your party like this. Then slice when you get there. Just don't prepare TOO far in advance. These certainly don't keep very well until the next day.
These are very easily adaptable according to what you've got in your fridge. Spead with cream cheese instead of the feta and yogurt mixture, if you like, then add chopped sundried tomatoes, bits of parma ham, grated cheese, fresh herbs, or whatever you like!
To be honest, the amounts stated in the recipe above are just a rough idea. Just use a small handful of everything and that will be about right.
Nutrition
Calories:
39
kcal
Carbohydrates:
3
g
Protein:
1
g
Fat:
2
g
Saturated Fat:
1
g
Cholesterol:
5
mg
Sodium:
136
mg
Potassium:
66
mg
Sugar:
1
g
Vitamin A:
180
IU
Vitamin C:
5.4
mg
Calcium:
44
mg
Iron:
0.2
mg