Looking for something a bit different to throw on your next BBQ? These halloumi kebabs won't disappoint. You need just 4 ingredients to make a platter of the colourful and tasty Mediterranean style skewers, and another 4 basic ingredients for the tangy dressing. The best part? They're ready in just over 20 minutes!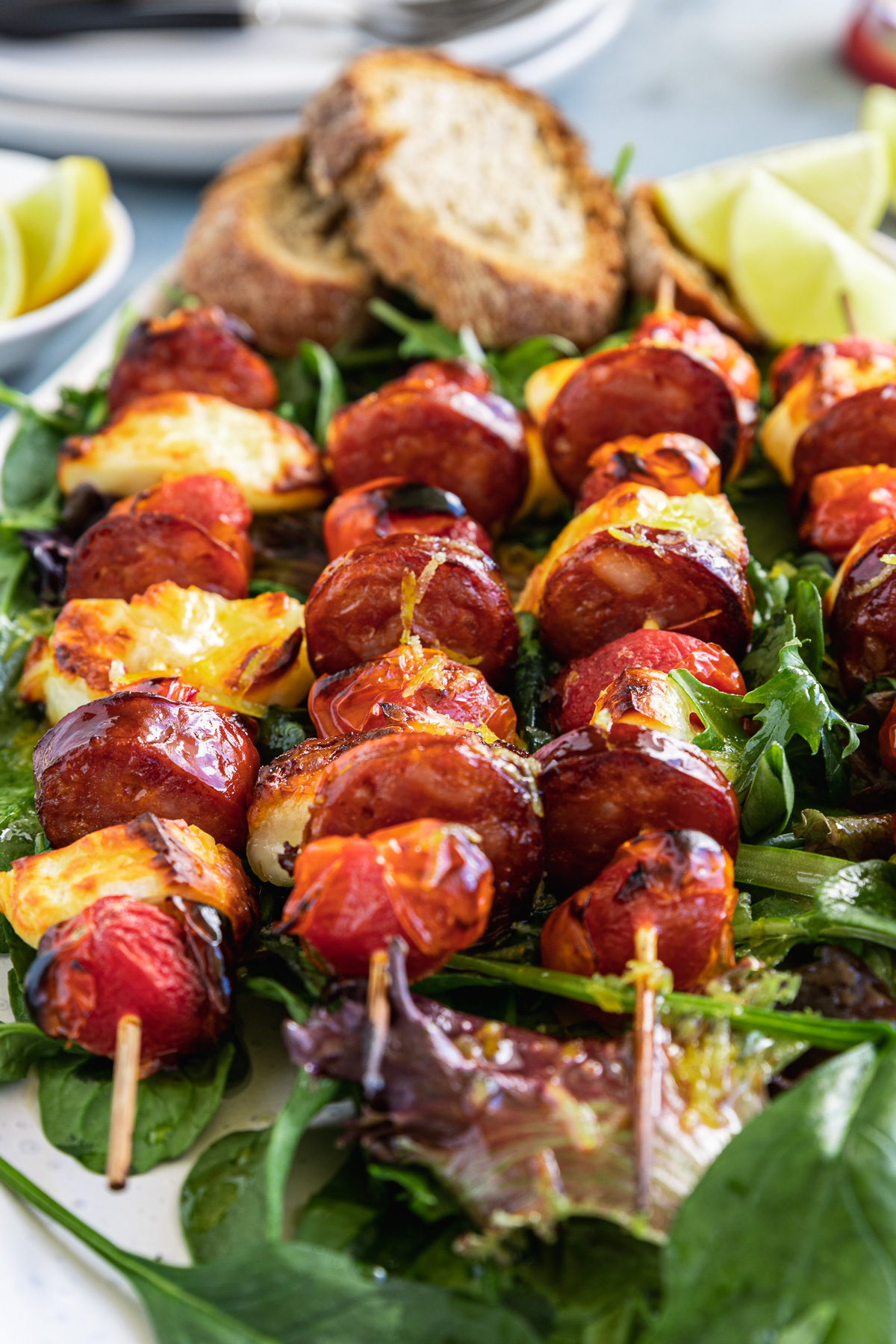 What's halloumi?
Halloumi cheese is a salty, slightly 'bouncy' sheep's, goat's or cow's milk cheese originally from Cyprus. You can cook it in various ways, but generally you fry it in a dry pan until hot and crisp. Quite honestly, it isn't always for everyone. Mr. Scrummy, for instance, declared it as 'rubbery' when he first tried it.
But I would highly encourage you to try it at least once before you decide if you're in the 'love halloumi' or 'hate halloumi' camp. As for me, I'm firmly in the 'love halloumi' camp!
It's incredibly delicious when cooked and crispy, as in this recipe. If you need more 'proof', you absolutely have to try:
Why you'll love this recipe
If you love to make grilled kebabs either on the BBQ or by throwing them under the grill/broiler, these are just a little different, don't you think? Mediterranean style, I'd say!
They're versatile – perfect for a simple lunch, dinner or picnic for yourselves, but can be impressive enough to serve to guests.
They're incredibly quick and easy, with just 4 main ingredients and the simple dressing.
They're super tasty with the salty, crispy halloumi complementing the smoky chorizo and tangy tomatoes really well. Drizzle over the honey lime dressing and it'll be a party in your mouth!
They're really easy to customize and make your own. Need a vegetarian option? Want to add more veggies? See ideas below!
About the ingredients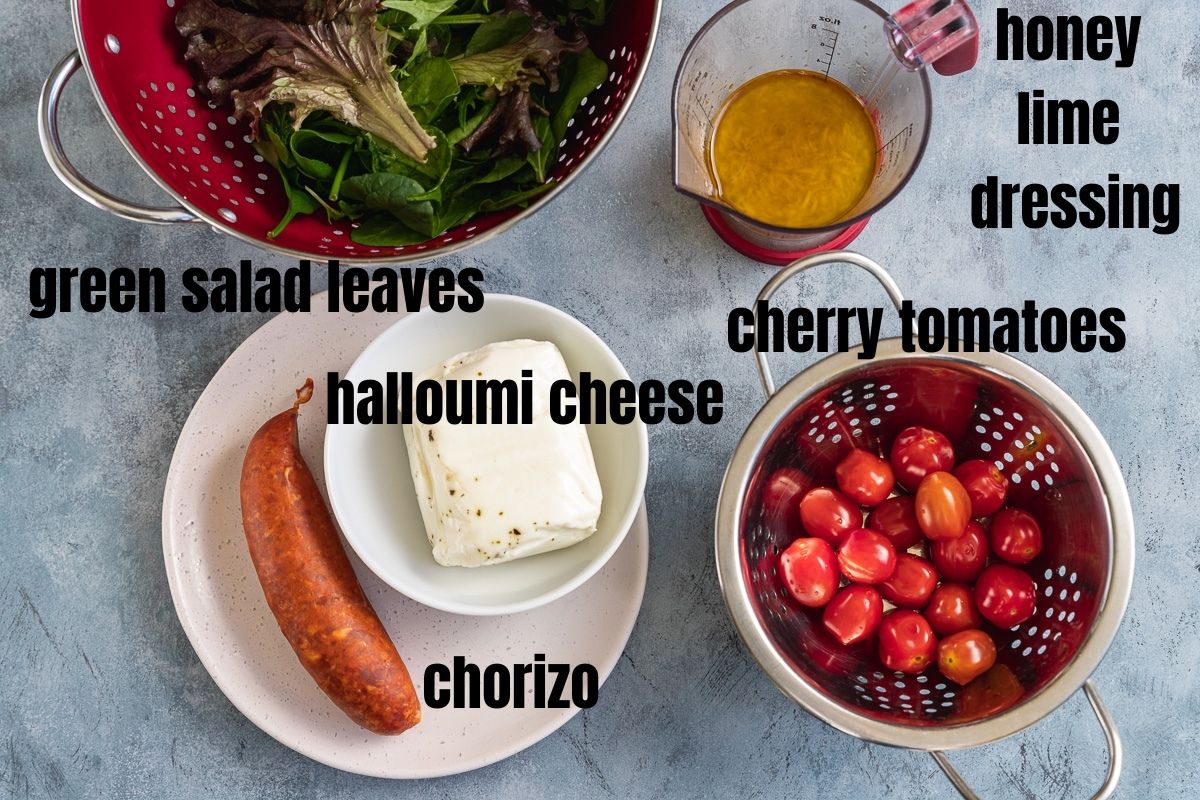 One of the reasons I like these kebabs so much is that they look and taste more impressive than the sum of their parts.
You only need 3 ingredients to thread on the skewers, and some nice green salad leaves to lay them on:
Halloumi: Halloumi works great grilled/BBQ'd or broiled because it's a very firm cheese that doesn't melt everywhere. Instead, it browns and gets crispy after cooking for just a few minutes. You can use any brand that you can get hold of (in the UK/Australia it's widely available, in the USA try Trader Joe's, Wholefoods or a European style deli).
I really like to choose an authentic Cypriot brand if it's available. It usually has little flecks of mint running through it and the perfect texture.
Chorizo: I usually buy whole chorizo sausages and slice them into roughly 1-inch thick slices. You need about 1 sausage for every 4 skewers. These days I find most chorizo sausages don't have a tough skin on, but if yours does it's easy to snip the ends and peel it off.
I buy mine from the deli section of my local supermarket, but you can also usually find it in the cured meats area with the bacon and other processed meats.
Cherry tomatoes: You'll need 4 small tomatoes for each skewer. Any small tomato will work.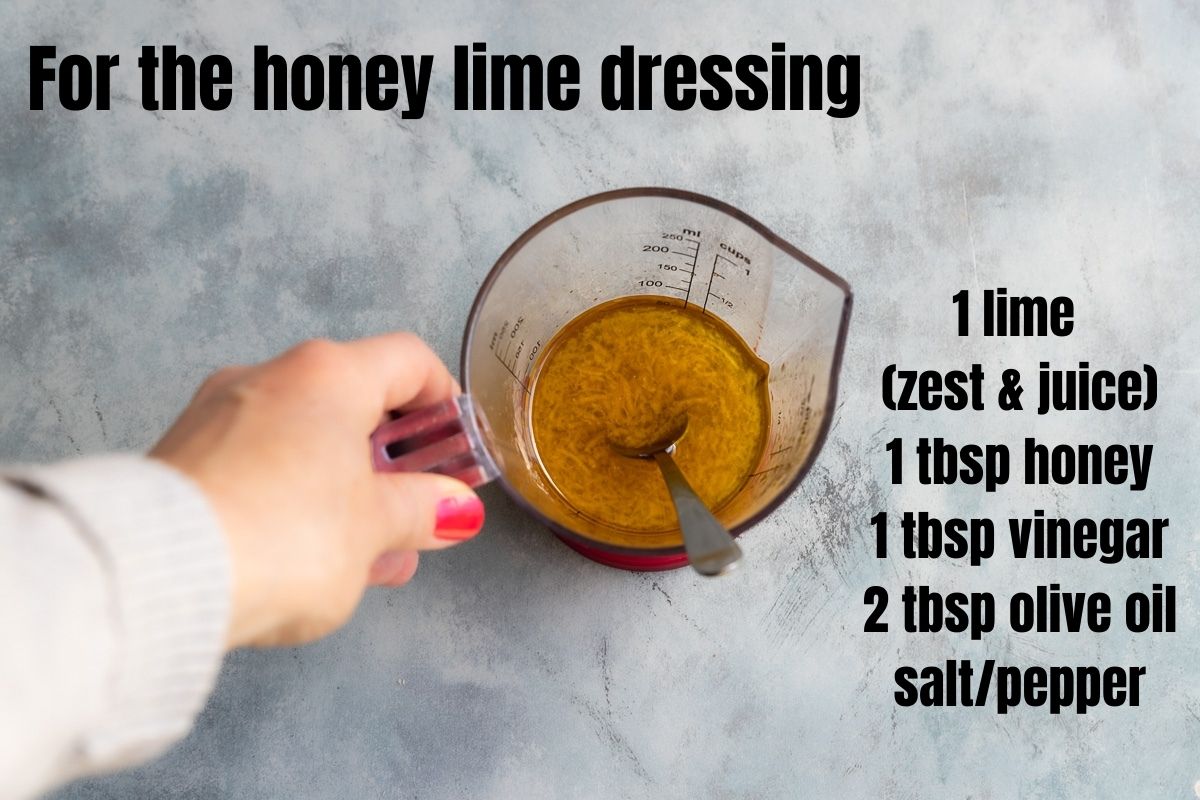 For the honey-lime dressing: For this you'll need the zest and juice of a lime, and a bit of honey, vinegar, olive oil and salt and pepper. I usually use either white wine vinegar or apple cider vinegar, but ordinary white vinegar is fine too.
To serve/Garnish: I like to serve my kebabs on a bed of mixed green leaves. I also like to serve extra lime wedges on the side for people to squeeze over if they like.
The last thing you'll need, of course, is some long wooden skewers. I wouldn't use metal ones unless they're really thin as it'll be difficult to thread the ingredients onto them without them breaking.
How to make them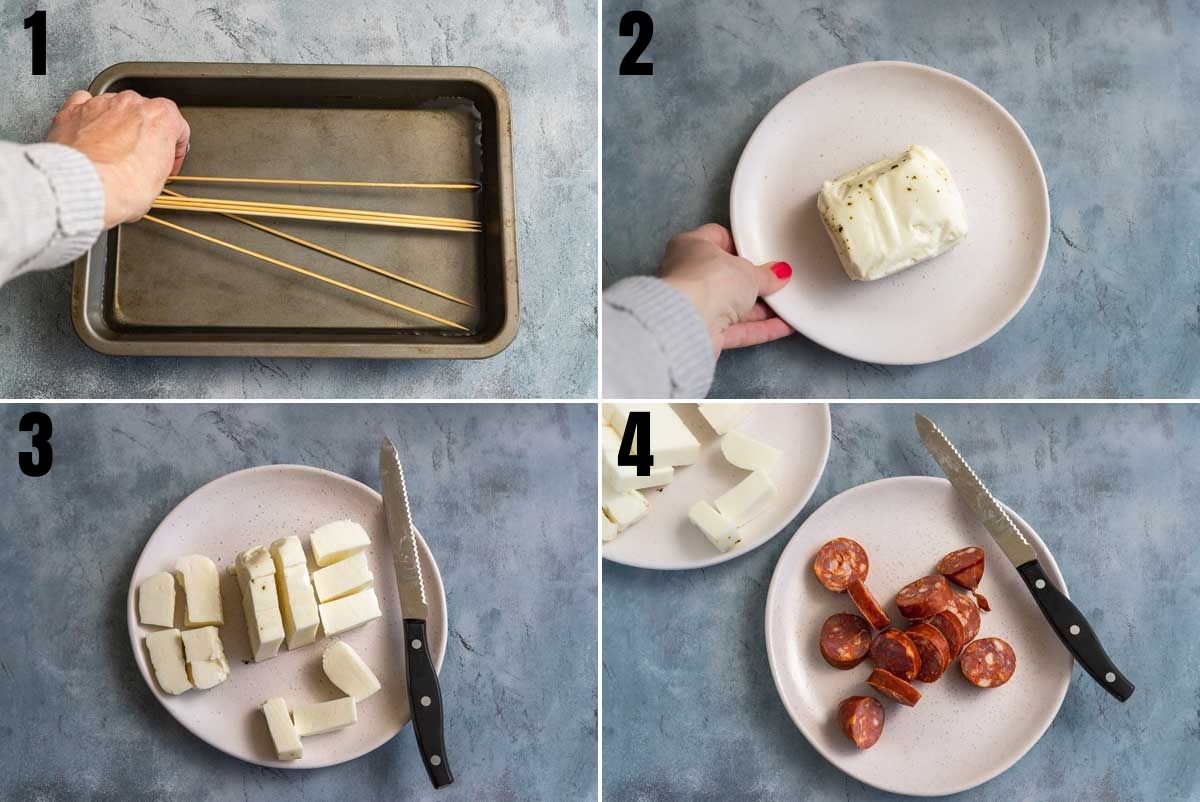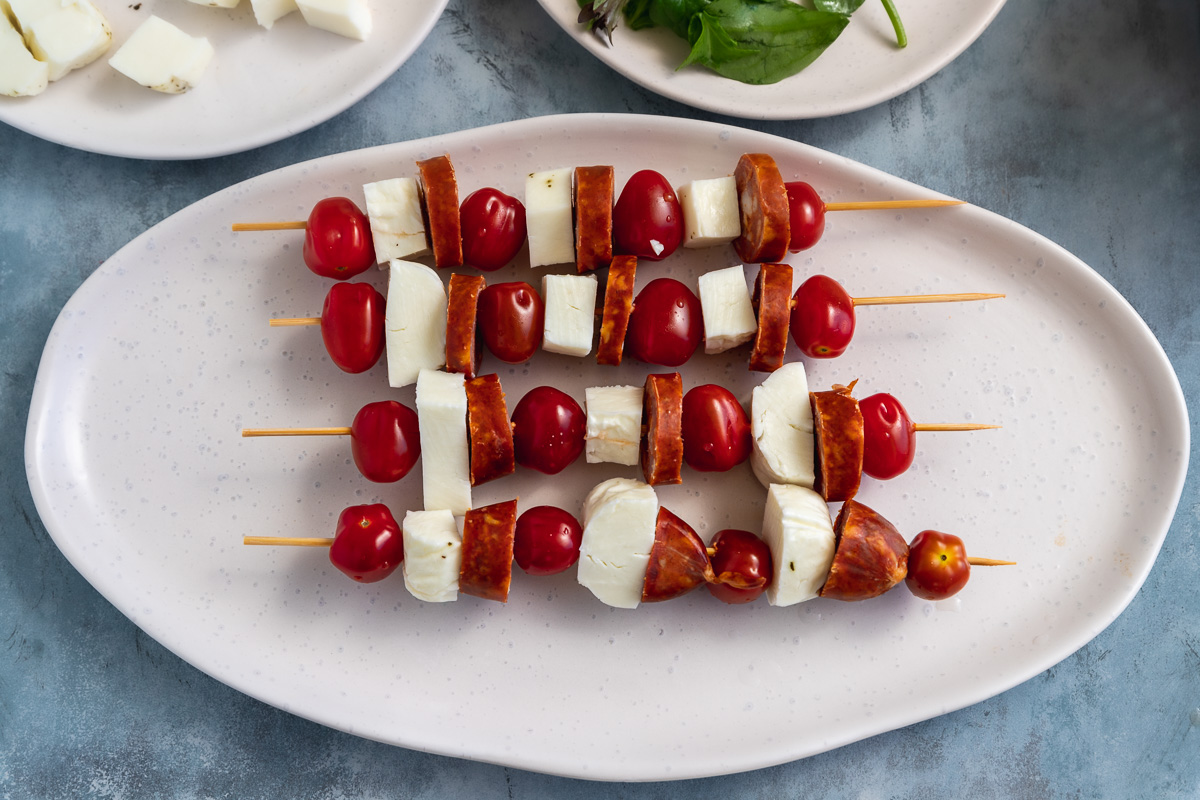 In a nutshell, there's nothing more complicated here than threading everything onto the long skewers. But here's exactly how I do that:
Step 1: Soak the skewers in some water for a while before grilling so that they don't burn. You can let them soak while you're preparing all the other ingredients.
Steps 2 – 4: Unwrap the log of halloumi, then carefully slice it into roughly 1-inch cubes. You'll need 12 cubes for every 4 skewers you'd like to make. Halloumi logs do vary in size, but I find I have more than enough for at least 4 skewers. Sometimes there are even leftovers. See below for leftovers ideas!
Step 5: Carefully thread the tomatoes, halloumi and chorizo onto the skewers. I usually start and end with a tomato. Pinch the halloumi tightly as you thread it on. Don't worry if a few pieces break. You should have some halloumi cubes to spare.
Step 6: Grill them! You can either pop them on a BBQ grill, or you can grill them under a grill/broiler in the kitchen. They'll only take 10 to 15 minutes. Just keep a close eye on them and turn them a few times so that they brown evenly without burning. The tomatoes and chorizo should be golden brown and the halloumi deliciously crispy in parts.
Pro tip: Don't worry if a few bits of halloumi drop off their skewer as they're grilling! I can almost guarantee this will happen, but just grill those bits by the side then squash them back onto the skewer just before serving 😉
To make the dressing, simply whisk all the ingredients together in a small jug! It's so easy. I do this when I prepare all the other ingredients. You want to be able to drizzle over the dressing while the skewers are still piping hot.
Don't be tempted to skip the dressing! In my opinion the bit of juicy, sweetening balance it brings to the dish ties it all together.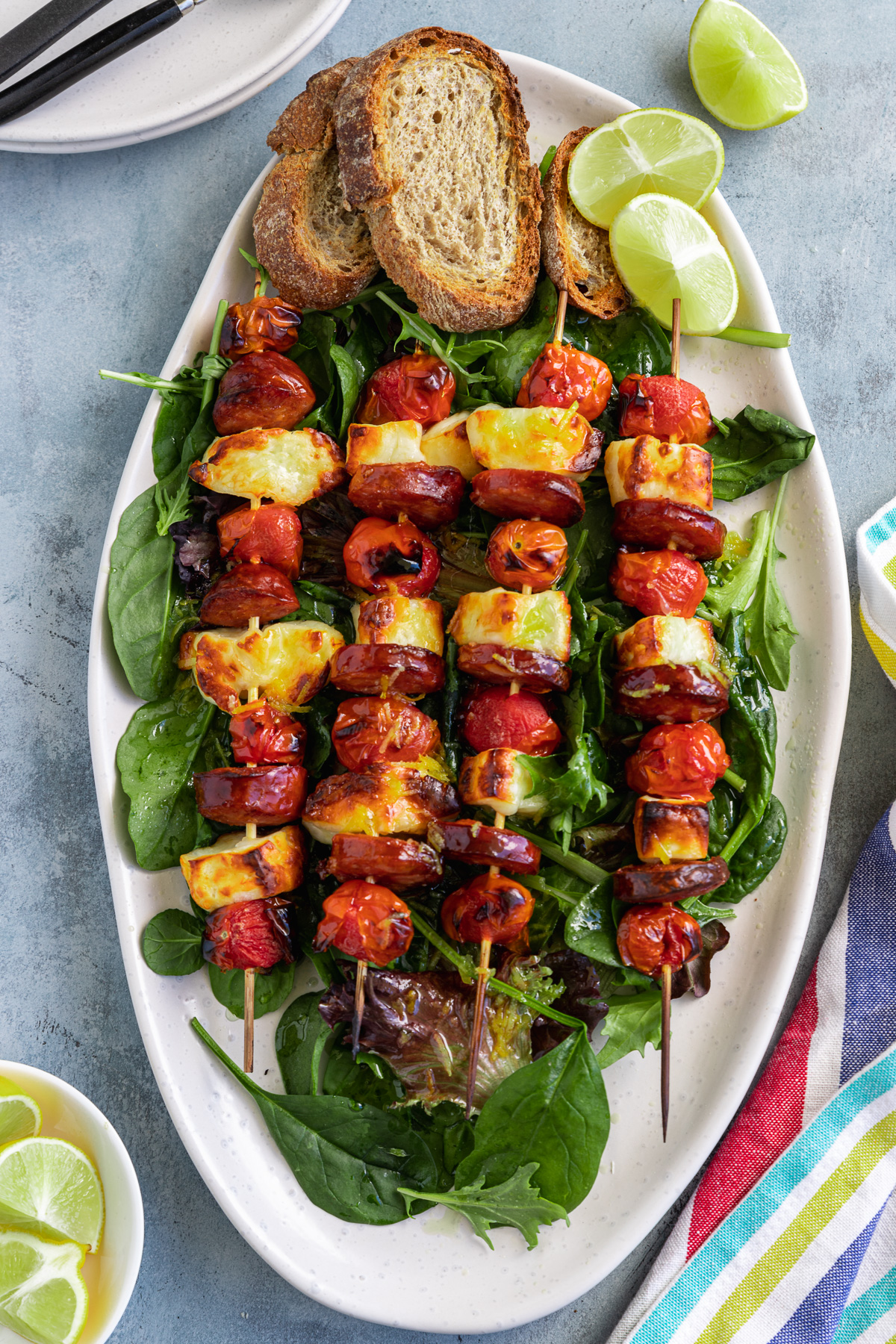 How to serve them
These halloumi kebabs make a perfect 'wild card' option for a BBQ or other kind of gathering. If you have vegetarians among you, you can even skip the chorizo and swap for another vegetable like zucchini/courgette, peppers or mushrooms.
Make halloumi, chorizo and tomato burgers! Slide everything off the skewers and sandwich in your favourite rolls with the dressing, some salad, and perhaps a spoonful of coleslaw.
Pack them for a picnic. Although they're excellent piping hot, they're also very enjoyable served cold.
How to use up any leftovers
You may or may not have some leftover cherry tomatoes, chorizo and cubes of halloumi. If you do, I've got you covered!
My top suggestion: Make halloumi bites! Dip into Greek yogurt and sweet chili sauce for some pretty impressive crispy bites.
Add some pizzazz to your weekend breakfast: Either broil/grill the halloumi cubes, chorizo slices and tomatoes for around 10 to 15 minutes until golden and crisp. Or pan-fry in a little olive oil. Serve alongside eggs and toast for a very yummy and easy breakfast!
Make a sandwich or burger: Broil/grill or pan-fry as described above, then pile into a toasted sandwich or brioche roll. Add green salad, dressing if you have any left. and a little coleslaw if you like. Yum!
Stir through couscous or pasta: Cook, then stir through warm couscous or pasta. Make more dressing and stir that through too. Enjoy!
More things to know (FAQs)
My halloumi falls apart when I thread it on the skewer/when it's cooking. What can I do about this?
It's inevitable that this will happen to a certain extent. That's OK! If it happens while cooking and turning the kebabs, just let them cook on the side, then thread them back on the skewers before serving if you can.

To stop it falling apart when threading it on the skewers, try using roughly 1-inch sized cubes (so neither too big nor too small) and pinching the cubes together from 2 sides as you thread it on.
Can I make them ahead?
I think these are best served piping hot, immediately after cooking. They still taste good at room temperature or cold, but the salad may start to wilt.

What you can do though is wash and chop everything ahead, soak the skewers in water, and also prepare the dressing. You can even thread the ingredients onto the skewers then cover them and pop them in the fridge until you're ready to cook them. Just like you would any kind of kebab!
Can I cook them in my air fryer?
Actually… yes! If they'll fit! If you have an oven-style air fryer, they'll work well. Just line a baking tray with baking paper, spray the kebabs all over with a little olive oil, then air fry for around 7 minutes at 200C/390F. Then turn and cook for another 7 minutes. Keep a close eye on them to check that nothing is burning as every air fryer is a little different.

If you have a smaller, basket-style air fryer, you'll probably have to use smaller skewers and make smaller kebabs. Which is fine! Go for it!
Can I reheat the leftovers?
You certainly can! Just cover and reheat for a minute or two until piping hot in the microwave. The halloumi will no longer be crispy, but the kebabs will still be very delicious, perhaps with some rice or grilled bread on the side.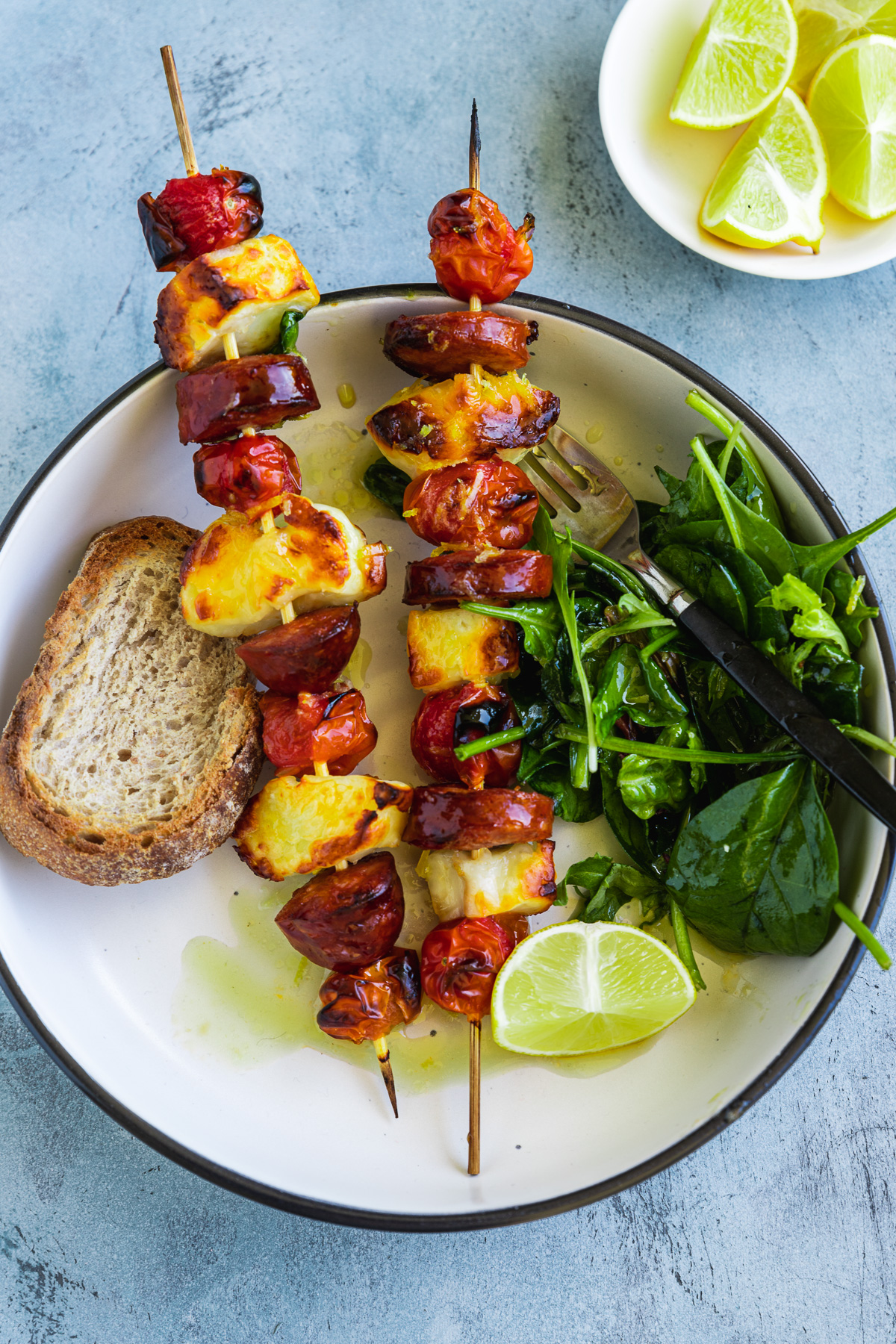 Love halloumi? Check out my expert how to cook halloumi guide. With pro tips, recipes and more.
More Mediterranean style ideas for a BBQ
IF YOU MAKE THIS RECIPE, LET ME KNOW HOW YOU GET ON BY LEAVING A COMMENT AND RATING BELOW… AND DON'T FORGET TO SIGN UP TO RECEIVE ALL MY NEW RECIPES BY EMAIL!
FOLLOW ME ON FACEBOOK, INSTAGRAM, PINTEREST AND YOUTUBE.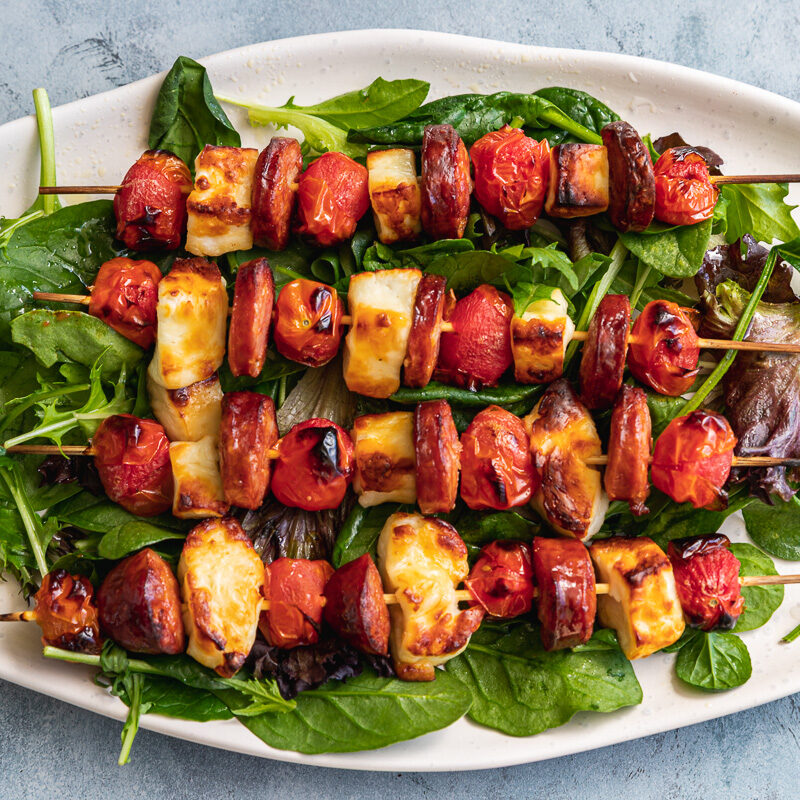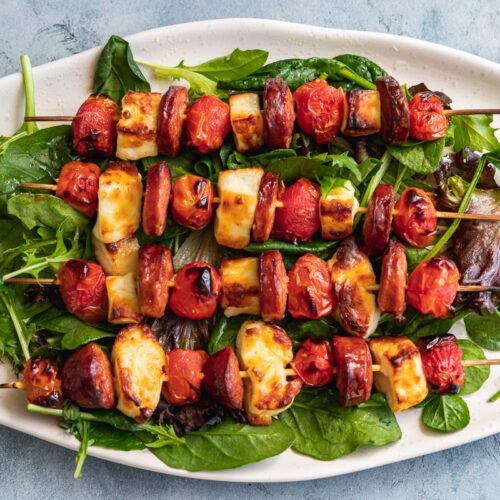 Halloumi Kebabs With Chorizo, Tomatoes And Honey Lime Dressing
Ever tried halloumi cheese? It's a salty sheep's or cow's milk cheese traditionally made in Cyprus and it's absolutely delicious when it's fried or grilled. I also think it works well like this – threaded onto skewers with tangy chorizo and juicy tomatoes… then drizzled with a simple honey-lime dressing. Enjoy at your next BBQ, picnic or party for something a little different – not to mention incredibly delicious.
Equipment (affiliate links)
Ingredients (UK/Australia? Click below for grams/ml)
For the kebabs
8

wooden skewers

soaked in water for half an hour (so they don't burn during cooking)

250

grams

chorizo sausage

Peeled (if necessary) & cut into roughly 1-inch slices. You need 24 slices for 8 kebabs, or 2 standard sized chorizo sausages.

250

grams

cherry tomatoes

I usually buy a 250-gram 'punnet'. You need around 32 tomatoes to make 8 kebabs (4 per kebab). If there aren't quite enough (cherry tomatoes come in different sizes!) just slice some of them in half.

500

grams

halloumi cheese

cut into large(ish) cubes of around 1 square inch. This is usually 2 x traditional 'logs' of halloumi. You need 24 cubes for 8 kebabs.

a little olive oil

for spraying or brushing before cooking
For the dressing
1

lime

juice & zest

1

tablespoon

honey

1

tablespoon

white wine or cider vinegar

2

tablespoons

olive oil

salt/pepper to taste
To serve/garnish
1

lime

sliced into segments

salad leaves

of your choice
Instructions
Heat up your broiler/grill (on high or to around 200C/390F).

Thread the tomatoes, chorizo slices and halloumi chunks onto the skewers alternately. I begin and end with a tomato, but you don't have to! I usually use 4 tomatoes, 3 slices of chorizo and 3 halloumi chunks per skewer.

250 grams chorizo sausage,

250 grams cherry tomatoes,

500 grams halloumi cheese,

8 wooden skewers

Whisk all the dressing ingredients together and scatter a layer of salad leaves over a large platter or plate.

1 lime,

1 tablespoon honey,

1 tablespoon white wine or cider vinegar,

2 tablespoons olive oil,

salt/pepper to taste

Lay the skewers on a grill/broiler pan. I usually line it with baking paper for easier clean-up. Spray or brush all over with olive oil.

Grill/Broil for about 10 minutes, turning regularly (and carefully!) until the tomatoes and chorizo are golden in parts and the halloumi is crisp and browned. If a few pieces fall off as you turn the kebabs, just thread them back on after cooking.

When the skewers are done, carefully lay them over the salad leaves, then drizzle the dressing all over. Garnish with extra lime segments if you like. Enjoy immediately with toasted bread with olive oil and salt, or another side dish of your choice.
Notes
How to thread the halloumi onto the skewers: 'Pinch' the cheese quite tightly as you thread it onto the skewer. It's a bit fragile at times, so this will help it to NOT fall apart as you thread it on the stick! If you lose a few pieces, don't worry. You'll have plenty to spare.
When you broil/grill the skewers: Don't worry if one or two bits of halloumi fall off. Just grill them to one side, then push them back onto the skewers when you serve them!
Making ahead: You can make the recipe up the point after you've threaded everything onto the skewers. You can also make the dressing. Cover everything and store it in the fridge until you're ready to cook.
Making the recipe vegetarian: Just swap the chorizo for a quick-cooking vegetable such as mushrooms or sliced peppers/capsicum.
What to do with the leftovers: Sometimes when I make these kebabs I have some leftover cubes of halloumi and slices of chorizo and cherry tomatoes. I love to either grill or pan-fry them the next day and serve them for breakfast with scrambled or fried eggs on toast!
Leftovers are also great served in burgers or sandwiches, stirred through pasta or couscous (with extra dressing) or on top of pizza.
Nutrition
Calories:
496
kcal
Carbohydrates:
11
g
Protein:
28
g
Fat:
38
g
Saturated Fat:
22
g
Polyunsaturated Fat:
2
g
Monounsaturated Fat:
12
g
Sodium:
1508
mg
Potassium:
176
mg
Fiber:
2
g
Sugar:
7
g
Vitamin A:
322
IU
Vitamin C:
24
mg
Calcium:
1269
mg
Iron:
1
mg