Halloumi lover or halloumi hater? That is the question today! If you don't already know where you stand on this very important issue, then have a go at these tasty halloumi kebabs with chorizo to find out.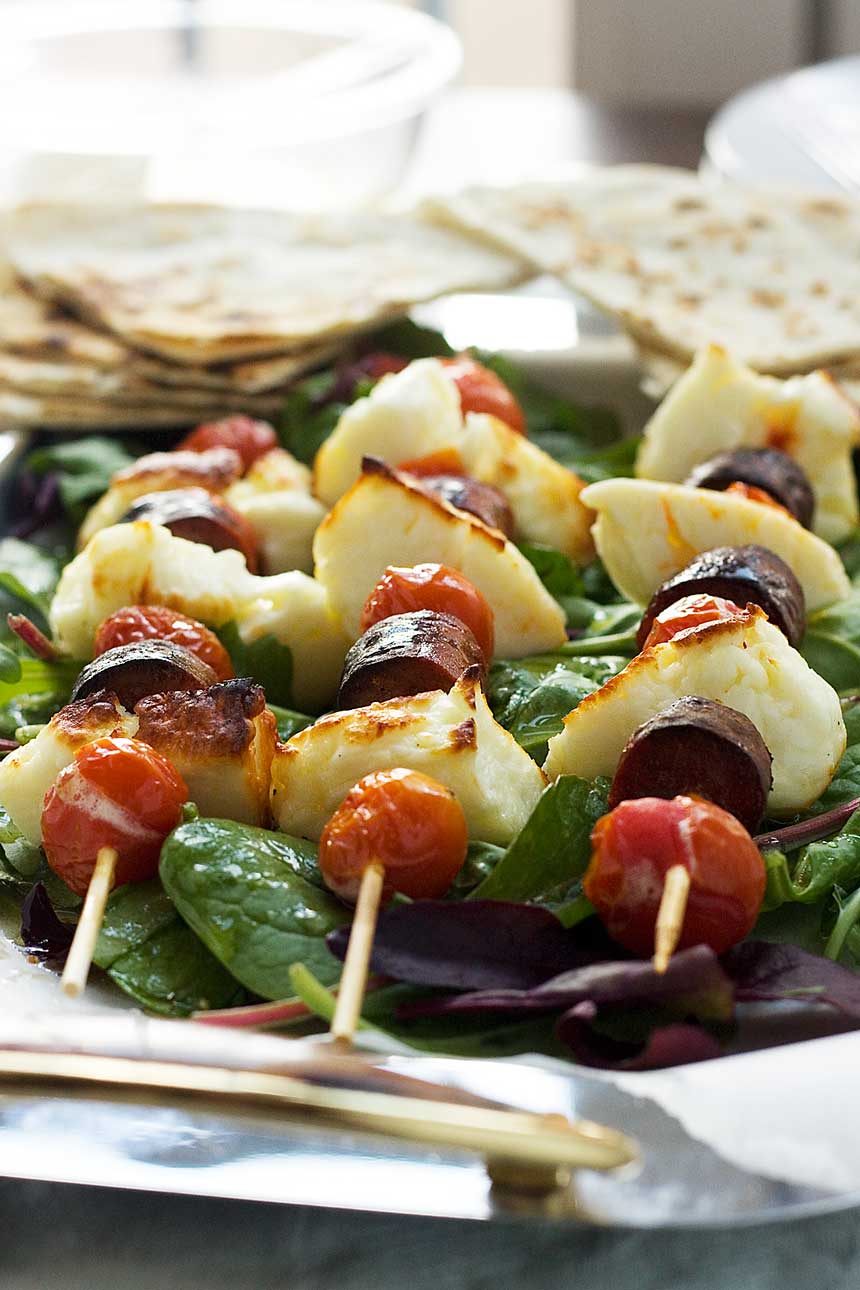 Halloumi lover or hater?
I'm going to be honest with you here. Halloumi cheese, basically a salty, slightly 'bouncy' sheep's or cow's milk cheese from Cyprus that you fry in a dry pan until hot and crisp, isn't for everyone. Mr. Scrummy, for instance, declared it as 'rubbery' when he first tried it.
As for me, well as you can probably guess I'm in the 'love halloumi cheese' camp and would highly encourage you to try it at least once before you decide if you're in the 'love halloumi' or 'hate halloumi' camp!
How to cook halloumi
The key to tasting halloumi at its best is to make sure it ends up nice and hot and crispy.
You can cook it in several ways:
Fry slices of it (you buy it in a fat 'log') in a dry frying pan. Just leave it to cook without moving it until the watery liquid that oozes out evaporates and starts to brown, then flip over and repeat on the other side. Serve on a salad, or with cooked breakfast foods like scrambled eggs, bacon and avocado.
Do what I've done for this recipe and thread cubes of it on a skewer with other yummy things and grill (UK) / broil (US).
Make halloumi fries, halloumi bites or halloumi burgers. Halloumi fries make the best easy appetizer, and halloumi bites are delicious scattered over a soup or a salad like this crispy halloumi salad with avocado, corn and tomatoes.
How to make these kebabs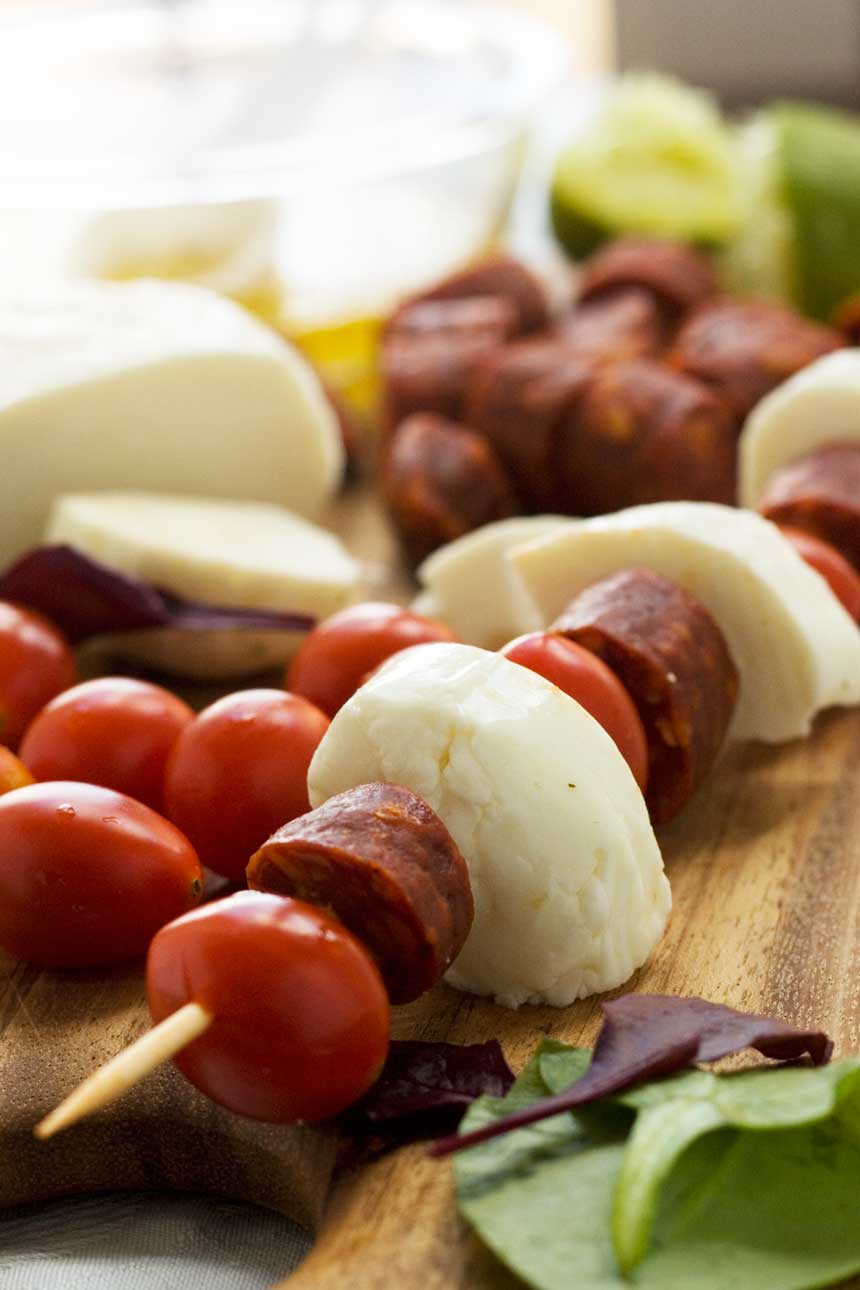 There's nothing more complicated here than threading everything onto a long skewer. Soak the skewers in some water for a while before grilling so that they don't burn.
Don't worry if a few bits of halloumi drop off their skewer as they're grilling! I can almost guarantee this will happen, but just grill those bits by the side then squash them back onto the skewer just before serving.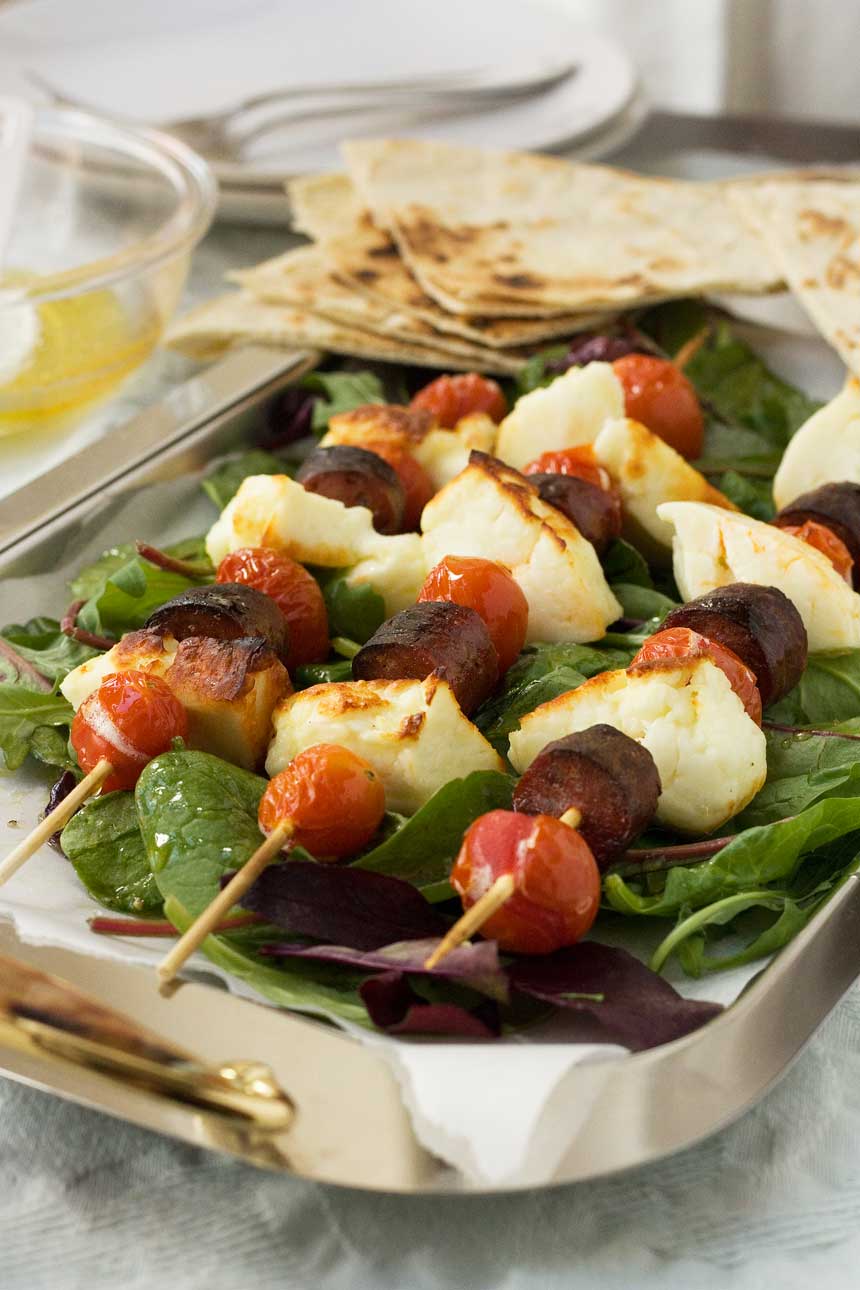 It's all in the dressing
Don't skip the honey-lime dressing!
It's nothing more complicated than oil, vinegar, lime juice & zest & honey, but in my opinion the bit of juicy, sweetening balance it brings to the dish ties it all together.
Perfect for a BBQ
These halloumi kebabs make a perfect 'wild card' option for a BBQ. If you have vegetarians among you, you can even skip the chorizo and swap for another vegetable like zucchini/courgette, peppers or mushrooms.
They also make an easy and very tasty midweek meal. Serve with crispy smashed Greek potatoes, roasted cauliflower mash, baked potatoes and coleslaw or just simple pitta bread or olive oil toasts.
More ways to use halloumi
IF YOU MAKE THIS RECIPE, LET ME KNOW HOW YOU GET ON BY LEAVING A COMMENT AND RATING BELOW… AND DON'T FORGET TO SIGN UP TO RECEIVE ALL MY NEW RECIPES BY EMAIL!
FOLLOW ME ON FACEBOOK, INSTAGRAM, PINTEREST AND YOUTUBE.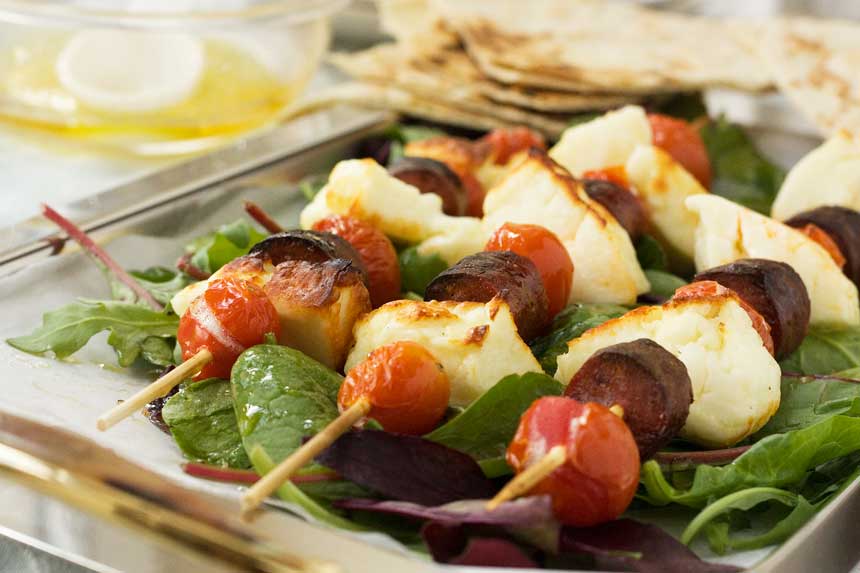 Halloumi kebabs with chorizo, tomatoes and honey lime dressing
Ever tried halloumi cheese? It's a salty sheep's or cow's milk cheese made exclusively in Cyprus and it's absolutely delicious when it's fried or grilled (well, I think so, anyway …) I also think it works well like this – threaded onto skewers with tangy chorizo and juicy tomatoes … then drizzled with a simple honey-lime dressing. Enjoy!
Ingredients (UK/Australia? Click below for grams/ml)
For the skewers & salad
4

wooden skewers

soaked in water for half an hour (so they don't burn during cooking)

1

chorizo sausage

150 to 170 grams/5.3-6 ounces, peeled (if necessary) & cut into 1-inch or so chunks

16

cherry tomatoes

8

ounces

'log' of halloumi

cut into large(ish) cubes (at least 1.5 inches square)

salad leaves of your choice
For the dressing
1

lime

juice & zest

1

tablespoon

honey

1

tablespoon

white wine or cider vinegar

2

tablespoons

olive oil

salt/pepper to taste
Instructions
Heat up your broiler/grill.

Thread the chorizo, tomatoes & halloumi chunks onto the skewers alternately (I began and ended with a tomato, but you don't have to!).

Lay the skewers on a grill/broiler pan (it's best if you lay them on a metal grill over a pan so that the juices can drip through). Grill for about 10 minutes, turning regularly (and carefully!) until the halloumi is crisp and browned.

Meanwhile, whisk all the dressing ingredients together and scatter a layer of salad leaves over a large platter or plate.

When the skewers are done, carefully lay them over the salad leaves, then drizzle the dressing all over. Enjoy immediately with some nice fresh bread (if you like!).
Notes
'Pinch' the cheese quite tightly as you thread it onto the skewer. It's a bit fragile at times, so this will help it to NOT fall apart as you thread it on the stick!
When you broil/grill the skewers, don't worry if one or two bits of halloumi fall off. Just grill them to one side, then push them back onto the skewers when you serve them!
Nutrition
Calories:
690
kcal
Carbohydrates:
19
g
Protein:
33
g
Fat:
53
g
Saturated Fat:
25
g
Cholesterol:
26
mg
Sodium:
1747
mg
Potassium:
450
mg
Fiber:
1
g
Sugar:
13
g
Vitamin A:
665
IU
Vitamin C:
40.8
mg
Calcium:
1160
mg
Iron:
1.6
mg