Everyone loves a well made quiche for brunch, lunch, dinner (or even breakfast!). With this list of 40 delicious but easy sweet and savory sides, from salads to potatoes, quick breads, soup and more, you'll never be stuck with what to serve with it!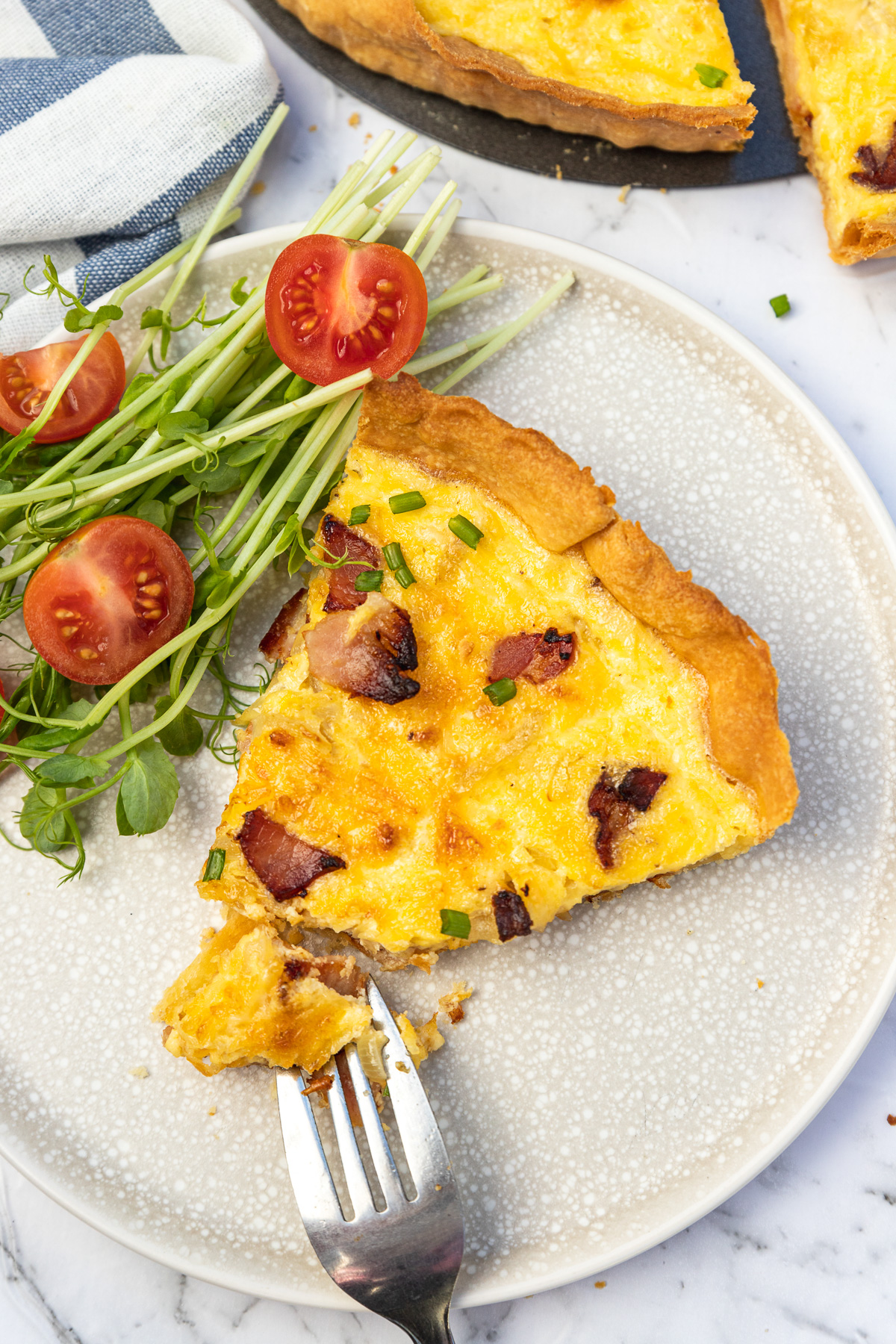 Quiche! A traditional french tart with a delicious buttery, flaky crust, a fluffy (usually cheesy) egg custard filling with a variety of meats or vegetables.
Who doesn't love a really good slice of quiche? It's a comforting, versatile, and super easy to make (or buy!) any time of the year.
But what do you serve with a quiche? They're deliciously rich, satisfying and actually quite filling, so you could say they don't need anything to go with them at all! Serve by themselves hot, warm or cold as part of a buffet with other party food if you like.
Best easy quiche recipes
You can buy great pre-made quiches, of course, or you can buy a shortcrust pastry crust and fill it yourself. Or you can go for completely homemade. It's up to you.
They also come with many fillings, of course, from ham and mushroom to spinach and feta, asparagus, broccoli and more. It's a great way to use up all those meat and veggie leftovers in your fridge!
If you need some ideas, here are some favorite easy homemade quiche recipes of mine:
I hope you'll try one of them soon!
What meal do you serve quiche for?
Easy! Serve it for a special breakfast with fresh fruit, oatmeal, yogurt and granola, cinnamon rolls or muffins. It's perfect for any kind of entertaining, or Easter or Mother's Day brunch. Or serve it for lunch or dinner (or any time of day!) with a simple salad on the side.
I prefer simple, healthy sides since quiches are generally rich, creamy and filling.
Dive into the list below to make your quiche a main dish with one or two of these perfect sides!
Salads & slaws
A fresh green salad is the perfect solution, almost like a garnish, when you just want a different colour and texture on the plate.
Add a simple balsamic vinaigrette, or ranch or caesar dressing to cut through the richness of the quiche, and let the star of the show shine!
This goes especially well with a homemade quiche lorraine with its strong smoky bacon, tasty cheese and caramelized onion flavours.
Looking for a more creative or substantial salad idea, perhaps for an evening meal in the summer? I've got you covered, so have a browse below!
Potatoes
Wondering what to serve with quiche in winter? Or any time when it's a proper filling meal you want?
Potatoes of virtually any kind will work really well with a quiche. How about your favorite potato wedges, skinny fries, sweet potato fries, smashed potatoes or even potato gratin?
My top choice to serve with quiche is a simple baked potato (known as a jacket potato in the UK!). Either bake it in a hot oven (450F/230C) for 45 to 75 minutes until soft (time depends on the size of the potato), or (my favourite!) microwave for around 10 minutes and then air fry for roughly 30 minutes until crisp on the outside and soft on the inside. I like to add butter, salt and pepper and some coleslaw on the side.
Buttery new potatoes work well, too. Just boil for around 10 minutes until tender, then melt butter over them and sprinkle over some fresh herbs such as parsley, chives or dill.
Looking for something with more of a wow factor? Have a browse below!
Pasta & rice
Pasta salads, warm pasta dishes, risottos or even fried rice are also great options to serve with your quiche, especially in the cold winter months.
Here are my best ideas.
Vegetables
Many times, all your quiche needs on the side is a simple vegetable or two to add colour and nutrition! Sauteed green beans, pan-fried asparagus, steamed broccoli drizzled with olive oil and lemon juice or buttered baby carrots would all be excellent choices, or choose something from the list below.
Soup
You might not think about serving soup with a quiche. But imagine a mouthful of crisp, buttery quiche with its delicious cheesy filling dunked into a steaming bowl of tomato soup. Are you getting the idea?
Take a look at the list below for more delicious soup ideas to pair with the quiche you have in mind.
Bread
Sometimes all you need to pair with your quiche is a simple green salad garnish and some really good fresh bread. Pick up a delicious loaf or rolls from your favorite bakery, or how about making some homemade bread? It's not as difficult as you might think!
Here are my top picks.
What to serve with quiche for breakfast
Yes, quiche can be a breakfast (or brunch!) food too. Any kind of quiche works, but my favorite breakfast quiche is hands down this easy ham and cheese crustless quiche. It makes its own crust so you don't have to!
Remember also that quiche reheats really well. Make your breakfast quiche ahead so all you have to do is reheat it in the morning for your special birthday or Mother's Day brekkie. Or perhaps you just want to treat the family to a fancy weekend breakfast!
Choose classic 'breakfast style' quiche fillings such as sausage, mushrooms and bacon. Serve alone or with a classic fruit salad or sweet berries, crunchy hash browns, any kind of homemade muffins, sauteed mushrooms, croissants or quick cinnamon rolls.
Or choose from one of the great ideas below!
Quiche side dish FAQs
How about you? Will you make a quiche soon and serve it with one of the simple recipes from this list? What do you like to serve with quiche in the summer, in the winter… and just generally? Is there a great idea I've missed? Let me know in the comments below. I'd love to hear your ideas!