They're known by a few names – cinnamon scrolls, rolls, buns, swirls, Danishes and more! Whatever you want to call them, you're going to want to learn how to make this really quick and easy version with a simple orange icing. A couple of 'secret' ingredients make them especially moist and delicious. With just 20 minutes of hands-on time, you can have warm iced scrolls on the table in around an hour. Why wouldn't you give them a go?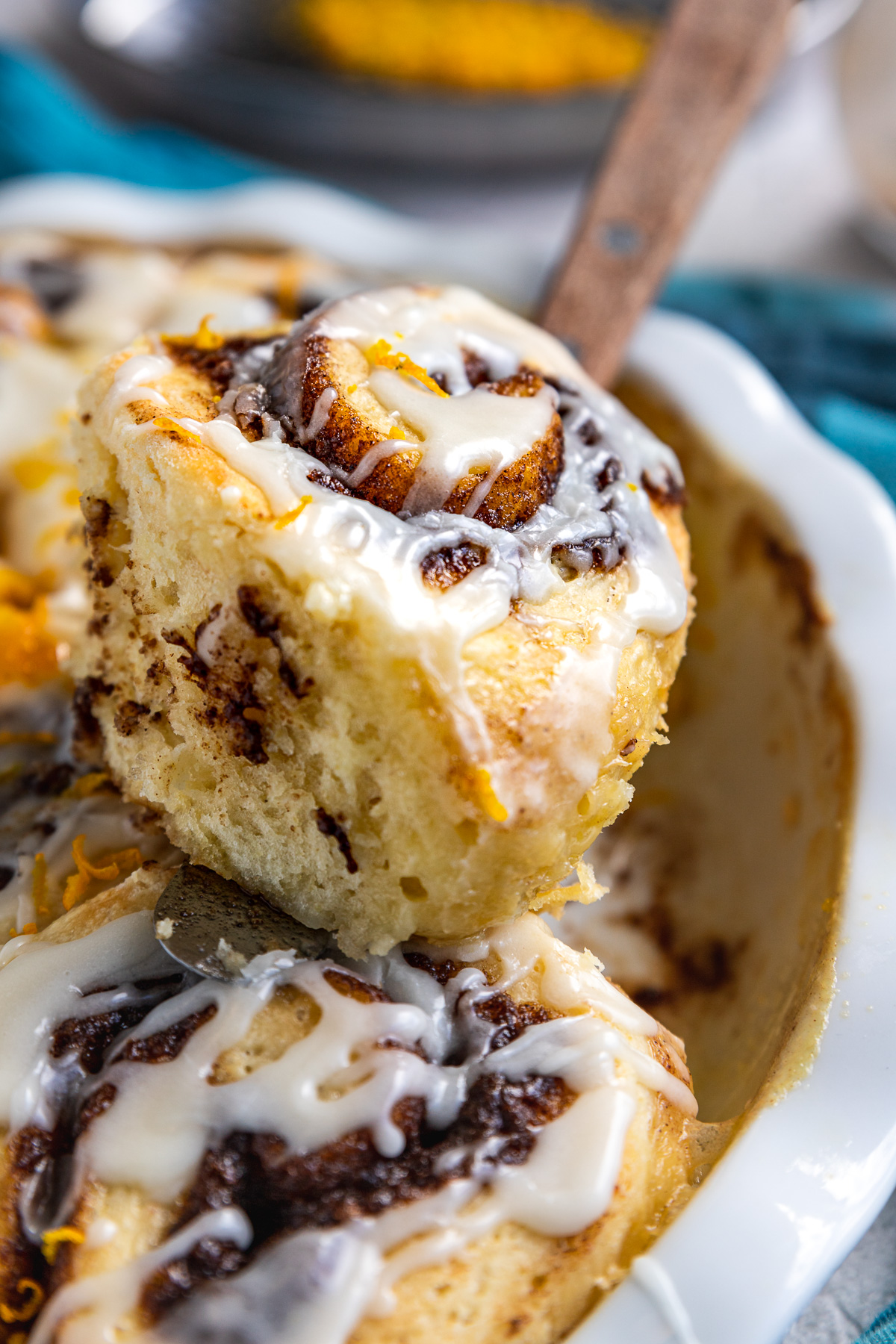 Here in Australia, where to find the best cinnamon scrolls has become a big talking point. It's a hotly contested topic, but I'm willing to bet that these quick and easy homemade cinnamon scrolls could hold their own in the contest!
Why make your own? Cinnamon scrolls are sooo perfect when you have guests popping over for a morning or afternoon tea. Warm out of the oven, they'll make your home smell just incredible and brighten up everyone's day as they take that first delicious bite.
Why these are the best cinnamon scrolls
They're quick and easy. Honestly. I always assumed cinnamon scrolls or rolls would be tricky and time consuming to make. Not if you make them this way. Realistically, you need around 20 minutes hands-on time, 20 minutes for fast rising, and another 15 to 20 minutes in the oven.
They're moist and gooey. Sometimes quick and easy cinnamon roll recipes yield more classic bread-like results. Still delicious, but I've figured out a way to get that ooey, gooey (but not stodgy) effect, a bit like Cinnabon if you've ever tried them. Read on for the secret ingredients!
You can make them ahead. Get them to the ready-for-the-oven stage, then bake when you're ready. You can even pop them in the fridge overnight to rise slowly. In the morning, heat up the oven and away you go!
You can make them your own. Add chopped apples or dried fruit. Replace the simple icing with a cream cheese version. See a big list of ideas below!
About the ingredients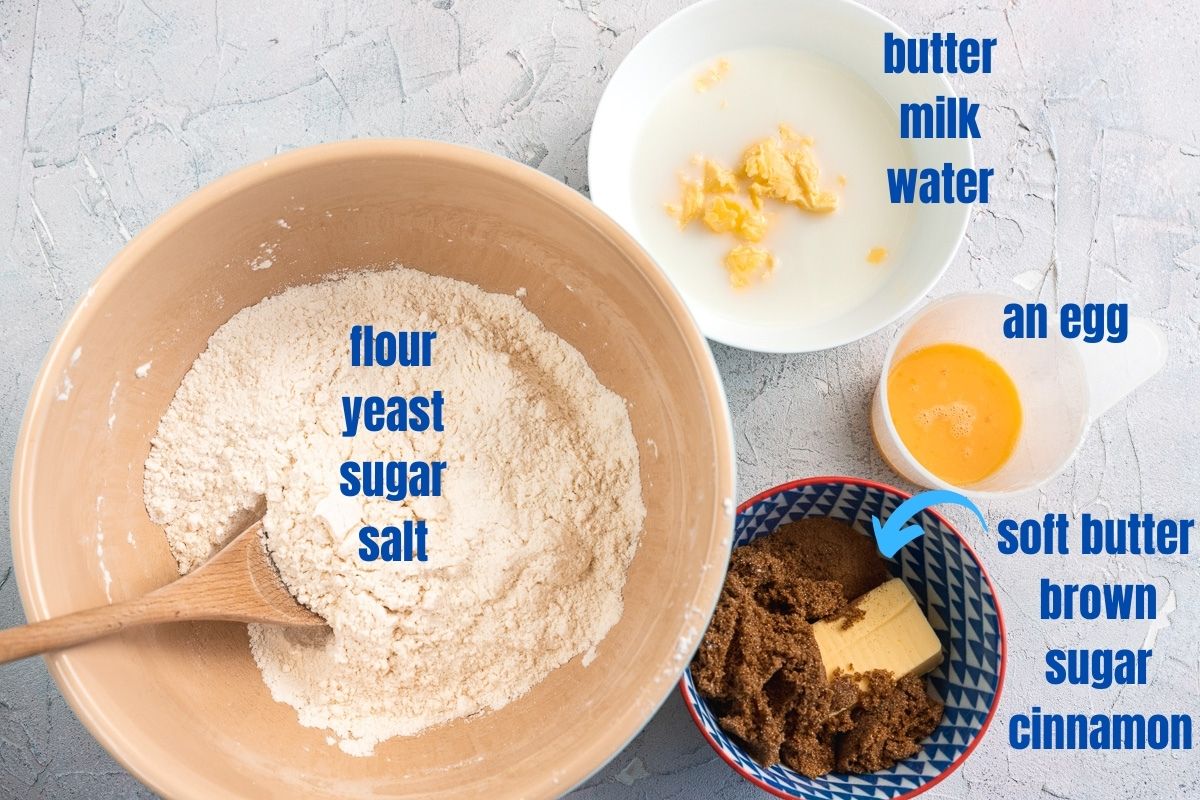 For the dough
Flour: You need around 3 Australian cups of plain flour to make your scrolls. If you're using American cups, that's OK too. The recipe will still work as long as you use the same cup to measure the other ingredients too.
White sugar: Add around 3 tablespoons to 'feed' the yeast and sweeten the dough a little. Don't worry, there's plenty more sweetness in the rolls in the filling and icing on the top!
Salt: For the dough, of course.
Yeast: You need a whole packet of instant yeast to make around 10 rolls. So all you have to do is pour it in. There are usually just over 2 teaspoons in each packet, or 7 grams/a quarter ounce.
Liquid: Melted butter, water, milk and… Greek yogurt! Yep, that's one of my secret ingredients for extra moist scrolls.
A large egg: Add this and mix with your hands to bring the dough together. It sounds messy but it's actually not too bad!
For the filling
Soft butter: Salted or unsalted – I don't think it matters. Unless my butter is very soft, I usually pop it into the microwave for a few seconds (literally a few seconds!) to soften it to the point that you can mix it in with the sugar and cinnamon by hand.
Brown sugar: I usually use dark brown sugar, but light brown works too.
Ground cinnamon: You need around 2 tablespoons.
For the icing
Icing/Powdered sugar: You'll need a whole cup.
Around 3 tablespoons liquid: You can use water, milk, orange juice or another kind of juice to make a very quick and simple icing. My favourite is orange juice for a hint of flavour.
I've gone for simple cinnamon scrolls without cream cheese icing to match the super easy recipe. But in case you'd like to try it, I've included an easy cream cheese icing recipe in the recipe notes.
How to make them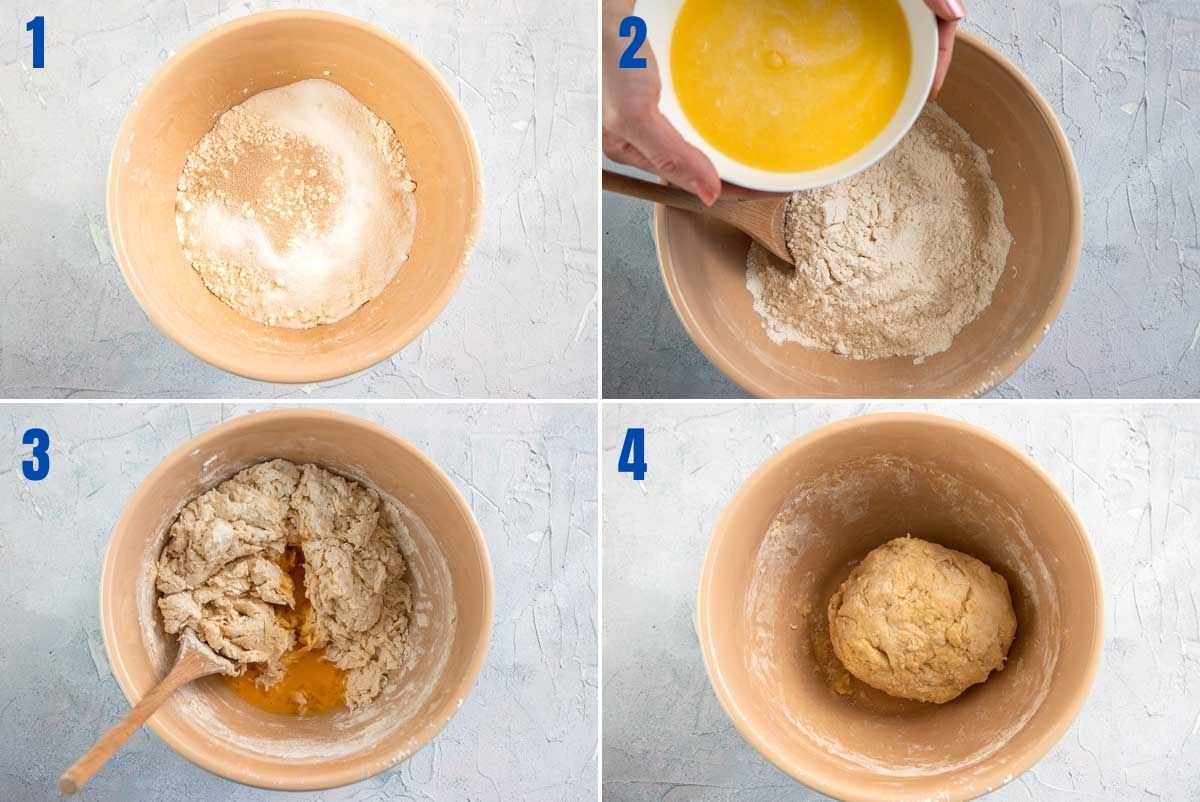 In 4 simple steps, here's how you make the dough:
Step 1: Throw all the dry ingredients into a big bowl – so flour, sugar, salt, yeast.
Step 2: Heat the water, butter and milk in the microwave until the butter is melted or nearly melted. Try 40-45 seconds. Then stir in the yogurt. You'll find the yogurt will melt into the rest of the liquid easily.
Step 3: Stir the mixture with a wooden spoon until most of it has formed big clumps. Then add the egg and knead with your hands until you have a smooth ball of dough. A minute or two is all you need.
Step 4: Let the ball of dough rest for 5 minutes or so while you make the filling. I usually throw a clean tea towel over the top of the bowl. The dough should be on the stickier side. If it's too sticky to handle, add another sprinkle of flour. On the other hand, if it seems really dry, knead in a tablespoon of water.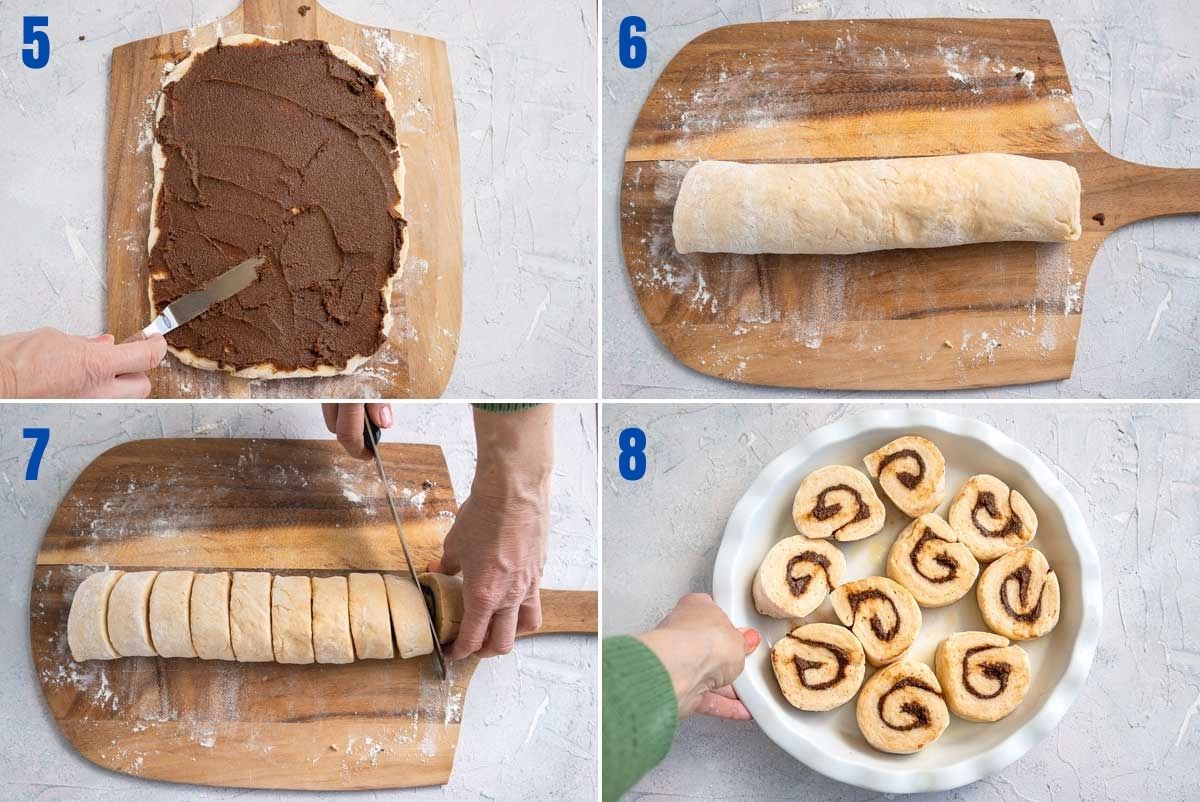 In 4 more easy steps, here's how you roll out the dough and prepare the rolls for baking:
Step 5: Roll the dough out into a rectangle that's roughly 8 x 11 inches in size (you don't have to be really exact). Mix together the soft butter, brown sugar and cinnamon until you have a smooth spreadable paste. Some people keep the ingredients separate and sprinkle the sugar and cinnamon over the butter, but I think this way is neater and gets a better result.
Then spread it evenly all over the rectangle of dough.

Step 6: Roll up the dough to make a 'log'. Roll it up along the long edge, of course, not the short. I admit that the first time I made these, I wasn't sure! When you've rolled it, press the seam lightly to seal it and turn the log so that the seam is facing down.
Step 7: Cut the dough into 9 to 12 equal(ish!) rolls. I usually go for 10. Each roll is around an inch or 2 to 3 cm in width. I find that a sharp bread knife is the best way to slice the dough into rolls. I kind of carve it lightly like I would a loaf of bread. There are fancier ways to cut the dough but we're looking for quick and easy here! 😉
Step 8: Lightly grease your baking dish with butter or spray with oil. Then arrange the rolls into the dish. I usually place 7 or 8 around the edge and the rest in the middle. It doesn't matter if some of the rolls are touching. Just space them out as best you can. If you like, at this point you can wrap the whole dish really tightly in several layers of wrap and freeze them for another day. See more details in the FAQ section below if you're interested in doing this.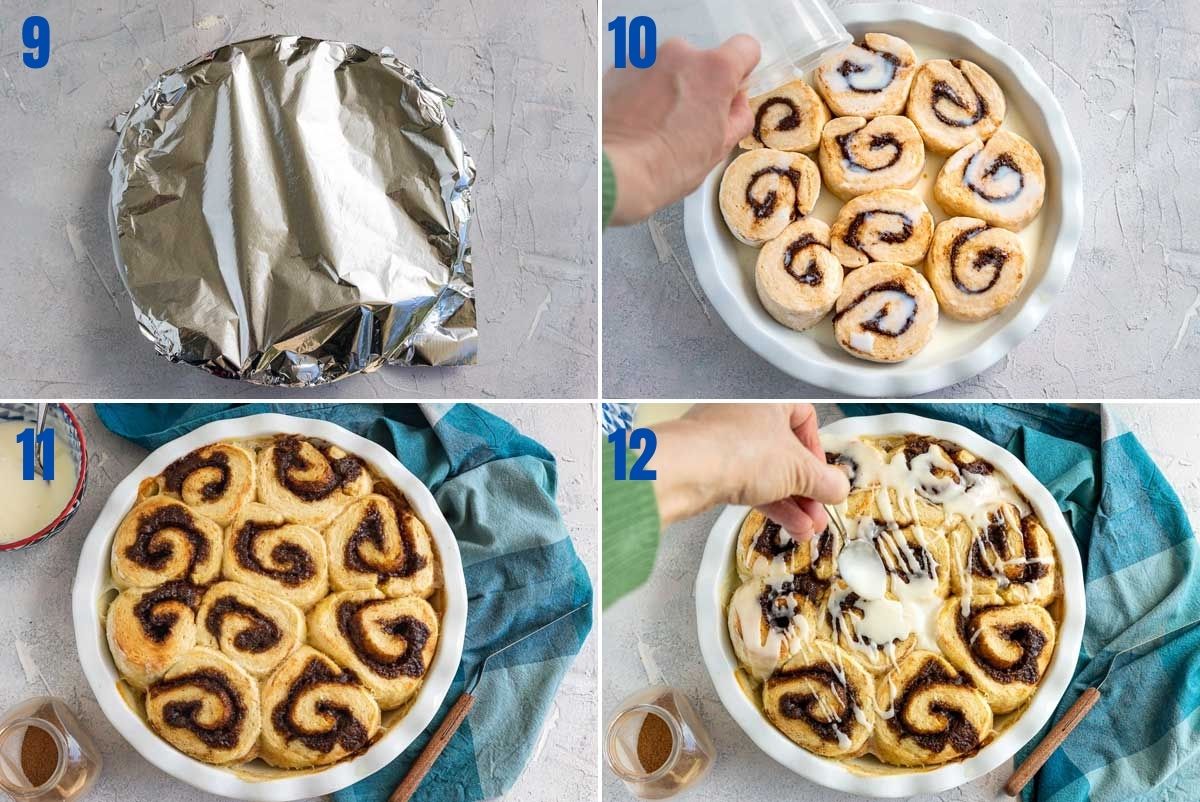 Here are the final 4 steps to achieving incredible quick and easy cinnamon scrolls! Mmmm!
Step 9: Heat the oven to its lowest setting. With my oven it's 50C/120F, but if you can go as low as 30C/90F. Then turn the oven OFF. This is very important! Cover the dish of rolls loosely with aluminium foil and place them inside the oven and close the door. Leave them there for around 20 minutes. They'll begin to rise/expand. Not too much, but you'll see a change.
Step 10: Now here's my second 'secret ingredient'! Open the oven, take off the foil and quickly pour another 1/4 cup of milk all over the scrolls. Put the scrolls back in the oven (uncovered now) and turn up the oven to 190C/375F. Bake for 15 to 20 minutes (from that moment – don't forget the oven will take a few minutes to reach temperature) or until the rolls are light to mid golden brown.
Step 11: Take the yummy scrolls out of the oven! Try really hard not to overbake. You'll see in the photos above that my scrolls are usually a light to mid golden colour when they're done.
Step 12: I like to let my scrolls cool slightly for a few minutes while I make the icing. This way when I pour the icing over it runs all over the warm rolls, but it doesn't completely soak in. You can still see it, which I think looks nice. The final thing I usually do is sprinkle over a bit of orange zest and/or some walnuts, but this is optional.
How to make the icing
It's so easy! I usually make the icing just after the rolls have come out of the oven.
You only need 2 ingredients – a cup of icing sugar/powdered sugar and a few tablespoons of either juice, milk or water. I really like to use orange juice but it's up to you!

All you have to do is stir the liquid into the icing sugar until it's drizzle(able). I tend to make it on the thicker side then spoon it all over the rolls. But it's very easy to add a bit more liquid if it's too thick or a bit more icing sugar if it's too thin.
How to serve them
I'm not sure I need to tell you how to eat a warm, deliciously sticky iced cinnamon scroll just out of the oven. Grab a fork and dig in!
Honestly, there is no 'wrong' way to eat a cinnamon scroll. You can serve them hot, cold or somewhere in between. My preference is warm. I'm lucky because all it takes to turn cold scrolls into warm ones again is to heat them up for around 20 seconds in the microwave.
When do you eat them? Any time you like! Traditionally they're eaten at breakfast time, or for morning or afternoon tea with a good cup of coffee or tea. But freshly baked scrolls could make a great dessert too, don't you think? Serve a little fresh fruit on the side, or just as they are.
Ways to make them your own
Ginger: Add 2 teaspoons of ground ginger to the cinnamon butter filling. If you like sprinkle a little candied ginger over the top of the icing too.
Nutella: Spread around 2/3 of a cup of Nutella and 2 tablespoons of cinnamon over the dough before rolling instead of the cinnamon sugar butter mixture.
Chocolate: Sprinkle chocolate chips over the cinnamon/sugar/butter before rolling up. Drizzle more chocolate over the top of the rolls instead of icing. Milk, dark, white or caramel chocolate will all work.
Fruit jam/jelly: Dab some fruit jam or jelly over the cinnamon sugar before rolling up the dough.
Fruit: Sprinkle chopped apple, blueberries, raspberries, peaches, plums, pears… (the list could go on!) over the filling before rolling for delicious fruit cinnamon scrolls. Dried fruit works well too, like raisins or chopped apricots. How about dried cranberries, orange zest and chopped almonds for Christmas?
Lemon: Add lemon zest to the dough and use lemon juice instead of water or orange juice to make the icing for the top. The 'icing' on the 'cake'? Sprinkle over some chopped strawberries for delicious strawberry lemon cinnamon scrolls.
Nuts: Here's an obvious but delicious idea. Sprinkle any kind of nut you happen to like or have over both the filling and the top of the rolls for a bit of crunch.
Sprinkles: Make your rolls celebration-worthy by adding any kind of sprinkles or candy to the top. Multi-coloured and candles for a birthday, gold or silver for Christmas, mini chocolate eggs for Easter, pink or blue for a baby shower… you get the idea!
Coconut and lime: I love this version! Simply grate the zest of 1 or 2 limes into the dough. Sprinkle toasted coconut over the filling before rolling up, and on the top of the icing. Use lime juice combined with icing sugar to make a tangy lime icing. Delicious!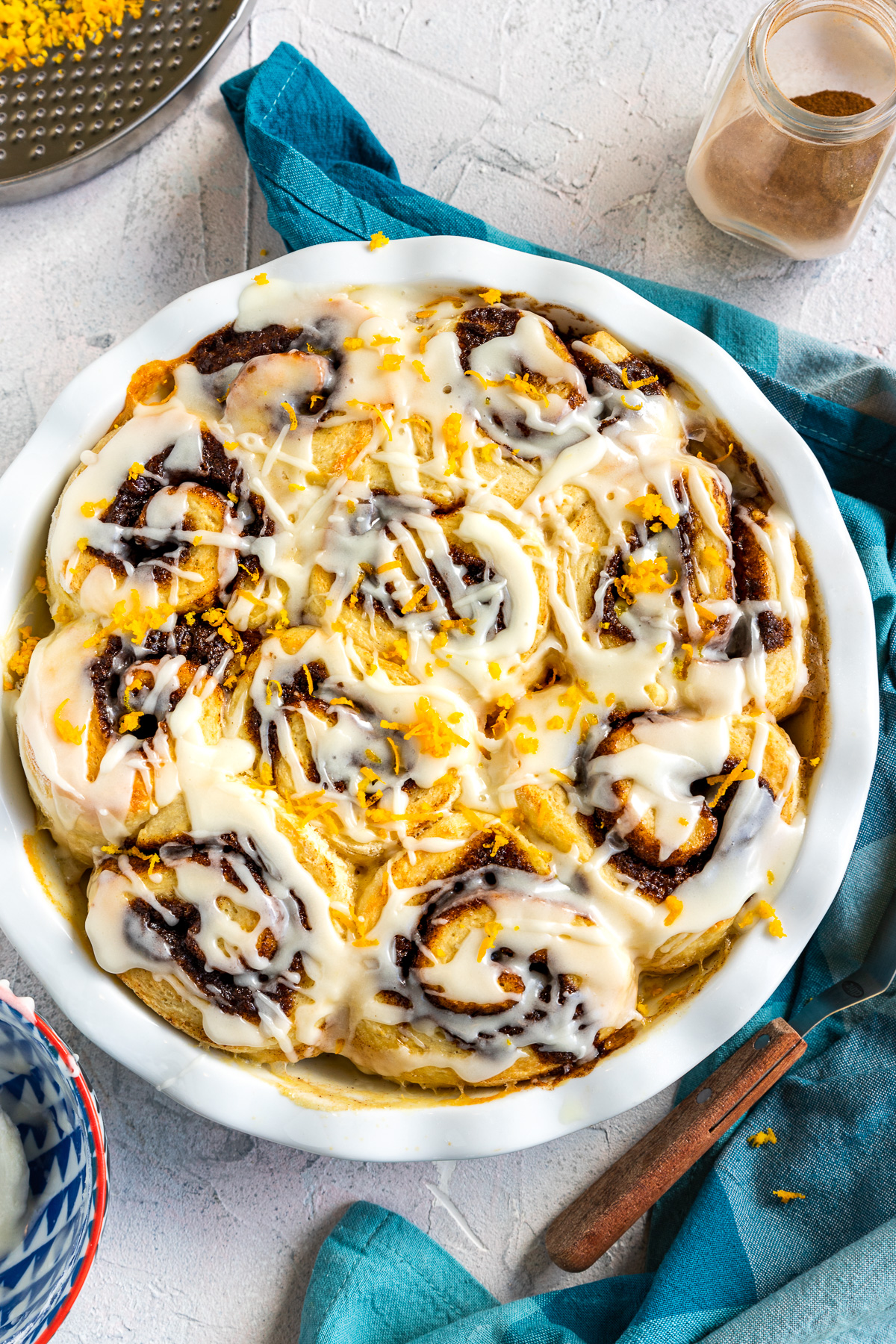 Common problems and FAQs
When I first started experimenting with making these cinnamon scrolls, I found I had lots of unanswered questions. Hopefully this section will help you out!
Can I prepare the rolls the night before?
Yes! This recipe works great if you want to make 'overnight cinnamon scrolls'. This is perfect if you have people coming over for breakfast or morning tea. Just prepare the recipe to the point of arranging the uncooked rolls in the baking dish. Wrap the whole dish in cling wrap/plastic wrap and store in the fridge overnight. They'll rise slowly while you sleep. When you're ready to bake them, just remove the plastic, pop into the hot oven, and get the icing ready while they're baking.
My dough is too sticky. What shall I do?
No worries! The dough should be on the stickier side, but if it's too sticky to handle, just add a sprinkle more flour. Not too much though – the dough should be soft and moist, not crumbly and dry.

On the other hand, if your dough seems dry and crumbly, knead in a tablespoon or two extra water or milk until it's a bit sticky again.
I forgot to take the butter out of the fridge. I can't mix it into the sugar and cinnamon.
I do this all the time. Whoops. Just microwave the butter for 5 to 10 seconds at a time until soft but not melted. If then you melt it too much and the butter/sugar/cinnamon filling is too runny to spread, don't despair! Just pop the dish into the freezer for 5 to 10 minutes until it's spreadable again.
How big should my rectangle of dough be?
I usually roll out my dough to an 8 x 11 inch rectangle – roughly! Honestly, it doesn't have to be these exact measurements. It also doesn't have to be a perfect rectangle. I find as the dough is so soft it's easy to roughly shape it as you roll it out. If it makes you feel more comfortable go ahead and grab a ruler so you can measure as you roll!
What size baking dish should I use?
As you can see, I usually use a round baking dish. It's 10 inches/25 cm in diameter. But please don't go out and buy a new baking dish especially to make these – there's definitely some flexibility. A 9 by 12 inch rectangular baking dish, deep cake pan or similar would work just as well.
How much space should I leave between each scroll in the baking dish?
I wondered this too when I first started experimenting with this recipe. The answer is to just space them out fairly evenly, leaving as much space between each roll as is possible. If using a round dish, see my photo above of the dish of uncooked rolls. I have 8 of the rolls around the edge, and 2 in the middle. They're touching, but that's OK. They'll expand while baking to fill up all the space in the dish anyway, which is fine.
Why do you pour milk over the scrolls before baking? Can I skip that part?
I add this step because I think it helps to keep the scrolls super moist while they're baking. The dough soaks up most of the extra moisture but the rolls have no chance to dry out. This isn't my original idea by any means! Many cinnamon scroll/roll recipes include a similar step. I've even seen recipes with cream poured over, but I think milk works well too and most people have extra milk on hand but they don't necessarily have cream.

By all means you can skip this step if you like. The scrolls will still be delicious!
How do I know when the rolls are done?
The rolls are ready to come out of the oven when they're well risen and a light to medium golden colour on top. They usually need between 15 to 20 minutes in the oven – certainly not longer. If in doubt, take them out a few minutes early rather than risking them overbaking. Moist, squidgy, gooey is what you're aiming for!
Can I top my scrolls with cream cheese icing instead of the simple icing?
Of course! I usually make a 2-ingredient icing to keep the recipe super simple, but if you have time (and cream cheese!) by all means make a cream cheese icing instead. This would work particularly well if you'd like to serve cinnamon scrolls for a dessert. Here's a simple recipe:

Beat 100 grams cream cheese, 40 grams butter, 1 cup icing sugar, 1 teaspoon vanilla (optional) together until smooth. Smear all over the top of the warm scrolls and enjoy!
How long do they keep?
I find that cinnamon scrolls keep really well either in an airtight container or just wrapped well for about 3 days. Pop them into the microwave for 20 seconds to heat up when you want to eat them and they'll be almost as good as new.

If you keep them in the fridge (wrapped well) they'll last even longer – up to a week. I'd still reheat them before eating though for that just-baked effect. If you want to keep them longer, just freeze them (see below!).
Can cinnamon scrolls be frozen raw and baked later?
Yes, they're ideal for freezing! Just make the rolls to the point after you've arranged them in the baking dish/pan. If you like you can even use disposable foil trays. Then wrap really well (use several layers) in clingwrap/plastic wrap and aluminium foil before freezing for up to 6 weeks.

Ideally, get them out of the freezer the night before you want to bake them. Pop them in the fridge (still wrapped) overnight. They'll thaw and begin to rise a little. In the morning, preheat the oven, pour over 1/4 cup of milk and bake as usual.

You can freeze them baked too, of course, if you have some leftovers. Just let defrost on the counter. Then reheat for 20 to 30 seconds in the microwave to get that (almost) just-out-of-the-oven taste and texture again.
These would make a great homemade gift, don't you think? Make them in a disposable foil tray and away you go. Love giving food gifts? Check out these amazing dried orange slices as well!
More easy (last minute!) breakfast/brunch options
When you're in the mood for something special for breakfast, or you have guests coming over, here are some more great tried-and-tested options:
Or take a look at all breakfast recipes.
IF YOU MAKE THIS RECIPE, LET ME KNOW HOW YOU GET ON BY LEAVING A COMMENT AND RATING BELOW… AND DON'T FORGET TO SIGN UP TO RECEIVE ALL MY NEW RECIPES BY EMAIL!
FOLLOW ME ON FACEBOOK, INSTAGRAM, PINTEREST AND YOUTUBE.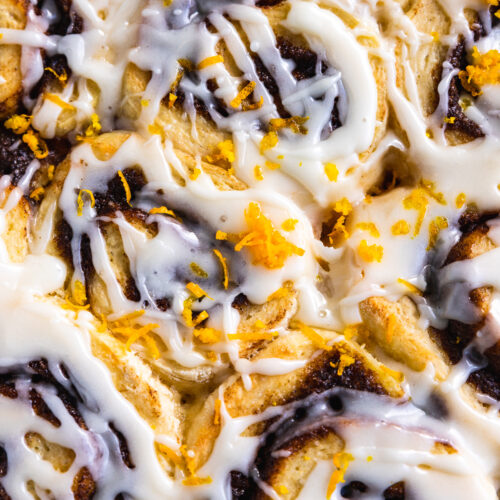 Cinnamon Scrolls (1 hour)
If you thought cinnamon scrolls were too fiddly to make at home, this easy 1-hour recipe with a delicious 2-ingredient orange icing is going to change your life! 2 'secret' ingredients help to keep these scrolls moist and gooey. With just 20 minutes hands-on time, the oven will do the rest of the work. These are ready and on the table in around an hour, so they're perfect for a last-minute morning or afternoon tea, or even a crowd pleasing dessert that you can prepare ahead. There are endless ways to make them your own, and you can even freeze them to bake later. Give them a try and you'll make them again and again.
Ingredients (UK/Australia? Click below for grams/ml)
For the dough
3

cups

plain flour

Plus a little extra. This is based on an Australian/UK cup. If using a US cup (0.95 of an Australian cup), that's OK. Use the same cup for all the ingredients and the proportions will work out the same 🙂

1

packet

instant yeast

(Can be fast acting or just ordinary instant yeast.)

1

teaspoon

salt

3

tablespoons

sugar

¼

cup

water

½

cup

milk

Any type. Even non-dairy milk such as almond milk will work.

2

tablespoons

butter

(around 30 grams)

¼

cup

Greek yogurt

Substitute with ordinary natural yogurt if you like.

1

large

egg

lightly whisked
For the cinnamon filling and for baking
4

tablespoons

butter

About 50 grams/1.75 ounces or ½ a cup (soft). If the butter isn't soft enough to mash, warm in the microwave for a few seconds at a time until it is.

¼

cup

brown sugar

About 50 grams/1.75 ounces. I prefer dark brown sugar, but light brown is fine too.

2

tablespoons

ground cinnamon

¼

cup

milk

for pouring over the rolls before baking
For the icing/topping
1

cup

icing sugar

(US = powdered sugar)

1

orange

zest and juice (zest for decorating the top, juice for adding to the icing sugar – you'll need around 3 tablespoons). Alternative: use milk or even water.
Instructions
Making the dough (10 mins)
Mix together the flour, yeast, salt and sugar in a large mixing bowl.

3 cups plain flour,

1 packet instant yeast,

1 teaspoon salt,

3 tablespoons sugar

In another smaller bowl or jug, heat the water, ½ cup of the milk and the butter together in the microwave for 45 seconds until the butter is melted or nearly melted.

¼ cup water,

2 tablespoons butter,

½ cup milk

Stir in the yogurt until it dissolves. Then pour the liquid into the dry ingredients in the mixing bowl. Stir with a wooden spoon until it's all mixed in.

Pour in the egg. With your hands, knead it in until you have a smooth, soft and moist ball of dough (a few minutes). It should be slightly sticky but not too sticky to handle. Add a sprinkle more flour or a drizzle more water if too sticky or dry at this point.

Cover the ball of dough in the mixing bowl with a clean tea towel and leave to rest while you make the filling.
Filling and rolling the dough (10 mins)
Preheat the oven to its lowest setting while you make the filling (30C/90F if it will go that low. My lowest setting is 50C/120F.) Then turn the oven OFF.

Mash the soft butter, cinnamon and sugar together until you have a spreadable paste.

4 tablespoons butter,

2 tablespoons ground cinnamon,

¼ cup brown sugar

Roll out the dough to a roughly 8 x 11 inch rectangle on a lightly floured surface. Use a little more flour to stop the rolling pin sticking if necessary.

Spread the filling evenly all over the dough rectangle.

Turn the dough so that the longest side is facing you. Roll up the dough tightly to make a long log.

Using a sharp bread knife or other large serrated knife, lightly carve the dough log into 9 to 12 pieces of around 1 inch/2.5cm in width (I aim for 10 scrolls).

Place the scrolls in a greased (with butter or oil) 9×12 inch baking dish or round equivalent (around 10 inches in diameter). Space them evenly. It's OK if some are touching.
Resting and baking the scrolls (40 mins)
Cover the baking dish with aluminium foil, then place into the warm oven (still turned off). Leave for 20 minutes to rest/rise.

Remove the foil and pour ¼ cup milk all over the unbaked scrolls. Leave the scrolls inside the oven while you preheat it to 190C/375F. Bake for 15 to 20 minutes, or until the scrolls are a light to medium golden colour. Don't overbake.
Icing/Decorating
Let the scrolls cool for a few minutes. Meanwhile, make the icing in a small bowl. Add about 3 tablespoons of orange juice to the icing sugar until you have a thick but spoonable/drizzle(able) icing.

Spoon/Drizzle the icing all over the scrolls. Scatter the orange zest over the top.

Serve while still warm with forks and a good cup of coffee on the side!
Notes
What kind of yeast to use: You can use either fast-acting yeast or plain instant yeast. Usually 1 little sachet is the right amount – 2.25 teaspoons, which makes it really easy. Just tear open the whole packet and throw it in!
Temperature of the butter and milk mixture: When you heat the water, milk and butter together to mix into the dry ingredients for the dough, heat for around 40 seconds in the microwave or until the butter is nearly melted. Dip your finger in. It should be tepid to warm, not hot. If it feels hot, let it cool again for a few minutes. Too hot and it might kill off the yeast!
What the dough should feel like: On the sticky side, but not too sticky to handle. If it's too sticky, add a tiny bit more flour. If it seems quite dry, add a drizzle of water and knead it in. Cinnamon scroll dough should be soft and moist.
Letting the dough rise: This is a quick cinnamon scroll recipe, so I use the 'rising-in-a-warm-oven' method! The oven should be warm, not hot, to promote fast rising without killing off the yeast. Heat your oven to its lowest setting, then turn it off before putting the baking dish of scrolls in to rise for 20 minutes.
Tips for making the filling: I find it easier to mash the 3 ingredients together before spreading the filling all over the rolled out dough. You need soft butter to do this. Ideally leave it out at room temperature for a couple of hours to soften. If you forget to do this (like I usually do!) then heat it in the microwave for around 10 seconds until softened. Some bits might have started to melt, which is fine. If you overdo it and the butter melts too much, just mix with the other 2 ingredients then pop the bowl in the freezer to harden again. All is not lost!
How to slice the log of dough into scrolls: I find a sharp serrated bread knife works best. Carve lightly as if you are slicing a loaf of bread. I usually slice the scrolls around an inch thick, but you don't have to be exact.
If you'd like to top the scrolls with a cream cheese icing instead: Beat 100 grams cream cheese, 40 grams butter, 1 cup icing sugar, 1 teaspoon vanilla (optional) together until smooth.
How to make the scrolls ahead: Follow the recipe to the point where you have the scrolls arranged in the baking dish. Then wrap tightly with cling wrap and aluminium foil. Pop into the fridge overnight. They'll rise slowly while you sleep, perfect for baking in the morning. Alternatively, freeze the tightly wrapped dish of scrolls for another day. Let them defrost and rise on the counter overnight, then bake in the morning when you're ready.
Nutrition
Calories:
312
kcal
Carbohydrates:
54
g
Protein:
6
g
Fat:
8
g
Saturated Fat:
5
g
Polyunsaturated Fat:
1
g
Monounsaturated Fat:
2
g
Trans Fat:
1
g
Cholesterol:
39
mg
Sodium:
313
mg
Potassium:
125
mg
Fiber:
2
g
Sugar:
23
g
Vitamin A:
301
IU
Vitamin C:
7
mg
Calcium:
63
mg
Iron:
2
mg