Make this pumpkin and pear loaf cake once and you'll make it again and again. Soft and moist on the inside and lightly crisp on the top, it's quite addictive. It's also very easy to make and happens to be super healthy!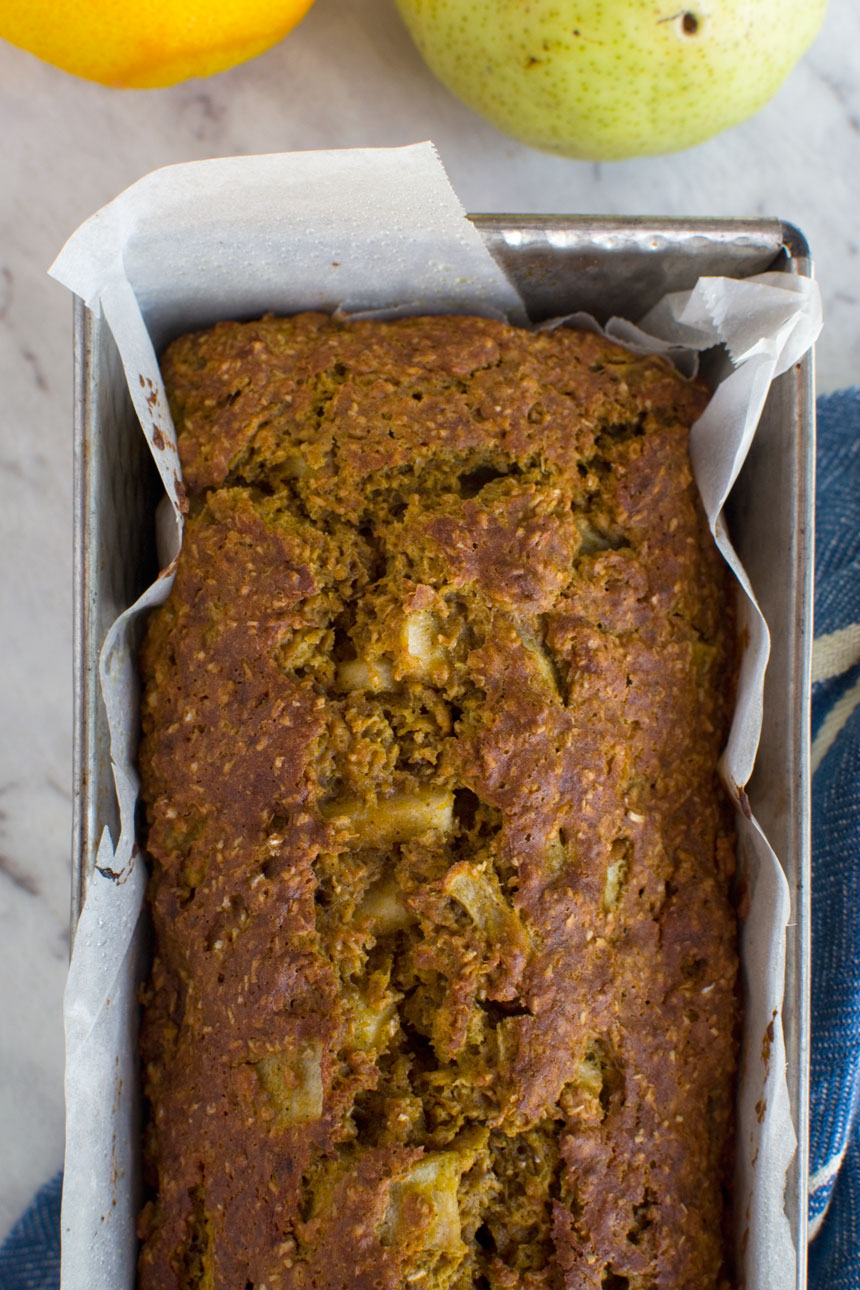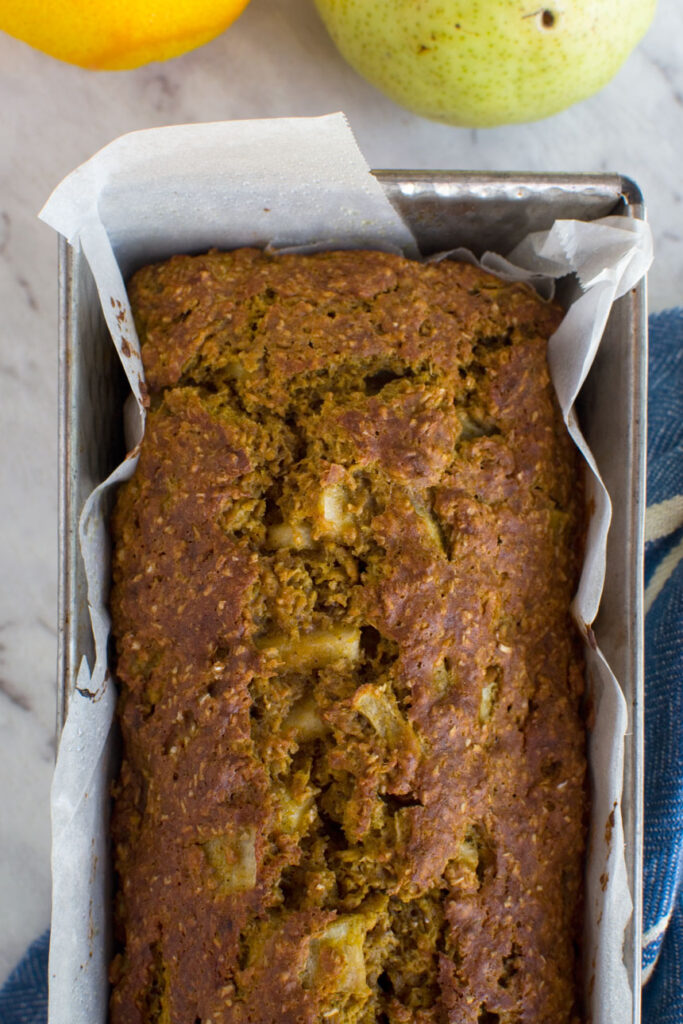 Some healthy cakes taste just too healthy for you to want to eat them, don't you think?
This is one of those cakes that you take a first bite of… and you can't believe it's a 'healthy cake'. Just fyi, this 30-minute healthy chocolate cake is like that, too. And these healthier vanilla party cupcakes.
This pumpkin bread does taste kind of 'wholesome' but it's rich and sweet and melt-in-your mouth delicious at the same time.
So… tasty AND healthy?
Yep. Here are some of the reasons why:
The sweetness in the cake comes from half a cup of either maple syrup or honey (no refined sugar!) AND the natural sweetness of both the pumpkin and pear. Which, by the way, go wonderfully well together!

The wholemeal/whole wheat flour in the cake isn't just there because it's healthier. It gives a slightly nutty vibe to it – without it containing any nuts – although you can add some if you like!

I use olive oil to make this cake. Yes, hello healthy fats and antioxidants, but I also think the subtle flavour goes well with the other flavours in the loaf.
Ingredients in this delicious loaf cake
pumpkin puree. Below are my tips for this very important ingredient.
If you live in the US, it's easy. Just buy a can of ready pureed pumpkin. Done and done.

If you don't live in the US, pumpkin puree is very easy to make, especially if you have an electric pressure cooker or a microwave. See my simple instructions below!
TOP TIPS: 1. To keep the cake super quick and simple, I like to make the puree on a different day. There's usually about 2 cups, which is enough for two cakes. I either plan to make two cakes, or I freeze some for the next time. 2. You can use any kind of pumpkin. If you live in the UK where traditional pumpkin isn't always available, just use butternut squash! I use it all the time in this cake, and it turns out really well.
wholemeal / whole wheat flour (+ baking soda/powder): Wholemeal works very well in the cake, but really you can use almost any kind of flour. White, gluten-free and spelt all work well.
spices (ginger, cinnamon & nutmeg): It's quite a big loaf, so I like to add enough to be able to taste them.
the zest of an orange: You can use the juice as well if you like (see below!).
eggs (2): The best quality you can get!
oil: Either olive or coconut. Both work really well.
unrefined sugar: Either maple syrup or honey
liquid: Either milk or juice (both work well!)
a pear: Chopped into small pieces – no need to peel!
How to make it
This is the fun part, because this cake is very easy to make. It would be a great cake to make with your kids. Once the ingredients are all prepped, all you really have to do is mix the wet ingredients into the dry.
First things first…
How to make the pumpkin puree
There are a few very simple ways to do this. I usually make the puree ahead so that it's all ready to go on the day I want to make the cake. You just need to plan ahead a bit that's all!
Electric pressure cooker (or Instant Pot). This is my favourite way to make puree. Simply pour about a cup of water into the bottom of your cooker. Place the entire pumpkin half – skin and all – on the wire rack or in the steamer basket. Cook on high pressure for 15 to 20 minutes, depending on how big the piece is. Let the pressure release naturally. If it's underdone, don't worry – just cook for another few minutes.

Then just scrape the soft flesh out with a metal spoon. Puree with a stick blender or in a food processor.

Microwave. Place cut-side up on a piece of kitchen paper and microwave for about 20 minutes. Just microwave for a bit longer if not soft enough. Then scoop out and blend exactly as described above.

Steam. Scoop out seeds, and chop into large chunks. Steam in saucepan or steamer basket with a bit of water. Don't forget to pop a lid on. Steam for about 30 minutes or until super soft and ready to puree.

Bake. The final option is to bake your pumpkin in the oven until tender. No need to chop or peel. Just place cut-side down on baking paper on a baking tray. Bake at 180C/355F for around 30 to 50 minutes. Just keep checking after 30 minutes until the pumpkin flesh is nice and soft. Then scoop out and blend as in the other methods above.
How to make the cake
Once you've made the puree, it's all very easy!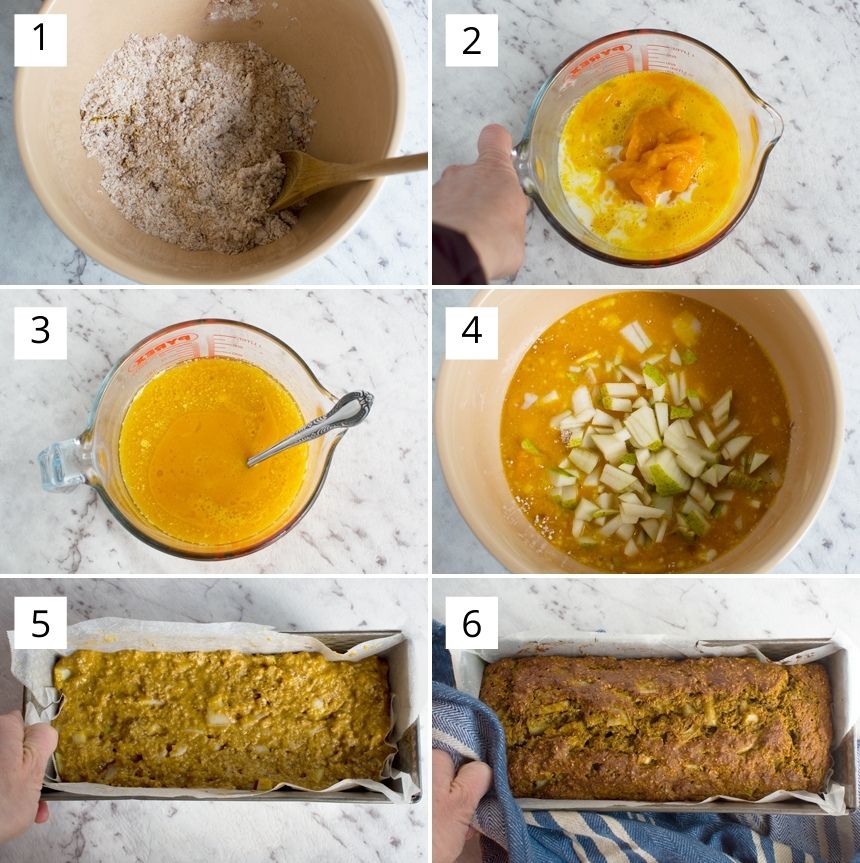 The first thing you do is stir together all the dry ingredients – flour, baking soda and powder, spices, and orange zest.
Then, you guessed it, stir together all the wet ingredients – so eggs, pumpkin, oil, maple syrup/honey, and milk or orange juice.
Stir in the lovely chopped pieces of pear.
Pour the mixture into a prepared loaf tin and bake!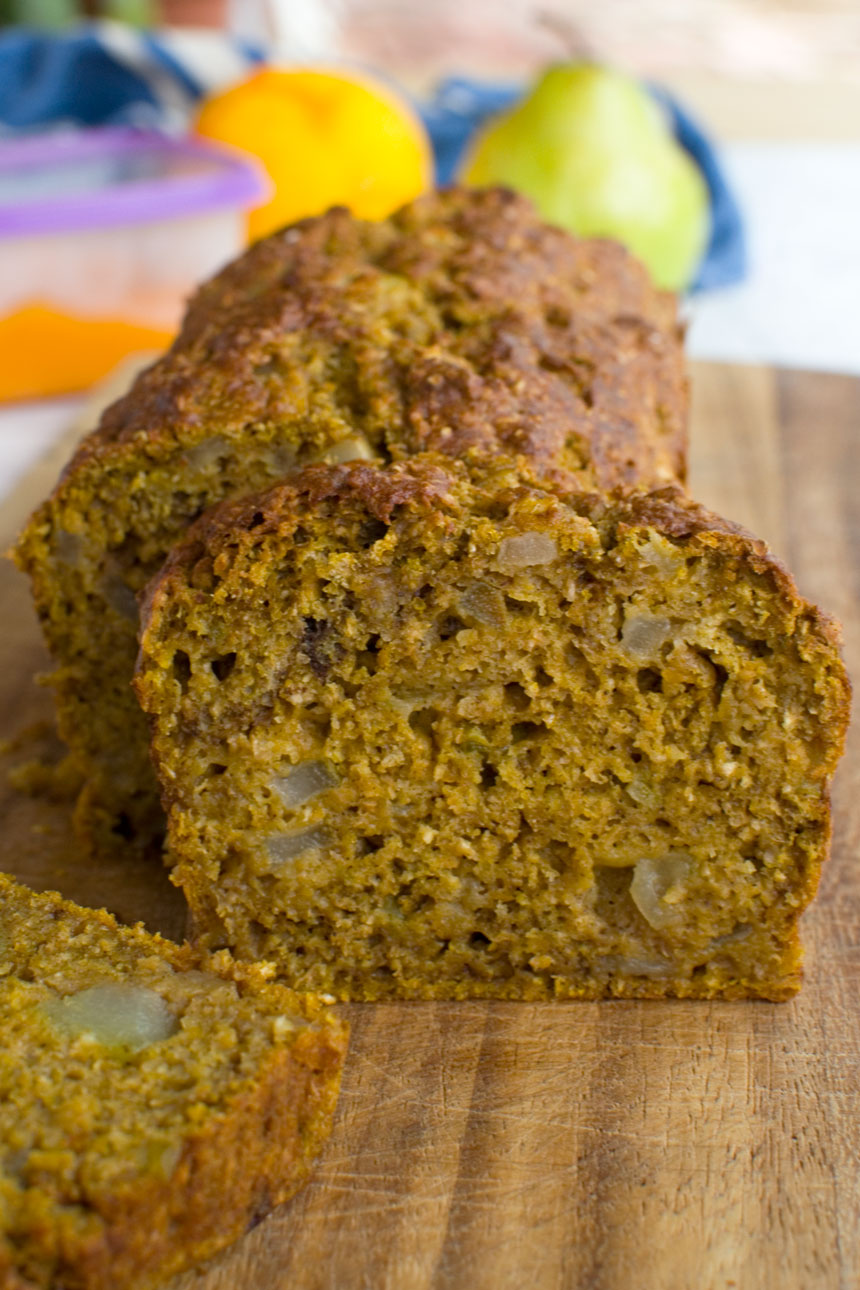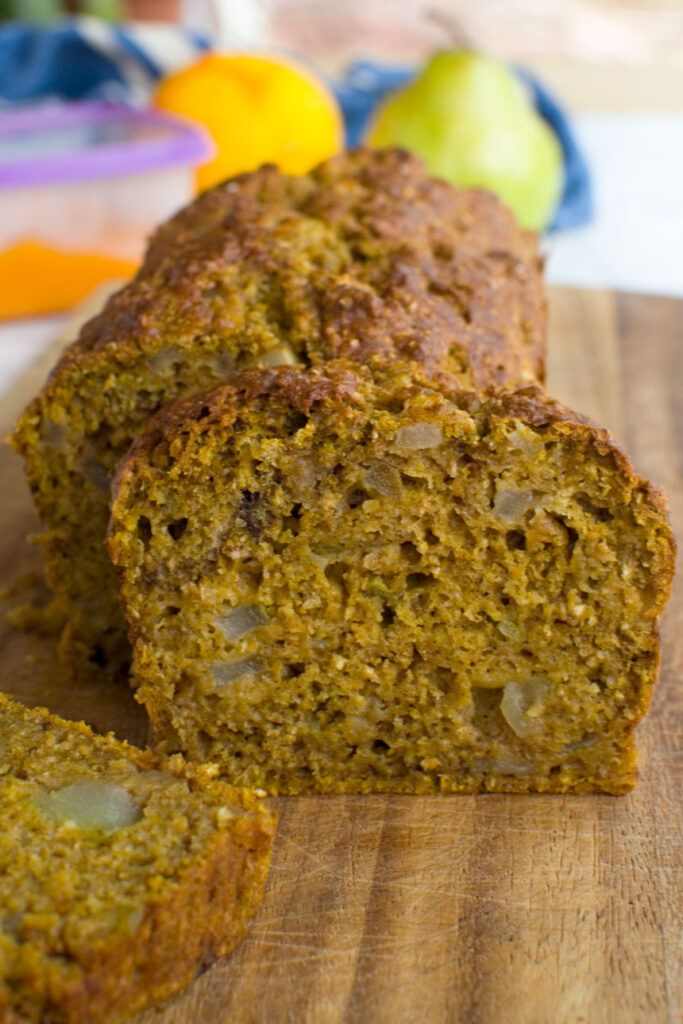 Make the recipe your own
The basic healthy pumpkin bread recipe I use here is very 'tweakable'. I've made it with both milk and orange juice, with and without orange zest, and with different oils.
Here are some other ways you can make it your own. I bet you can think of some of your own tweaks, too!
Use chopped apple instead of pear.
Add nuts of your choice (I'd say about 1/4 cup).
Use pineapple, apple or even lemon juice instead of orange juice or milk.
Add lemon zest instead of orange zest, or skip the zest altogether.
Sprinkle some flaked coconut (or more nuts) over the top before baking.
Throw in some chopped dates (about 1/4 cup) or other dried fruit.
Skip the pear and add a large grated carrot instead for even more vegetable goodness.
If you're feeling cheeky, add some dark chocolate chips (about 1/4 cup).
How to serve your cake
I like to eat the cake slightly warm. The best way to achieve this of course is to slice and eat soon after it's baked! Yum!
Once it's cooled though you can pop slices in the toaster and lightly (or not-so-lightly!) toast. Spread generously with butter if you're that way inclined!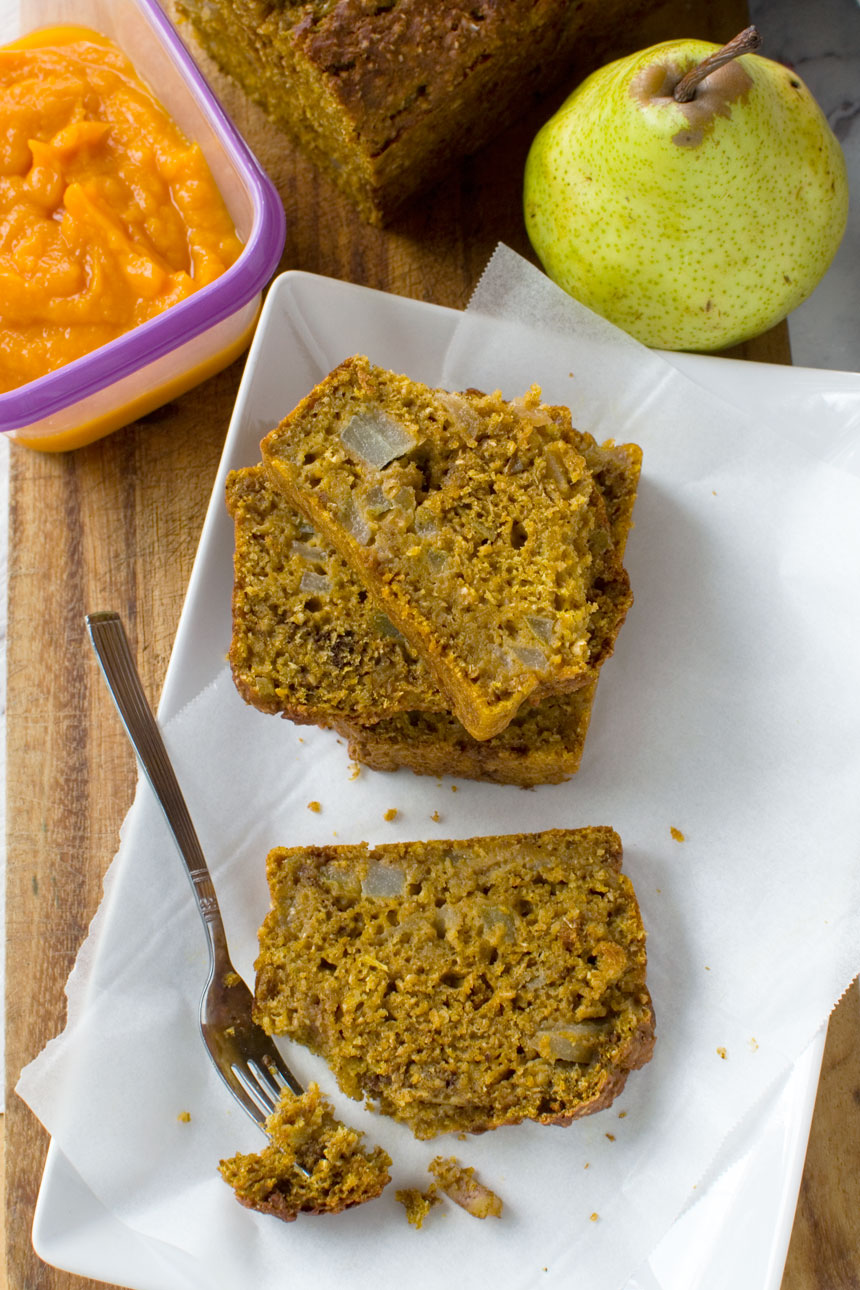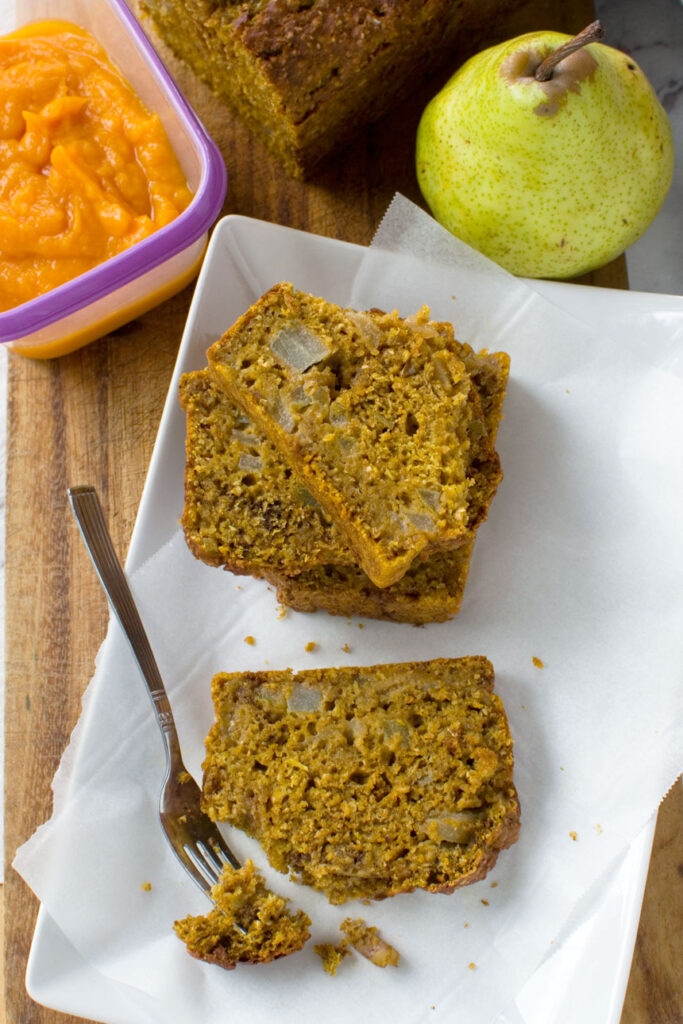 How to store it
I find that this cake keeps well for quite a few days. Just wrap well in baking paper and/or aluminium foil/plastic wrap and store in an airtight container. Keeping it in the fridge will preserve it for even longer.
This cake also freezes really well. Simply let cool then wrap well and freeze in a Ziploc bag for around 2 to 3 months.
More easy loaf cakes
IF YOU MAKE THIS RECIPE, LET ME KNOW HOW YOU GET ON BY LEAVING A COMMENT AND RATING BELOW… AND DON'T FORGET TO SIGN UP TO RECEIVE ALL MY NEW RECIPES BY EMAIL!
FOLLOW ME ON FACEBOOK, INSTAGRAM, PINTEREST AND YOUTUBE.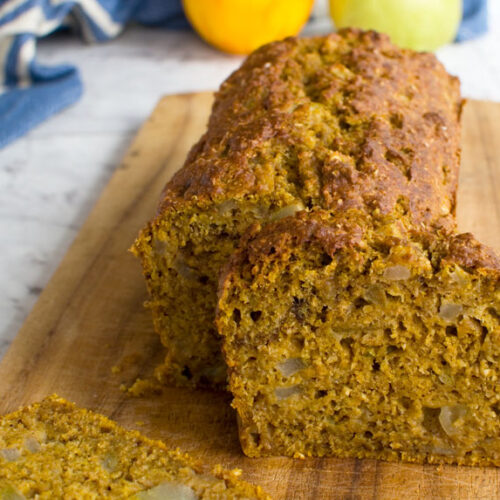 Easy healthy pumpkin and pear loaf cake
Make this pumpkin and pear loaf cake once, and you'll make it again and again! Make the pumpkin puree ahead (which is easier than you might think), then just stir the wet ingredients into the dry. Bake and enjoy! It's easy, healthy AND ridiculously tasty!
Equipment (affiliate links)
Ingredients (UK/Australia? Click below for grams/ml)
1½

cups + 2 tablespoons

wholemeal flour

US = whole wheat (you can substitute for white, spelt or gluten-free)

1

teaspoon

baking soda

½

teaspoon

baking powder

1½

teaspoons

ground ginger

2

teaspoons

ground cinnamon

½

teaspoon

ground nutmeg

2

tablespoons

orange zest

(I use the zest of 1 orange – usually 2 to 3 tablespoons)

2

eggs

1

cup

pumpkin puree

See instructions in post above and below in notes section

⅓

cup

olive oil

or you can use melted coconut oil (let it cool a bit)

¼

cup

milk

or use the juice from the orange instead (about 1/4 cup)

½

cup

maple syrup

or honey

1

pear

chopped into small pieces
Instructions
Line a 9 or 10 x 4 inch loaf tin/pan with baking paper. Pre-heat the oven to 180C / 355F.

Combine the flour, baking soda and powder, spices and orange zest in a large mixing bowl.

Whisk together the eggs, pumpkin puree, oil, maple syrup (or honey) and milk (or juice) in a medium jug or mixing bowl.

Pour the wet ingredients into the dry ingredients in the large mixing bowl. Stir with a wooden spoon until just combined (don't over-mix).

Fold the pear pieces into the batter.

Scrape the batter into the prepared loaf tin. Smooth it down a little.

Bake for about 50 minutes or until a skewer inserted into the middle of the cake comes out clean or with just a few sticky crumbs on it. If there is any wet batter on the skewer, bake the cake for 5 more minutes and check again.

Let cool then slice and enjoy. Store in an airtight container for up to 4 to 5 days, or wrap tightly and freeze for 2 to 3 months.
Notes
How to make pumpkin puree and what kind of pumpkin to use
You can either pressure cook, microwave, steam or bake pumpkin to make the puree.
I generally use around half a small or a quarter to a third of a medium normal pumpkin, or half a butternut squash. This yields around 2 cups, or enough for 2 cakes.
Pressure cooker: Cook for 15 to 20 minutes on high pressure then let the steam release naturally. Scrape the soft flesh into a bowl and blend with a stick blender (or with a food processor).
Microwave: Microwave on kitchen paper for 20 minutes on full power (no need to remove skin or seeds).
Steam: Chop into large chunks and steam with a bit of water for about 30 minutes.
Bake: Bake at 355F/180C for 30 to 50 minutes depending on the size of the piece of pumpkin. Again, no need to peel or remove seeds.
Freezing instructions
Wrap the loaf really well in baking paper and/or aluminium foil/plastic wrap and freeze in a Ziploc bag or airtight container for up to 2 to 3 months.
Nutrition
Calories:
276
kcal
Carbohydrates:
44
g
Protein:
7
g
Fat:
9
g
Saturated Fat:
2
g
Cholesterol:
33
mg
Sodium:
129
mg
Potassium:
287
mg
Fiber:
6
g
Sugar:
13
g
Vitamin A:
3875
IU
Vitamin C:
3
mg
Calcium:
64
mg
Iron:
2
mg