Looking for a super simple and healthy low sugar granola that you'll make time and time again? Made with whole grains, unrefined oil and natural sweetener, it's crunchy and crispy and ready in just over half an hour. You'll love the almonds and puffed rice in this, but it's so easy to adapt and make your own. Try it once and you'll ditch store-bought for ever!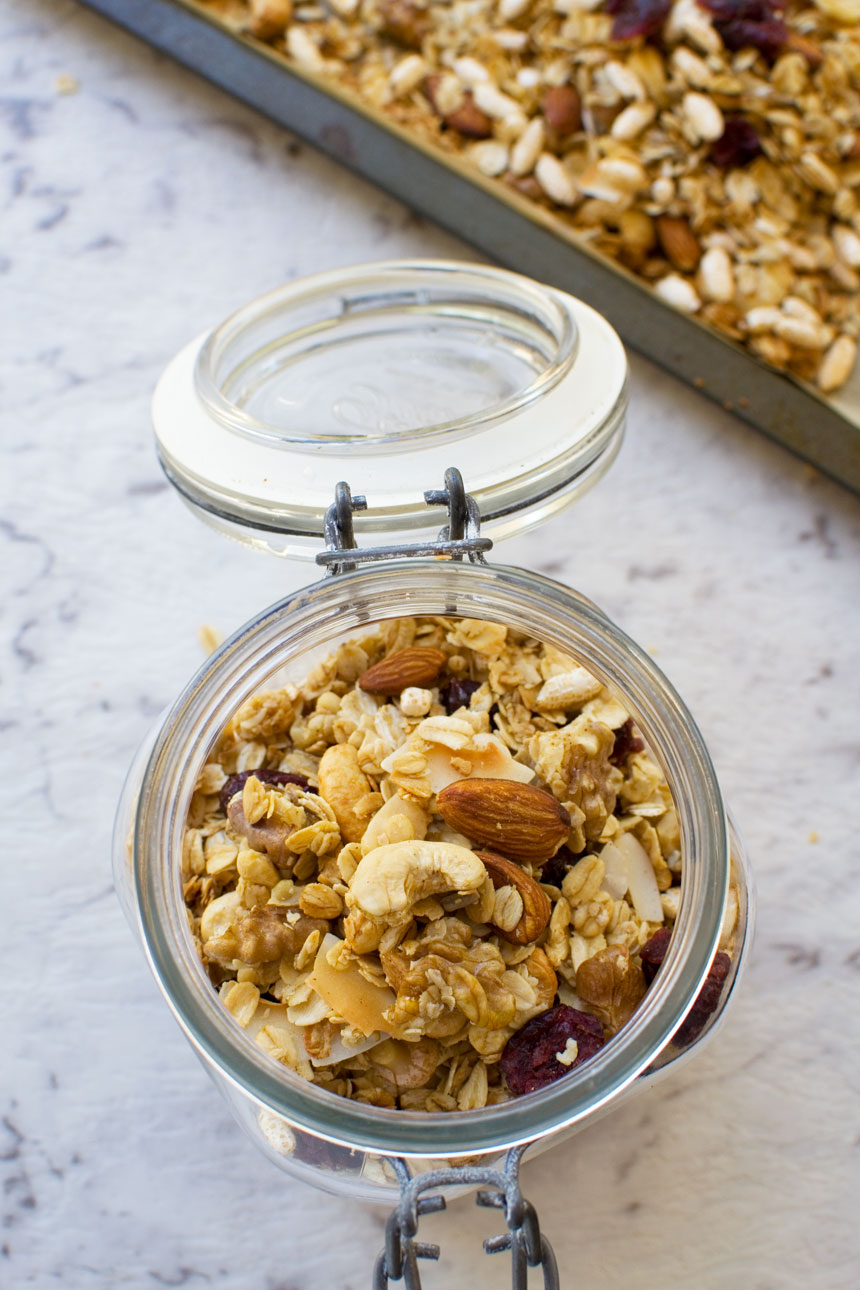 Why you're going to love it
Most store-bought granola either tastes boring or contains way too much sugar, right? The simple solution is to make your own healthy granola that contains much less sugar. But isn't it a hassle to do that? Nope, not really. In the long run it will be cheaper to make your own, and your house will smell amazing! Here's what else I think makes this one of the best simple granola recipes.
Very quick and easy to make with only 6 to 7 natural ingredients. Once you've gathered everything together, you only need 10 minutes to make it. Then pop it into the oven and it'll be ready just 25 minutes later.
The best of healthy fats and carbs. With its yummy maple syrup and dried fruit, this granola contains only around 12 grams of unrefined sugar per portion. Add coconut oil (or olive oil) and lots of whole grains and you're looking at one very nutritious breakfast or snack.
Delicious mix of tastes and textures. This granola may be full of the good stuff, but that doesn't make it boring. Almonds, puffed rice, coconut and dried fruit make this crunchy, crispy, nutty, sweet and completely delicious.
Easy to make your own. Nut allergy in the house? Run out of coconut? Replace with sunflower or pumpkin seeds, different nuts or dried fruit, or whatever you like. It's SO easy to change things up in this recipe!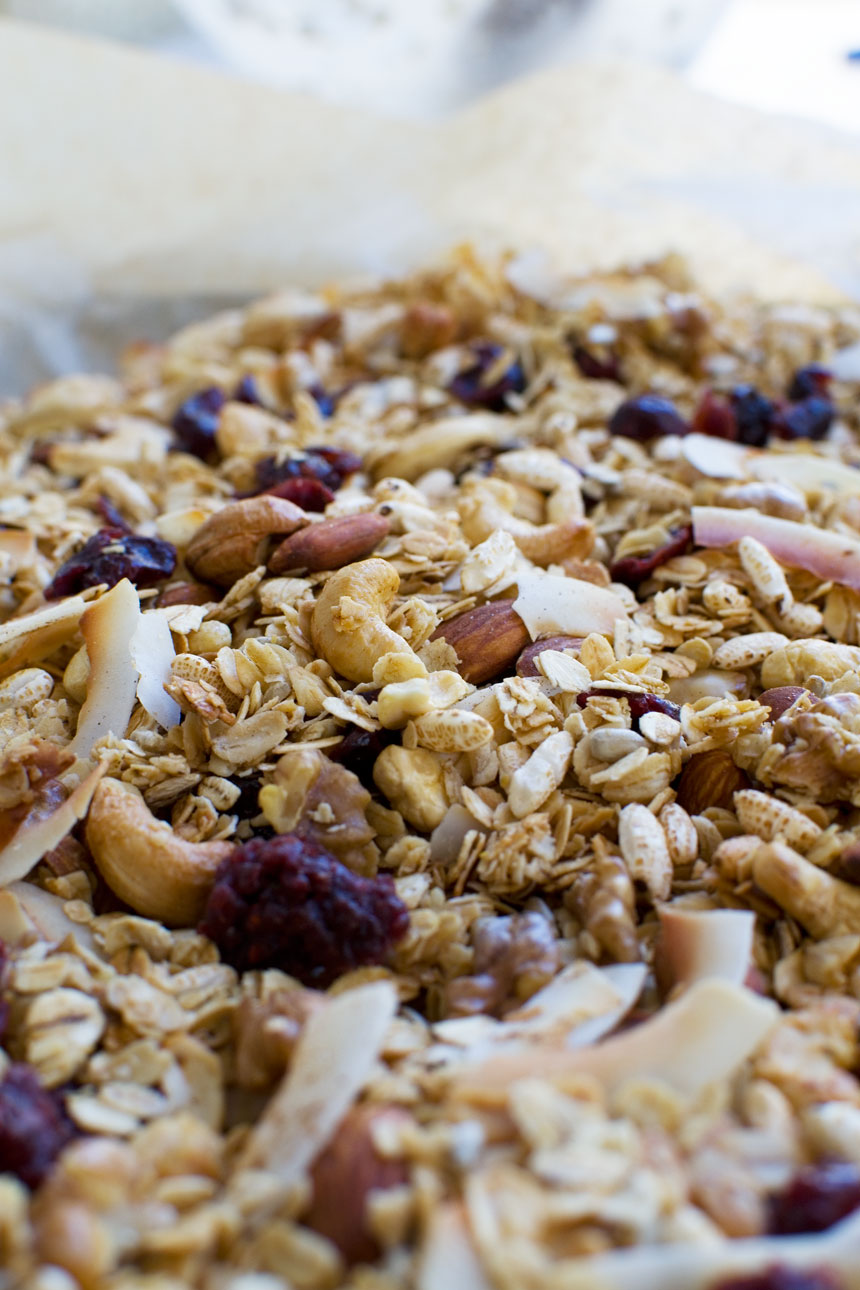 About the ingredients
Oats: The recipe always begins with good quality rolled oats or old-fashioned oats (NOT instant or quick oats). If I can get organic, I go for it, but that's up to you. Try getting a good deal in the bulk section of your local supermarket or bulk buy store (you know, the ones with the bins and scoops – you'll be amazed what you find there!).
Almonds: Use unsalted almonds – any you like. I use whole almonds but chopped or flaked work, too. Feel free to substitute with different unsalted nuts and seeds.
Puffed rice: I love to add a half cup of this for a different texture. Feel free to skip this, use plain old Rice Krispies instead or replace with more oats or a different whole grain. I usually find puffed rice in a local bulk buy store.
Salt: Not essential, but I find adding just half a teaspoon helps to bring out all the other flavours.
Coconut oil: I like to use coconut oil because it adds a bit of subtle flavour. Use extra-virgin olive oil, rice bran oil or even canola oil if you prefer. Or any healthy oil!
Maple syrup: Just make sure it's real maple syrup and not a pancake syrup 'fake'! If you prefer, you can replace some or all of it with honey, brown rice syrup, date syrup or agave syrup.
Coconut and dried fruit: I usually use coconut flakes, but other types are fine too. Add the coconut half way through so that it doesn't burn. Feel free to skip the coconut and add extra dried fruit, nuts, seeds or grains. Make sure the dried fruit is unsweetened. We don't want to add extra sugar if we don't need to!
How do you make low sugar granola?
It's ridiculously easy to make in around 10 minutes (hands on time). Here are the basic steps:
Step 1: Line a large baking tray with baking paper (this step is important). Also preheat the oven at this point.
Step 2: Grab a large mixing bowl. Mix together all of your dry ingredients apart from the coconut and dried fruit (if using!). This includes any spices or flavours.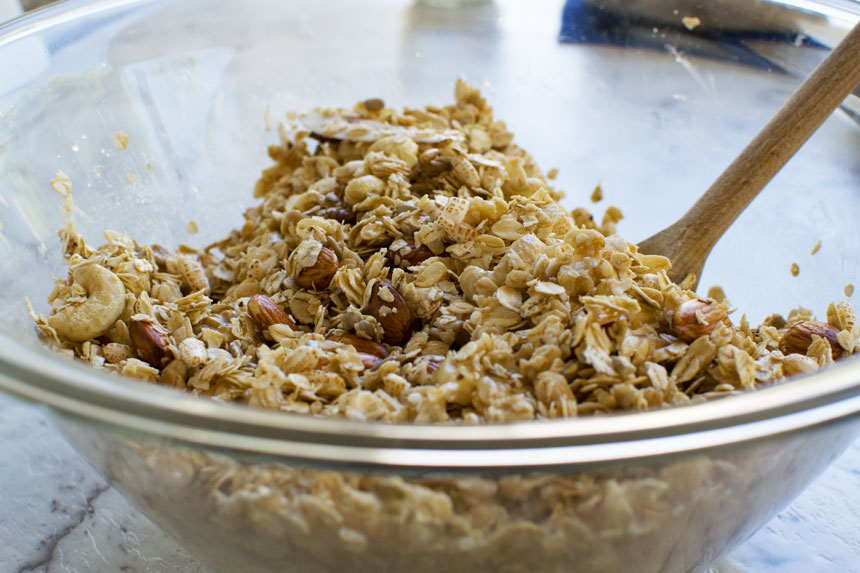 Step 3: Warm the oil and maple syrup together in a small saucepan or in the microwave. Then pour this mixture all over the dry ingredients and stir until really well combined.
Step 4: Bake for 15 minutes, then remove the tray from the oven and stir through the coconut for the last 10 minutes.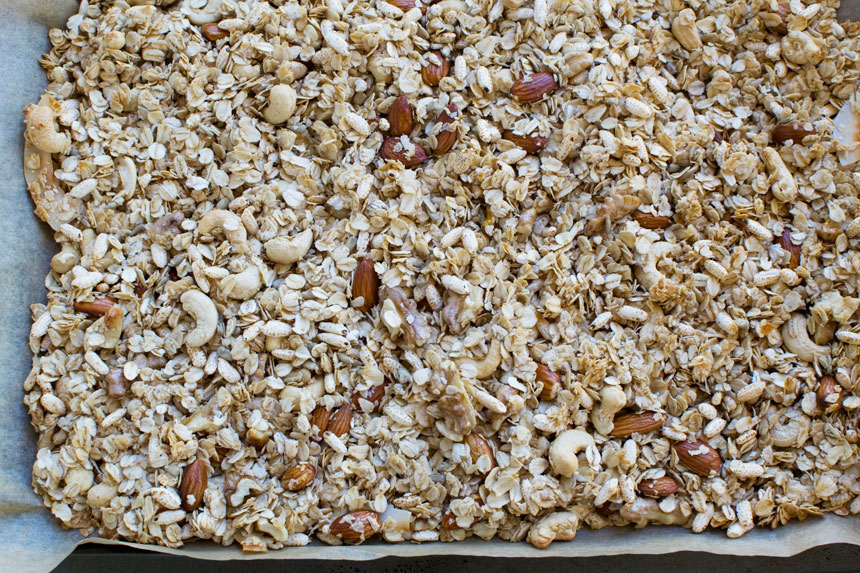 Step 5: Take the granola out of the oven and let it 'set' and clump as it cools. Press it down lightly all over to help with the clumping! When it's cool, stir through the dried fruit. Raisins, cranberries, or chopped apricots or mango pieces are all favourite additions!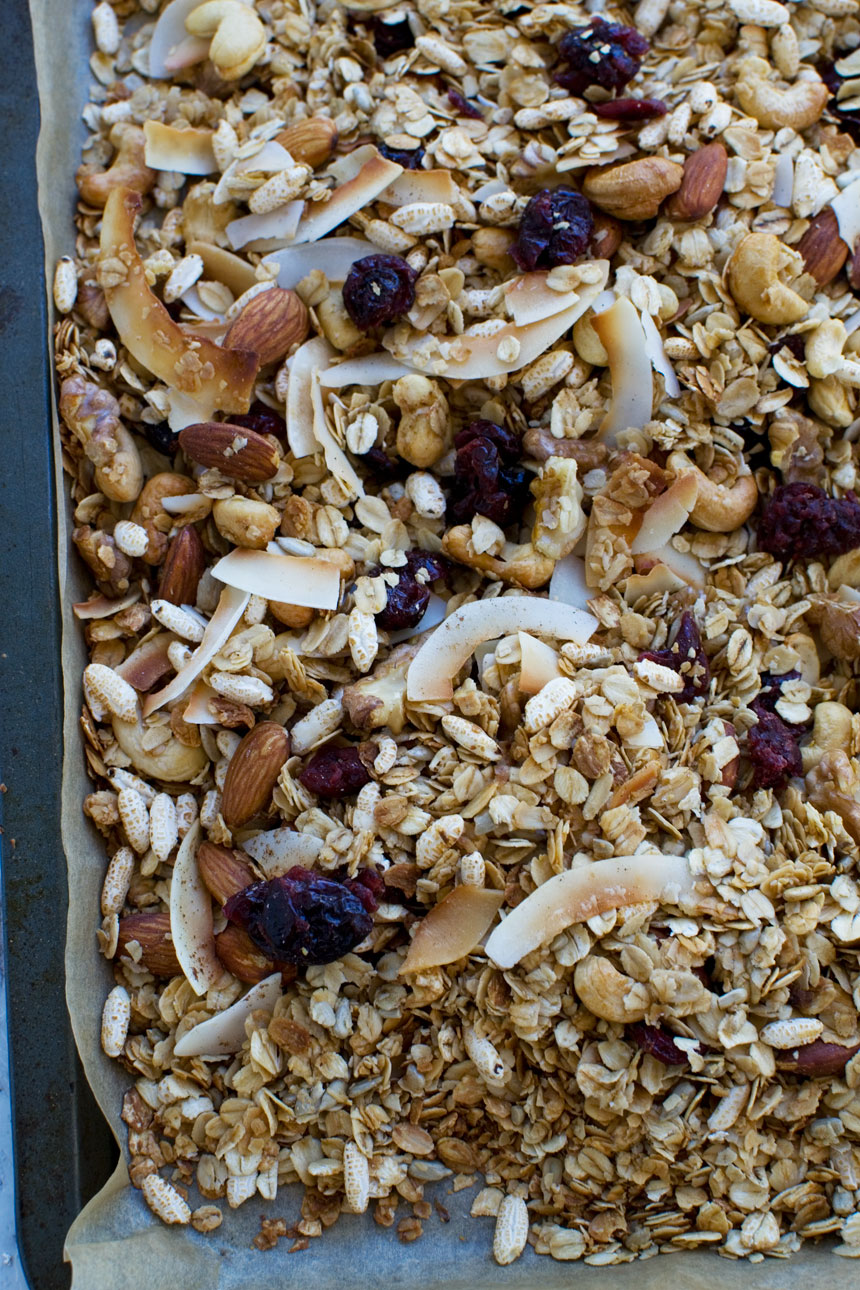 You will NOT believe how amazing your kitchen will smell while your granola is baking!
Helen's top tips for perfect homemade granola
Double check which ingredients need to be added half way through cooking (coconut) or after baking (dried fruit, chocolate).
For the best chance of the clumpiest, crunchiest granola, stir it ONCE half way through cooking. After you take it out of the oven, press it down onto the baking tray, then leave it to cool without touching. For some unknown reason, sometimes my granola has more 'clumps' than others. But it's always delicious!
Play around with the sweetness. For me around 1/3 of a cup of maple syrup is about right, but add a little more or less as you prefer. Alternatively, reduce the amount of sweetener but add a little more dried fruit.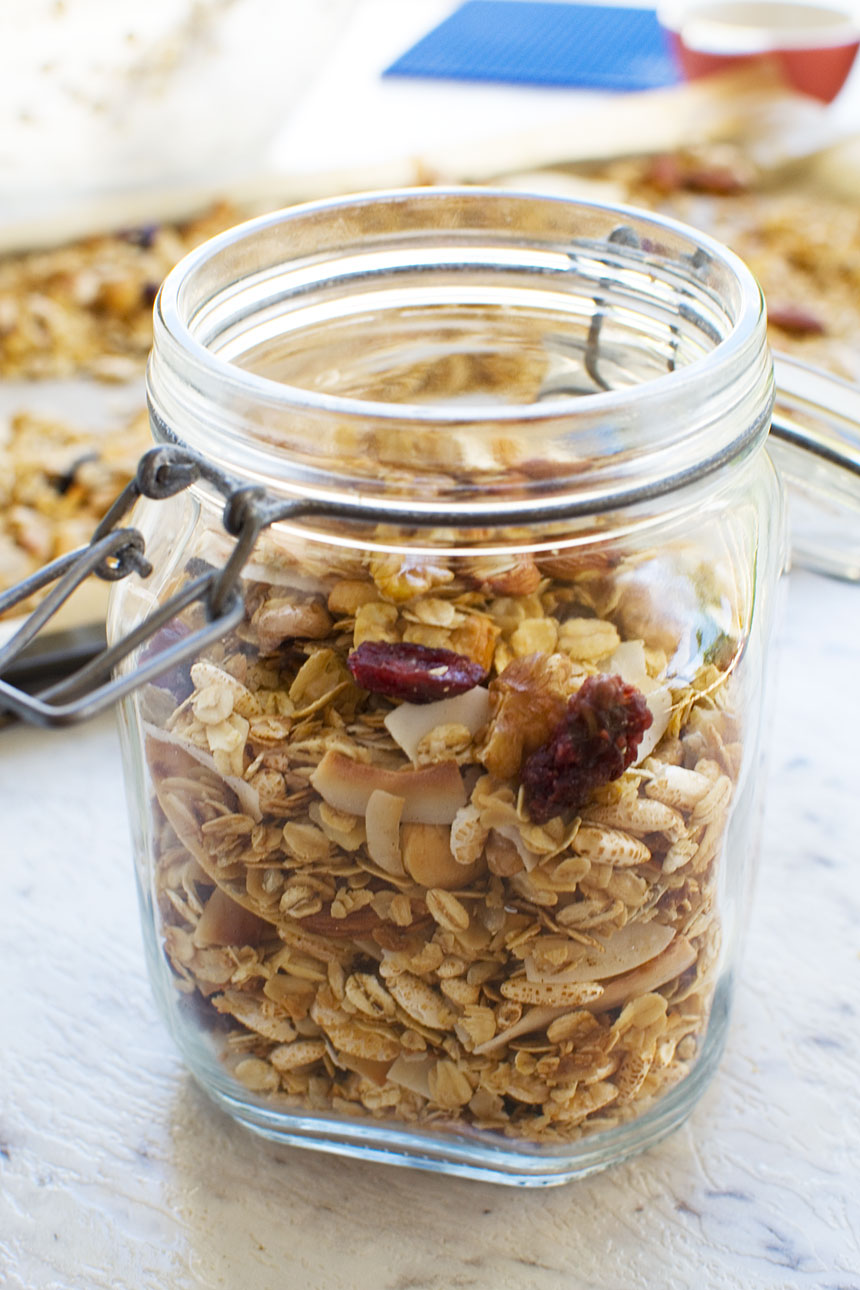 how to make it your own
There are endless ways to change things up. Granola is like a blank canvas of breakfast foods!
Here are a few examples of ways to change things up. Just remember to keep your ratio of wet ingredients to dry ingredients roughly the same. For example, swap the puffed rice for extra oats, mixed grains or extra nuts, seeds or fruit.
Different nuts, seeds, dried fruit, grains: You'll be amazed what you can find in a bulk buy or health food store, but basically anything goes! Just swap out the suggestions in my recipe with your own favourites. Try dried cherries or mango, freeze dried fruit, a sprinkle of seeds such as sesame, chai, hemp or flax, and alternative grains such as rye, spelt or quinoa.
Dark chocolate chips: Shh, don't tell anyone. This is a favourite addition of mine. Get some with a high cocoa content (70% plus) and who will care about the tiny bit of extra sweetness. Just remember to add these after baking, not before.
Flavours: How about adding a quarter to a half teaspoon of vanilla extract, or the zest of a lemon or orange? Nut butter works well, too. Just melt a quarter cup (peanut butter, almond butter, or any nut butter you like) into the oil and maple syrup mixture. Mmm!
Spices: Add up to a teaspoon of cinnamon or ground ginger for an interesting spicy kick. A little chopped candied ginger is good, too.
What to eat with granola
I LOVE GRANOLA! It's crunchy, nutty, filling, and full of super healthy things. I like to sprinkle it over my morning oats for a bit of texture.
And, let's be honest, I also like to eat big handfuls of it straight out of the jar.
Mr. Scrummy is more civilised and prefers to eat it neat with milk as an evening snack.
Off the top of my head, more ways to enjoy it for breakfast or a snack could include:
sprinkled over Greek yogurt with honey and fresh fruit (yogurt and granola are a match made in heaven!).
sprinkled over baked apples for a healthy dessert. Yum!
sprinkled over a salad. Why not?
added to English pancakes, healthy waffles or healthy 'nice cream'. Mmm!
mixed through chocolate (put the mixture in little stacks on a baking sheet to make a healthy-ish treat!).
mixed with peanut butter and a little more maple syrup to make some quick energy bites.
Big fan of healthy snacking in general? Check out this list of 50+ healthy sweet snacks that don't taste boring!
More things to know (recipe FAQ)
Can I use quick-cooking oats instead of rolled oats to make my granola?
No, it's best to avoid using quick oats as the texture after they're cooked may not be the best. For the best results, use rolled or old-fashioned oats.
Why isn't my granola crunchy?
Usually more sweetener equals crunchier granola. So if you're keen on super crunchy, clumpy granola, you could add just a tiny bit more maple syrup (say a half cup instead of a third).

But there are other sneaky ways to make your low sugar granola crunchier. You can try beating one beaten egg white into the granola mixture. Also, press the raw ingredients down on the baking tray before you put it in the oven. When it comes out of the oven, don't stir it. Press down on it again, then leave it to cool completely without touching it for a 'clumpier' granola.
What's the best way to store homemade granola?
It's best to keep it in an airtight container at room temperature. It will keep really well for 1 to 2 weeks. If you've made a bigger batch and want to freeze some, go ahead! Freeze in freezer bags or airtight containers for up to 2 months.
Is granola gluten-free?
It can be if you use gluten-free oats!
Is granola good for you?
The million dollar question! Well, if you make it yourself, yes it is. Since it's packed full of whole foods, it's nutritious, filling, and doesn't contain too much sugar. Eaten in small portions (since it contains a lot of calories!) it's a tasty and healthy breakfast or snack.
Love this low sugar granola recipe? Check out this tropical chocolate granola as well!
More healthier breakfast and snack ideas
Or see all my healthy recipes.
IF YOU MAKE THIS RECIPE, LET ME KNOW HOW YOU GET ON BY LEAVING A COMMENT AND RATING BELOW… AND DON'T FORGET TO SIGN UP TO RECEIVE ALL MY NEW RECIPES BY EMAIL!
FOLLOW ME ON FACEBOOK, INSTAGRAM, PINTEREST AND YOUTUBE.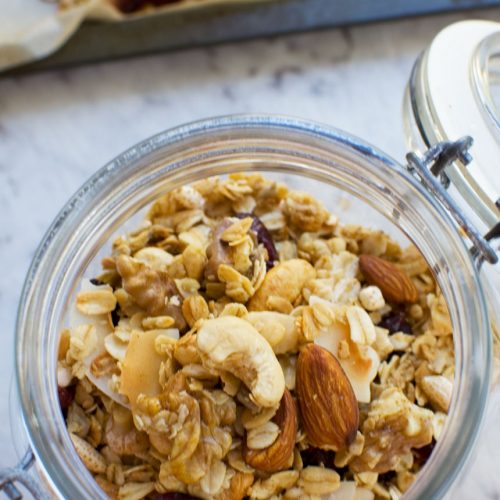 Best Homemade Low Sugar Granola With Almonds And Puffed Rice
You can't beat homemade granola, and it's surprisingly quick and easy to make – ready in about half an hour. This version is low in sugar, packed with healthy almonds, puffed rice and other natural ingredients and is super easy to customise with whichever nuts, seeds, grains and fruit you prefer!
Ingredients (UK/Australia? Click below for grams/ml)
4

cups

rolled oats

the chunky ones, not super fine quick cooking oats

1½

cups

almonds

or other nuts and seeds of your choice

½

cup

puffed rice

or puffed wheat or mixed grains – optional!

½

teaspoon

salt

⅓

cup

coconut oil

you can also use olive oil or something neutral like canola oil

⅓

cup

maple syrup

or honey – or a combination of the two – up to you!

½

cup

shredded coconut

½

cup

dried fruit

chopped apricots or prunes, cranberries, raisins/sultanas, mango – whatever you like
Instructions
Preheat the oven to 350F/175C.

In a large mixing bowl, combine the oats with the nuts/seeds and puffed rice (if using). Also add the salt.

Gently heat the oil and maple syrup/honey together in a small saucepan, then pour into the oat mixture and mix really well.

Spread the mixture out onto a large baking sheet (use two if you like – see note).

Bake for about 15 minutes, then take the tray out of the oven, stir the granola, then sprinkle over the coconut.

Bake for about another 10 minutes. Press the granola down with the back of a wooden spoon (to encourage clumping!) and leave to cool.

Stir through the dried fruit, then store granola in sealed glass containers.
Notes
Nutritional info: Please note that the stated nutritional info is a rough estimate as the values will vary greatly according to what type of nuts/seeds, what type of oil etc. you decide to use.
Baking tray: I use one fairly large baking tray for one batch of granola, and the granola just about fits on it in one fairly thick layer. You might prefer to use two baking trays. This way you can spread the granola out a bit more and it will probably cook more evenly.
Sweetness and oil: There's a lot of wiggle room here! Mr. Scrummy and I don't like our granola to be too sweet, so ¼ to 1/3 cup of maple syrup or honey is plenty for us. You might have to experiment a bit to find your 'sweet spot' (!!). Start with ¼ cup, and take it up from there.
All in all, this is a highly adaptable recipe, and you can take it wherever you wish to go!
Optional spices: Sometimes I sprinkle some cinnamon and/or ground ginger into my granola mixture before baking. Start with no more than a teaspoon.
Nutrition
Calories:
322
kcal
Carbohydrates:
35
g
Protein:
7
g
Fat:
17
g
Saturated Fat:
7
g
Sodium:
18
mg
Potassium:
260
mg
Fiber:
5
g
Sugar:
12
g
Calcium:
72
mg
Iron:
2.1
mg