If you're looking for a quick salad for a main or side that ticks every box, you won't go wrong with this beetroot, walnut and feta salad. With the earthy beets, crunchy walnuts, tangy feta, zesty orange, refreshing mint and simple 3-ingredient salad dressing, it's hard to say what the star of the show is!
Bonus – this vibrant salad uses ready-cooked beets, so with nothing to cook, it's ready in around 15 minutes!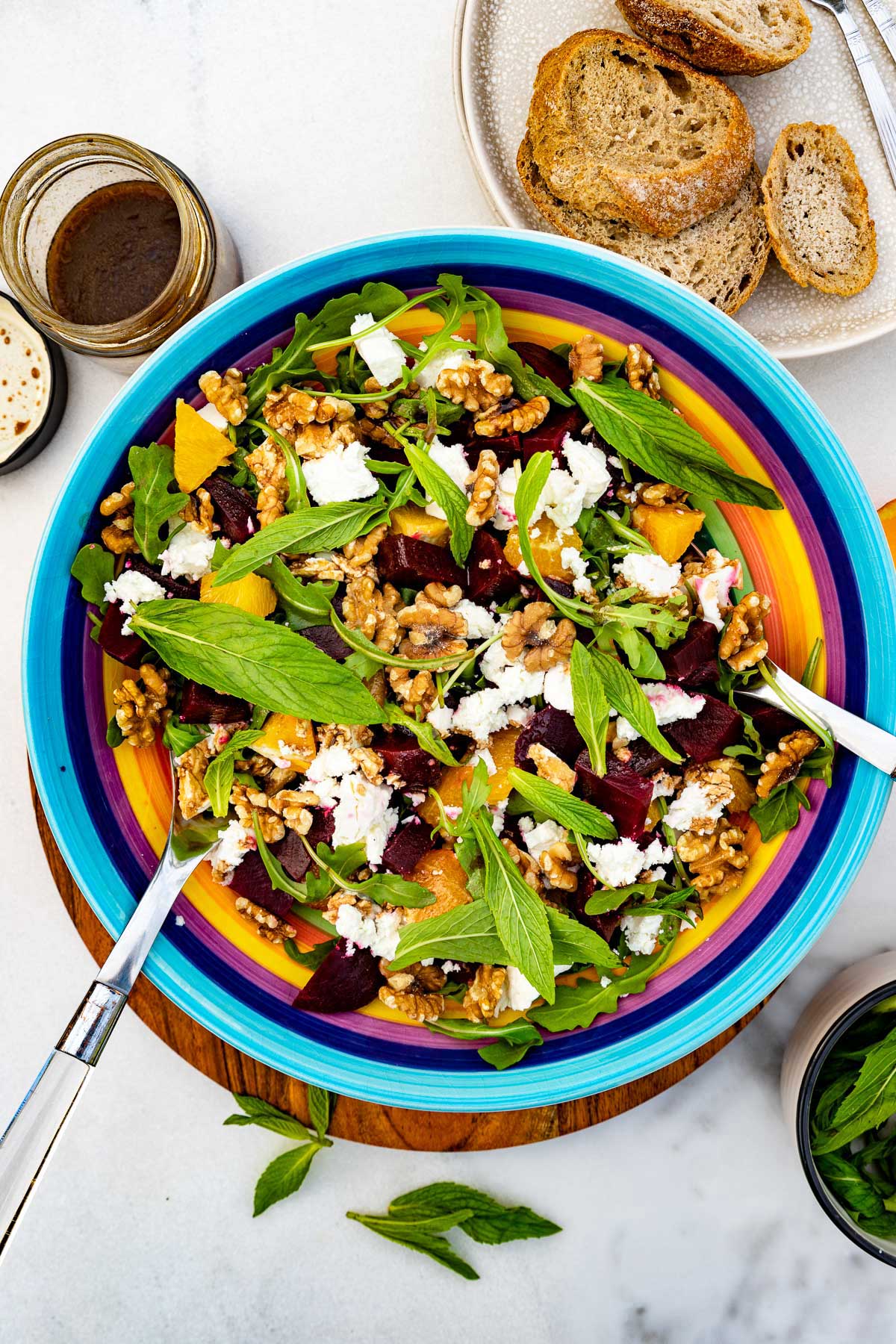 Why you'll love it
✔ Ready-cooked beets. Most beetroot salad recipes require you to roast the beetroot yourself first. This recipe uses ready-cooked beetroot because… why ever not?!
✔ Delicious punchy flavors… and so many textures! Each bite is a delightful (and colorful!) surprise with the natural sweetness of the beets combined with creamy, tangy feta, and juicy orange. Add contrasting crunchy and earthy walnuts, peppery arugula (AKA rocket!), and refreshing mint for a salad with a ridiculous amount of flavor for the little effort it takes to make it.
✔ 3-ingredient balsamic dressing. So simple – but perfect for tying all the other flavors together.
✔ Suitable for different diets and occasions. Serve your walnut beetroot feta salad on its own as a light and healthy Mediterranean style meal, or pair it with pan-fried, roasted or grilled fish or meat.
Ingredients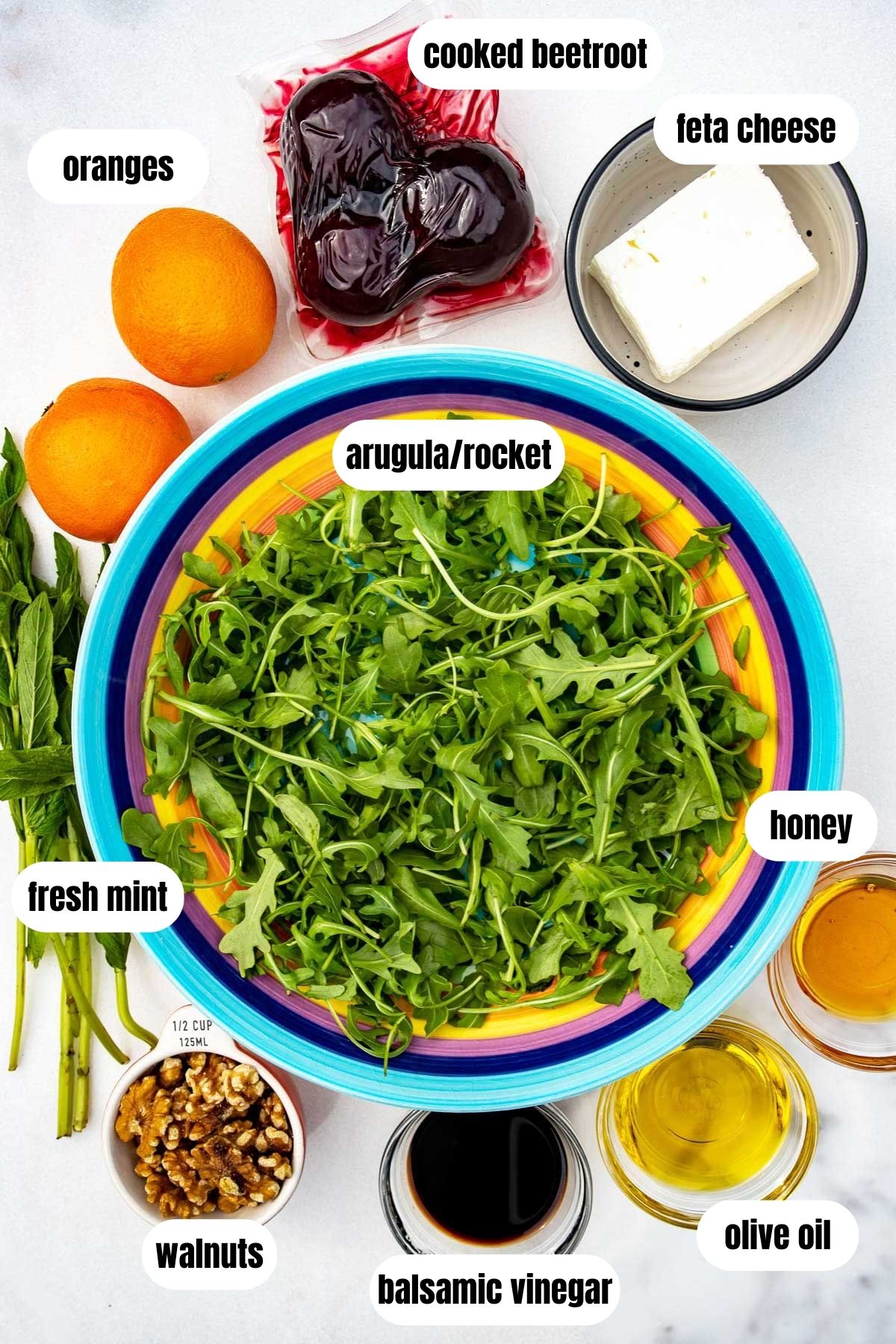 Arugula/Rocket: To keep the salad super simple, I usually start with ready-packaged and washed arugula (known as 'rocket' in some places!). Feel free to use baby spinach or another kind of washed green salad leaves instead.
Beetroot: I'm going to be real here. I'm not one to roast my own beets for a salad! I usually simply grab a package of pre-cooked beetroot, slice it and throw it into the salad. Vacuum packed is great, but jarred or canned beets would be absolutely fine, too.
I usually don't use pickled beetroot, but you can if you like – just reduce the amount of balsamic in the dressing a little if you do this.
Feta cheese: Not all feta cheese is created the same. I like to go for either a traditional Greek feta cheese, or a creamy style such as Danish feta.
Walnuts: I prefer chunky walnut halves or at least roughly chopped rather than finely chopped, to add plenty of texture to the salad. Other crunchy nuts or seeds would work just as well if you prefer.
Orange: I like to throw in pieces of 1 to 2 nice juicy oranges. They go particularly well with the feta cheese.
Fresh mint: This beetroot feta walnut salad is already very refreshing, but a little fresh mint is the icing on the cake. But no worries if you can't get hold of any. An alternative fresh herb could be fresh dill or basil.
For the dressing: All you need to make the punchy balsamic vinaigrette is 3 ingredients – balsamic vinegar, good quality olive oil, and honey for the perfect amount of sweetness. Other types of vinegar will work too, such as apple cider vinegar or red or white wine vinegar, or use balsamic glaze without the honey instead.
How to make a beetroot walnut feta salad
This is one of those recipes that doesn't need too much explanation. Literally all you have to do is to toss all the delicious ingredients together.
I usually start by lining a large salad bowl or platter with fresh arugula/rocket or other green salad. Then simply sprinkle everything else over the top.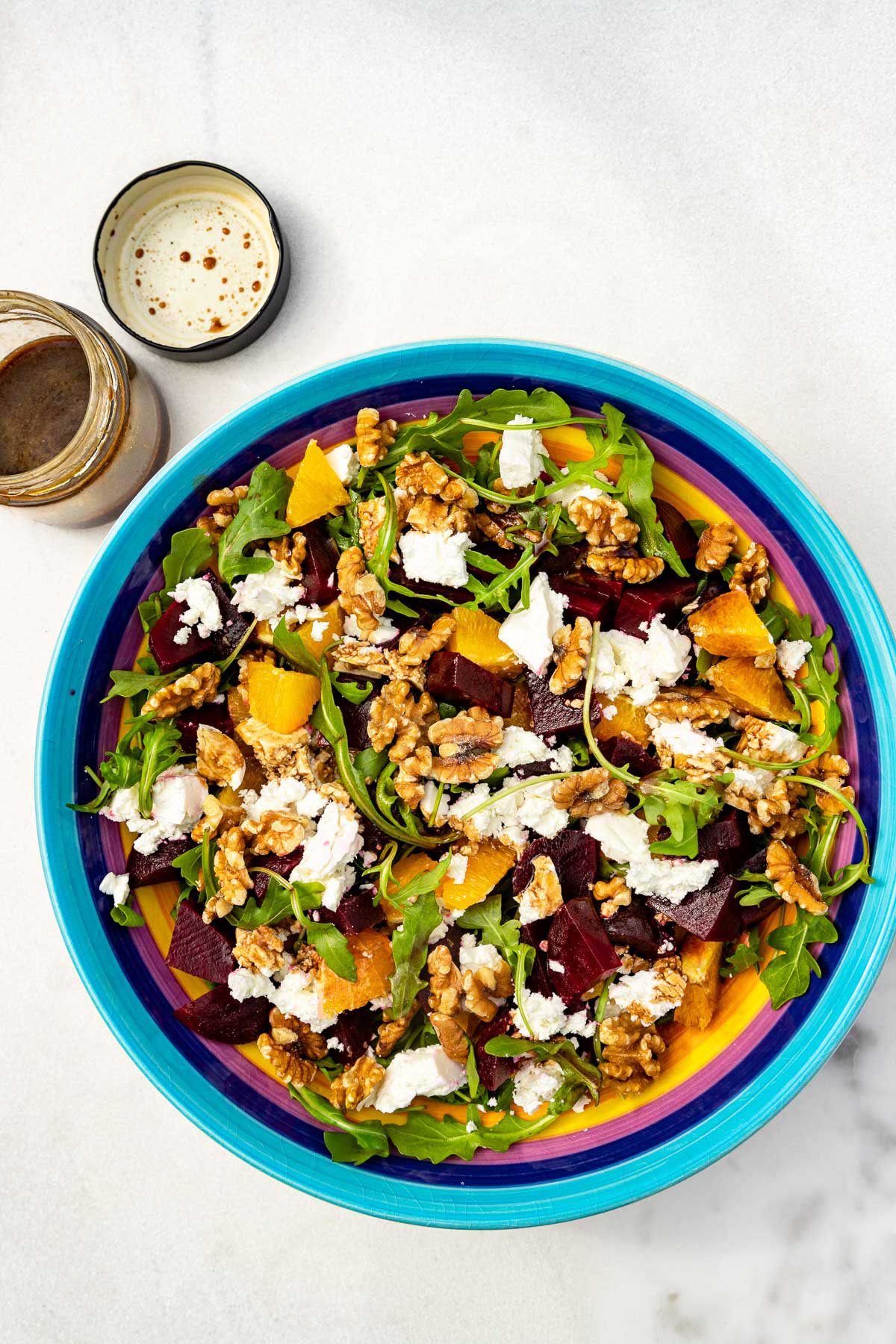 I'd recommend tossing the salad with around half of the balsamic dressing, then let everyone add a little more at the table if they like.
To make the dressing, simply pour the 3 ingredients (plus a little salt and pepper to taste) into a medium sized jar with a lid. Then screw the lid on tightly before shaking vigorously to combine.
Helen's top tips
I prefer to maintain a rustic feel to the salad by keeping the beets, feta and walnuts fairly chunky in size.
As with any salad, only toss with the dressing just before serving – or even at the table. This walnut beetroot feta salad is a particularly juicy salad, so this rule is especially important. If you add it too soon, the arugula will wilt.
Missing an ingredient or two? That's OK! As long as you have arugula or similar, beetroot and feta, and the vinaigrette ingredients, it'll still be delicious (see substitute suggestions below).
Variations
No walnuts, or not a fan? Either substitute with a different kind of nut such as pistachios, hazelnuts or pecans, or add seeds such as pumpkin or sunflower seeds instead.
For extra sweetness and crunch, try candied walnuts instead. Grab some from the supermarket, or try this recipe for candied walnuts from Simply Recipes.
Feel free to substitute the oranges with pieces of grapefruit, peach, nectarine, plum, crunchy apple or even strawberries.
No fresh fruit? Try dried cranberries instead.
I absolutely love this salad with feta, but it could also work well with another cheese such as goat cheese, blue cheese or ricotta.
Make it a more substantial dish (and up the protein) by adding canned cooked lentils, beans or chickpeas, quinoa, brown rice or another healthy grain (the little microwavable packets are perfect for this). I think this works especially well if you have leftovers. Stir the pulses or grains through, add a little more of the vinaigrette, and enjoy with toasted bread, or by itself!
How to serve
Is this beetroot and feta salad a main dish, or a side? Well, you'll be happy to know that it can absolutely be either!
It's wonderful enjoyed exactly as is, perhaps with your favorite fresh crusty bread on the side, these 2-minute olive oil toasts or, if you're feeling adventurous, this easy no-knead focaccia bread.
I love eating my delicious beet salad with feta and walnuts as a workday lunch with some canned lentils stirred through, or try a different bean or grain as described above.
Thinking of serving this as a colorful, nutritious side? It pairs wonderfully well with any kind of pan-fried, roasted or grilled meat or fish.
Try it with:
Recipe FAQs
How do I cut the oranges for this salad?
First cut the oranges in half, then into quarters. Take each quarter in turn and use a small sharp serrated knife to slice the fruit away from the peel. Carefully cut off any leftover white spots of rind, then cut the segments into 3 or 4 pieces.
How healthy is a beetroot walnut feta salad?
It's a very nutritious salad with protein (cheese and walnuts), fiber (arugula, beetroot and orange) and lots of vitamins and antioxidants. It can be a healthy side dish, or served with bread or with added pulses or grains, a very balanced meal.
How long will this salad stay fresh in the fridge?
A beet salad with feta and walnuts can be made a few hours in advance and stored covered in the fridge, but don't add the dressing until just before serving. Leftovers can be stored in the fridge covered well or in an airtight container for up to a day. The arugula will wilt but the salad will still taste good for lunch, for instance, with pulses or grains or brown rice stirred through it.
IF YOU MAKE THIS RECIPE, LET ME KNOW HOW YOU GET ON BY LEAVING A COMMENT AND RATING BELOW… AND DON'T FORGET TO SIGN UP TO RECEIVE ALL MY NEW RECIPES BY EMAIL!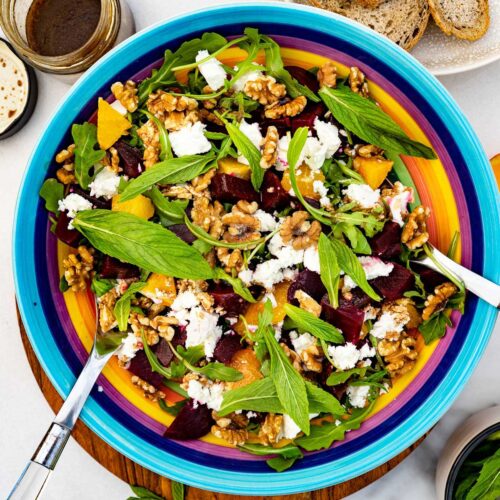 Quick Beetroot Walnut Feta Salad (With Cooked Beets)
This beetroot walnut feta salad with orange is a delightful and nutritious mix of flavors and textures. It combines ready-cooked beets, crunchy walnuts, tangy feta, juicy orange, and refreshing mint. With nothing to cook, it's ready in just 15 minutes. Tossed with a 3-ingredient balsamic dressing, it's a salad to enjoy on its own or with pulses or grains stirred through, or as a side with fish or meat.
Equipment (affiliate links)
Ingredients (UK/Australia? Click below for grams/ml)
4

ounces

arugula

(= rocket) Or use a different kind of fresh green salad such as baby spinach or watercress.

9

ounces

beetroot

cooked and sliced into medium sized chunks (either vacuum-packed – what I usually use – or jarred, canned)

4.5

ounces

feta cheese

(= about a cup of crumbled cheese) crumbled roughly

2

ounces

walnuts

coarsely chopped (= roughly ½ cup)

2

oranges

peeled and chopped into 12-16 pieces each

2

tablespoons

fresh mint

(Add more or less to taste.)
For the simple dressing (vinaigrette)
3

tablespoons

extra virgin olive oil

2

tablespoons

balsamic vinegar

1

tablespoon

honey

(Substitute with maple syrup if you like.)

salt and pepper to taste
Instructions
Line a large salad bowl or platter with the arugula/rocket.

Sprinkle the chopped beetroot, crumbled feta, walnuts, chopped oranges and mint leaves over the top.

9 ounces beetroot,

4.5 ounces feta cheese,

2 ounces walnuts,

2 oranges,

2 tablespoons fresh mint

Add all dressing ingredients to a jar with a lid. Put on the lid and shake the jar until all ingredients are well combined. Alternatively, mix the dressing ingredients together well with a small whisk or a fork in a small jug.

3 tablespoons extra virgin olive oil,

2 tablespoons balsamic vinegar,

1 tablespoon honey

Just before serving the salad, pour around half of the dressing over the top and toss well. Let everyone add a little more dressing at the table if they wish.
Notes
This salad is best served immediately after tossing with the dressing. Add half of the dressing before taking to the table, then let everyone serve themselves to a bit more if desired.
Beetroot: Use either vacuum-packed, canned or jarred (ready cooked). Unpickled is best. If you use pickled, you might like to add less vinegar to the dressing.
Feta: I like either an authentic Greek style feta or a creamy style such as Danish feta.
Walnuts: I prefer either walnut halves or roughly chopped, not finely chopped. Substitute with a different kind of nut such as pistachios or hazelnuts. Or skip the nuts and add seeds such as pumpkin seeds instead.
Oranges: Substitute with a stone fruit such as plum, peach or apricot, crunchy apple, strawberries or even dried cranberries.
How to serve: Serve either as a light meal on its own with bread, or as a main with grilled or roasted meat or fish. You can also make the salad more substantial by mixing in some cooked quinoa, brown rice or a different grain.
Storing: You can store leftovers in an airtight container for up to a day, but bear in mind that the arugula will wilt if the dressing has already been added. It will still however taste delicious!
Nutrition
Calories:
480
kcal
Carbohydrates:
32
g
Protein:
12
g
Fat:
36
g
Saturated Fat:
9
g
Polyunsaturated Fat:
11
g
Monounsaturated Fat:
14
g
Cholesterol:
38
mg
Sodium:
566
mg
Potassium:
718
mg
Fiber:
7
g
Sugar:
23
g
Vitamin A:
1446
IU
Vitamin C:
58
mg
Calcium:
349
mg
Iron:
3
mg