This slow cooker Thai pumpkin and red lentil soup is creamy, nutritious, and absolutely delicious. It's not quite dump and go, but you only need 10 minutes to prepare it!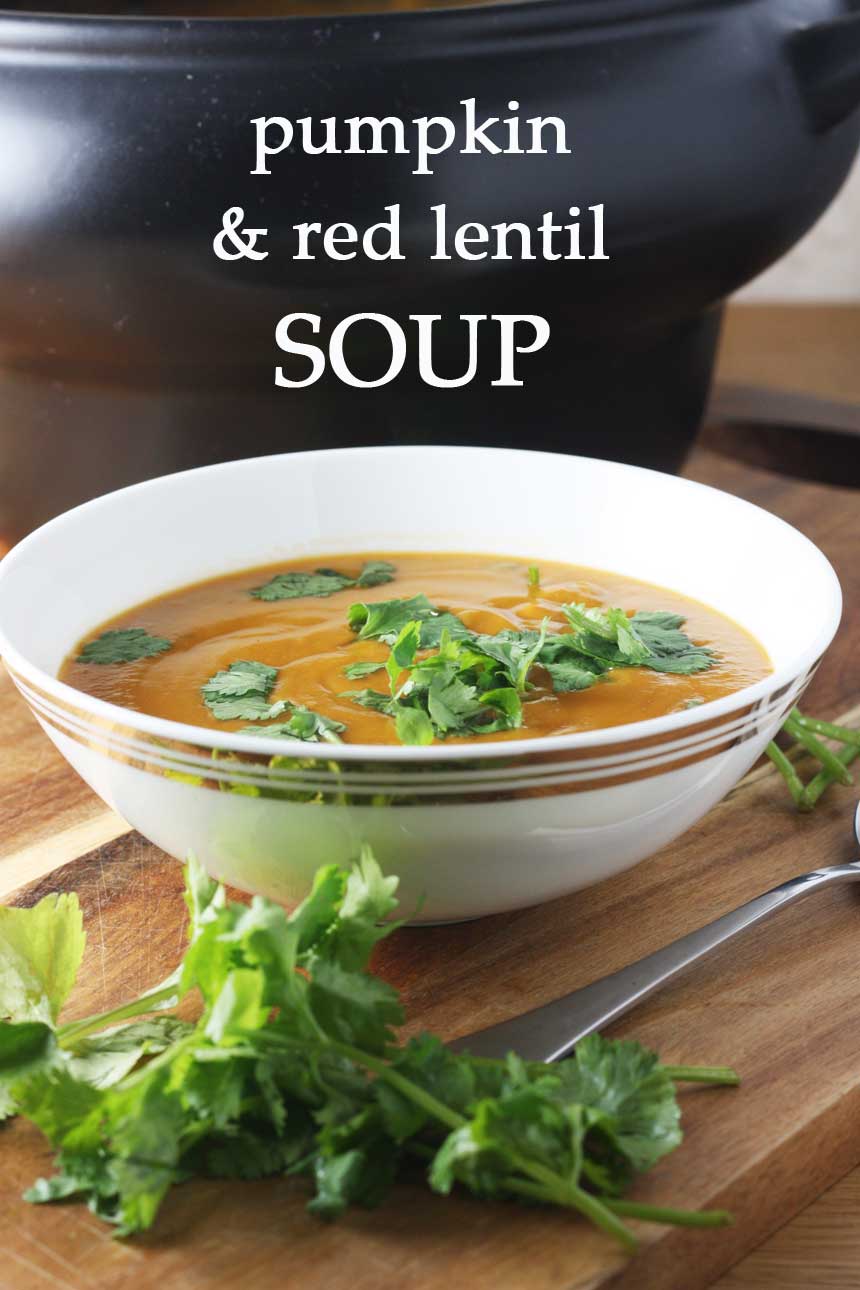 Thai pumpkin & red lentil soup. THIS is what you should have for dinner tonight!
It's:
How to make slow cooker Thai pumpkin and red lentil soup
Cook the first 6 ingredients (all the vegetables and spices) for a few minutes on the stove top to begin releasing the lovely flavours. If you have a multi-cooker or a slow cooker with a saute function, this gets really easy!
Add the lentils, coconut milk and stock/broth. Then switch on your slow cooker and walk away for 6 to 8 hours (or longer!).
Blend with a stick blender or in a food processor in batches.
Season well and scatter over fresh coriander.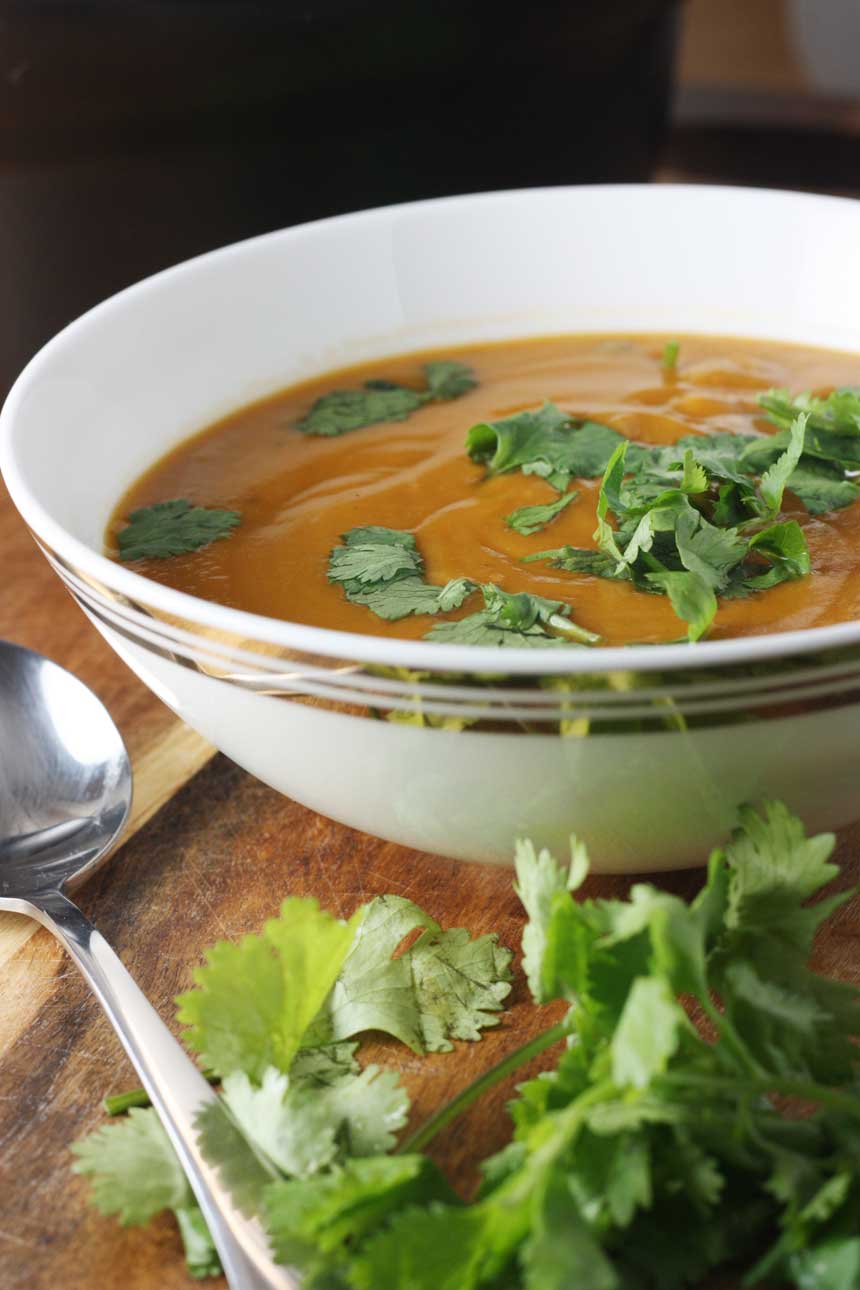 How to serve this Thai pumpkin and lentil soup
As you can see, I keep my Thai pumpkin soup simple. I sprinkle it with a little fresh coriander, toast some bread and drizzle it with olive oil and sprinkle it with salt, and I'm done.
If you want to be a bit fancier, however, you can:
How do you freeze the soup?
This pumpkin soup will keep for 3 to 4 days in the fridge, but it's also perfect for freezing.
This recipe makes about 6 servings – pretty good! But if you have a big enough slow cooker why not make double so that you can freeze more for later? Suddenly Winter doesn't seem so bad!
There is no magic freezing formula. Simply cool in freezer safe containers, put on a lid and freeze for up to 3 months. Make sure you do wait until the soup has cooled as you don't want to risk raising the temperature of your freezer even a little.
I usually freeze soup and other meals in glass containers because I feel they're the safest. Just don't overfill the containers. Leave at least an inch at the top. Remember the soup will expand as it freezes and you don't want the container to break.
Freezer safe Ziploc bags work well too. Just remember to label your bags or containers with the contents and date! Ever stood there for 10 minutes trying to peer through frosted glass to work out what something is? Not fun!
Not sure if you're getting the best out of your slow cooker? Here are my top 5 slow cooker tips
1 Flour-coat & brown:
You can absolutely just dump your meat and veggies in the pot and run. Your meal will still end up delicious, but taking just an extra few moments to brown your meat and/or vegetables on the stove top first will really help to seal all the juices into the meat and boost the flavour of the final dish.
For casseroles and stews, you can also be extra clever by rolling your meat in a little flour first. This will ensure that you end up with a richer, thicker sauce.
2 Get organised
If you're not keen on the idea of going to work smelling of onions and garlic, then prepare everything the night before (including browning the meat).
Throw it into the pot with your liquid covering the veg and meat and then put it into the fridge.
In the morning just pop the pot back into the slow cooker base and turn it on. Just try to remember to take it out of the fridge when you get up so that it warms up a little before you switch it on and you don't risk cracking your pot due to extremes of temperature.
3 Don't be a peeping Tom
I know, I know, it's so tempting to keep having quick peeks at your delicious feast cooking up there all by itself, especially when the gorgeous smells start to permeate the room.
But … well, DON'T.
Especially in the first couple of hours of cooking.
Some people would disagree here, but you don't really need to stir, either, unless your recipe specifically tells you to do so. The whole point of a slow cooker, remember, is to 'dump and go'!
4 Get fresh at the end
To cut through the richness of many slow-cooked dishes and/or add colour and vibrance to the flavours, do one or more of these things just before serving. Generously add:
fresh herbs, lemon zest, grated parmesan, high quality olive oil or even yoghurt, crème fraiche or cream (dairy may curdle if added at the beginning of cooking)
Your dish would have been wonderful just as it was, but such an added touch could make all the difference and turn a really good meal into an absolutely scrumptious one!
5 Be a greedy guts
Well, sort of. If your crock pot's big enough (and you don't have five kids to guzzle all the food down on one night), try to make double so that you can freeze some. You might as well leave yourself with no work at all for another day!
Now of course these are just my top 5 tips – there are loads more (if you've got any to share, I'd love it if you could mention it in the comments below!)
Above all remember that crock pots aren't just for casseroles and stews. You can make cakes & puddings, chili and bolognese sauces, ribs, curries, pot roasts, soups, stocks and quite possibly hundreds of other things in there, too.
WHAT ARE YOUR FAVOURITE CROCK POT RECIPES?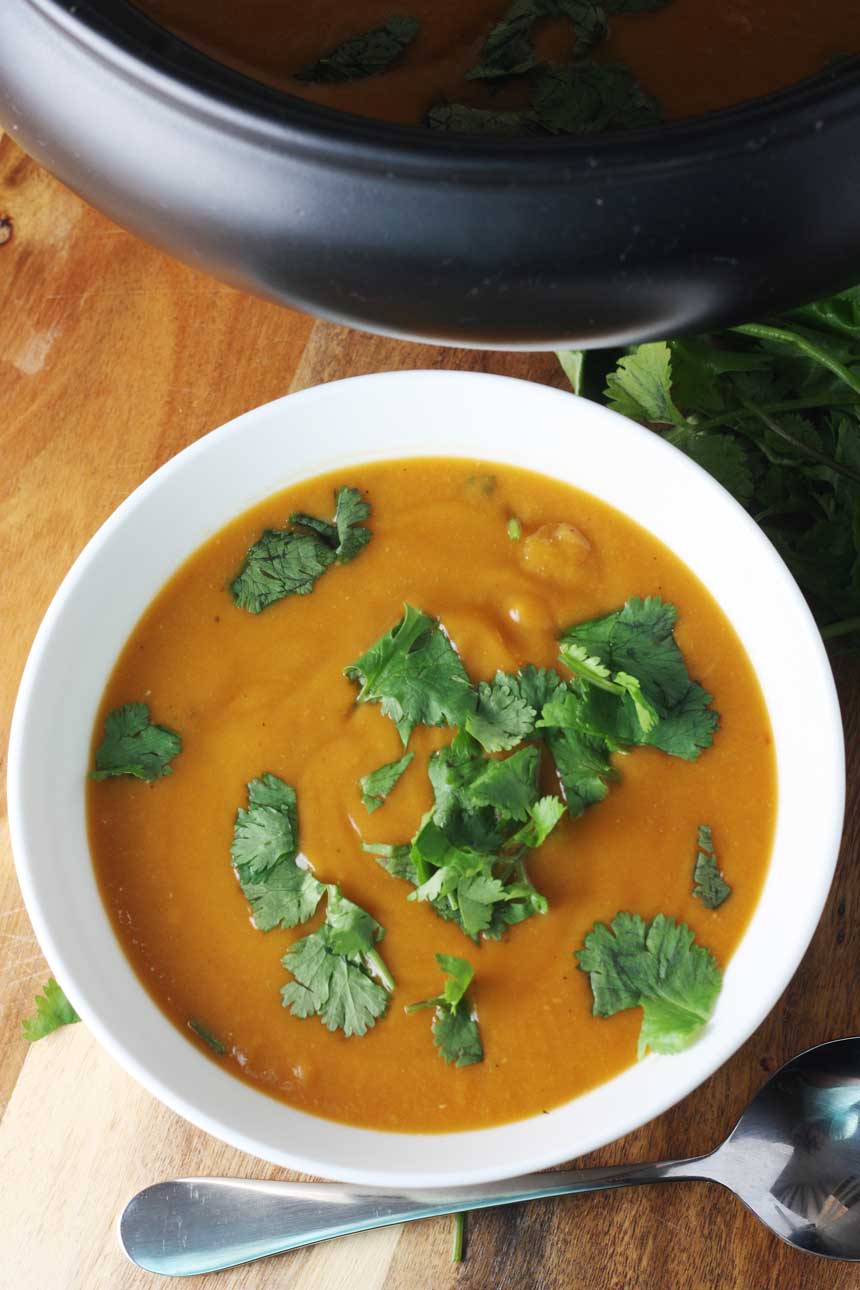 More easy slow cooked meals
More delicious soups
IF YOU MAKE THIS RECIPE, LET ME KNOW HOW YOU GET ON BY LEAVING A COMMENT AND RATING BELOW… AND DON'T FORGET TO SIGN UP TO RECEIVE ALL MY NEW RECIPES BY EMAIL!
FOLLOW ME ON FACEBOOK, INSTAGRAM, PINTEREST AND YOUTUBE.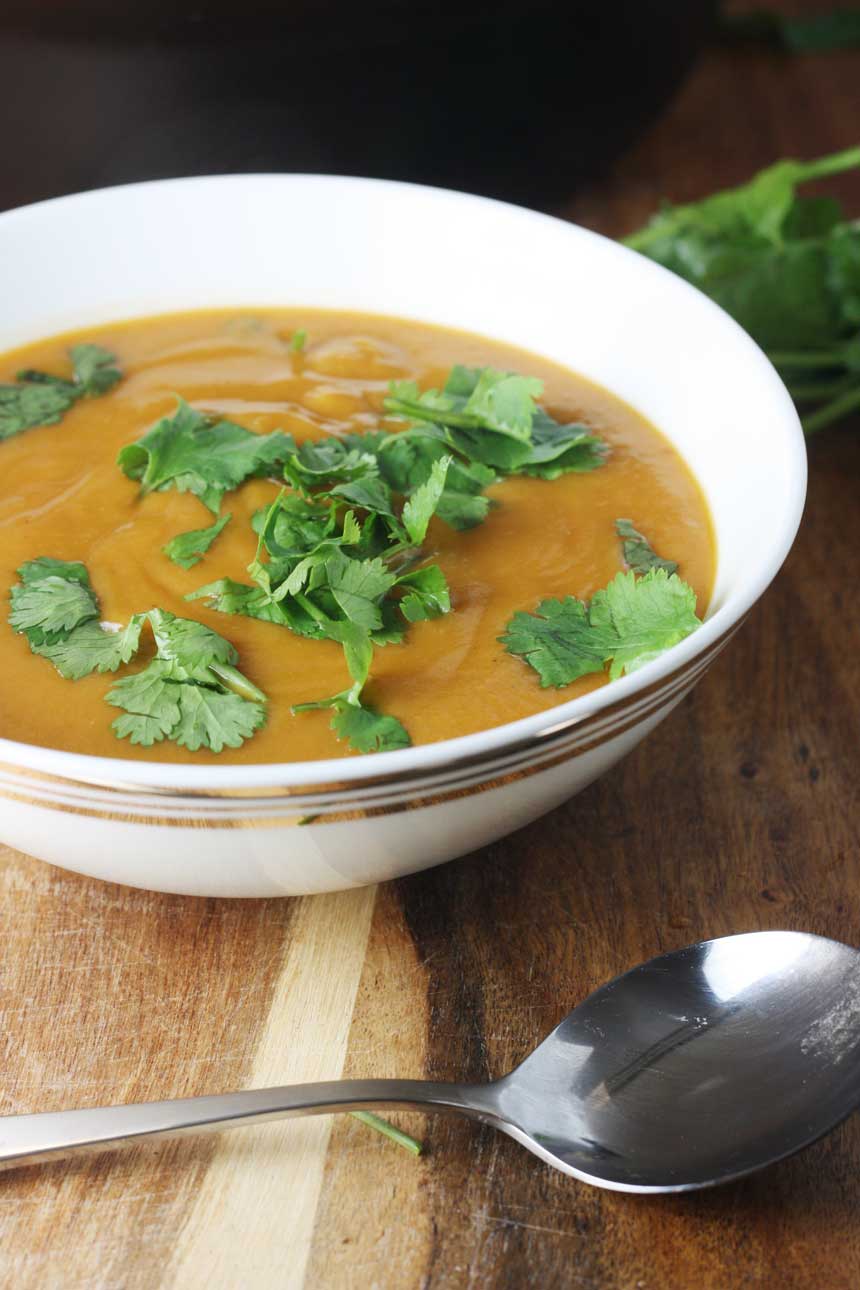 Thai pumpkin & red lentil soup
A deliciously thick, spicy, creamy, warming & healthy crock pot soup – perfect for a wholesome Autumn or Winter lunch.
Equipment (affiliate links)
Ingredients (UK/Australia? Click below for grams/ml)
1

onion

chopped

1

small to medium pumpkin

peeled and chopped into smallish cubes

2

garlic cloves

crushed

2

cm piece fresh ginger

finely sliced or grated

2

tablespoons

Thai red curry paste

2

tablespoons

tomato puree

1

cup

dried red split lentils

1

can coconut milk

not light

2

cups

chicken or veggie stock

good quality

salt and pepper to taste

fresh coriander

to sprinkle over at the end
Instructions
In a little oil, cook the onion with the pumpkin for a few minutes on a medium heat on your stove top, then add the garlic, ginger, curry paste and tomato puree. Cook for another minute or so, then transfer to your crock pot.

Add the lentils, coconut milk and stock and cook on low for 6-8 hours (longer if you like – or 4 hours on high if you're short on time).

Blend until smooth with a stick blender, then stir in salt and pepper to taste. Serve and scatter with the fresh coriander.
Notes
A note about the coconut milk
Your coconut milk may (but may not) look as if it's split when it's finished cooking (mine did). Don't worry about this at all. As soon as I blended the soup, all was fine!
Thick or thin?
This makes quite a thick soup. The first portion I ate I ate it super thick and really enjoyed it, but the next day I added a little water to thin it out a little. Both ways were nice, so the choice is yours!
Refrigerating and freezing the soup
This pumpkin soup will keep for 3 or 4 days in the fridge.
If you'd like to freeze it, let it cool thoroughly first (pour into a container with a lid and immerse in a cold water bath if you want to cool it faster).
Then pour into freezer safe containers or Ziploc freezer bags. Don't fill glass containers too much. Leave at least an inch at the top of the container to allow for expansion as the soup freezes.
Freeze for up to 3 months!
Nutrition
Calories:
365
kcal
Carbohydrates:
42
g
Protein:
14
g
Fat:
17
g
Saturated Fat:
14
g
Cholesterol:
2
mg
Sodium:
131
mg
Potassium:
1376
mg
Fiber:
12
g
Sugar:
11
g
Vitamin A:
20125
IU
Vitamin C:
26.4
mg
Calcium:
90
mg
Iron:
5.6
mg