Why not save your stovetop from messy grease splatters by learning how to cook bacon in your air fryer? No added oil needed! Do you want it just cooked, lightly crispy, or super crispy? Whichever you're looking for today, you can have perfectly cooked and tasty bacon in as little as 6 to 8 minutes.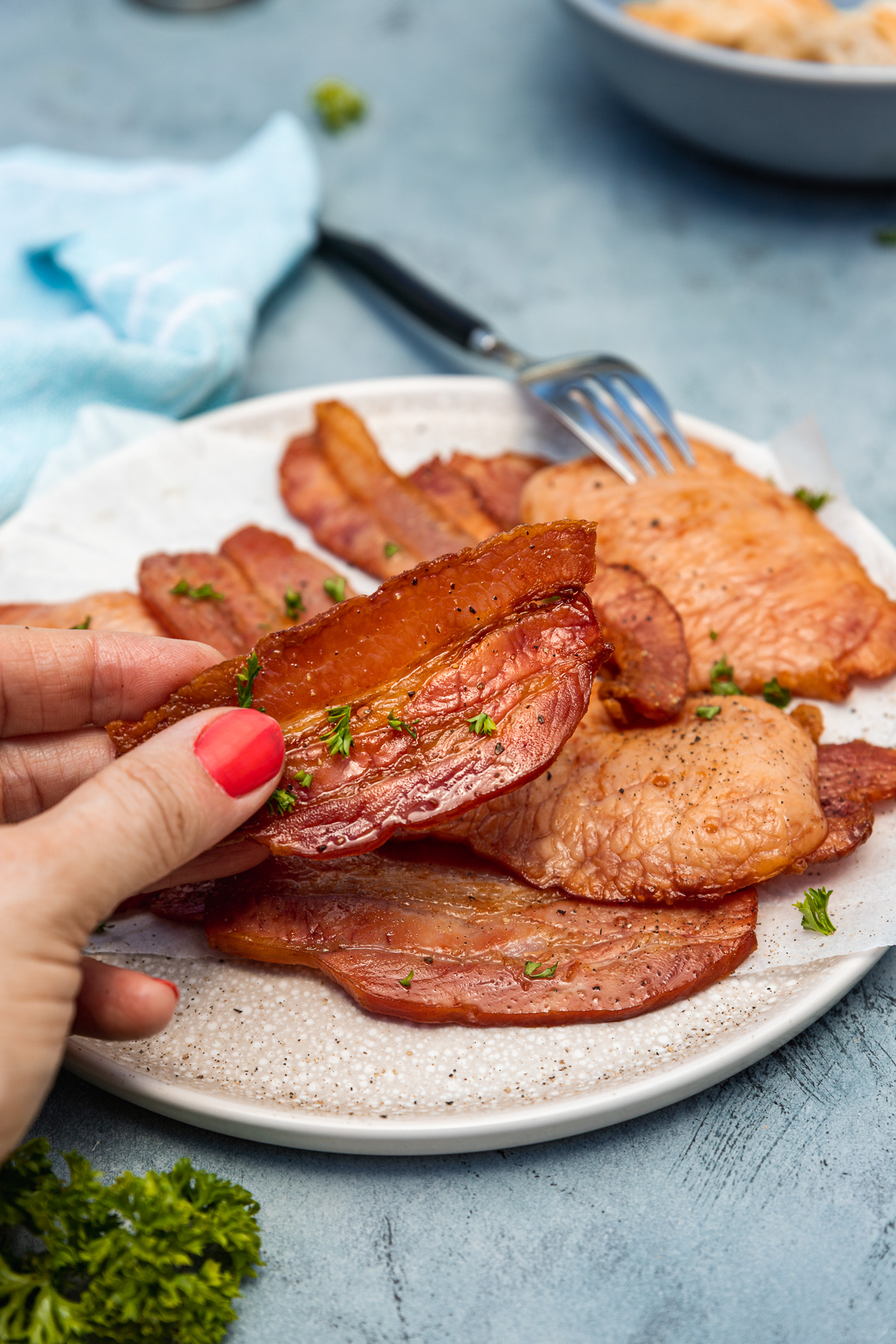 Why cook bacon in your air fryer?
If you're like me, there are some foods that I don't immediately think of cooking in my air fryer. Bacon was one of them until I realised how convenient it is. Here's why I think you'll be an air fried bacon convert too (after reading this post!):
Much less mess than cooking in a frying pan. No grease splattering everywhere!
Hands-off cooking. No more overcooking your bacon by accident!
Save oven or stovetop space if you have other things to cook as well.
No added oil. Spray the basket lightly if you like to prevent sticking, then cook as is.
I like to cook a couple of batches of bacon in my air fryer at one time. I keep the cooked rashers in my fridge to use in various dishes throughout the week!
About the ingredients
I should say INGREDIENT as all you need is some good quality bacon!
What type? Well, it really doesn't matter. I tend to go for pan-sized short cut or back bacon. Other types that you may see in Australia or the UK include streaky bacon and middle bacon. You may be able to see that I used middle bacon in my photos. This combines the best of both worlds as it's a combination of 'meaty' back bacon and 'fatty' streaky.
Depending on the size of your air fryer, you may need to slice the bacon in two before cooking. Certainly you'll have to do this if you're using middle bacon.
If you're using thinner American style bacon you may wish to cook the bacon for a minute or two less on each side as of course it will cook and crisp faster!
How to air fry bacon step by step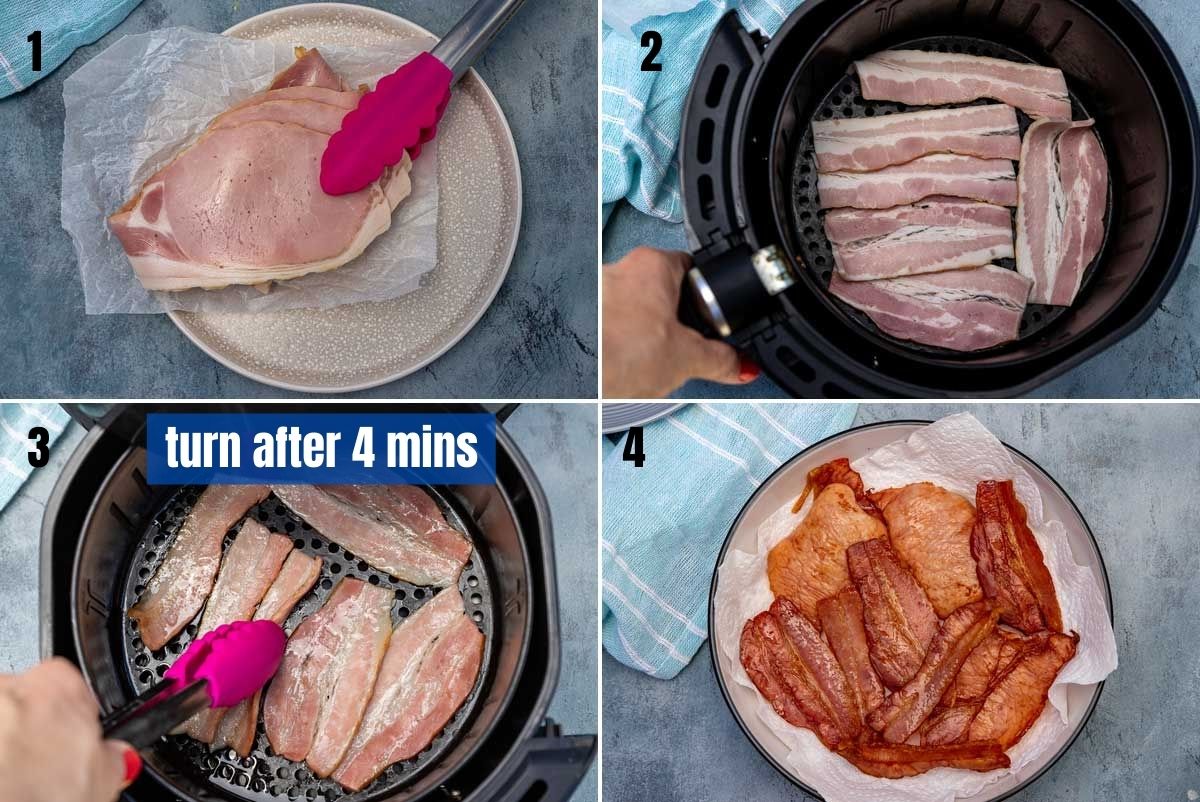 Step 1: Cut the bacon in half to fit in the air fryer basket if necessary.
Step 2: Place the rashers of bacon in the air fryer basket. They can be touching/overlapping a little as the bacon will shrink as it cooks.
Step 3: After 3 to 5 minutes (see below), turn the bacon over and cook on the other side.
Step 4: Drain on kitchen paper.
How long to cook your bacon for
For lightly crispy bacon: Turn after 4 minutes, then cook for another 4 minutes on the other side.
For bacon that's cooked but not crispy: Turn over after just 3 minutes and cook for an additional 3 minutes on the other side.
For super crispy bacon: Cook for around 5 minutes, then turn and cook for 5 more minutes until very crisp.
These cooking times can vary according to the type of bacon you have and the size and brand of air fryer. The best thing to do is to just keep checking until the bacon looks as crispy as you'd like it to be. The first time will be an experiment, but by the second time you'll be a pro!
Ways to use air fried bacon
Sometimes I air fry a double batch of bacon and keep any I don't want to use immediately in the fridge. As long as it's in an air tight container it will last well there for 4 to 5 days. Here are some ways I like to use it:
Variations
'What variations?' you might be thinking. A-ha, but there are some…
Air fryer bacon-wrapped asparagus: Why not try wrapping 3 stalks of asparagus with one big slice of bacon and air frying? 10 minutes should do the trick. You'll be amazed at the delicious result!
Air fryer bacon-wrapped pineapple, halloumi or shrimp: Try wrapping a third of a piece of bacon around a big chunk of pineapple, halloumi or shrimp. Add a cocktail stick to keep it all together and air fry for 8 to 12 minutes (try 8 for shrimp, 10 for pineapple and 12 for halloumi!).
Air fryer twisted bacon: For a touch of novelty! Simply hold each end of the bacon and twist as you place it in the air fryer – then cook as normal!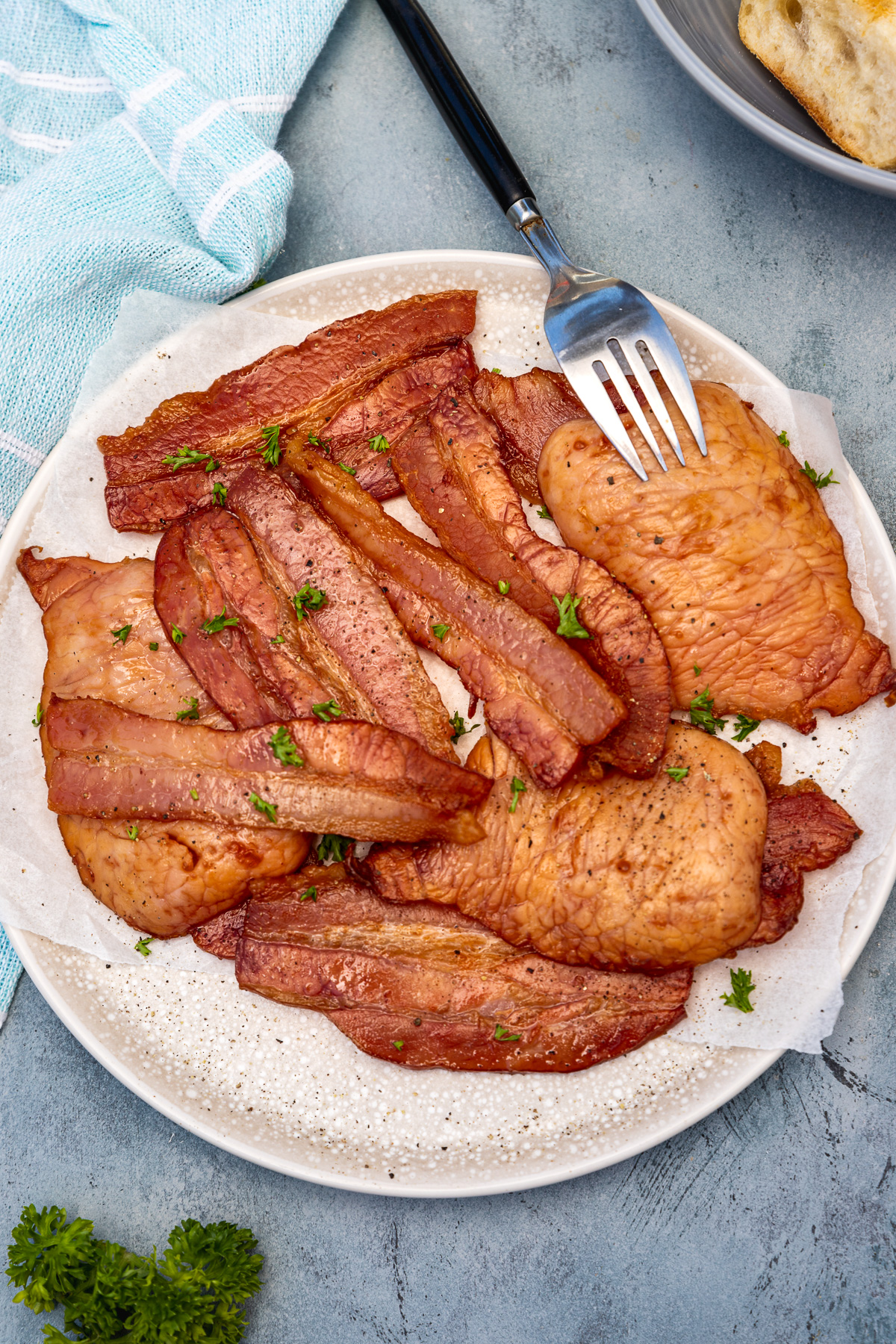 So tell me… what's the best air fryer?
There are so many good options on the market these days. A couple of popular models are the affiliate linkPhilips Essential Airfryer XL 6.2L and the Cosori Air Fryer XL 5.8Qt (a nice size!). But I think you can get decent results with any medium to large sized model. In fact I'll let you into a secret. Someone gave me a cheap no-brand air fryer a few years ago and it's been great! I'm still using it today.

I do happen to own a Breville Smart Oven Air Fryer Pro, too (an oven style air fryer). I use this to cook whole meals in for our family and really love it. You might prefer this kind as they are larger and have several other functions e.g. cooking pizza. However, bear in mind that they do take up more space in your kitchen.
More things to know (recipe FAQ)
Is air fried bacon healthier than pan-fried?
Yes, because you don't need to add any oil air frying is one of the healthiest ways to cook bacon. Just lay the bacon in your air fryer and cook. It will have the same delicious taste and texture as if you'd fried it in oil.
How can I stop the bacon from flying around inside the basket?
I haven't had this problem, but every air fryer is different. If your bacon is flying around while it cooks, you can add something on top of it like a special air fryer rack.
Help! My air fryer is smoking!
Because it has a lot of fat, bacon can sometimes smoke a lot while it's cooking in an air fryer. This happens to me occasionally, especially if I'm cooking a second batch and there's still some fat from the first batch in there. I find pulling the basket out for a few seconds then pushing it back in again and resuming cooking usually solves this issue.
Can I use turkey bacon or vegetarian bacon?
Great question! The answer is yes you can, of course. For turkey bacon (popular in the USA), cook at the same temperature and for the same amount of time as regular bacon.

You can definitely cook plant-based 'bacon' in your air fryer, too. Generally you just cook it exactly as you would ordinary bacon. You may need to experiment a little with the cooking time, but it's easy to 'see' when it's ready.
How do I clean my air fryer after cooking bacon in it?
I thought bacon would make a big mess of my air fryer. But clean-up is easy. First 'mop up' any excess bacon fat with some kitchen paper immediately after cooking. Then just wash both the basket and the bottom of the air fryer in soapy water before the fat gets stuck on and more difficult to remove.

If you're using an oven style air fryer like a Breville Smart Oven Air Fryer Pro (I have this and love it – I literally use it every day!), you might prefer to line a baking tray with baking paper and cook the bacon on top of that for easy clean-up. It will cook just as well!
More beginner air fryer recipes
IF YOU MAKE THIS RECIPE, LET ME KNOW HOW YOU GET ON BY LEAVING A COMMENT AND RATING BELOW… AND DON'T FORGET TO SIGN UP TO RECEIVE ALL MY NEW RECIPES BY EMAIL!
FOLLOW ME ON FACEBOOK, INSTAGRAM, PINTEREST AND YOUTUBE.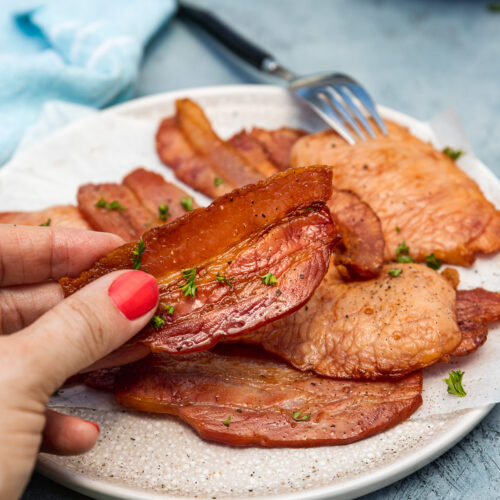 8-minute Air Fryer Bacon
Try cooking bacon in your air fryer and you'll never look back. With minimal clean-up, it's a hands-off, space saving, fast and healthy way of cooking bacon. You don't need to add any oil, but the bacon turns out just as crispy and delicious as if you cooked it on your stovetop. I like to cook a couple of batches and then keep the bacon in the fridge to add to meals throughout the week.
Ingredients (UK/Australia? Click below for grams/ml)
9

ounces

bacon

(back, streaky, middle, turkey – whatever kind you like)

a little oil spray

(optional – to prevent sticking)
Instructions
Preheat your air fryer at 355F/180C for 3 minutes. If necessary, cut your bacon in half to fit into your air fryer (you might not need to do this).

Lightly spray your air fryer basket with oil to prevent sticking (if you like). Lay the bacon in your air fryer. It can be slightly overlapping as it will shrink while cooking. You will probably need to cook the bacon in two batches unless you have an extra large sized air fryer.

Cook for 3 to 5 minutes (3 for cooked but not crispy, 4 for lightly crispy, 5 for crispier).

Turn over the bacon slices with tongs. Cook for another 3 to 5 minutes on the other side until it reaches the desired level of crispness!

Drain on kitchen paper. Eat immediately or store in an airtight container in the fridge for 4 to 5 days.
Notes
Best kind of bacon to use: There isn't really a 'best' kind. My 'recipe' is based on the thicker English/Australian style of bacon, but it also works for thinner US style bacon. Just adjust the cooking time until you have the desired level of crispness!
If cooking two batches: You may find that the bacon begins to release lots of smoke while you're cooking the second batch. If this happens, simply pull the air fryer basket out for a few seconds, then begin cooking again.
How to clean your air fryer afterwards: I find clean-up pretty easy after cooking bacon. Just mop up the fat in the bottom of the air fryer after cooking with kitchen paper. Then wash in hot soapy water as you would normally after using your air fryer.
Nutrition
Calories:
213
kcal
Carbohydrates:
1
g
Protein:
6
g
Fat:
20
g
Saturated Fat:
7
g
Polyunsaturated Fat:
3
g
Monounsaturated Fat:
9
g
Trans Fat:
1
g
Cholesterol:
34
mg
Sodium:
338
mg
Potassium:
101
mg
Vitamin A:
19
IU
Calcium:
3
mg
Iron:
1
mg