An intensely lemony pudding that magically separates into two delicious layers – one cake, one sauce. Make it with only 5 main  ingredients!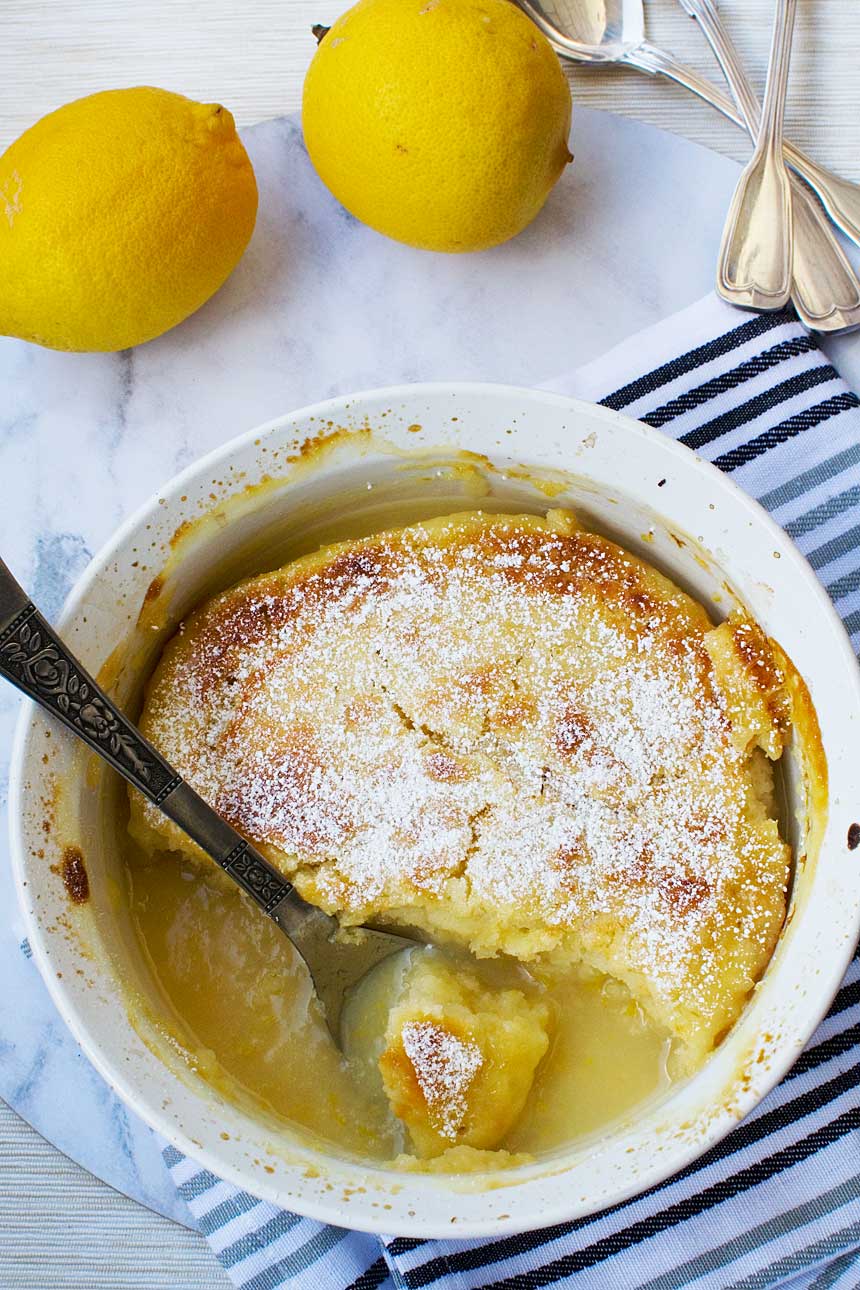 Since we moved to Australia just over a month ago, I've had lemons coming out of my ears. Both sisters-in-law gave me a bag of them fresh from the garden. If they hadn't, I could have picked up a bag from a neighour. It's not uncommon here to see bags of lemons sitting on driveways with a sign in front: 'Free lemons'.
Nice!
But if you're going to take those lemons, you really need to think of something to make with them. And relatively fast before they turn into green powder in your fruit bowl.
You might have seen something like this magic lemon pudding called self-saucing lemon pudding. You mix together flour, sugar, lemon zest, milk and butter, then you pour over lemon juice, sugar and water and bake. While in the oven, the dish 'magically' separates into a cake layer and a sauce layer.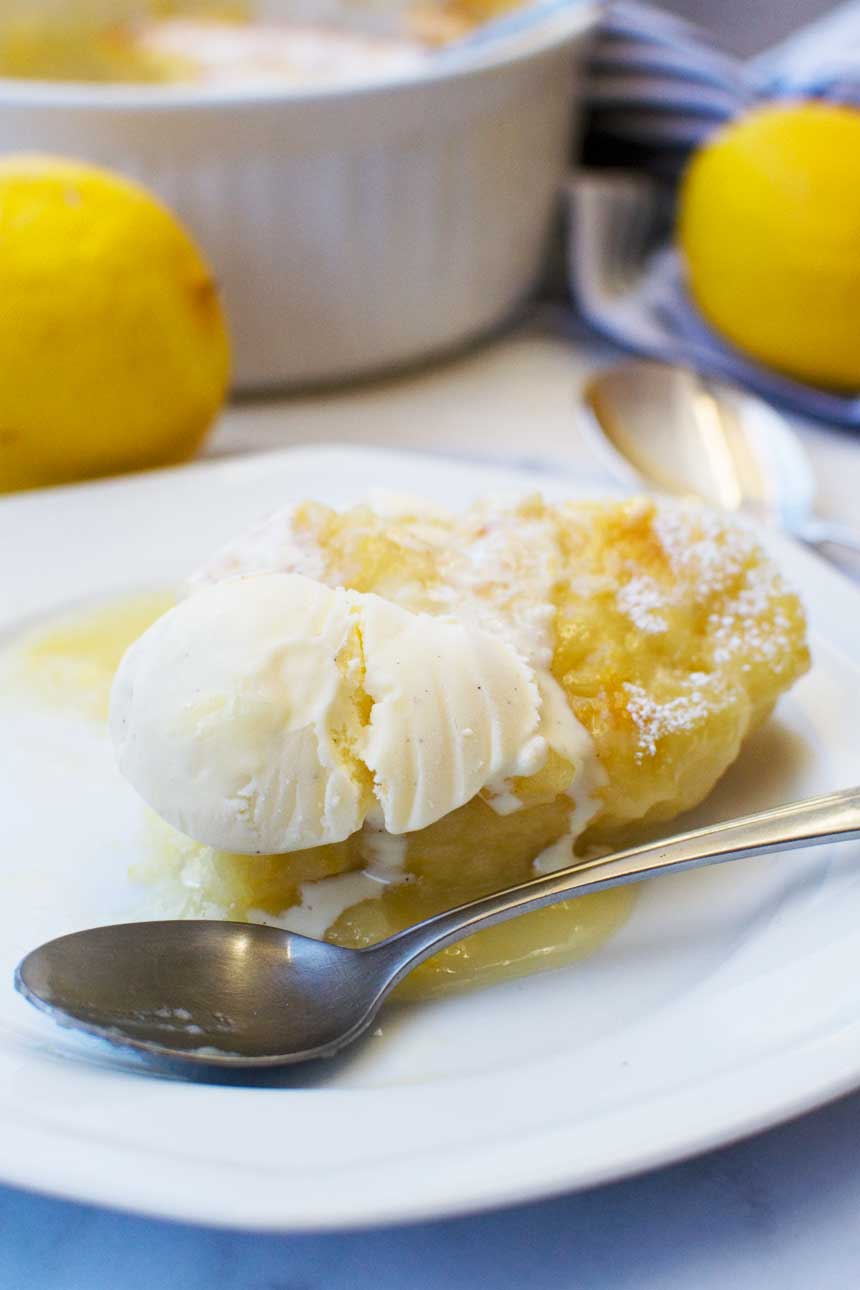 Add ice cream and eat. Hopefully you've fooled guests into thinking you've slaved away over this, when really it only took you 5 minutes to throw together. Massive win.
In the past, I haven't had much success making anything that has 'magic' in its name. A chocolate self-saucing pudding ended up with hardly any sauce and a magic apple cake  tasted divine but didn't have the 3 clearly defined magic layers it was supposed to.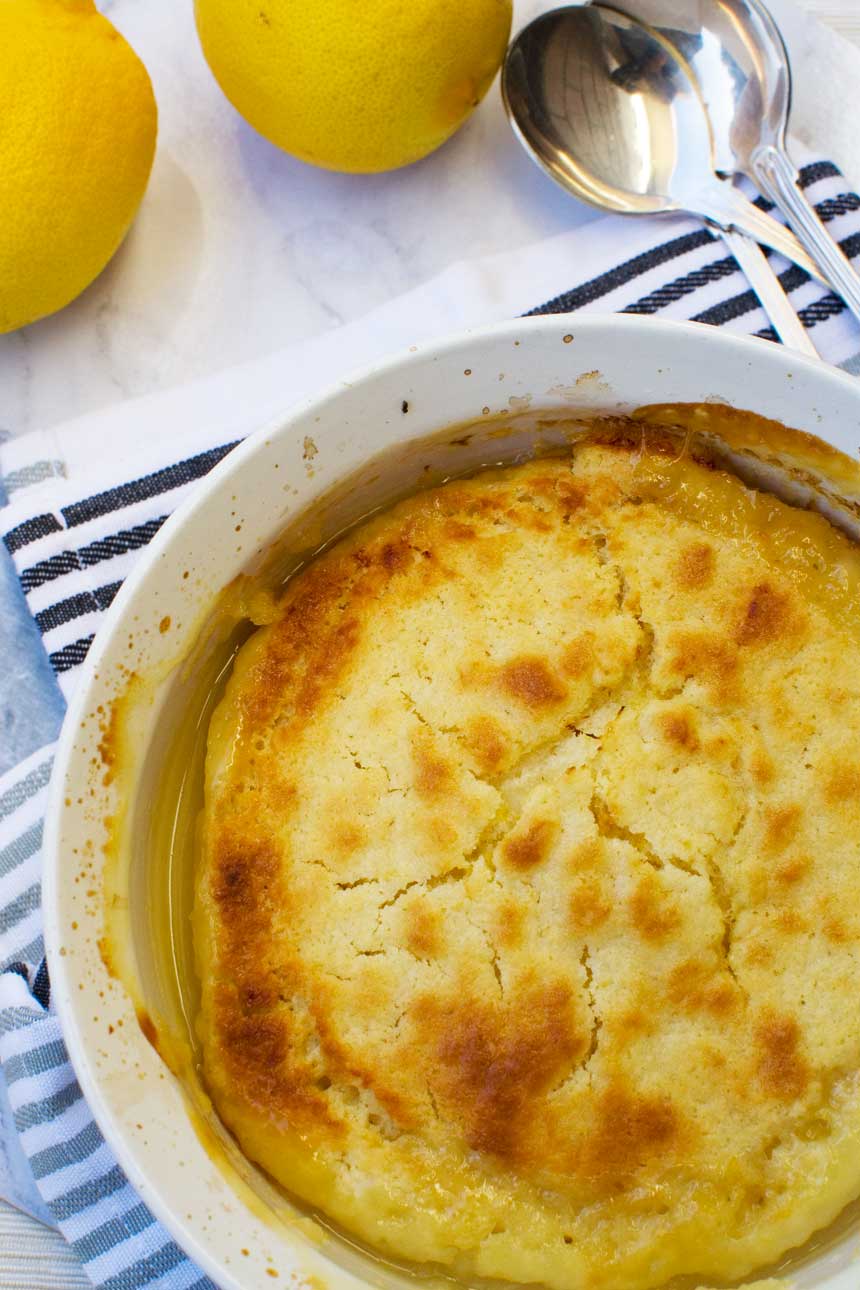 This recipe, on the other hand, is fool proof. My baking success record leaves a bit to be desired, but I don't think I (or you!) could mess this one up.
Just one thing you need to do to ensure success with this. After you take it out of the oven, leave it to cool slightly for ten to fifteen minutes. This helps the beautiful lemony sauce to thicken.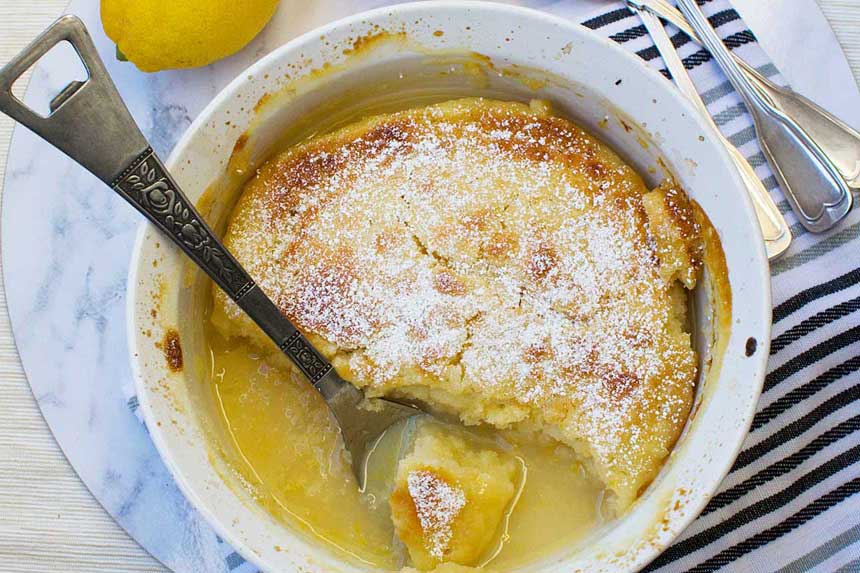 But then eat it immediately. We found this tasted really nice re-heated the next day but some of the sauce had sunken into the cake.
I hope you enjoy this. We think it's delicious!
This is the kind of baking dish I used for this pudding:

Easy lemon magic pudding (5 ingredients)
Prep time:
Cook time:
Total time: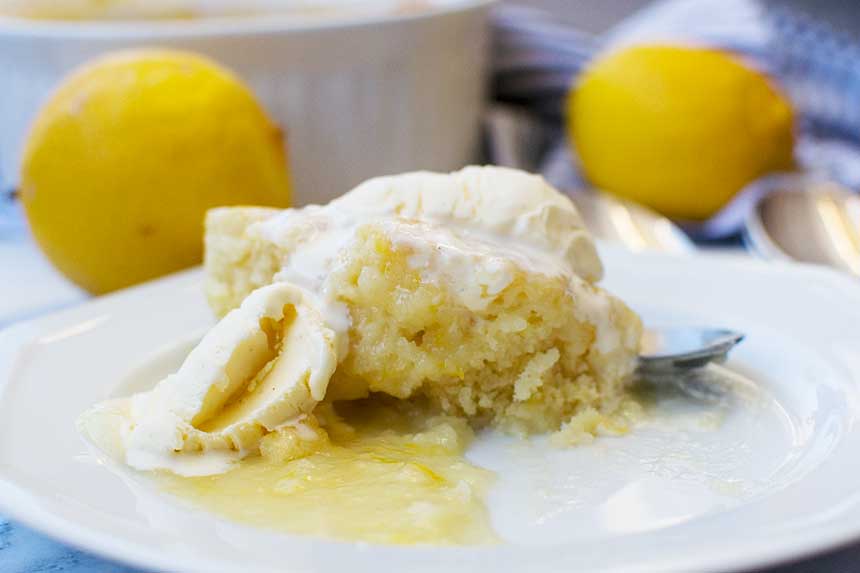 A quick and easy lemon pudding that separates impressively into 2 layers - a cake layer and a sauce layer. Magic!
Ingredients
for the cake batter
1 cup (250 grams) self-raising flour
½ cup (110 grams) sugar
zest of one lemon
½ cup (120 ml) warm milk
2 tablespoons (30 grams) butter (melted and mixed in with the warm milk)
for the sauce
¼ cup (55 grams) sugar
1 cup (240 ml) boiling water
½ cup lemon juice (120 ml / 2 to 3 lemons)
to serve (optional)
icing / confectioners' sugar for sprinkling
vanilla ice cream
Instructions
Pre-heat the oven to 355F / 180C and grease a medium sized high-sided baking dish with butter.
Mix together the flour, sugar and lemon zest in a medium bowl.
Pour the milk / butter mixture into the dry ingredients and stir until well combined.
Empty the batter into the baking dish.
Mix the sauce ingredients together, then carefully pour over the batter in the baking dish. Bake for about 35 minutes or until the top is golden brown and the sauce starting to bubble around the sides.
Take out of the oven, then leave for 10 to 15 minutes to allow the sauce to thicken slightly before serving.
Sprinkle with icing sugar and serve immediately with vanilla ice cream (if you like).