An intensely flavoured self saucing lemon pudding that magically separates into two delicious layers – one cake, one sauce. Make it with only 5 main ingredients – no eggs needed!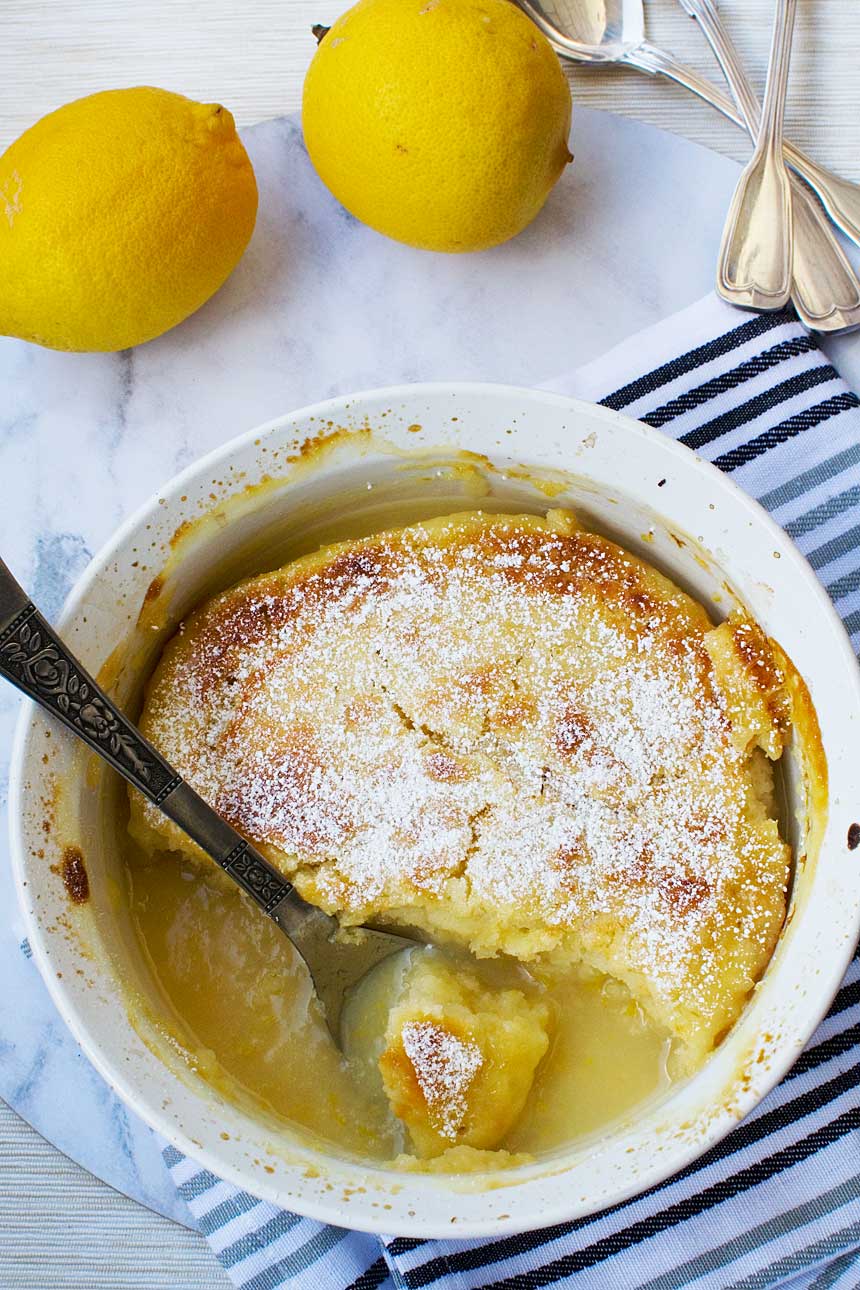 Amazing lemons!
It's not uncommon here in Australia to see bags of lemons sitting on driveways with a sign in front: 'Free lemons'. Which I love!
But if you're going to take those lemons, you really need to think of something to make with them. And relatively fast before they turn into green powder in your fruit bowl.
I love how versatile lemons are. I have some favourite savoury recipes that include lemons, like this incredible and easy Greek lemon chicken and potatoes.
I also have other go-to lemon dessert recipes, like this lemon mascarpone cake, and these lemon bakewell bars.
How to make a self-saucing lemon pudding
You might have seen something like this magic lemon pudding called self-saucing lemon pudding, or even lemon delicious pudding (here in Australia!).
You mix together:
flour
sugar
lemon zest
milk
and butter
then you pour over lemon juice, sugar and water and bake. While in the oven, the dish 'magically' separates into a cake layer and a lemon sauce layer.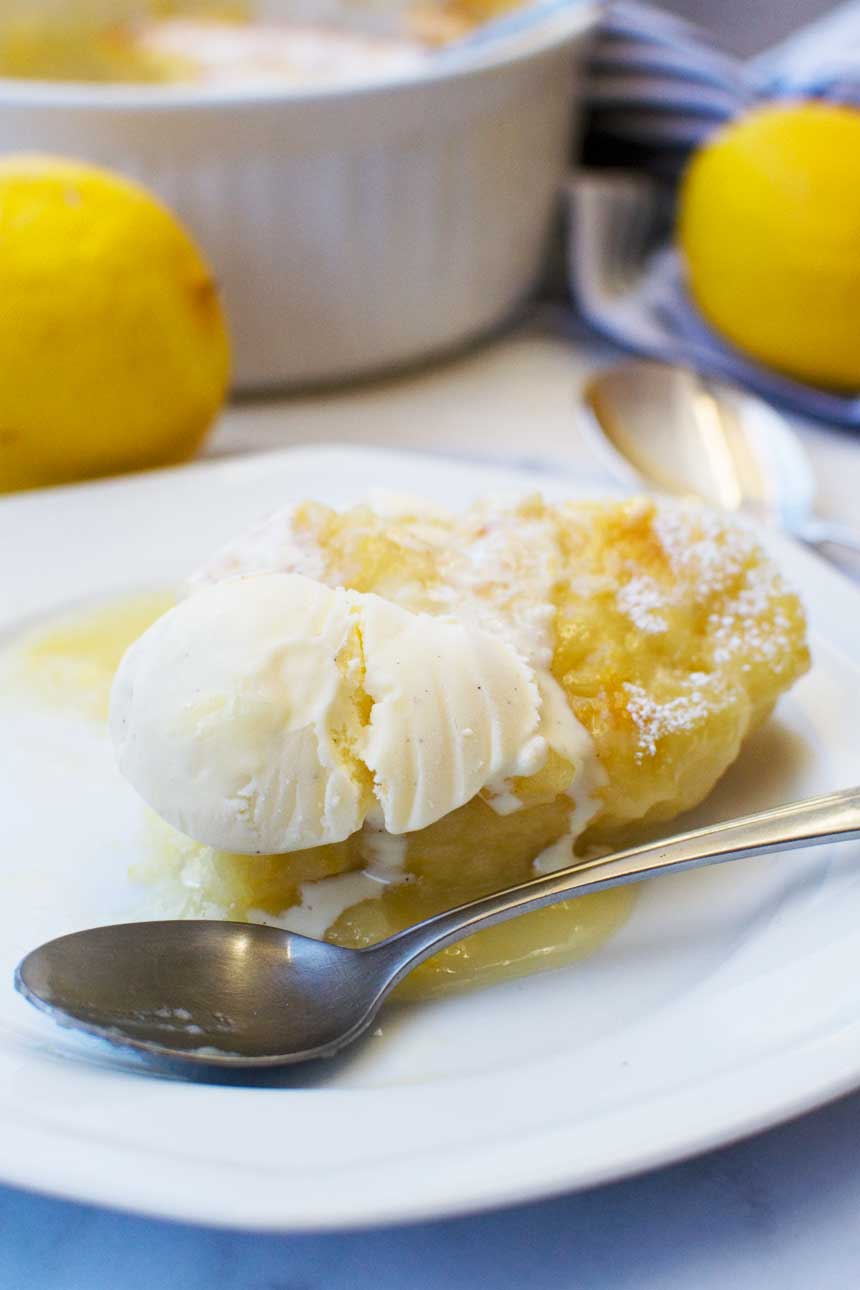 Add ice cream and eat. Hopefully you've fooled guests into thinking you've slaved away over this magic lemon pudding, when really it only took you 5 minutes to throw together. Massive win.
In the past, I haven't had much success making anything that has 'magic' in its name. A chocolate self-saucing pudding ended up with hardly any sauce and a magic apple cake tasted divine but didn't have the 3 clearly defined magic layers it was supposed to.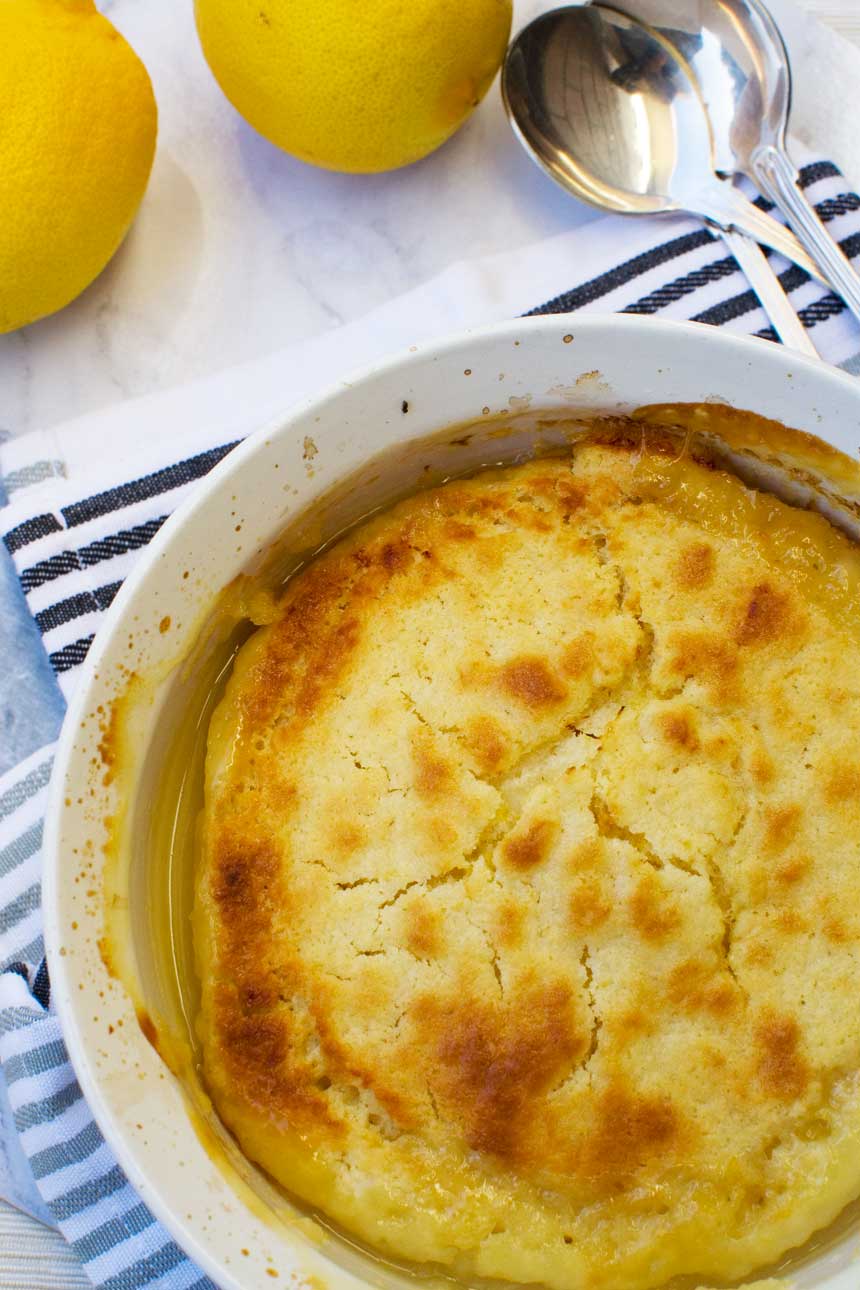 Love this recipe? Or hate it?
This recipe tends to divide a room. We have made it many times and love it, but it does receive mixed reviews.
Pro tip: The key to success is to leave the lemon pudding to cool slightly for ten to fifteen minutes after it comes out of the oven. The sauce might look a bit runny at first but if you let it stand it thickens up nicely.
This is what people say about this recipe:
Caro said: "ohhhhhhhhhhhhhhhhhhhhhh this is a lemon lovers dream! Tangy, warm, soft, not too sweet, I loved loved loved it."
Juanita said: "Loved this! So easy and so yummy. We made it two days in a row!"
But CA Cook said: "I tried to make this and it was a disaster. The liquid stood on top of the cake and after 45 minutes there were still several inches of liquid. It didn't taste lemony at all. The texture of the cake was really weird. I looked up other recipes for this kind of pudding and they call for eggs. Maybe this needs eggs."
Nope. The recipe doesn't 'need' eggs. I have tried to figure out why some people don't like this recipe but can't.
All I can suggest is to:
make sure the oven is properly heated before putting the pudding in.
Make sure you use self raising flour and not plain flour.
Leave the pudding for 10 to 15 minutes before eating to let the sauce thicken and cool a little.
Then eat it immediately. We find it tastes lovely the next day, but some of the sauce soaks into the pudding.
The only other advice I have is to try it for yourself… and make your own decision about whether you're a quick and easy lemon pudding without eggs lover or hater!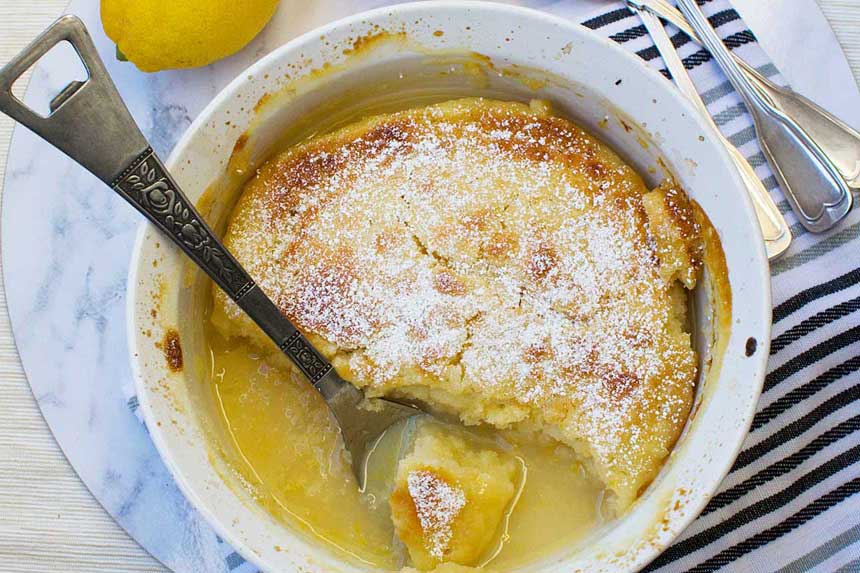 I hope you enjoy this. It perhaps won't ever win any beauty contests, but we think it's a delicious 'got-to-have-dessert-right-now' recipe!
This is the kind of baking dish I use for this pudding:
Update: The original magic lemon pudding recipe I adapted had very mixed reviews, and so does this one! If you give this a go and like it, would you consider popping back and leaving a review? Thank you!
Like this recipe? You'll enjoy my chocolate self saucing pudding too!
I worked on the 'little sister' of my lemon pudding aka a 6-ingredient chocolate self saucing pudding, also with no eggs, for a long time before publishing it.
I wanted to get it 'just right'. I hope you agree it was worth the wait! There are plenty of chocolate self saucing puddings out there already, but what sets this one apart is that:
it's surprisingly low in sugar
it's egg free, just like the lemon pudding, in case you can't get any or you can't eat eggs
it's got plenty of sauce (mmmm… )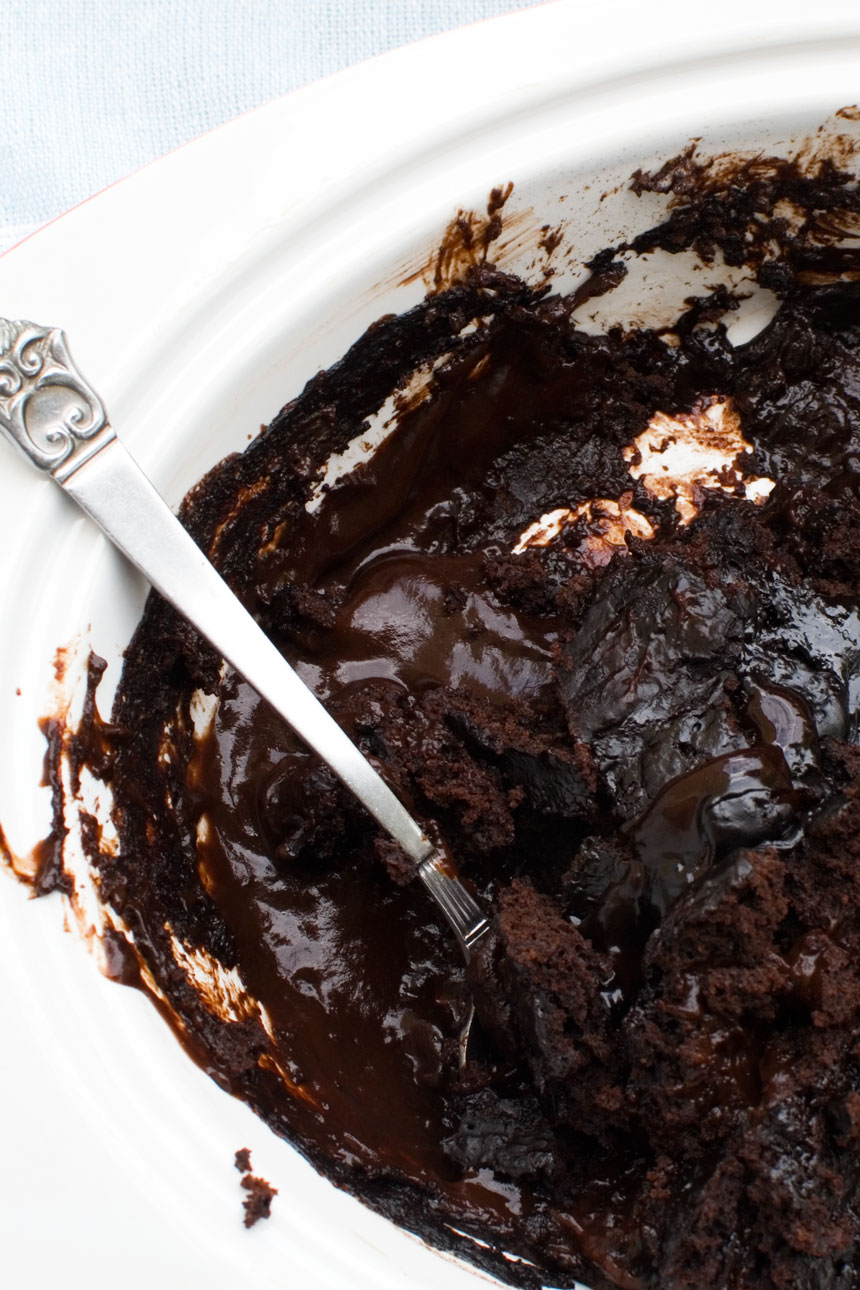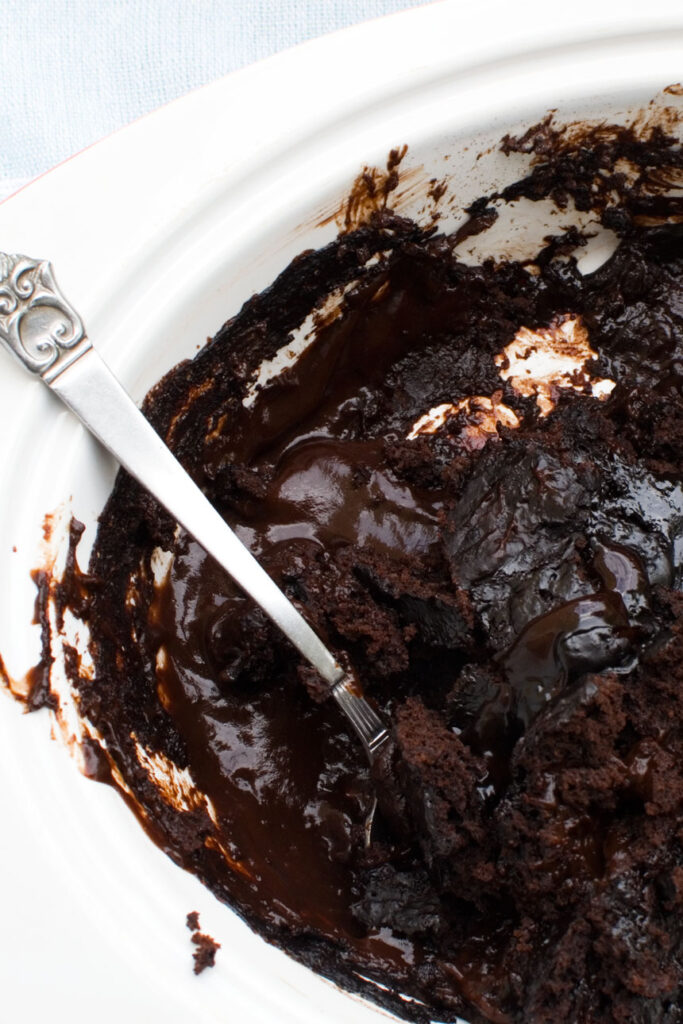 More really easy desserts
IF YOU MAKE THIS RECIPE, LET ME KNOW HOW YOU GET ON BY LEAVING A COMMENT AND RATING BELOW… AND DON'T FORGET TO SIGN UP TO RECEIVE ALL MY NEW RECIPES BY EMAIL!
FOLLOW ME ON FACEBOOK, INSTAGRAM, PINTEREST AND YOUTUBE.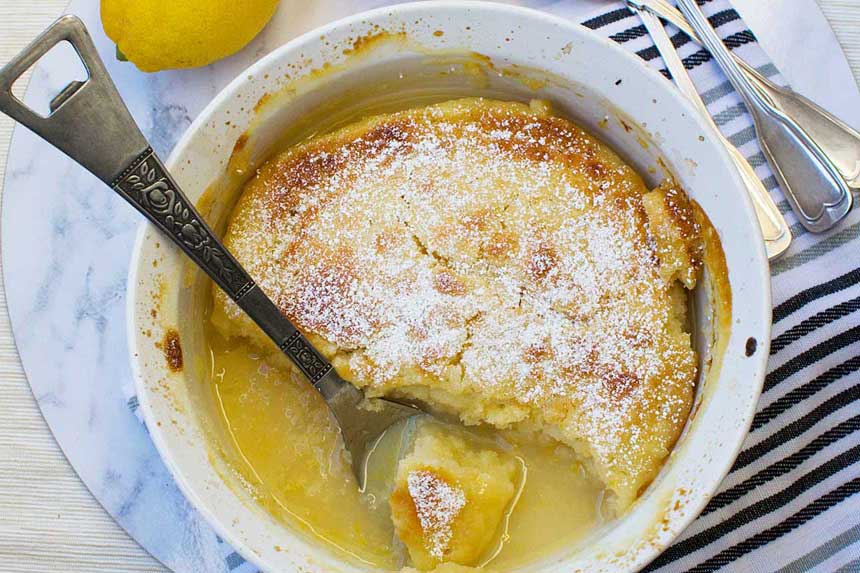 Easy lemon magic pudding (5 ingredients)
A quick and easy lemon pudding that separates impressively into 2 layers – a cake layer and a sauce layer. Magic!
Equipment (affiliate links)
Ingredients (UK/Australia? Click below for grams/ml)
for the cake batter
1

cup

self-raising flour

½

cup

sugar

1

lemon

zest only (use the juice in the sauce)

½

cup

milk

warmed

2

tablespoons

butter

(melted and mixed in with the warm milk)
for the sauce
¼

cup

sugar

1

cup

water

boiling

½

cup

lemon juice

(2 to 3 lemons)
to serve (optional)
icing / confectioners' sugar for sprinkling

vanilla ice cream
Instructions
Pre-heat the oven to 355F / 180C and grease a medium sized high-sided baking dish with butter.

Mix together the flour, sugar and lemon zest in a medium bowl.

Pour the milk / butter mixture into the dry ingredients and stir until well combined.

Empty the batter into the baking dish.

Mix the sauce ingredients together, then carefully pour over the batter in the baking dish. Bake for about 35 minutes or until the top is golden brown and the sauce starting to bubble around the sides.

Take out of the oven, then leave for 10 to 15 minutes to allow the sauce to thicken slightly before serving.

Sprinkle with icing sugar and serve immediately with vanilla ice cream (if you like).
Notes
A note on the appearance!
Know before you make it that this dessert is DELICIOUS but it's probably never going to win any beauty contests! It might be one to reserve for you and your family rather than serving it to guests you're wanting to impress 😉
A note on the consistency
Some readers have reported this dessert to be 'too runny'. There IS a lot of sauce, and when you first take it out of the oven it's bubbling and runny looking.
Leave it for about 15 minutes however and it should thicken up nicely, leaving the equally as delicious cake on the top.
A note on the flour
The self raising flour in this recipe is crucial for it to work, so make sure you don't use plain flour instead.
If you don't have any self raising flour, simply add 1.5 teaspoons of baking powder and half a teaspoon bicarb of soda/baking soda for every cup of flour.
It's also worth noting that self rising flour in the USA is NOT the same as self raising flour in the UK or Australia. If you're in the USA, I'd recommend using the above formula to make your own self raising flour. Good luck!
Really like this recipe?
Here's my equally as delicious chocolate self saucing pudding! Enjoy!
Nutrition
Calories:
341
kcal
Carbohydrates:
66
g
Protein:
5
g
Fat:
7
g
Saturated Fat:
4
g
Cholesterol:
18
mg
Sodium:
68
mg
Potassium:
140
mg
Fiber:
1
g
Sugar:
40
g
Vitamin A:
225
IU
Vitamin C:
26.2
mg
Calcium:
46
mg
Iron:
0.5
mg