This delicious instant pot tomato soup recipe is so simple (not to mention healthy!). Make it in just 30 minutes with canned tomatoes, fresh basil and a few other simple ingredients you probably already have in your pantry and fridge. Prefer to make it on the stovetop? No worries – you can do that if you prefer!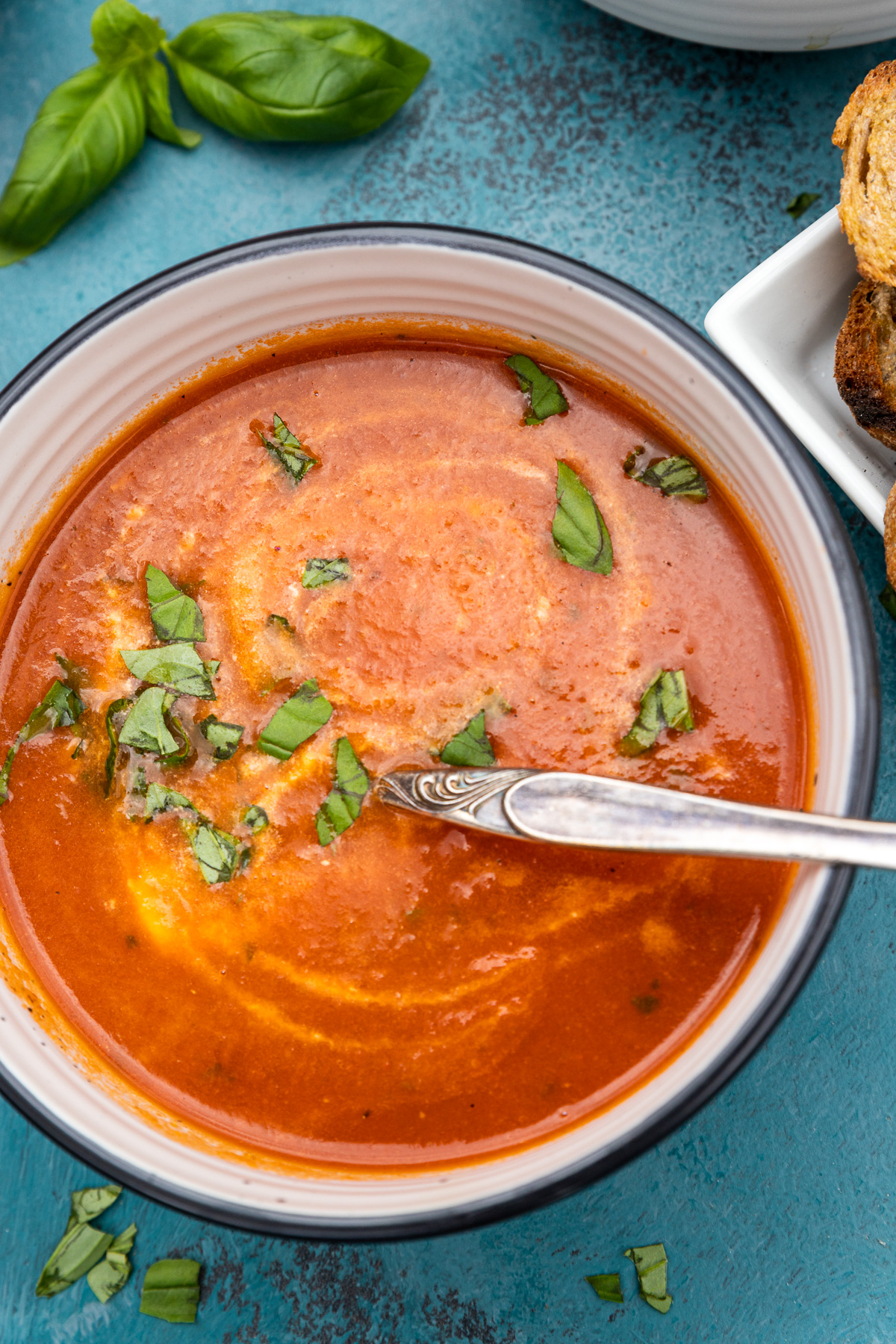 Why you'll love it
When you're in the mood for something healthy, simple and comforting, let's face it, you can't go wrong with a bowl of homemade tomato soup. Even better if you have an Instant Pot (or other electric pressure cooker!) which makes the recipe a little more hands-off.
Here's what I think you'll love about making this easy tomato soup in your Instant Pot!
✔ Super easy to make with just canned tomatoes, fresh basil and a few other simple pantry ingredients.
✔ Ready in just 30 minutes (this includes the prep time, and the time for the Instant Pot to come to pressure and release the pressure at the end).
✔ A 'healthy' tomato soup recipe. Low in calories, and… hello 'hidden' nutrition with added carrots, onion and celery!
✔ Easy to customize to 'make it your own'. Switch up the seasonings, or add a dash of cream or cheese for extra richness, for instance. Or check out more ideas below!
✔ Instant Pot or stovetop – it's your choice. I love the IP since it's so hands-off, but this soup is almost as easy to make on the stove if you prefer!
About the ingredients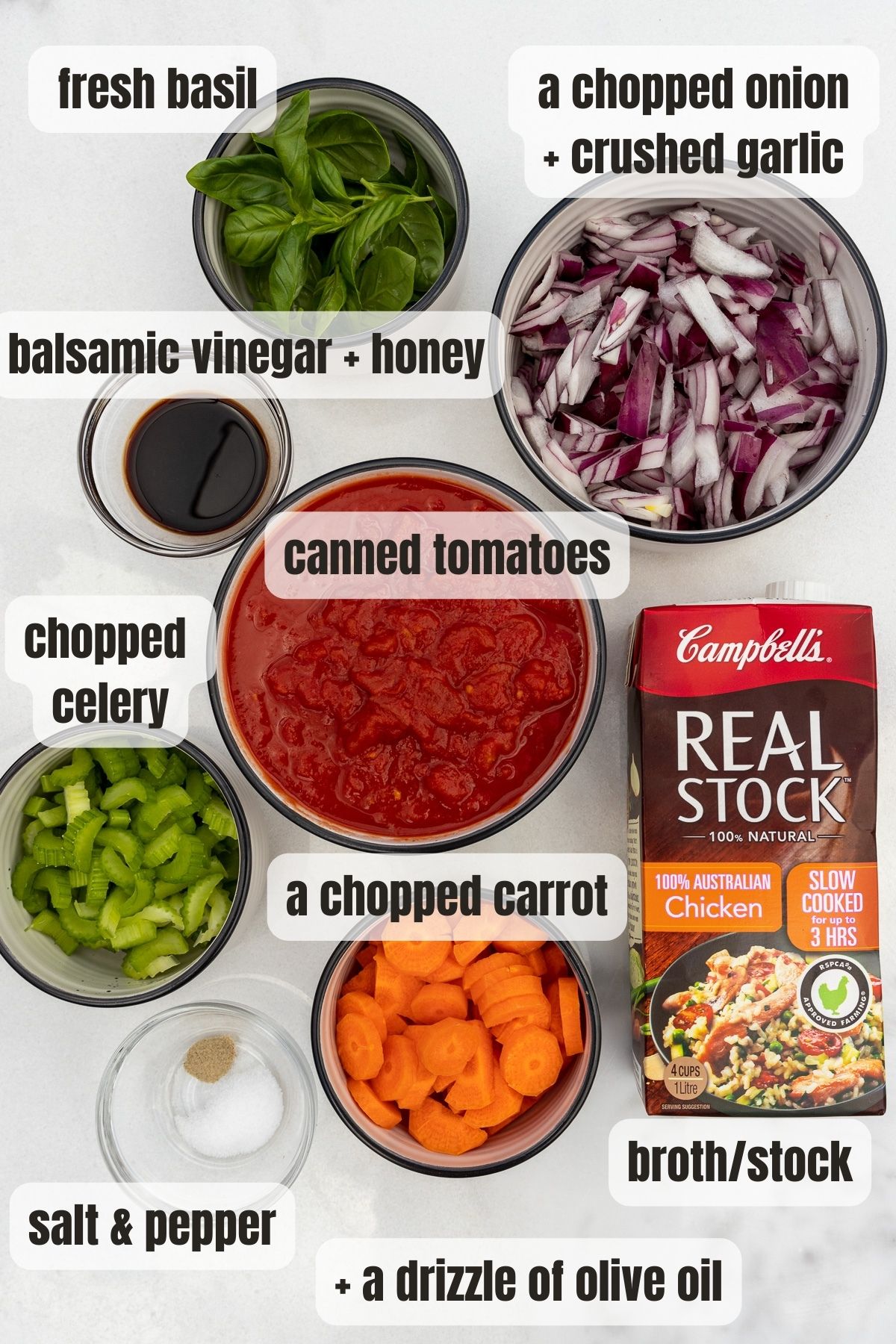 There are very few recipes that you can truly make with just a few pantry ingredients and still end up with something very delicious. This Instant Pot tomato basil soup is definitely one of them!
If you've got these ingredients, you're all set.
Some simple vegetables: a chopped onion, a large carrot or two, and 2-3 sticks of celery (you can skip any of these you don't have). I've used a red onion in the photo shown above, but a regular white or yellow onion is perfectly fine, as well.
Fun fact: Yellow onions are the sweetest when cooked.
Garlic: 2 large cloves. No need to crush or chop, since you'll be blending the soup.
Liquid: Canned tomatoes and broth/stock. You can use either chopped tomatoes or whole. I usually use chicken stock but use vegetable broth if you'd like to keep the recipe vegetarian (actually, vegan!).
Seasonings: Adding half a bunch of fresh basil definitely elevates the flavor of this simple soup. By all means, you can substitute the fresh basil for a heaped tablespoon of dried basil (or any dried herb!). Adjust the amount of salt and pepper to taste.
To balance the flavours: I like to add two 'secret' ingredients to any tomato-based recipe – a drizzle of balsamic vinegar and a spoonful of honey (or sugar if you don't have it). Purely optional, but you'll be surprised what a difference these simple additions make!
Top tip: To substitute fresh basil for dried, simply use 1 teaspoon of the dried herb for every 1 tablespoon of fresh. In this recipe, use around a heaped tablespoon of dried basil.
How to make it
The step-by-step guide below should help you make the recipe perfectly first time. Scroll down to the end for the full recipe including ingredient amounts.
It takes just 10 minutes to prep the ingredients to make tomato soup in an Instant Pot!
Step 1: Add a drizzle of olive oil to the bowl of your Instant Pot. Cook all the chopped vegetables plus the garlic on the sauté fuction for a couple of minutes (optional step, but recommended!).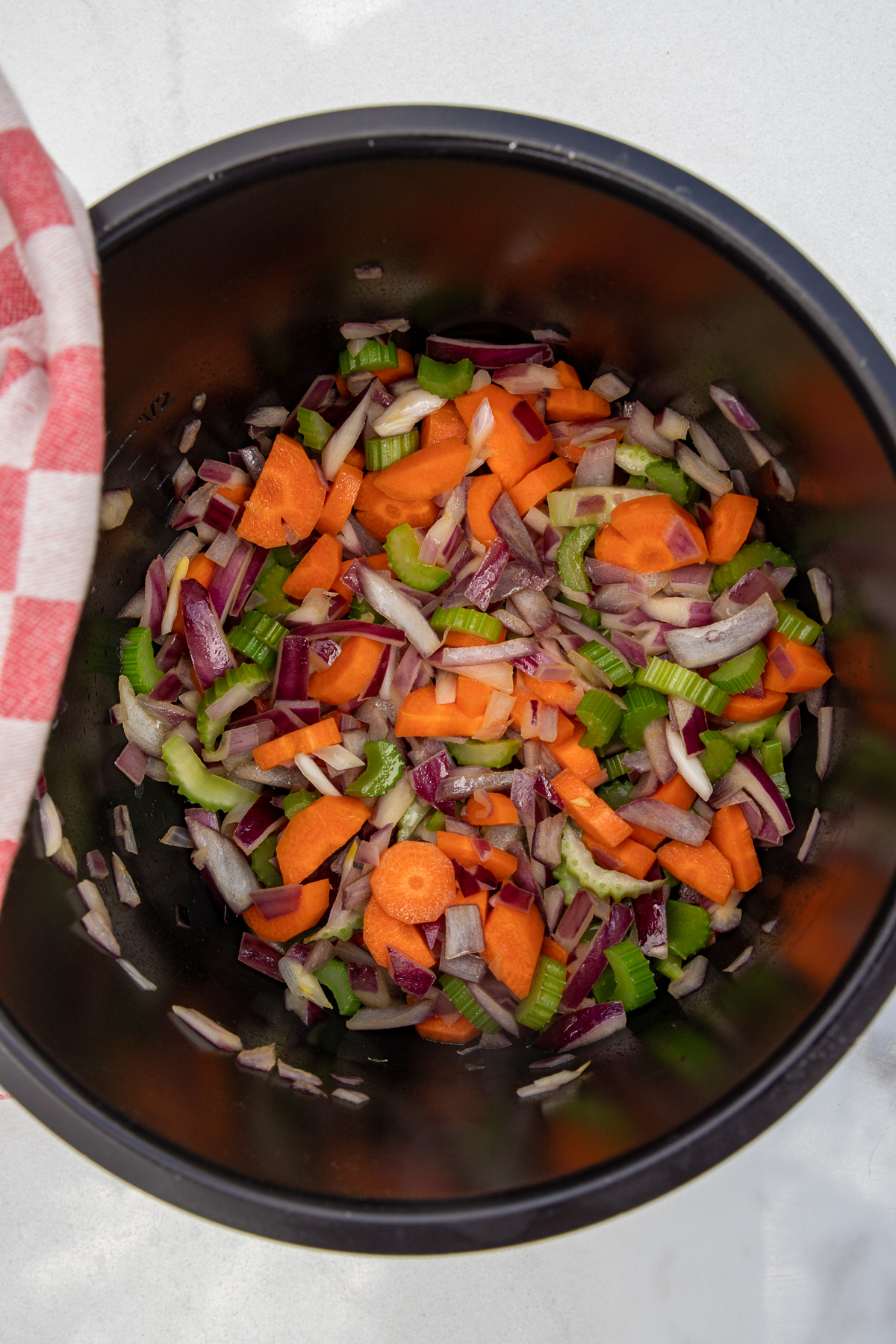 Step 2: Add the liquid (tomatoes and broth), then seal the Instant Pot.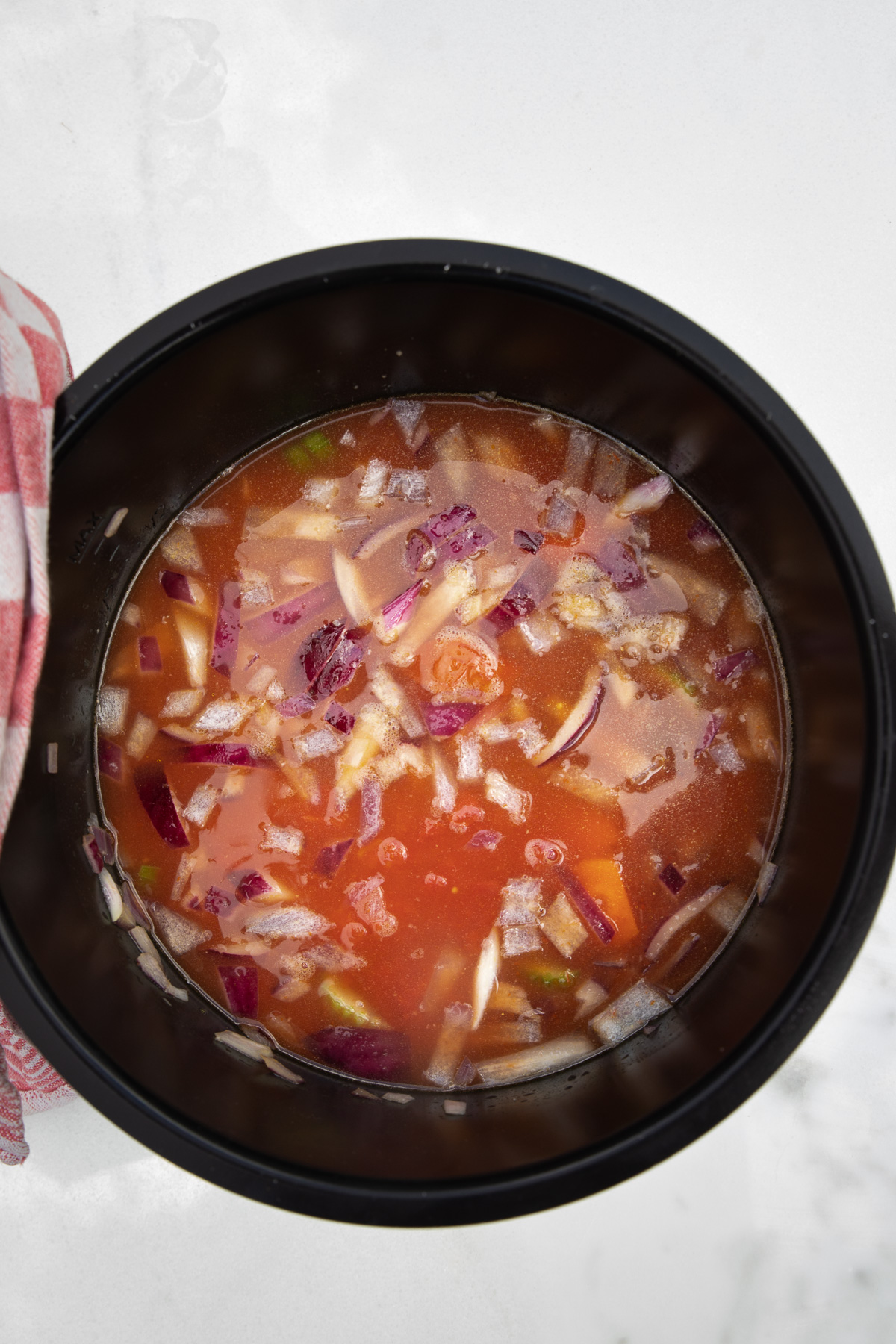 Step 3: Pressure cook for 10 minutes. Choose 'normal' mode, and then adjust the time to 10 minutes. Or, you can select the 'soup/broth' mode and adjust the time to 10 minutes. If you have a different brand of electric pressure cooker, simply cook on medium pressure (5psi) for 10 minutes. At the end of the cooking time, open the valve to release the pressure quickly.
Step 4: Open the Instant Pot and blend the soup. You can do this either with a hand-held immersion blender (my choice!), or in a regular blender or food processor.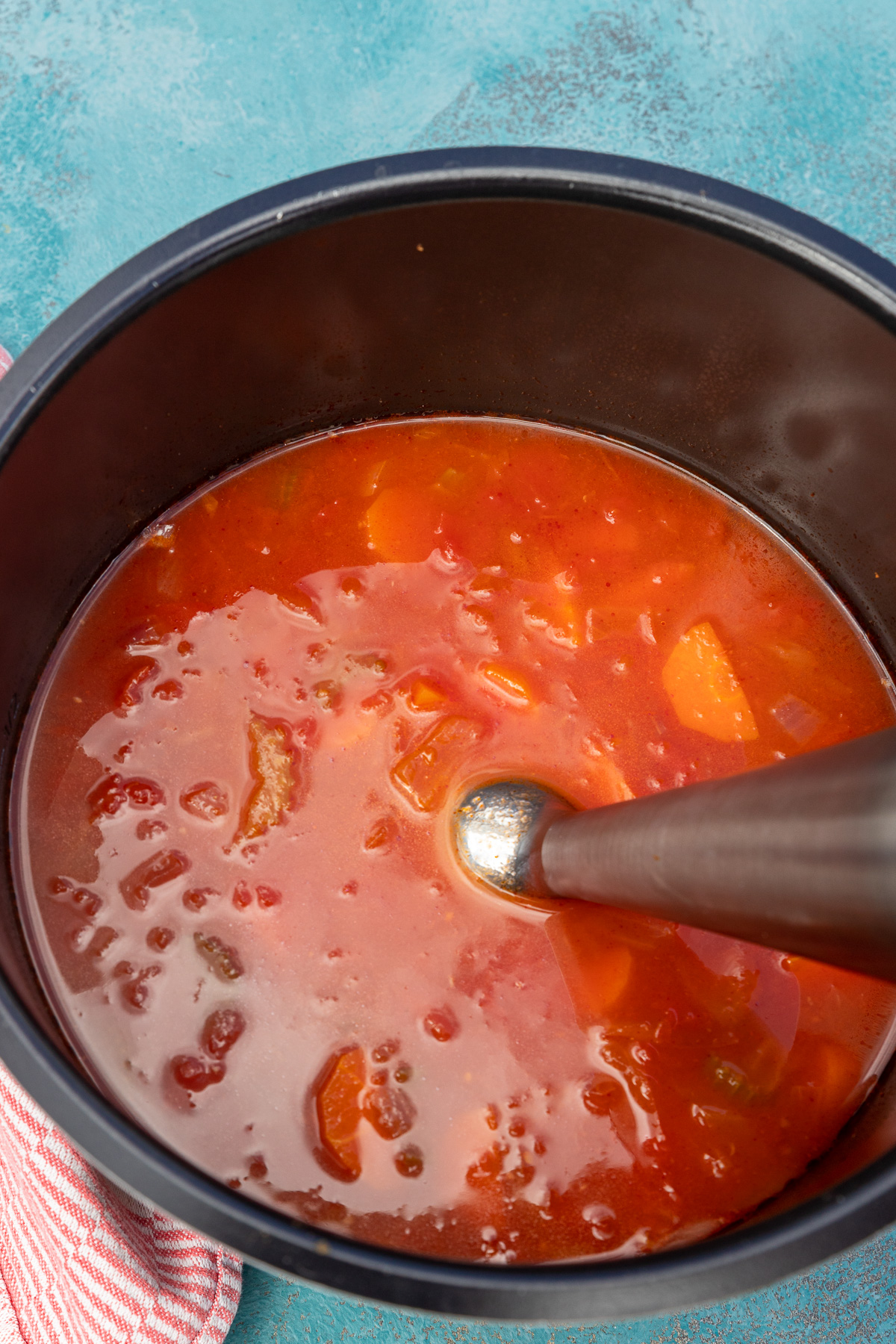 Step 5: Add the basil, balsamic vinegar, honey or sugar, and salt and pepper and blend again – just for a few seconds until the basil is finely chopped but not fully blended into the soup.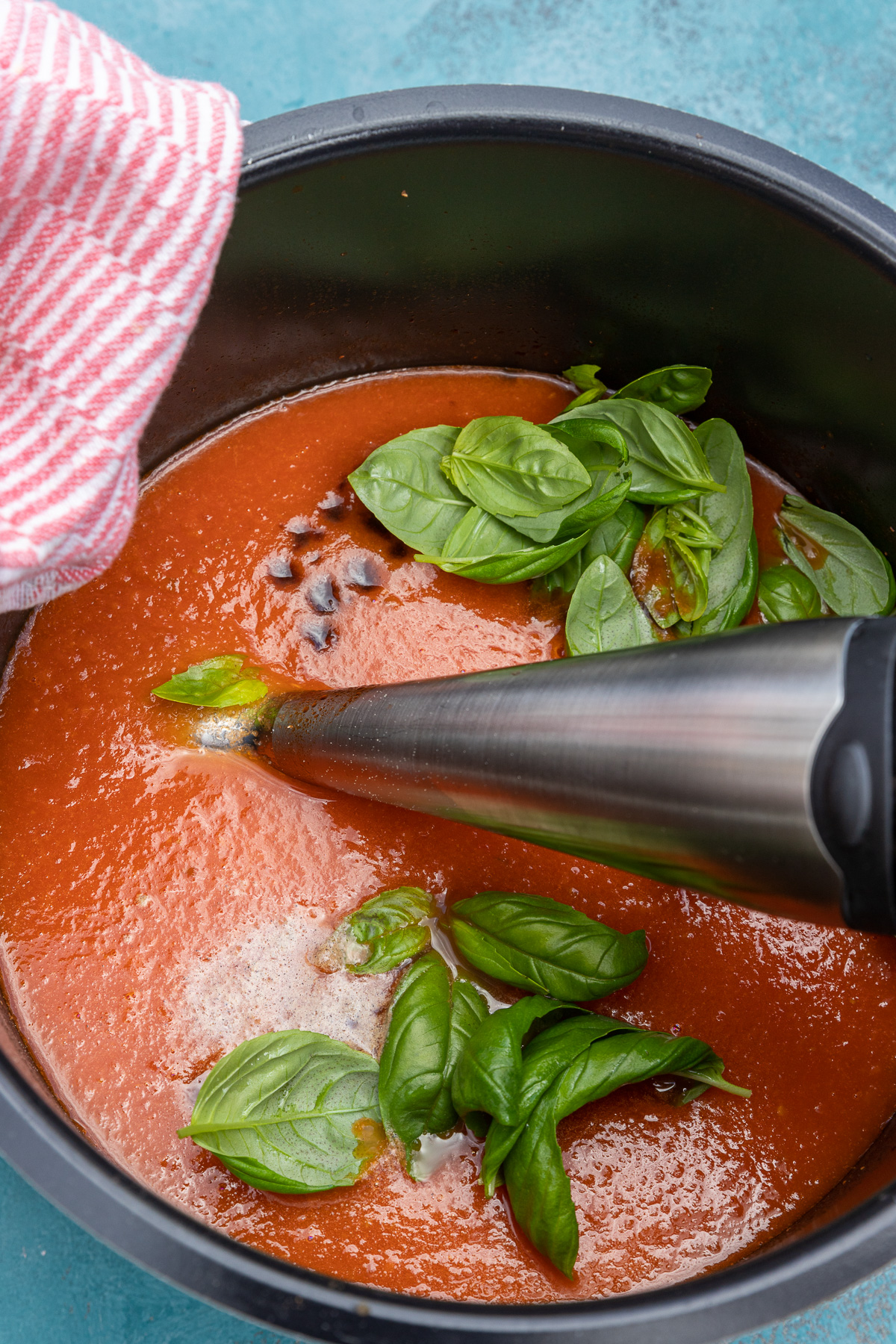 And just like that… your Instant Pot tomato basil soup is ready. Add any desired toppings (ideas below!), and serve.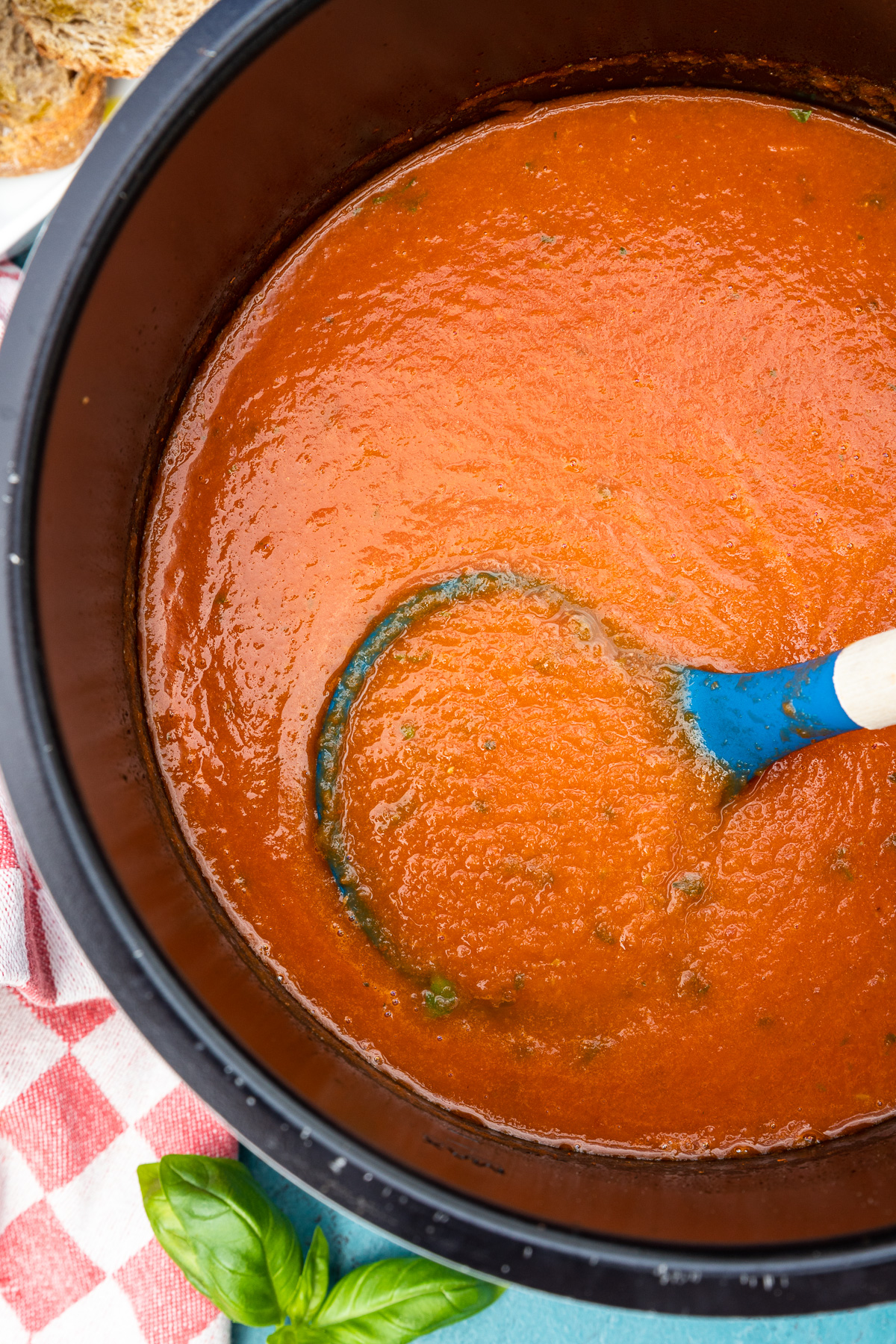 Stove top instructions
If for any reason you would prefer to make your soup on the stovetop, you can absolutely do that!
The only difference is that instead of pressure cooking your soup, you'll let it simmer in a large saucepan for about 10 minutes.
So actually the pressure cooker method takes slightly longer since you have to wait for the appliance to come to pressure. But I love that you don't have to be in the kitchen to watch the pot!
Helen's top tips
Consider buying ready-chopped vegetables e.g. ready-chopped onions, diced celery, or 'mire-poix mix' (this is a French word meaning a mix of chopped celery, carrots and onions, and it's available at some supermarkets including Wholefoods). Fresh or frozen chopped vegetables are fine.
So that you don't waste any of the canned tomatoes, swish some of the broth around in the cans before emptying the liquid into the Instant Pot!
Remember to taste the soup before serving. You might like to add a little more salt and pepper, or a touch more honey for extra sweetness.
How to serve it
My favorite way to serve this Instant Pot tomato basil soup is with a little more salt, black pepper and fresh basil sprinkled over the top, plus a little grated cheese. Parmesan is perfect, but to be honest it's usually a sharp cheddar that I have in my fridge!
If I have it, I might add a swirl of cream on top as well. I also LOVE to serve this soup (or any kind!) with this surprisingly delicious 2-minute toasted bread with olive oil and salt. Regular croutons or crusty bread are fine too, of course.
Wild card soup topper option? How about this crispy air fryer cauliflower? 😉
If you're serving the soup to guests, consider making this no-knead Italian focaccia bread. It's so easy, and totally worth the extra effort!
Other options? Well, we all know that tomato soup goes perfectly with a grilled cheese sandwich! I vote for this artichoke and bacon grilled cheese. This would make a great simple-yet-fancy lunch for guests.
If you're looking for something a bit more interesting than regular bread to dip into your soup, how about these 4-ingredient cheese twists? Or these mini Greek feta cheese pies? Yep, it's all about the cheese!
If you're looking for tomato soup dinner ideas, how about serving it with this delicious traditional Spanish omelette, this classic quiche lorraine or this crustless quiche, this spinach and feta filo pie, or perhaps just with a Greek salad and bread?
If you'd like even more serving ideas, check out all my light meal ideas.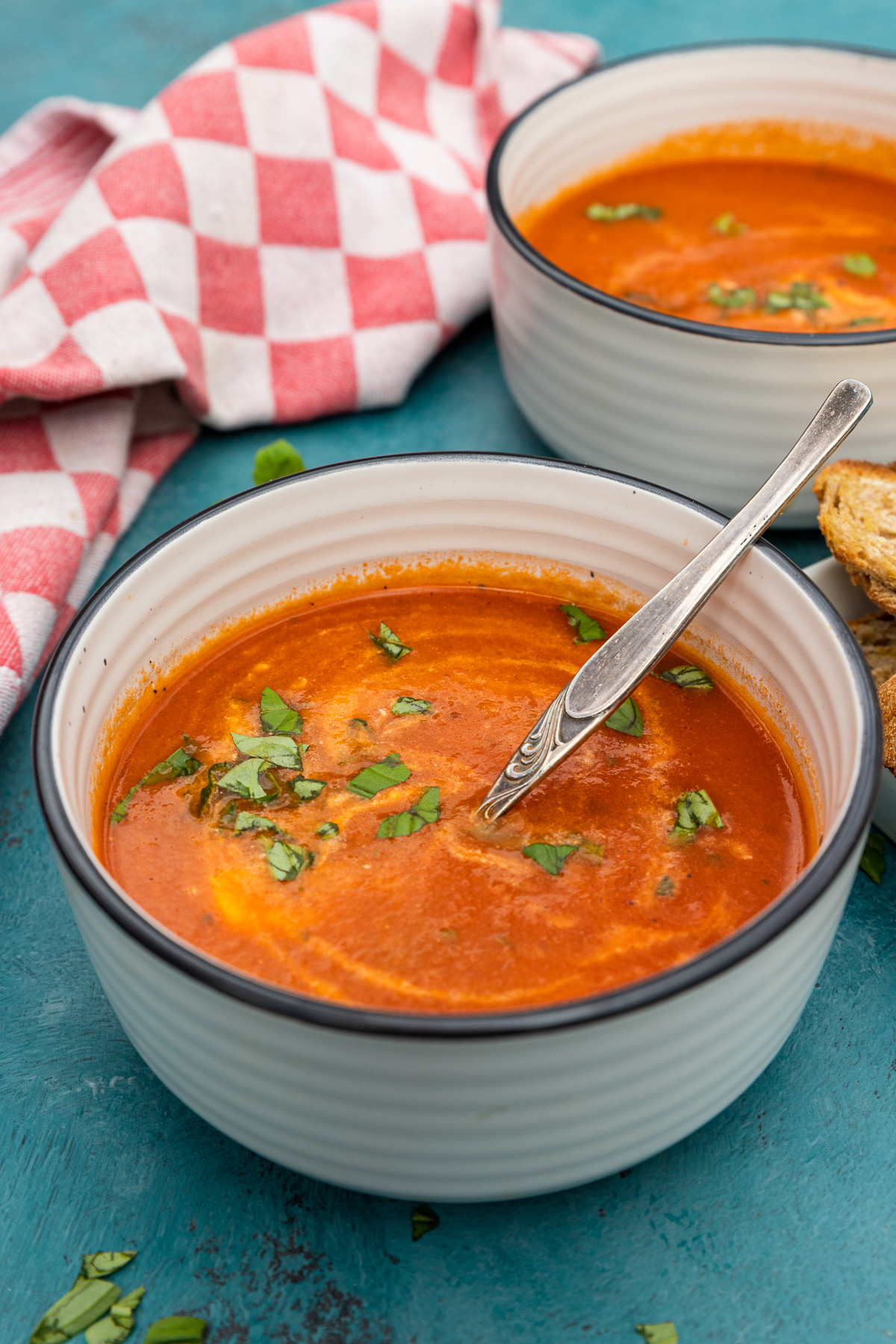 Variations
I love that this is a very simple and classic soup. All you really need to elevate it to the next level is plenty of basil and the right amount of seasoning. However, there are no rules against using this as a 'base' instant pot tomato soup recipe, then adding your own fancy twist!
Here are some great ideas.
For a richer, creamy tomato soup, blend half a cup of heavy cream into the soup (this is called a tomato bisque rather than a soup!). Or how about a little parmesan cheese? To keep the soup vegan, try coconut cream.
For a super healthy but creamy and satisfying version, try adding a can of white beans. Either add them before blending the soup or after to keep them whole.
Add different fresh or dried herbs. Sauté a teaspoon of mixed Italian herbs, for instance, along with the chopped vegetables. No basil? No worries. Blend in any other fresh herb you like instead.
Add a pinch of either red pepper flakes, chilli flakes or cayenne pepper for a hint of spicy heat. Go easy at first. You can always add more.
There are no rules against adding some bacon or chopped chorizo when you sauté the vegetables.
Alternative toppings for your soup could include pumpkin seeds, tortilla strips, chopped avocado and/or a swirl of sour cream. My top suggestion? Switch out croutons for these incredible fried halloumi bites!
Recipe FAQ
Do you really have to sauté the vegetables when making soup in the Instant Pot?
No. Strictly speaking, you really don't have to saute the veggies first. But I think it's worth it. This takes just a few extra minutes but it 'sweats' the vegetables, bringing out more flavor along with a bit of extra sweetness.
How long will this last in the fridge?
A simple homemade tomato soup keeps pretty well. So you can make a big batch and keep it in the fridge for lunches for 3 to 4 days. If that's too much soup in one week for you, of course just like any soup you can freeze it (see below!).
Can you freeze homemade tomato soup?
Definitely. Just like any soup, homemade tomato soup freezes excellently. Just pour leftovers into plastic or glass containers with lids. Or you can freeze them in freezer bags.

Just remember to let the soup cool completely before freezing. Also don't overfill your containers. Liquid expands as it cools so leave a bit of space at the top of your container or bag.
Your soup will keep for 4 to 6 months in the freezer.
IF YOU MAKE THIS RECIPE, LET ME KNOW HOW YOU GET ON BY LEAVING A COMMENT AND RATING BELOW… AND DON'T FORGET TO SIGN UP TO RECEIVE ALL MY NEW RECIPES BY EMAIL!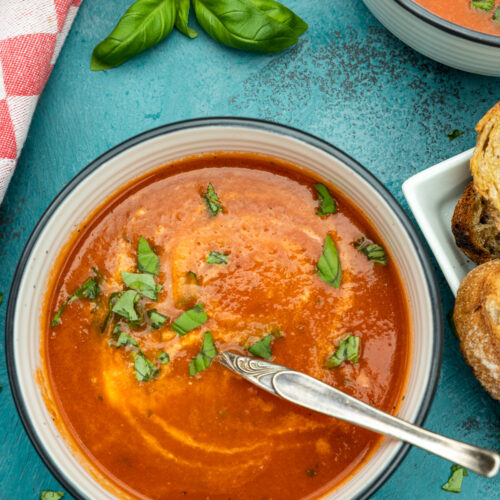 30-Minute Instant Pot Tomato Soup (With Stovetop Version!)
Everyone should have an easy tomato soup recipe at their fingertips. This very simple and healthy Instant Pot tomato soup is hands-off to make in just 30 minutes. Perfect for work lunches or simple dinners for guests. Almost as easy to make on your stovetop if you prefer (instructions in notes section).
Ingredients (UK/Australia? Click below for grams/ml)
1

tablespoon

olive oil

for sautéing the vegetables

1

large

onion

chopped finely (red, white or yellow onions all fine, although yellow is the sweetest when cooked)

1

large

carrot

(1-2) peeled and chopped into small pieces

2

sticks of celery

(2-3) chopped finely

2

garlic cloves

peeled (but you can leave whole)

28

ounces

canned tomatoes

whole or chopped (two regular cans or 1 large) whole or chopped

4

cups

chicken broth

(stock) best quality, use vegetable stock if you want to keep the recipe vegetarian/vegan

½

teaspoon

salt

or to taste

¼

teaspoon

pepper

or to taste

2

tablespoons

fresh basil

½

tablespoon

balsamic vinegar

optional

1

tablespoon

honey

(or a teaspoon of sugar)
To serve (optional – more serving suggestions in 'notes' section below)
toasted bread drizzled with olive oil and sprinkled with salt

a little cream or Greek yogurt to stir in at the table
Instructions
Press the sauté button on your Instant Pot (or similar) and add the olive oil to the bowl. When it's hot, add the onion, carrot, celery and garlic. Cook for a couple of minutes until the vegetables begin to soften. Press 'Cancel' to turn the sauté function off.

1 tablespoon olive oil,

1 large onion,

1 large carrot,

2 sticks of celery,

2 garlic cloves

Add the tomatoes and broth/stock to the pot. Lock Instant Pot lid and pressure cook on 'Low' for 10 minutes (or around 5psi which is 'Medium' on some other brands of electric pressure cooker). It will take some time to come to pressure, then begin counting down.

28 ounces canned tomatoes,

4 cups chicken broth

When the cooking time is over, open the pressure release valve carefully for a 'quick release' of the pressure. On other brands of electric pressure cooker, there may be a button to select 'quick pressure release' before you start cooking.

Open the lid, then blend the soup until smooth with a hand-held immersion blender, or pour into a food processor and blend that way. Add the salt and pepper (plus more to taste if you like) and most of the basil and blend for a few seconds longer until the basil is well chopped but you can still see small flecks in the soup.

½ teaspoon salt,

¼ teaspoon pepper,

2 tablespoons fresh basil

Stir in the balsamic vinegar (if including) and honey/sugar. If you like, serve with more fresh basil, salt and pepper sprinkled over the top, and perhaps a little parmesan/cheddar. You can also swirl in a little cream or Greek yogurt, and serve with 2-minute toasted bread with olive oil and salt on the side, if you wish.

½ tablespoon balsamic vinegar,

1 tablespoon honey,

toasted bread drizzled with olive oil and sprinkled with salt
Notes
If you'd like to substitute dried basil for fresh, I'd add a heaped tablespoon of dried.
Stovetop instructions: If you prefer to make the soup on your stovetop, simply prepare in exactly the same way as you would for the Instant Pot. Then let the soup simmer for 10 minutes before blending with a hand-held blender (or in your food processor).
Serving suggestions: I usually serve this soup with more fresh basil and salt and pepper on the top, plus a little sprinkle of tasty cheese (parmesan or sharp cheddar), and these amazingly simple but tasty 2-minute olive oil toasts.
Other great options include making a quick batch of these tasty 4-ingredient cheese twists for dipping, or serving the soup as part of a larger meal with this famous self-crusting quiche, a Mary Berry quiche lorraine, this show-stopping spinach and feta filo pie, or a fresh Greek village salad and bread.
Nutrition
Calories:
124
kcal
Carbohydrates:
20
g
Protein:
4
g
Fat:
4
g
Saturated Fat:
1
g
Polyunsaturated Fat:
1
g
Monounsaturated Fat:
3
g
Cholesterol:
5
mg
Sodium:
1477
mg
Potassium:
595
mg
Fiber:
4
g
Sugar:
13
g
Vitamin A:
3388
IU
Vitamin C:
24
mg
Calcium:
100
mg
Iron:
2
mg