Moussaka, Greek roast lamb, souvlaki or pastitsio! Whichever you're in the mood to make, you'll want a tasty and easy Greek side dish to go with it, right?
So if it's all Greek to you when it comes to what to serve with a classic Greek dish, I've got you covered with this list of 22 delicious, no-fuss ideas! (which, incidentally, all happen to be vegetarian!)
Kali orexi! (Enjoy your meal!)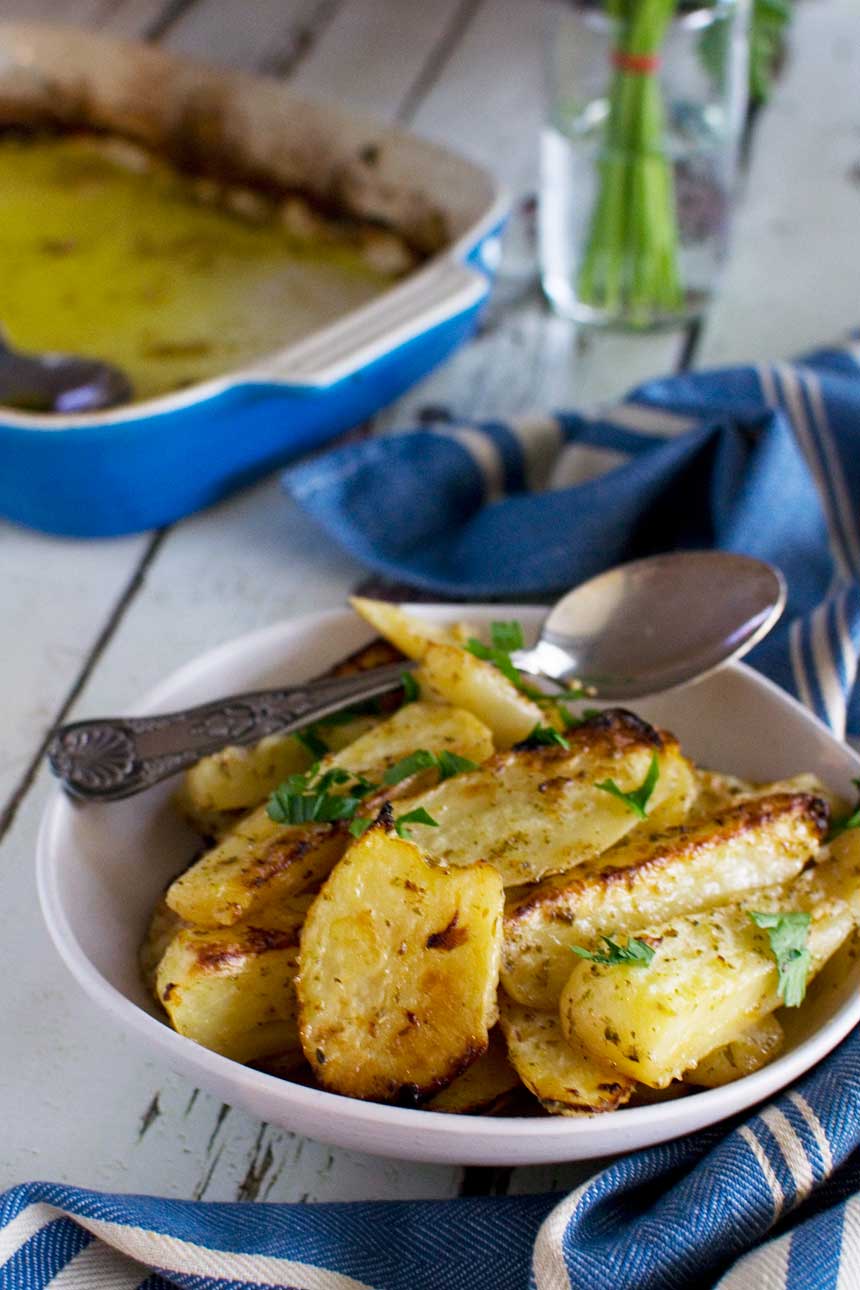 1. Greek Lemon Potatoes
If there's one Greek side dish that goes with almost any main meal you can think of, Greek food or otherwise, it's classic Greek potatoes! This version is pretty famous, with hundreds of 5 star reviews. These potatoes are SO easy to make, and tend to steal the show every single time.
From this easy eggplant moussaka to Greek chicken meatballs or spinach and feta pie, serve these with it and I don't think you'll hear any complaints!
2. Greek Salad (Horiatiki Salata)
I don't think I've ever met anyone who doesn't know and love an authentic Greek salad. As well as being one of the most popular Greek side dishes, it's ridiculously easy to make with just a few simple and fresh ingredients.
Don't be afraid to serve it by itself with these surprisingly tasty 2-minute olive oil toasts. Or surprise your guests with a simple Greek feast by serving this iconic salad with moussaka, Greek chicken and potatoes or gemista (stuffed peppers and tomatoes).
This is another side that goes with almost anything. Make it with the freshest ingredients, and don't even think about forgetting the tsatziki sauce on the side!
3. Halloumi Fries
This is the perfect 3-ingredient side dish or appetizer when you're entertaining. These fries-with-a-cheesy-twist taste incredible dipped into your favorite dip. How about keeping to a Greek theme with a simple homemade tsatziki sauce? Personally, I also like to add a dish of sweet chilli sauce.
Trust me, literally everyone will go wild for these, for the oldest to the youngest!
4. Halloumi Bites
Essentially these are the same as halloumi fries – just presented in a different way. These bites lend themselves a little more to being passed around at parties or snacked on whilst watching TV (no judgement here!).
5. Greek Tzatziki Sauce (yogurt and cucumber dip)
Tsatziki is a fresh sauce made from Greek yogurt, cucumber, and garlic. It's incredibly versatile! You can serve it as a dip with pita bread, as part of a mezze platter, or with countless Greek dishes as 'the icing on the cake'.
This version takes just 10 minutes to make but has an authentic Greek taste. And it really is amazing just how many dishes you can serve it with!
6. Greek Spinach and Feta Filo Pie
I've served this as the star of the show on many occasions. But a traditional spanakopita, or spinach and feta pie, can also be the perfect accompaniment to a main dish. My favorite way to serve this pie is with Greek lemon rice and Greek baked eggplant. SO delicious, and a completely vegetarian meal, too.
It also works perfectly on a Greek style mezze platter!
7. Greek Baked Eggplant
Whether you're an eggplant lover or not, try this incredible dish once and it might just become one of your favorite healthy side dishes!
Made with a few simple ingredients, this Greek side is ridiculously tasty, not to mention healthy. I love to serve it with Greek meatballs and 2-minute toasted bread with olive oil. Also perfect for making ahead.
8. Baked Feta with Tomatoes, Peppers and Olives
Unless you've been living under a rock, you know by now that you can bake feta cheese in the oven. But do you know how truly delicious it is?
Many people love to stir this through pasta, but I love it by itself with bread or toast for lunch or dinner. It can even be a dip, or yes, go ahead and stir it through pasta for a delicious and satisfying quick meal.
Throw a whole block of Feta into a dish with Mediterranean vegetables and flavors, bake for 30 minutes and voilà!
9. Greek Lettuce Salad (Maroulosalata)
This very quick and simple salad may be the most simple side dish you could ever make. But it's like giving a plain green salad a makeover.
You need only 6 ingredients to make a maroulosalata in just 10 minutes. I think you'll love how it will go with anything and how fresh, crunchy and green it is!
10. Greek Lemon Rice
This favorite Greek Lemon Rice recipe makes a perfect side dish that's especially good with chicken dishes such as this Greek Marinated Chicken. But it's also great paired with steak, meatballs or fish.
This lovely rice pilaf also makes a bowl of happy, sunshiny comfort food that's perfect eaten on its own. Don't skip a generous sprinkle of feta cheese on the top.
11. 2-Minute Olive Oil Toasts
I first came across something like this as a side dish when I lived in Greece.
When you need dinner to be quick and easy (like every night?!) you really can't beat these olive oil toasts. Ideal for those times when even boiling water for pasta or rice feels like a chore!
12. Greek Zucchini Fries
Don't say I didn't warn you – you may not be able to stop eating these easy Greek style zucchini fries. They go so well with countless main dishes.
Made with the lightest tempura batter and shallow fried, they take minutes to make and seconds to devour!
13. Tyrokafteri (Spicy Greek Feta Dip)
The sweetness of the red peppers in this very easy Greek style spicy feta dip cuts through the salty feta just enough. It's punchy, zesty and absolutely delicious as a result.
This dip goes well with Greek pita chips, Greek chicken and potatoes, a Greek village salad, as part of a mezze platter or even spread on a sandwich!
14. Mediterranean Roast Vegetables
I'd call these Greek style veggies rather than a traditional Greek side, but that doesn't stop them from going perfectly with almost anything! I often serve them with easy baked chicken thighs, crustless quiche, or creamy pesto chicken.
If you have any leftovers, these vegetables go perfectly in toasted sandwiches or on top of a pizza!
15. Greek Macaroni Cheese
I think you'll love this mac n' cheese with a Greek 'twist'. Of course, you can eat it by itself as a meal. But this creamy-but-light dish also goes really well as a side with Greek meatballs, simple roast chicken or other roasted meats.
16. Feta Orzo Salad
This simple but delicious pasta salad with feta, asparagus and chickpeas is perfect served alongside a classic quiche lorraine, a spinach and feta filo pie, or just eat it for lunch by itself!
17. Greek Baked Pita Chips
This is barely even a recipe as it's just so simple! But do give it a try. These homemade pita chips are delicious, healthy and take moments to make.
18. Easy Gigantes plaki (Greek giant beans)
A super easy stovetop version of everybody's favorite healthy Greek comfort food – Greek giant beans AKA gigantes plaki or 'baked giants'! Except this version isn't baked – no need to turn on the oven for these, and no pre-soaking or pre-cooking of the beans!
These go wonderfully well as a side dish with Greek air fried meatballs, baked chicken thighs, quiche lorraine, and so much more.
19. Hummus with Pine Nuts and Paprika
My easy hummus recipe can be made in your food processor in mere seconds. I hope you'll agree the result is unbelievably tasty. All you need is some fresh bakery bread or pita chips on the side.
20. Red Pepper and Eggplant Dip
An Incredibly sweet and smoky traditional Greek dip that's ultra healthy and fresh-tasting. Perfect served simply with bread or as part of your mezze platter.
21. Mini Cheese Pies (Tiropitakia)
These mini cheese pies make great party food served with your favorite dip. They could also work well as a side with Greek lemon rice, orzo salad or Greek Mac n' Cheese.
22. One Pan Vegetable Couscous
This wonderfully simple vegetarian dish uses one pan (my favorite!). Roast green peppers with onions and zucchini, add tomatoes and kalamata olives, stir into couscous, then top with halloumi cheese.
Goes beautifully as both a main course or side dish with this easy flatbread recipe and perhaps a few spoonfuls of Greek yogurt or even tsatziki sauce.
Which one (or more?!) of these super easy and tasty Greek side dishes will you choose? I have my own personal favorites (I'm looking at you, Greek potatoes, Greek salad and baked Greek eggplant!). But any of these dishes will make for a really delicious Greek feast when paired with your choice of main dish.
Please do let me know in the comments below what you thought!
Greek side dish FAQs
IF YOU MAKE ANY OF THESE RECIPES, LET ME KNOW HOW YOU GET ON BY LEAVING A COMMENT AND RATING BELOW… AND DON'T FORGET TO SIGN UP TO RECEIVE ALL MY NEW RECIPES BY EMAIL!