Next time you need an appetizer for guests, or just a really good plate of party food, how about going Greek? Here are 21 crowd pleasing (not to mention healthy) Greek appetizers that are really easy to make.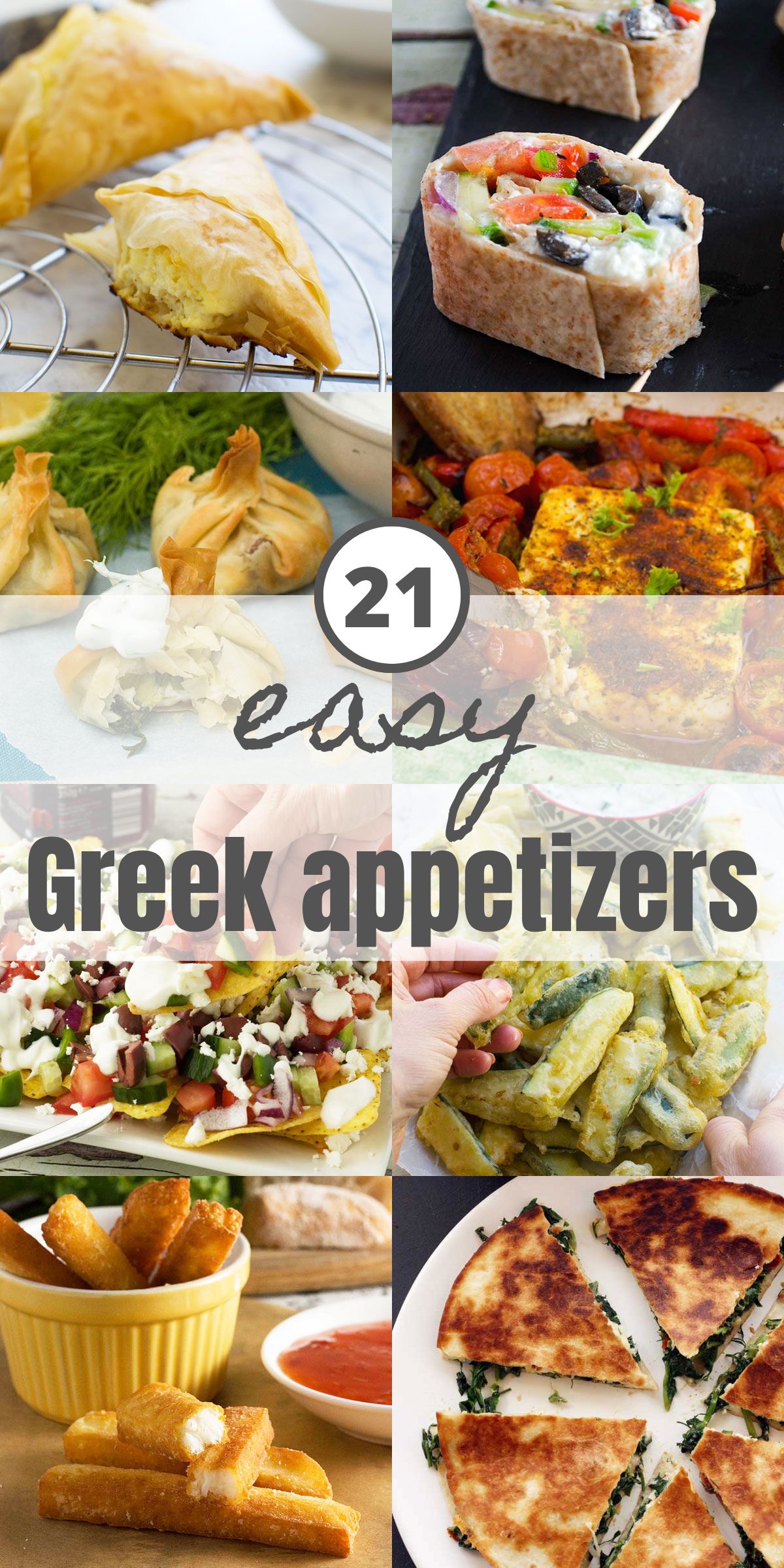 The Greeks are known for their amazing meze platters – that's sharing plates to you and me. Imagine yourself sitting at a rickety wooden table below the Acropolis with an ouzo and a plate of delicious Greek nibbles. You get the idea…
A trip to Greece might be out of the question for any number of reasons right now. But hey, guess what? These very tasty Greek appetizers or starters are so easy to make yourself.
They also happen to make:
perfect party food (Greece themed party, anyone?)
easy Greek finger foods for picnics, and even lunch boxes and afternoon snacks
sharing plates ('meze platters') for a dinner party
'pre-dinner and drinks' snacks
healthy side dishes for a barbeque or buffet
There's such a good variety here: pies, fusion food, traditional vs. more modern recipes, vegetable appetizers, and some amazing crispy bites. There are also hot, cold and make-ahead Greek appetizer options. Enjoy!
Note: Planning a Greek themed dinner party and need ideas for mains as well? Scroll to the bottom for a few ideas!
1. Greek salad (Horiatiki salata)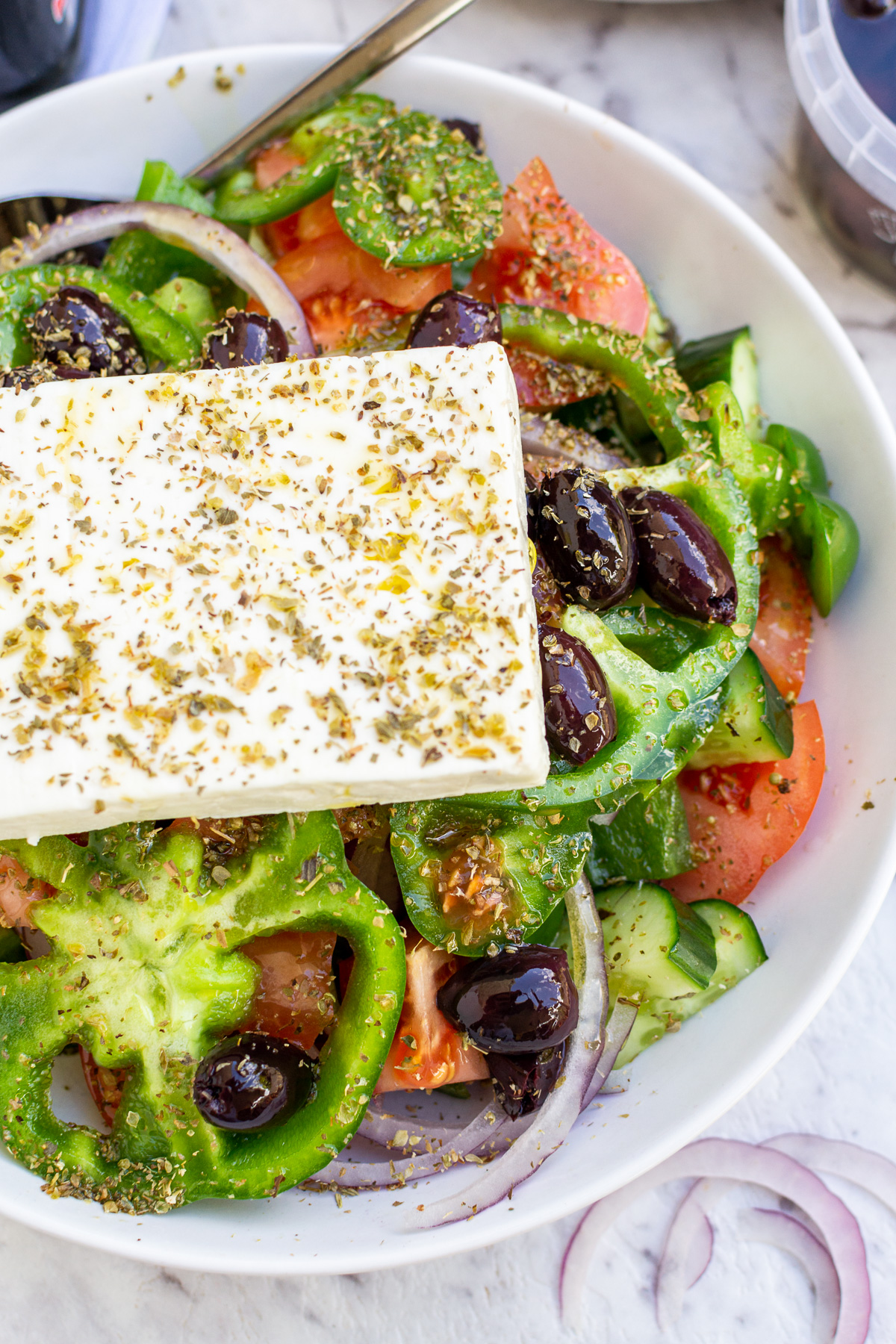 A Greek salad isn't traditionally an appetizer, but it certainly is one of the most traditional dishes in Greek cuisine. Everyone seems to love it!
I happen to think it makes a fantastic appetizer choice! It's light and healthy, and perfect for sharing with some fresh crusty bread or lots of pita bread.
I always make my Greek salads ahead of time, so this is also a great choice for super easy entertaining.
You can also check out this post on what to eat with a Greek salad for more serving ideas.
2. Greek chicken meatballs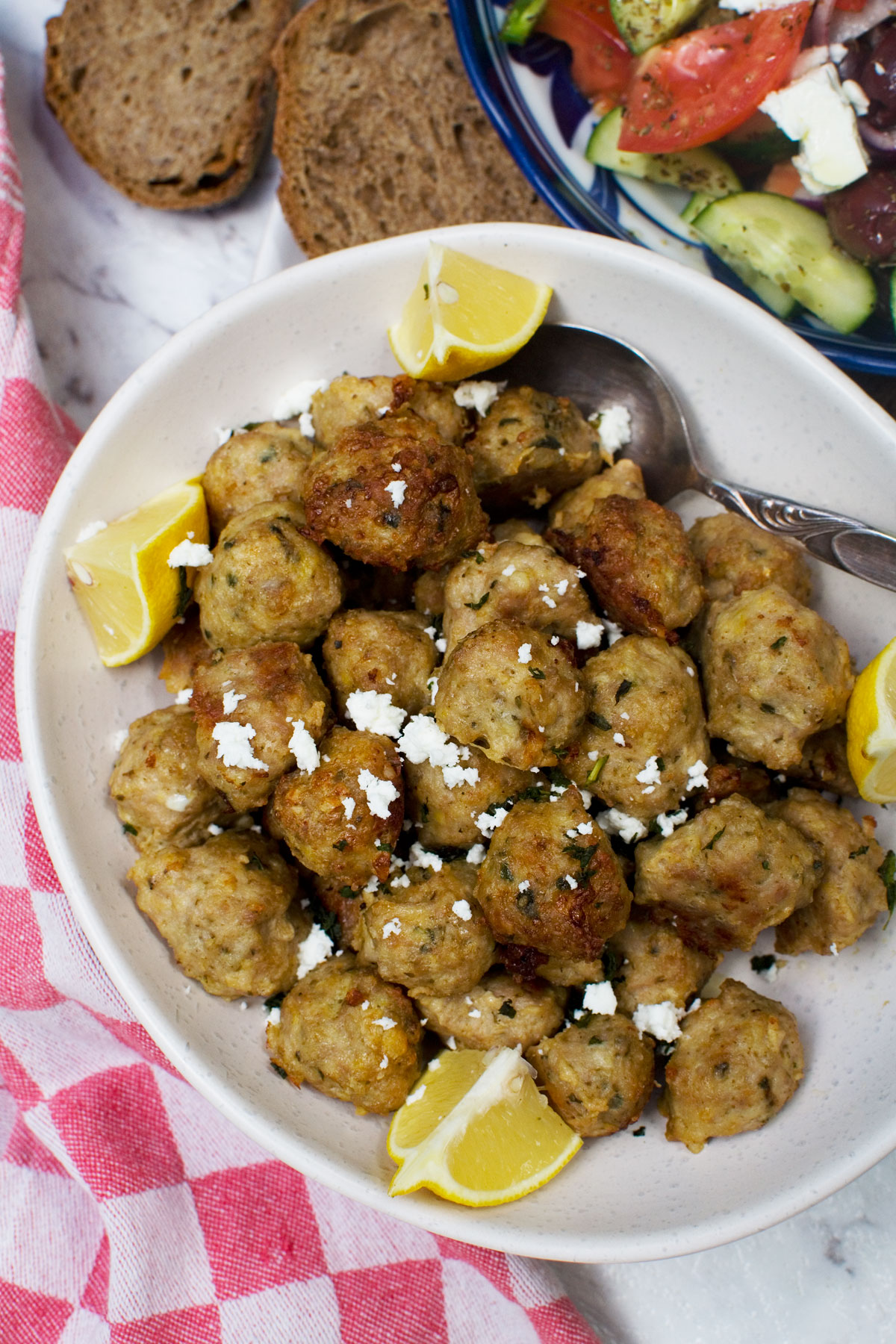 These Greek chicken meatballs are incredibly versatile. Serve as an appetizer with fresh pita bread and a simple Greek lettuce salad (maroulosalata), or pop onto cocktail sticks and hand around at a party with a simple dip such as tzatziki sauce.
They're also perfect for adding to Greek appetizer spreads (AKA mezze!).
These 'keftedakia' (mini meatballs!) are so easy to make. No chopping necessary. Just mix together the meat and mostly dried flavors and either air fry or oven bake.
Heaven in a pie
You can't talk about Greek food without mentioning a pie or two. Everyone loves a good pie, right? No apologies for the fact that most of these Greek pies feature feta cheese!
3. Greek spinach and feta filo pie (spanakopita)
No Greek appetizer spread would be complete without a traditional spanakopita (spinach and cheese pie)… or two, or three! This version is a genius 'cheat's' option that's surprisingly easy to make. Just line a cake pan with a few layers of filo pastry and scrunch it over the delicious filling inside.
This is a crispy crowd pleaser that's perfect sliced and served as an appetizer with a generous spoonful of homemade tsatziki dip on the side.
4. Mini Spinach and feta filo parcels with tzatziki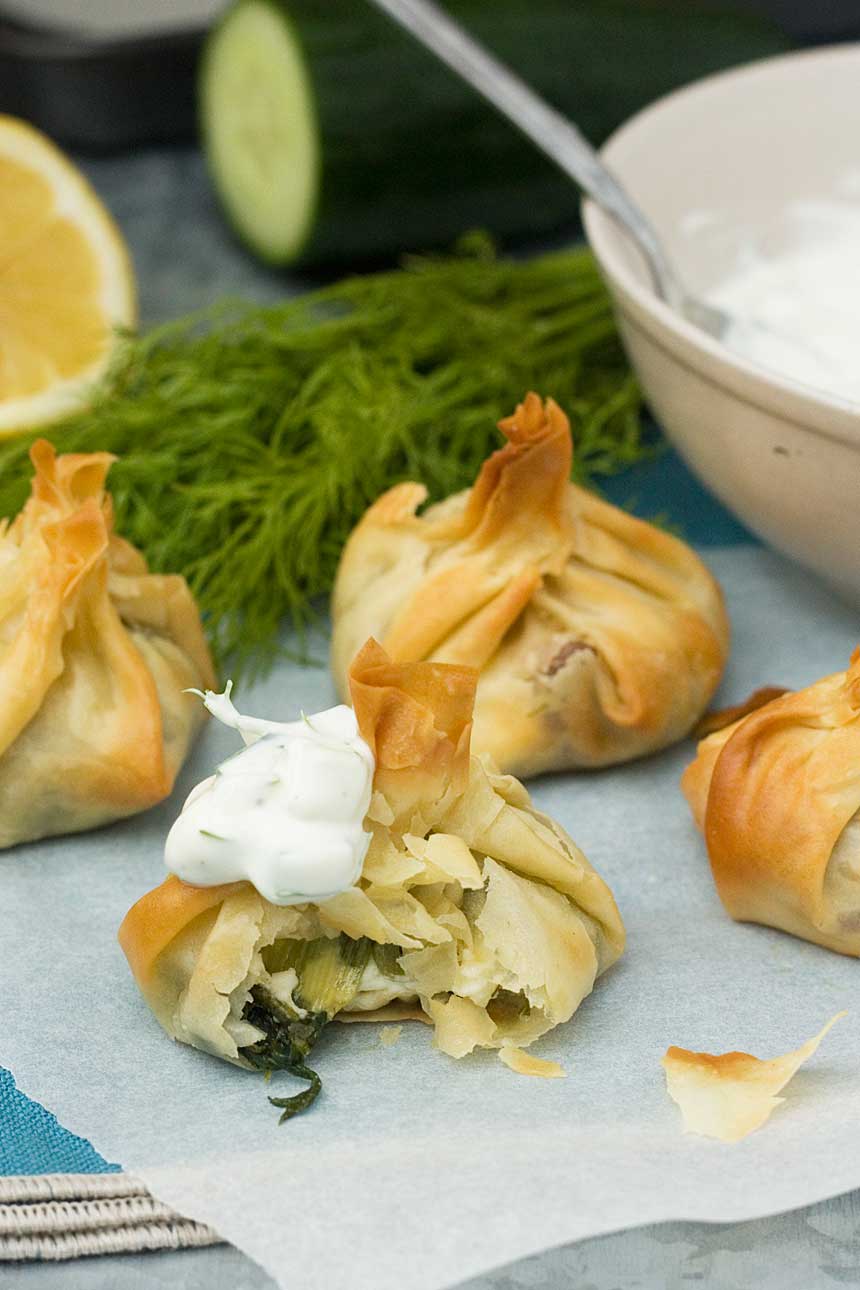 If it's easy Greek finger foods you're looking for, you'll love these cute little filo pies with all the flavors of your favorite classic spanakopita inside! All you do is pile the lovely Mediterranean flavours in the centre of some filo pastry and scrunch it up at the top.
Give them a try – they're crispy, yummy, and much simpler than they look.
5.Feta filo pies with honey
This is a filo pie with a difference. A true Greek meze dish, just as perfect for sharing on a terrace at sunset as huddled around a roaring fire in the winter.
Whatever the season, you don't want to forget a little shot of ouzo to go with it. This is an incredibly simple and delicious appetizer, but don't just take my word for it – try it for yourself!
6. Mini mushroom filo pies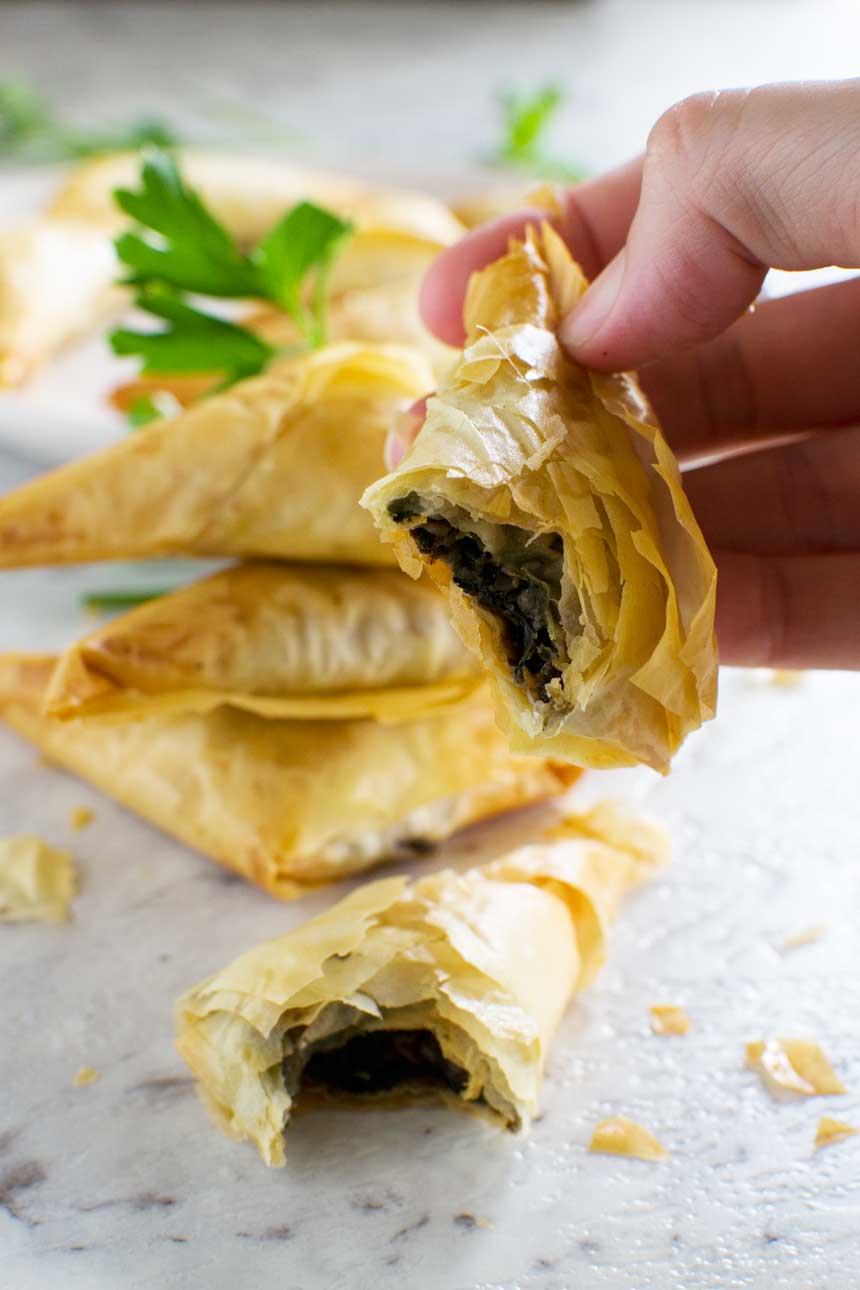 Been asked to take a plate of food to a party? These mini mushroom pies are perfect since you can make them ahead. They're crispy, delicious little bites with a burst of creamy, mushroom-y flavor in the middle.
These also happen to be vegetarian which can be a nice accompaniment to a meat laden dinner or barbeque!
7. Tiropitakia (mini feta cheese triangles)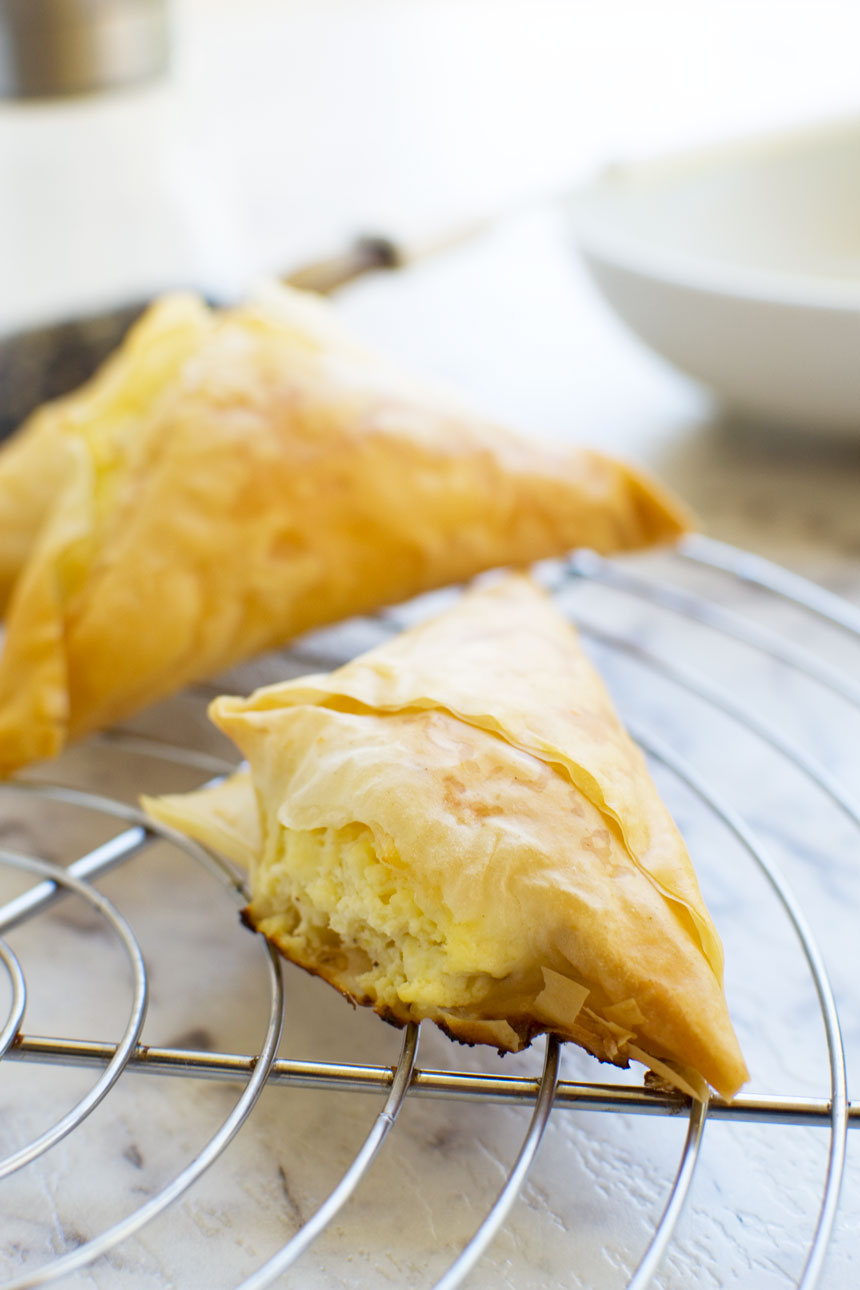 These are a mini crowd pleasing version of one of Greece's best known snack foods – tiropita, or feta cheese pies. The best thing about these, other than how delicious they are, is that you only need 5 ingredients to make them.
Greek fusion food
It's Greek with a Mexican, Spanish or American twist!
8. Greek quesadillas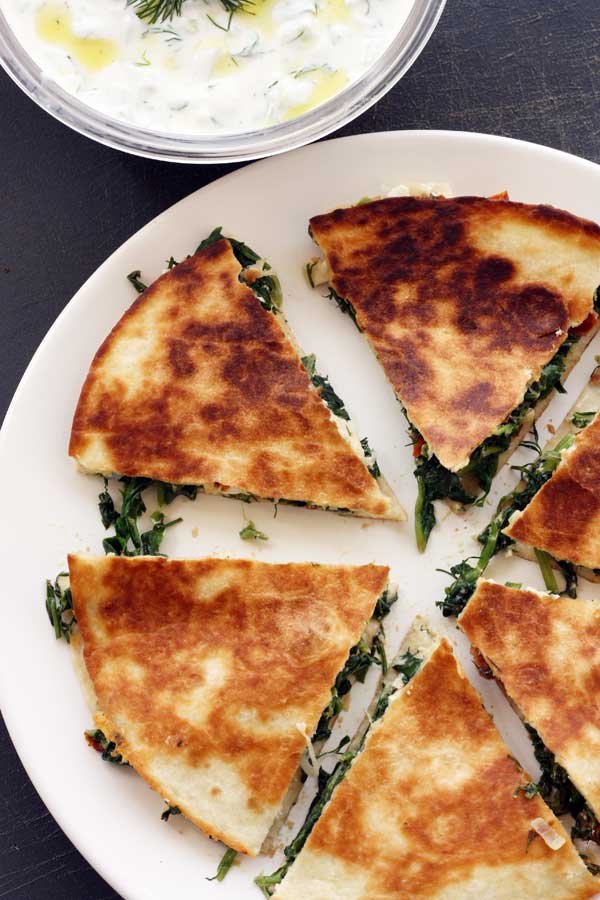 I bet you've never heard of Greek-Mex! The filling in these delicious vegetarian quesadillas is similar to what you'd find inside a traditional Greek spanakopita (spinach and feta pie). But it's sandwiched between two tortillas for a yummy Mexican twist.
This makes a great lunch for kids as well as a simple appetizer.
9. Greek chicken wings (or drumsticks!)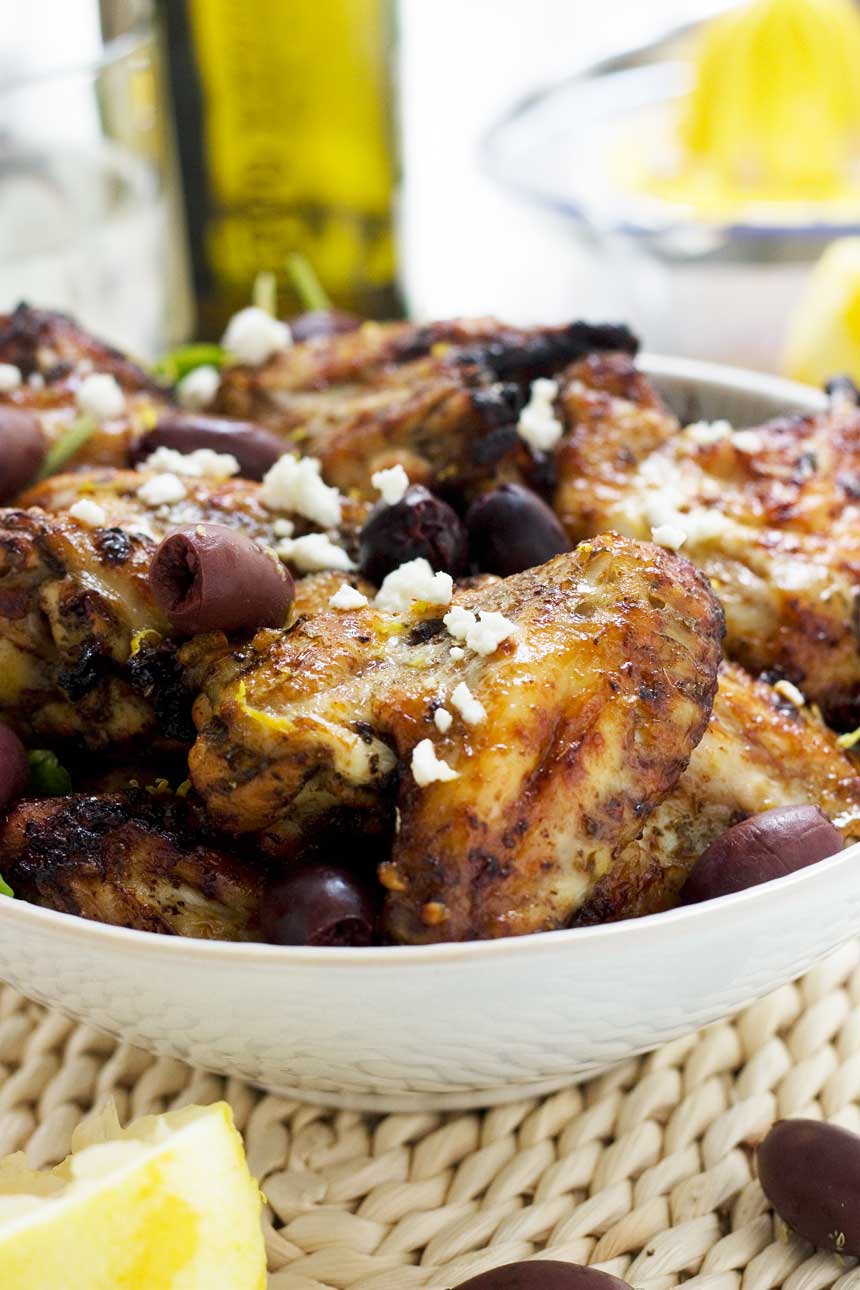 If you always go for the chicken wings first at a party, you've got to try these easy Greek chicken wings from the amazing blog Recipe Tin Eats. Just marinate in simple but yummy Greek flavours and bake. The best part? You only need 6 ingredients.
10. Greek nachos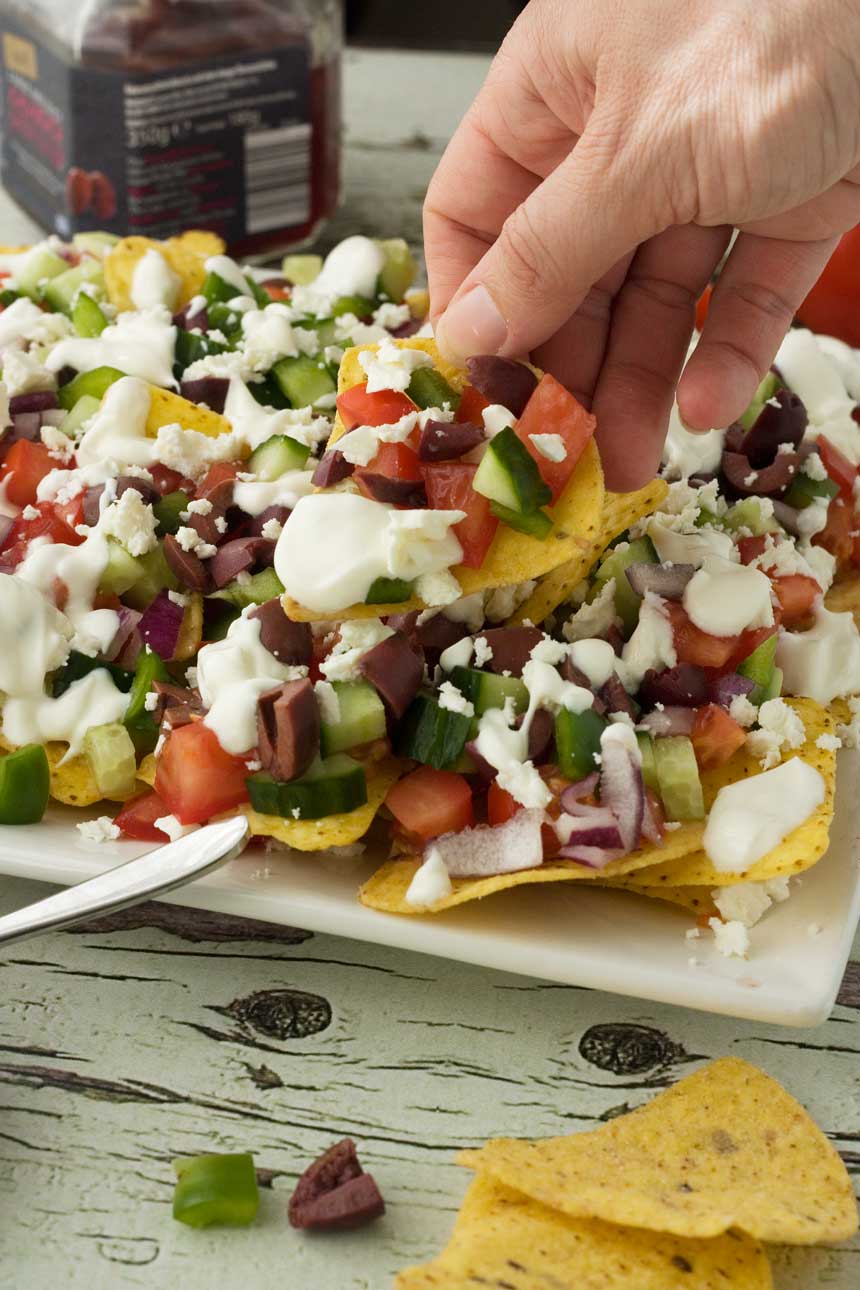 Imagine a Greek salad… on top of a plate of nachos. Drizzle with tsatziki dip or Greek yogurt and you have a pretty cool appetizer plate that's just a little bit different.
11. Tortilla pinwheels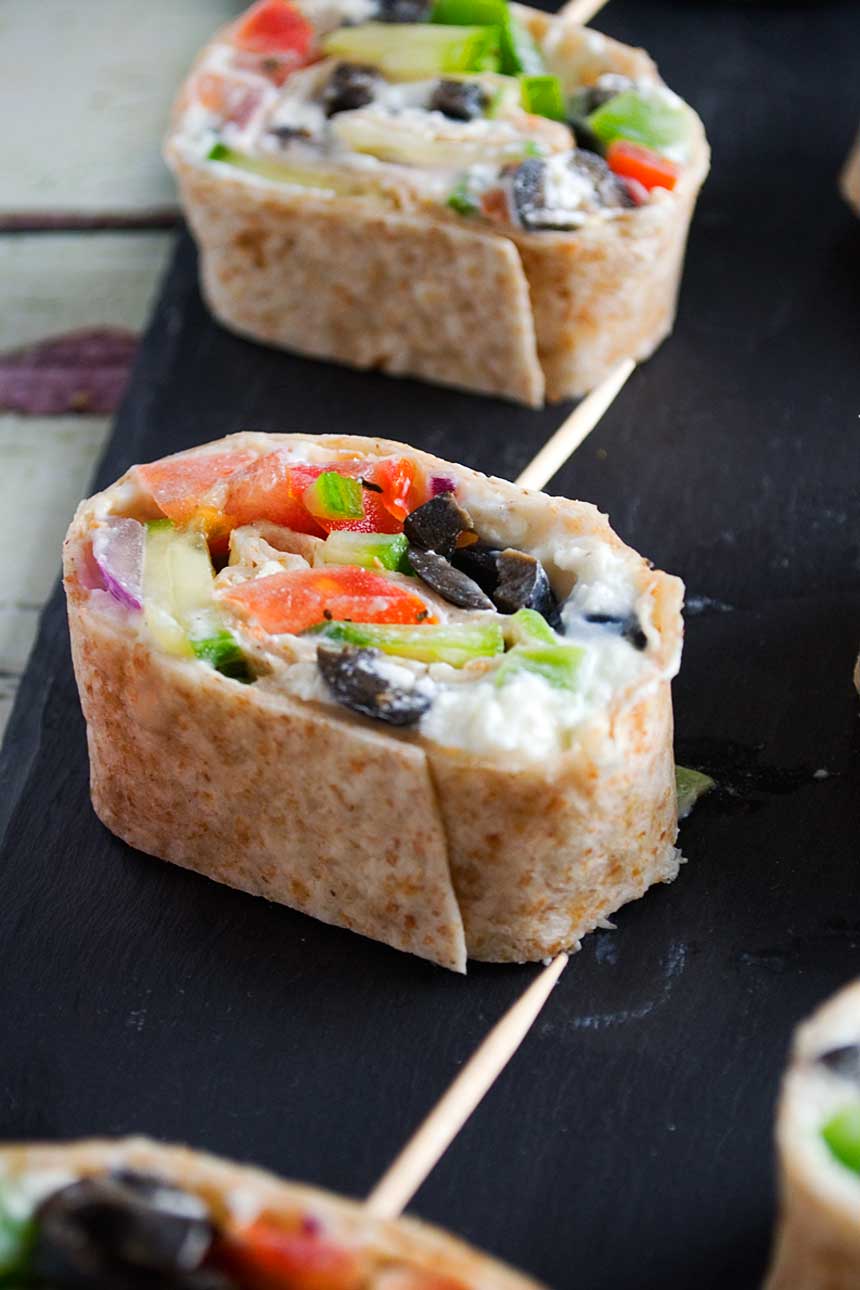 One for the kids – both little kids and big kids! These tortilla pinwheels or roll-ups are perfect for parties, picnics, or even school lunch boxes. Just grab Geek salad ingredients, chop them up finely, scatter them over tortillas with a layer of cream cheese to keep everything together. Roll up and chop into tasty pinwheels!
12. Halloumi kebabs with chorizo, tomatoes and honey lime dressing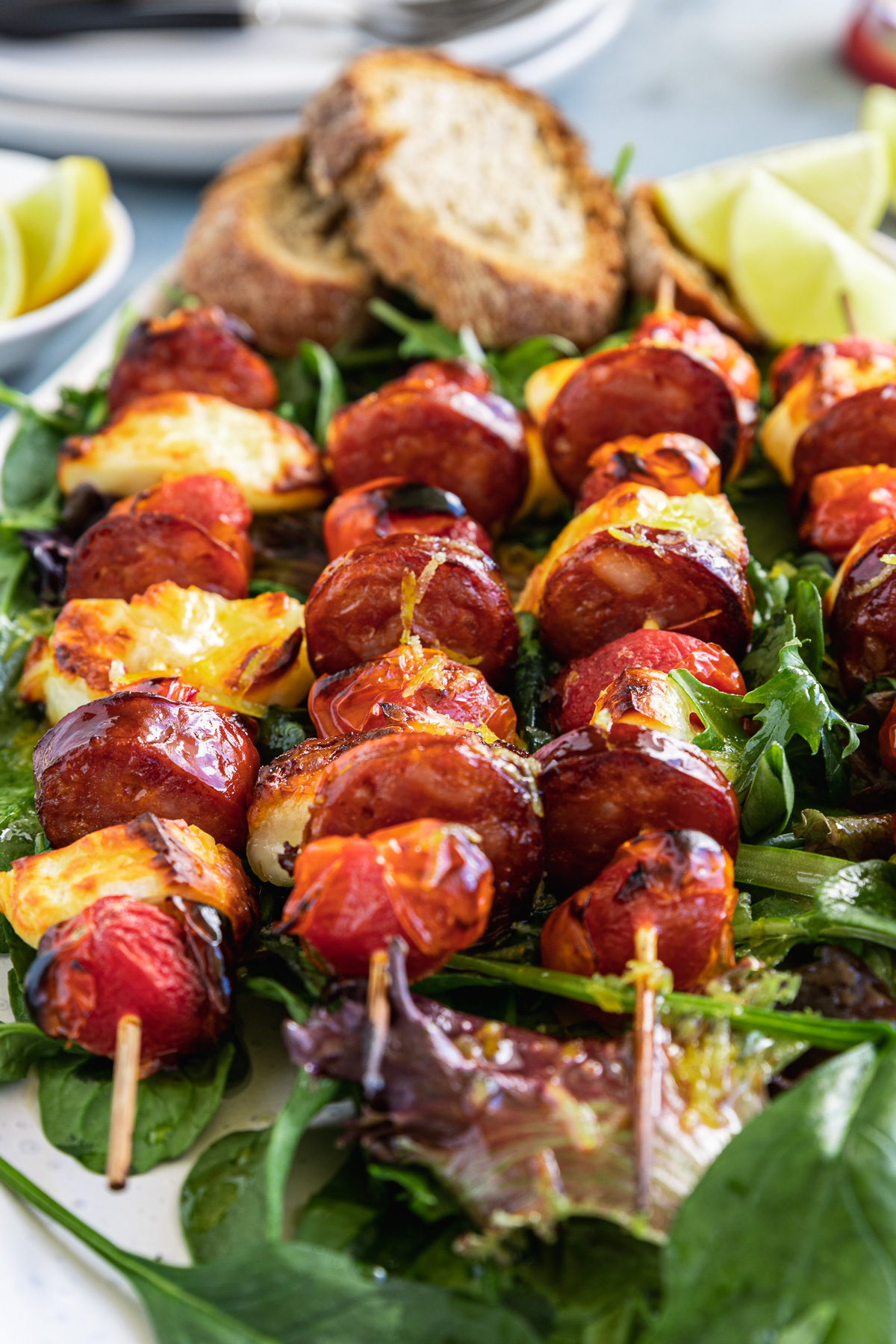 I never met anyone who didn't enjoy a classic Greek souvlaki (like these delicious chicken gyro pitas!), but these Mediterranean style kebabs are just a bit different.
Salty, crispy grilled halloumi and spicy chorizo go perfectly together, and you won't believe how delicious it is piled into pita bread with the sweet and tangy honey lime dressing. Finish with a spoonful of tzatziki sauce for a classic Greek appetizer with a fusion twist.
Delicious crispy bites
Greek finger foods that EVERYONE likes. Trust me.
13. Easy zucchini fries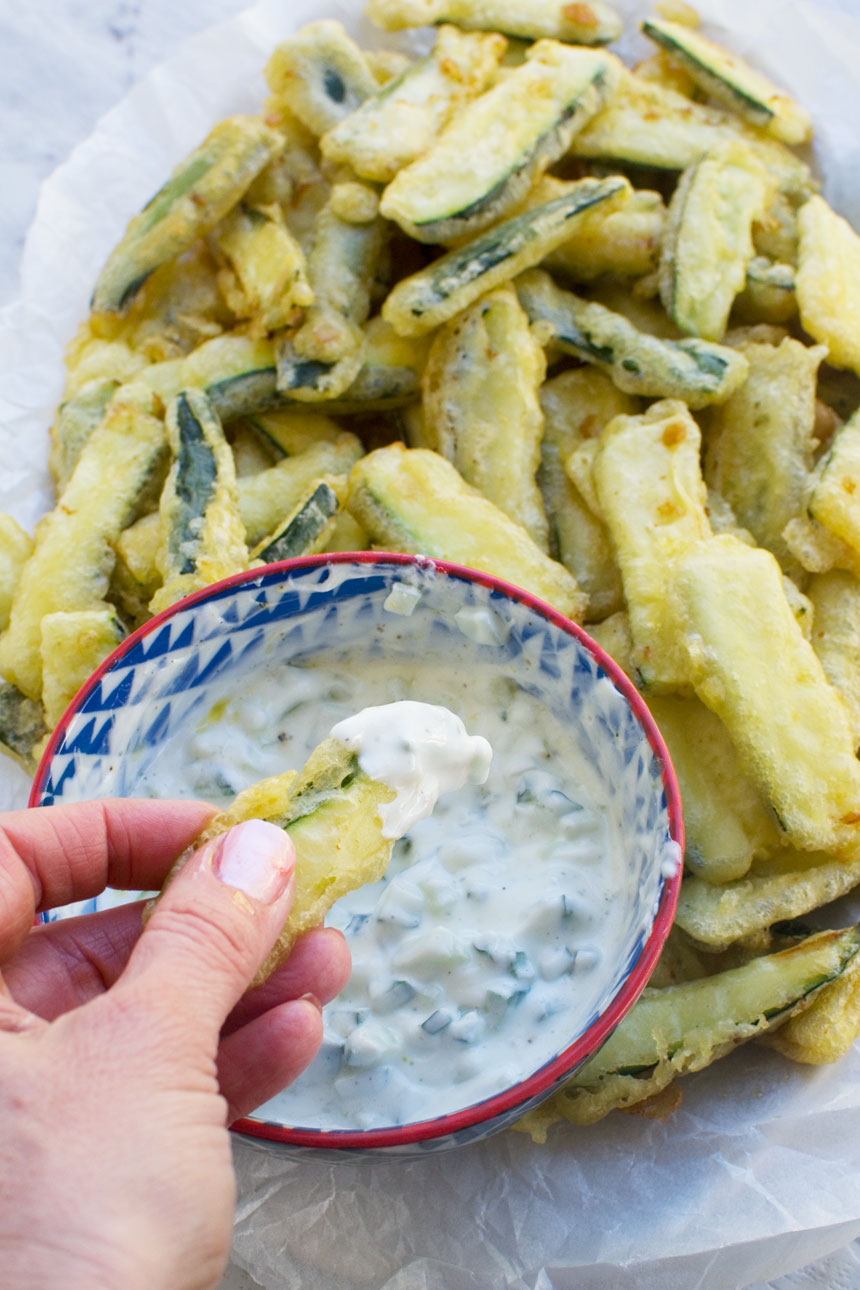 Inspired by my days in Greece, these Greek zucchini fries are made with a light and crispy tempura batter. Make a big plateful for your next party and they'll be gone before you can say tzatziki. Speaking of which… it just wouldn't be right to serve these without a dish of traditional Greek tsatziki sauce.
14. Crispy halloumi fries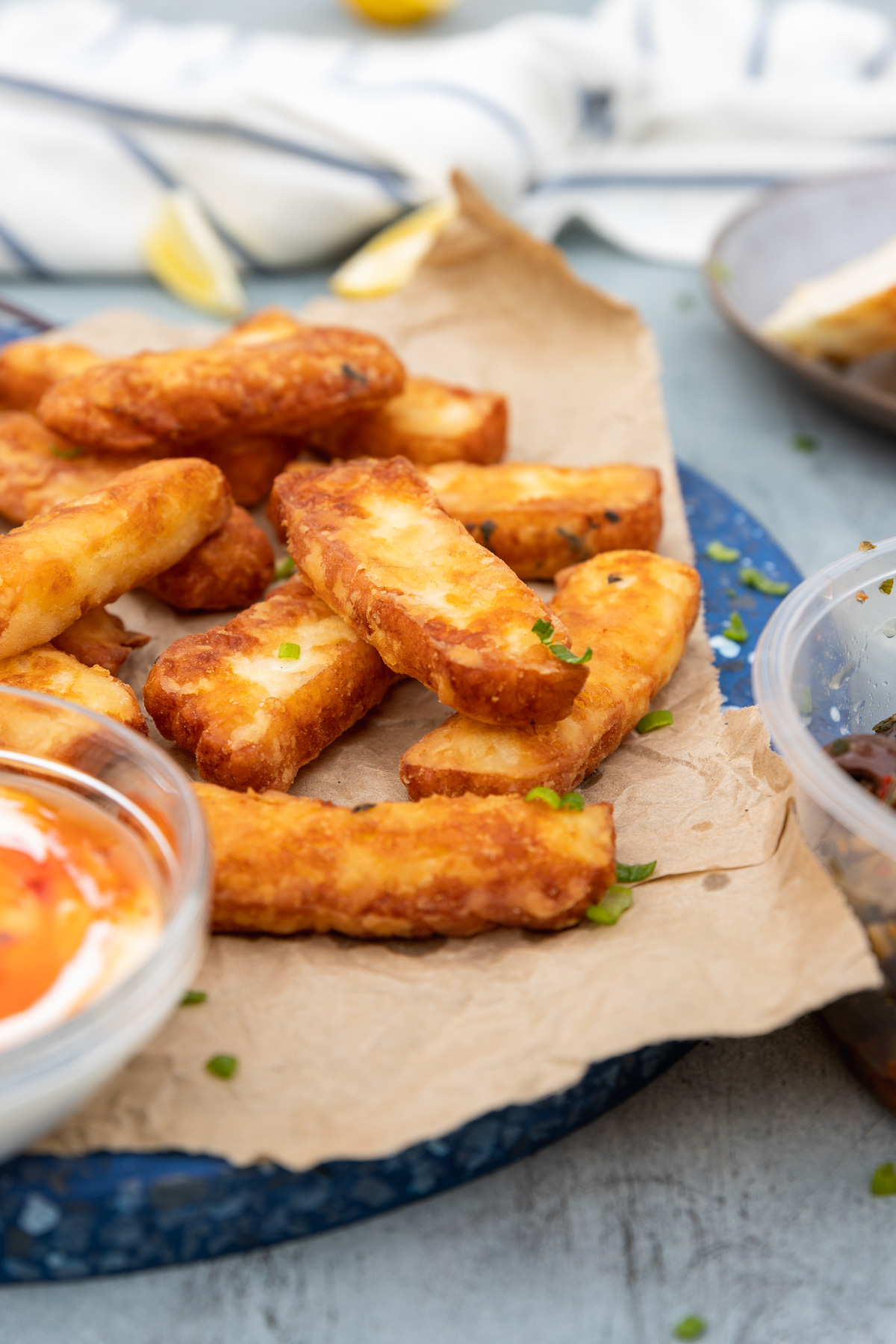 It's hard to pick a favourite in a list like this with so much delicious food. But if I HAD to, these amazing crispy halloumi fries would be it. They're incredibly easy and quick to make with just 3 ingredients. And trust me. EVERYONE loves them, from the kids to the grandparents.
If you prefer little bites to halloumi chips, try these crispy halloumi bites instead. I call them life-changing for good reason!
15. Fried olives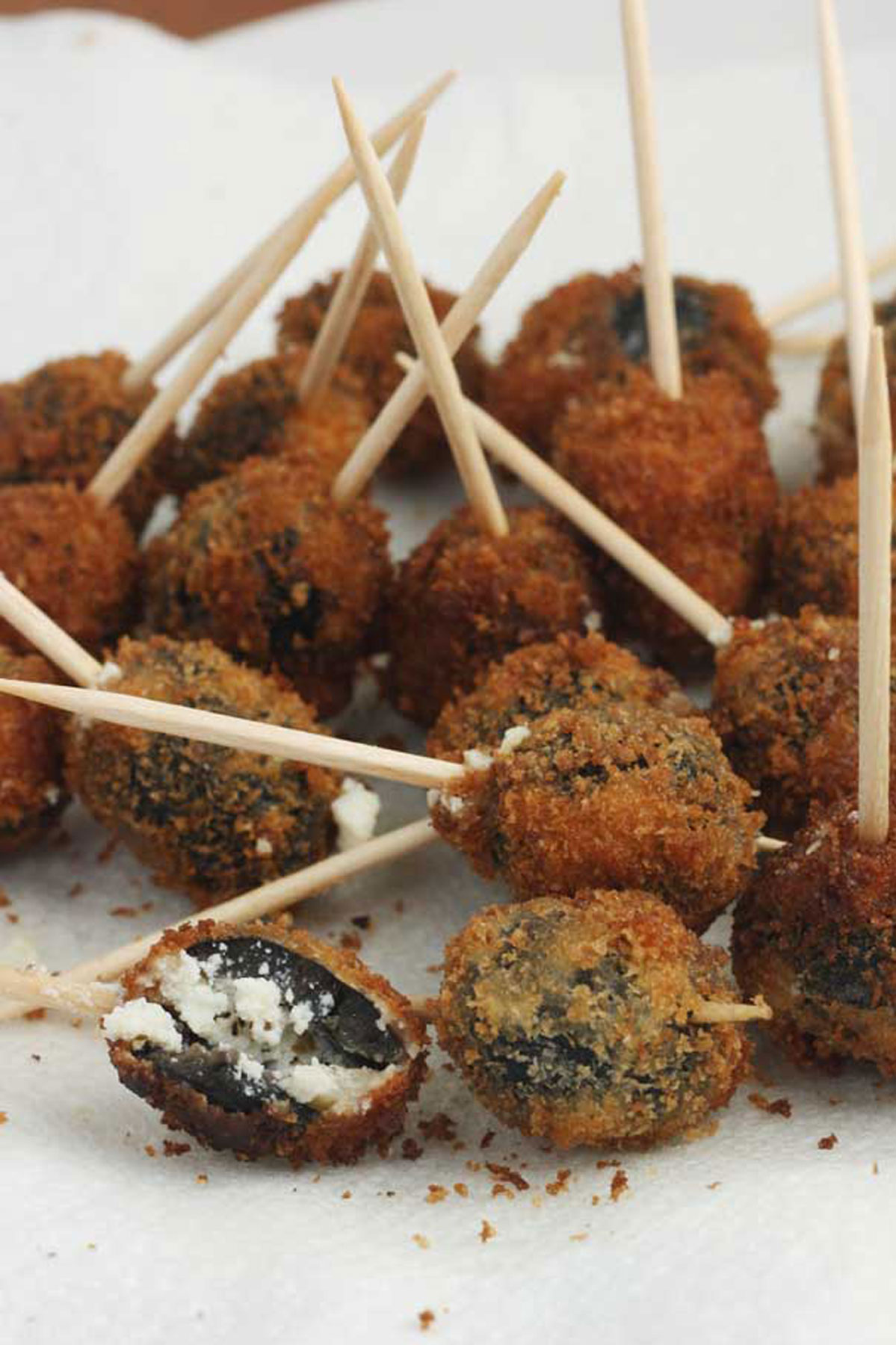 Crispy fried kalamata olives? Yep. Try these tasty morsels and get your mind blown. They're easier to make than you might think. But you'll wow the party guests every time with their crispy exterior and cheesy surprise inside.
Don't forget the dips!
It's not a real party without a dip… or 10. Right? But they don't have to be complicated. Here are a few of my favourite Mediterranean dips.
16. 10-Minute Greek tsatziki dip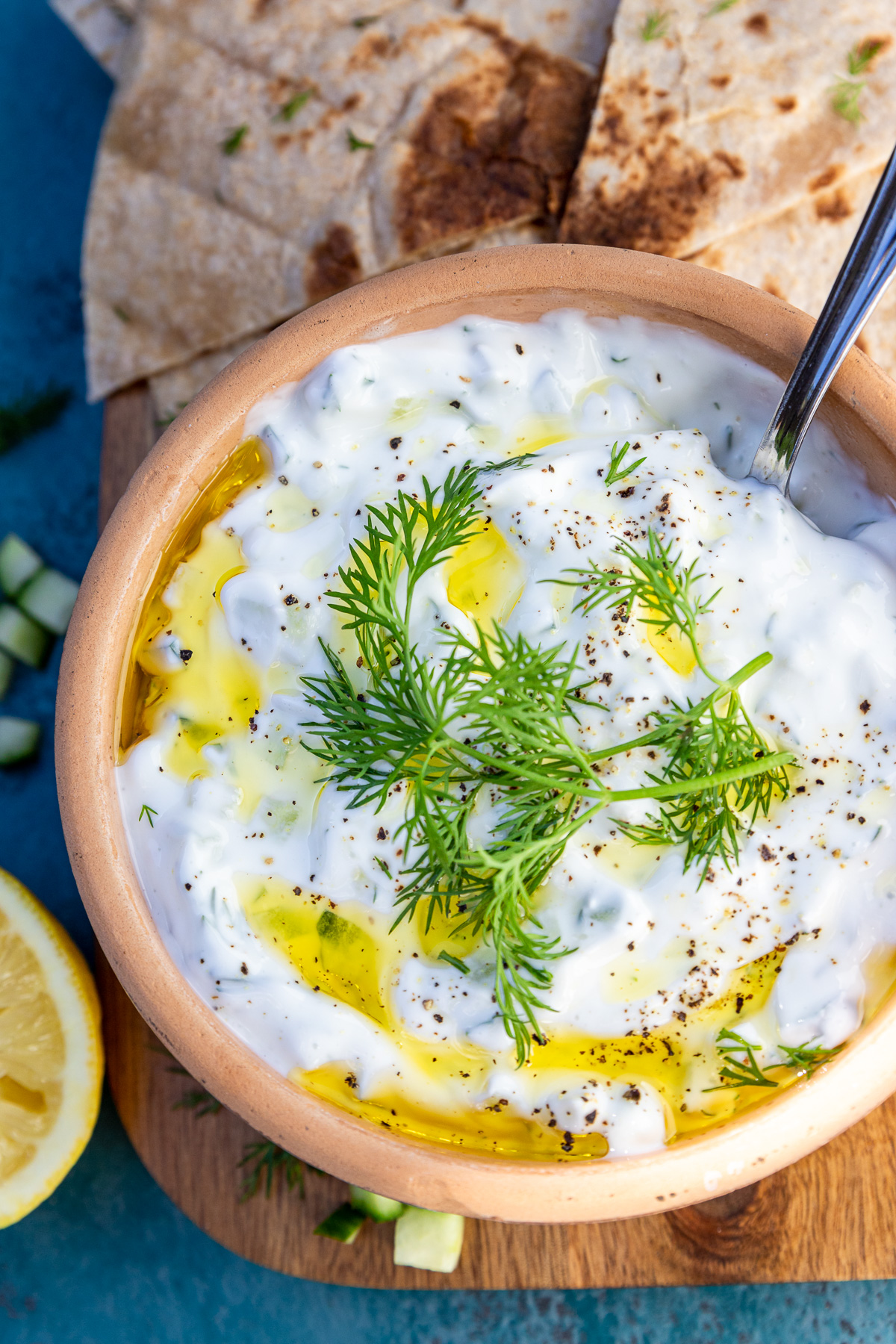 I fall back on this classic Greek cucumber yogurt dip more times than you care to know!
It makes a fantastically easy, healthy, and refreshing dip to serve on the side with so many of the Greek appetizer recipes in this list. It goes with all of the pies and crispy bites, and you can even serve it with raw veggie dippers, crusty (Greek style, of course!) bread or the Greek baked pita chips featured below.
Serving a Greek appetizer platter? Don't you dare serve it without a big bowl of tzatziki included!
Need more ideas? I also wrote a helpful list of ideas about what to serve with tzatziki dip.
17. 5-minute tyrokafteri (Greek spicy feta dip)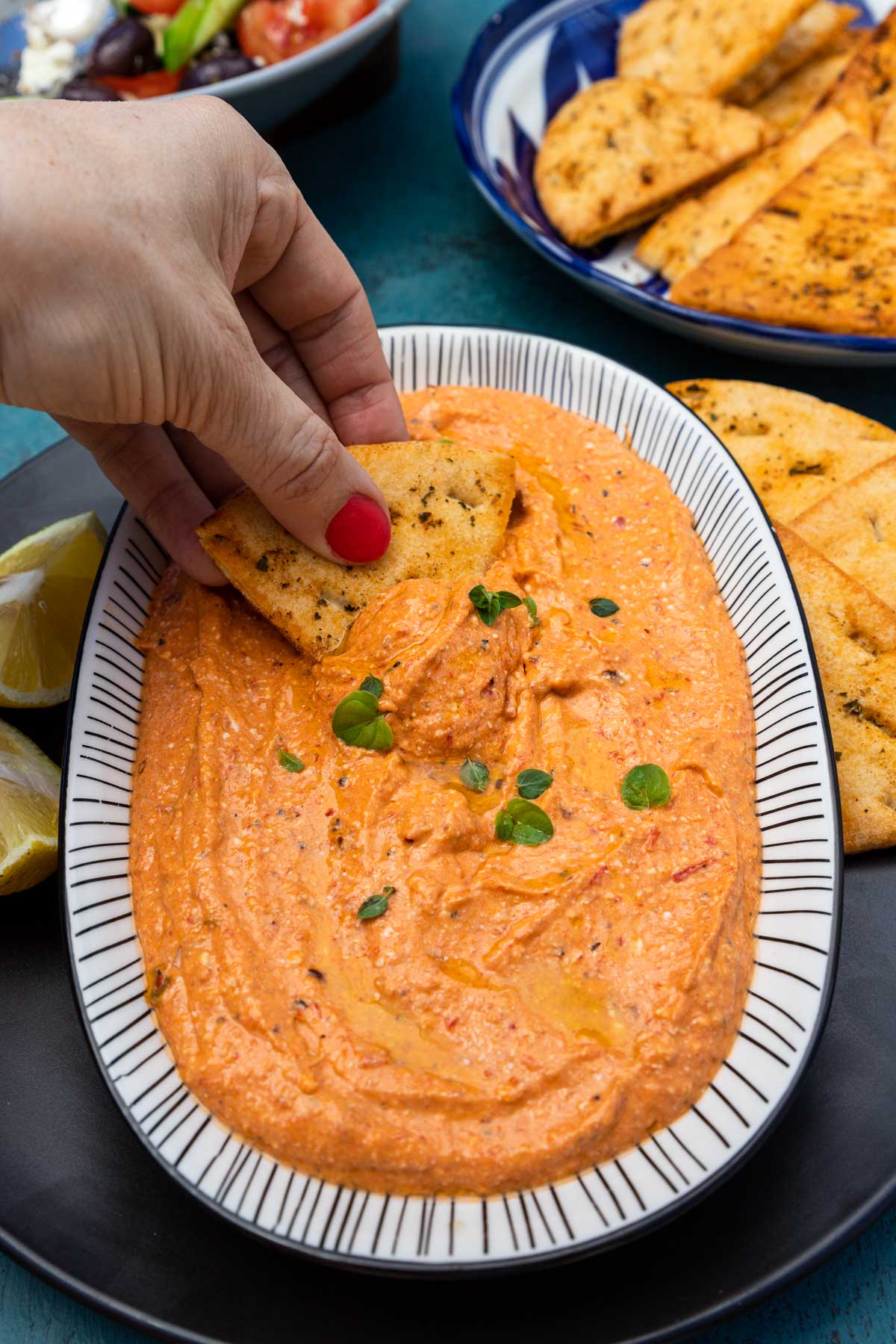 You can make this creamy and punchy spicy feta dip in literally 5 minutes. Now that's my kind of easy dip. Just throw jarred roasted red peppers, feta, olive oil, lemon juice and a few chili flakes in a food processor and pulse. Again, don't forget the pita chips (see below!).
18. Greek tahini dip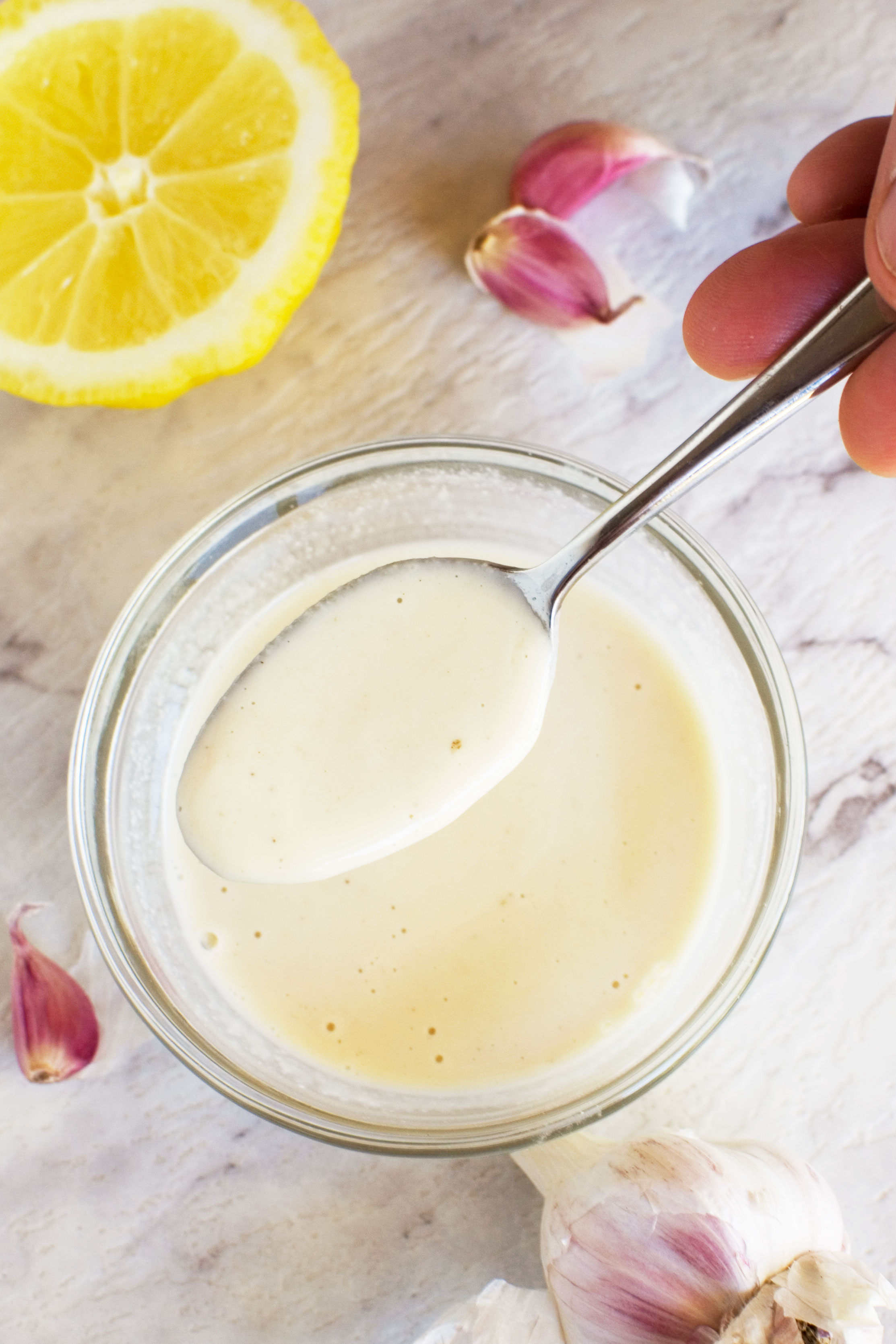 Strictly speaking, this very healthy tahini sauce (naturally vegan and gluten free) is from the Middle East, but tahini is a very popular and well known Greek ingredient. So I think this simple sauce deserves a place in this list!
Once again, this is incredibly versatile. Serve it as a dip with zucchini fries or just fresh vegetables or bread. It's also fabulous drizzled over salads, vegetables, and even meatballs and other proteins.
Give it a try. It's absolutely delicious, and no one will believe you if you tell them how healthy it is.
19. Sweet red pepper and eggplant dip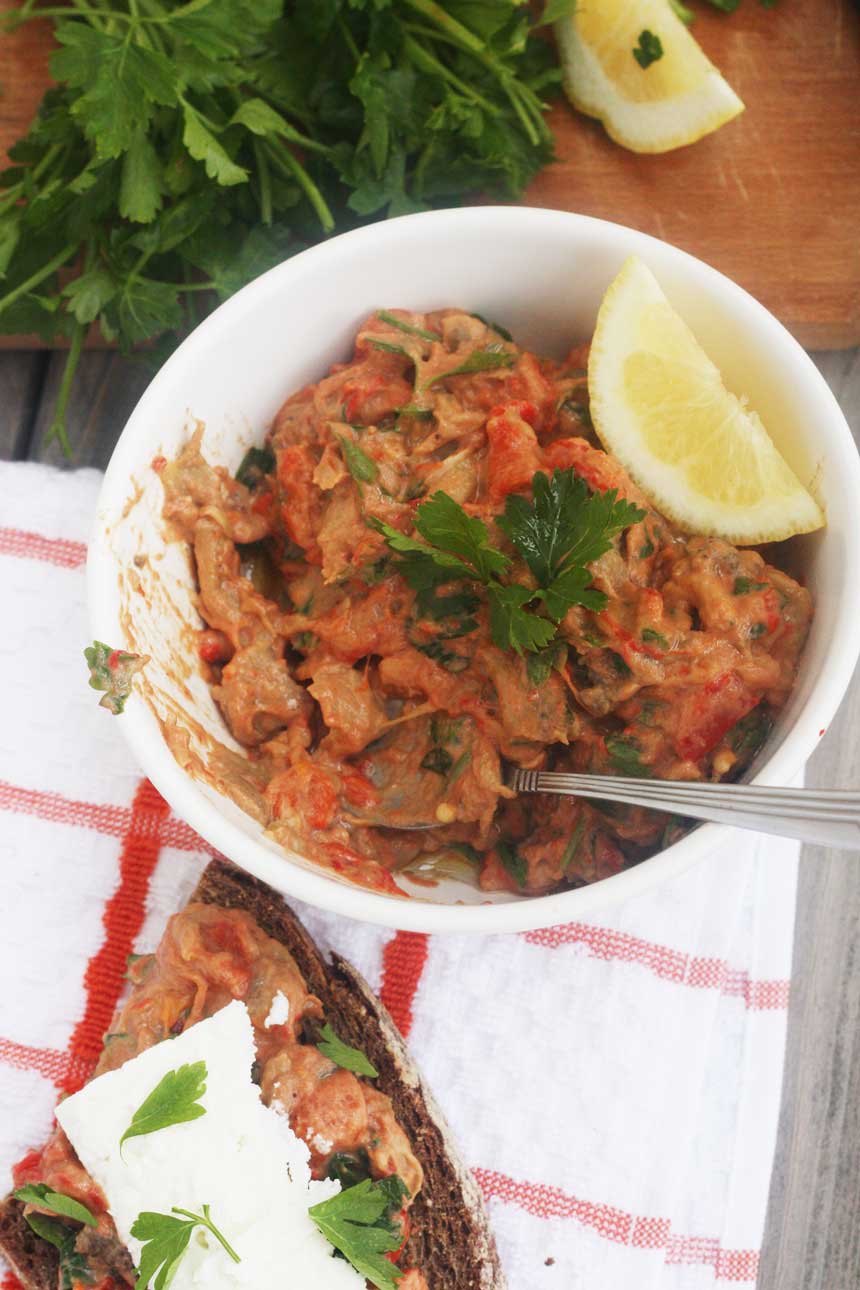 One for Mediterranean diet lovers! This Greek style eggplant dip might not win much in the good looks department, but it sure makes up for it with deliciousness.
If you're looking for a simple and very healthy vegan appetizer option, this is it. May I suggest serving on crispy toast with a slice of feta cheese on top? (either ordinary or vegan cheese!)
You could even go ahead and call this Greek bruschetta!
20. Baked feta with tomatoes, peppers and olives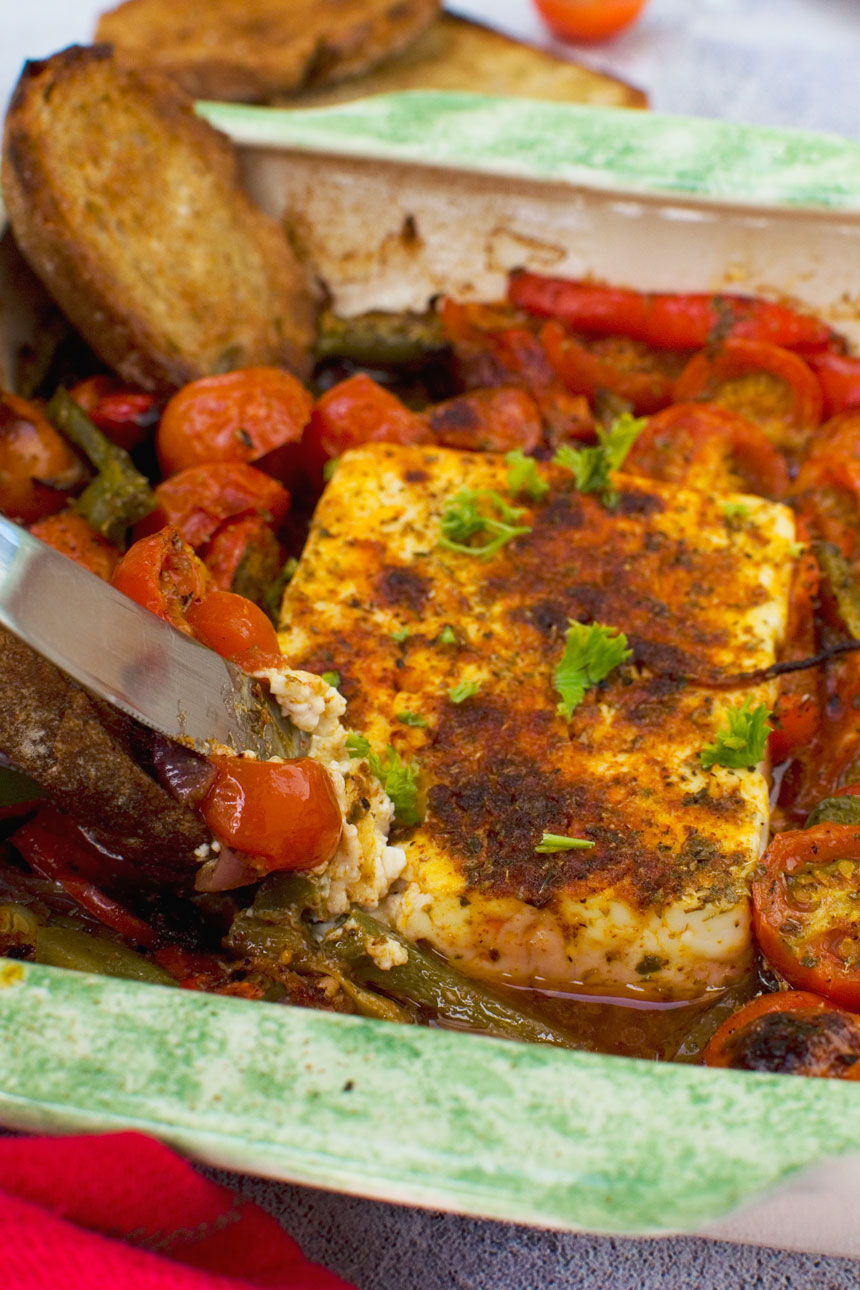 This popular Greek appetizer – baked feta with tomatoes – makes a simple but unbelievably delicious lunch as well as an impressive Greek-style shared appetizer.
I can almost make this with my eyes closed. Just throw a whole block of quality feta in a small baking dish with a pile of Mediterranean vegetables, and bake. Grab some fresh crusty bread and dive in!
21. Greek baked pita chips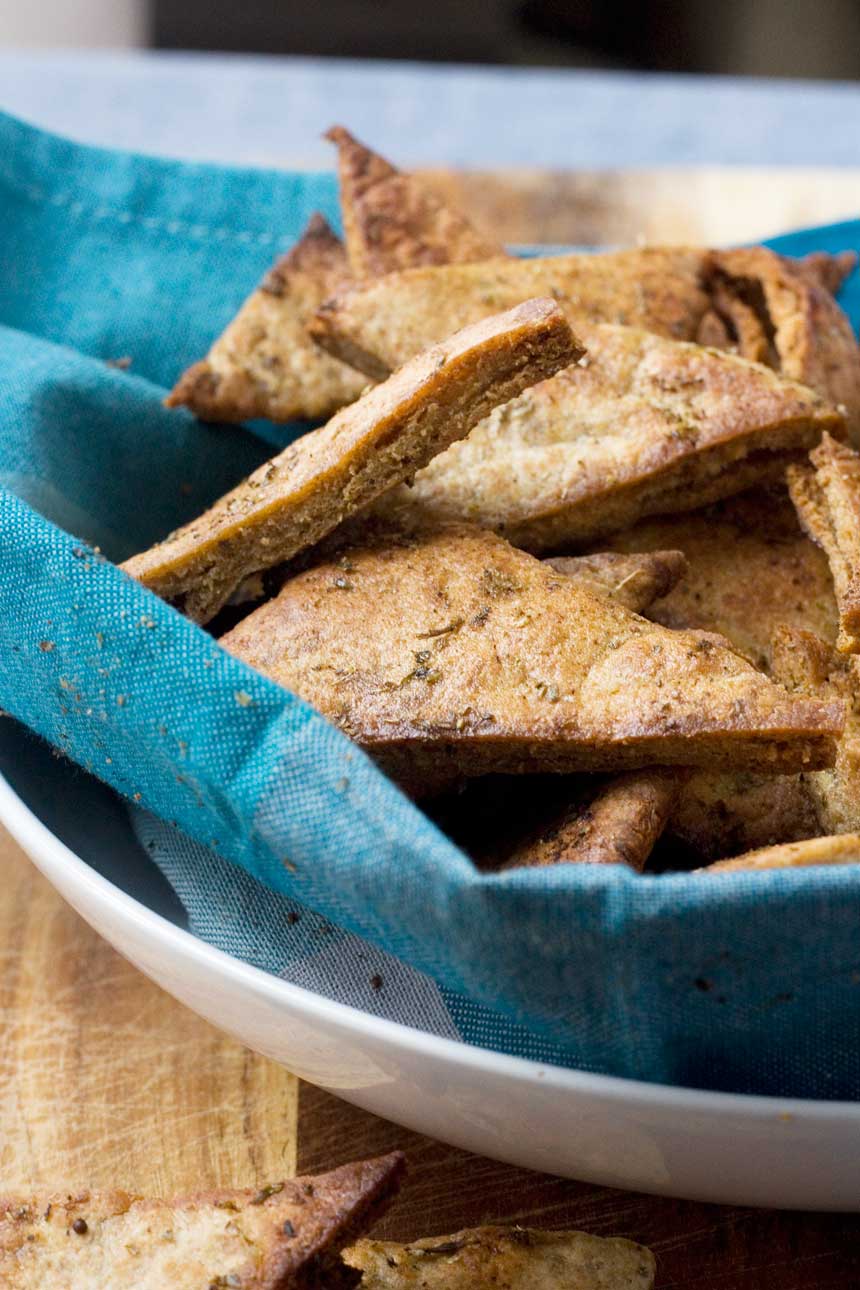 Last but definitely not least! I put these homemade pita chips in the 'dips' section because… well, OBVIOUSLY you need them to go with your dips! They're unbelievably easy to make. Just cut pita bread into wedges, 'paint' with Greek flavours and bake.
Great! But what about the main course?
OK, so you've got your delicious Greek appetizers sorted. Now what about the main? If you're planning a Greek dinner party, here are a few suggestions as to what to serve:
For a feast fit for a (Greek) king or queen, my first choice would be this easy slow cooked Greek lamb (otherwise known as lamb kleftiko). It's one of those recipes you'll make once and it'll become a firm family go-to.
Gemista! Otherwise known as Greek stuffed peppers and tomatoes! Give them a try. You won't be disappointed.
For loads more ideas, browse all my Greek recipes.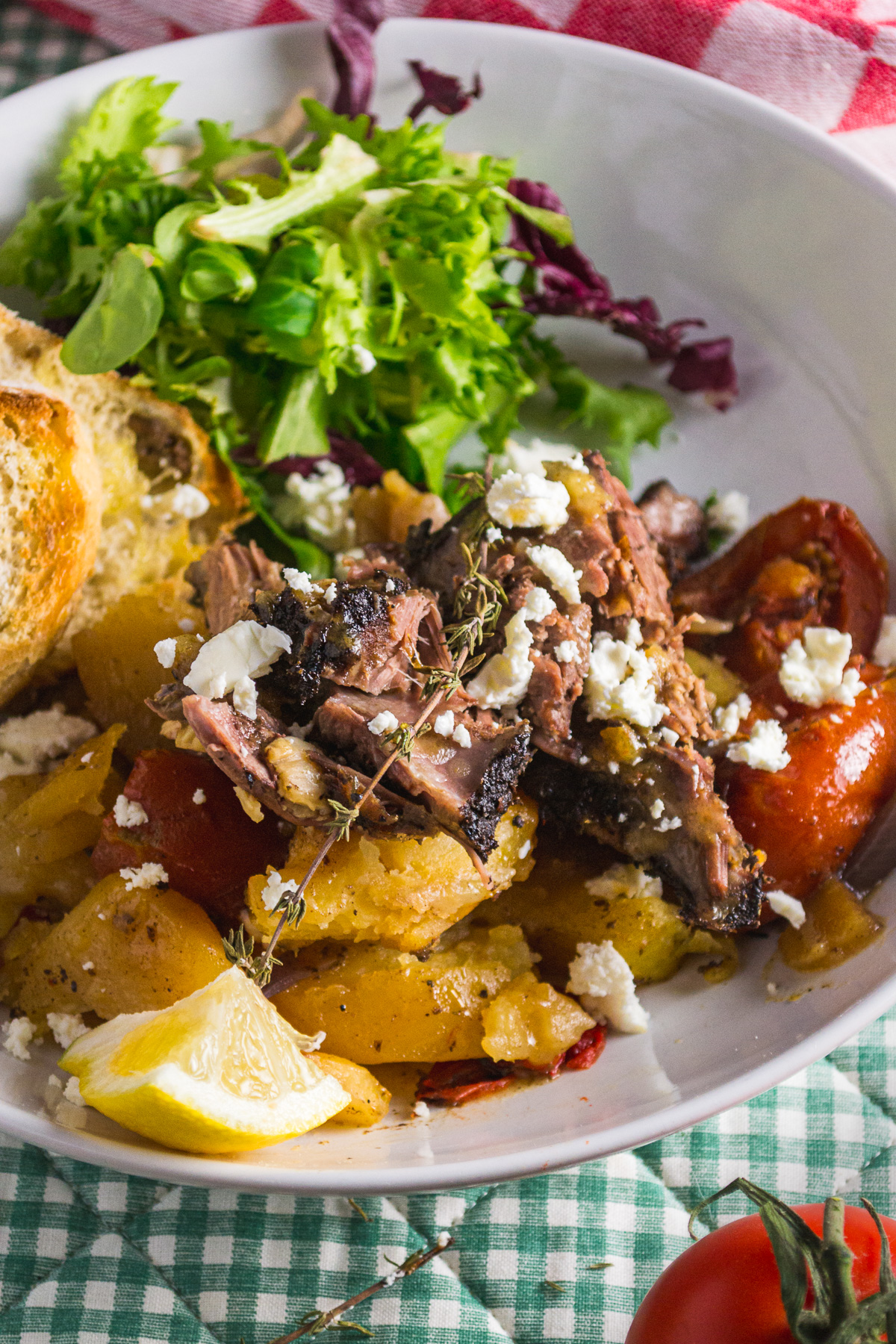 IF YOU MAKE ANY OF THESE RECIPES, LET ME KNOW HOW YOU GET ON BY LEAVING A COMMENT AND RATING BELOW… AND DON'T FORGET TO SIGN UP TO RECEIVE ALL MY NEW RECIPES BY EMAIL!