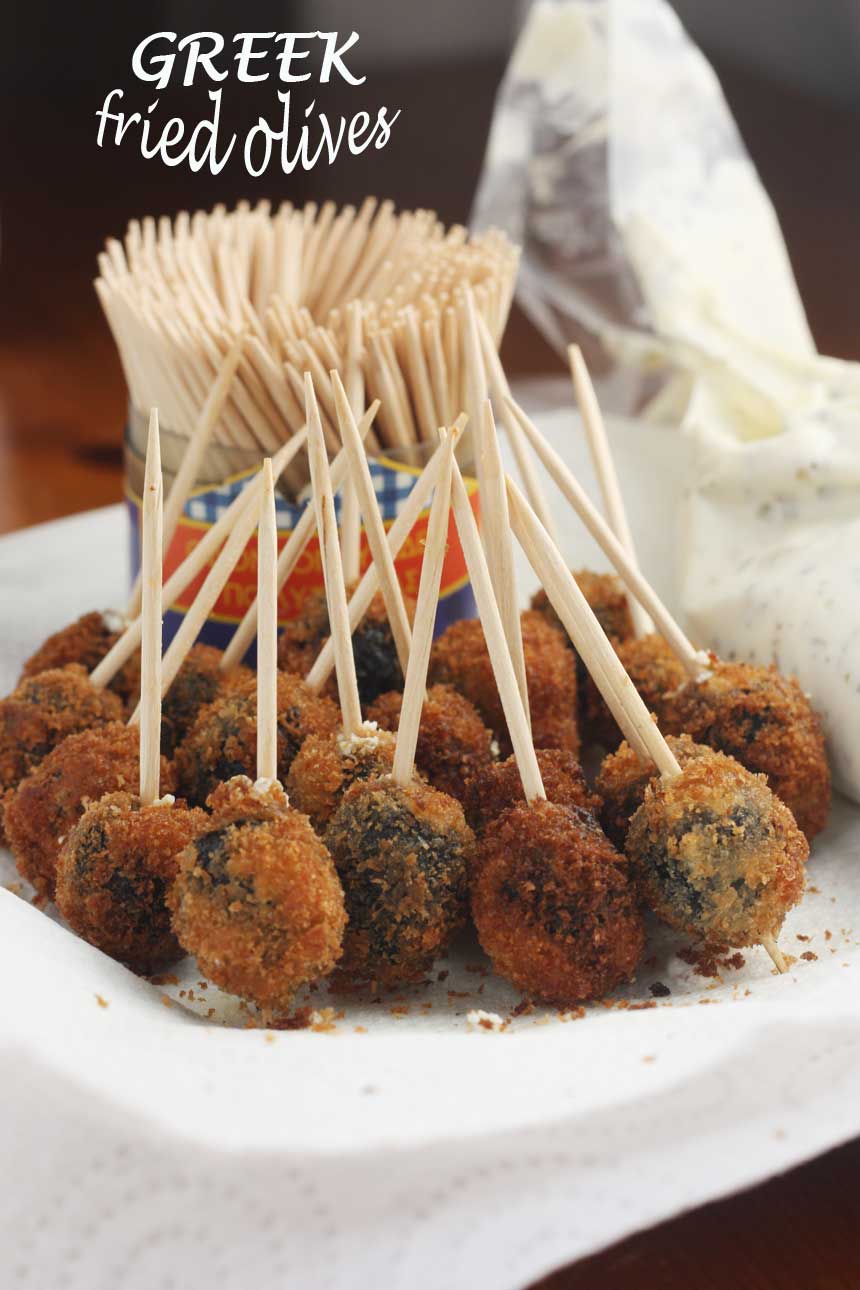 With Christmas already a few days behind us and the leftovers slowly but surely dwindling, there's only one thing to do … start getting the thinking cap on and planning what yummy canapés you're going to whip up for New Year! Well, this is what's happening at my house, anyhow …
Now I don't know how you feel about olives, but I do know that they tend to be one of those foods that divide a room – just like the roasted parsnips and the Christmas pudding on the Christmas table – both get a massive thumbs up from me, but a massive thumbs down from Mr. Scrummy (the parsnips) and my mum (the Christmas pudding). Of course, after spending over a decade in Greece, where if you declared that you disliked olives you would be met with disbelieving, uncomprehending stares, I am firmly in the 'love them' camp. And so for some time now I have been wanting to try out a Greek version of the 'fried olives' recipes I've spied a few times in various corners of the Internet over the past few months … and today was the day to finally give them a go!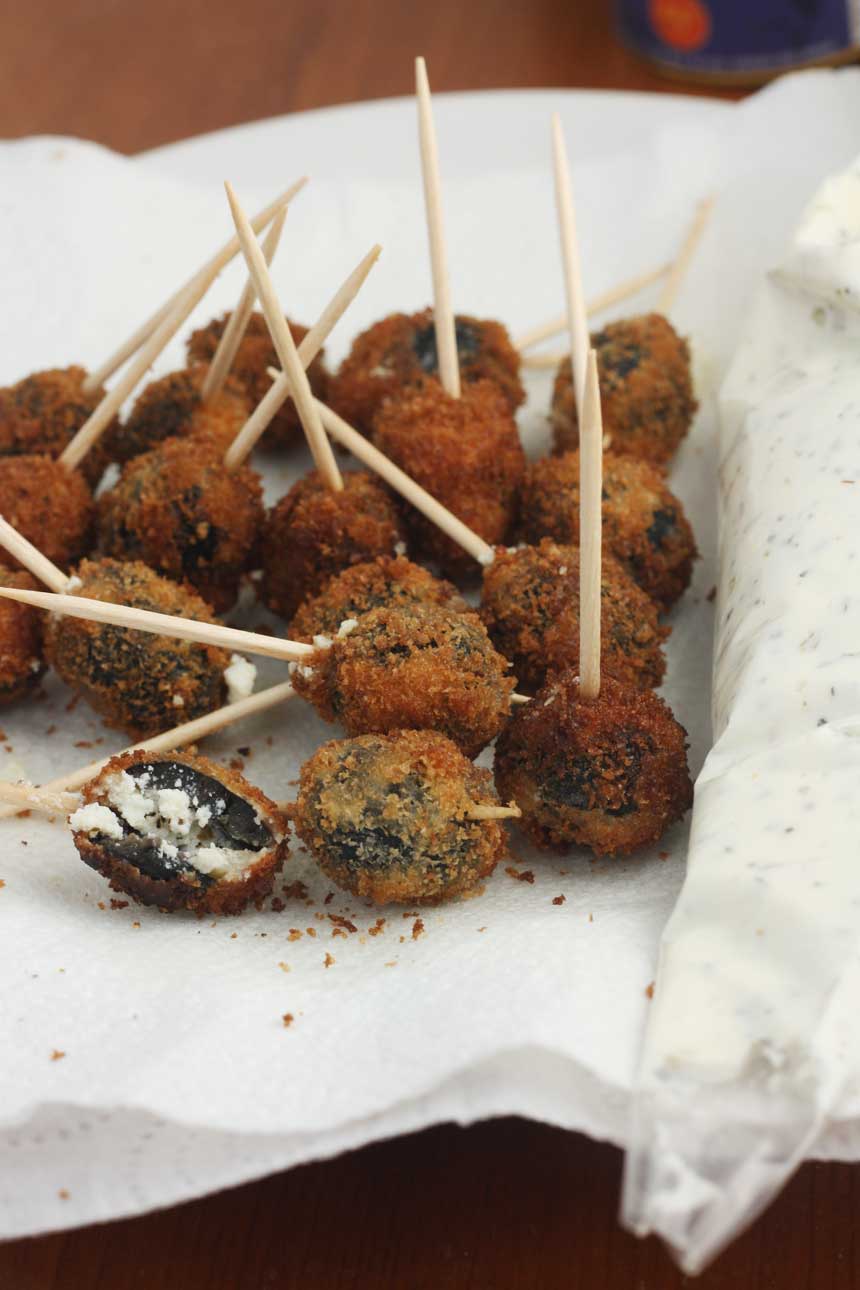 So with my belly currently full of these Greek fried olives after 'testing out' the recipe all afternoon, I am happy to report that they are just as tasty and moreish as I hoped they would be … and even easier to make than I expected, too. I must admit I wondered whether the filling would be difficult to pipe into the cavity in the middle of the olives, but it was easy as pie. The only 'mistake' I made was to get olives that were a bit too small – just because that's all the particular shop I popped into to buy my olives had. They were still delicious but I would definitely recommend getting some nice big juicy pitted olives (either black or green – your choice), just so that there's a nice roomy space inside for the stuffing.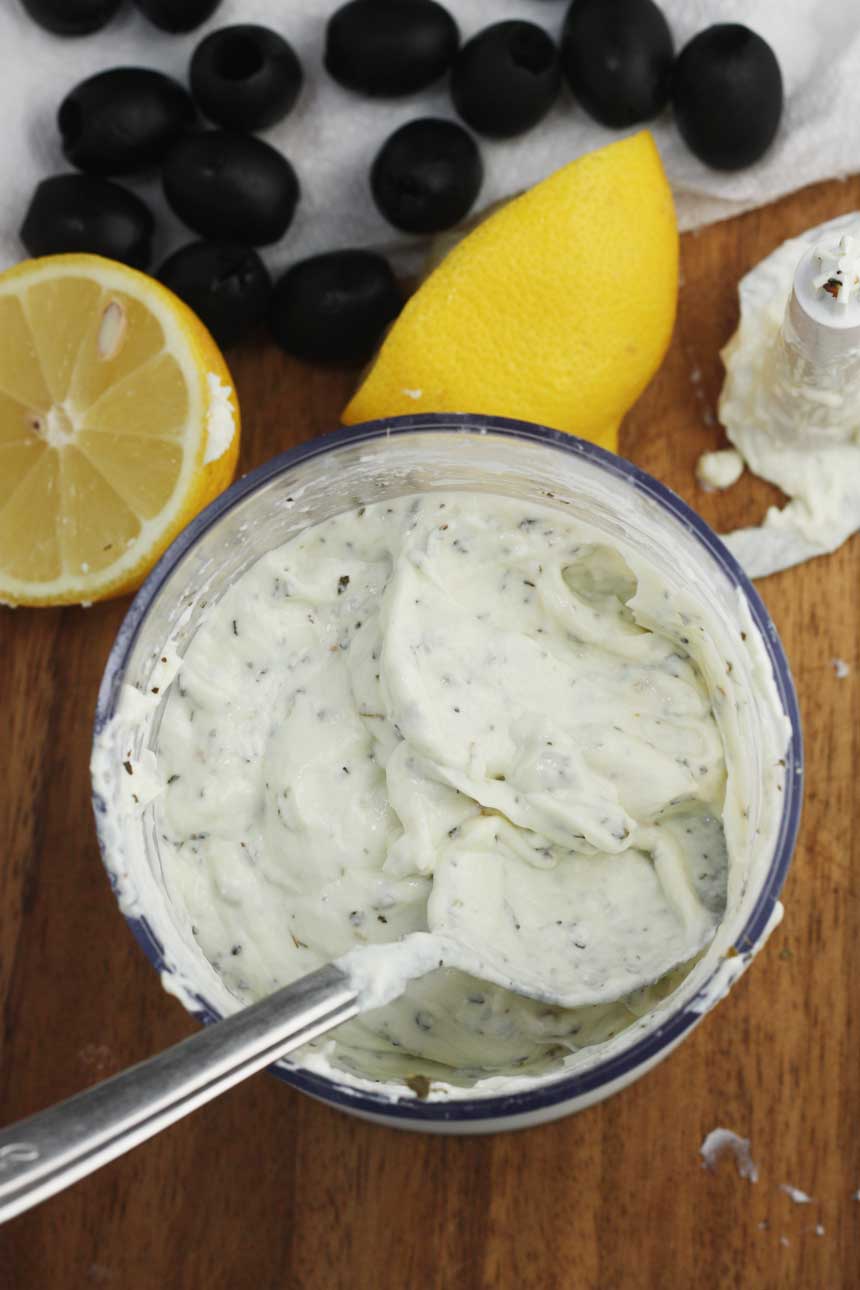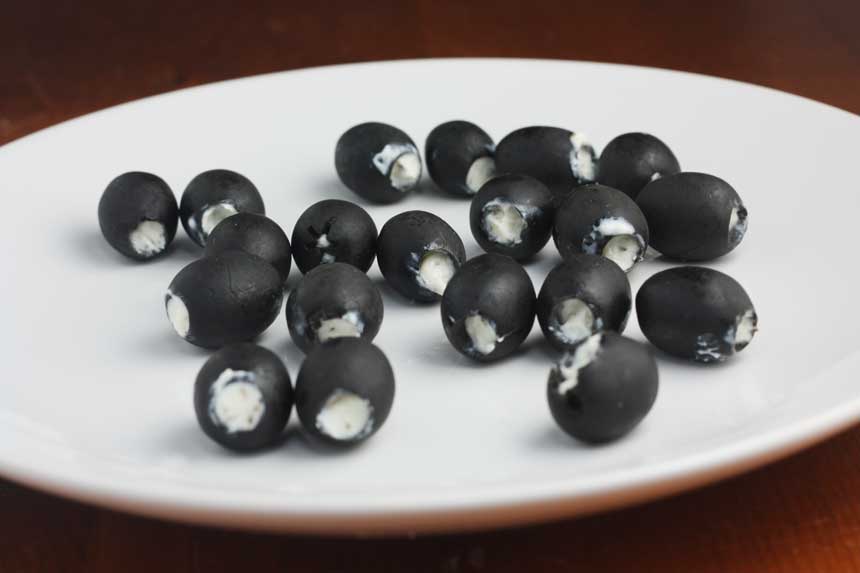 You will probably feel very smug about producing something as impressive as these with so little effort. All you do is whizz up some feta in your food processor so that it resembles crumbs, then add a little ricotta, a squeeze or two of lemon juice and a drizzle of olive oil and a spoonful or so of oregano. Process it until it's nice and creamy and 'pipe-able', spoon it into a piping bag (I just used one of those disposable ones that are just like a cone-shaped plastic bag), snip off the end of the bag and squeeze a bit of the filling into each olive – it's very like making a whipped feta, if you've ever had a go at that. After this, you simply roll the olives in flour, then dump them in egg and then breadcrumbs with a slotted spoon before frying them for 30 seconds or so until golden brown and crunchy.
If you wanted to you could serve these with a dipping sauce like some sour cream or tzatziki sauce, but I don't think they really need it. Just serve them on a plate with cocktail sticks for stabbing and shoving into appreciative mouths! The best thing is that you could easily assemble these just before your guests arrived if you wanted to serve them at a party or as a pre-dinner appetizer – then just fry them up fresh when you're ready to serve them. I wasn't exaggerating when I just said they only take about 30 seconds to fry!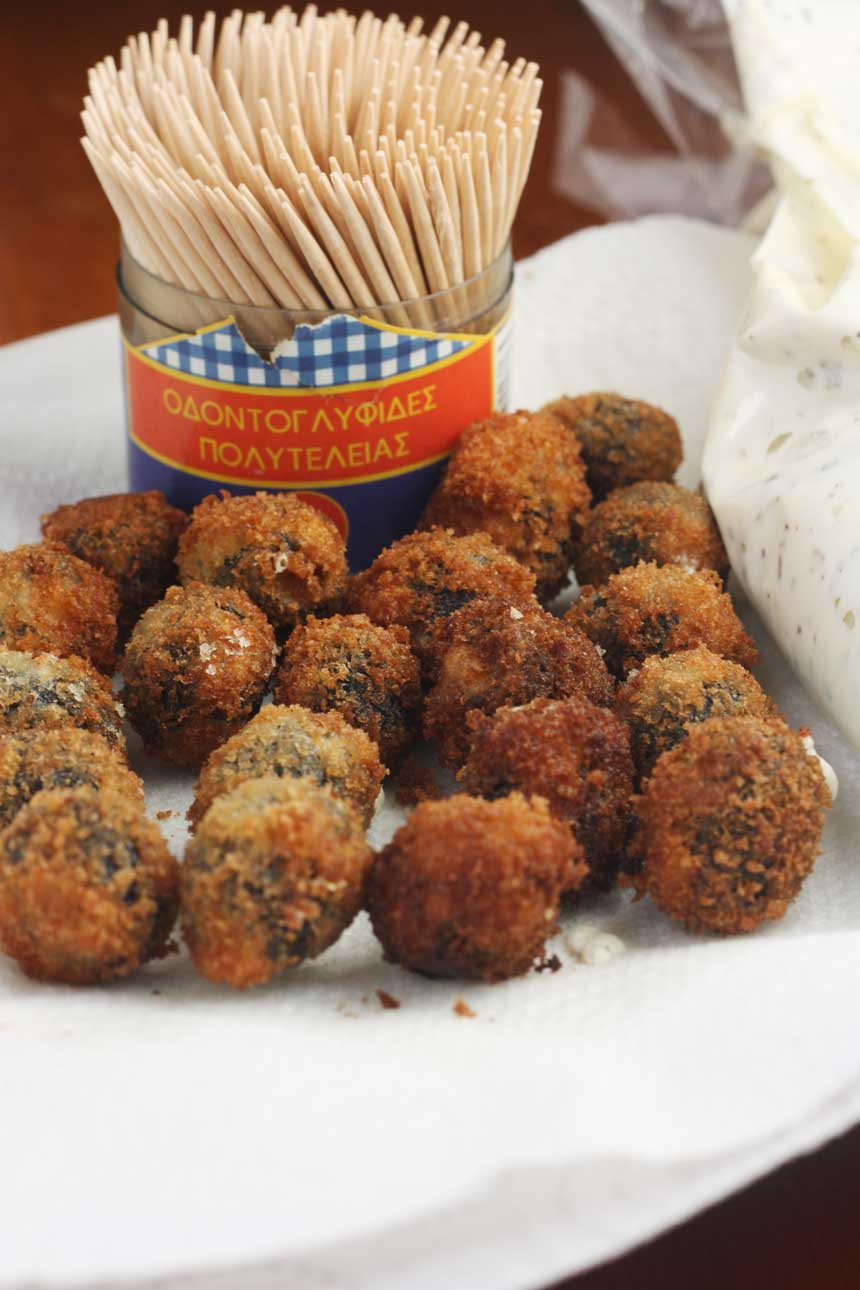 Have you got a favourite canapé to serve at parties? (definitely looking for more ideas for New Year's Eve!) Oh, and how was your Christmas? How rude of me not to ask before now! Christmas Day here involved a suitable amount of eating, drinking, gift opening and sitting around doing absolutely nothing … just the way I like it! And the icing icing sugar on the cake chocolate log was a pretty significant snowfall on Boxing Day – never mind that we had to abandon our car at the bottom of the hill near our house and trek the rest of the way like Scott of the Antarctic and his crew … clinging to our leftovers in plastic bags for dear life. Never mind that at all … it was a small price to pay for an 'almost white Christmas'!
Hope you enjoy the olives! They're great as they are but feel free to add in some chopped sun-dried tomatoes or substitute the feta for goat's cheese or any other tasty, crumbly cheese …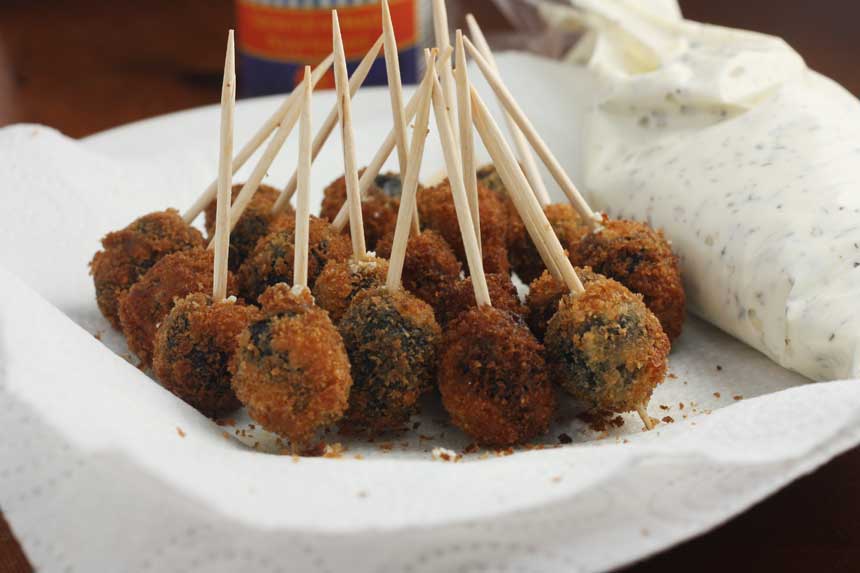 Greek fried olives
Juicy olives stuffed with feta cheese and oregano and fried in crispy breadcrumbs. A tasty and moreish canapé that is ridiculously easy to make!
Ingredients (UK/Australia? Click below for grams/ml)
1/2

cup

feta cheese

1/4

cup

ricotta cheese

1 1/2

teaspoons

dried oregano

a squeeze or two of lemon juice

a drizzle of olive oil

if necessary

large pitted olives

plain flour

1

egg

whisked

white breadcrumbs

I quickly whizzed up one slice of bread in my food processor

oil for frying

I used canola oil - enough to just cover the olives in the bottom of a small saucepan
Instructions
Crumble the feta cheese into a food processor, then pulse it a few times until it resembles fine crumbs. Then add the ricotta, oregano and lemon juice and process until it's smooth and creamy. Add a drizzle of olive oil to help it loosen up if you think it needs it.

Blot your olives on kitchen paper if they've been stored in brine, then spoon the filling into a piping bag, cut off the very end (to about the size of the hole in the olive), then pipe little bits of the feta mixture into each olive.

When all the olives are filled, begin heating your oil on a medium heat. While it heats up, put your flour, egg and breadcrumbs on three separate dishes. Roll the olives first in the flour, then dip them in the egg using a slotted spoon, then fish them out with the spoon and roll them in the breadcrumbs.

When the oil is hot enough (test with a cube of bread – it should brown within a minute or so if the oil is hot enough), fry the olives in batches for about 30 seconds or so or until they are a lovely golden brown. Fish them out with the slotted spoon and drain on kitchen paper for a couple of minutes before serving with cocktail sticks for popping them into your mouth!
Notes
Depending on how many olives you want to stuff, you'll possibly have a fair bit of the filling left. If you do, pipe the leftovers into a dish and use as a spread for sandwiches or a dip the next day!
Nutrition
Calories:
18
kcal
Protein:
1
g
Fat:
1
g
Cholesterol:
13
mg
Sodium:
47
mg
Potassium:
10
mg
Vitamin A:
45
IU
Calcium:
28
mg
Iron:
0.1
mg
I hope you enjoyed this post! You can subscribe to receive posts directly to your inbox by entering your email address into the box at the top of the sidebar on the right.
You can also find more from Scrummy Lane on Facebook, Pinterest, Twitter and Instagram and follow me on Bloglovin! Thanks so much for reading!
*This post may contain affiliate links which means that if you click on a link and make a purchase I get a small percentage of the amount you spend. At no extra cost to you, of course! Thank you!*