Crispy anything gets my vote. But have you ever fried olives? These juicy olives stuffed with feta cheese and oregano and fried in crispy breadcrumbs make a tasty and simple Greek appetizer that are easier to make than you think!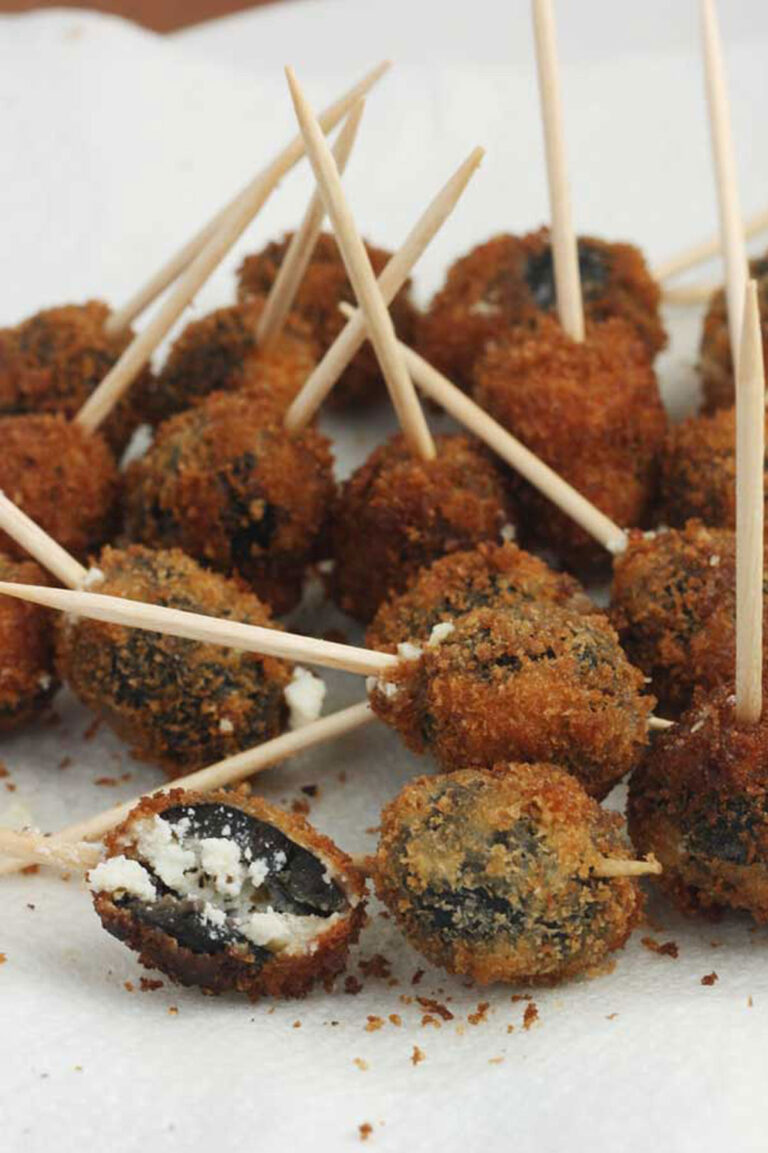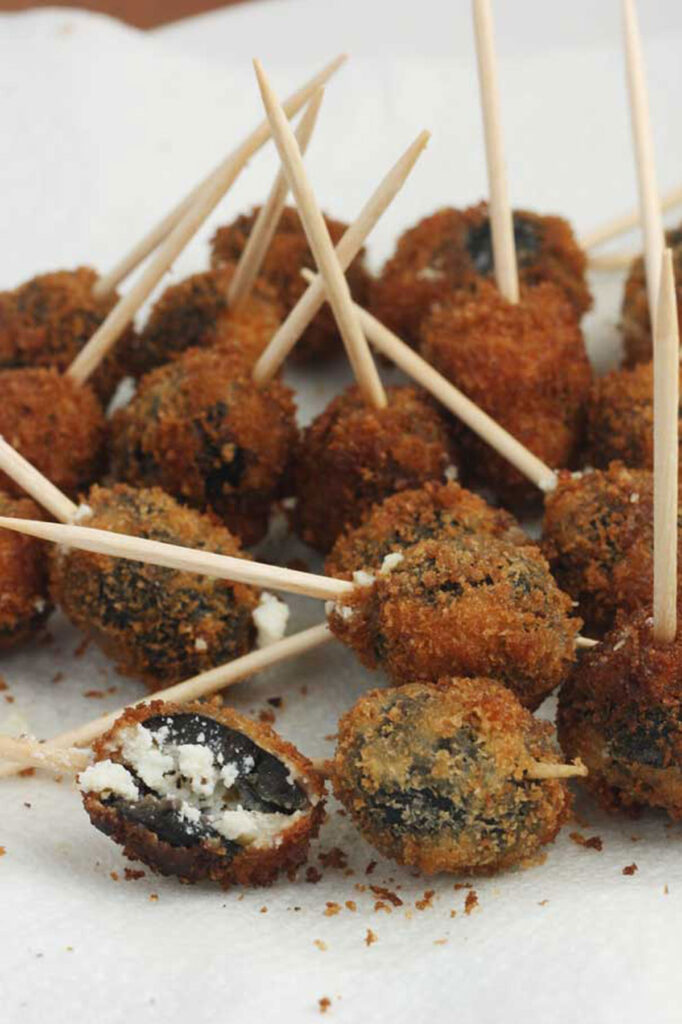 Olives are one of those foods that can divide a room. But after over a decade in Greece, where if you declared that you disliked olives you would be met with disbelieving, uncomprehending stares, I am firmly in the 'love them' camp.
And so will you be if you try stuffing juicy olives with a delicious feta cheese mixture, crumbing them and frying them!
What ingredients do you need?
There are 3 simple parts to this deep fried olive recipe:
olives (of course)
easy cheese stuffing
breadcrumbs for frying
Olives: My advice is to find some big juicy black olives. Good quality Kalamata olives are perfect. If you can't find these, any good and big black olives will work. Just make sure you buy pitted olives. The empty space in the middle is where your filling is going to go, of course.
I usually buy pitted kalamata olives for this recipe, but there's nothing wrong with fried green olives!
Filling: For the easy filling, you only need a few ingredients. Just throw feta cheese, ricotta cheese, oregano, lemon juice and a drizzle of olive oil into a food processor and pulse until you have a creamy, dreamy filling.
Breadcrumbs: For breading the olives, you need just a smallish amount of breadcrumbs, and flour and egg. I like to use panko breadcrumbs, because they're ready made and crispy, but any breadcrumbs work.
How to make fried olives
You can make these delicious party bites in just a few simple steps:
Step 1: Get the filling ready.
Step 2: Dry the olives if they've been stored in brine or oil. Cut the very end off one end of the olives.
Step 3: Spoon the filling into a piping bag. If you don't have one, you can use a small clear plastic food bag. Just pile the filling into one corner and snip off the very end (just the very end).
Step 4: Pipe small amounts of the mixture into each olive.
Step 5: Roll the stuffed olives in flour, then egg, then breadcrumbs.
Step 6: Heat just enough oil in a saucepan to cover the olives. Fry for around 30 seconds until golden and crispy.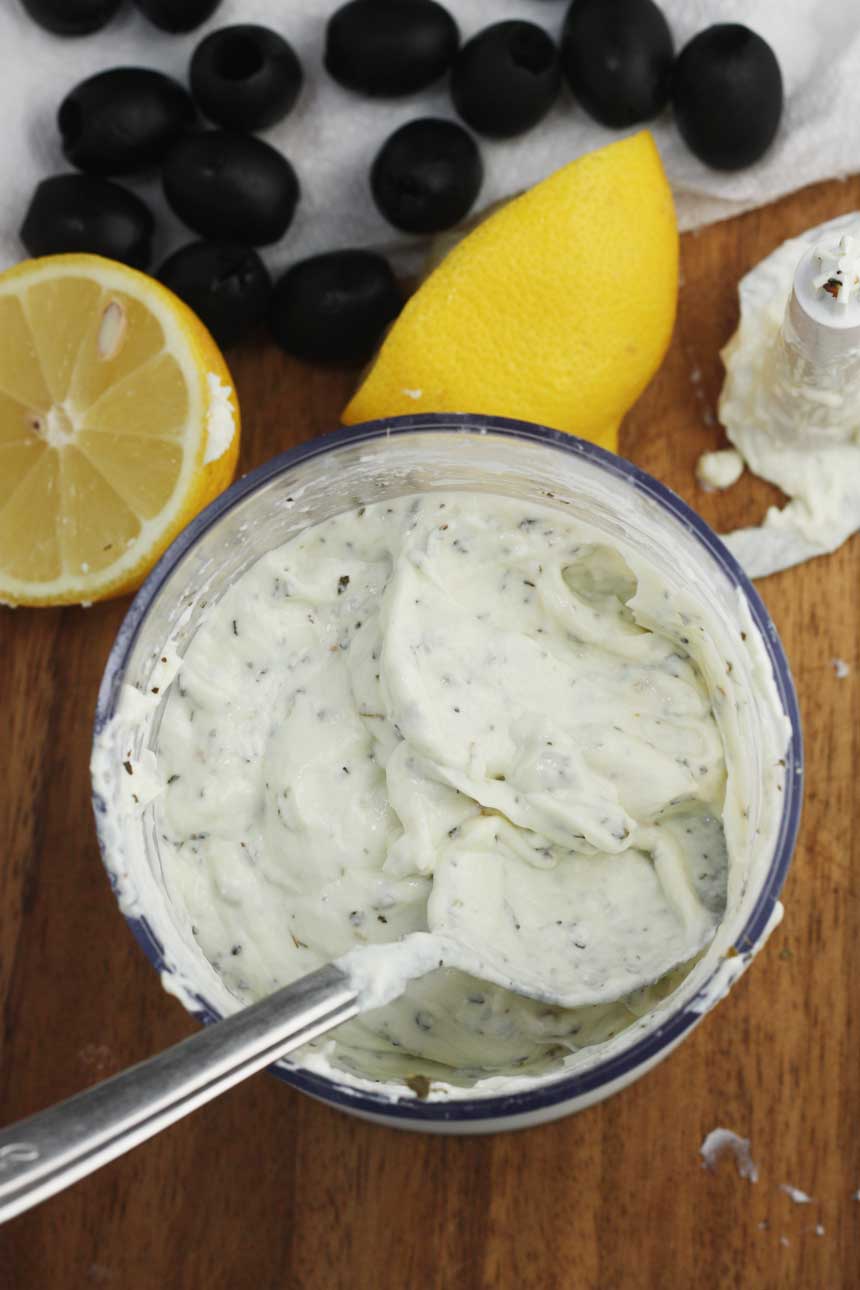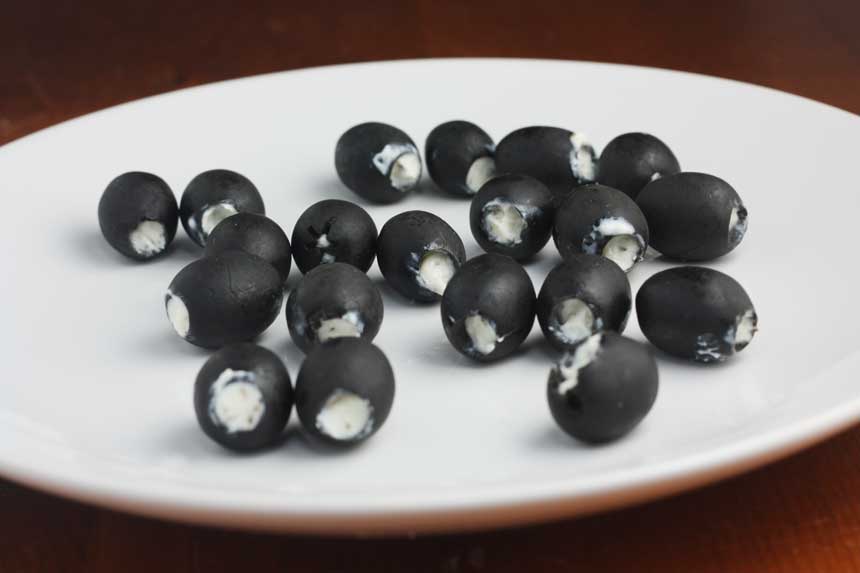 How to serve them
If you like you can serve these with a dipping sauce such as:
sour cream
tzatziki sauce
sweet chili sauce
good quality chunky pesto
garlic aoli
ranch dressing, or any other favourite quality dressing
marinara sauce
But you don't HAVE to.
I usually just serve them on a plate with cocktail sticks for stabbing and shoving into appreciative mouths!
You can easily assemble these just before your guests arrive if you want to serve them at a party or as a pre-dinner appetizer. Then just fry them fresh when you're ready to serve them.
It's not an exaggeration when I say they only take about 30 seconds to fry!
Ways to vary them
These delicious crispy stuffed olives are great as they are! Feel free, however, to
add some chopped sun-dried tomatoes or jarred roasted red peppers into the whipped feta filling.
substitute the feta cheese for goat's cheese or even plain old cream cheese.
add a few chili flakes for a little spicy kick.
Can you cook them in an air fryer?
Yes, you can 'fry' fried olives in your air fryer!
Simply spray lightly with olive oil and cook for around 4 minutes at 355F/180C. Then turn the olives over or shake them. Cook for another 4 to 6 minutes, until golden and crispy.
Depending on which air fryer you have, you may have to cook the olives in batches. As always with an air fryer, you don't want to overcrowd the basket.
Air fried olives won't taste exactly how they do when deep fried, but they're still pretty delicious!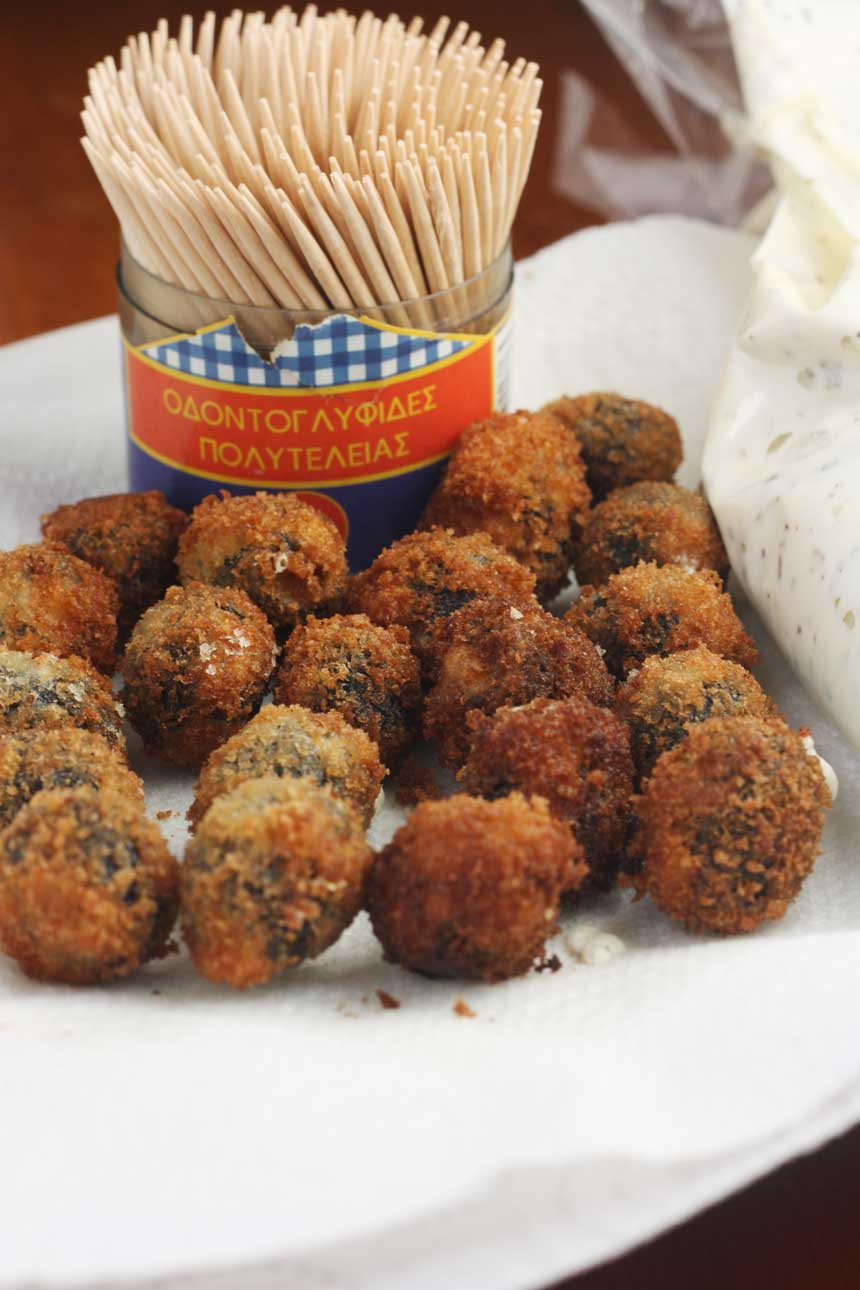 Liking the Greek style appetizer vibe in this post? Check out these 15 easy Greek appetizers for more delicious Mediterranean morsels!
More quick and easy party food
Or see all my easy party food here
IF YOU MAKE THIS RECIPE, LET ME KNOW HOW YOU GET ON BY LEAVING A COMMENT AND RATING BELOW… AND DON'T FORGET TO SIGN UP TO RECEIVE ALL MY NEW RECIPES BY EMAIL!
FOLLOW ME ON FACEBOOK, INSTAGRAM, PINTEREST AND YOUTUBE.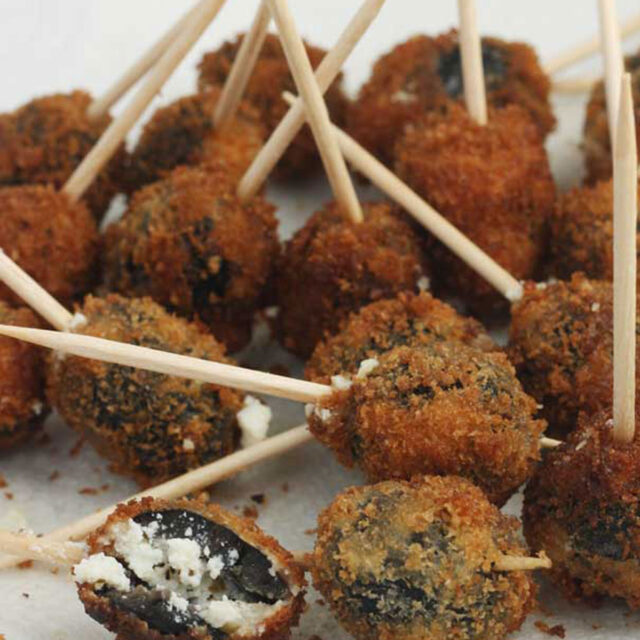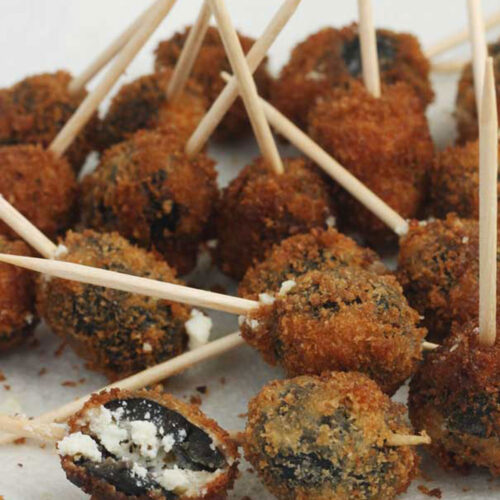 Greek fried olives
Juicy olives stuffed with feta cheese and oregano and fried in crispy breadcrumbs. A tasty and moreish canapé that is ridiculously easy to make!
Ingredients (UK/Australia? Click below for grams/ml)
½

cup

feta cheese

¼

cup

ricotta cheese

1½

teaspoons

dried oregano

a squeeze or two of lemon juice

a drizzle of olive oil

if necessary

20

Kalamata olives

large, pitted

2

tablespoons

plain flour

(you may need a little more or less)

1

egg

whisked

¼

cup

panko breadcrumbs

or just use regular breadcrumbs (you may need a little more or less than 1/4 cup)

oil for frying

I used canola oil – enough to just cover the olives in the bottom of a small saucepan
Instructions
Crumble the feta cheese into a food processor, then pulse it a few times until it resembles fine crumbs. Then add the ricotta, oregano and lemon juice and process until it's smooth and creamy. Add a drizzle of olive oil to help it loosen up if you think it needs it.

Blot your olives on kitchen paper if they've been stored in brine, then spoon the filling into a piping bag. Cut off the very end (to about the size of the hole in the olive), then pipe little bits of the feta mixture into each olive.

When all the olives are filled, begin heating your oil on a medium heat. While it heats up, put your flour, egg and breadcrumbs on three separate dishes. Roll the olives first in the flour, then dip them in the egg using a slotted spoon, then roll them in the breadcrumbs.

When the oil is hot enough (test with a cube of bread – it should brown within a minute or so if the oil is hot enough), fry the olives in batches for about 30 seconds or so or until they are a lovely golden brown. Fish them out with the slotted spoon and drain on kitchen paper for a couple of minutes before serving with cocktail sticks for popping them into your mouth!
Notes
Filling the olives: You can use a piping bag with a very small nozzle or with the very end cut off. Or just a small plastic food bag will work.
If you're short on time, there's nothing wrong with using store bought stuffed olives. Just dry on kitchen paper, crumb and fry!
Preparing ahead: Fill and bread the olives ahead if you like. Cover and store in the fridge. When you're ready, fry and serve.
How to serve: You can serve these on their own in a bowl at a party. Or you can put them on sticks and serve them as a party bite.
Alternatively, serve them as part of a larger appetizer plate including meats, cheeses, jarred vegetables like sundried tomatoes and artichokes, and anything else you can think of.
What to do with the leftover filling: Depending on how many olives you want to stuff, you'll possibly have a fair bit of the filling left. If you do, pipe the leftovers into a dish and use as a spread for sandwiches or a dip the next day!
Nutrition
Calories:
30
kcal
Carbohydrates:
2
g
Protein:
1
g
Fat:
2
g
Saturated Fat:
1
g
Cholesterol:
13
mg
Sodium:
115
mg
Potassium:
10
mg
Fiber:
1
g
Sugar:
1
g
Vitamin A:
60
IU
Calcium:
32
mg
Iron:
1
mg