Do sweet cravings sneak up on you mid afternoon, late at night or when you're out and about? How do you satisfy your sweet tooth without eating super sugary snacks?
When a piece of fresh fruit just won't cut it, it's good to have some healthy sweet snacks on hand. From snacks that don't need a recipe to chocolate, peanut butter, no bake, snacks for kids and everything in between. You'll never get bored with these 50+ easy healthy snacks… that taste like delicious treats!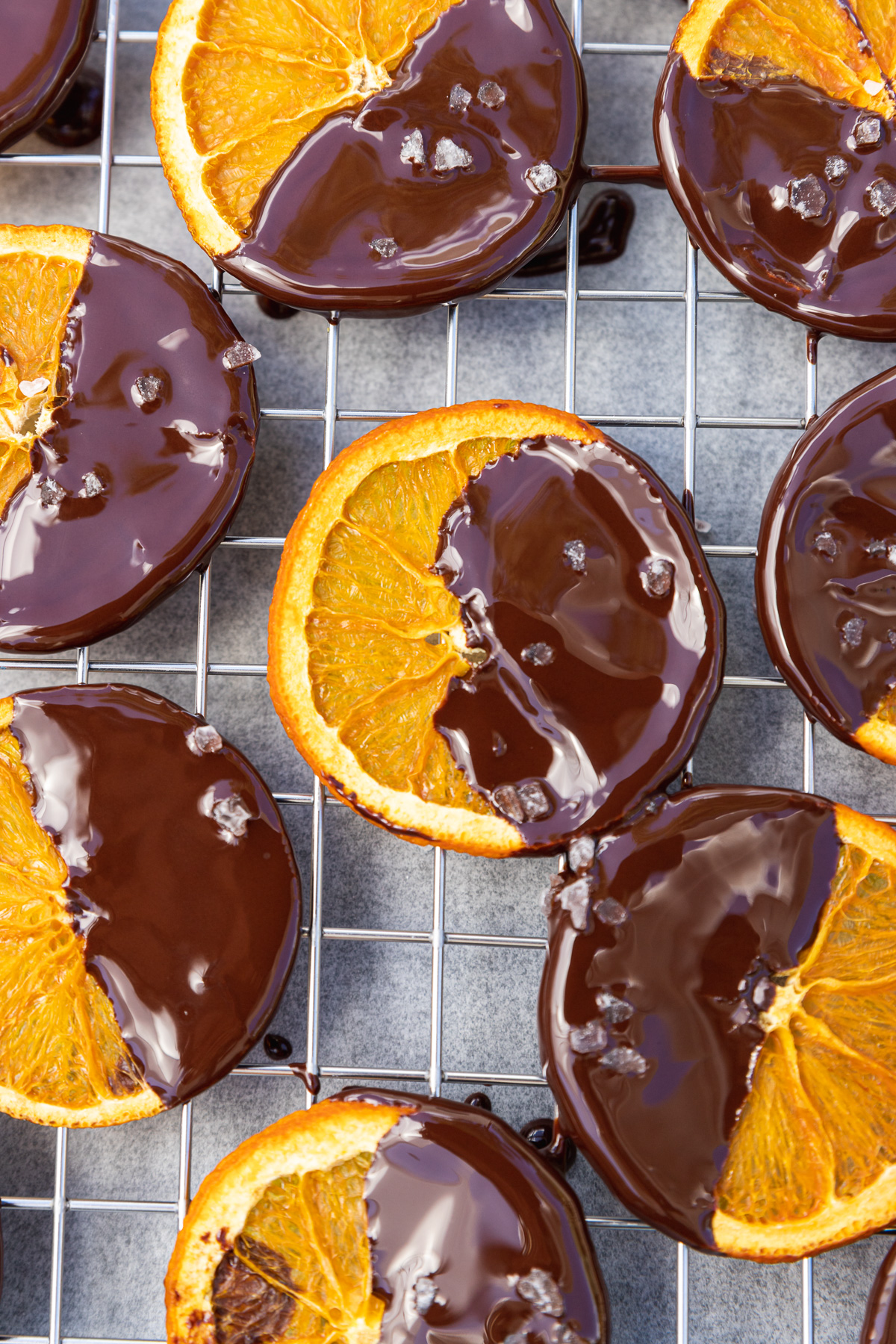 5-minute 'no recipe' snacks
I get it. You don't want a complicated recipe. You want to spend a few minutes on prep before throwing that snack into your mouth asap.
If you want to go the SUPER easy route with nothing to prepare at all, consider trying out an Urthbox healthy snack subscription box. These can also make an amazing gift for someone who's keen on healthy snacking!
Otherwise, here are some sweet healthy options made with simple ingredients that absolutely tick that (almost) no effort box.
Greek yogurt parfait: Add a handful of this easy homemade low sugar granola, almond butter and maybe a drizzle of honey for a VERY tasty sweet and healthy treat.
Dark chocolate with 70% cocoa: Delicious on its own or with a few salted peanuts (trust me).
Baked banana with dark chocolate: Slit the skin open, poke chocolate chips or chunks inside the banana, then wrap it in foil. Bake for around 25 minutes at 390F/200C. Enjoy by itself or with healthy ice cream on top!
Packaged bliss balls or energy bites
Baked apple: Mix 1/4 cup rolled oats with 1/2 a tablespoon of melted coconut oil, a few nuts and sultanas, 1/2 a tablespoon of honey or maple syrup and a big pinch each of cinnamon and ground ginger. Cut out the core with a sharp knife and stuff the cavity with the oat mixture. Pour a little water in the bottom of the baking dish, then bake covered with foil at 205C/400F for around 30 minutes. Remove foil and cook for another 5 minutes. Yum!
Fruit leather (Buy it from the store or find out how to make fruit leather on Simply Recipes.)
Medjool dates (or any large dates) stuffed with peanut or almond butter and chocolate chips: This is one of my all-time favourite snacks. Naturally sweet dates are perfect for curbing pesky late night sweet cravings.
Quick trail mix: Mix together nuts, seeds, your favourite dried fruit (chopped if large), broken up dark chocolate, and a little of the fun stuff (popcorn, favourite candy, pretzels, peanut butter chips…)
Quick smoothie: Here are 8 simple healthy smoothie ideas to get your started, but really the sky's the limit!
Rather someone else did the hard work? You can get read-to-blend organic smoothie packs delivered to your door from Smoothie Box ,with $22 off your first order! (This is an affiliate link!)
Dark chocolate-dipped frozen bananas: Dip banana halves in melted dark chocolate and roll in crushed nuts or coconut. Freeze on a baking tray for around 30 minutes and enjoy!
A few dried prunes: At some point these got themselves a bad rap. But they're actually pretty delicious, especially eaten together with a little dark chocolate. Try it and see!
Chia pudding: For 2 servings, just mix 1/4 cup cocoa powder with 2 tablespoons maple syrup, 1/3 cup chia seeds and a cup of milk (any, ordinary or dairy free). Cover and let thicken in the fridge overnight. Enjoy the next day when your sweet craving inevitably hits again. Hello 5-minute no bake dessert!
Strawberries (or other red berries) dipped in dark chocolate!
Nut butter on toast with a smear of your favourite jam/jelly. Shh don't tell anyone.
Recipes 'to go'
When you're on the go all day, you need a filling and nutritious snack or two on hand at all times! Throw one of these tasty bites in your bag to see you through to the next meal time. They're also great for camping or road trips, or a quick pick-me-up after the gym.
Dried fruit
'Fancy' dried fruit makes a great snack by itself, right? My faves include dried apricots, prunes (yep, honestly) and dried mango. With a side of dark chocolate – shhh.
But THESE dried oranges take the humble dried fruit snack to the next level. Enjoy as they are, dip into chocolate and much more for a delicious healthy snack on the go.
Low Sugar Granola
Throw some naturally sweetened granola in a food bag and you have a ready made, satisfyingly crunchy snack. A great choice for athletes between games, kids before or after sport practice, or to take on a hike.
It's perfect when you're on the move. Or why not throw a sneaky handful over oatmeal or yogurt?
No-bake
You know it's going to be easy when you don't even need to turn on the oven. These no-bake treats are great healthy brain snacks for after school, work and on the go. Just a few wholesome ingredients, and extra tasty straight from the freezer!
Healthy Baked Snacks
Stock your freezer with these delicious and healthy baked treats. From muffins to quick breads and cookies, they're perfect for office parties, birthday snacks for school, lunch boxes and more.
Hidden veggie recipes
Baked goods with hidden vegetables is one of the sneaky tricks I use to get more goodness into my picky eater! They all contain vegetables, but no one will believe they're healthy.
These are great options for healthy birthday party snacks, lunchbox treats, after school snacks and more.
Chocolate
Don't be shocked – chocolate snacks can be healthy, too. Or at least healthy-ER. Need chocolate and need it now? These ideas will satisfy your chocolate cravings… without a side of guilt.
Chocolaty after dinner treats
Got the late night munchies? If you're anything like me, it's often chocolate you're craving. These are some healthier chocolate treats to stash in the fridge for sweet tooth 'emergencies'. They also make great gifts. No one will ever know they took you mere minutes to make. Shhh.
Healthier chocolate puddings
When only an ooey, gooey chocolaty dessert will cut it, I've got you covered with these three delicious chocolate desserts. They're the naughtiest on the list, but healthier options than you might think.
Peanut butter
A great source of protein, I don't mind snacking on peanut butter straight from the spoon. Why not? But it's even yummier when mixed with something sweet. From energy bites to a quick mug cake, have a browse through these nutty treats.
First up, these 3-ingredient healthy peanut butter cookies from The Daring Gourmet.
Toddlers and young kids
Whether it's healthier lunchbox treats, after school or bedtime snacks, or healthy sweet party snacks you're looking for, I've got you covered with these kid friendly options.
Remember to check out the 'hidden veggies' section above, too. Kids will especially love the avocado brownies, and they'll never know they're healthier than an average brownie!
Gluten free
There are many gluten free options in this list already, but here are a few more of my favourites.
Special diets
On a different special diet such as nut free, dairy free, vegan or keto diet? There are so many options in this list for you, too! Please browse through with your needs in mind, remembering to check the ingredients of each recipe carefully, of course.
Here are a few options to get you started:
Nut free: baked banana with dark chocolate or baked apples, dried fruit with dark chocolate, chia pudding (see 'no recipe' section at the top), dried fruit with dark chocolate, healthy avocado brownies, Anzac biscuits
Dairy free: low sugar granola, chocolate orange truffles, cookie dough energy bites (use dark chocolate), pumpkin pear loaf cake (use orange juice instead of milk)
Vegan: peanut butter mug cake, 'nice cream' (healthy ice cream), chocolate orange date bars
Keto: Top Greek yogurt with seeds, nuts and perhaps a little keto 'maple syrup' for a very delicious and healthy keto snack.
In summary
That sweet tooth can sneak up on you really fast, so I hope this (not boring) list is helpful!
My favourites? It's so hard to choose, but I've been making these low sugar Greek yogurt blueberry muffins for years. They're perfect grab-and-go treats but also go down well with guests.
For those pesky night-time sugar cravings, it's hard to beat this 2-MINUTE peanut butter mug cake (vegan, gluten free, dairy free).
If you want to amaze your friends and family, it's worth the little bit of effort to make this 30-minute healthy chocolate cake. No one will ever believe it's a healthy cake.
HAPPY (HEALTHY) SNACKING!