This healthy chocolate cake will blow your mind. Moist and gooey and covered in a delicious 3-ingredient healthy chocolate ganache, no one will believe it's a healthy cake. It's refined sugar free, dairy free and contains not one but two hidden vegetables!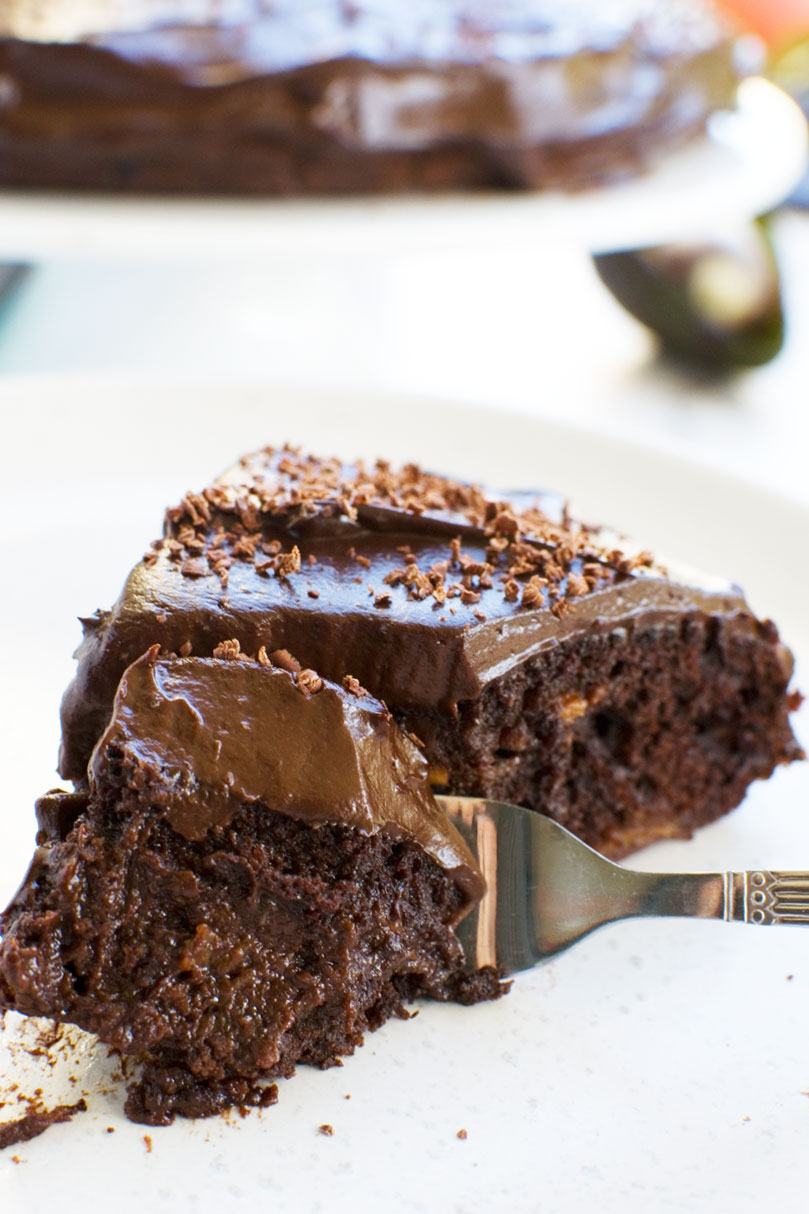 It's finally here. The easy chocolate cake of your dreams. A HEALTHY chocolate cake. Or at least a healthi-ER chocolate cake. As one reader put it, "It's sneakily healthier. So my brain will be happy."
One of my favourite easy chocolate dessert recipes is this incredible 6-ingredient gooey Swedish chocolate cake. It's oozy, super chocolaty heaven, and I'll continue making it when I need a delicious crowd pleasing dessert in a hurry.
But as it isn't the healthiest thing to eat, I thought I'd try to come up with a healthier chocolate cake recipe that tastes just as good.
And it really does!
What's so great about it?
It's really moist and gooey with a rich chocolate flavor. You just CAN'T TELL it's a healthy cake.
It's covered in a super quick and easy thick layer of healthy chocolate frosting (tastes like mousse!).
It's such an easy recipe, made with only 8 easy-to-find wholesome ingredients.
It's a very quick healthy cake, out of the oven in just 30 minutes.
It's packed with 'hidden' superfoods (yes you read that right) – sweet potato and avocado! But don't worry, you don't taste either.
It makes a perfect healthier birthday cake! I made it for my son's second birthday. I doubled the ingredients and made a 'digger cake'. It came out so well!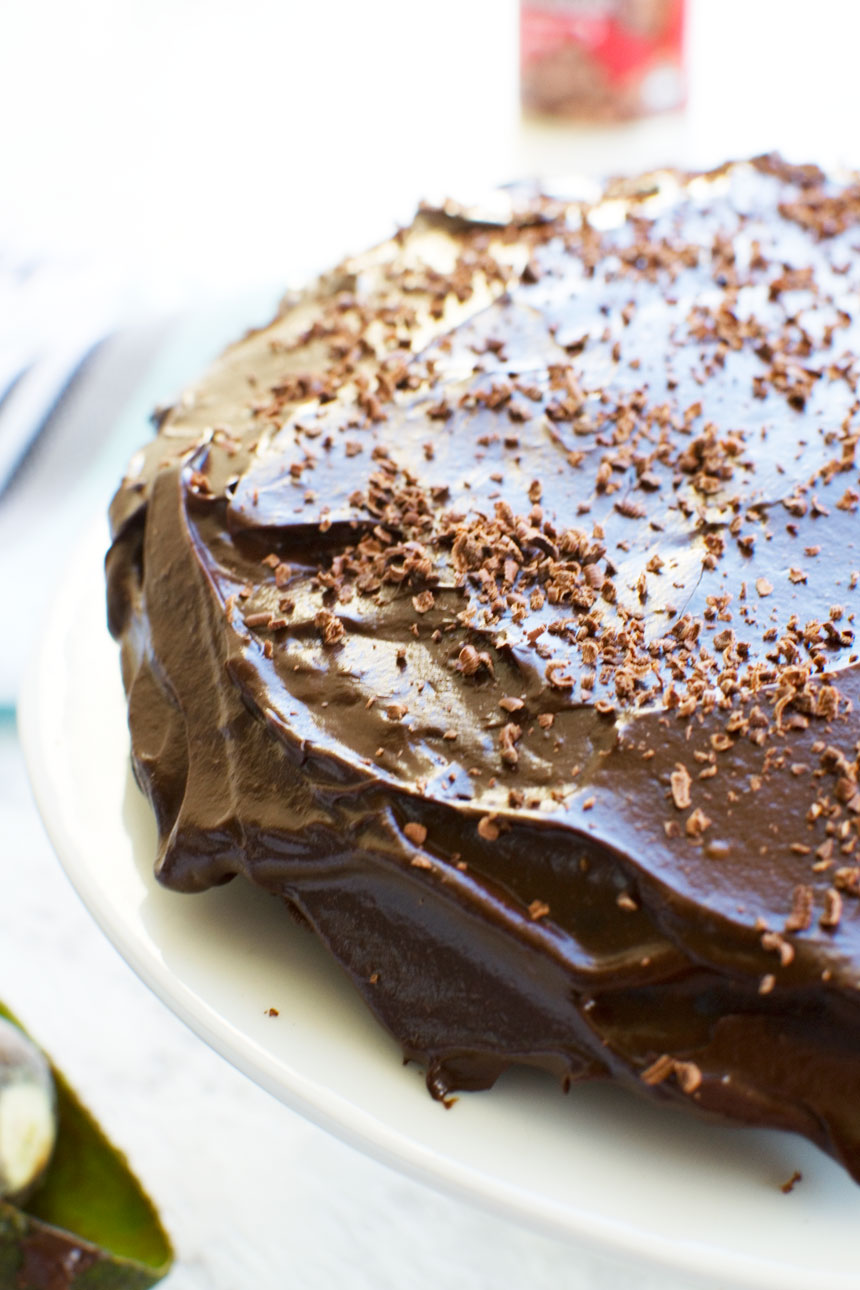 About the ingredients
There are several ways to make healthy chocolate cakes, of course. But I really wanted to stick to ingredients that you already have in your pantry, or are really easy to find.
This is all you need.
For the cake (7 simple ingredients)
Self-raising flour: Note that this is not the same as 'self rising flour' that you'll find in the US. To make your own self-raising flour, simply mix 1.5 teaspoons of baking powder into a cup of all-purpose flour. The recipe also works with whole wheat flour!
Olive oil: I like to use a light olive oil for its health properties. I don't think you can taste it in the finished cake. You can however use another type of oil if you prefer, such as canola oil, avocado oil or melted coconut oil. One reader even replaced half of the oil with Greek yogurt and said it worked really well although she had to bake for slightly longer.
Eggs: You'll need 3 large eggs. It is also possible to make this cake egg free. Check out the FAQ section below for ideas!
Cocoa: Because this cake has a lovely deep chocolaty flavor, I'd recommend using a high quality unsweetened cocoa powder. You can use cacao powder instead, but it might have a slightly more bitter flavor.
Mashed sweet potato: Surprise! You'll need a whole cup of cooked sweet potato to make this cake. No one will taste it, but you'll feel smug watching everyone tuck into their gooey dessert knowing that it's got a hidden veggie in it, right?
Maple syrup: Make sure you get pure maple syrup and not a cheaper maple-flavored syrup (which is really just sugar).
Vanilla extract: Just a teaspoon for extra flavor.
For the frosting/ganache (3 simple ingredients)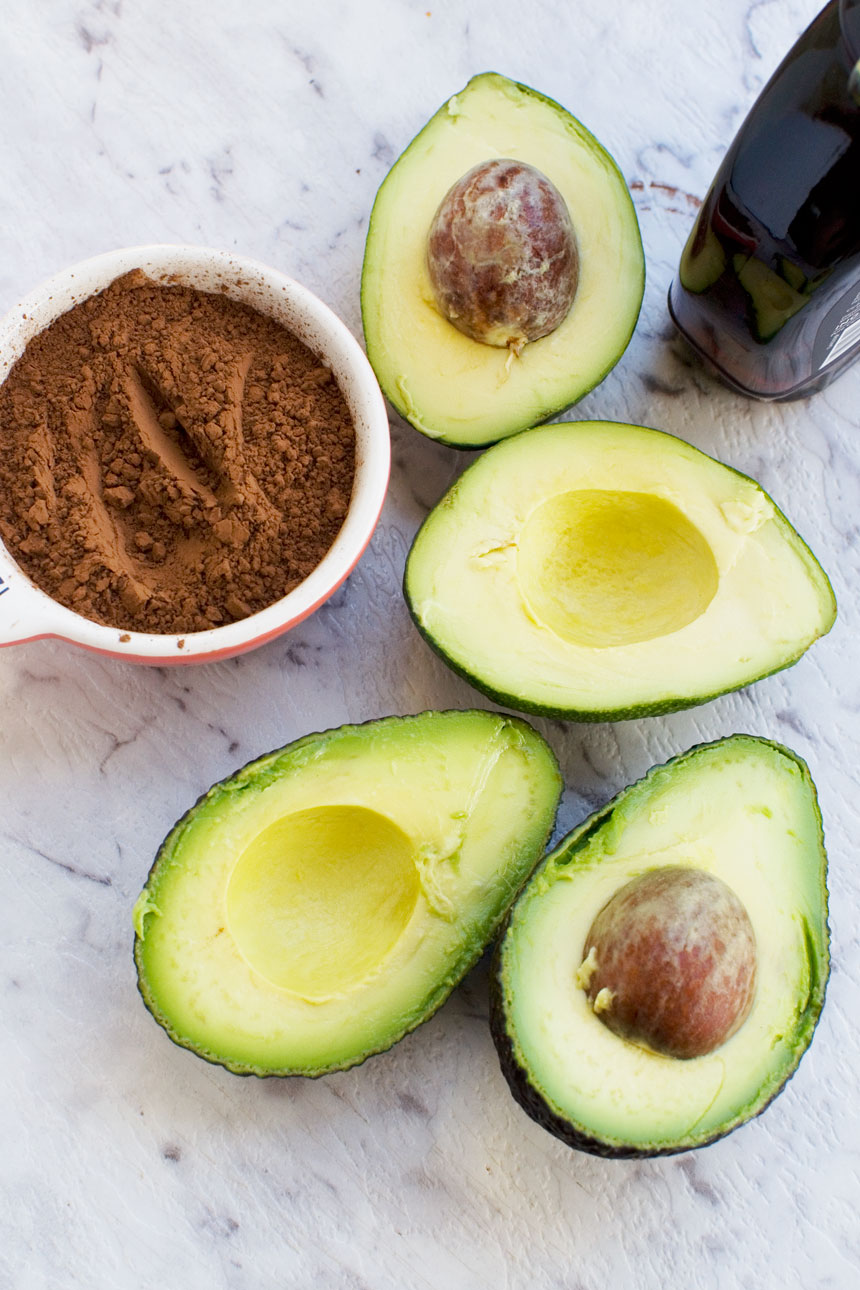 Avocado: The second 'hidden vegetable'! As with the sweet potato, you don't really taste it in the finished cake. Make sure you plan ahead so that you have ripe avocado that will blend easily.
Maple syrup: More of the good stuff! You can replace with another kind of healthy syrup such as agave syrup or date syrup if you like.
Cocoa: As in the cake batter, make sure you use a good quality cocoa for the best chocolaty flavor.
So that's just 8 main ingredients! (plus a tiny bit of baking soda & salt)
How do you make a healthy chocolate cake?
Could this cake get any better? Not only is it a healthier chocolate cake recipe, it's so quick and easy to make. Even the sweet potato part is simple!
Here's what you do.
Step 1: Prepare the sweet potato. Cook a medium sweet potato in the microwave until soft (6 to 8 mins). Then split open the skin and scoop out the flesh. It mashes really easily with a fork, or if you'd prefer to get it completely smooth you could pulse it for a few seconds in your food processor.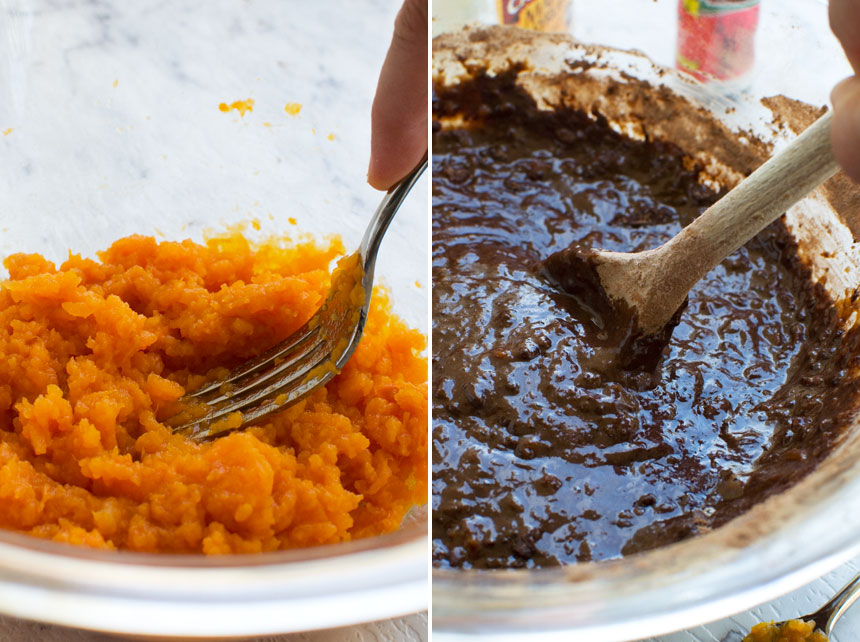 Step 2: Whisk the wet ingredients (eggs, vanilla, oil and maple syrup) into the sweet potato.
Step 3: Stir in the dry ingredients (flour, baking soda, cocoa, salt).
Step 4: Pour into a springform pan lined with baking paper.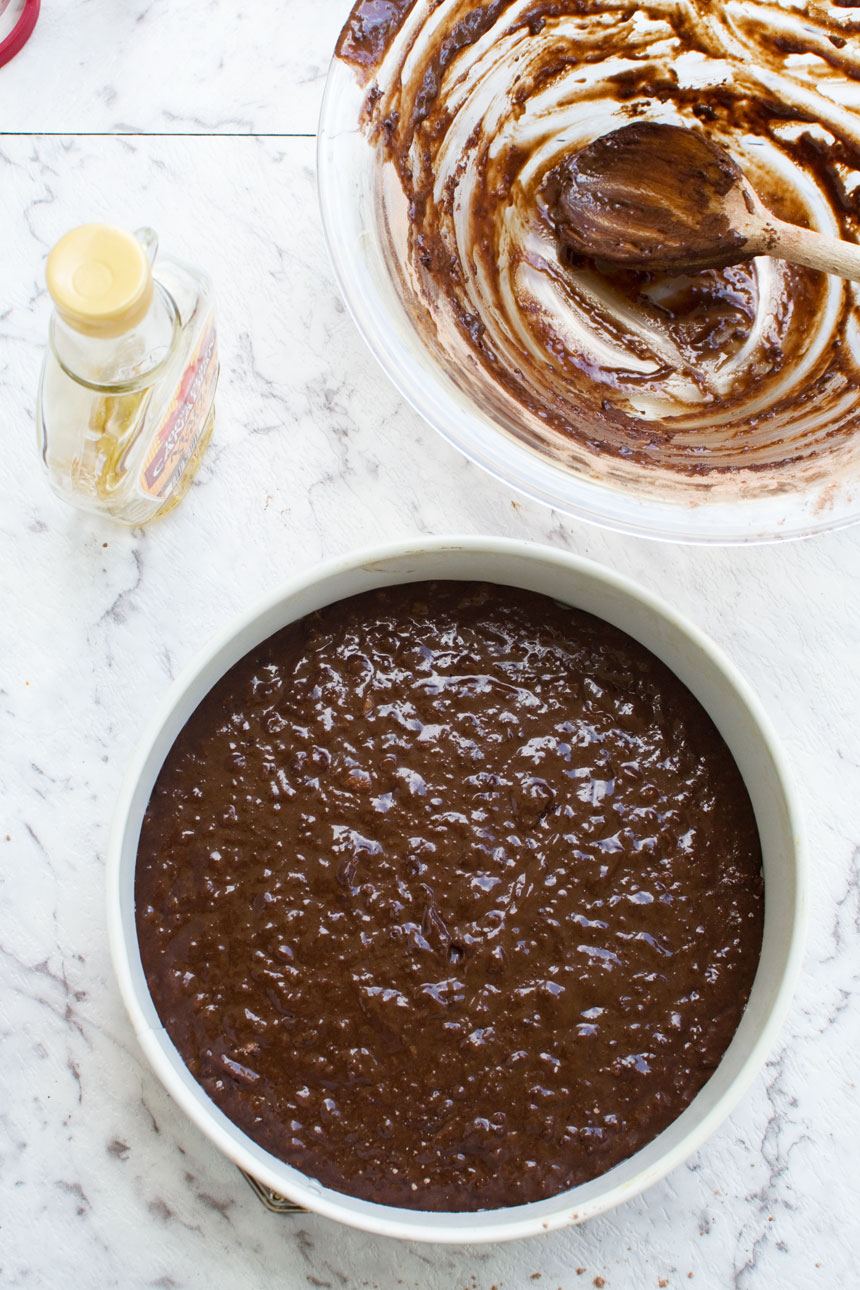 Step 5: Bake for 18 minutes for the best results. I know that's very specific but you want the top to be set but the inside still a little gooey.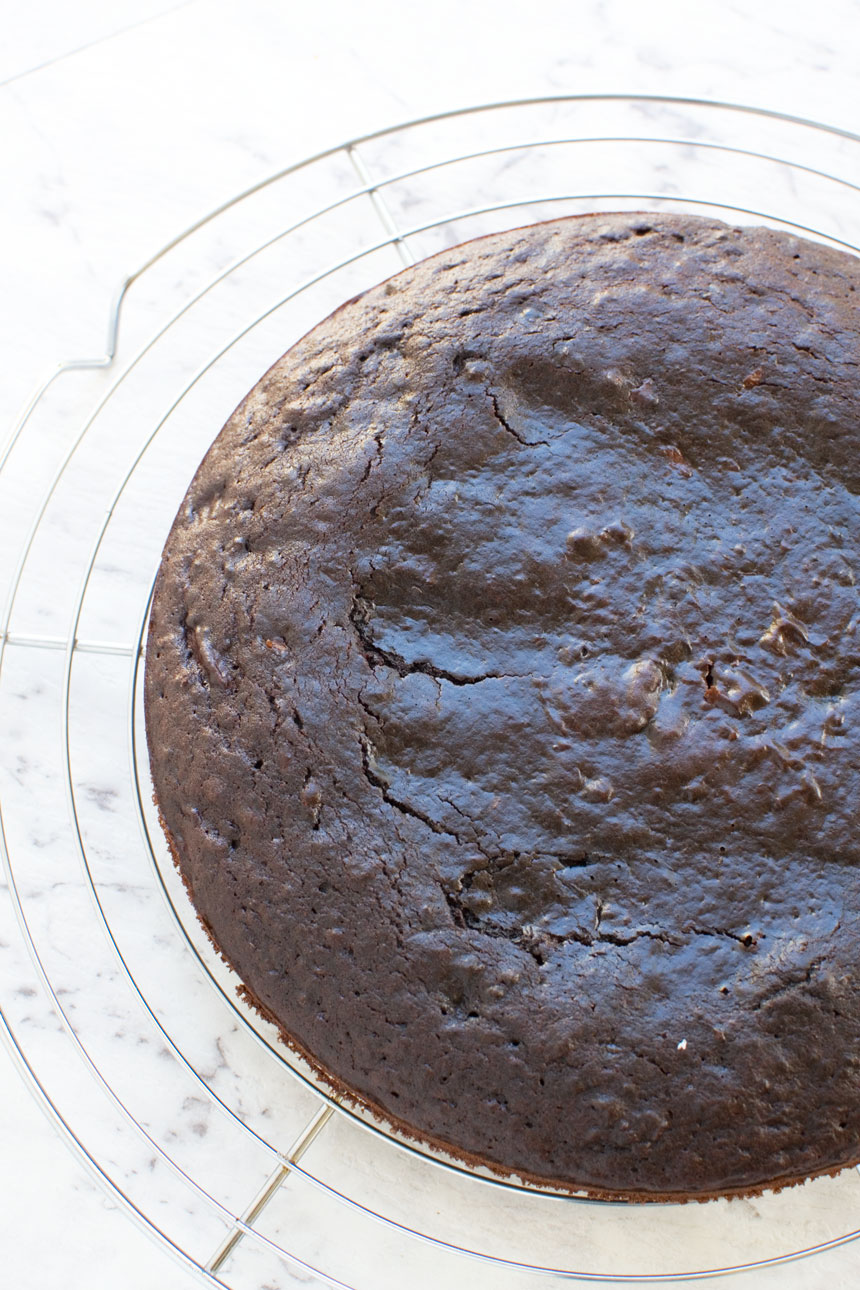 Step 6: Let cool completely. Make the frosting while you're waiting!
I know, I'm cheating a bit by calling this a 30 minute cake. You do of course need a bit of extra time for cooling and adding the frosting!
How to make a healthy frosting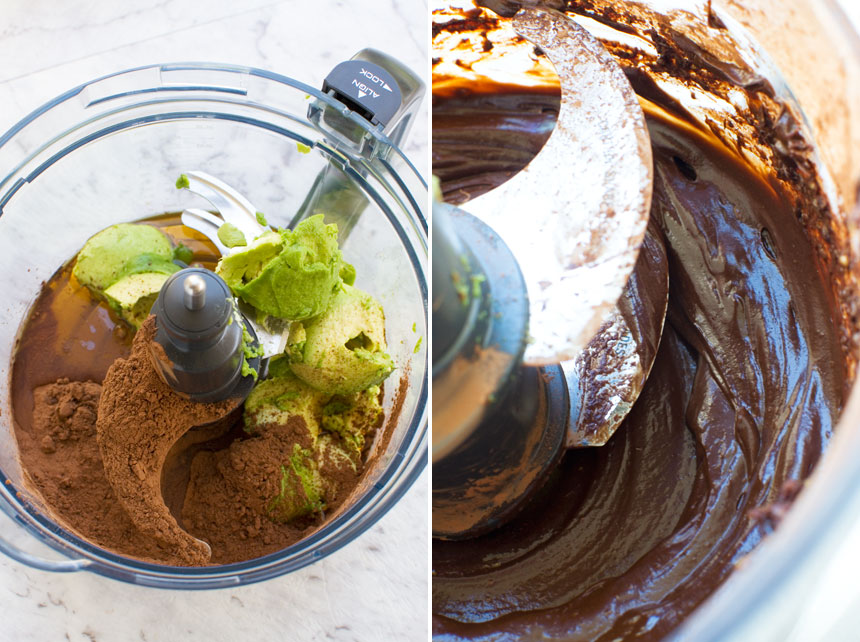 This cake reminds me of a retro Sara Lee chocolate gateau (remember those?). The thick mousse-like chocolate frosting tastes very similar to the Sara Lee version. But of course it's much healthier.
To make it just blend together the ripe avocado, cocoa and maple syrup. That's honestly all you have to do. It'll take just minutes.
You can even make it ahead if you like. Surprisingly, it keeps well. Just cover and keep in the fridge. The avocado won't go brown.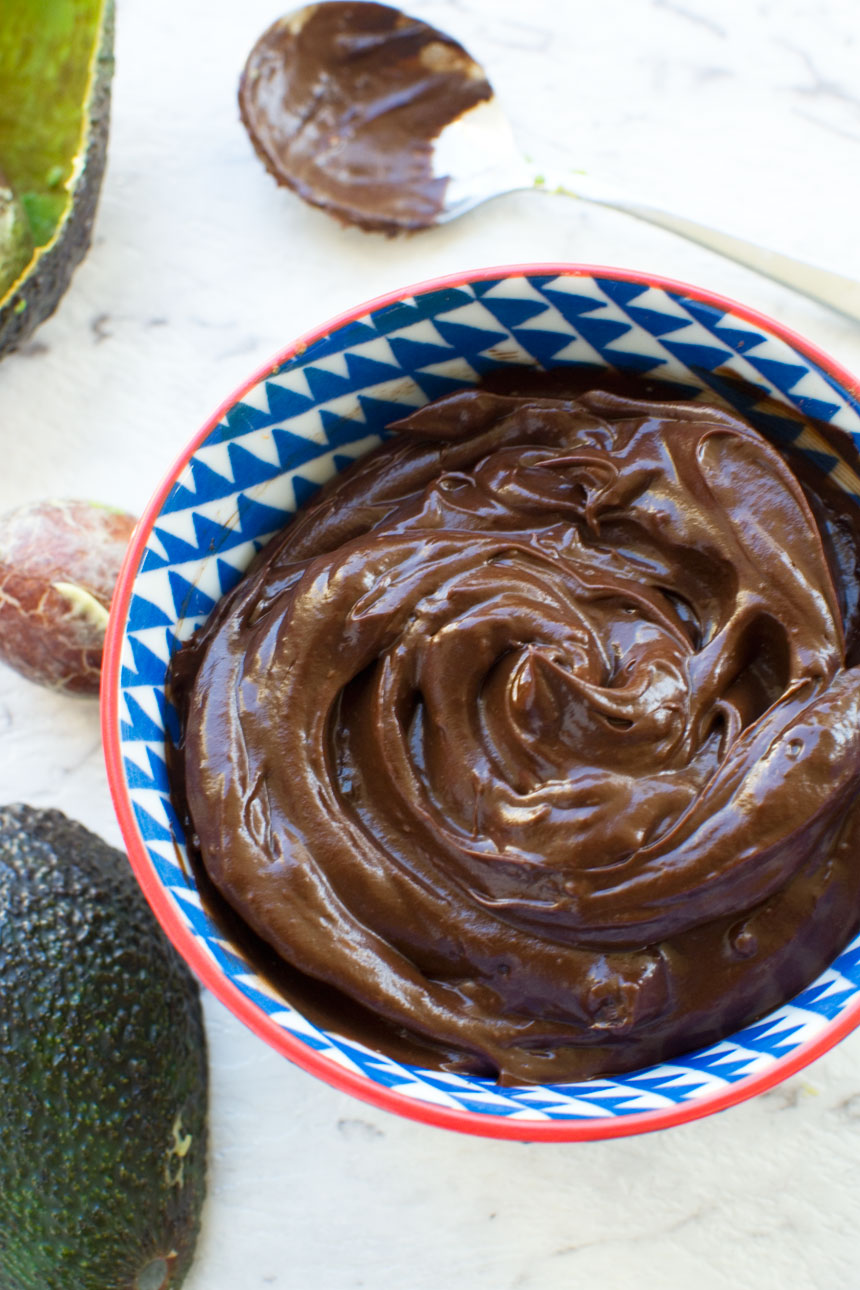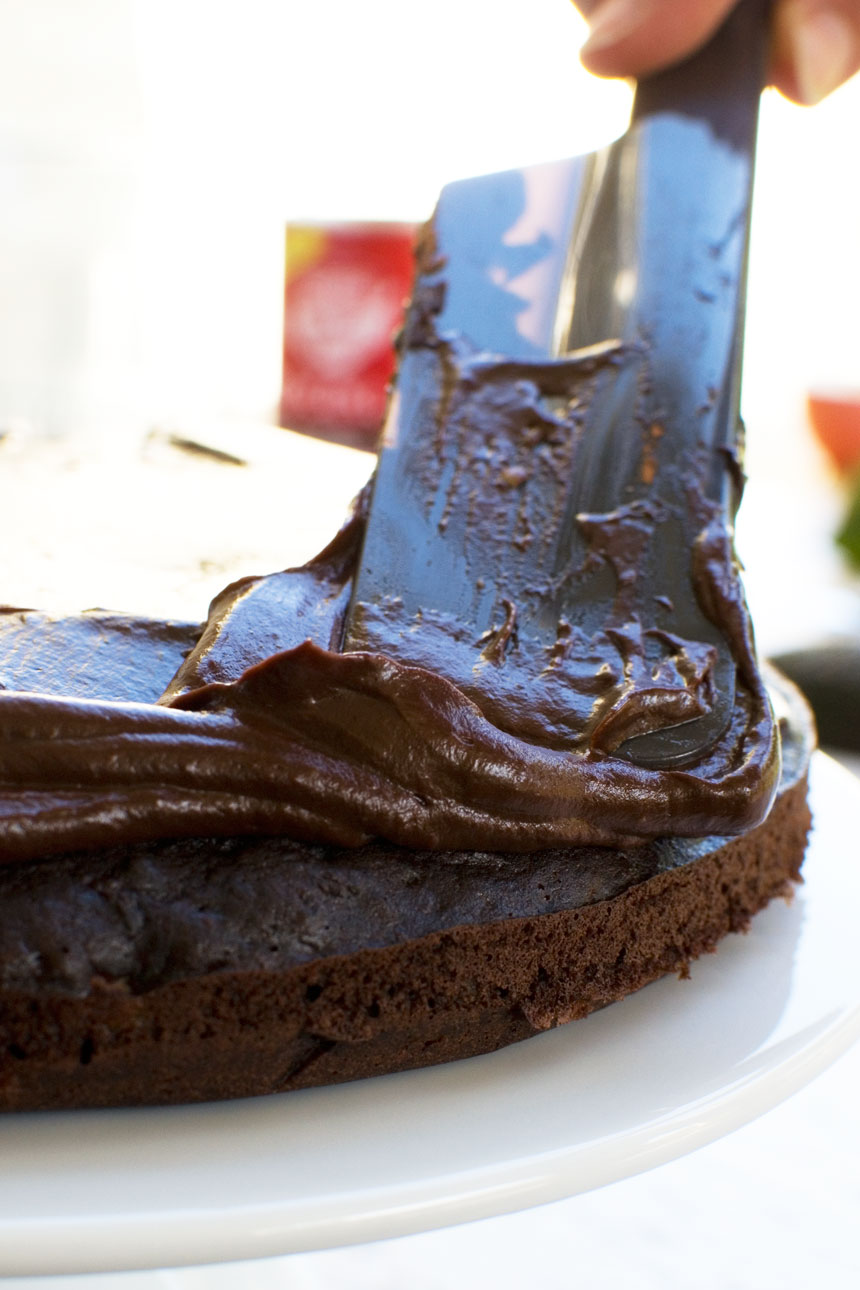 Does it taste of avocado? Hmmm. If you close your eyes and think about it, yes.
But I don't mind. I really like the rich, clean, super chocolaty taste and the smooth texture. You could even serve this frosting by itself as a chocolate mousse.
Or use it as a healthier topping for brownies or cupcakes.
What does a healthy chocolate cake taste like?
I remember agonising over what to call this. It isn't exactly fudge cake, and it isn't mud cake either. It's something in between, and the exact texture varies depending on how long its in the oven – or the particular oven you have.
The first time I made it, it was a bit less gooey. Still delicious and moist, but more like a regular cake-y chocolate cake.
But the true magic happened the next time I made it. I took it out of the oven a bit sooner, and I slathered it in the healthy chocolate mousse frosting / ganache.
And it was perfect. As already mentioned, avocado and sweet potato haters can relax because you really don't know they're there. 😉
Had mixed results with healthy cake recipes? This is a keeper for me! it tastes like a decadent dessert. It's so deliciously gooey and chocolaty – but without the guilt!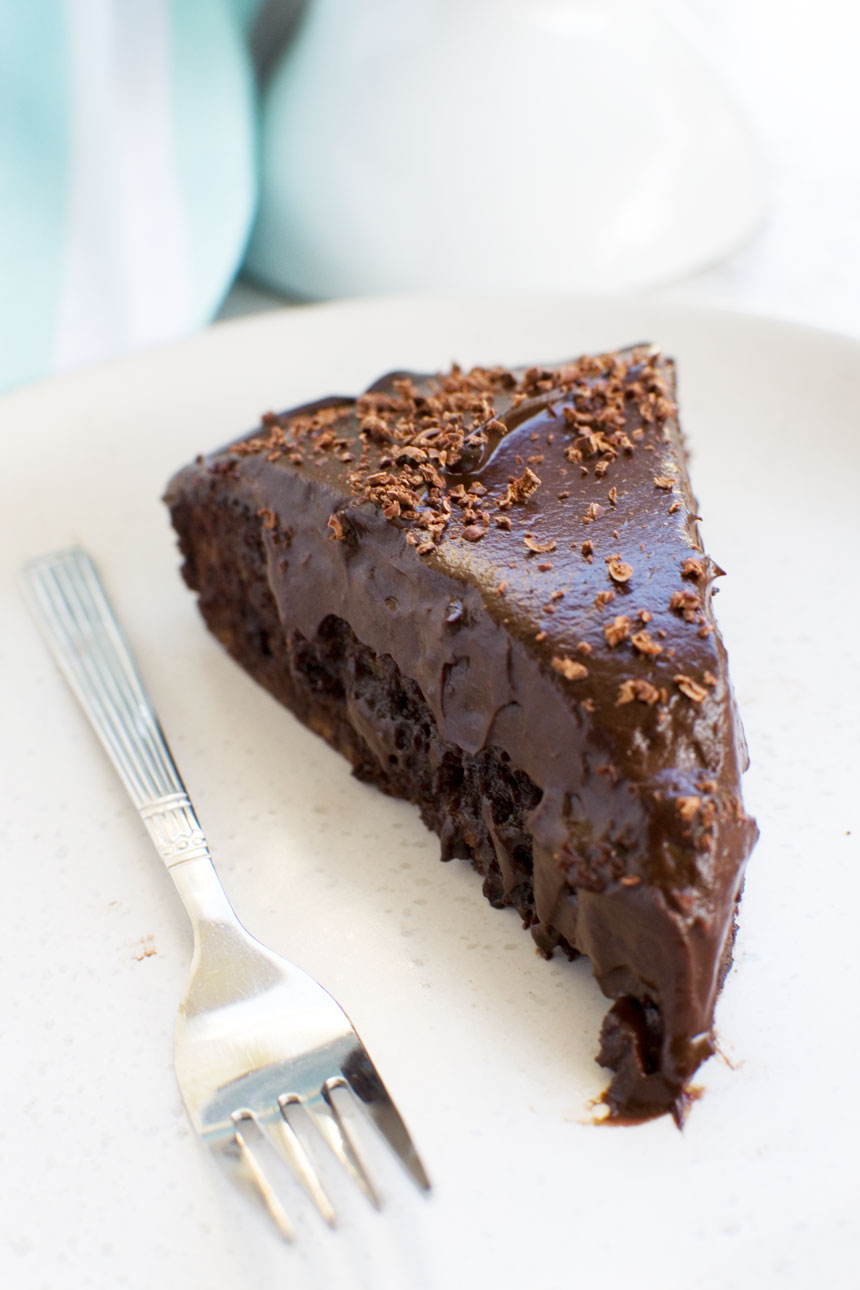 So if you've been searching for healthy cake recipes, maybe the search is over! Enjoy a piece (or two) of this without an ounce of guilt.
How to serve it
This cake really doesn't need anything else with it. I usually grate a little dark chocolate over the top and I'm done.
But if they happen to be in season, why not pile some strawberries or other fresh berries on top just before serving?
Many readers have also used this recipe for their child's birthday cake. It's so easy to double the recipe and make 2 cakes instead of one. I'd also recommend doubling the frosting and using half to sandwich the cakes together and half to go on the top.
You can enjoy any leftovers with a spoon straight out of the bowl!
I even used this recipe to make a digger (construction) cake for my son's second birthday. It was so easy to make!
Helen's top tips
Don't overbake this cake! The baking time might vary a little depending on your oven, but I find 18 minutes is perfect.
This can be a single layer, double layer or even triple layer cake. Just double or triple the ingredients, and pour into 2 or 3 round baking pans instead of one.
If you have any sweet potato left over, freeze for next time!
More things to know (recipe FAQ)
How should I store this cake?
Keep it in the fridge in an airtight container. It will keep well like this for at least 3 to 4 days, and probably longer.
Can I freeze it?
Surprisingly, yes!

When I first tried freezing this, I expected the cake part to freeze just fine, but I assumed the avocado ganache part wouldn't. But it does! When defrosted I really couldn't tell the difference from when it was fresh. I froze it in the middle of a large container with a lid (so that the ganache didn't get all over the sides!) and it was fine.

You may find it easier to freeze without the ganache, though. Make the cake, then whip up the quick ganache just before serving.
Can I make the cake without eggs?
I haven't tried making this cake without eggs myself. However, a reader made the cake twice, substituting the eggs with 3 tablespoons of Greek yogurt and said it worked very well!

Here's a good article with information about possible substitutes for eggs.
Can I use a different type of flour e.g. wholemeal, gluten free, oat?
Yes! While I haven't tried using all of these substitutes myself, others have. They work. 🙂
Can I use a different sweetener?
Honey, agave syrup, date syrup or rice malt syrup work instead of maple syrup if that's what you have or prefer. You can even add a little brown sugar if you're short on maple syrup.

Once, I completely forgot to add the maple syrup. The cake turned out with exactly the same texture and still tasted OK once I'd added the sweet frosting. Whoops.
Is this a low calorie chocolate cake?
No, it isn't. It's full of healthy ingredients, but some of them are quite calorific. If you're on a calorie controlled diet, I suggest simply having a smaller piece. Enjoy!
I'm absolutely delighted to have discovered such a delicious (not to mention quick and easy) version of one of my favourite foods. I hope you like it as much as I do!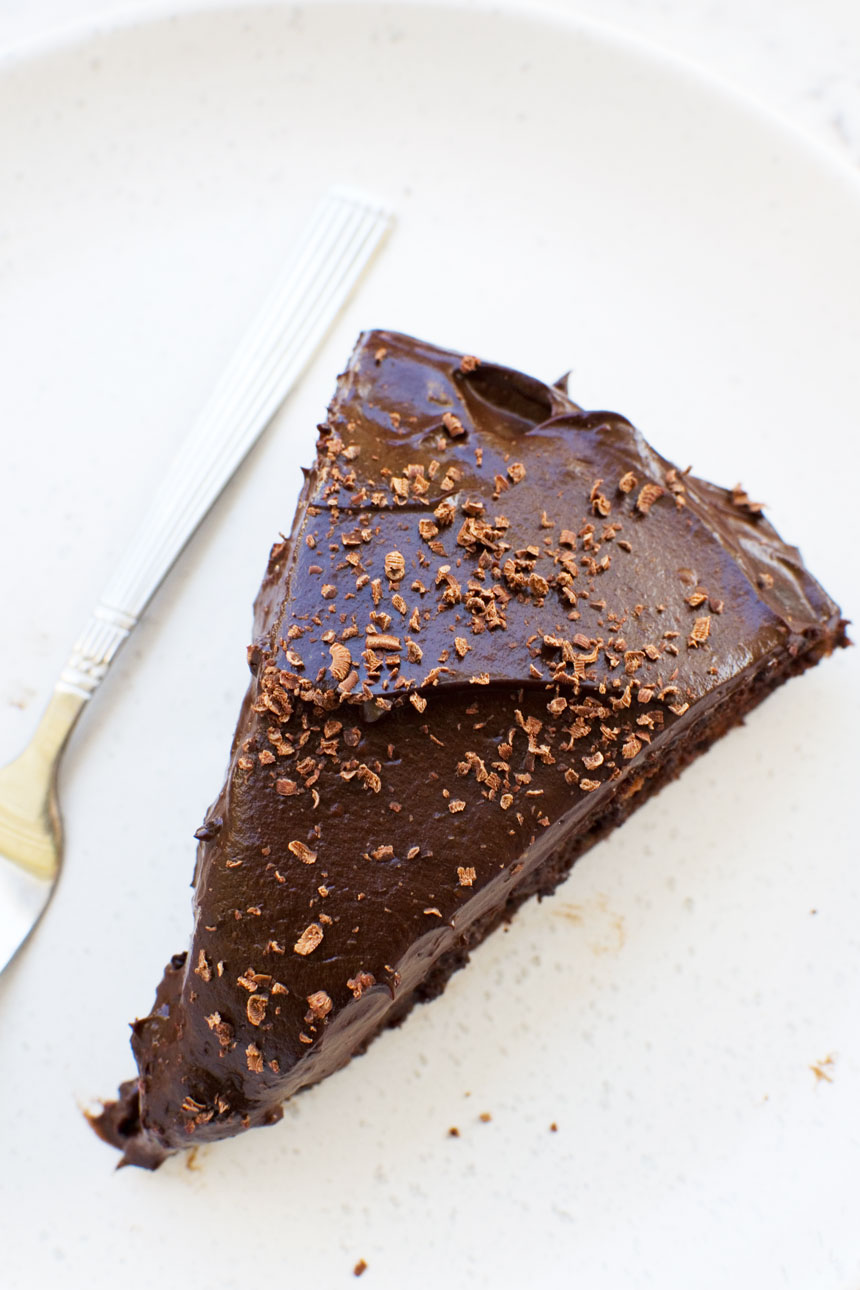 Need gluten-free? You can use gluten-free flour in this recipe, or try these one bowl gluten free brownies instead. / Looking for healthier party cakes? Try these healthy vanilla cupcakes with a super easy 2-ingredient frosting.
More healthier desserts
Also check out this list of 25 healthier cakes (lower sugar, but still taste great!).
IF YOU MAKE THIS RECIPE, LET ME KNOW HOW YOU GET ON BY LEAVING A COMMENT AND RATING BELOW… AND DON'T FORGET TO SIGN UP TO RECEIVE ALL MY NEW RECIPES BY EMAIL!
FOLLOW ME ON FACEBOOK, INSTAGRAM, PINTEREST AND YOUTUBE.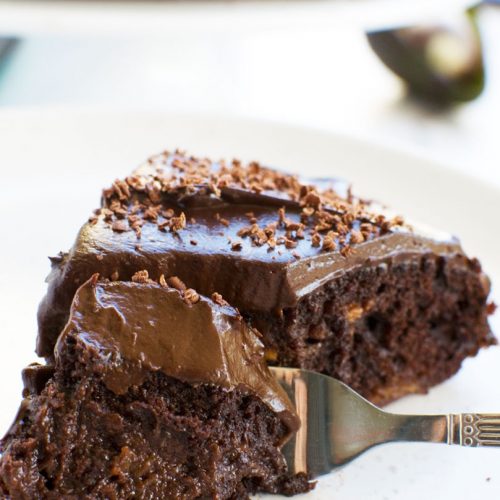 30 Minute Healthy Chocolate Cake
It's here. The chocolate cake of your dreams. A healthy chocolate cake stuffed with superfoods including sweet potato, cocoa and avocado. Made with only 8 main ingredients, it's dairy free, refined sugar free and saturated fat free. What are you waiting for?
Ingredients (UK/Australia? Click below for grams/ml)
For the cake
1

cup

sweet potato

mashed – see note below

1

cup

self-raising flour

NOT self-rising flour. To make self-raising flour, mix 1 cup all-purpose flour with 1.5 teaspoons baking powder.

½

cup

cocoa powder

¼

teaspoon

salt

¼

teaspoon

baking soda

3

eggs

lightly whisked

1

teaspoon

vanilla

½

cup

olive oil

light

½

cup

maple syrup
For the chocolate mousse ganache
Instructions
For the cake
Line the bottom of a 9 inch round cake pan with a circle of baking paper and spray the pan all over with a light coating of oil.

Preheat the oven to 355F/180C.

Pierce the sweet potato all over with a fork, then place on a plate or kitchen towel. Microwave on high for 6 to 8 minutes until the flesh is soft. Cut open lengthwise and scoop out the flesh. Mash it well in a medium bowl or jug (or pulse in a food processor for a few seconds). Let it cool a little.

Combine the flour, cocoa powder, salt & baking soda in a medium bowl.

Add the eggs, vanilla, oil and maple syrup to the sweet potato and mix well with a wooden spoon. Add to the dry ingredients and mix again until well combined.

Pour the batter into the prepared baking pan and bake for 18 minutes or until the top is just cooked and the centre is still a bit gooey.

Let cool for 10 minutes in the pan, then carefully turn out onto a wire rack to cool completely.
For the frosting
Pulse the avocado, cocoa and maple syrup in a food processor until silky and smooth. Once the cake is completely cool, spread the frosting thickly all over the top and sides.
Notes
Cooking time: Once you've practised making this cake a couple of times, it will only take 30 minutes from start to finish. You have to add a bit of time for cooling/frosting, of course!
When I first made this cake I cooked it for about 20 minutes and it was delicious but not at all gooey in the middle. I found that by reducing the cooking time a little (to 18 minutes in my oven) the centre stayed just a tiny bit gooey! Yum!
You want the top to look totally cooked, but when you insert a skewer into the middle of the cake it's still a bit sticky.
If your cake isn't gooey, don't worry. When you top the cake with the ganache, it'll kind of sink into the cake a bit and make it super moist. Am I making you hungry?
Sweet potato: I use a medium sized sweet potato and find that it nearly always makes about a cup of mashed sweet potato. If there's any left over, simply freeze it for next time!
Make sure your sweet potato is nice and soft before scraping out the flesh. If it isn't after 8 minutes in the microwave, just cook for another minute or two. Cooking time will vary according to the size of the sweet potato you use, of course!
How long it keeps: At least 3 to 4 days in the fridge if you cover it well or keep it in an airtight container.
Freezing instructions: This cake freezes really well. Just wrap well until you're ready to defrost and eat.
It's probably better to make and add the frosting just before you're ready to eat the cake. Surprisingly though the frosting does freeze well too, so you can freeze the cake with the frosting already on if you like (I once froze half a frosted cake in the centre of a big container and it fared really well!)
Nutrition
Calories:
428
kcal
Carbohydrates:
52
g
Protein:
7
g
Fat:
24
g
Saturated Fat:
4
g
Cholesterol:
61
mg
Sodium:
149
mg
Potassium:
592
mg
Fiber:
7
g
Sugar:
25
g
Vitamin A:
2520
IU
Vitamin C:
5.4
mg
Calcium:
80
mg
Iron:
2.4
mg