Who can resist a good fudgy brownie? The 'miracle' of this double chocolate brownie recipe is that it's healthier than you'd expect. There's no refined sugar, oil or butter… and TWO secret, fruit-and-veggie ingredients. Read on to find out what they are!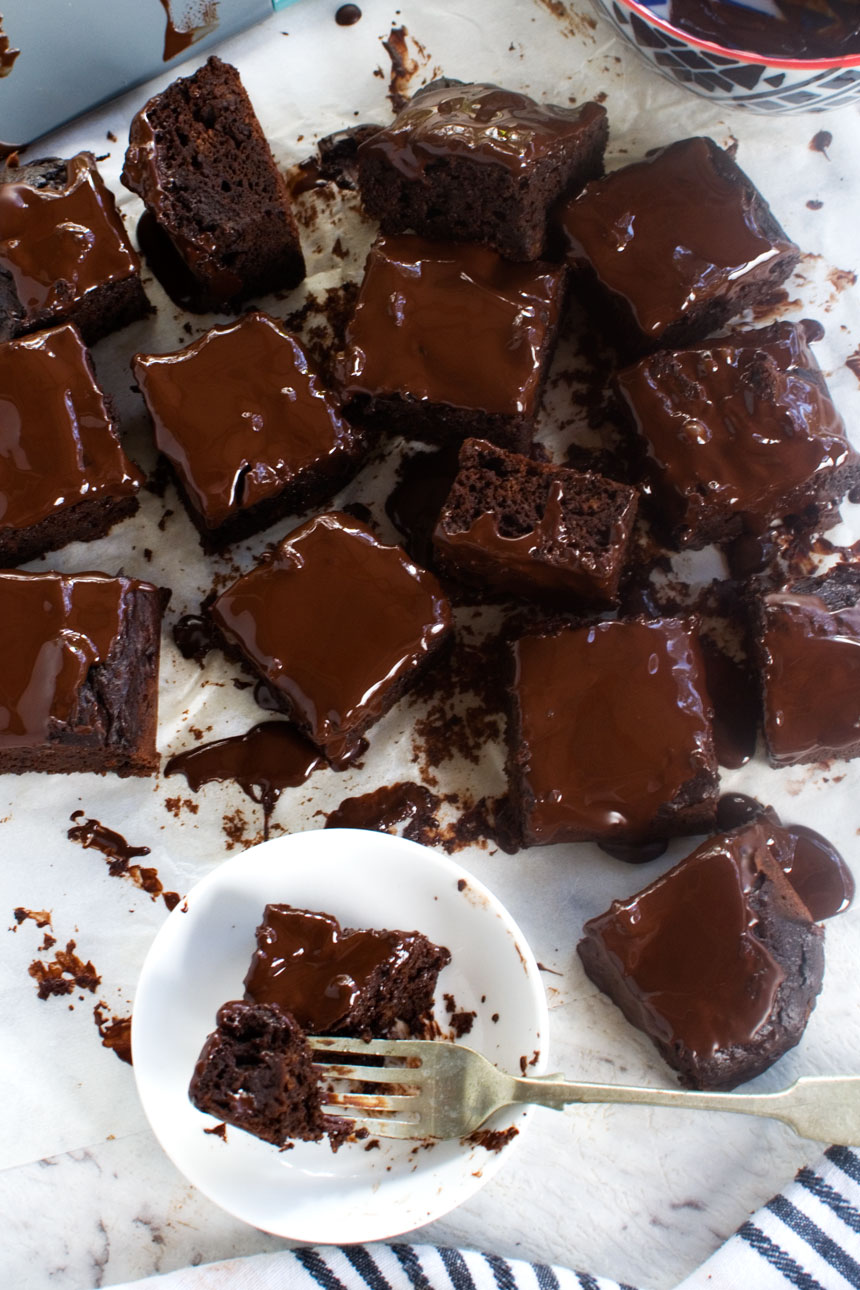 Finding healthier baking recipes that don't really TASTE healthier has become one of my favourite things.
I surprised myself (and many others, it seems!) when this 30-minute healthy chocolate cake turned out yummier than I could have imagined. It's great for any occasion, and can even be made into a birthday cake for any age.
But what about when you don't really want a cake? You just want brownies. But you still kind of like the idea of them not being loaded with sugar and fat.
I got you covered. You're going to score big avocado brownie points with these! 😉
Why these are the best healthy chocolate brownies
They're made with maple syrup, not refined sugar or artificial sweetener.
I've successfully replaced the oil or butter you usually find in brownies with healthy avocado and banana! Yep, you read that right. Do they taste of avocado or banana? Nope. You might be able to detect slight notes of banana, but it's pretty subtle.
They're double chocolate brownies. Which means they have melted chocolate in them, and melted chocolate on them. So they aren't saintly brownies. But remember if you use super dark chocolate (70% works well) you're getting your daily dose of antioxidants 😉
Brownies with avocado? Hmmm. But try to trust me when I say no one will guess these are a healthier brownie. On the contrary, they taste quite decadent. They're big, gooey mouthfuls of fudgy, chocolaty deliciousness. Shhhh.
They're very quick and easy to make. Just blend the banana and avocado together. Add the wet ingredients, add the dry, and bake.
Ingredients and how to make them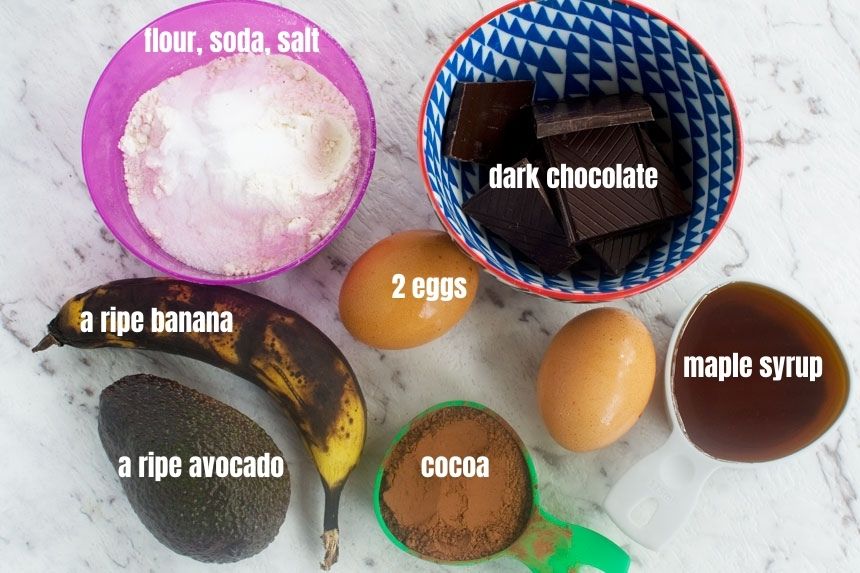 You start with the 'secret' fruit and veg:
1 ripe avocado
1 ripe banana
Then you add the other 'wet' ingredients:
maple syrup: just 1/2 cup as there's more sweetness from the banana and melted chocolate
eggs: 2 large
melted chocolate: drizzled in for extra richness, sweetness, and gooey chocolaty flavour. Yum.
Then fold in:
flour mixed with a teaspoon of baking soda and a little salt
cocoa powder
Pro tip: This recipe is great for using up really ripe bananas and avocados that are even too ripe for guacamole! Gross fact: I tested this recipe with an avocado that had started to go black and the brownies still turned out well 😉
How to make them step-by-step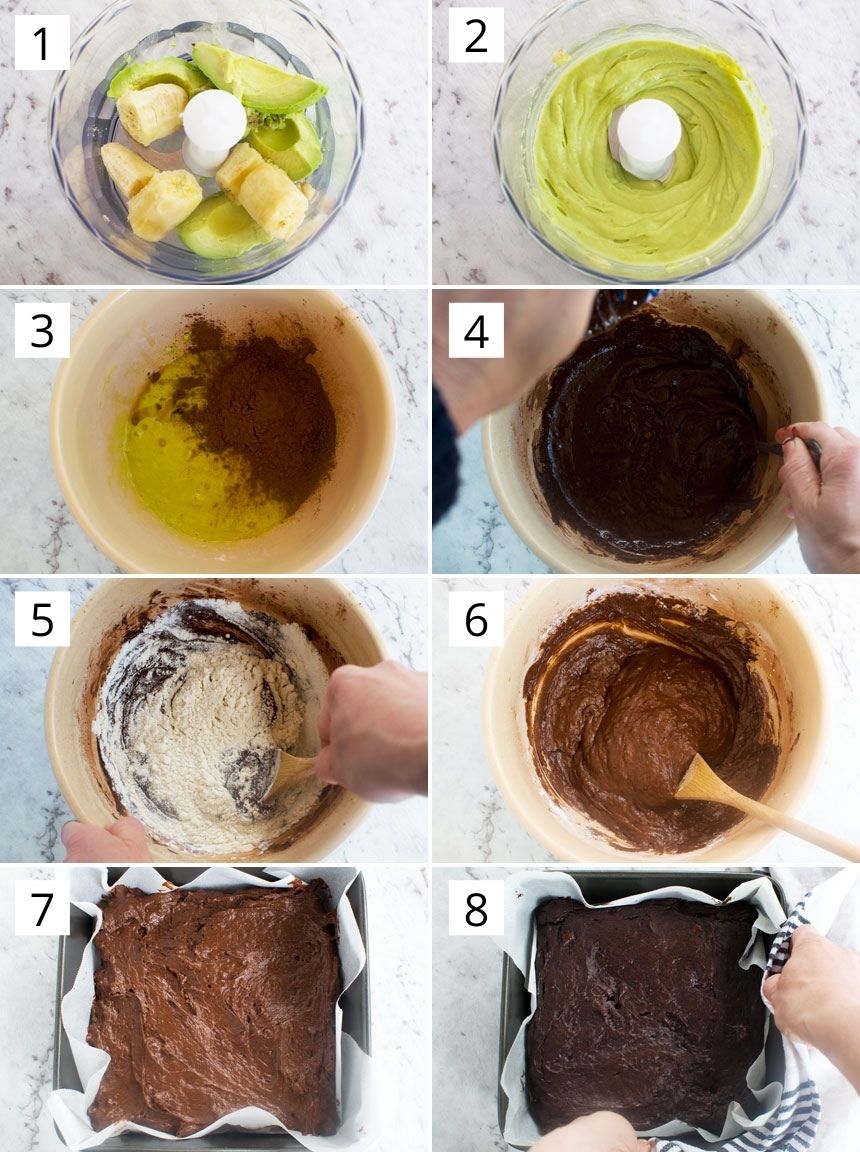 A blissfully quick and easy dessert
It takes about 5 minutes to measure or weigh out the wet and dry ingredients.
It takes another 5 minutes to blend together the avocado and banana using the mini food processor that came with my stick blender. You can throw the chocolate in the microwave to melt at this time too.
If you don't have a mini food processor, just mash the avocado and banana together with a fork instead. Just make sure they're nice and ripe. I don't like to dirty my big food processor unless I really have to!
It'll be 5 minutes more to mix everything together, drizzle in the melted chocolate and smooth the batter out in the pan.
Then throw the pan in the oven for around 17 minutes.
And that's it. In just over 30 minutes you have a pan of the very best fudgy brownies that you can scoff all by yourself. Oops, I mean that you can share with your family and friends.
Pro tip: Take the brownies out of the oven when a skewer poked into the middle come out still a bit sticky. It's easy to overcook these brownies in just a minute or two. They'll still taste fudgy, but more like a moist and not-too-sweet muffin. I prefer them when they're on the gooey-er and fudgy-er side!
How to serve them
I missed an important part in the above description of how to make these avocado brownies.
I like to drizzle some more melted dark chocolate over the top once they've cooled a little. Otherwise they wouldn't be double chocolate brownies 😉
I sometimes add a half teaspoon of oil to the chocolate so that it doesn't set rock hard. If you prefer, you can skip the chocolate on the top and just add a quarter cup of chocolate chips to the batter.
The brownies are absolutely delicious served just as they are. OR… since they are quite richly chocolaty and gooey, you can get away with serving them as an easy chocolate dessert with ice cream or cream!
You might like to warm them very slightly in the microwave before adding the ice cream or cream. Yum yum yum.
How to store them
I've kept these healthier brownies in an airtight container in the fridge for a few days. They never seem to last any longer than that before getting eaten, but I think they'd still taste good for at least a couple more days.
They keep well both in the fridge or out of the fridge (in an airtight container). If you eat them straight out of the fridge they taste just like a rich chocolate fudge. But not too sweet.
You have to try them all the ways: fresh out of the oven, with chocolate drizzled over the top and still wet, and cold out of the fridge 😉
Can you freeze them?
Yep. Just wrap them tightly and place in an airtight container or Ziploc bag. Then freeze for up to 4 months.
Do you have any more healthier dessert recipes?
Well, as luck would have it, I do…
IF YOU MAKE THIS RECIPE, LET ME KNOW HOW YOU GET ON BY LEAVING A COMMENT AND RATING BELOW… AND DON'T FORGET TO SIGN UP TO RECEIVE ALL MY NEW RECIPES BY EMAIL!
FOLLOW ME ON FACEBOOK, INSTAGRAM, PINTEREST AND YOUTUBE.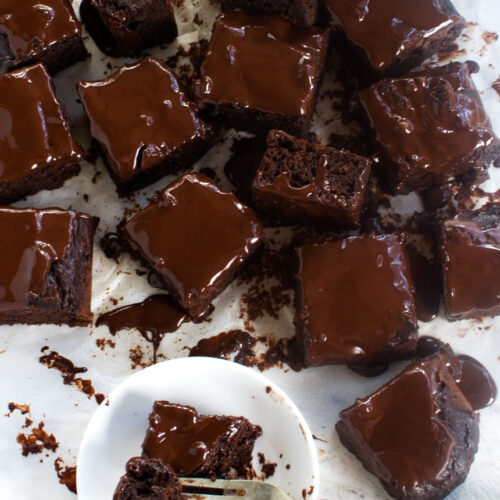 Healthier double chocolate brownies with avocado
You can have your cake and eat it too (literally) with these fudgy double chocolate brownies that are made with TWO not-so-secret healthy ingredients – banana and avocado.
Equipment (affiliate links)
Ingredients (UK/Australia? Click below for grams/ml)
1

avocado

ripe, medium to large

1

banana

ripe, medium (about 1/2 cup)

½

cup

maple syrup

(I've also used half maple syrup and half honey and that worked well too)

2

large eggs

lightly whisked

½

cup

plain flour

+ 2 tablespoons (this is around 80 grams)

1

teaspoon

baking soda

(UK = bicarbonate of soda)

½

teaspoon

salt

¼

cup

cocoa powder

7

ounces

dark chocolate

I like 70% cocoa
Instructions
Line a 8×8 inch (or equivalent) baking tin/pan with baking paper and set aside. Preheat the oven to 345F/175C.

Blend the avocado and banana together in a small food processor. Or mash well with a fork.

Melt half of the chocolate (3.5 oz/100 gr) in the microwave in 30-second bursts. Let cool slightly.

In a large bowl, whisk the eggs into the avocado and banana mixture with a whisk or fork. Then whisk in the maple syrup and cocoa.

Slowly pour and whisk in the melted chocolate. Then stir in the flour, baking soda and salt with a spatula until just combined.

Smooth the batter out into the prepared pan. Bake for 17 minutes or a little longer (a minute at a time) until the top of the brownies are just set and a skewer poked into the centre comes out a bit sticky (but not with runny raw batter on).

Let the cake cool for a while on a wire rack. Then melt the rest of the chocolate with about ½ teaspoon oil. Pour over the brownies. Leave to set for a while, then slice into 16 brownies.
Notes
How to blend the avocado and banana: I usually do this in the mini food processor that came with my hand-held blender. If you don't have anything similar to this it's fine to just mash them together with a fork. The riper the better if you're going to do it this way, of course!
Cooking time: I usually bake these brownies for anywhere between 17 and 19 minutes. After 17 minutes, poke a skewer into the centre. You want it to come out still a bit sticky (but not with runny raw batter on).
It's better to undercook slightly than to overcook these. A couple of times I've left mine in the oven a minute or two too long and the brownies have been slightly dryer around the edges. But they still taste moist and fudgy, especially with the chocolate on top!
Topping: I usually drizzle melted dark chocolate over the top of my brownies before slicing. If you prefer though you can just toss in a handful of dark chocolate chips instead!
How to store: You can keep your brownies in an airtight container at room temperature for a few days. Alternatively, keep them in the fridge in a sealed container – they'll taste very fudgy!
Nutrition
Calories:
153
kcal
Carbohydrates:
19
g
Protein:
3
g
Fat:
8
g
Saturated Fat:
4
g
Cholesterol:
21
mg
Sodium:
154
mg
Potassium:
231
mg
Fiber:
3
g
Sugar:
10
g
Vitamin A:
58
IU
Vitamin C:
2
mg
Calcium:
26
mg
Iron:
2
mg